Friday 30th March 2007
08:14 BST
It's a grey morning. My journey into work was achieved without meeting any rain, but it looks as if it could start to drizzle at any time. This is not so dissimilar to yesterday when it was mostly dry, but with occasional light, drizzly, rain. I seem to recall there was one brief spell of sunshine, but it must have been so brief that it hardly registered on my concious.

Last night, after work, I met Aleemah at Victoria and we went back to my home. It was with some annoyance that we just missed a train at Blackfriars station by less than a minute. It was a long wait (~ 25 minutes) until the next one, and I regretted we had not gone to London Bridge like the previous time. I felt very tired last night, but we had a few marvellous hours together before I escorted Aleemah back to the Jubilee Line at London Bridge for her long journey home.

When I got home again I sat down to finish off the remains of the tuna and pasta I had cooked for our dinner. While eating I switched on the TV and found a programme I had noted as being of potential interest earlier in the day. It was called "Mummy's War", and was about Carol Thatcher (daughter of much despised ex-prime minister Margaret Thatcher) visit to The Falkland Islands, and to Argentina to see how things were getting on twenty five years after the Falklands war. On the Falkland Islands she was greeted with great enthusiasm because her mother is regarded as a national hero there. In Argentina she was greeted with much hostility by people who believe that Margaret Thatcher is a war criminal. I did get the impression that Carol Thatcher was set up to meet the most hostile people. My information, from a genuine Argentinian national, is that for many ordinary people in Argentina, losing the war was a good thing. Prior to losing the war the country was practically run by a military dictatorship, and that brought many horrors with it. Conscription, with no notice, was bad enough, and conscripts were not the best treated members of the Argentine armed forces. The worst horror though were the "disappearances". An estimated 30,000 people were taken away, tortured, and then killed by the military. That ended after the fall of the regime when they lost the war. I have also heard second hand accounts of Argentinian soldiers, mostly conscripts, who were taken as prisoners of war by the British Troops. Apparently they considered themselves to have been very well treated, better than their treatment by their own side, and for many it was there first taste of hot food and clothing for a long time.

I am quite looking forward to a lazy weekend. Tonight I don't think I will be doing anything, but at some point between tonight and Sunday night, I will probably get a visit from Patricia who still has mail to be collected. The only fly in the ointment is that I read on BBC teletext last night that the banks have some sort of problem with the system used for wage payments, and my pay may not arrive in my account until Monday, instead of Saturday. It will not be a disaster, but I will have to be a bit careful with how much I spend until my wages are definitely in my account.
Thursday 29th March 2007
06:56 BST
Once again I find myself writing this morning blog entry from home. This morning I can't blame my guts for not being able to leave the house at my normal time. Today I blame my right ear. I am currently treating my right ear for a build up of wax by using Otex drops in it. This causes one minor problem. When the ear is full of the Otex liquid I can become deaf in that ear. I awoke this morning with my left ear resting on my pillow, and the right ear blocked with wax and ear drops. This made me sufficiently insensitive to sound not to hear my alarm go off.

I did wake up by myself only minutes after my alarm should have wakened me. Those few minutes should not have mattered, but I also desperately needed to wash my hair this morning, and washing my hair added those last vital minutes that meant the difference between catching my usual train, or not. In fact I still could have made my usual train if I had thrown caution to the wind and made a dash for it. Instead I opted to stay safe, make another visit to the toilet, and not rush around like a madman turning up at the station winded and sweaty.

Last night I had the pleasure of both Kevin's and Iain's company in the pub. As I walked to the pub I could feel my dinner, which contained a fair bit of liquid, sloshing around in my stomach. It is an unsettling feeling, and one that previously only happened after drinking copious amounts of beer, and then only on some rare occasions. With the contents of my stomach already feeling very mobile I did not drink more than one pint of beer last night, although I did have a couple of double scotchs with ice.

When I got home from the pub I felt sort of strange. Maybe it is the recent change from GMT to BST that has finally affected me, or maybe something else, but I did not feel like going straight to bed. So I watched an old episode of Star Trek, and indulged in some heavy snacking. I finally went to bed sometime after 10pm, but what ever had been causing strange effects in my stomach woke me up at 2am. I had to dash to the toilet where, initially, I added copious amounts of greenhouse gases to the atmosphere.
Wednesday 28th March 2007
06:57 BST
It's too early to say much about the weather. It still looks fairly grey outside, but I think that is just mist and fog. There is probably the potential for another warm day like yesterday. It would be good fortune if today was as glorious as yesterday when the sun shone all day, and the temperature rose to very pleasant levels.

I am not at work yet. As I type this I should be approaching London Bridge station. Instead, I will be getting the 07:30 train from Catford Bridge, and will be in work approximately thirty minutes late. The reason for this is that I think I have been overdoing the hot pepper sauce recently. This morning my guts are very volatile. Things are settling down now, and I hope I will be OK for my later train.

One question has been asked of my trip on the Orient Express train last Sunday - "Was it good value for money ?". The answer has to be no. I suspect that a similar meal in a normal restaurant, and a first class return to Paddock Wood from Victoria, would probably cost in the region of £50 to £75. Bearing in mind that the full price, had we not got the voucher that saved us £50, was £150, it does sound a bit of a rip off. However it was an experience, and I guess some experiences have to be paid for. It was a train that I have always wanted to travel on, and now I can mentally tick that one off, and consider the next on my wish list.

Tonight I should be drinking in The Ram. Just to make a change it seems that Kevin will not be able to make it, having gone down with the 'flu. but Iain, for the first time in what seems like weeks, will be able to make it.
Tuesday 27th March 2007
08:15 BST
Normally I would describe this mornings weather first, but yesterday was so gorgeous that I have to give that preference. I think the sun was shining all day, and it did warm up nicely. By the time I left work for home I could have comfortably travelled in just shirt sleeves. In fact it may have actually been more comfortable if I had travelled just in shirt sleeves for parts of the journey home. When I got home, having called into Tesco for cat food and a few other bits and pieces first, I sat down at my computer with the back door open to allow the cats to come and go as they pleased. It was not until I had been sitting still for about 20 minutes that I felt that having the back door open was just a little too cool for comfort. Going into the front room after that felt quite warm. It had received lots of sunshine during the day (I presume) and was still most pleasant. Later on, after the sun had gone down, I did need to supplement the remaining heat by putting the heater on, but it barely needed it.

This morning it felt quite cold inside the house, although it needed very little effort to warm up the back room. Outside the sky was very hazy, and it felt quite chilly. The haze is starting to thin out now, and the sun is almost shining through, but I think it will be cloudier today. I don't think the clouds will get thick enough to blot out the sun all the time, but it would be most fortunate to get the same amount of sunshine as yesterday.

Tonight I need to try and get to bed early. I was up well past my desired bedtime last night as I finished making up the special page about the Orient Express trip on Sunday, and then tidying up the indexes, links, etc.
Monday 26th March 2007
08:21 BST
Spring has sprung again. This morning the sky, although slightly hazy, is still mostly blue, and considering that the clocks have changed to BST and life is happening an hour earlier than last week, it is also fairly mild outside. If the sun keeps shining, and it looks as if it could do, it could end up fairly warm today.

Nothing much happened on Saturday. I had a lazy day in the extreme after a fairly tiring week at work. Yesterday, Sunday saw me on my trip on the "Orient Express" train. It was not bad, but it had it's bad points. I haven't time to write about them now, but I can put up a couple of pictures.


| | |
| --- | --- |
| | Here I am dressed up in a way that is rather unfamiliar to me. I haven't really worn a proper jacket since schooldays. I guess I probably look like a smart bouncer rather than a smart gentleman, but it was the best I could manage. |
| | Here is Aleemah sitting in the fine opulence of carriage "Ibis". (All carriages that make up the Orient Express train have individual names, and ours was Ibis - in seats 5 and 6). |



This entry has been edited at 21:14

. I have now added a seperate page about Sunday, and you can read it here.

Friday 23rd March 2007
06:50 GMT
It is grey, damp and misty outside. The forecast is for a rainy day. In compensation, the morning is less chilly, although temperatures are not forecast to rise much higher than they are now.

I am not at work yet. In fact I have not even left home, but will be doing so soon. At the last minute I decided that I just had to wash my hair. It was beginning to feel quite yucky, and probably looked even worse. Doing that delayed me by only a few minutes, but it was enough that it would probably have been futile to attempt to rush to get my usual train. I hope that the next one runs OK, and that it is not too crowded. Usually it is unpleasantly crowded as far as Lewisham, where many people alight to change to The Docklands Light Railway, but I have known times when the initial overcrowding reaches madness.

Work has been very busy recently. My workmate Stefan is away on a weeks holiday, and I am having to do what I can to get through some of his workload as well as mine. It has been leaving me rather tired at the end of the day (and a string of late nights has not helped either). Last night I did manage to get to bed quite early, and I was fast asleep a little before 9pm. I think I feel a little better for it this morning, but I am still feeling warm and cosy (or something similar) from my hot shower. In this condition I would dearly love to go back to bed for another hour.

I am not sure what is happening tonight. It is possible that I might get a visit from Patricia. I haven't seen her for a couple of weeks now, and there are two bits of mail for her to collect whenever she is ready to do so. I am not seeing Aleemah until Sunday. So tomorrow morning will be less hectic, but there are some important things to do in preparation for our trip on the Orient Express train on Sunday (might post some pictures of that on Sunday evening if I have the time and energy).

One thing of note before I dash for my train. I do not seem to have received any e-mail for a couple of days. It could be that none has been sent, or just as likely it is NTL's (Virgin Media's) e-mail servers need winding up again. If you have sent me any e-mail in the last 48 hours, and had no response, it might be worth forwarding it to one of my other e-mail acconts (googlemail seems quite reliable).
Thursday 22nd March 2007
08:20 GMT
The day started bright and clear. As I left home the sky seemed slightly hazy, but it was bright, and gave every indication that it would probably by a sunny morning. Travelling on the train to work, and nearing Wandsworth Town station, I noticed what looked like snowflakes rushing past the train windows. Once the train had stopped at the station it was obvious that it was, indeed, snowing. The snow is not falling that heavily, but it seems as if there is enough that it should settle. I am sure that when I left Catford there was a frost, and if it was that cold the snow should be able to settle easily. Maybe Wandsworth is a little warmer than Catford, but if it continues to snow like it is, it could start to settle eventually. That could make for an interesting journey home tonight................

Last night I did have my roasted vegetable warmed up in cream of chicken soup (see yesterday). It was not too bad at all. I wouldn't go as far as saying it was delicious, but it did a good job at warming me up after getting home to a cold house.

Later on I went to the pub with Kevin where we commiserated over the 11p rise in a packet of cigarettes in yesterday's budget speech. It would be damn useful if all the terrorists in this world could stop blowing up people, and blow up parliament instead (politicians are not counted as people in this context - and the inhabitant of 11 Downing St is definitely a cold blooded, sub-human, nicotine user hating, evil alien who makes a Dalek seem warm and cuddly by comparison).

I think I definitely ought to get myself a doctor. According to NHS propagandists, as a smoker, they are spending £20,000,000 or something, on me each and every year. It's about time I saw some of that money. I think I need a new, and previously unknown disease that will need some of that 20 million quid to treat me. As far as I know, my main drain on the NHS over the last ten years has been in dental work. My teeth were neglected for a long time, and I have needed a fair amount of work over that time to get them back into reasonable condition, and compared to the parents of my generation, in excellent condition. I cannot recall dental cavities, mostly originating from poor dental hygiene as an adolescent, being blamed on smoking yet, but I am sure those Nazis in the health service will soon be using that as an excuse to wrap us in even more cotton wool and stifle us like new born babies. Everything else has been blamed on smoking, so why not tooth decay !
Wednesday 21st March 2007
08:20 GMT
Clear skies overnight gave us a frost this morning. It is bloody cold outside, but the sun is shining. More cloud is expected later today, but the longer those clouds hold off, the better chance there is of it warming up. The forecast high is only 7° C, but I have hopes it may do better than that.

My plans were changed last night when I received a call from Aleemah. Her plans had changed and she wondered if I fancied a drink after work. That didn't really fit in with my plans for an early night, but I couldn't resist such an invitation. So we met at Victoria station at our usual time and place, and went into the Wetherspoons pub for three pints of Stella Artois. After the drink we went shopping for a new jacket for me. We eventually found one that both felt comfortable, and Aleemah says looked good on me. It was very cold outside last night, and by the time we got back to the station, with the remains of three pints sloshing around inside me, I was close to having an accident as I rushed to the toilets there !

I got home feeling cold, tired, hungry, and very slightly drunk. I had had very little to eat all day, but I soon made up for that with a strange variety of foods. For starters I had the last three cold empenadas (made the night before). I hoped they would keep me going long enough to roast some mixed vegetables, but they didn't. So I fried some slightly posh hot dog sausages in a smidgin of olive oil, and warmed up some tinned bombay potatoes in the same pan. You might think that was a strange combination, and it was ! The two hardly complimented each other, but it was warm and edible, and very convenient. All this time my vegetables were still roasting, and I did have a few once they were well cooked, but the majority I will have tonight. Perhaps I'll reheat them in something like chicken soup.

My final action before going to bed was to watch a TV programme about Ulrika Johnson and her sex addiction. I had noticed it in the listings earlier in the day, and thought it might be interesting, but promptly forgot about it as I considered it to be on too late when I wanted to get to bed early. Having rediscovered it, I started watching it. I did find it interesting and watched it through to the end. I then went to bed, and slept quickly and solidly until waking up a mere minute before my alarm went off.

Today will be busy at work. My workmate is off on holiday until next Tuesday, and I will have to work extra hard to keep up with the demands on our skills. After drinking last night I am very slightly less keen on a drink tonight, but being a Wednesday, if Kevin (or Iain) is around, I will have little hesitation in going for another drink.
Tuesday 20th March 2007
08:10 GMT
Cold, grey, wet, and miserable would adequately sum up this mornings weather. I have no idea what the temperature actually is, but it feels colder than it has for some time, maybe weeks. The wind, while not very strong, definitely adds an edge to the cold as well.

Yesterday's weather was mighty peculiar at times. A lot of the morning was just grey with intermittent rain, but as the day progressed we had simultaneous bright sunshine, thunder and snow. At one point, going out onto the fire escape for a fag break, I was bathed in warm sunshine from my right, while to my left the sky was as black as night. The snow we had, and I am pretty certain it was snow rather than sleet or hail, did briefly settle on some walls and cars, but it had melted away within ten minutes. By the time I left work, to go home, the sky started to clear rapidly. From Clapham Junction to Catford it was bright, sunny, and the entire sky seemed a gorgeous blue. I needed to visit Tesco on my way home, and even though I only spent ten minutes in there I found the weather had, once again, totally changed. The sky was now very clouded, and rain seemed likely. Fortunately, I reached home before any rain fell.

When I got home I first checked my second, downstairs PC. This was the one where I had started re-arranging the hard disk partitions on Sunday afternoon. It still had not finished when I first walked through the door, and I was very worried that the whole procedure had failed. Then a few minutes later Partition Magic announced it had finished, and that the computer would need to be rebooted before the new partition sizes would become available. Holding my breath, I clicked on YES (I would like to restart) and waited. I was rewarded with a perfectly working installation of Windows 2000, and my two resized partitions working perfectly.

I had a similar moment of joy when I investigated a DVD+R disk that had been recorded in my "set top box" DVD TV recorder. The disk had failed during the "finalise" operation that writes the extra bits on the disk to make it compatible with other DVD players. My DVD recorder said "Disk Error" when I tried to play it after finalising it (although it did play OK before the finalising procedure). Checking the disk on a PC I found I could read the standard DVD video disk file structure. So I copied the files to the hard disk (now with plenty of space after my 24 hour+ resizing operation), and then burnt them onto a new DVD disk using the PC's software. I was most happy to find that the disk played perfectly, and my recordings had been saved.

Tonight I think I will be playing PC's or watching TV, but I really must get an early night in. I have been going to bed late for the last few days, and I seem to keep waking up earlier than I need to. With longer hours of daylight, now that we are slowly heading towards summer, I do need less sleep, but I do feel a little tired this morning.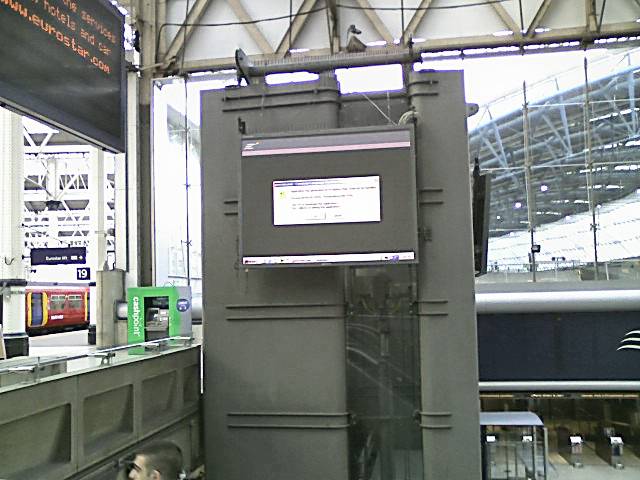 Yesterday morning I noticed that one of the huge screens at the Waterloo Eurostar terminal had crashed (or something) leaving a message from Windows on the screen. This screen is BIG. It's maybe something like a 72" diagonal, but that's only a guess. I am not even sure what technology it uses, but I suspect, from the coarseness of the pixels, that it an LED matrix. With the lack of fine resolution of the display, and the limitations of my mobile phone camera, I'll never know exactly what it said. I was in a bit of a rush to catch my train, and I made my first priority taking the picture rather than reading what the message said. With the picture taken I rushed off to board my train without reading the message. It is certainly the biggest screen I have ever seen displaying a Windows error message, and it must have been a bit embarrassing for the snooty operators of Eurostar.

Clicking the image takes you to a bigger image, but the resolution is still not good enough to read what the error message is.
Monday 19th March 2007
08:18 GMT
The temperature dropped fairly low last night, but not low enough for a frost, and fortunately not low enough for overnight rain to become snow. It is a rather grotty start to the day. It is cold and wet, although there was only the very lightest of rain for the first minute, or two, when I left home this morning. As my train left London Bridge there was one brief flash of glorious sunshine. It only lasted a minute, and maybe that will be the only sunshine to be seen today. The weather forecast predicts that some sleet or snow could fall somewhere over London today, with North London being the more favoured prediction for any snow.

Yesterday was a bit of an anticlimax after Saturday. It took until early afternoon before I got around to doing anything constructive. Even then I did not achieve much. I re-arranged things in my second downstairs PC, but did not get around to actually fitting the new hard disk that will be going in it. I decided that to make more room on the "C" drive I would delete a mostly redundant Linux installation that was consuming 50GB of disk space. Deleting the Linux partitions was easy, as was fixing the Master Boot Record to only boot Windows. The next bit was rather long winded, and in fact is still going on even now. I had 50GB now free on the disk, and two existing partitions. I wanted to share the extra free space between those two partitions. That meant moving the second partition, and then extending it to allow space to extend the first partition. All this clever stuff is handled by a stand alone program called Partition Magic. The problem is that it is rather slow. The extent of the slowness can only be appreciated by knowing that I started the process late yesterday afternoon (say 4pm), and when I left home at 06:45 the process had only managed 63% of the total. I hope that it is finished by the time I get home. More than that, I hope that once it has finished I will have two working partitions, and not one corrupted hard disk. Should that disaster happen, I will not have lost anything too important, but it will be irksome to have to go through Installing Windows, and all the other programs all over again.

I only have one thing planned for tonight, and that is the obvious job of putting my computer back together again.
Sunday 18th March 2007
08:37 GMT
The day has started tolerably well. There is a fair amount of cloud, but it is broken, and the sun can peep through now and then. The clouds have kept some of the heat in from yesterday, and it is somewhere between cool and mild. The biggest problem with the temperature is the wind. It is quite breezy outside, and the wind feels very cool.

Yesterday day turned out to be a rather splendid day. I met Aleemah a few minutes later than I should have due to being held at a red signal outside London Bridge station for about five minutes. We were soon back on a train to Charlton station where we set out on the fifteen minute walk to the Thames Barrier. At this time the sky was still cloudy, and I worried that it might even rain.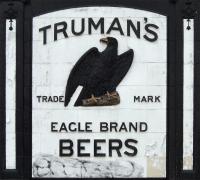 At the end of the road leading down to the Thames Barrier stands a derelict pub. I took this picture of one of the signs on a wall. It is just another reminder of a fast fading past. Clicking on the picture links to a high resolution image.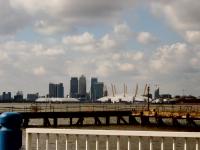 Unfortunately, due to a camera malfunction, I did not take any pictures of the barrier itself, but I did take this picture of the view along the river with the Millenium Dome at North Greenwich, and the skyscrapers of Canary Wharf in the background. Once again, clicking on the picture links to a high resolution image.

Having seen the sites outside, we went into the café where Aleemah had a coffee, and where we bought "tickets" to visit the information centre. I say we bought tickets, but these were imaginary tickets. What actually happens is that the café staff buzz you through a door once you have paid the £2 admission charge. I have to say that the information centre is not exactly wonderful. This is not really surprising with hindsight. It only deals with the Thames Barrier which does not have a very long history. Most of the exhibits are to do with the river itself, but there is a working model of one of the barrier gates itself. That is well constructed, and demonstrates the principles well. There is also a mini cinema showing a ten minute promotional clip about the building of the barrier. The film itself is of appalling quality. It looks, at least in some parts, like a second generation VHS tape. I would hazard a guess that all the original film was shot on 16mm cine film. If they could find the original of that and re-edit it to transfer to a digital video format it could look quite spectacular. The wonderful thing about the film, as shown, was it was made in the 1980's when rock still ruled. Some of the sound track, which is far better quality than the visuals, could almost be mistaken for a very slightly toned down Black Sabbath !

Our visit to the information centre did not take long, but while we were in there a transformation of the weather took place. The sky had almost cleared and we were bathed in fairly warm sunshine. The breeze also felt warm.

After we left the Thames Barrier, Aleemah suggested that she would like to visit Lewisham, and that we should do it the unpleasant way by taking the 180 bus. After a ten minute wait, and nearly thirty minutes on a crowded bus, we arrived in Lewisham. We had a look around the Lewisham shopping centre, and some of the shops on the high street. We even ventured into a few shops to see if they had any jackets that would fit me. I would like an almost smart looking jacket for the luncheon trip that Aleemah and I will be taking on the Orient Express train next Sunday. We did eventually find one shop that had a jacket big enough for me, but it was part of a suit and was well past my budget. It is looking as if I will be slightly more casually dressed than I wanted to be for this trip next Sunday (but I'll still have on a shirt and tie with black trousers and shoes). We are due for a cold spell of weather starting tomorrow (or maybe even later today), but if I were extremely lucky we could get back to a nice warm spring day by next Sunday. In which case I will just omit to wear a jacket.



After visiting Lewisham we both came back here to watch a DVD, have an intensive cuddle, and have some dinner. For dinner I cooked a chickenless paella. Rather surprisingly for a vegetarian, Aleemah does eat seafood. I made the paella with Tesco's (alleged) genuine Spanish paella rice, and seasoned it with genuine "Preperado Paella" mixed spices brought from Spain by Patricia on one of her visits to Spain last year. It turned out rather well, and would have been perfect if only I had cooked the rice for a few minutes longer (some grains were just very slightly undercooked).

After I had accompanied Aleemah back to London Bridge I came home and finished off the rest of the paella, and for good measure, had a couple of rolls too. It had been a rather wonderful day, and definitely one where I feel Aleemah and are moving ever closer to each other.

Today I can be as lazy as I want. I don't think I'll be seeing anybody. What I ought to do is to see if I can get the blogging software, Wordpress, working on my server, but I think that if I do anything it is likely to be some upgrading of my second downstairs PC (which being the most powerful PC, is mainly used for multimedia stuff).
Saturday 17th March 2007
08:41 GMT
This morning has started bright, but with no sunshine. The sky is quite cloudy, but the forecast is for the clouds to break up leaving a sunny afternoon. It could be one of the last for a few days. The long range forecast suggests that by Monday we will be in the grip of winter again. The forecasters say that we could even see a sprinkle of snow, but maybe not quite this far south of London. Today should be fairly mild, although it does feel a bit on the cool side right now.

Last night I cooked my sausage and onion empanadas. They were nice, but maybe not as nice as I had hoped for. Whether it was all the onion, or maybe just the quantity (I cooked enough to feed Patricia as well, in case she visited), or maybe it was something else, but my day started very early with a dash to the toilet at 3am, and then 3 more times, this morning. Hopefully I am clear of that particular problem now. It would make the rest of today very awkward.

Patricia did not visit me last night so I had a delightfully lazy evening. Apart from the cooking, the only constructive thing I did was to do a bag full of washing in the washing machine. If I really wanted to brag about last nights achievements I could add that I also did a sinkful of washing up. The rest of my evening was spent either watching TV or reading.

Today I meet up with Aleemah, at midday, and we are off to see the Thames Barrier. If there is time we might also visit the Brunel Engine House museum at Rotherhithe. It is even possible we may come back here for a cuddle, but that will be a spur of the moment thing if it happens.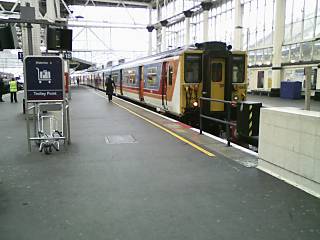 I have made mention of the trains I use to get to and from work. This is a picture of a class 455 train waiting at platform 18, Waterloo station. It is still in the original South West Trains livery.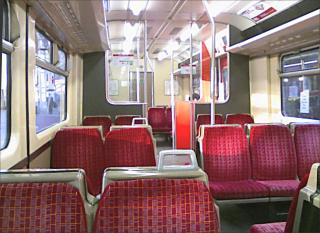 Inside it still has the ultra uncomfortable original seats, and the upholstry is in original South West Train colours. I can't remember when I took these pictures on my "O² Ice" camera phone, but I am sure it was within the last fortnight.
Friday 16th March 2007
08:04 GMT
The morning has started with glorious sunshine, but it does seem chillier than yesterday morning. There was signs that there had been some overnight rain when I left the house. The ground seemed very damp, and at least one car had what looked like a splattering or rain, although it could have just been heavy dew.

I called in to Mercado Argentino before leaving work yesterday. I wanted to buy some empanada dough to make some empanadas tonight, and/or tomorrow. I discovered that as well as selling the dough to make up your own empanadas, they now stock them ready made imported directly from Argentina. So as well as the dough, I bought three ready made ones for dinner last night. They were pleasant enough, but nearly as good as the ones I make myself (which have Patricia's Argentinian seal of approval !).

Tonight I may make some rather special empanadas. Maybe unusual would be a better description than special. I think I am going to fill them with chopped up beef sausages and fried onion (and maybe some other stuff too).

I did describe empanadas some months ago, but there is far more info here. In English terms, think of it as like a Cornish pasty with a non-traditional filling.

Apart from eating and watching an episode (or was it two ?) of original Star Trek, I did very little until getting close to bed time. At this rather irrational time I decided to see if I could install Wordpress on my server. In fact I did install it, or at least part of it, but fell almost at the first hurdle. For some reason, that I have yet to establish, I seem unable to set up the Mysql database. I am going into unexplored territory here and may well be seeking advice from my Linux guru soon (sorry Steve !). Maybe some research will come up with the answers I need, but that will have to wait until I have some free time. That could be tonight, but maybe not, and it is highly unlikely to be tomorrow when I should be seeing Aleemah. If I do manage to get Wordpress working, and more importantly, if I like it, I may well change the whole format of this blog. It would be sort of cool to do that from the beginning of April. So there is no rush just yet.
Thursday 15th March 2007
08:33 GMT
The sun was late in appearing this morning. When I left home the sky was about 50% covered by clouds. Unfortunately one, or other, of the clouds kept the sun hidden until I reached Waterloo East station on my way into work. Since then it has been fairly sunny. Maybe, if I am lucky, the sun will melt away more of the clouds and I will be left with a glorious sunny day. It is still fairly cool outside, but hopefully it will warm up as the day progresses, as it did yesterday.

Yesterday did warm up nicely. Outside on the fire escape, aided by sun warmed brickwork, it was delightful as I went for my fag breaks.

Last night I met Kevin for a pint (actually three) in The Ram. Before going out I had a fairly healthy meal of assorted tinned fish (mainly mackerel), some olives, some small onions pickled in raspberry wine vinegar, and finally two almost, but not quite, stale bagels. It was a bit of a heavy meal, but hopefully not too heavy in calories and sugar. When I got home from the pub I was very, very, tempted to have a snack, but somehow managed to resist the temptation. Tonight may be different. I am not going out, nor seeing anyone, so it will be a battle of the wills between me and the fridge ! My eating tonight will get off to a bad start because I have a pizza in the fridge (not freezer) that must be at least up to it's "use by" date, if not well past it. I refuse to waste it. So dinner tonight is pizza laden with oily, high calorie, cheese.
Wednesday 14th March 2007
08:15 GMT
It must be spring. Wandsworth appears to be besieged by joggers out in their shorts and trainers. Some of the women joggers are rather enchanting in this mornings bright sunshine. It is still rather cool out, but if the sun stays out, as it appears it may well do, it will soon warm up into a most beautiful day.

Yesterday was a good day. After a disappointing grey start, the sun broke through, and the rest of the day was glorious. It stayed warm, or at least mild, into the early evening. When I arrived home with Aleemah I did not bother to put any heating on, and as far as I know we were both comfortable, cuddled up with each other, for the time we were together. In fact by the time we left for me to escort Aleemah back to London Bridge tube station I was feeling quite warm. It was a most successful experiment to go back to my place after work, and one that I think will become increasingly common.

Tonight I may be out drinking with Kevin, although I fear there is some doubt as to whether he will be available (but I may be confusing this week with last week). It would probably be both good and bad to have a drink tonight. Last night, with Aleemah's company to distract me I managed to eat quite healthily. This morning I do feel I have more energy than of late. It would be nice to do the same tonight. If I am out of the house I will obviously not be able to "raid the larder", but at the same time the booze will give me a fierce appetite that is hard to resist. Perhaps tonight some sort of will power is called for !
Tuesday 13th March 2007
08:09 GMT
After yesterday's beautiful start, it is a disappointment to write that this morning has started off overcast. It is still dry, and not too cool. I suspect much of the greyness is just high mist that will burn off later. The forecast is for a bright sunny afternoon. Maybe it will be the reverse of yesterday when it was sunny up to later afternoon. When I left work it was already very hazy, and my journey home did not excite me as much as it could have.

Last night, for some unknown reason, I pigged out. I knew I would have a very filling, and rather fatty, meal using up the leftovers from Sunday's roast, but I did not really intend to go beyond that. Perhaps it was stress born of impatience to see Aleemah tonight, or maybe it was just a change in the weather, but I followed my large unhealthy (but delicious) dinner by not one (or preferably, none) , but two chocolate ice cream bars (I should never have bought the wretched things in the first place, but they were on a buy one, get one free offer). To compound all these errors I got the munchies while watching TV (actually a couple of old episodes of Star Trek [the original generation]), and committed the sin of eating a packet of peanuts. I went to bed feeling rather bloated, and uncomfortable.

Going to bed in such a state made for a rough night, and I started waking up much too early. I woke at 4am, but managed to get back to some sort of broken sleep until 5am when I gave in and got up. Surprisingly, unlike Sunday night, I did not seem to wake up with any particular aches and pains (beyond the normal desire to go to the toilet). After a lack of sleep, and possibly the remnants of feeling full and bloated, I think I am going to enjoy being with Aleemah less than I should. I will enjoy her company a lot regardless of anything else, but it would be so much better if I was feeling fit enough to take on the world (as they say). The one saving grace in all this, is that yesterday I went back on the regime of only eating fruit until I get home again. So today I will only have nibbled on fruit when I see Aleemah, and although I am going to cook her some dinner, I will not be eating, or eating very little, until I am back home again after seeing her onto her tube train home.Maybe even then I will attempt not to over do it.
Monday 12th March 2007
08:09 GMT
It's another beautiful morning. The sky is blue, the sun is shining, and it is only a little short on being warm outside. In direct sunlight, sheltered from the wind, it is actually warm, but the light breeze does carry any heat way fairly quickly.

Yesterday the sun shone for most of the day, and the temperature rose to something like 15 - 17° C. That is pretty good for mid March, and the forecast for today is to reach at least the same temperature, and probably exceed it. Mid afternoon, yesterday, I strolled out to the pub to meet up with Kevin for a pint (or three as it turned out). I didn't bother to put a coat on and I was totally comfortable in the mild air. Even when I was going home, with the sun past it's best, it was still very pleasant to walk with no more than a T-shirt on (my upper body).

One minor problem with when I met Kevin was that the original plan was to meet an hour earlier than we did. Based upon those original timings I put a roast dinner in the oven to cook, and then be ready for me when I got home. I actually got home two hours later than my original estimate. My roast potatoes were almost like crisps, but the organic roast lamb was delicious and very tender, and the roast parsnips were deliciously caramelised where they weren't hidden under the meat. I thoroughly enjoyed that meal.

The organic lamb was a bit of a bargain. Normally I would not pay the extra to buy organic, but this piece was sitting on the "reduced price" counter looking very slightly grey, and at about half price. The looking grey did not bother me. In fact it was almost a good sign that the meat had had time to mature a bit. My decision certainly paid off. with the extra cooking it was the best bit of lamb I have had for a long time.

Another unfortunate thing in coming back from the pub so late was that it spoiled my idea of having a long satisfying snooze after dinner. It felt too late in the day to lie down and sleep. So I stayed up, watched some more original Star Trek episodes, and generally pottered around. With hindsight it may have been wise not to attempt to sleep. By early evening I felt like I was suffering from a mild hangover. It was nothing too painful, and mostly ignorable, but I know that had I woken up to that I would have felt terrible.

I neglected to confess that I had two chocolate ice cream bars for my pudding. Those, plus the good dinner, and booze, left me feeling rather warm when I went to bed. Of course the mild weather contributed to that as well. It seemed too hot to be under the duvet, and only just very slightly too cool to be not under it. I opted to be half under, and half covered by the duvet. Unfortunately I fell asleep like that and this morning I have a very stiff neck and right shoulder. It feels like I slept with my neck at right angles to the world. Oddly enough my usual aches and pains seem hardly noticeable. No doubt as the day wears on my neck will improve, but for now it is a little unpleasant.

I did have some good news from Aleemah yesterday. After not being able to see me on Saturday, we will be meeting up tomorrow night. Even better than that, is that we are not going to be just sitting in the Victoria Wetherspoons just chatting for a few hours. I suggested that she may like to come back to my place for a couple of hours. I was a tiny bit surprised, but very happy that she agreed so readily. So now I look forward to tomorrow evening.
Sunday 11th March 2007
07:54 GMT
Like yesterday, the day has dawned bright and sunny. There is plenty of blue sky visible, and no red tint on the eastern horizon like yesterday. Despite the apparent "red sky in the morning" yesterday, it did remain fine all day. I wouldn't like to attempt to estimate the hours of sunshine yesterday, but it must have been at least five. It did warm up after a cold start, and hopefully the same will happen today. Yesterday it only managed to warm from chilly to cool, but if the sun stays out for a lot of today it might possibly even reach "slightly warm".

All my rushing around yesterday came to nought. Just after 8am I had a text message from Aleemah telling me she wasn't well, and wouldn't be going out. This was a bit of a blow after looking forward to seeing her so much. It left me with a lot of spare time on my hands. I should have used that time to do several household chores, but chose to just be lazy. For the rest of the day I divided my time between reading, snoozing, and watching old episodes of Star Trek (the original series). There were a few variations to that. I did go out to the building society to deposit a cheque, and did some minor shopping on the way home. In the afternoon I spoke to Aleemah for about an hour. She was feeling better by then, but not best, and I wouldn't have expected her to make the long journey over here to meet up with me (and it was really too late in the day, anyway). It is a pity that we do not live much closer to each other. The distance between my bit of South London, and her bit of North London is not that far when measured in miles, but crossing London is a slow process. With the most favourable connections it is hard to get the time down to less than an hour, and the average is usually a lot more than that.

There is no chance of seeing Aleemah today. She is busy, as is Patricia who might possibly have visited today. There is 50:50 chance that I will be having a lunchtime pint with Kevin. I sort of fancy that. If I could get some dinner cooking in the oven, while out drinking, I could come home, eat my dinner, and then snooze for the rest of the afternoon - luxury ! There is one flaw in that argument. I don't have anything suitable for slow cooking in the oven. This means that I ought to go out and do some shopping in the morning, but I was also thinking it would be convenient to pop into Tesco as I passed it on the way back from the pub. Like yesterday, I think the best thing to do is to make up the day as it happens.
Saturday 10th March 2007
06:50 GMT
The day appears to have started bright and dry, although rather chilly. It's a promising start, and I hope it can keep it up. There does seem to be a bit of a pink tint to the eastern sky, and that suggests that more cloud is on the way. Provided the cloud remains broken, and allows some sunshine through, it should mean that my afternoon out with Aleemah should be a pleasant one.

We had a meeting at work yesterday that did not finish until gone 5pm. I was not able to get away from work until 5:15pm - an hour and a quarter after my usual home time. By the time I actually got home, going via tesco for a bit of shopping, the sky was dark, and the stars were out.This was a bit of a blow after feeling so good about the lengthening days, and enjoying my evening commute in daylight (and even sunshine on a couple of occasions). My timekeeping at work has been atrocious this last week. On Monday I was an hour late into work, and made up some of the lost time by staying on an extra forty five minutes. To make up the rest of the time I intended to stay just fifteen minutes late on Tuesday, but actually stayed thirty five minutes. Then yesterday I stayed an extra hour and fifteen minutes. I feel sort of ashamed of myself when my normal

modus operandi

is to attempt to get away with working less time than I have to. I must liking working for the company, or something, to submit to this kind of thing. There is also another strange anomoly in working for the company that goes against the grain. While it is normal, or at least common, to "borrow" (a euphemism for steal) the odd item from your employers, I seem to have got it round the wrong way. I actually take stuff from home to use at work. (Most recently a bank of four push button switches I am going to use in a piece of test equipment, that seem to be unavailable in all the suppliers catalogues I have checked).

After getting home late last night, I felt too tired to bother with any housework. This means that I really should be rushing around like the proverbial blue arsed fly doing lots of housework this morning. I have about four hours now before I leave to meet Aleemah at London Bridge, and I am not even up and dressed yet. I guess that Allemah may well be seeing this place in it's more natural state when we come back here later on !
Friday 9th March 2007
08:18 GMT
The weather has taken a step backwards. This morning I was greeted by a very wet road when I left the house. At some point there had obviously been a fair amount of rain, but it did not rain all the time I was commuting to work. In fact the clouds seem to be breaking up, and more and more blue patches of sky are appearing. There has even been some patchy sunshine. It would be most pleasant if the process continued and we had a day like yesterday. It was most definitely feeling very warm for a lot of yesterday, and standing outside having a fag in hot sunshine was most definitely a good thing.

I had a fairly good day at work, and a trouble free commute home, but didn't really get up to much yesterday. During the course of the evening I spoke to Aleemah, and confirmed that I would be meeting up with her tomorrow. If the weather seems reasonably OK we are meeting earlier than on the more recent Saturday's, and are going to visit The Thames Barrier (I was going to give a link to The Environment Agency's website, but that seems to generate an irritating pop-up message. Although I have no idea what it is because Firefox blocked it - like any well behaved browser should).

I am feeling the desire to do a computer upgrade. Ideally I would like the PC in my bedroom to be a little faster, but it seems no one is dumping any computers in my local neighbourhood. The PC in my bedroom was one I found dumped in the road close to my house. It is not a bad box, but I am feeling like I ought to be moving ahead of sub 500MHz processors these days. With the minimum spec for Windows Vista now around a 30GHz processor and 400 TB of ram, it is about time people started dumping their 1GHz machines.
Thursday 8th March 2007
08:20 GMT
The promised fresh spring morning has arrived. It was chilly, almost frosty, when I left home, but now it is beginning to warm up thanks to clear blue skies and bright sunshine. If I had anything to moan about (weatherwise - rant coming up later) it is that the sun is so low in the sky that it is often dazzling. However that is a small price to pay for making the start of the day look wonderful. I don't know if the rest of the day will be so good, but it is a fine start.

Yesterday was pretty uneventful apart from two things. Firstly I did not get to the pub last night. This was a shame, but of no great bother. It is all worked around work commitments, and I go when I can, and don't when I can't. Last night Kevin was either working late, or was late getting back to Catford after having to work in some distant location.

The other event yesterday was one that made my blood boil. It was an article in yesterday's Metro reminding us of that those pathetic wimps in Whitehall have once again given in to the health and safety police, and medical thugs, to include company cars in the definition of a workplace where smoking is to be forbidden. I haven't got a company car, and even if I had I can't drive, and have no licence to even attempt it. Even so it still makes me mad. It is no surprise that the government can't stand up to America when it comes to military decisions when it can't even stand up to a minority of misguided do gooders. Of course smoking kills many people, but so what, it doesn't kill everybody. We are breeding a race of wimps who can't even look at fresh air without dying of asthma. I think I count myself lucky that I am from the last generation that could play in muck and shit as a kid, survive comfy, intimate, friendly living rooms with a family that included several smokers, and survive with few illnesses to five sevenths of a lifetime, and still feel that I can probably survive another year or two. All the wimps, and medical defects from my original peer group will have already died off many years ago. Sad for some, but for the rest of us we should be able to enjoy the glory days of getting this far without fear of the front door being forced open in the middle of the night by some doctor thug who wants to forcibly imprison us while they convert a few years left of happiness into a few years +2 of sheer unending misery. And I thought doctors had compassion. At first I thought it was just this once great country going down the toilet, but now I fear that the fear and totalitarianism is spreading across the face of the whole planet. Stop the world, I want to get off.
Wednesday 7th March 2007
08:14 GMT
This mornings paper (The Metro) suggested it would be a fine spring morning, but I would suggest they got it wrong ! There was more rain overnight, and evidence that there had been some heavyish rain just before I left home for work. As I walked to the station there was still some very light, practically ignorable, rain. Although it was enough to speckle my glasses with rain drops.It is reasonably bright outside now, but there do not seem to be any blue patches of sky visible right now. Hopefully the clouds will break up soon, and we will see some sunshine. Yesterday, late in the morning, it was glorious outside. While having a fag outside on the fire escape, I was standing in bright strong sunshine, and it was carrying some welcome warmth. While the wind had dropped, the sun felt really quite hot as it fell on my dark blue shirt. For a brief moment it could almost have been a summers day.

On Monday night I stayed forty five minute late at work to partially make up for the hour I came in late in the morning. Last night I intended to stay just fifteen minutes later to completely make up the lost hour. It didn't seem to work like that though. I found I stayed an extra thirty five minutes. So in theory the company owes me twenty minutes. Well, I can live with that. It just helps the give and take that seems to happen here. I'll be wanting to get away sharply, or even slightly early, tomorrow night if I am going to meet Aleemah after work (which is not certain as yet). Leaving when I did last night, was (accidently) fairly well timed for a series of smooth connections between buses and trains. I arrived at Clapham Junction with enough time for a leisurely stroll to platform seven, and had enough time to finish my fag without rushing, before boarding a fast train to Waterloo. Sadly, the train was nothing exotic. It was just an ordinary South West Train class 450, but it arrived at Waterloo in time for an unhurried walk over to platform A on Waterloo East station to catch the 17:17 Hayes train which is fast to Ladywell after calling at London Bridge (the next stop after Ladywell is Catford Bridge - my home destination).

I haven't moaned about feeling rough, or aching, in the morning for some time now. The worst aches disappeared some time ago, but I still do feel pretty creaky until I have had a hot shower in the morning. My lower back continues to be "fragile" but I have not experienced any difficult pain for maybe a couple of weeks now, although I do still get the occasional twinge. My main problem this morning is my underpants ! I seem to have put on a air with either weak elastic, or I have put on sufficient weight that they no longer grip in the right places. Superficially they feel very comfortable, but after a bit of walking, exacerbated by sitting down and getting up again, they do have this nasty habit of slipping down under my bum cheeks. This is very slightly uncomfortable, and is probably embarrassingly noticeable. It is certainly embarrassing to reach down inside my trousers to hoist them up again !

Last night I put the finishing touches to the upstairs, front bedroom, PC - if ever there is such a thing as reaching the ultimate configuration of a PC. Tonight I am looking forward to a couple of pints in The Ram with Kevin, and Iain if he can make it tonight. If that does not happen I may well start to upgrade my downstairs, back room, PC number two. Once upon a time this was optimised for video editing, but over the last year it has become clogged and cluttered. I think I will back up as much as possible on it, and do a brand new fresh installation. At the same time I will fit a brand new 320GB ATA133 hard disk onto one of the raid controller channels (these are faster than the normal IDE channels on the motherboard). It should all be good fun in a masochistic sort of way, but I think I would prefer a drink tonight, and leave the PC stuff for a quiet and boring Sunday.
Tuesday 6th March 2007
08:29 GMT
It seems to me we are getting March winds

and

April showers all together. Overnight there was a lot of rain accompanied by very gusty winds. At one point it must have been very bad and influenced my dreams. I dreamt that I was in a room where the wind was actually bending a metal frame and glass door. Strangely, the glass didn't break or crack despite being bent at an alarming angle. It was very overcast, but dry, when I left for work. At Waterloo East Station it was pelting with rain, but at Wandsworth the rain had stopped. There was even a brief glimpse of sunshine that managed to filter through a tiny crack in the clouds. That sunshine has now long gone, and it is looking wet and gloomy outside.

Yesterday morning was totally different. The sun was shining and it could have been a lovely journey to work - except that it was horrible ! Prior to leaving home I was burning a CD to bring into work with me. This delayed me just enough to miss my usual early morning train (I didn't even attempt to rush to the station as I knew I would not make it in time). I intended to get the next one, but it arrived early at the station and left as much as a minute early too. So I missed that train by seconds too. Had I got that train I would have endured standing in packed conditions until the train got to Lewisham. Many commuters change there for the Docklands Light Railway, and in the past I have found I can usually get a seat for the rest of the journey. Having missed that train I had to wait thirteen minutes for the next one. That was packed, and to make matters even worse it stops at every station to London Bridge, and then goes to Cannon Street instead of Charing Cross. I had to stand in cramped conditions all the way to London Bridge, and then change platforms to catch an equally packed train to Waterloo East. The trains heading out of Waterloo are not usually too badly packed, but as luck (?) would have it I happened to select a train running as a four coach train instead of the the eight coaches it should have had. Getting on a Waterloo, and finding a seat was easy, but by the time we got to Wandsworth the train was groaning at the seams as more and more people had rammed themselves on board at each stop. I took advantage of a certain amount of movement at Clapham Junction to get up and move to the doors ready to get off at the next station (Wandsworth Town). Had I not done so, I suspect I would not have been able to get out until the train reached somewhere on the south coast !

This mornings journey was just my usual one. I managed to get a seat at Catford all the way to Waterloo East, and then I was seated all the way from Waterloo to Wandsworth Town station. My only discomfort was that the train from Waterloo was an unrefurbished call 455 train. I am not always a great fan of refurbishment. Often it means taking out the (slightly) exotic and replacing it with the bland. The original class 455 train is definitely one exception to this. From new it had the most uncomfortable seats ever. The new seats are a huge improvement, but still not a patch on the nice bouncy seats used in the old slam door stock.

I notice that I have not said anything about Saturday or Sunday. I had a fairly lazy day on Saturday. Most of the day I spent playing with computers. This was mostly fitting the new hard drive into the upstairs, front bedroom, PC, and adding some more software to it. I continued the process for many hours on Sunday too.

As I sort of guessed (on Saturday morning), Patricia came over in the evening to pick up her mail. She stayed for a couple of hours and we had some pizza together.

Sunday was mostly spent working on the computer, and I did still more last night.
Monday 5th March 2007
09:26 GMT
It's a bright sunny morning, but with a rather chilly wind blowing. Due to a bit of a cock-up I missed my usual train this morning. Disastrously I managed to miss the train after by by as little as five seconds. From then on the entire journey into work was done in ultra packed trains - not very nice at all. So I am now late into work and can't spend any more time writing this diary.
Saturday 3rd March 2007
06:11 GMT
It was a very wet and windy night, last night. This morning both the wind and rain seem to have died down, but I suspect it is only a lull before the next lot starts. Until early afternoon, yesterday was rather fine. It never got quite to the point where you could describe it as warm, but many hours of sunshine did take away the chill. It certainly showed that springtime was possible.

I didn't sleep too well overnight. I was late getting to bed, and when I did get to bed I read for a little while. I think it was after midnight before I turned out the light. I fell asleep very quickly, but soon after 1am I was awoken by Smudge who had decided she was, for the first time ever, going to sleep on my pillow. As cute as that sounds, there are several problems with that. For a start my bedroom is supposed to be off limits to Smudge. It is supposed to be a sanctuary for Nelly. Secindly Smudge is a semi long haired cat, and tends to leave too much fur around. Perhaps the most important reason is that Smudge has just been treated for fleas for the first time in a long time. The flea killer drops do have an unfortunate side effect. The fleas seem to irritate her more in the dying days, and so she is scratching a lot, and the scratching means that she is shedding dead and dying fleas. Having dead fleas in your bed is unpleasant enough, but some of the dying ones can still manage to bite in their last hours of life. I don't know if I was actually bitten, but after I had chooed Smudge away it felt as if my scalp was very itchy.

Having got rid of a scratching Smudge I tried to get back to sleep, but the wind was really noisy at that point. I did eventually get back to sleep. I had no idea what the time was, but I estimate that I did not get back to sleep until 2am. From then on things should have been OK, but I had forgotten to turn my alarm off, and it woke me at 5.30am (as is usual for a weekday). As soon as the cats realised I was awake they demanded their breakfast, and even if I was not awake at that time the chances are they would have woken me up sooner or later anyway.

Now the cats have been fed I can look forward to going back to bed soon. In theory I can have a nice long lay in this morning. I am not seeing Aleemah this weekend and so do not have to rush around like a madman trying to squeeze in all my housework in a few hours. Had it not been the case that I am expecting a visit from Patricia sometime today, I could has (slightly) guiltily abandoned doing any housework, but maybe I had better do some. With both cats shedding dead or dying fleas some hoovering is really quite important. As yet I do not know what Patricia's plans are. All I know is that there is some mail, and some paperwork here that she wants to collect. She could pop in during the day, or maybe even tomorrow, but I think she will come to dinner tonight.

Anytime I am not entertaining, or doing housework, I suspect I will be playing with computers. I installed more applications on the front upstairs PC last night, and today I could well install the final bits and pieces, and then migrate all the useful data from the old hard disks to the big new one. Meanwhile my Linux PC downstairs will contunue to (naughtily) download some episodes of The Simpsons from America that I will not get to see on Sky One after NTL/Virgin Media deleted it from the cable TV channels. These rather large downloads do take up a lot of my bandwidth, and that is why this page has probably downloaded so irritatingly slow !
Friday 2nd March 2007
08:14 GMT
There was a light frost this morning. The temperature must have been very close to the difference between frost and no frost because only certain cars seemed to have a very thin rime of frost. I don't know what time the clouds cleared overnight, but it was cloudy when I last saw the sky yesterday, but like yesterday morning, the sky is now clear, and the sun is shining. It made for a quite pleasant journey into work, although it may have been more pleasant if the train from Waterloo to Wandsworth, and the bus from the station to work, had been a little warmer inside. According to the weather forecast today will be similar to yesterday. It was warm up during the morning, but more cloud will appear later in the day.

All the computer bits I had ordered on Tuesday turned up yesterday and I lugged them all home with me. There was very little worth watching on TV last night so I installed the new DVD burner in the front upstairs bedroom PC. The drive I took out was made by Toshiba in 2000, and was only a CD writer/DVD reader combo drive. Now I can burn DVDs up there at x16 speed (allegedly). I also connected one of the old 160GB drives taken from my Mk1 server to that PC. I did not physically install it, but left it hanging out the side until I am ready to permanently use it as the new drive. I installed Windows XP on it, and managed to make a start on installing some of my preferred applications as well (Firefox, Look@lan, Winamp, and Winzip). Perhaps tonight I will install a load more stuff and fit the hard disk in properly (then I can have fun transferring stuff off the old disks to the new disk).

One little problem I had last night was toothache. There were two little bouts of it, and fortunately both lasted for a very short time. The first was from the tooth with the new crown on it. That was like it had been hit by a bolt of lightning. There was almost a pop as the sudden burst of of extreme pain hit the tooth, and then within seconds it had died away again. If I am lucky it was just a "settling down" sort of pain. Maybe as a nerve died or de-kinked, or something equally bizarre. The other bit of toothache was from the somewhere in the region of the upper teeth on my right hand side. It was far less excruciating, but longer lived (maybe a minute or two). For that I blame the sadistic cleaning that dentists do. Those teeth were nicely protected by a good coat of tar and nicotine until the dentist gouged and scraped them. So far there has been no repeat of either pain, but I feel very apprehensive, and have brought in some paracetamol and codeine tablets incase any of the teeth kick off again.
Thursday 1st March 2007
08:51 GMT
The day has started brilliantly. The sky is blue and the sun is shining. There is still a bit of a nip in the air, but otherwise it is a perfect spring day. The temperature is only forecast to go up to 10° C, but where there is some shelter from the wind, and direct sunlight, I reckon it could go a lot higher. The fire escape where I have my smoke breaks is not really protected by the wind, but it does face south, and the bricks soak up the warmth nicely. I reckon that if the sun can stay shining until midday, maybe even earlier, it will be most pleasant going out for a smoke.

My last visit the dentist yesterday was uncomfortable, but the new crown is in place, and all the soreness and aching has disappeared. All I have to worry about now is the next time !

After leaving the dentist I did some shopping on the way home. I bought paracetamol and codeine tablets from Boots (just in case !), and flea drops from the vet for the two cats. As yet I haven't used either, although the flea drops will have to be used soon. The problem is that the cats, Nelly in particular, regards it as some sort of torture. So I hate putting them on her. Quite why a tiny drop of liquid, warmed to near blood temperature in my pocket, should be so distressing, but it seems to be. Having said that, the distress only lasts a very short time, and can be completely short circuited by a plate of food. Food is another way I mistreat my cats. Both cats were extremely upset that I didn't feed them until an hour before they would normally be fed. If I was in a the kitchen at at 4pm why weren't they being fed ???? (or so the messages I received from them told me). I think they actually had three meals yesterday instead of the normal two.

there were many things I thought I might do yesterday, and one of them wasn't playing for hours with my old Windows For Workgroups 3.11, 486DX66 computer, but that is what I did. It started out with a decision just to turn it on for a few hours to let the back-up battery recharge before it went totally flat. Unfortunately I had left it too long and the BIOS had lost all it's settings. So I reset the BIOS and had a small play which turned into a longer play until I (re)discovered Calmira. This is a sort of overlay that makes Windows 3.11 look and partially behave like Windows 95 (there is also a Windows XP look available as welll). It was sort of fascinating, and took a long time to explore all the possibilities.

I was playing with that ancient computer right up to the time I left for a couple of pints with Kevin in The Ram. We started a little late, and I left a little late, but I was still able to get in bed by 10pm, although it was some time after that before I finally got to sleep.