Friday the 25th September 2009 was a glorious day, and particularly so for a day so late in the year. The sky was very blue, and the sun shone for almost the whole day. Temperatures on the south coast were close to 20° C as far as I can tell, and there was very little breeze that might have made it feel cooler. Amazingly enough, even the sea water didn't feel too cool. The actual forecast for the day looked like this ;-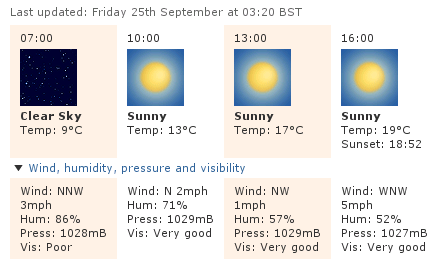 I am sure those figures were rather pessimistic because it definitely felt warmer than that to me. The other useful thing, considering that much of my walk was to be along the sea shore, was that the tide was quite low when I arrived there (just before midday).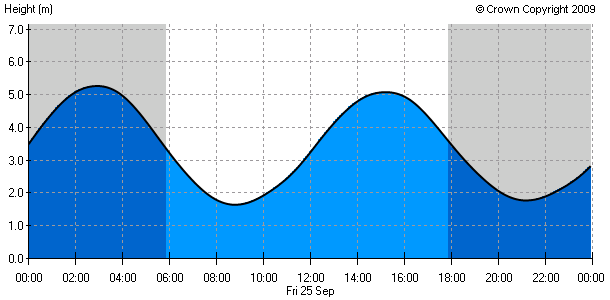 I left home wearing my favourite black canvas shoes that I use for paddling about in the sea. Usually I put them just before I start mucking about in the water. They are not that comfortable for walking on hard pavement, but my feet felt reasonably OK in them. My intention was to get a Hayes bound train from Catford Bridge to Elmers End station where I would transfer onto the Croydon Tramlink to East Croydon station. As I left home I was still having doubts about whether I really wanted to go, but I had an immediate boost when I found that the first train was not bound for Hayes, but was bound for Beckenham Junction. There is only one train a day takes this route, so my day out started with a bit of novelty, and I was still able to get the tram from Beckenham Junction to East Croydon.

At East Croydon I barely had time after I had bought my £17.60 return tickets to smoke any more than ¾ of a fag before I had to run to catch my train. It is a 1 hour and 6 minute journey from East Croydon to West Worthing station, and then there is a 0.8 mile walk to reach the shoreline. Had I been travelling on the roads, here is the route I would have taken :-
Google maps estimates that this route is 4.4 miles, but I walked a more convoluted route than that. It's hard to estimate, but walking to and from the road, up and down the shingle from the waterline, and then other detours like walking out to the end of the pier etc, possibly added another mile to that. When you add in the extra effort to walk on loose shingle, and wading through the water, it is possible my entire effort might have been equivalent to a 6 mile walk on level ground (and that's just the walking I did in and around Worthing). Once on the beach I started to take some photos.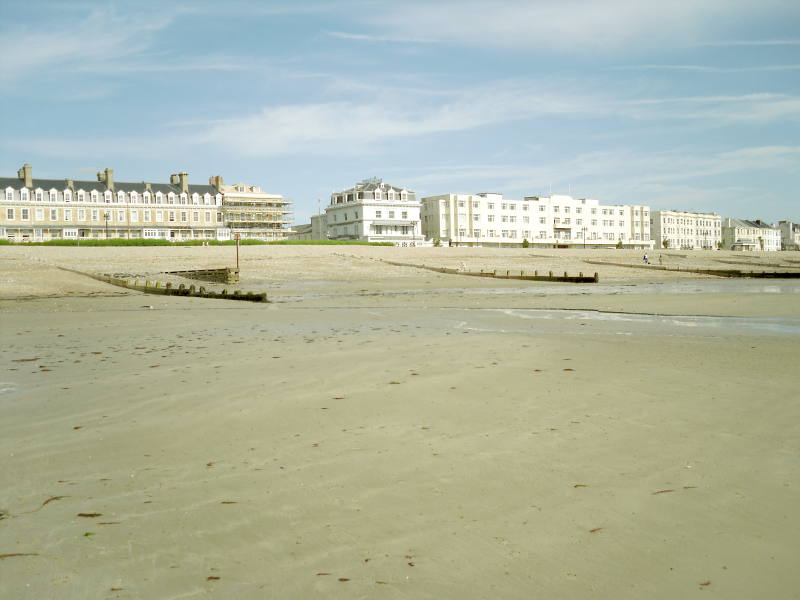 This was the first view I had once I had walked down to the waterline and looked back up to the road.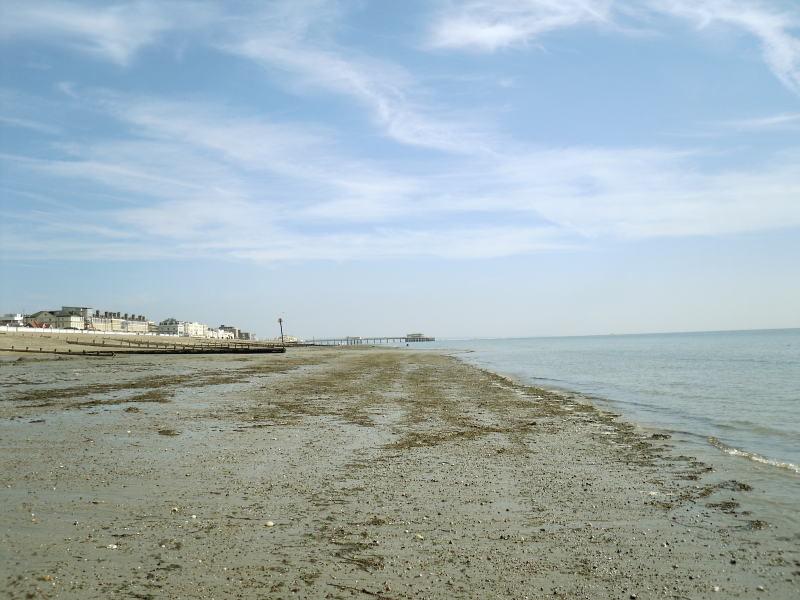 In the distance is Worthing Pier. Reaching there would represent about the first third of my journey completed.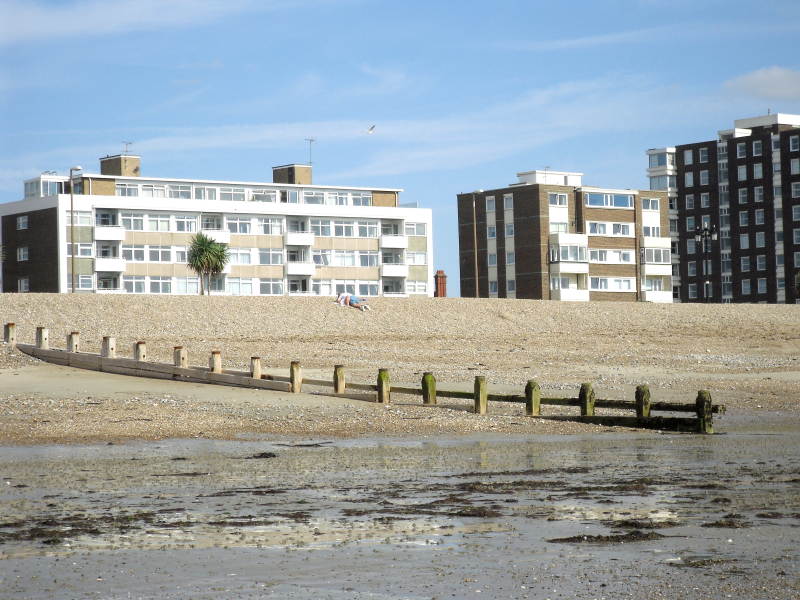 Another view looking up the beach towards the coast road, but what's going on towards the centre of the picture. Let me show you a close up.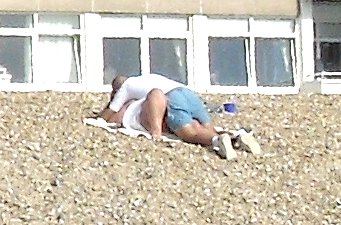 Is what's happening there what I think is happening there ?????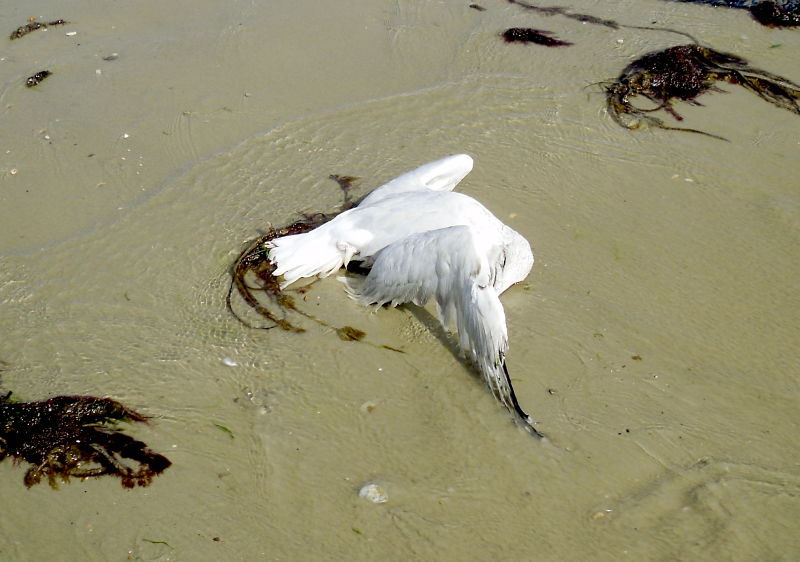 After walking a bit I came across a sad sight. This poor seagull may have died from shock after witnessing what was going on a few hundred feet further back along the beach.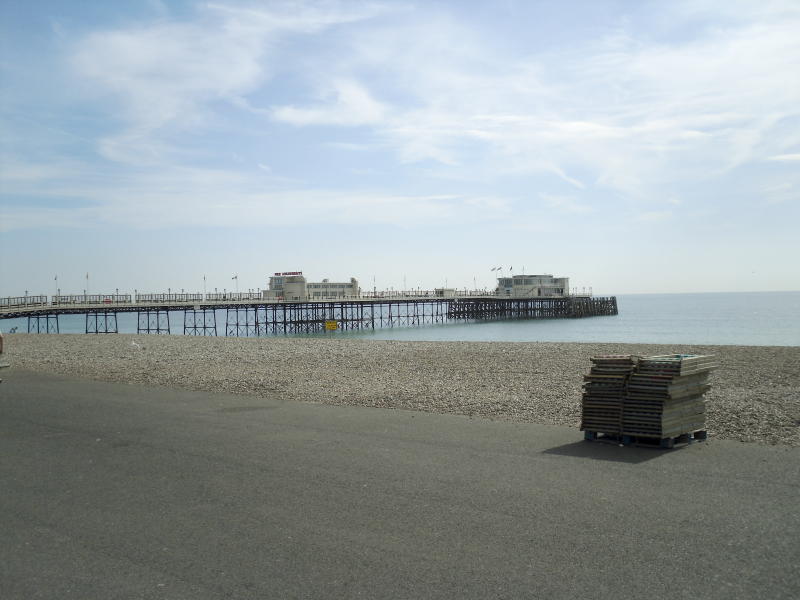 Above, Worthing pier viewed from the western side, and below, the pier viewed from the eastern side.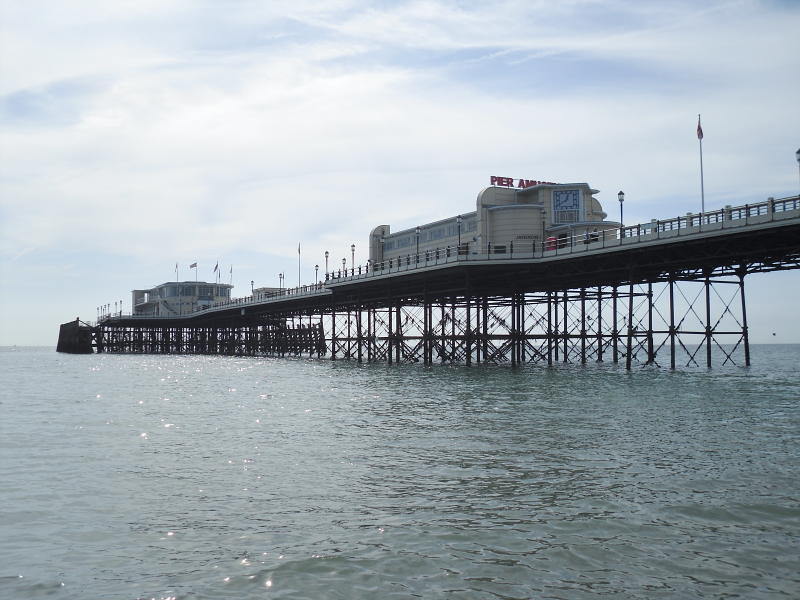 At the far end of the pier is "The Pier Bar". When I passed it by it looked totally empty. Even someone who I guessed was the bar man was outside smoking a fag. The reason it was empty inside was not hard to guess. The average age of the people on the pier was probably close to 60, and yet blasting out from inside the bar was the sort of so called Hi-energy disco music much favoured by gay men (or so I believe). When I say it was blasting out that is no exageration. The bass notes were rattling the windows, and some were even making some of the looser boards of the pier rattle. It must have been pure hell inside.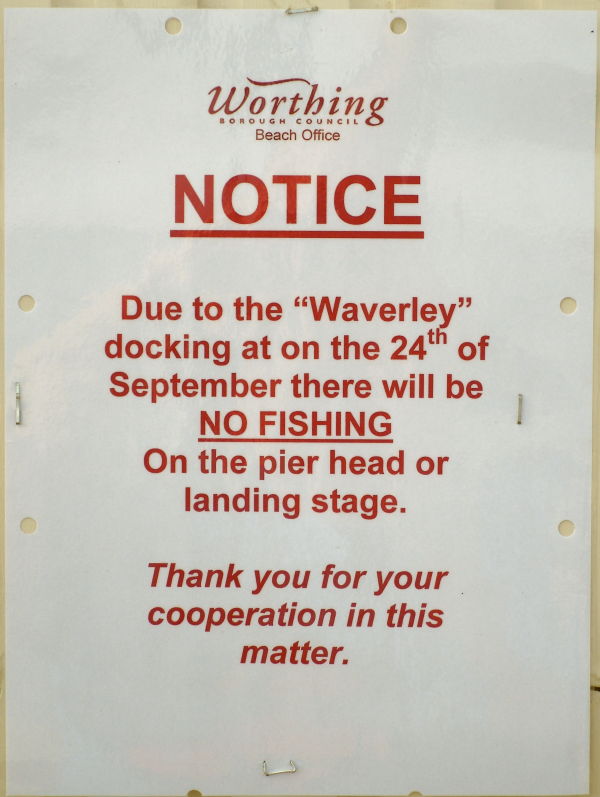 Had I been at Worthing a day earlier I may have had a chance to see the Waverley paddle steamer visiting the pier.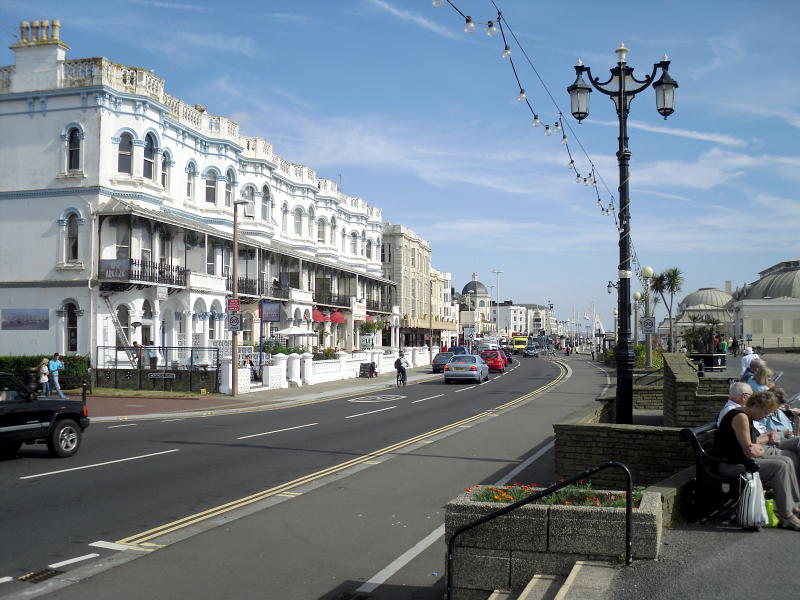 Above is the rather quaint looking main road going past the landward side of the pier. While below, almost directly opposite the pier, is what must be an essential of every true English town.............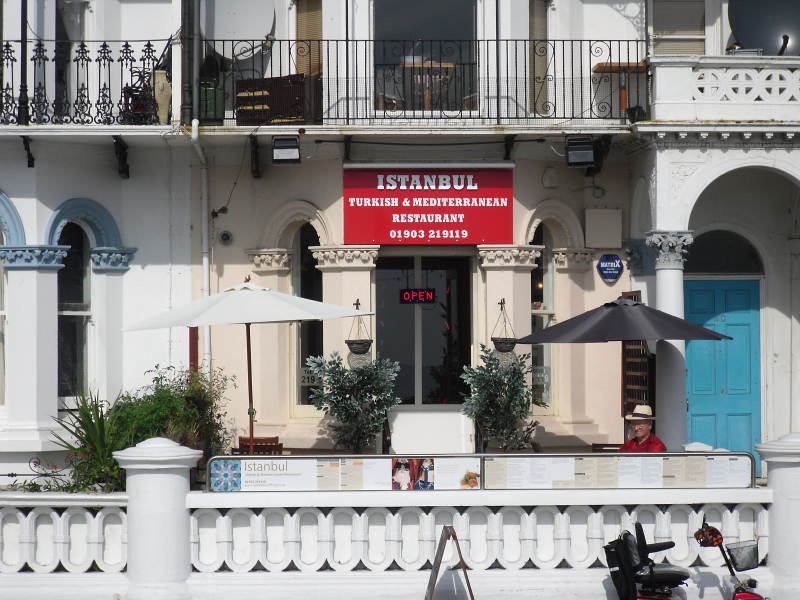 Well, it's better than wall to wall chip shops as favoured by Essex seaside towns (i.e. Southend !)
While walking across the beach on the east side of the pier I kept coming across the tracks of a tracked vehicle. Initially I thought that it may have something to do with hauling some of the fishing boats that I saw dotted along the beach way above the high water point. After walking for a bit more I found out what it was.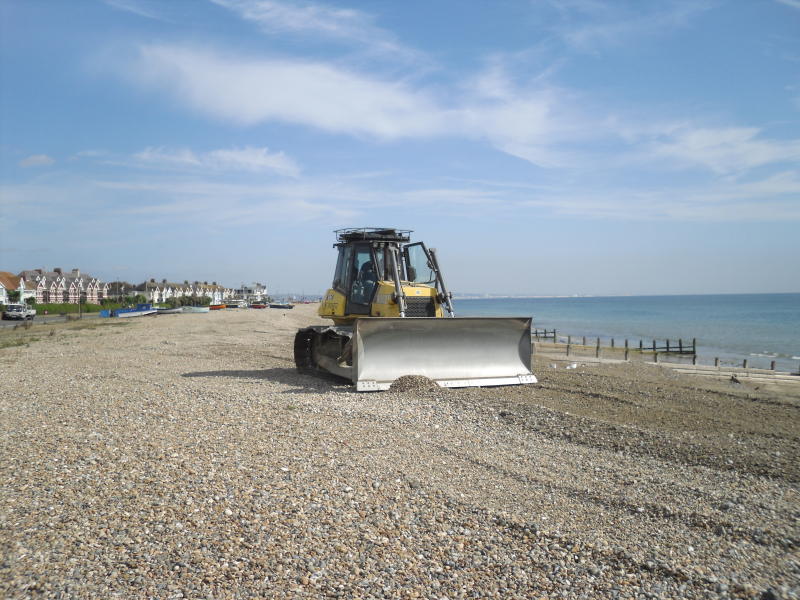 This bulldozer was either making the biggest sand castles in the world, or was levelling out the shingle, and smoothing the way down to the waters edge. Whenever a beach has a lot of shingle it tends to get piled up in steep dune like formations. These are very hard to climb up and down as I have discovered on many of my seaside excursions. The idea of the bulldozer seemed to be to smooth these out to a nice smooth slope down to the waters edge.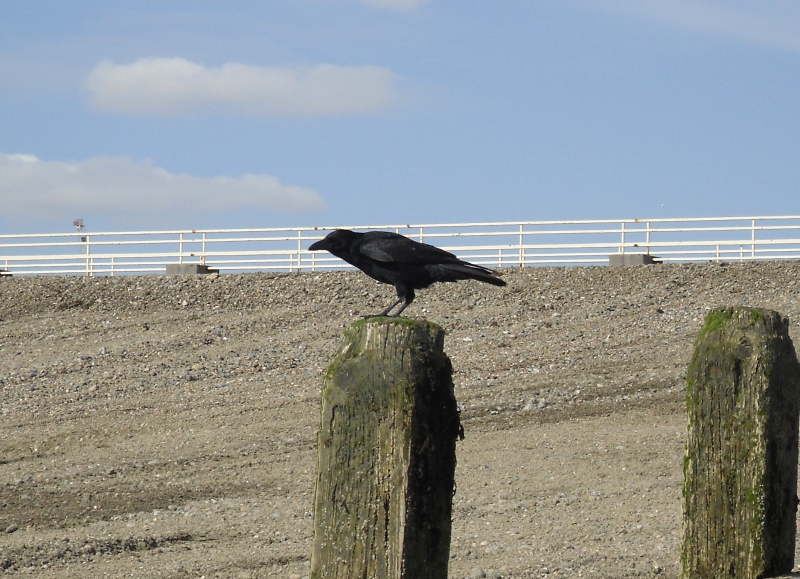 Usually you associate the seaside with white seagulls, but it seems Worthing has crows on the beach too.
As I continued to walk the tide rose higher and higher. When I first started the water was out well beyond the end of the groynes (or breakwaters). After walking on for another 10 - 15 minutes past Worthing Pier the tide had risen to the point where I was having to wade out deeper and deeper to walk past the end of the groynes. In the end I decided that I would have to come away from the waters edge, and walk further inland. Walking on the loose shingle was really tiring work, and although I did walk out on it a few more times, I took to the road for the last mile before turning inland to get to Lancing station. Soon after getting onto the road I stopped to change into dry shoes and socks. It made walking a little more comfortable, but I was surprised at just how far I had travelled in my light canvas shoes, and just how little they had made my feet sore. By the time I reached the road to Lancing station I was beginning to feel the strain, and had to make a decision. My original plan was to catch the train from Lancing station, but I wondered if I could make it another two miles to Shoreham By Sea station. What I needed was a drink and a think.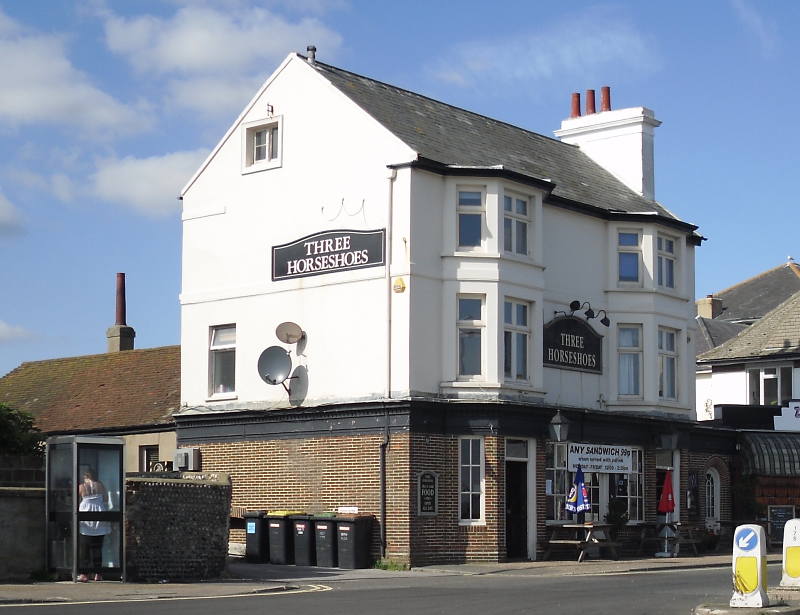 Very conveniently situated on the corner of the road leading up to Lancing station was The Three Horseshoes pub where I had a sit down and a pint of Stella Artois to slake my thirst. It seemed a most pleasant establishment.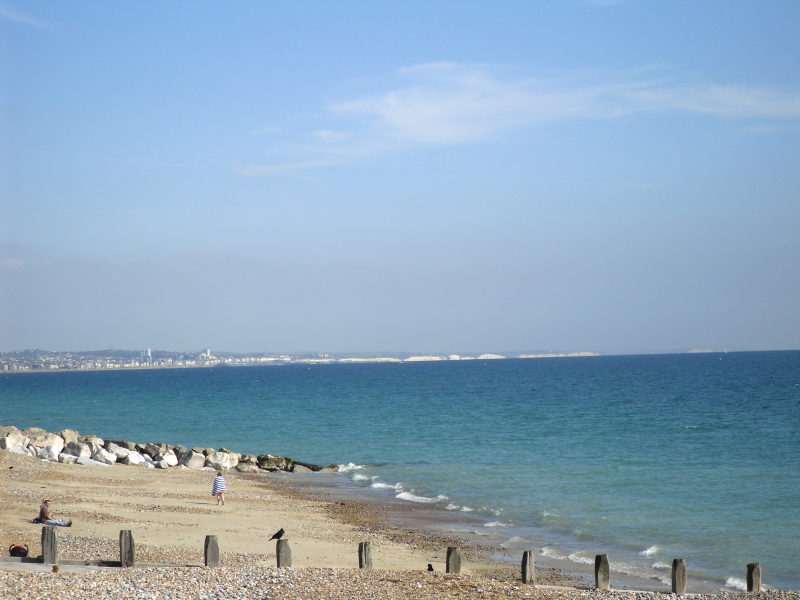 If had some company I think I would have pressed on towards Shoreham By Sea, assuming my company could make it too, or was willing to try, but I decided to give in and take the easy way out. Before I did that I had one last walk down to the beach at Lancing. It seemed rather pleasant there. It was quiet, and there were plenty of patches of sand in amongst the shingle. Just off the beach some building work was going on that I would guess was to add some facilities to an otherwise fairly sparse stretch of seaside (although there was already a rather substantial block of toilets nearer to the roadside).

Lancing itself is not very picturesque, and is not a typical seaside town, but it is typical of many medium to big country towns. The high street is lined with a wide variety of shops that is very untypical of any London high street. There were hardware, plumbing, and wood shops that were the sort of old fashioned shops where you can buy anything from a single screw to a complete central heating system - and the shop manager is a very knowledegable expert for all the stuff he sells.

Lancing railway station is a small station with a very poor service to London. Most trains that stop there go to Brighton, and I caught the first one of these as far as Shoreham By Sea which I knew more London bound trains stopped. I had about a 20 minute wait for the next train so I popped outside to the (almost) adjacent pub, The Crab Tree.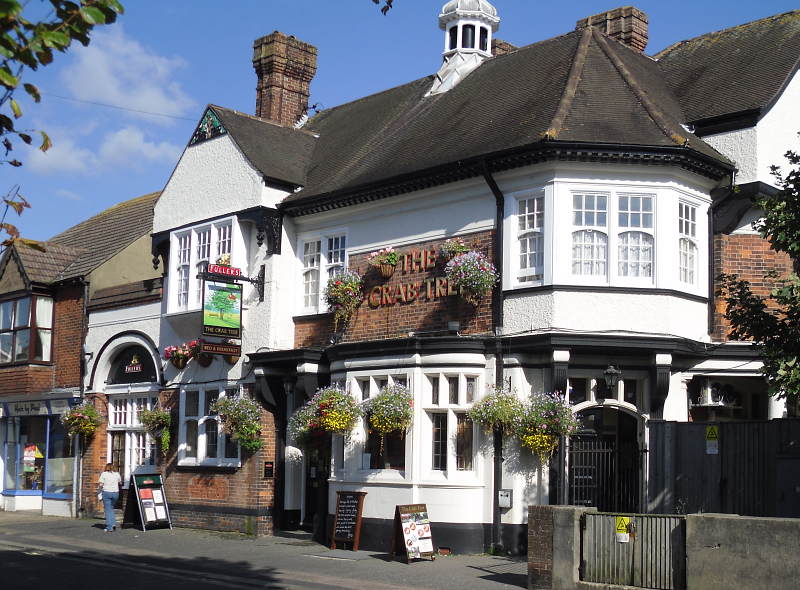 This pub is owned by Fullers, the brewers from Chiswick in south west London, and according to the barmaid it is they who set the price of a pint. I was upset that they didn't have any Fullers ESB bitter. I was annoyed that the Gales HSB had just run out, and I was truly astonished to find I had to pay £3.05 for a pint of very ordinary 4.1% (but still very tasty) Fullers London Pride ! I can accept that sort of price for an inner London pub, but out in the countryside............No wonder the place only had two other customers apart from me (and one of those left soon after I got there) !

I timed the end of my pint to perfection, and was soon on the train back to East Croydon. From East Croydon I caught the tram to Elmers End, and it arrived just as the train to Catford Bridge was departing - excellent timing - NOT ! With another 20 minutes to kill before the next train I went and did some shopping in the adjacent Tesco store. Carrying two heavy bags of shopping back home when I was already feeling rather tired may not have been the best idea, but I made it home OK in the end.

Overall it was a most excellent day out. I had summer weather in autumn. The walk was interesting, and my feet stood up to the stresses and strains rather well. Not pushing myself to go the extra couple of miles to Shoreham By Sea was a very minor disappointment that pales into insignificance against paying £3.05 for a pint of rather ordinary bitter !