06:24

BST



As far as I can remember, Friday stayed dry, warm, and sometimes sunny. There were occasional showers forecast for yesterday, and some of the heavy clouds I saw could easily have dropped some rain, but it missed me, and I experienced a lot of warm sunshine. Today has started rather dull, and apparently most of the morning will be like this. This afternoon should see some sunny intervals.

If there is one thing worse than seeing the fabled horse-eating spider of Catford eyeing you greedily from near the ceiling of the corner of the kitchen, it is checking again a minute or two later and finding it gone...........Somewhere loose in my house is a fearsome beast with dripping fangs, and legs long enough to reach into the next county ! However, I had more interesting things to consider yesterday.

It didn't seem a great start to the day with heavy looking clouds in the sky, but I felt compelled to go to the seaside. I wanted to start out a lot earlier than I did, and it was gone 11pm before I started out to the station. By that time the clouds had parted enough to allow the sun to light my way to the station. My destination was Ramsgate, and it was a hell of a long journey to get there, and even longer coming back.

I chose Ramsgate because I didn't feel up to a very long walk, and my destination from there, Broadstairs, was not that far away, and it would contribute a few miles to my long term quest to walk as much as feasible of the south east coast. My total walk was only 3.8 miles, but it did involve a lot more hill climbing than I bargained for. Things started well when I left Ramsgate station. It is downhill to the town, but then there is a very steep hill to climb to get

up

to the sea front. In this case "the front" is actually the top of a cliff that looks down onto the beach.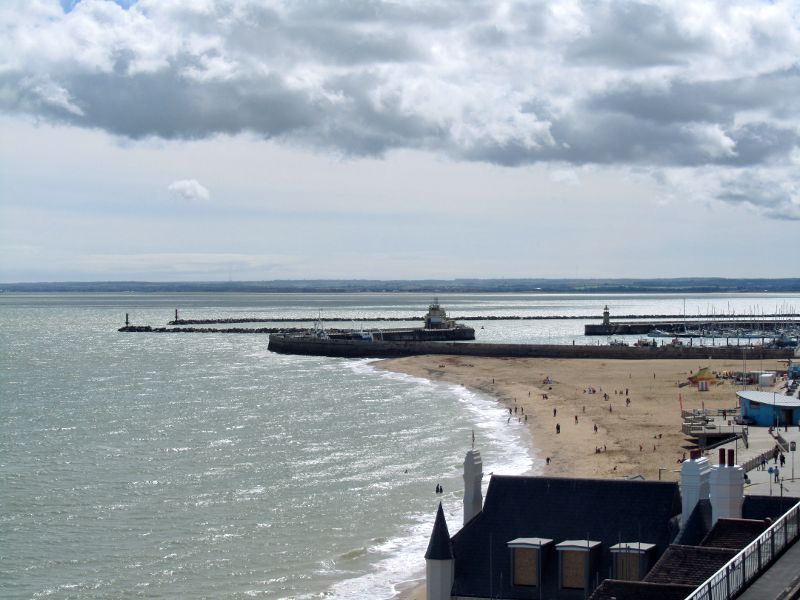 This is the first view I saw of the sea looking down, and to the south. In the middle distance is Ramsgate harbour, and somewhere in the far distance is Pegwell Bay and Sandwich.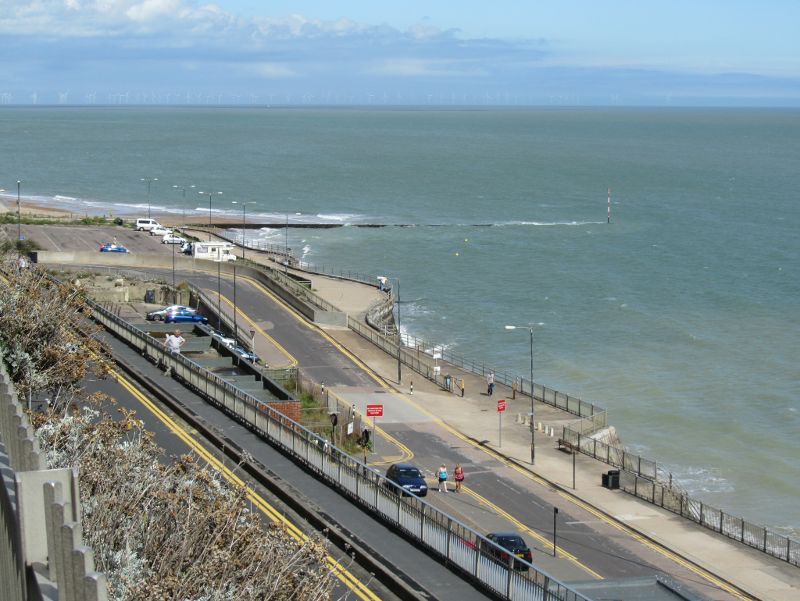 Looking the other way gives a better impression of how high up I was. In the distance you can just make out the huge offshore wind farm in the haze.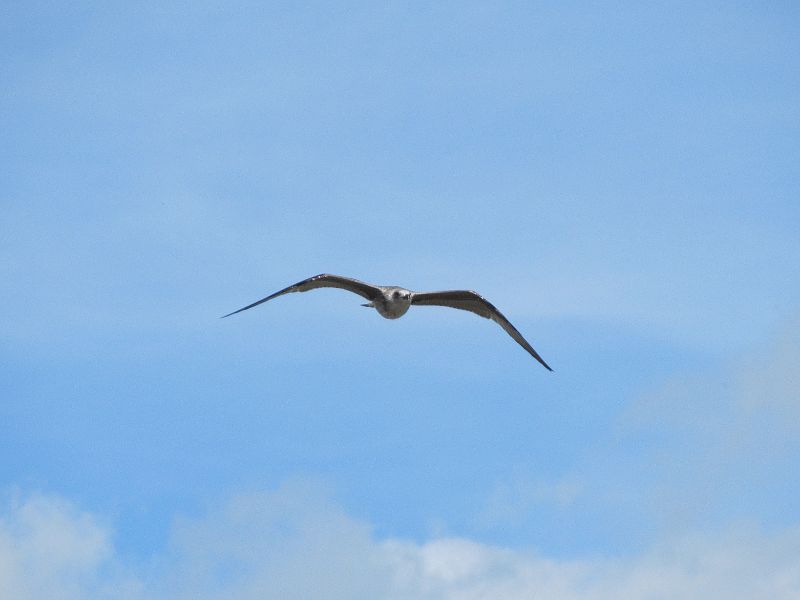 There was one picture I took of a boat that was partially obscured by a seagull that flew through the frame just as I clicked the shutter. I thought I would try and capture one in flight, and I got lucky with this shot.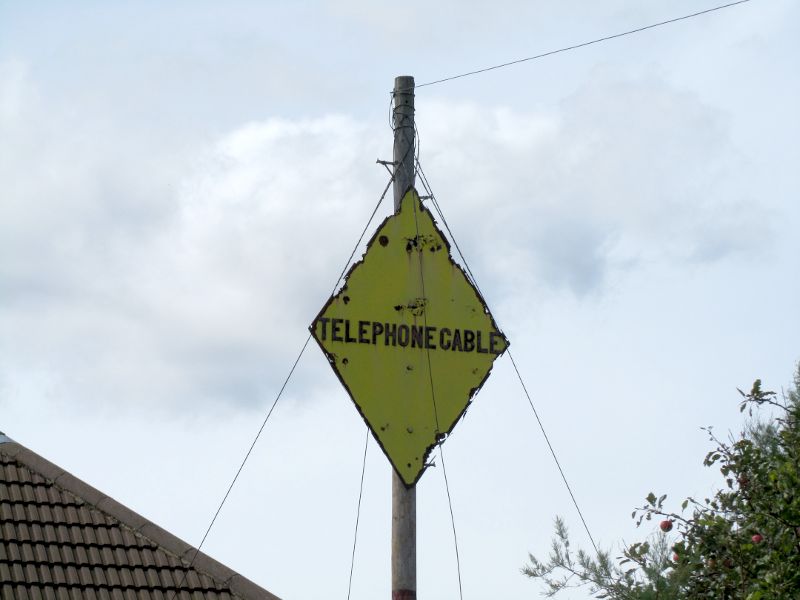 I was about halfway between Ramsgate and Broadstairs when I saw this rather odd, rather rusty sign. I couldn't recall seeing anything like it before.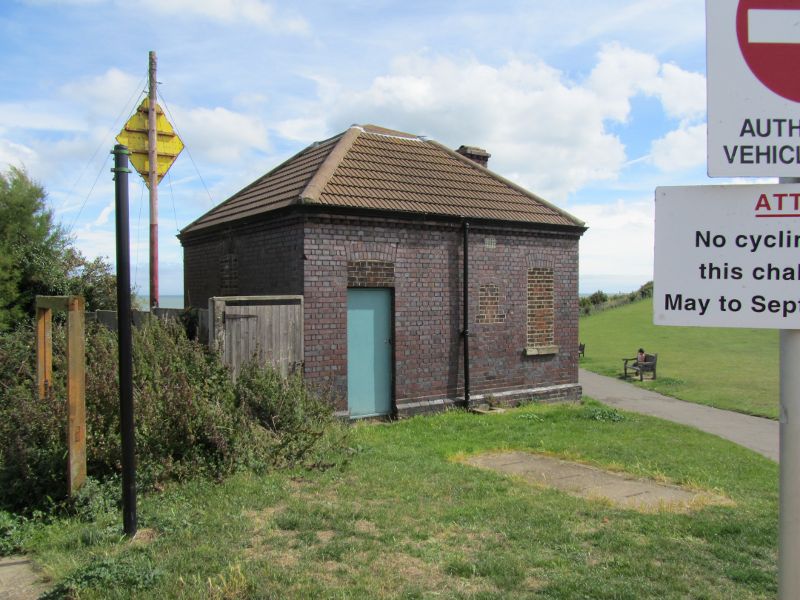 The "Telephone Cable" sign is erected behind this building which I think was what was known in the days of The GPO as an UAX, or unmanned automatic exchange. The three manhole covers in front of the building give a further clue that it was, and indeed may still be, a very small telephone exchange.


In all my walks along the seashore in the last couple of years I have seen very little sealife despite looking quite closely for it. I've seen dead crabs, and assorted sea shells, but I have never seen a starfish. I don't know if this one was alive or dead, but with the tide going out it probably only had an hour or so before the water would recede enough to leave it high and dry.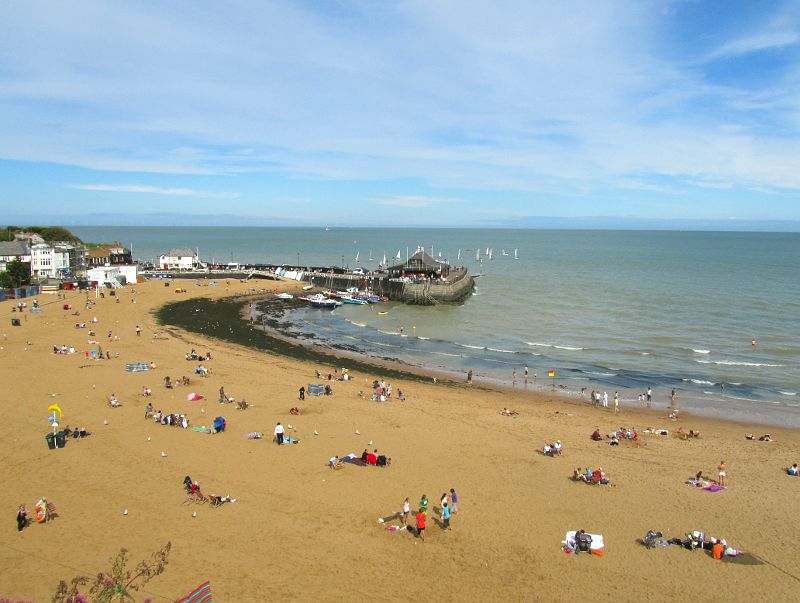 Finally I reached Broadstairs, and after climbing up five flights of steps to the top of the cliffs, and onto the road, I could look back and take this photo looking down onto the bay. In the centre of the picture is what must pass as the town pier. What is most apparent is the amount of sand. Most of the beachs I have walked on during my walks along the south east coast have been either pebbles, shingle, or mud, but between Ramsgate and Broadstairs there is a lot of real golden sand.

From where I took the above picture it is quite a long, and mostly uphill walk to the station. I started out struggling a bit as I walked up the hill in Ramsgate, but by the time I had reached Broadstairs I was feeling fitter, but slightly tired. If there had been an opportunity to walk and extra mile, and that extra mile had some views that were worth seeing, I may well have walked it.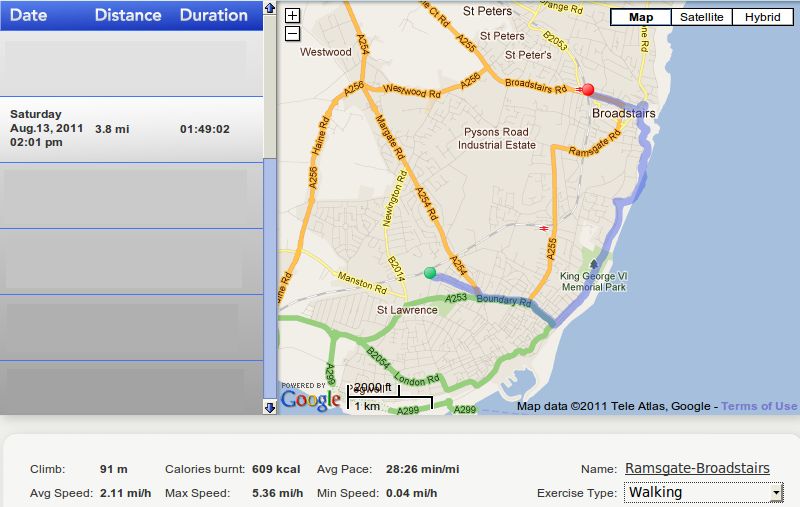 Here's a map of my walk yesterday. Considering some of the effort that went into it I am disappointed that it only burnt a measly 609 calories. I started out feeling stiff, and with some chest pains from a minor chest infection, and ended up sweating most of my pains away. It is a shame that I was so out of practice, and feeling so rough. Had I felt fitter I may have attempted another six or seven miles and gone on to Margate.

The real crazy thing was that this walk only lasted for an hour and 49 minutes, and yet the train journey to get there lasted slightly longer (around two hours). The journey home lasted even longer ! At Broadstairs station I noticed the the first train was one of SouthEastern's high speed trains going to St Pancras International station. After double checking with the ticket office that my ordinary tickets were valid on the train until it reached the high speed line at Ashford, I decided to take that train to see what it was like.

The class 395 "Javelin" trains are pleasant to travel on, but are nothing special. Perhaps while racing along on the high speed lines they may have some special aura, but on the slow lines they seemed most ordinary. I travelled as far as Ashford, and the route taken from Broadstairs is a long way from the most direct route towards London. At Ashford I only had time for a quick pee before I was off on another train heading towards Otford station where I changed trains again for one stopping at Catford (I could have changed at Bromley South, but at Otford there is no need to change platforms, and it is easy to get outside the station).

The route from Ashford to Otford is a long and meandering route, but for many parts of it the train does travel at about the fastest you can get a non high speed train on non high speed lines to run. At Otford I had to wait 15 minutes for my final train, and I eventually arrived at Catford two and a half hours after leaving Broadstairs. In the same time I could have been three quarters of the way to the Lake District from Euston station !

I presume it was because I was ill that two odd things happened yesterday. My normal craving for nicotine seemed subdued. Even after spending almost two hours on a train I wasn't exactly gasping for a fag. Then, having finally arrived back in Catford, a fair bit later than I first imagined I would, and after not eating anything all day (and only drinking less than a quarter of a pint of water while out) I didn't feel exceptionally hungry. I was very much looking forward to eating when I got home, but I didn't feel like there was any rush to do it.

I was so relaxed about it that I decided I could quite happily wait for a takeaway to be delivered. Had I had some company when I got in I think I may have got by eating very little, but I ended up ordering far more food than I needed. Amongst that food was some chicken shish kebab with lashings of chilli sauce. It was probably that chilli sauce that left me burning up while I was trying to get to sleep. I went to bed at around 10pm, but it was more than two hours before I could get comfortable enough to get to sleep.

This morning it seems quite obvious that I have a cold. As well as the tight chest and coughing, I have added a sore throat, and the beginnings of a runny nose. For all that I don't feel too bad, but I think I'll be going back to bed for a while before I get up again. I doubt I'll be going out much today, but I think I'll have to take a walk to the shops sometime this morning. After that I think I'll just be relaxing to get ready for another day at work tomorrow.