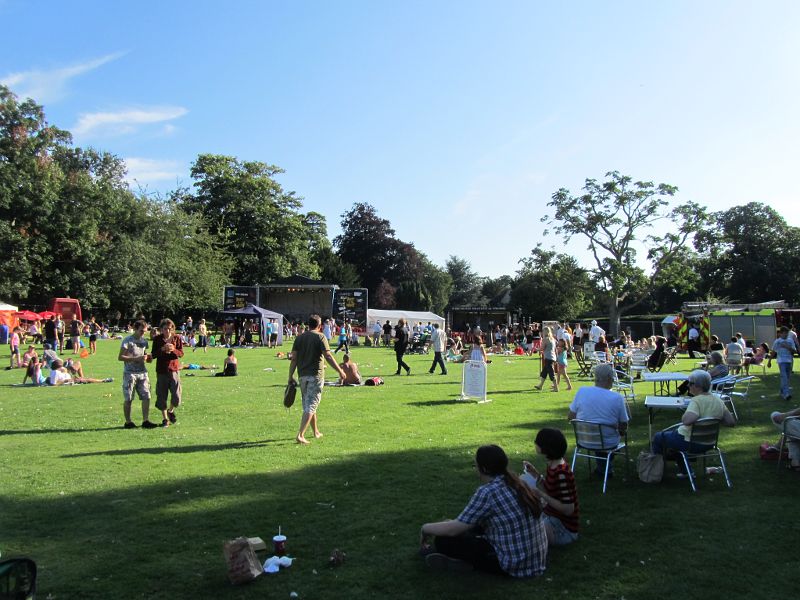 Like previous years, the place was not that busy. What this picture doesn't show is all the people sheltering from the fierce sun in any shady nook they could find. You could feel your skin fry under that sun !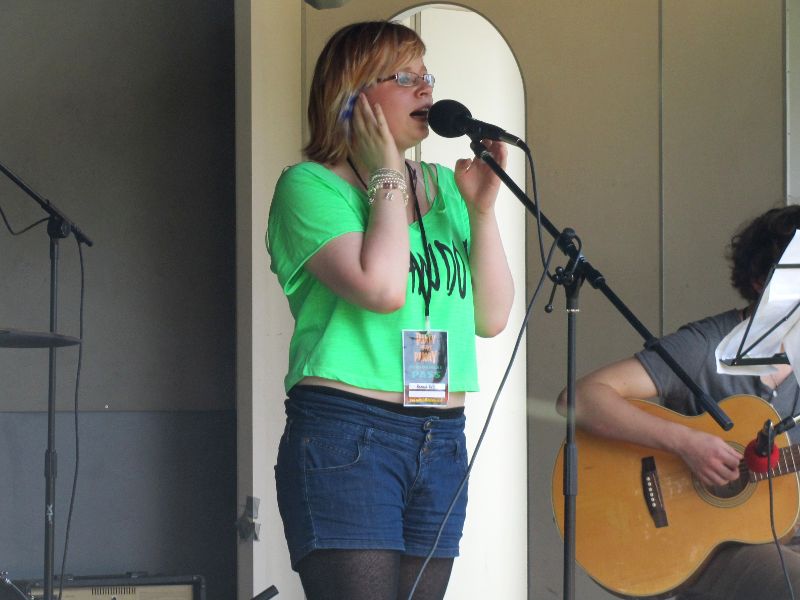 One of the people I went to see was Hannah Wells and her new band Unsung Exposed. She's sung a few guest spots with Chain in the past, and has a very good voice. Sadly she was a little nervous, and her new band were a bit young and raw.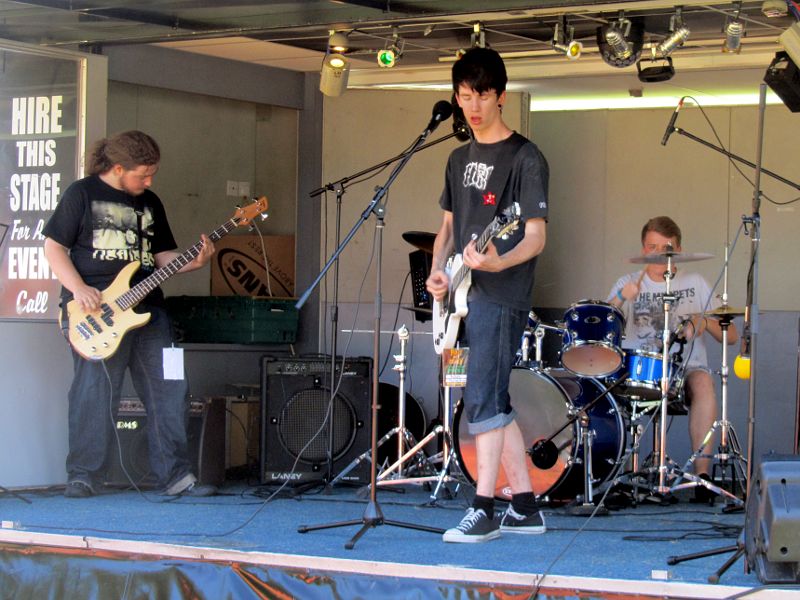 Another young band finding their feet were Eight Days From Sunday. Their style was heavy, almost thrash metal. It wasn't terribly polished, but I found it rather refreshing.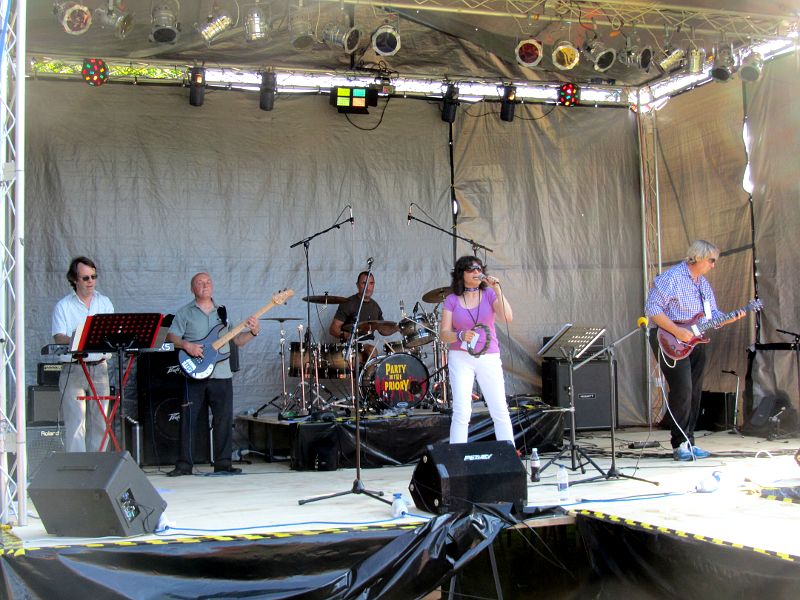 Liz Wass, occasional backing singer for Chain, and here fronting her own band, All You Need, has such a powerful voice that she should really be fronting a heavy metal band instead of a 1980s pop covers band.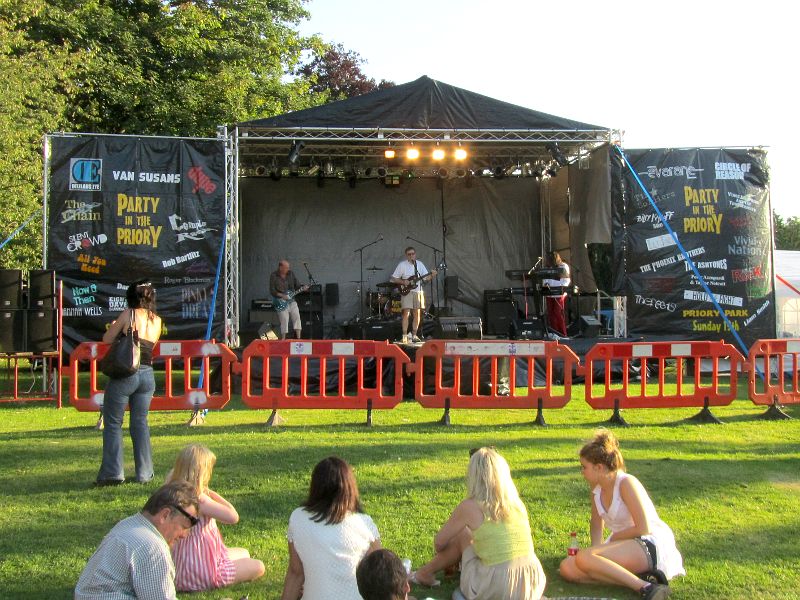 This is Dupe with the ever entertaining Dave Griffiths on Keyboard, a rather good guitar player, and a singer with a frog in his throat. They put in an excelelnt performance despite all sorts of set backs including the generator running out of fuel during their set ! I do have a good video of that happening, and I am wondering whether to make it public or keep it a shared secret between me, the band and the rest of the audience.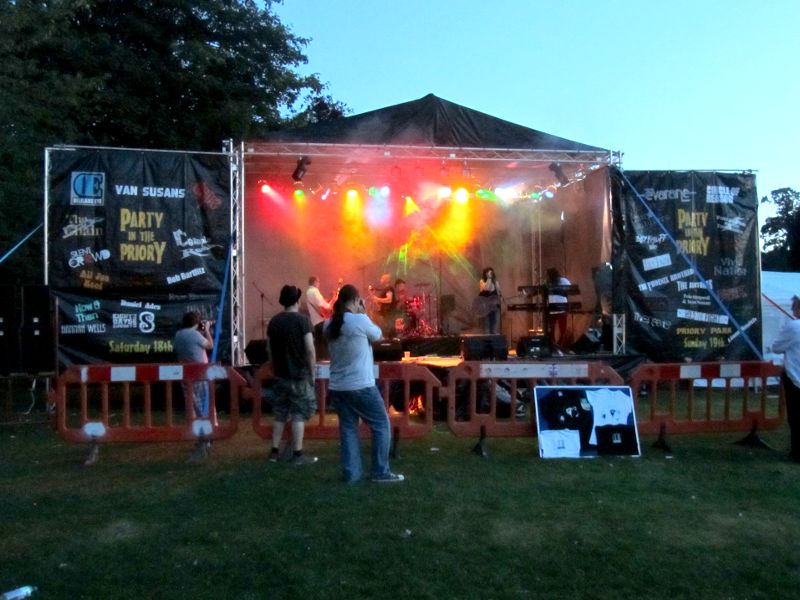 Chain came on just as the sun was setting. It made it all rather colourful, but there was a fly in the ointment. None of the stage lighting was aimed at the band. So close ups were almost impossible in the dim light.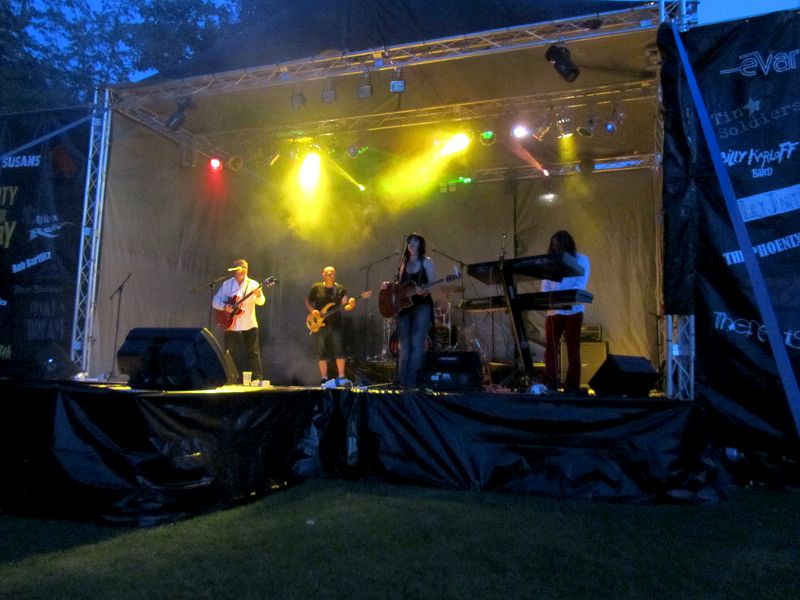 One closer shot that did come out more or less right.
This year I had company at the party. Kevin was there, as was Jodie and her friend Mark. Once Chain's set was over we decided to call it a day, and miss the last band of the day. We all decided that what we needed was a pub with a real toilet instead of the portaloos that were provided on site. Half a mile up the high street was a Wetherspoons pub, and we went into that for some decent ale and their toilets. Then by carefully consulting the internet on our mobile phones, Kevin and I worked out the best timing to get a bus from outside the pub back to the railway station (Jodie and Mark went home by car). Two things went wrong with that, but they cancelled each other out. The bus seemed to arrive at the station late, but the train was also running late. So it all connected up OK.

Back in Catford we called in to The Catford Bridge Tavern to make sure we had fully re-hydrated ourselves after staying out in the hot sun all day. I had a pint and a half, and kevin had two pints (or more if he stayed on after I left). It was gone midnight when I got home. I think I had been out for almost 12 hours, and I was feeling a bit peckish when I got in. So was Smudge ! She had been out all day, and gave me a cross look when I let her in. I had a couple of sandwiches waiting for me in the fridge, and they seemed to satisfy me before I went to bed at some time around 1am.

I slept rather well after all that, but not for as long as I would have hoped. By 7am this morning I was reviewing the photos and video I shot. Not much later and I started editing the 45 pictures I had selected. That, and uploading them to Myspace took up most of the morning. Since then I have done a heap of laundry. I put the first lot outside to dry in the garden just seconds before we had the heavy downfall of rain I mentioned earlier. So I took it all in again, and of course since then it has been dry and sunny outside.

My next task is to do something with the video I shot, but that may have to wait a bit because I am thinking of doing either of two things right now. The first idea is to have a lie down, and maybe a snooze. The second idea is to have a shower and get dreassed properly so I can go to the corner shop to buy some diet cola. Logically I should do the second idea first. I have been putting off having a shower for fear of the pain on my sunburnt arms, but I am beginning to think they aren't as sunburnt as I thought. When I think about it, I haven't felt so much as a tingle from them since going to bed last night. It seems the main damage from yesterday is the huge chunks of flesh ripped out by the car sized mosquitoes that were flying around the park last night like the Luftwaffe in the second world war. I expect we'll all be dead from malaria before the week is out !