10:35 BST



There was little direct sunshine yesterday, but it was mostly bright until late afternoon. The temperature rose higher than expected - 26° C instead of the forecasted 24° C - but it started to feel sticky by mid afternoon. With rain forecast for the evening it had all the makings of a storm brewing up. There was no storm, but there was some moderately heavy rain after 8pm (an hour later than forecast). I think the rain only lasted an hour or so, but I ceased to pay attention to the outside world once the rain started. I think to day may well be a rerun of yesterday - with a few changes to the timing. The rain may come earlier today, and maybe the temperature may be nearer the forecast of 23° C, but in essence it will still be very similar. The current forecast says tomorrow will be cooler, occasionally brighter, but sometime duller, and more importantly, it should stay dry all day.

Yesterday did not work out quite like I expected it to. The big change was that I did not see Patricia. She had three lucrative interpreter jobs that she had to do. Maybe I'll see her today, or if not today, and she still wants to grab some winter clothes from here, she will have to pop in after work on Wednesday or Friday (I'll probably be boozing after work on Thursday).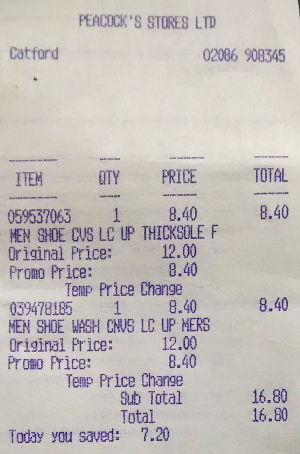 Instead of seeing Patricia I had to come up with other stuff to do. After paying my TV Licence I was technically broke.....but not actually destitute ! So I went for a quick walk to the cash machines and topped up my wallet, and on my way back, before spending a little of my freshly topped up wallet on a couple of bottles of diet cola, I took a look in Peacocks on the high street.

I am still suffering, in varying degrees, with swollen feet, ankles and lower legs since my operation last September. I am beginning to think that the surgeons botched the operation, and I rather wish I had stayed awake to supervise what they were doing !

Anyhow, my swollen feet means that my shoe size has effectively gone up by one size. Some of my current shoes still fit well, and are mostly comfortable, but others are almost unwearable. So I wondered what cheap and nasty trainers Peacocks might have in my new occasional size.

They had a fair selection, and it included some turquoise, almost plimsol like, trainers that I had hoped to buy some time ago. I ended up buying two new pairs, one turquoise, and the other light blue in similat, but not identical styles. There was no hint about it that I could see in the shop, but when I got to the till I found they were both subject to a "temporary price change", and were only £8.40 each instead of £12 each. That rather fitted in with my impecunious state !

Going out to the cash machines, Peacocks, and finally to the corner shop, was the last thing of note that I did yesterday. I was more than happy to laze around snoozing, reading and watching a bit of TV. It sounds as if it could have been boring, but the time seemed to fly by. Before I knew it, it was time for bed, but once in bed (or technically on it because it was too warm in it) I carried on reading until midnight - which was rather late for me.

I'm tempted to say that I slept well once I had fallen asleep sometime after midnight, but I had some peculiar dreams, and for the first time that I was aware of, a mild case of sleep paralysis. I was having a dream that that was very close to reality. In the dream I was in my bed, and my bed was in a bedroom that was almost identical to my real bedroom, but I think it was slightly bigger, and there was something else odd about it that I can't put my finger on. It was all so close to reality that I was unsure if it was a dream, or if it was reality. I woke up in the dream because something touched my foot, and I kicked it off. I'm sure I heard it drop to the floor. I obviously wanted to see what I had kicked, but I couldn't move. I had to sort of count to three before I could move, and during that count I woke up for real. It was all a bit disturbing for a minute or two.

I guess that dream happened at around 4am. I managed to fall asleep again until 5am when I will have to get up for work tomorrow, but this morning I went back to sleep again after a while, and finally woke up for good (or at least for this morning - the afternoon comes with no guarantees) a litttle before 8am. I guess I felt OK, but I didn't rush into anything for an hour or two. I spent a little while researching the idea of a trip to Deal on the Kent coast. I thought it might be nice to visit the pier there, and take a walk along the beach. The only trouble is that it would take 3 hours to get there by train, and cost £37 ! I could walk there in less than three hours days !

I think I worked out my anger by washing a double duvet cover, and a couple of pillowcases. They are now hanging out on the line to dry, and if they dry as quickly as I have after sweating after a warmish shower to wash the sweat off after doing that laundry, then they might be half dry even now. With rain due anytime after mid aftenoon they will have to come this afternoon in even if still slightly damp. It is possible that I might do another duvet cover, and maybe a sheet before the day is out. There won't be time for them to dry today, but if I leave them out they should be dry when I get home from work tomorrow.

I guess I am sort of waiting to see if Patricia contacts me before deciding on doing anything epic today, but I don't think I'll wait before going to get some shopping. I think I'll pop down the road to Aldi to get a few things in while I can (Aldi is not on my way home from work, and would be a very annoying detour - hence why I sometimes use Tesco on my way home from work). The only really important thing I ought to try and do today is to make sure I am fast asleep in bed in time for getting up at 5am not being too big a shock to my system !