My Diary/Blog For the
Month of January 2015
Saturday 31st January 2015
18:37 GMT



Yesterday was certainly rather cold, but I am unsure if the temperature did dip down to 2° C during the afternoon, as the forecasters thought it might. Most of the middle of the day was sunny - not non-stop, but the sunny spells were frequent enough to make it seem nice - when seen from inside a heated room ! It was very sunny when I left work yesterday, and in a brief moment of joy I could feel the heat of the sun on my face (until another icy blast of wind blew the heat away again). During the night it got cloudy again, and it was cold enough for snow. I heard various mentions of snow falling in different parts of London. Here in Catford there was a thin covering of slushy snow at daybreak, but only on one side of the road. Half an hour later it had melted, and all we got was intermittent drizzle from a very leaden sky. It has been a most unpleasant sort of day ! Tomorrow could be slightly worse. There could be snow again in the morning, but mostly it is just going to be cold and dull. Monday could be even worse !

Yesterday was another busy day at work (that's busy by my standards - a workaholic would say I hardly lifted a finger !). So it was doubly joyful to leave work in the sunshine, and the knowledge that I didn't have to worry about going to a gig last night should have made for a very relaxing night - but I didn't ! I'm not sure why exactly, but I felt a little restless last night. It wasn't the sort of restlessness that might be a sign of wanting to go out - I felt far too crap for that - but the sort of restlessness that makes finding a comfortable position for sleep impossible. I was in bed, feeling tired, at about 9pm, but it was a couple of hours later before I fell asleep.

Once I got to sleep I slept tolerably well. I didn't get up until 2 hours later than I would on a workday, but the last few hours of sleep were not that deep, and I would have liked to have slept for longer still if I could have. I think that if I had needed to go to work this morning I would have felt pretty rough, but while I took it fairly easy and slow, I felt quite OK. It was a different story when I went to the station to met Aleemah. My legs felt really stiff, and although I was probably not walking much slower than usual, it felt like slow progress.

The first stop after meeting Aleemah was my bank where instead of depositing a very small value cheque which I had forgotten to take with me, I withdrew some money. I was happy to confirm that my wages for February were in my account, and ready to be drawn on. Unlike normal people, I didn't spend much over Xmas, and I was able to transfer some money into my savings account this month. It is possible that my savings account will be the only thing that comes between me and debtors prison when I try and live on the small, very small, pension that I'll be getting in June. So it is sort of important that I try to keep topping it up when I can.

While Aleemah had her veggie breakfast in the pub, I sampled a couple of beers. I had a half pint of beer from the Cronx brewery in Croydon. It was one that I have been curious about for a year or two now. It is a porter flavoured with chilli sauce. The chilli sauce is (or was) made by one of my musician friends. The company he founded to make chilli sauces, Mad-Ass, has now folded, but he still makes the odd batch of sauces for friends, and maybe he still makes it for the brewery. The other beer was a very pleasant ale made to an Italian (if I remember correctly) recipe by an Italian brewer in a "borrowed" English brewery specially for Wetherspoons. Outside the pub strange things were happening....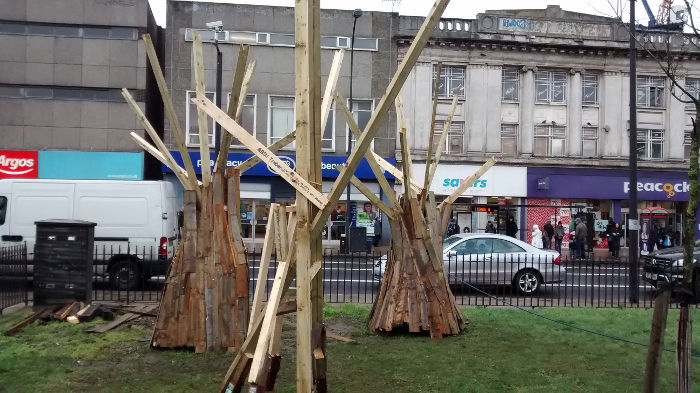 These are artificial wooden trees being built from scrap wood found in Catford. It is some sort of crazy art project, and at this point in time it looks pretty crappy. Maybe the finished thing will make some sort of sense, but these sorry looking excuses for a bonfire have already taken 2 or 3 weeks to build.

Sometimes Aleemah brings around a DVD that doesn't really do much for me, but today she brought around a really turkey ! I can't remember when the film was called, but it was set in something like an Amish community in America, and concerned some sort of religious prophecy that the devil would be brought into the community when 6 girls, all born on the same day, reached the age of 18. Basically, everyone runs around like headless chickens spouting warped and twisted religious stuff. The only good thing about it is it appears the devil won in the end.

Aleemah was meeting up with some people early this evening, and it was more convenient for her to stay here a lot longer than usual rather than go via her own home. That was a minor inconvenience for me because I would have liked a snooze this afternoon. Instead of that we watched some TV. The "True Entertainment" channel was showing some episodes of Sherlock Holmes. Both Aleemah, and myself quite like Sherlock Holmes, but we much prefer the series made by Granada/ITV with Jeremy Brett playing Holmes - it seemed to capture the essence of the books very well (and they are a good read !). The two part movie we watched today, The Incident At Victoria Falls, lasted 4 hours in total (including interminable commercials)(!) and starred Christopher Lee as Holmes, and Patrick Mcnee as Dr Watson. To be honest, it wasn't very good.

Once Aleemah had left I managed to prove that you can't cook spring rolls in a microwave oven. They looked as if they were just about ready cooked, and only needed heating up, but when I eventually read it, the label on the packet said differently. They weren't actually horrible after being zapped in the microwave, but I don't think I'll be buying any more of them from Aldi. If I hadn't stuffed myself with rather more than those spring rolls it could have been tempting to order a Chinese takeaway tonight, and have some real spring rolls.

The only thing left to decide about tonight is what time to go to bed, and what time to turn the light off and try to get to sleep. I am thinking of going to bed to do some reading very soon, and I will see what happens then !

Friday 30th January 2015
07:57 GMT



It probably depends on where you were, or what you were doing at different times yesterday. In some cases the weather might have been described as terrible, and in other cases, not too bad. in my case it was not too bad. I was indoors, and in the warm when it rained yesterday. So the rain didn't bother me. It would have been nice to be in place that still gave shelter from the wind, but which exposed me to a lot more of the hour, or so of sunshine we had. Viewing it through a small window took away it's magic ! It was dry again after a short shower just before I went home from work, and it stayed dry until I was back indoors.....then it sleeted ! (Can you say sleeted ? Or is "sleet fell" better ?). I was actually indoors in The Catford Constitutional Club when that sleep fell. It had stopped when I walked home 90 minutes later, but I did see a few cars parked up near home that had snow on them. Apparently it snowed a couple of miles south of Catford.

This morning there was no sign of snow. It was 4° C when I got up, and the last of the rain was falling as ordinary wet rain. It had dwindled to almost nothing as I walked to the station. Here in Earlsfield there was no sign of any snow, but there were plenty of big puddles - mostly thanks to the abysmal state of the pavements around here. At the moment the brightening sky looks rather clear, and there is hope that we may catch a glimpse of sunshine this morning, but the forecast still reckons the temperature could fall to as low as 2° C by mid morning. Then it is suppose to rise a couple of degrees before falling again after dark. I think there is another chance of snow tomorrow, but even if there is no snow it is going to be a cold, dull and miserable sort of day - unless the forecasters change their minds - which is not without precedent !

It was another busy day at work yesterday. Why do so many people want to call on my time when I would prefer to be sleeping ? I was looking forward to going home when it started raining at the same time it was forecast to stop raining (it had been sunny while it was forecast to rain), but fortunately the rain stopped at least 10 minutes before I actually left work. it was rather cold and soggy outside, but at least I wasn't being rained on (I was really dressed for heavy rain). After another hour of my life was wasted travelling between work and Catford, I arrived at Catford Bridge station, and walked straight down to The Catford Constitutional Club.

It was already busy in there. Yet another Lewisham Council staff leaving do was taking place. I am amazed that the Council has got enough staff left to operate, but presumably they have. I didn't notice her at first, but after a few minutes I found Jodie lurking in a corner. A while later the others appeared and joined us. It was a bit of a subdued drink - mainly because the leaving party was making a bit of a racket (although in fairness, the acoustics in that place make it quite easy to raise a racket in there). The good thing was that they had a very nice beer on. It was from the Oakhams brewery, and called Mompessons Gold. I was only going to have two pints, and go home by 6pm last night, but I couldn't resist having one more pint of it, and didn't leave until about 6.30pm.

That beer was slightly stronger than many - 5.2%, and three pints was just enough to make me give in to the temptation of buying some nice hot saveloy and chips on the way home. The fact that it was feeling very cold outside was another big temptation. I may not have walked as fast as I possibly could have, but it was not far from it, and while it still felt like a long five minutes, it only took that time to get home (or maybe it was six minutes, but who's counting anyway ?). It was nice to get indoors, in the warm, and tuck into my dinner. I stayed downstairs watching two old episodes of M*A*S*H before going up to my rather chilly bedroom.

I was going to spend a bit of time on the internet, but it was so cold up there that I almost went straight to bed. I didn't even bother to read, and just turned over and went to sleep (or at least that's how I think I remember it). That must have been before 8.30pm, and I seemed to sleep solidly until 1.30am. From then onwards I slept really badly. I woke up to pee, and I woke up at least once, but I think it may have been twice with cramps in my legs. It seemed impossible to find a comfy position to sleep in, and it felt like I was hardly asleep at all for much of the early hours - although I must have been asleep more than I thought I was.

I should feel crap this morning, and yet I don't feel all that bad. I guess I feel similar to yesterday. Some of the usual bits ache a little bit, but nowhere nearly bad enough to inhibit me in any way. My guts feel/felt a bit windy, but I managed to avoid gassing anyone on the trains into work. One source of mild discomfort is the new t-shirt I am wearing. Unlike t-shirts of old, this one is nice and long. So even though it may be very slightly tight across my belly, there is no chance of it riding up and exposing my belly - a failing of some t-shirts I own. The more annoying thing is that it feels tight across my chest. It's not tight enough to restrict my breathing by more than 0.004%, but it is tight enough to sometimes feel a bit odd to my numb nipple, and nearby parts of my chest that have never regained normal sensitivity since my operation.

I was under the impression that there was a Chain gig on in Greenwich tonight, but I was wrong. It is next Friday night. There probably is a gig on somewhere tonight that I could go to, but missing it would not be as bad as missing a Chain gig, and that's rather good because I think my plans for tonight revolve around staying out of the cold and (possible) wet, and staying cosy and comfortable in my nice warm room ! I can't quite think of any specific plans beyond staying warm and dry. Maybe I'll think of something on the spur of the moment

Thursday 29th January 2015
07:45 GMT



Yesterday morning was very unpleasant - a combination of strong winds, and some heavy showers. It may not come as a big surprise that I didn't go out in all that to see if it really was 11° C as the forecast said it would be. I guess it was around midday that it all cleared up, and the afternoon was quite pleasant, although the temperature dropped down to 7° C, or less, quite quickly. It was still a bit windy, and that made it feel colder than it actually was, but I did feel a little bit of warmth on my face from the bright sun. It's a shame that the sun is only visible for a few seconds as I walk to the station after work.

Today's weather might be nothing special, or it might be very special ! Currently the sky is fairly clear, and the temperature when I left home was just 2° C. The forecast says it will only warm up by a couple of degrees, and that later this morning, and perhaps for the start of the afternoon, it will cloud over, and it will rain.........(dramatic drumroll).....or it might snow ! It's more likely to be sleet than snow, but we are almost in February, and that's a popular month for snow around these parts. It should all have cleared up by the time I go home from work, and with luck it will be sunny, but the temperature could be back down to just a couple of degrees by then.

Something a bit strange has happened at Earlsfield station. Platform two is blessed with three departure displays on it, and two of them, the newest ones, were quite temperamental. Quite often they would say no information was available, but at the beginning of this week they fixed them - sort of. The first one you get to when arriving on the platform, has always worked OK. The next one was dodgy, but now seems to work OK. The last one, towards the end of the platform, is now displaying valid information, but it is for platform 3. Now that could be useful assuming you don't mind sprinting almost the whole length of a platform. Then sprinting down the three flights of stairs, out through the ticket barriers, in through the other ticket barriers, and then up three flights of stairs to platform 3. A good Olympic runner could probably do it in time to see the train they wanted disappearing round the bend on it's way to Wimbledon. I had to photoshop the next picture because the displays flicker when the shutter speed on the camera is too short, but I promise this is a true representation of what the display was telling me - the next train was going to Hampton Court despite that being in the opposite direction !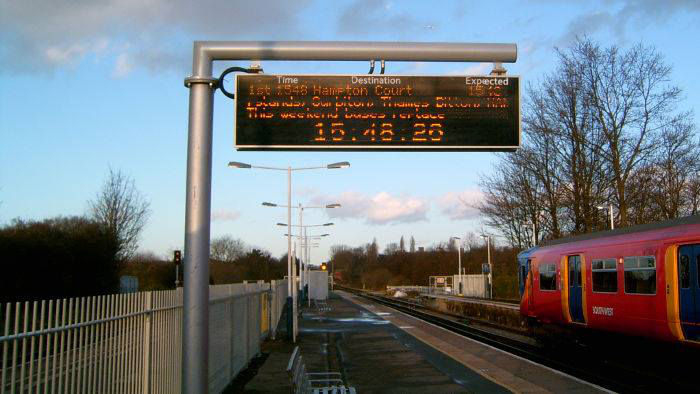 I was tempted to go looking for some cans of Special Brew on my way home from work yesterday, but there were more important things to do. In the early hours of yesterday morning the demolition people had cut up even more of the old bridge that used to go to the Greyhound Stadium. The sky was mostly clear, and it was quite bright when I arrived in Catford, and I assumed that I could take some better pictures of the remains of the bridge than I had taken the previous evening. Unfortunately I hadn't considered that I would be taking pictures into the bright western sky. So many of the pictures came out looking like silhouettes, but a little tweak here and there produced one picture that showed as much as was needed to show.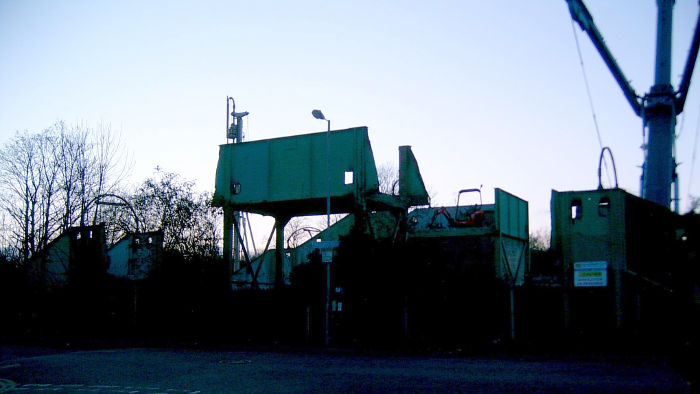 This morning the large piece in the centre of the picture, plus the last of the steps to the left had been cut away. Tonight they will probably remove the remains of the steps to the right of the bridge. Apparently they will need to stop the trains running for some, or all of a Saturday or Sunday to remove the support and steps on the west side of the railway lines. That structure also has bricks in the base of it. Quite why that needs the trains to stop running is anyone's guess, but that is what the latest letter to local residents says will happen.

Even while sitting in front of a nice warm heater I could feel it getting colder outside. That put me off doing anything constructive last night, although I somehow managed to make a small effort to be a bit more careful about what I ate for dinner. The first course of my dinner was a lamb hotpot ready meal. It was quite nice, but quite small, and what there was of it was mostly potato. I could have been tempted to heat something else up after that, but I decided to have a large bowl of oats with skimmed milk. I also added some milled linseed with dried berries in it. I'm sure even the most fascist health food nuts would have grudgingly agreed it was sort of healthy. They probably wouldn't have approved of the tinned pears in (apple ?) juice that I had with it. I felt very full after that, and yet it should have been fairly low in most things, and high in fibre. Maybe it wasn't quite so low in calories as I would like to think. After all, a horse could run the Grand National on a bowl of oats !

With nothing much to do, and it being not that warm in my bedroom, I decided to go to bed at 8pm and read for an hour last night. I expected that I would soon feel sleepy, and would probably turn out the light, and fall asleep before the hour was up. That didn't happen, and I probably spent another hour thrashing around trying to get to sleep. I'm sure I didn't sleep too well last night, and yet I don't seem to feel sleepy this morning. In fact I have little to complain about, but a little is enough ! All the usual aches are there, but they are all very weak this morning.

One ongoing malady that I haven't mentioned for a long time is my left hand, and the loss of sensation from two fingers since my operation 16 or 17 months ago. Loss of sensation is not an accurate description because I have quite a lot of sensation from those two fingers, and it is the wrong sensation. Instead of normal sensation then I touch them (or that touch something else) I feel a sort of tingling, mild electric shock sort of sensation. Sometimes it could be described as painful, but unpleasant would serve as a description most of the time. Some days it is worse than others, but there has been no sign of any improvement now for months and months - probably in the last year, and maybe even more than that. One thing has improved though, and that is the strength in my left hand. Just last night I realised I was able to open a bottle by twisting the lid with my left hand, and it was only a day or two ago that I was able to operate a pair of nail clippers using my left hand. Admittedly they were a fairly new, and very sharp pair of nail clippers, but it wasn't that long ago that I had to get inventive to clip the nails on my right hand.

So I guess things are looking up. Maybe it is all to do with finding that maximum acceptable dose of Bisoprolol - one of my blood pressure tablets. Since taking half the dose I was on before, I definitely feel better in all sorts of ways, and even resuming the statin tablets has not caused any problems. There are now only a few things that to sort out before I consider that I am firing on the maximum amount of cylinders possible. Losing some, if not a lot of weight would be damn useful, and maybe once spring gets here I might be able to do something positive about it. It would probably help in all sorts of ways with the other great problem I have now. That being a total inability to go into the cold and wet and dark nights to go to gigs and stuff.

There is another easy to get to gig tomorrow night, and I am almost at the point of not even thinking about trying to get to it. Maybe I'll be saved the annoyance of not going to that one by absolutely foul weather tomorrow night - bad enough to make anyone sane stay indoors. That probably means I should take full advantage of some boozing tonight. The Thursday night gang are in The Catford Constitutional Club tonight, and I will be joining them for a few beers, but maybe only a few. last week I only had two pints, and although it felt almost rude to walk out so early, it did feel about the right amount of booze on that night. I suppose it all depends on what types of beer they have on tonight, but if there is nothing wonderful on, I may only have two pints tonight. If worst comes to worst, I still have 8 unopened cans of super strength lager waiting for me at home !

Wednesday 28th January 2015
07:52 GMT



As far as I can tell, yesterday turned out to be very much as it was forecast to be (or at least how interpreted the forecast). I think I might have seen a drop of rain hit the window, but it was essentially a dry day with a bit of sunshine in the late morning. I'm not sure how to describe the temperature - it was 6 - 7° C, and that is not extremely chilly, but is a long way from warm. The biggest annoyance was that it was very cloudy as I made my way home from work - for reasons that will soon become apparent. Today it is forecast to be 11° C at 10am, and 10° C at 11am ! Whether it will actually be those temperature is anyone's guess. It was 8° C when I walked to the station, and the forecast says it could be half that when I walk home again. The 11° C high in the late morning is sounding like a fluke. There has already been some light rain this morning, and there will be more, but the afternoon could be dry. The worst feature this morning, and maybe one that will carry on all day, is a strong wind that makes it feel a lot cooler than it actually is.

I was rushed off my feet at work (by comparison to many days), and I put in at least 5 hours of solid work - which must be some sort or record for me. I prefer no more than 2 or 3 hours work in an 8 hour period ! So it was quite a relief to head for home yesterday. As I suggested yesterday, I called in at an off licence to see if I could get a four pack of Special Brew. well they didn't have that, but they did have Tennents Super Lager, and they had Skol Super - which is also a 9% brew. I can't ever remember trying Skol "tramp juice", but some day I will because I bought a four pack of it !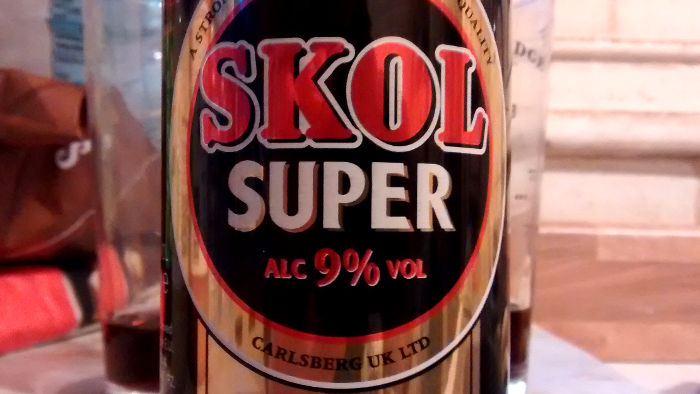 There were two unfortunate things about going home from work yesterday. The first was that it was cloudy and very dull. The second was that I was carrying a bag with 8 cans of super strength lager. The latter made it difficult to hold my mobile phone to use the camera. The former made it difficult for that mobile phone camera to record a decent image ! On Monday night the demolition squad cut through the old bridge that used to cross the railway lines to get into the old Catford Greyhound Stadium. They used a humungous looking crane to lift the bridge part away, just leaving the supports either side of the railway lines. Last night they started cutting those away too.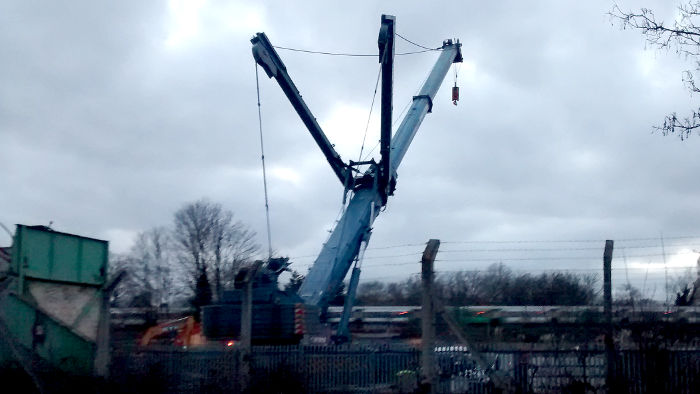 This is the hulking great crane used to lift the bridge section away.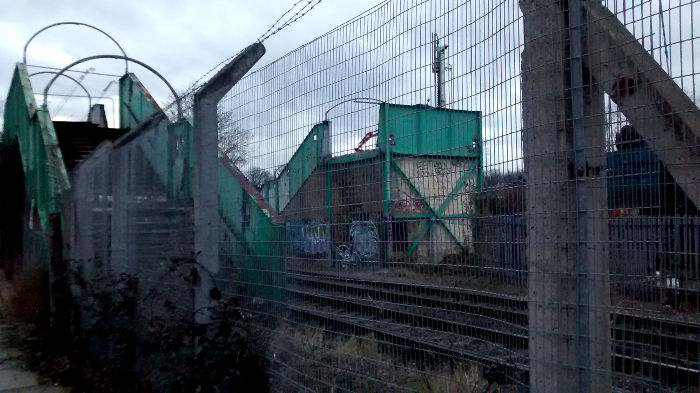 View from the north (through the fence) showing where the gap where the bridge crossed the railway.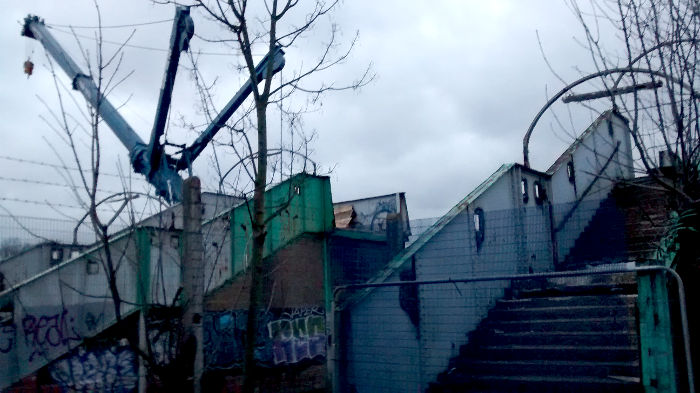 View from the south with huge crane in the background.
These picture would have been so much better if it had been less cloudy, and a lot brighter.
You might think that I would have devoured at least one can of my super strength lagers last night, maybe even as soon as I got them home, but you would be wrong. I actually celebrated getting them with a large whisky a little while before I went to bed. I had lemon squash with my dinner. I don't know what is so good about it, but the bottle of Tesco "everyday essentials" double concentrated lemon squash that I bought on Tuesday night is delicious ! I drink it at approximately half the strength you are supposed to make it, and I love it. It's a shame that I can't imagine that it has any special health benefits, although I am sure some health nutter could imagine it cured cancer, herpes, or the common cold, but if it did do something useful it would be the easiest health fad in the world to follow. The truth is likely to be the opposite - it's probably packed with the sorts of artificial sweeteners and preservatives that the most pessimistic health food nutters would say shorten your life by 60 years. Oh well, that me dead then !

My dinner was hardly healthy either. It was two small ready meals. At least I thought they were small, but sometimes recently it is if I have been drugged and had a gastric band fitted while out cold. Those two small looking meals seemed to make me feel very full, and what's more, they did their best to give me acid reflux. I'm glad I got that under control before I went to sleep. Perhaps the large whisky helped in that respect.

It probably helped me sleep well too. At least I think I slept well. I know I dreamed about something last night, and I seem to think it left me feeling puzzled when I woke up for a pee in the night, but I can't even remember what the puzzle was, let alone wondering what the answer to the puzzle might be. Probably the worst problem I had when I woke up was that I was a bit farty, but that settled down quite quickly, and I didn't have the same problems I had yesterday morning (having to use the toilets at Clapham Junction station etc.).

The rest of my body is working tolerably well...well sort of. I seemed to be aware of my right knee as I got in the bath for my morning shower this morning. There have been mornings when it has been quite painful to lift my leg over the rim of the bathtub, but I haven't been bothered by it for a couple of weeks now (maybe more). This morning I was aware of a slight discomfort, but it didn't seem to be noticeably worse than recent mornings. So I am not sure why I became aware of it like I did. Most other bits of me seem to be freely working, and that is certainly true of my floating rib syndrome. As I pulled up my left shoe laces to do them up, my sternum made quite a powerful cracking/grating/popping sort of sound - a sound that is more felt than heard. It wasn't painful at the time, but the general area does seem slightly sore a few hours later - but it rather depends on what posture I use when sitting down.

I'm trying to think if I have any plans for tonight, or indeed if I can think of anything I might want to do tonight, and my mind only comes up with one idea. That idea, and it is just an idea rather than a plan or ambition, is try a different off licence to see if I can get any cans of Carlsberg Special Brew before the bastards water it down, and it no longer becomes the source of instant oblivion. That last bit is actually nonsense. Once upon a time, in a summer far far away, while I was doing my fourth year City And Guilds Telecoms exams, I had a couple of cans of Special Brew, and a spliff before taking the electronics exam, and I achieved a distinction for that. I took the maths exam stone cold sober, and failed miserably ! Apparently you can't pass the electronics exam without knowing the maths, but no one seemed to tell my brain that !

Tuesday 27th January 2015
08:13 GMT



Maybe I could describe yesterday as OK, or maybe a sort of "fairly OK in some ways"........Well, it wasn't terribly cold, and even though there was only a bit of proper sunshine, it was a mostly bright-ish sort of day. Today maybe a slightly cooler version of yesterday. It was 5° C (a figure that both my outside thermometers agreed on for a change) when I got up, and that is a degree or two better than the forecast said would be. It should get a couple of degrees warmer through the day, and there could be a couple of sunny periods during the morning if we are lucky. It's looking like tomorrow could be one of those weird days ! The temperature could hit the magical 10° C, the point where it stops feeling finger tingling chilly, and there could be some sunshine, and there could be some rain, although the current forecast is suggesting there will be sunshine and rain at the same time ! Maybe it will be a good day for rainbows ?

Although there had been some sunshine earlier, it was quite dull when I left work to go home, and the temperature had fallen to 7° C. Despite that I felt tolerably good, and as I made my way to Catford I contemplated the idea of doing all sorts of exciting things. One idea was to go home via Tesco, and but a mere few items. I wanted some sandwiches to bring to work today - I got tuna and cucumber, and they were very nice. I thought I would get a couple of bowls of ready mix salad, and see if I could use one to substitute for a less healthy part of my dinner, but I somehow forgot that idea when I was in the store. the next bit made me angry - very angry indeed !

I remember reading or hearing about an idea where a bunch of low life do-gooders decided it would be a good idea to stop supermarkets selling high strength lager, but I was not aware that any legislation, or other rule had been brought into being yet. It only happens a couple of times a year, but I had a yearning for a tin of Special Brew, or failing that, a tin of Tennents Super Lager, but there was none to be found on the shelves, and that really pissed me off. All I managed to buy was a bottle of Lemon squash. Some would argue that lemon squash is better for me than strong booze, but the people who say that are foolish bigots (and probably religious). A few people throwing up in the high street, or inconveniently dying of alcoholic poisoning in A&E are minor problems in this increasingly complicated world. The real problem come from those who don't drink, and I'm talking about those who go around beheading people, or blowing themselves up. That is caused purely and simply by a lack of alcohol. Those guys from IS (or ISIL, or whatever they call themselves today) would probably be great guys to know if only they necked a couple of cans of Special Brew now and then. Just think of it. World peace is just around the corner, and some miserable bastards want to perpetuate a war because they don't like people enjoying themselves. I think the minister of health needs his brains tested, or should be proscribed as a terrorist !

Further (bigotted) reading; - http://www.bbc.co.uk/news/blogs-magazine-monitor-30795336 http://www.independent.co.uk/news/uk/home-news/special-report-
superstrength-lager-causing-more-harm-than-crack-or-heroin-8200242.html

I arrived home seething, and all my plans to try and do something useful went completely out of the window. In fact it was worse than that. I decided to sulk ! I had been really looking forward to a can of very strong lager, and nothing else would do. I had plenty of Scotch, and bottles of other beers if it was just alcohol I wanted, but I didn't just want alcohol. I wanted high strength lager, and all I drank was lemon squash - which was quite nice, but didn't destroy any brain cells !

As part of my sulk I went to bed at 7.30pm, and I read for an hour before turning the light off, and falling asleep remarkably quickly. Even sleep would not cheer up my brain. I had the most frustrating dream you can ever imagine. My enjoyment of one dream rested on remembering an earlier one, and I couldn't ! The earlier dream was evidently about not taking the opportunity to photograph something. The later dream was mostly about trying to remember what the thing was that I should have photographed. Whatever that something was, it would have been most useful in some unknown way for photoshopping beards onto beardless photos in a way that I cannot even begin to imagine (or why anyone would want to do anything like it) !

Apart from a slight hangover of the frustration of the lack of super strength lager, and the frustration of the dream, I felt tolerably good when I woke up, and tolerably good when I set off for work - tolerably good apart from one small annoyance. I had one of those stomach aches where, against all good sense, I felt it would be safer to visit the abominable toilets at Clapham Junction station.....although I may have done them a disservice today. When I went in them today a cleaner was just finishing his cleaning session, and there was (unusually) no queue. Even though freshly cleaned they are still rather nasty, but they did the job, and the remainder of my journey into work was more comfortable.

Today I may go home via an off licence, and see what the super strength lager situation is like there. I don't think I want any strong lager tonight, but if I can buy some cans, I will almost certainly drink one, but I will definitely try and save one so in the unlikely (impossible !) event that I live for another 60 years, I can show someone's grand children what it was like to live in a free country ! I don't think I have any more plans or ideas for tonight, but something may materialise out of the ether to amuse me...maybe.

Monday 26th January 2015
08:01 GMT



It seems a bit strange when the evening ends up warmer than the day, but that is what happened yesterday. It was just about 9° C when I went to bed last night. Earlier in the day it was only about 7° C. Even stranger was waking up to find it was 10° C - which, happily enough, is about the temperature when I begin to feel comfortable. Maybe not comfortable for standing around in a t-shirt, or even commuting in a t-shirt, but comfortable enough when moving around. This short lived departure from "bloody cold" does come with a downside - rain.....but maybe less of it than expected.

Yesterday the forecast said it would rain for much of the morning, and that some of it would be heavy. By this morning that had been downgraded to just light rain for a couple of hours. The actual truth of it is still revealing itself. There was some very light, almost ignorable rain as I walked to the station, and it had stopped by the time I got there, although I passed plenty of evidence of heavier rain during the night - big puddles ! That was the last rain I saw, but it is still very cloudy. So cloudy that it was like night when I arrived at Earlsfield, and it is still very overcast now - about 40 minutes later. During the day it will get colder, but there is hope for some sunshine in the early afternoon, perhaps as soon as midday, but it will be cloudy, but dry, when I go home from work. I think the forecast said that tomorrow morning would start off below zero, but with luck that will turn out to be wrong !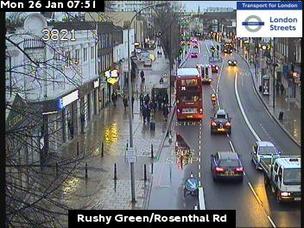 There is some evidence of how wet it was last night in this poky little, crappy quality, still image from a crappy quality traffic camera situated near the end of my road. It seems there is a gigantic puddle that needs a "keep right" sign by it to stop inconsiderate motorists drenching pedestrians as they drive through it at top speed. (Assuming anyone behind the wheel of a car is a raving pychopath is a good road safety measure - many forget this, and many die because they forget).
(Note to whoever added the caption to this camera - Rushey Green has an E in Rushey).



I nearly forgot to do one of the few things I thought I probably ought to do yesterday. Earlier in the day I planned to wash my hair before I had my evening meal, but somehow it just seemed to slip my memory. So it wasn't until after I ate that I had to bend over the side of the bath tub with full stomach as I washed and conditioned my hair. All I can say was that it was less uncomfortable than I thought it would be, but I really wish I had done it before eating !

I did one other thing last night, and it was something I meant to start over the winter holiday. It was to repair the camcorder cassette that my friend had given me, and then attempt to copy the tape. Repairing that cassette was a really frustrating job, but the most annoying thing was that the tape appeared to be blank when I finally came to try and play it. There could be several reasons for that. Maybe I assembled the cassette incorrectly, but I don't think that likely. Another possibility is that the tape has become contaminated, and that contamination clogged up the already starting to fail head drum in my camcorder. That may actually be more probability than possibility. When I tried one of my own cassettes that I wanted to transfer to a digital file, it hardly played back at all. I managed to see a few seconds of clear playback here and there, but it was completely unusable. Cleaning those delicate video heads is going to be a tricky, and possibly dangerous operation. (Dangerous to the tape heads, not to me !).

Last night was another night when I didn't feel all that tired when I went to bed, but I still dropped off to sleep quite quickly. I probably slept quite well last night as a result of leaving the heater off all night. On nights when the temperature has dropped to below 6° C (or something in that vicinity) I leave the heater on low all night, but last night I could feel it wasn't terribly cold outside. Quite how I can tell that on the inside of double glazed windows with the heater on I just do not know, but last night I just knew that it would be quite warm enough with the heater off - and I was right !

At 3am, when I woke up for a pee, it was feeling rather cool, but not really any worse than that, and I put the heater on before getting back in bed. When I woke up at 5am it was nice and warm, and I felt refreshed enough that I only half wanted to go back to bed for the rest of the morning. This morning I don't feel "good", well not "very good" but I don't feel that bad. I am in no particular pain, and the walk to the station seemed easy enough, although I didn't seem to feel like walking as fast as I would have liked to. Walking from the station to work seemed less satisfactory. It was like walking up a very gentle slope - it was fairly easy going, and I could easily have kept walking for double, triple, quadruple, or even quintuple the distance, but I would still prefer it if it felt like walking down a gentle slope instead of up !

I am now looking forward to some sunshine at some time today, and I might even pop outside for a "virtual cigarette break" if it seems nice and bright, and hopefully carrying a little heat with it. Other than that, I am looking forward to going home again. I don't think I have any plans for when I get home (except eating dinner !), but maybe if the clouds are thin enough, and it seems bright enough when I get home, I may do some more laundry.....or maybe I'll just crash down on my bed and read a book. I suppose I could also waste a few more hours watching TV - there must be something on tonight after two days of nothing but complete sludge over the weekend.

Sunday 25th January 2015
15:42 GMT



I didn't notice a frost this morning, but I did notice it was only 1.7° C outside at about 9am. It was probably colder than that at sunrise, but that is only a guess. What isn't a guess is that it is currently 9.5° C, and somehow I can feel that in my bones despite being in a heated room. Maybe there is potential for the temperature to rise a bit further before sunset, although the weather forecast says the temperature should be almost 2° C lower, and falling. The other thing the forecast got wrong was that there was a little bit of sunshine this afternoon, and that the day was generally brighter than how I interpreted their little dull cloud symbols. It would be nice if the forecast for tomorrow morning was wrong. It may be 9° C, and I am happy about that, but I am not happy that it may well rain from sun rise to midday !

I guess yesterday has to be written off as a very lazy day. Of course there were reasons for it even if they were not good reasons. The main reason being that I felt pretty lousy. The various aches and pains I had were insignificant by themselves, but a day of then does wear you down a bit. Plus I just seemed to need a long rest to get over a week at work (even if I was off sick for one day in the middle of that week). A days rest certainly seemed to do some good, and this morning I felt doing stuff.

Perhaps the moderately large dose of Scotch I had last night helped, and maybe it was because I did not have any expectations of doing anything that I actually did stuff this morning. One thing I did was to have a good shower. Now I have to confess that on some Sundays, when I am sure I won't be seeing anybody, and when I know I will probably not even be leaving the house, I will make do with a quick rub with a damp flannel - or less !

Once I was clean and dressed I tackled a few little jobs. The first thing was to waterproof a couple of pairs of shoes with ScotchGard, and then I took out the rubbish from the kitchen. While I was out near the wheelie bin I also cut out (because I couldn't pull it out) a large weed that was threatening to take over the garden path. The next little job was to do the washing up. There wasn't much of that to do as such, but I also wanted to clean my electric grill - and that needed a lot of elbow grease ! Once the washing up, and the grill was clean, I made it grubby again by cooking some breakfast in it !

I had breakfast, and then took it easy again, but it wasn't long before I became active again, and washed three shirts, some t-shirts, and some underwear. I wondered how doing that would affect my floating rib syndrome. I am happy to say that while it might have felt a bit sore while I was actually wringing stuff out, it didn't seem to leave any nasty legacy, and I almost wonder if it has made things less sore somehow. What is for sure is that the exertion of doing that washing made me feel quite warm, and quite tired. So I lay down and did some reading....and promptly fell asleep !

I have got one definite plan for sometime soon, and that is to wash my hair, but beyond that I will be free wheeling through the rest of today. It is possible I may transfer another bit of camcorder footage onto my computer, but I may end up just vegetating in front of the TV - assuming that unlike last night, there is actually something on worth watching.

I did do one other little thing today, but it required so little effort that it is hardly worth mentioning, but the result did produce a little picture to break up the narrative - even if it is a very boring picture ! I was curious about how cold my bathroom got overnight, and by using my temperature logger, I now know.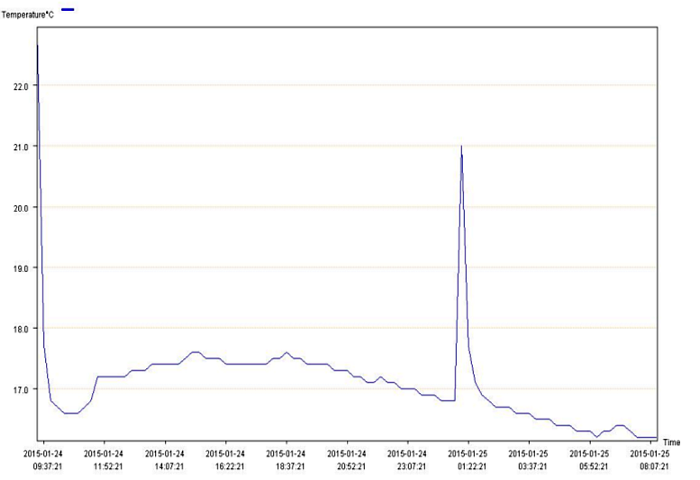 At just gone 9.30am I put the logger (with a fresh battery in it) in the bathroom, and the temperature almost instantly dropped from 22° C down to under 17° C, and then went back up to just over 17° C - and I'm not sure why ! Through the day the temperature slowly rose and then fell slightly. At 1am this morning I was awake, and curious about what the logger was recording. So I brought it back in my bedroom, and the temperature immediately shot up to 21° C. When I put it back in the bathroom the temperature slowly fell until it hit the lowest at 8am. That was a rather cool 16.2° C. If there hadn't been some warmth drifting up the stairs from the living room heater it could have been a lot colder in there. Brrrrrrrr !

Saturday 24th January 2015
21:04 GMT



There were a few sunny spells yesterday, but much of the day was a bit dull. The main thing was that it was, or at least felt like it was a cold day. It did warm up a degree or two late in the evening when it started to rain. It started a little later than expected, but it did seem to falling quite hard once it got going (although I didn't go out, and I had the curtains closed, so I didn't follow it's progress once I saw it was raining heavily). It stopped raining sometime in the early hours of this morning (or possibly earlier), and by sunrise most of the pavement and road seemed to be relatively dry. Today was most definitely the sunniest day we have had in ages. The sun was shining from sunrise to sunset - at least I think it was. The only trouble was that it still seemed unpleasantly cold....although I was sure that 6° C should have felt that cold. Tomorrow could start with a frost, but even though there is no sunshine forecast, the temperature will slowly rise through the day. Monday morning could start off as "warm" as 9° C.

I think I knew that I wouldn't be able to raise the enthusiasm to go out last night. It was partly the typical tiredness I feel after work - enhanced by it being at the end of the working week - and the knowledge that it was almost certainly going to rain last night. On top of that I made things worse for myself by getting in some shopping, and eating too much too early in the evening. By the time Chain would have started their gig I was in bed, and it didn't take me long to fall asleep. I feel slightly, mildly perhaps, annoyed that I don't feel annoyed about missing the gig - particularly at a venue that is only about 15 - 20 minutes away on a fairly frequent bus service. I think that just as I am forced to accept that Winter will always follow Autumn, and that Winter days will always be short and dark, I am now forced to accept that I am crap at going out on winter evenings.

Today I should have done great things, but I didn't ! I've felt very strange today. It's as if I have been waiting for something to happen. I have no idea what I expected to happen, but whatever it was didn't happen, and it could be said that I have wasted the whole day - but that is not an adequate description. In fact several things have conspired together to result in my day not being quite how I expected it to be.

I was hoping that I would go out and enjoy the sunshine today, but I didn't feel like walking today. One big reason for that was that it was too cold. I did go for a short walk to the shops just to prove to myself one more time that I don't like walking when it's cold. To make matters worse, my "floating rib syndrome" has been playing up today, and certain movements have been uncomfortable. Sometimes walking is a cure for it, and sometimes it can make it worse - although I thinking it was twisting and bending to pick something off a low shelf that aggravated it more than just walking.

Today has been a bit of a painful day overall. As well as the pain from my floating rib, I have had a more regular pain from the socket of one of my missing teeth. I had a slight accident when chewing something hard, and I pranged it. It's not a strong pain, and I haven't even considered taking any painkillers, but it is a bit persistent, and that is annoying. Maybe I should pour some whisky on it. Maybe I'll have some whisky anyway. I haven't touched my bottle for three weeks now, and it might be getting lonely ! [Walks to the other side of the room. Pours a large measure in a small glass. Walks back to the PC again] Mmmm that's nice !

My grand plan for a bit of exercise today was to walk to the Ladywell end of the park. If that felt OK I was going to continue walking to the other end of Lewisham, and then if that felt OK I was going to continue to Greenwich, and see if anything was moving on the river, and take a few snapshots along the way. Those three stages are very approximately equal - very roughly about one mile each, and once upon a time I could walk three miles as if it was a mere walk to the shops. I'm not so sure about it now though. I am in really bad condition these days, and if today had been warmer, or preferably hot, it could have been the start of the practice I so desperately need.

My little walk was to the 99p shop where I particularly wanted to buy a pack of lithium coin cells. They are not usually terribly good quality cells, but at 99p for 6 of them, they are incredibly cheap. I also bought all sorts of crap - including a can of Coca Cola "life" - the stuff that comes in a green can, and uses some incredible herb that is a hundred times sweeter than sugar (or some such nonsense) to sweeten it. Having now tried it, I can say that it doesn't taste very pleasant, and at home I will stick to Aldi own brand diet cola when I want a drink of cola.

For that 10 minute walk I tried out my old "Karrimor" walking boots. They felt very spongy compared with the Converse (or cheap Converse like) trainers that I usually wear now, but I am not convinced they were more comfortable. However they weren't uncomfortable, and they would probably be better suited for longer walks....probably.

Only two other activities took up significant chunks of today. I spent an hour or two reading, and I spent at least 2.5 hours on the phone ! One mate phoned me up and talked away for what must have been a good hour, or probably more. The only problem with that was the timing. That call came through just as I was trying to convince myself to go out for the walk that never happened. I was already teetering on the brink, and the time spent yacking on the phone finally, and with no effort at all, pushed me over the brink, and I gave up even considering going out. Later on in the afternoon another mate phoned me up, and kept me talking until my right elbow was beginning to ache from holding my mobile phone to my ear. Just in the middle of writing this, the first mate phoned me again, but I managed to get him off the phone after about half an hour !.

It's been a strange day today. It has passed very quickly, and that's fortunate after the way I have been feeling - sort of a bit like ill or tired, or imperceptibly dying, with a few pains thrown in here and there - but even more a sort of day where I feel relaxed and agitated in equal quantities. A lot of time has passed, and I have little to show for it, and yet somehow I don't seem to care, and yet I feel I probably should care, and in a way I do, and in a way I don't. Sometimes life can be very confusing ! It has to be said that some of this angst is all to do with a so far unfulfilled ambition to try and feel fit enough to do some useful stuff this year - a year when it is almost certain that I will throw off the shackles of work even if it makes me a pauper, and a year when doing cheap stuff like walking (assuming I don't pay huge fares to get to my starting point) will be one of my main sources of entertainment.

Friday 23rd January 2015
07:45 GMT



It was definitely cold yesterday, although I can't put a figure on it. I could guess that it was getting close to zero only an hour or so after the sun set. To make up for it, there was a fair amount of weak winter sunshine. It was almost sunny as I made my way home from work, but the sun was partly hidden behind a thin veil cloud - so thin that it was easy to see it as a large yellow ball - albeit still bright enough to give floating green spots in the road if looked at for more than an instant.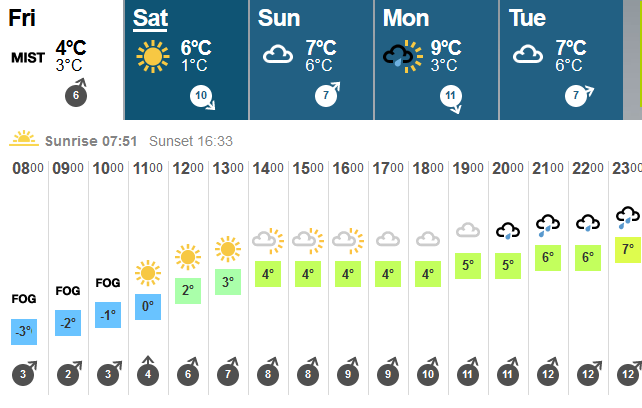 This is how the weather has been forecast for today, and it is already wrong. There was plenty of frost on the cars, but I don't think the temperature was as low as -3° C - except maybe in the Waterloo area, but this forecast was for Catford, and the lowest temperature on my two outside thermometers was only -0.8° C. Meanwhile it is clear as a bell outside. There was not even any atmospheric looking mist rising from the cemetery by Earlsfield station as there sometimes is when it wants to convey a spooky image. I don't think we will get the bright sunshine forecast for 11am unless the thin clouds disperse a bit more. It is already starting to look bright, but I don't think it will be brilliant - except maybe in small doses if the sun finds some gaps in the clouds. What worries me most is the rain forecast for this evening. That has been a feature of forecasts for tonight for several days, and I have a horrible feeling it will be correct. It will be a grand annoyance if it is raining when I want to go out tonight !

It was mildly chilly when I left work yesterday, but it was nice being dazzled by the sun in the very small stretch of road where the late winter sun peeps over a low gap in the buildings. Being a Thursday night, there was the opportunity for some boozing to be had. My first thoughts on the matter was that I would skip drinking last night in preference to having a booze up tonight, but maybe the rain that has been forecast for tonight for the last couple of days conspired to make me change my mind. It only half changed it, and I had a mere two pints last night, and was on my way home before 6pm.

Normally a bit of booze make you feel the cold less, but it felt damn chilly as I walked home, and I was glad that I had left the heater on low in the living room all day. It wasn't exactly warm in there, but at least it kept the chill off. To help me warm up I had two dinners last night. the first was a roast beef ready meal. I bought it in Aldi as an experiment - one I don't think I will repeat. It was tasty enough, but there was only about five spoonfulls of it. Maybe it was a childs meal, or even a babies meal or something, but it certainly wasn't more than a small snack for a gluttonous bastard like me ! Dinner number two was also a ready meal - a lamb curry, and that hit the spot nicely !

I might have had a good sleep last night if I had managed to keep the duvet on me correctly all through the night. I woke up one time feeling freezing because half of me was uncovered. I think I was having some exciting dreams at one point, but I can't seem to remember anything of them apart from one snapshot like picture. I was sitting at a table with my two brothers (even if they didn't look like my brothers), and with two other people who I can't put names to. I think one of them was a woman, but this vision is getting very hazy now. The other person in the room was my younger sister, and she did resemble my younger sister in some ways. I think all we were doing was talking, but I can't remember what it was about.

I don't feel that good this morning. It's nothing that can't be explained away by old age and the cold. The cold has seeped into my bones, and I feel both cold and stiff legged. It seemed quite a chore to put one foot in front of the other as I walked to the station. It was as if I had walked five miles, and still had five miles to go. It was a bit easier walking when I got off the warm (but not very warm) train at Waterloo East station. Maybe it was because it felt really cold at Waterloo, and hurrying along would (or should have) warmed me up a bit (but didn't seem to). It didn't feel quite so cold in Earlsfield. It seemed similar to Catford, and oddly enough it seemed just as creaky walking from the station to work as it did walking from home to the station.

It will be nice when the working day is over. At the moment it feels like home time is in some never to be reached future. My main reason for wishing for home time to get here is so I can get home and put my feet up. This is the incorrect attitude for one who wants to go out tonight....at least I think it is. Here's hoping that I get my second wind after I get home, and that it is not pouring with rain at about 8pm when I would be leaving to walk to the bus stop. The idea of walking in cold pouring rain, and then getting on a cold, damp, and misted up bus is unpleasant enough to over ride any desire to go and see Chain playing in Forest Hill tonight !

Thursday 22nd January 2015
08:23 GMT



There were a couple of times when it seemed like it was brightening up, but every time it came to nought.Yesterday remained as a mostly heavily overcast, and rather cold day. During the night the temperature fell low enough to deposit a thin layer of frost on some, but not all car roofs. When I left to come to work the temperature had risen to just over 3° C, and according to the forecast, that is how it will stay (plus or minus one degree) until sunset. During tonight the temperature is forecast to fall to -1° C ! It seems it won't do anything for the cold, but the forecasters hope that there could be a few sunny spells today, and after a rather grey start I can see what looks like a large patch of sky with only a few thin wisps of cloud in it.

The cold grey overcast sky did little to inspire me yesterday, and although I had stopped running to the toilet soon after the last train to work had gone, I still had a dull ache in my stomach area that persisted until I went to bed. It was not a strong pain, and quite frequently I would forget it was there until some movement or other brought it to my attention. It was definitely a day for staying in the warm, and relaxing, and yet through all that I was able to do some useful stuff.

Probably the most useful, in fact it is essential, and should be done more often, was to make a backup of my /home directory on my Linux PC. (That is approximately equivalent to "My Documents" plus other stuff on a Windows PC). I also made an extra backup on a different external hard disk of my photos. Losing most of my home directory to a crashed/corrupt/dead hard disk would be a great annoyance, but liveable with. Losing my photo collection would be a great tragedy because once a photo is gone it can never be replaced.

One other little chore was PC related, and in a way it was something I have pondered doing for ages. I have 5 external 3.5" hard drives in enclosures, and they all use similar looking power supplies which use identical power plugs - but wired differently. Using the wrong power adapter could be fatal (to the hard disk or control circuit). So I sat down with my Dymo labelling gun, and marked each external hard disk, and each power supply with "Connections type A" or "Connections type B" in two different coloured tapes. With luck I will never have to panic about trying to remember which power supply goes with which external hard disk.

Early in the afternoon I washed my hair. Bending over the bath as I shampooed and conditioned it was tough on my back, but didn't seem to make the dull ache in my stomach area any worse (or any better), and fortunately it was a very mild ache at that time (or I would not have done it). It was while I was waiting for my hair to dry that I did all the labelling I described above. When my hair was just about dry I laid down on my bed to either read or snooze. That was nice except for one thing. My lower back seemed very sore after a while, and I decided the only thing I could do about it was to go for a walk.

It was about, or just after sunset when I went out, and maybe the falling darkness hid the appalling looking sky. So going out didn't seem quite so traumatic as it could have been. In fact on my way home it was fully dark, and being out seemed OK apart from the cold, but of course travelling towards home usually feels pretty good under any circumstances. The destination of my walk was Aldi. There was nothing I desperately needed, but I thought it would be a good idea to buy a couple of sandwiches to take to work. Of course I ended up buying far more than that, but I don't expect it to last that long !

That walk, including lugging home 6 litres of assorted fizzy drinks in my ruck sack, sorted out my sore back, and may even have helped with the stomach pain. Maybe it was the satisfaction of a job well done, or something like that, but I did feel quite good when I got home. It's curious that I generally don't like going out after dark, mainly because of it's association with bed time, but sometimes it is a sort of thrill to be travelling after dark - although maybe only when the direction is towards home.

I don't think I snoozed that much yesterday, so it was a bit of a surprise that I didn't feel sleepy at all during the evening, and I felt no need to go to bed early. While I didn't feel sleepy, I did feel something like guilt (or stress) that I didn't get to sleep until 11pm (at a guess). I actually got into bed a little after 10pm, and just started reading until I felt sleep - but I didn't seem to feel sleepy. In the end I turned the light out, turned over on my side, and as I was thinking that I would never get to sleep I did fall asleep ! I think I might have slept quite well. The first time I remember waking up was 4am, and then when I was re-awoken by my alarm at 5am, I felt almost refreshed.

This morning I thought I was going to have a re-run of yesterday morning, but my guts settled down OK, but not before missing my usual train. I had to get the next train 31 minutes later, but that train misses out Lewisham station, and takes less time to get to Waterloo East station. I felt relatively good walking to the station, and I don't think I yawned once on the train. There was a delay on services leaving Waterloo due to a broken down train at Earlsfield (again !!), and after a very short wait I got the first train out of Waterloo once things started moving again. I don't know if I had got the earlier train from Catford Bridge if I would have arrived at Waterloo before the trains stopped moving, or even if I would have been on the broken down train sitting down bored stiff stuck between two stations. What I do know is that the train I did get was packed solid, and I had to use some ungentlemanly moves to get off the train when it arrived at Earlsfield. For a few desperate moments I wondered if I would only ever be able to get off the train when it arrived at it's final destination - Guildford !

It will be nice when today is over. I have the opportunity to go boozing tonight. The Thursday night lads are drinking in The Catford Constitutional Club tonight, but I am thinking of giving it a miss tonight, and doing my boozing on Friday night when Chain are playing at The Hob in Forest Hill. On the other hand, it is possible I will feel thirsty when I get off the train in Catford on my way home............

Wednesday 21st January 2015
10:31 GMT



The forecast for yesterday was just about completely wrong ! There was no fog and mist in the morning - it was actually quite sunny. The rain and/or sleet didn't start to fall early in the afternoon - it was still sunny ! By 3pm it did start to get very cloudy, and as I made my way home from work it did look like it might rain, or sleet, or snow, but it didn't (if you exclude the two small raindrops I felt hit my face). I did see a few slightly damp patches here and there. So presumably it did rain, but just not while I was watching ! I think the temperature forecast was probably about right - it certainly felt very cold. The temperature stayed very low during the night, but not low enough for frost this morning. The forecast for today still says that the temperature will be an almost constant 3° C, and that there will be thick dark clouds overhead. I currently measure the temperature at 5.3° C, and in the last few minutes it seems to have got a lot brighter - almost as if the sun might come out, but maybe not that bright because I can't even see where the sun should be in the sky right now.

I suppose it was the dense clouds above my head, and the threat of rain or sleet, that dampened my feelings as I made my way home. I should have felt quite excited because earlier in the afternoon I received a text message asking if I fancied a quick beer in The Catford Constitutional Club on my way home from work. This time I did, and so I met up with Jodie and Mark for just two and a half pints of some ales. One of the ales was fairly nice, and the other was slightly nasty - it was a strong brown ale with a complex taste - complex as in I couldn't make head nor tail of it !

I almost got home in time to see the start of the national news on TV, but even when I got home there was the slight delay as I re-heated my chicken, potato, and green bean casserole. (On reflection, I think casserole is more correct than stew as I described it yesterday). It was quite a nice dinner to come home to, but with hindsight I think I should have added some tomato purée to thicken the gravy up a bit. I ate it while watching the local news on TV - or some of the local news. When it got too boring I would flick over to another channel. Maybe I did that a lot because I can hardly remember any of the news I saw.

I then made the fateful mistake of watching some more TV in the living room - fateful because it gave me the munchies. The casserole should easily have been a big enough meal, and on the whole it would have been low fat, and moderately low in calories and stuff. Any advantage of that was nullified by my choice of nibble as I continued to watch TV - salted peanuts. Initially I just poured a small amount in a shot glass, and intended to keep the rest of the packet for another day, but like any addict, I just couldn't leave it there. It wasn't a very big packet of peanuts, but before too long I had eaten the whole lot !

I don't know if it was the peanuts, the casserole, or the beer, but I woke up this morning an hour early with a rotten stomach ache. Until then I believe I had slept fairly well, but from then on I felt rotten. Many visits to the toilet helped, but didn't fully stop the dull hollow pain in my stomach. I didn't actually think I was ever going to stop going to the toilet, and so I decided it would be safer not to go to work. As so often has been the case in the past, I could have made it all the way to work, with a good hour to spare before I needed to go again.

I still feel rotten though, and in lots of different ways. My stomach is still sore, and I seem to be feeling the cold a lot this morning. That is making many of my joints feel stiff and aching. It is without doubt a duvet day. According to my thermometer it is 23° C in here right now, and I still feel cold. Not actual shivery cold, but I do feel like getting back into bed again. I was having a half hour snooze just before writing this, and before that I had an omelette for breakfast (I figured that a few eggs might do something useful for my digestive tract). Perhaps I'll do some reading with the duvet pulled over me and see what happens.......
Tuesday 20th January 2015
07:53 GMT



Yesterday managed to stay cold and dry, as forecasted, but it was less overcast, and more sunny than the forecast suggested it would be. It was trying to get cloudy as I made my way home from work, but it seemed nice enough to take a couple of pictures while I was waiting for my train on the platform at Waterloo East station.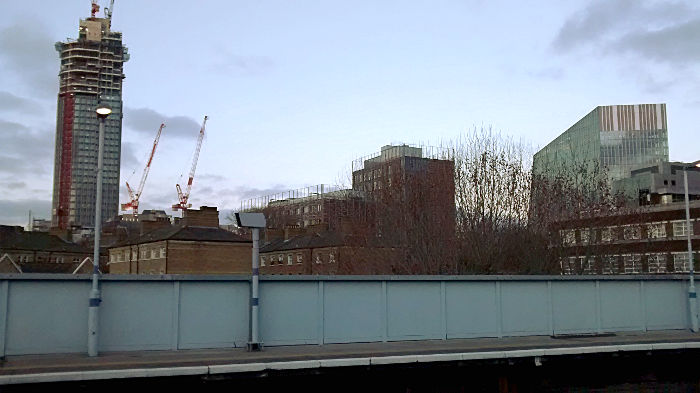 The view to the north. The camera doesn't really show it unfortunately, but most of that sky was bright blue.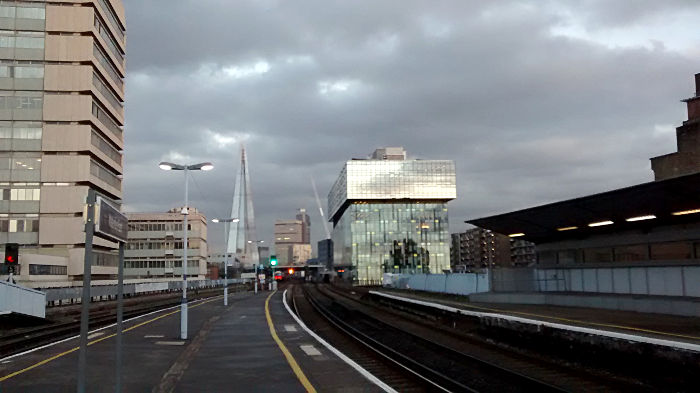 It was looking rather cloudy to the east.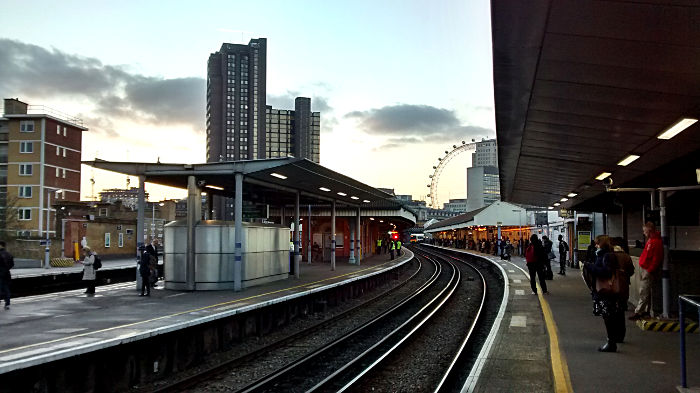 Looking west and more (mostly) clear sky that should be blue.
When I say north, east or west when describing those pictures I should have added "roughly" or "approximately", but it's close enough to make no real difference to the greater meanings of life, the Universe, and everything. What did make a difference was that the sky was still fairly clear when I arrived home, and that meant that it was still light when I went indoors. It wasn't brilliant daylight, but it was still daylight ! Of course that clear-ish sky meant the temperature tumbled overnight from about 4° C when I got home to around zero this morning. In fact on one of my outdoor thermometers it was exactly zero point zero ! (The upstairs thermometer was saying -0.3° C !)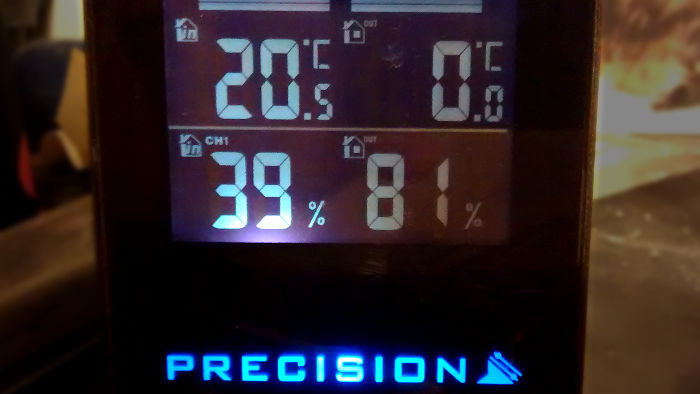 This is a snapshot of the radio linked thermometer in my living room. Inside the room it is a comfortable 20.5° C, and outside it is 0.0° C. The two lower figures are humidity, and I don't really understand them unless they read the opposite to how I think they would read. 81% humidity sounds very wet, but any moisture in the air would have frozen out. So It must be 81%
dry
outside. Drying a couple of towels in the living room must make the air quite humid, and so it is only 39% dry in there.
The forecast says this morning would be misty or even foggy, and it could continue into the afternoon. My first glimpse out of the window at 5am suggested there could be a slight haze, but no worse, and that might just have been a dirty window pane ! At the moment it is very clear with a thin scattering of clouds. The next event, if no mist of fog forms, is for some sleet to fall in the afternoon, and rather annoyingly, just as I am going home. Let's hope they got that as wrong as the mist and fog !
I can't understand it, but it seems that I was feeling quite good when I went home from work yesterday. The sunshine would have helped a bit, but it doesn't count for more than 25% of feeling good. It can't be because I've lost weight because I haven't - my trouser belt is still on the same notch it's been on for months now. I reckon that maybe I did have some sort of mild 'flu like virus at the beginning of the month. I just assumed that many of the aches and pains were old age and general decrepidness. If it was some sort of bug, it seems to be over now. That doesn't mean I am completely free of aches and pains, but they can be safely accoounted for by old age and decripedness !
When I got home (in fading, but still real daylight !) I first tackled a few small jobs like doing all the washing up. There wasn't a lot of it, but I needed extra bits because as well as preparing dinner for last night, I also prepared, and 90% cooked dinner for tonight too. Tonights dinner is almost a healthy meal, and it would have been if I had added more green vegetable, and less potatoes. It's basically a sort of stew of potatoes, green beans, skinless diced chicken, and some stock and herbs. With luck it will be delicious. last nights dinner was very tasty too. It was a ready made lamb curry with rice bought from Aldi. It comes in different packaging (round instead of square), but tastes identical to the more expensive version that Tesco sells.
Before eating dinner, although I did have snack first, I decided I felt good enough to tackle washing not one, but two medium sized bath towels. It was quite hard work, and I didn't have the energy or patience to keep rinsing them until the water ran clear, but I think it should have been good enough. Rather than attempt to wring them out completely (or as close as...) I used my recently discovered trick of putting a clothes horse in the bath, and leave them on it until they had stopped dripping before taking them down in front of the heater in the living room. (Although they had stopped dripping, I was still able to wring out quite a bit extra water that had accumulated in the bottom part of the towels as the hung on the clothes horse).
After all that effort I looked forward to eating my dinner. As well as the curry I also had some fruit - quite a lot of it. I ate a whole bunch of very sweet grapes - so that would have pushed up my blood sugar level a lot. To make things even worse I had a large chunk of cheese with those grapes. Cheese really does go well with fruit ! As all that lot began to settle in my stomach I started to feel very weary. I watched as much of the news as I could stand (approx 75% of it - all the main, and half the local news), and then I turned off the TV, and went up to my bedroom. I did some stuff on my PC until 8pm when I decided it would be more cosy, and more comfortable in my bed.
I assumed that I would read in bed for a while, but I turned out the light without really thinking about it, and while I was laying there wondering why I was in bed so early, and thinking I would never get to sleep so early, I fell asleep ! I believe that if I can remember dreaming a lot then I probably was not sleeping too well, and I do remember two dreams. Both dreams seemed quite long dreams, and both dreams were almost repeats of previous dreams - at least the setting were the same even if the plot was slightly different.
The first dream is now so hazy that I can't recall anything more than the setting for it, and it was a avery familiar setting that occurs in many of my dreams. I was at a railway station going home, and this railway station is always like a mainline station with a small branch line that terminates there. The train I wanted was from the branch line, and to get there usually means crossing a footbridge that sometimes can be quite long. On this occasion it actually meant crossing the tracks themselves. That was no bother except that I seemed to be wearing flip-flops, and I was worried about stubbing my toes on the live rail !
The other dream, that happened closer to when I woke up, concerened being in a large sprawling building that seems to often be a university (or at least my concept of what a university could be like)......although when I consider it further, in the cold light of day, it could well be based on the inside of Kings College Hospital where I had my heart surgery nearly 18 months ago. I seem to be having similar dreams fairly frequently recently. In this morning's dream I was in something like a classroom looking out of the window. I could see across a large river, probably The River Thames somewhere near Docklands, and the sky was full of very solid looking very dark grey clouds with a merest hint of green in them. It looked as if it would either snow or pour with rain. It rained - very heavily, and the middle part of the dream was to do with getting from one side of the building(s) to the other without getting too wet.
One very large room (like a school assembly hall) had water pouring in the roof, and was flooded to a depth of a few inches or more. The last bit of the dream was following someone who seemed to know a better route across the buildings. He turned out to be a professor of chemistry and/or physics, and he decided to give an impromptu lecture on the way - which was fascinating even if it was meaningless !
This morning I feel fairly good again, but not perfect, and I feel like I would like to go back to bed again. Perhaps my doubts about sleeping well were correct. Assuming I continue to feel fairly good all day, and rather crucially, it doesn't rain, sleet or snow on me as I make my way home, then I should be able to look forward to a fully productive evening - hah ! Fully productive may mean no more than washing my hair tonight, but maybe I'll wash a shirt or two, or maybe not.
Monday 19th January 2015
07:52 GMT



Yesterday afternoons weather wasn't bad, but it wasn't terribly good either. It was brighter than the morning, and I seem to recall that the sun came out for a few minutes, but it was still very cold. The last temperature I noted was sometime mid-evening, and it was just 1.9° C. I don't think it was a clear night, but the temperature continued to fall, and there was a thick frost on all the cars this morning.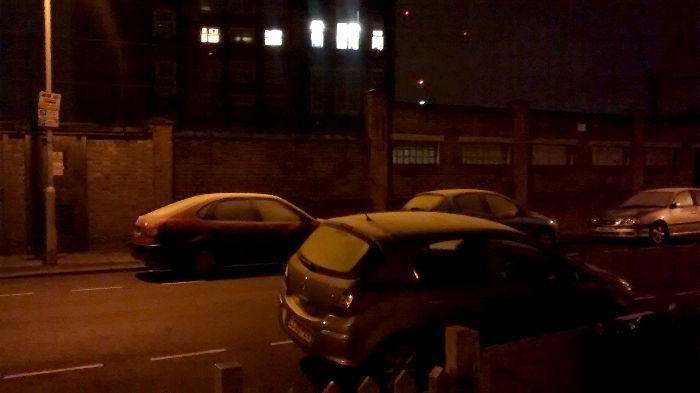 The frosty scene that greeted me on my way to work this morning. Incidently, what may look like a couple of red stars just to the right of the top of this picture are actually red lights at the top of a pair of cranes.


Today is going to be a cold day - a very cold day. It is possible that there are going to be a few sunny spells around lunchtime, but much of the day is forecast to be lightly overcast, and the temperature will not rise above 3 or 4° C. At least that was the forecast for Catford at 5am this morning. It could be different here in Earlsfield. For instance there doesn't seem to be any frost here, and I did notice that I could still feel my fingers while walking from the station to work. Mind you, it's bloody cold in my office at the moment. It's going to be several hours before I want to pick up any cold steel tools !

I mentioned yesterday that one of the things I wanted to do, but didn't, was to experience the novelty of a train from Catford Bridge to Victoria. Maybe I'll be able to do that on another Sunday in the future, and there is one other thing that will have to wait for the future that I wanted to do yesterday. That was to wash a towel or two. Hand washing medium sized towels requires a lot of effort, and I think I deliberately forgot to remember to do them yesterday. Maybe, and it's a premium, family sized maybe, I might do one tonight. It would certainly be a good way of warming myself up after getting home after work today.

Yesterday afternoon I didn't do anything too exciting, but I did do something that must have lasted quite a few hours. I transferred, and edited, some more old camcorder footage on my PC. The clip I showed yesterday, and which seems to play just about passably on the highly variable internet connection here at work, was a fairly simple job. Apart from clipping out the boring bits, it is pretty much the same as it came out the camera. To do this video editing I have been using a really cranky bit of software called Kdenlive. It's a Linux application that is part of the KDE desktop (hence it's name), but can be used without having the full desktop installed. Maybe it is because I don't have the full KDE desktop installed that it is so cranky. For instance there seems no way of switching from capture mode to edit mode without the whole thing crashing !

It is quite a learning experience getting the best out of Kdenlive. Now that I have found it is possible to capture footage from my digital camcorder via the IEE1394 connection, and control the capture using Kdenlive, I no longer have to reboot to Windows to do the job. Maybe the most important lesson I have learned is to just assume that Kdenlive is going to crash after capturing the required video, and I might just as well close the program, and re-start it ! That's one type of learning. The other is how to get the best out of all the options available, and slowly, slowly I am experimenting with some of the transitions and effects. I think I am beginning to get the hang of Kdenlive now, but there are still many things to experiment with.

Yesterday's experimental editing was of some footage shot on my analogue Hi8 camcorder in 1997. The exact date was the 17th August 1997, and on that day the preserved tube train owned by Cravens Heritage Trains was being used in normal public service on the Chalfont And Latimer to Chesham shuttle service at the top of The Metropolitan Line. Back in 1997 London Underground was still run by professionals, and engineers who rather liked their heritage. So such things were possible - unlike now when London Underground is run by Health and Safety, HR, and politicians ! I've reduced the video bit rate on this video so it should play with less buffering on slower connections - particularly the pathetic upload speed from my server on my Virgin Media internet connection !



I didn't really do anything after I had finished my video editing/Kdenlive lesson. There didn't seem to be anything on TV at the times I wanted to watch it, and so I did a bit of reading, and spent rather a long time on the internet. At least I think I did. Somehow time seemed to fly by - which is odd when you are really not doing much. I went to bed at my normal time for when it's work in the morning - 9pm - and I think I must have fallen asleep quite quickly because I can't remember thrashing around doing my best at trying to get into that one mythical comfortable position where sleep comes instantly.

I guess that I must have slept quite well, although I was definitely annoyed when my alarm woke me up at 5am. I am sure I could have slept from 5 to 500 minutes longer if left undisturbed. Considering the debilitating effects of the cold, I guess I feel reasonably OK this morning - again ! I'm not sure what is going on, but I seem to be waking up and feeling relatively good a lot lately. I have to admit it is nice when it happens, although as I say it is a relatively good, and I could easily wish to feel far better....something like not a single ache or pain, and the feeling of tremendous energy and invincibility ! I guess I would have to be in love, and it would have to be during warm weather for that to be true. The warm weather will come, but I think I am past the idea of being in love at this stage in my life.

Tonight I may, or I may not wash a towel or two. I will definitely cook dinner, and I may cook another one ready to be re-heated tomorrow night. Apart from that I will just be a slob and slouch around doing nothing until I go to bed. And what could be finer than that ?
Sunday 18th January 2015
12:41 GMT



As the sun set it unsurprisingly got colder last night, but it didn't get that cold. There was no frost, for instance, but it was still very, exceedingly perhaps, chilly. Worse than that, it was very dull. It looked and felt like it would snow, but in reality it was not cold enough for that, although the wet ground showed something fell from the sky last night. Occasionally it brightens up a bit for a short while, but overall it is a damp and gloomy sort of day. It is currently 6° C, but it feels colder than that because of a draught. I say draught because the wind is not strong enough to say anthing worse, and I think I reserve the use of the word breeze as a pleasant cooling feeling on a hot day. The word draught (or draft if you prefer to spell it that way) seems like it implies a shivery feeling.

The weather forecast (as observed at midday) says it should really be 3° C right now, and not 6° C. In another hour it will rise by one degree, and then start to plummet down to just 1° C by 5am tomorrow morning. It seems tomorrow is going to start at a most unpleasant temperature, and at its peak the temperature will only rise to 3° C before going into negative figures during the night. We really are in the grip of winter even if there is no snow - yet !

I have to confess that I didn't do much at all yesterday evening, and some of what I did do was rather naughty ! That naughty thing was to order a large takeaway, and make a bit of a pig of myself as I gorged on grilled meat and salad (it was a kebab). I ate that while watching TV. It was a bit of a struggle to find something worth watching last night, and I quickly turned the TV off after I had finished eating (which did coincide with the end of the programme).

I did do one innocent thing last night, and that was to convert some old camcorder footage into digital video. If your browser can show it, here's some video shot on the 10th November 1993.

If I recall correctly, I had read that there was a special train, probably a railtour, that was going to go down what was then The East London Line. It is now no longer part of London Underground. A few years ago it was converted from fourth rail operation to third rail, and became part of London Overground. I have no idea if I got the wrong hour, day, month, or even year, but I never saw that special train. Instead I took some video of A60/62 stock Underground trains in their London Docklands livery calling at Wapping station. That type of train is no more, the fourth rail is no more, the London Underground roundels have gone, and (I think) the station has been redecorated/refurbish.....tarted up !

After a good eight hours sleep, plus a spare hour or two, I got up this morning feeling fairly OK, and I had great plans to do stuff - until I opened the curtains and looked out on a miserable looking day. I know there are people that like to wrap up in 78 layers of waterproof/heatproof/weatherproof/wildebeast proof clothing, and go out walking or exploring, but I am not one of them. I double checked that when I went out to post the paperwork for my pension this morning. Even if I were in an air conditioned bubble with warm air and cold beer on tap, it would still have looked bloody horrible out there.

I tried to convince myself that it would be interesting to get the train from Catford Bridge to Victoria, but although I would like to do that sometime, today was not going to be the day. I console myself that this unusual diversion could continue every Sunday while all the work is going on at London Bridge (consulting the timetable would confirm this - I must do that sometime). The best I could manage today was to go to Aldi to get some shopping.

I still don't understand why I am not drinking cola at home, and haven't done so for a fortnight now (or is it longer than that ?). It doesn't seem to have any useful differences, or indeed any measurable differences as far as I can see - although I may belch and fart a bit less, but it is hard to measure such a variable intermittent sort of thing. The one thing I miss about not drinking cola is the fizziness (the very thing that could invoke "wind" from either end !), and so I bought a couple of bottles of lemonade in Aldi today. One bottle is from their "Everyday Essentials" range, and it contains no lemon at all, and yet it tastes of "lemonade", and is quite pleasant to drink. The other bottle does contain real lemon juice, but only a mere 2%, and is described on the till receipt at "Premium". I haven't tasted it yet, but something described as Premium must surely taste wonderful - as you would expect for 39p a bottle ! The "Everyday Essentials" lemonade I am drinking at the moment costs 17p a bottle !

I think it is now time for lunch. Of course because it is a Sunday, lunch will actually be dinner, and today it is a sort of meatball stew. I'm using up some potatoes that are starting to go green, a red onion that seems to have lasted ages without any noticeable deterioration, some beef stock, and newly bought beef meatballs. After dinner I will probably have a snooze, or maybe just do some reading. After that I have no idea at all what I will do !
Saturday 17th January 2015
15:45 GMT



Once again, apart from the cold, it was a fairly pleasant sort of mid January day. It was definitely sunny from time to time, and it should have been dry all day - but it wasn't ! It was dry and sunny when I walked from work to the station, and it seemed nice enough to take a picture while I my train was entering the platform. Over to the west, towards the left of the picture, there is a golden glow from the setting sun behind the trees, and the sky looks relatively clear with some blue showing. Everything looked fine.....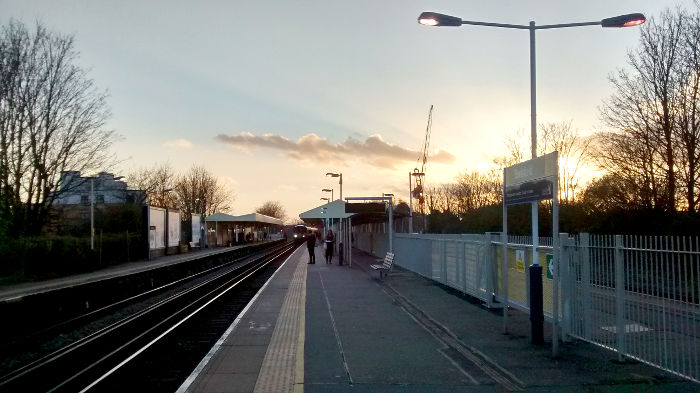 15 minutes later I was at Waterloo station, and it seemed strangely dark outside. Another 7 or 8 minutes later I was waiting for my train from Waterloo East station, and it started raining on me ! It was also raining moderately hard when I got off the train at Catford Bridge station. The only good news is that it had more or less stopped when I had walked half to two thirds of the way home. I'm not sure if there was any more rain after that, but I do know that the temperature dropped to 3° C by 10pm, and was -0.1° C when I got up this morning. By 11am it had warmed up enough to stop a shower falling as snow ! Much of today has actually been sunny, and the temperature has now risen to 4.5° C. The sun will start to set in half an hour, and the temperature will probably fall low enough for another thick frost in the morning. Tomorrow might be like today but colder !

Getting wet as I made my way home from work did not amuse me, but somehow I managed to feel like I had some sort of energy left again. It wasn't much, but it seemed to be enough to hand wash 4 shirts and some underwear. As well as that little task, I also "ScotchGarded" (waterproofed) a couple of new pairs of cheap trainers. I've not tried spraying cheap canvas trainers with ScotchGard before, but I am told it helps to make them waterproof, and to a lesser extent, stain proof. Unfortunately it doesn't make them proof against crap spelling ! I had considered doing a bit of tidying up/housework last night, but after 5 minutes of it I sort of gave up. Between all that I had what I thought was a moderate sized dinner that seemed to fill me far more than expected, and I watched some TV.

By 9pm I was ready for bed. I have no idea what time I went to sleep. Being a Friday night, and no work in the morning, I didn't put a lot of effort into going to sleep, and just sort of laid there with my brain still active. After a time, and I suspect it wasn't very long, I was fast asleep. It was nice, as it is every week, not to have to get up at 5am, and although I may not have slept all that well for the last few hours, it was gone 7am when I decided to get up.

I seem to recall that I felt sort of good when I got up. Everything seemed to be working at a useful efficiency, although when I walked to the station it did seem like my ankles hadn't been oiled, and were a bit stiff. I was going to meet Aleemah at the station, and as usual, we walked down to The London And Rye pub for some breakfast. While Aleemah had her usual filter coffee and veggie fried breakfast, I had a full pint of just one beer instead of two halves of two different beers. There were several beers I would have liked to try, but they were all "available soon". The beer I did have was Adnams American IPA, and it was quite nice (very nice for a rotten old Adnams beer !).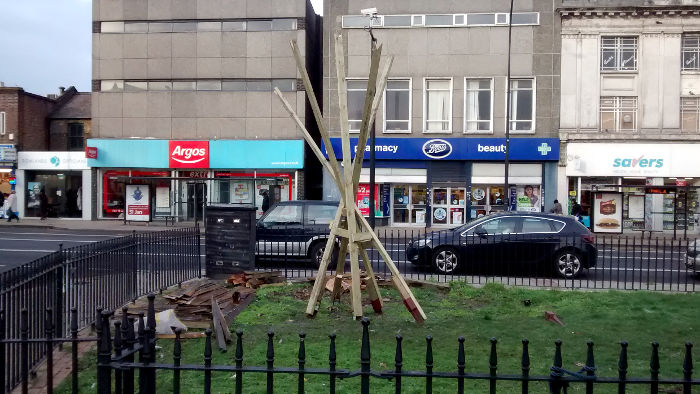 I don't know what this is, but it's being built on the green almost outside the pub. One suggestion was that there is going to be a witch burning in Catford tonight, but I reckon it is some sort of (crap) artistic "installation". Presumably, all will be revealed once it is finished.

This afternoon I did something very important. I have filled in the paperwork concerning my pension that will be paid in June. It is only a very small pension - sort of half sized reflecting the half a life time of work I did with Post Office Telecommunications Ltd (as it was when I first started work). In June, for the first time in my life, I will have an independent income. I think, or I hope, that somehow I am going to be able to live off rather less than than half of what I earn now. It is actually closer to a third pre-tax, but it is well under the tax limit, and so will be closer to a half - I hope !!!! In theory I should be able to quit work and retire, but it is probably going to need an awful lot of discipline living on so little money. Not have to pay fares to and from work will help it stretch a little further, and I should be able to get an TFL 60+ Oystercard that will give me free, off peak, London travel for other journeys. I'm not sure I am going to pay for beer though......
Friday 16th January 2015
08:25 GMT



The wind calmed down after sunrise yesterday, but seemed to pick up a bit in the afternoon. It's main feature then was not how strong it was, because it wasn't particularly strong, but how cold it felt ! It rather spoiled an otherwise acceptable day. We got the promised sunshine, and even when the sun wasn't actually shining, it was still fairly bright outside. I think the temperature when I got home from work was around 6° C, but it felt a lot colder. It was actually a mild (for mid winter) night, and the temperature when I got up was nearly 5° C. It's not going to get much better than that all day, but it should be a mostly bright day with the possibility of a sunny spell here and there. Then, when night falls, it is going to get very cold. We will probably wake up to a thick frost, but it won't be until Sunday that the temperature goes into negative figures, and there is a chance of some sleet or snow then !

The effort of coming to work for five consecutive days is beginning to show. I felt I had almost run out of energy as I made my way home from work yesterday, and this morning the walk from the station to work seemed a lot like hard work. It was bad timing that last night I had to go home, drop my bag off, and then go to the pharmacy for my drugs. There was no problem getting my drugs last night, although for some reason no one understands, the surgery prescribed me 3 months supply of one drug, instead of the two month supply of the other drugs. Having got my drugs I dropped them off at home, and then proceeded to The Catford Constitutional Club for some beers.

All that rushing around was not quite as joyful as it was the night before, or at least it didn't seem so easy, and yet it felt like a good accomplishment once I got to the pub. It also felt like a good accomplishment to not stay too long in there. I was helped in that respect by not drinking beer. Instead of beer I had just two pints of a rather strong, 6%, toffee apple flavour cider. Initially it was a very pleasant taste, but after a while I found I could only smell the toffee rather than taste it. I am not a great cider drinker, and as I approached the bottom of my second pint I decided it was getting too acid/tart for me. I didn't want to mix the cider with beer, and so it seemed a good time to go home again.

It's not the social thing to do, but I think I prefer a short drink when I have work in the morning. Plus I didn't feel quite so ravenously hungry as I walked home avoiding various takeaways ! That's not to say that I didn't eat more than I needed, or should have had when I got home. I didn't think it was all that much, but I ended up feeling quite stuffed after dinner. It's not the first time I've felt like that lately. I'm wondering if someone has secretly fitted a gastric band one night while I was asleep !

There was one annoying thing about last night - and that was TV. In particular, TV between 8pm and 9pm. They show hours and hours of rubbish, and then between those hours there were episodes from two different generations of Star Trek, and an episode of the original BRITISH Avengers (nothing to do with those usurpers at crap American Marvell comics). I did my best to watch all three shows, but ended up watching more of The Avengers. Than at 9pm I went to bed. I probably had a good night's sleep, but it's hard to tell. All I know is that when my alarm woke me at 5am I was feeling all hot and sweaty for some unknown reason. (I felt perfectly OK when I woke up an hour earlier).

Compared with many mornings, I felt passably OK this morning. Nothing was notably sore or painful, and even my floating rib syndrome seems to have calmed down a bit in the last day or two. While it may have stopped generating any pain lasting for more than a minute or two, there was still the traditional crunching and grating sounds (or feeling) as I pulled my shoe laces up tight after putting my shoes on this morning. While it is nice not to have any annoying aches or pains this morning, it didn't mean that I felt like I was in tip top condition ! This morning my legs feel underpowered, and I found it hard going trying to raise any speed as I travelled to work. It felt like quite a strain to keep up with, and occasionally overtake the other commuters as we trundled from Waterloo east station to Waterloo Mainline station.

Well once the working day is over I can crawl painfully home (!) and then put my feet up. I don't think I wanted to go out tonight. So there should be no conflict of conscience if, as I think will be the case, that I don't actually want to go out. I look forward to being thoroughly lazy tonight - at least I think that is how it will be, but maybe I might do a bit of tidying up in advance of Aleemah visiting tomorrow morning....or I might leave it until the last minute like usual !

There was some "action" at Waterloo this morning.....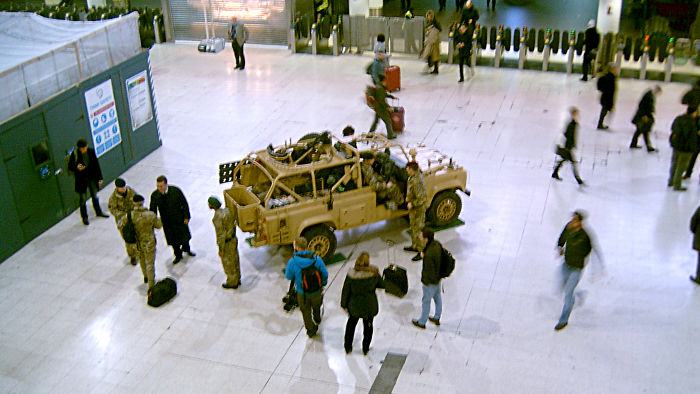 There is a possibility that this was a recruitment drive for the Territorial Army being set up.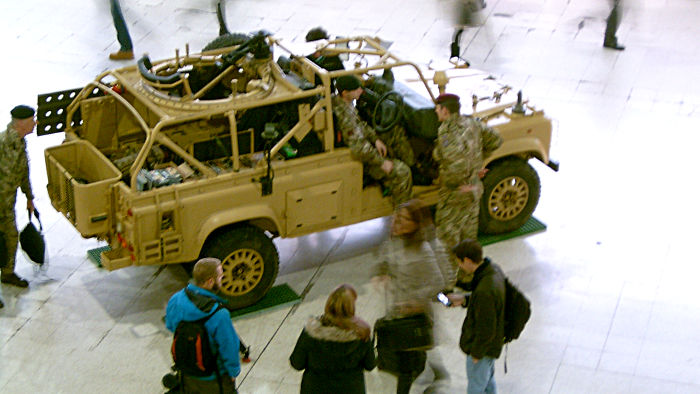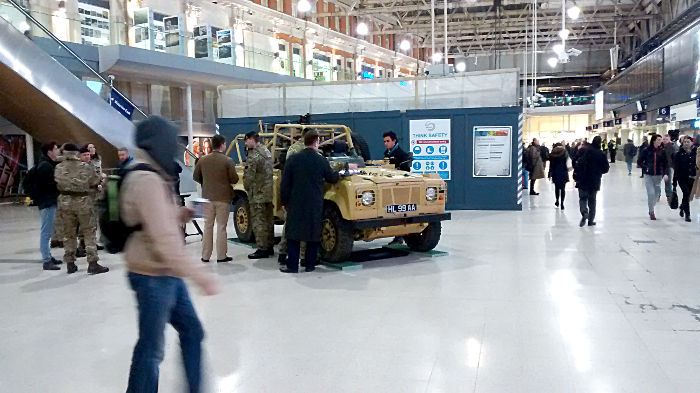 Thursday 15th January 2015
07:58 GMT



The weather wasn't too bad, except for the low temperature yesterday. If the temperature had been around 15° C instead of 8° C (or thereabouts) it might have felt like a nice spring day. There was a lot of blue sky and sunshine.....until after dark ! Once night got underway there was a lot of rain, and according to the weather forecast, some very strong winds. I didn't notice the wind being particularly strong last night, but I did see a scattering of twigs from some of the trees here in Earlsfield this morning. In theory, the very light rain that fell for a few minutes as I walked to the station, should have been the last of the rain for today. It still looks very dull outside, but there is supposed to be a few hours of sunshine just after midday today. Then it will cloud over again Correction: The forecast has changed in the last couple of hours. It doesn't look likely, but in less than an hours time there will be bright sunshine for 2 hours, and then there will be sunshine and showers until 4pm. Then it will dry up and the temperature will start to fall. The average temperature for the middle of the day is supposed to be 8° C, and it will drop to 5 or 6° C by the end of the night. Tomorrow could be a lot colder !

I felt fairly good when I left work yesterday, and it was a mixture of no significant pains, looking forward to a micro-adventure (maybe nano might be a better prefix !), and because the mostly clear sky made it nice and bright (and if the sun had been a bit higher in the sky it would have been sunny). The nano-adventure was to go out again almost as soon as I got home. Picking up my repeat prescription from the pharmacy was not exactly exciting, and the reality was that it was a small disaster, but going to Aldi, which is just around the corner is usually enjoyable - particularly so when the walk there and back was for "free" (i.e. I was there anyway).

What spoiled it all was that you are supposed to allow 48 hours from ordering a repeat prescription, and I only allowed 36 hours. So they didn't have it there, and I've got to go there again tonight - which is more than annoying because I should be going direct to The Catford Constitutional Club for some booze tonight. I still feel I was justified in trying to get my prescription last night for two reasons. The first is that collecting the repeat prescription at the end of the second day after ordering it online at 5am has always worked in the past, but there is a better reason. The people in the pharmacy told me that I had to allow two working days before attempting to collect it. As far as I was concerned I had been to work, and come home again twice since ordering the prescription, and that seemed like two working days to me. When I go there tonight I will tell them in my most convincing way that I have worked three days since ordering my drugs, and I can't help it if they work 28 hour days (or something like that !).

Oh well, it was still worth it to get some stuff from Aldi. I bought three more bottles of squash to add to my multicoloured, multiflavoured selection of squashes, and I bought some sandwiches to bring to work for breakfast this morning. The rest of it was just general odds and sods. I was hoping they might have something, probably non food, that was exciting in some way, but their latest "Specials" all seem to be either stuff for babies, or stuff for the kitchen. It felt rather strange to walk home from there without three 2l bottles of diet cola weighing down my rucksack, but for reasons I don't understand, I am still not drinking cola at home. Maybe not drinking it makes me belch and fart less, but I'm not so sure...
Wednesday 14th January 2015
07:48 GMT



It was quite a mixed bag of weather yesterday. The only thing it wasn't was warm ! Around lunchtime there were some showers, and a for a while the rain seemed quite heavy, but sometime between 2 and 3pm the clouds broke up, and almost disappeared. From then on until sunset the sky stayed mostly clear, and the sun shone...until it was too low in the sky to be seen from the ground - which didn't take that long to happen. It was about 6° C when I arrived home last night, and after a clear night the temperature had dropped to a tad under 4° C. There are weather warnings for snow today, but I don't think we will see anything in London today. Much of today is supposed to be bright, and often sunny, but after dark it is forecast to get quite cloudy again, and if there is any snow, that is when it is more likely to fall (fingers crossed). In an ideal world there would be a very heavy fall of snow during the night, and transport would grind to a halt in the morning. I would call in for an emergency day off work, and watch it all from the comfort of home. Unfortunately I think tomorrow is just going to be cold, dark and wet, but we'll see.

It is so much nicer having a name to explain the pain I have been getting intermittently for some time now. It is, as I mentioned yesterday, floating rib syndrome. Having read up about it, it all makes sense now. How certain, but frequently essential movements can cause/aggravate the pain, and how doing up my slightly tight fitting coat can alleviate the pain. I suspect it is probably ligament damage in my case rather than a dislocated rib, and it is almost certainly a legacy of not following the surgeon advice about carrying heavy weights so soon after my quad heart bypass operation. Very occasionally the pain can be more than moderate, but not actually severe, and usually it is no more than an dull ache with brief twinges if I make a wrong move. It seems there is no real treatment for this condition except time and painkillers, although if it was a dislocated rib it could be manipulated back in it's socket, but I don't think that applies to me. I'll see what my doctor thinks the next time I see her (or him) sometime next month.

Despite the occasional pain from my (not actually) floating rib, I still felt reasonably OK yesterday - which is quite surprising considering what I found when I got home. Yesterday morning I cut my toenails, and I knew that I drawn blood from my right big toe. It was only a small wound, and I thought nothing of it. During the day I noticed a very small amount of discomfort around the big toe, but it didn't seem out of the ordinary, and I paid it little attention. When I got home and took my shoes off I found the the whole of the end of that big toe was caked in dried blood. It looked awful, but it didn't feel awful, or even slightly sore, and when I washed the blood off there was hardly a wound to be seen. This morning it is like had happened.

I am slightly worried about feeling quite good when going home for yet another day, yesterday. If it is too good to be true then it probably is ! It is probably an early warning of deadly disease or something.....I did develop a bit of a sore throat yesterday, and it is still slightly sore this morning. It could be the start of yet another cold, or it could be the start of throat cancer, or it could just be a sore throat. Apart from the sore throat, floating rib pain, and the blood caked big toe, I felt OK going home, and when I got home. I probably could have done a lot more than I did.

The only thing of note that I actually did last night was to wash my hair. Once my hair was dry enough I went to bed early. That might have been a mistake. Like the night before, I was in bed before I felt sleepy, and it took what seemed like, but probably wasn't, a long time to get comfy, and fall asleep. I don't know why I woke up feeling like I had slept badly because I can only recall waking up briefly twice in the night. Maybe it was because I think I was enjoying a dream when my alarm woke me up, and I wanted the dream to continue. I have no idea what the dream was about, but evidently it was good enough that I was peeved to be woken from it.

It is possible that I could feel really good today - even while I am at work - if the sun continues to shine. It would be nice to be outside to soak up a few rays...at least it would be nice if it wasn't so damn cold out there. It is rather far from t-shirt and shorts weather ! Oh well, I'll just have to appreciate the sunshine from indoors, but even that will give a boost, and I'll need a boost to do a little extra walking on my way home from work. I'll need to walk right past my house to get to the pharmacy where I hope to pick up a repeat prescription of all my blood pressure furtling drugs. It more than doubles my walk from the station to home, but that is not the real conflict. The problem is, is there anything I need from Aldi, which is just round the corner, to justify going in there, and risk buying food that I probably want to be avoiding ? The only justification I can think of right now it to buy some "no added sugar" blackcurrant squash, but even if I get that it doesn't solve the problem of having accidently bought a bottle of gigantically sugary blackcurrant squash from Tesco. Should I throw the pure syrup version down the drain, or should I continue to drink it diluted so much it hardly tastes ? Decisions, decisions....
Tuesday 13th January 2015
08:32 GMT



I guess it wouldn't be that wrong to describe yesterday's weather as terrible, although mildly terrible might be more appropriate. There were very few times when it was bright outside, and I don't recall any time when I could even imagine the sun behind the clouds. It didn't rain all the time, but it did for much of the time. The only saving grace was that it wasn't very cold, although the wind made if feel rather chilly from time to time. This morning started with a continuation of yesterday. It was about 10° C, and there were puddles everywhere. No rain fell on me until I was walking from the station to work, and I will grudgingly admit that it was fairly light rain. It may brighten up a bit this morning, but the temperature is going to drop down to 4° C this evening, and the rain will return sometime later this afternoon or evening. To the north and south of London that rain could fall as sleet or even snow, but last night's weather forecast showed London to be clear of it. Tomorrow could be very windy, very wet, and very cold !

I have to get this off my chest first.....I really, really, really hate the incompetent idiots who Wandsworth Council employ to lay pavements here in Earlsfield. Every morning and evening when I come to work, or go home again, I take my life in my hands dodging cracked or broken flag stones, wonky manhole covers, great big puddles deeper than Loch ness, and bigger than Lake Erie, as well as other unnatural hazards. This morning I managed to dodge all the bottomless, lake sized puddles, but I didn't manage to dodge a loose paving stone. As I stepped on it with my right foot it tilted down, and out came a huge jet of disgustingly filthy water that soaked my left leg from just above the knee down to my ankle. It was cold, wet (obviously), and now I'll probably die from syphilis or something !

I can't understand why, but even after a day at work that was not enjoyable in any way, and then having to walk to the station in some light drizzle, and almost in the dark, I felt sort of good. Even an occasional pain below, and a bit to the right of my right man breast didn't seem to be any particular bother. Even the fact that the sky was so overcast that it seemed night had arrived early, and I couldn't really see all the work taking place at London Bridge station, which was something I was rather looking forward to, couldn't seem to dampen a feeling of feeling a lot more OK than the average OK. I seemed to have 3.2714% more energy than is typical when going home from work, and some sort of chemical imbalance made me feel an absence of pissed off.

I didn't go straight home, although I did turn down the offer of a couple of beers - mainly because I knew it would be very hard work to make sure it was just a couple of beers and not 5 pints ! Sometimes 5 pints would be nice, but it didn't feel appropriate for last night. I wanted to get some stuff from Tesco, and go straight home to dry myself out. Several things I bought in Tesco were not exactly designed for healthy living, but I still bought them because they were cheap - a BOGOF* offer on what was probably intended to be a Xmas flavour of Kettle chips (or crisps as we know them in this country where we use the Queens English), also large packets of peanuts at less than half price (and cheaper than from the 99p shop !).

*BOGOF - Buy One, Get One Free.

What I actually wanted in Tesco was some more bottles of squash. I am still not drinking cola at home (although I can't think of a valid reason why not - I did buy a 500ml bottle to drink at work today, so I do still drink it), and I wanted some more flavours of squash to try. One flavour I bought was done as a sort of dare to myself. It was cranberry and lemon flavour. Lemon is usually quite tart, and cranberries are pretty disgusting as fruit, and I'm sure that their juice can dissolve a tooth in under 36 hours. Oddly enough, when drunk very dilute, perhaps just one part in ten to water, lemon and cranberry (or was it cranberry and lemon) makes for a nice drink. I only made one tragic mistake. The bottle of blackcurrant squash is the full sugar version, and I am going to have to really limit my intake of that.

My good feeling survived shopping, cranberry and lemon, so I wonder where it went to ? In theory I could have washed a few t-shirts, or more importantly, I could have washed my hair, but I did neither. I did trim my beard, and with that weight of my mind chin I just sort of gave up for the evening. I was in bed by 8.30pm, but it must have been at least half an hour, and maybe longer before I fell asleep. I woke up at around 3am feeling quite good except for a strong desire for a pee, and I woke up at 4am in a similar way. Then I woke up at 4.45am and decided it wasn't worth trying to get back to sleep for 15 minutes.

I still feel fairly good, but it is beginning to tarnish. I'm still getting occasional pains on my right side near my breast, although once or twice it seemed to swap sides briefly. This pain seems to be closely related to my medically impossible loose sub-chassis (floating rib cage !). That is the pops, clicks and jerky scraping sounds I appear to get from my chest when doing certain movements - pulling up my shoelaces is one movement, and wiping a cleaning cloth from side to side at arms length is another good movement for generating all sorts of strange internal audible effects from my chest ( I say audible, but it is felt more than actually heard). The actual cause of the pain is likely to be something close to a pulled muscle or ligament that was weakened by surgery, but I would be quite amused to learn that it was some sort of foreign body left in my chest after surgery (the surgeons wrist watch would earn the ultimate accolade !).

I've just discovered that there is such a thing as floating rib syndrome - http://www.soreribs.net/floating-rib/ and my idea that I hear grinding and crunching inside my chest is also something that is described - http://www.soreribs.net/rib-injury-symptoms/ The latter web page also makes mention of the effects of open heart surgery, but doesn't mention the effects of carrying ten times the recommended weight of shopping so soon after surgery - which is what I did. Oh well, you live and learn !

Something rather remarkable has happened. What with researching, and reading up on several explanations of floating ribs and pains and stuff, plus the time it takes to type all these words, I hadn't noticed that the sky, as sen through my small office window, is now (09:40) looking blue instead of dark grey, and the top of the building to the right of my view is brightly lit from the sun that is still hidden from my view to the left. If the sky stays blue, and the sun continues to shine for a while, it might even cure me of a slight feeling of loss of energy, and stiffness of legs that I blame on the cold and damp this morning.
Monday 12th January 2015
07:53 GMT



I suppose it is like it every winter, but I don't think I had made the connection between sunny days being cold, and cloudy days being warmer in winter before. I was very aware that clear nights mean cold mornings, but I always thought that the warmth of the sun in the sky would always outweigh the heat escaping on a clear day - even in winter. Maybe it always did, but perhaps the sun is going out.......Yesterday seemed like an exception to that idea, but it was actually the wind blowing in air that had been warmed elsewhere in the world that raised the temperature a few degrees yesterday, and continued to do so during the night. It became very cloudy as daylight ended yesterday, and at some time in the night it began to rain. The rain is, and probably will be, intermittent - it wasn't raining when I walked to the station, but there was a shower when I walked from the station to work. Today will most probably be very grey, and frequently quite wet, but the day started at an almost reasonable 10° C, and it is not forecast to change much more than a degree from that during the day. Meanwhile, the wind continues to blow - occasionally quite lively !

I think I am having some success in limiting the amount I eat over the weekends. It is often easier to eat less when I am out at work, or anywhere else for that matter, but weekends at home are tricky. Saturday is turning out to be the worst day, and that is probably because I frequently get shopping in on a Saturday. Yesterday I was quite restrained in terms of a moderate breakfast, and possibly an even more restrained dinner, but a few snack were involved, and for the life of me I can't think what I may have snacked on besides a bag of peanuts and raisins. Dinner was interesting...sort of. I finally managed to make my sprout surprise to my own satisfaction. It was sprouts, chestnuts, and for some added flavour, some lean bacon cooked in a little chicken stock. It was nice, but I still can't seem to capture the taste of the frozen, ready to cook, sprouts with chestnuts that Tesco were selling a few xmases ago. They were very nice.

I wasn't sure if I would do it in the end, but I gritted my teeth, salted my toes, and peppered my elbows (or something like that), and washed three shirts, a pile of socks, and some underwear last night. It all went smoothly, and painlessly, but it is a pain in the derrière to carefully pick and pull of lint from the inside of my sock one by one. Some time ago, probably well over a year ago, I discovered that in some types of socks there would be a build up of lint that would almost harden like felt right in the places where my feet would suffer discomfort when walking. The really annoying thing is that it happens most to my favourite type of sock - a particular style of Tesco trainer sock.

Doing that laundry seemed to have the opposite effect on me that I predicted. I became more awake and alert instead of feeling tired and knackered. So when I went to bed it was hard to get to sleep. That probably wasn't helped by having a snooze of unknown length sometime in the afternoon, and also getting up relatively late in the morning. Once I got to sleep, maybe close to 10pm, it was a typical nights sleep. I slept well until a couple of hours before I was due to get up, and from then on it was difficult to stay asleep. In theory that should mean I had adequate sleep, but it didn't stop me almost falling asleep on the train this morning.

I could list all the aches and pains I had/have this morning, but they do seem to be unusually mild for a change, and so are probably not worth mentioning. Maybe the reason I started falling asleep on the train was because I was generally comfortable, although the sleepiness didn't last long this morning because there were things to be seen - or would have been had it been daylight. This morning was the start of the BIG disruption caused by the rebuilding of London Bridge station. Until August next year no trains to Charing Cross station will stop at London Bridge (or St Johns and New Cross in the case of my morning train). It was annoying that it was so dark as the train approached London Bridge that I couldn't really see what was happening, and it was also annoying that I was sitting on the wrong side of the train to see if there was any physical reason the train couldn't have stopped at London Bridge. As far as I could see, platform 6 was still there, and perfectly accessible....but maybe not for long ! Despite it probably being wet, windy and overcast, there should be enough light to see what's going on when I go home late this afternoon. Maybe I'll see if it's possible to take a couple of snaps of what's happening as I pass through.
Sunday 11th January 2015
16:12 GMT



After a sometimes wet, and sometimes sunny, but mostly fairly mild day yesterday, it started to cool right down. During the night it was almost cold enough for a frost, and maybe in the early hours of the morning there might have been one, but there was no frost to be seen when I finally opened the curtains this morning. It was just under 5° C this morning, and after a morning that was quite frequently sunny, it is now just over 8° C. This afternoon is began to get cloudy, and now, when we should be seeing the last of the daylight, it seems to be prematurely dark. The forecast for tomorrow keeps changing, but only in small details. The underlying theme is that it could be very dull, very wet, and rather chilly !

I had a gloriously lazy evening last night. I had wanted to go out to a gig, but I don't seem to be bothered about missing it, and even if I had of gone, I might have gone to the wrong venue...I thought it was in The H.G. Wells Centre, but I have seen mention of it being at The Swan And Mitre (also in Bromley). Maybe the band, The Big Red Bus, played in the latter venue on a previous occasion, and the person who mentioned that didn't make it very clear. Anyway, I didn't feel like going out, and so the confusion didn't actually effect me.

I am desperately trying to remember what time I went to bed last night, and I can't remember. I didn't have any booze last night so I can't blame that. Maybe I had a brain aneurysm or some sort of mental hiccup, or maybe I just went to bed when I felt tired and didn't consult a clock about it. The latter sounds a reasonable explanation. The only thing I do remember is how my spare duvet smelled. I couldn't remember if it was a thinner one that I had shoved in a sealed box one winter while waiting for summer to arrive, or if it was a thicker one that I was waiting until winter to use. It turns out it was marginally thinner, but still adequate for keeping me nice and warm. The more significant thing is that it had been sealed in it's box for over two years - before the days when I keep forgetting have many, or any cigarettes a day. It gave it a rather unique aroma.

Despite that aroma, or maybe because of it, it felt like I slept quite well last night. I don't know how many hours of sleep I got, but it could easily have been a good eight hours. That should have left me raring to go - particularly in the bright sunshine - and in a way, I did - but not for long. At the end of my road is an old footbridge that used to take punters over the road and into the old Catford Greyhound Stadium. It won't be there much longer because it is being demolished. It is a slow process because it is over working railway lines. The demolition company only has a few hours each night when Network Rail will let them work on the bridge, and so far they have only done some preparation for the big day when it will be sliced up, and craned away. This morning I went out and took some pictures while it was mostly intact.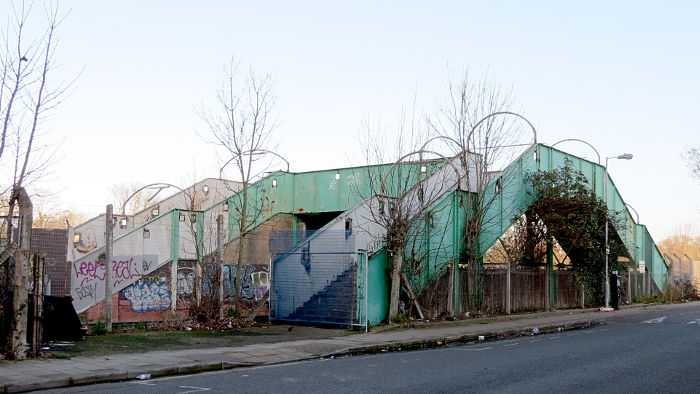 This is the south side of the bridge (the railway runs approx north-south).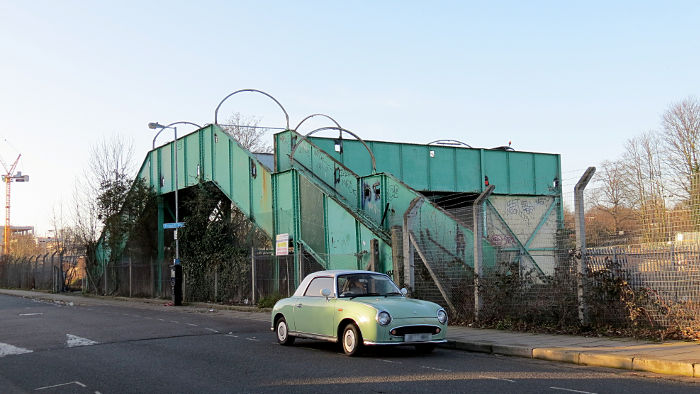 The north side.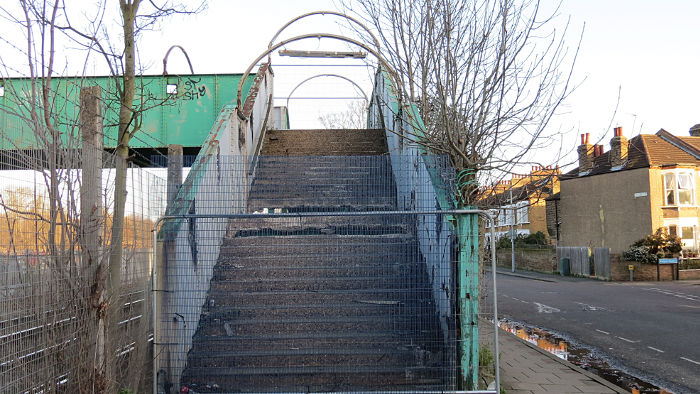 Moving back to the south side, here's the stairs. There used to be a ticket booth and turnstiles between the road and the bottom of the stairs.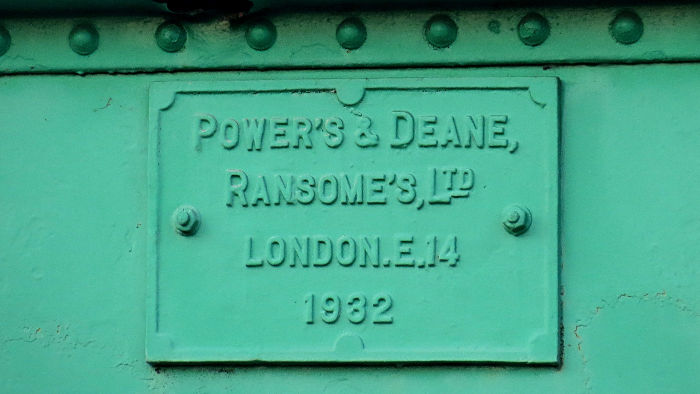 Makers of fine bridges since 1932, and probably well before that !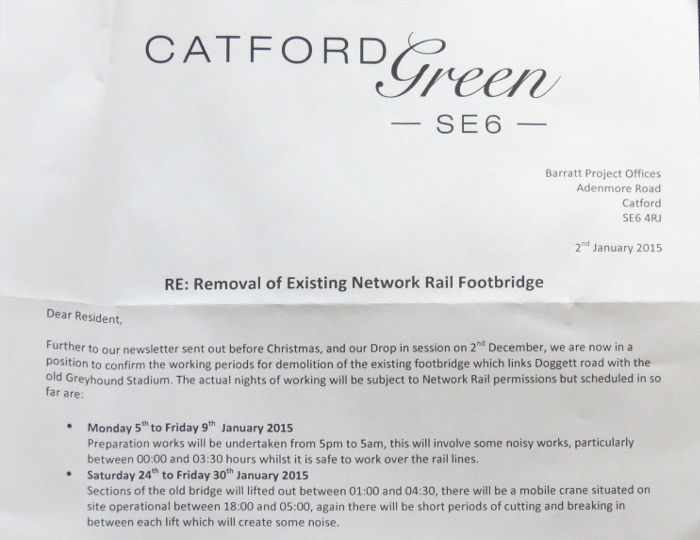 Advance warning of timetable of works to be carried out.
It was nice to go out in the early morning sunshine to take some pictures....at least in one sense it was. In another sense it was bloody cold to be handling a camera with bare hands ! That, and a bit of a mild stomach ache, put me off doing anything else for what was supposed to be for an hour or two, but somehow an awful lot of time seems to have passed since than, and I'm not entirely sure where it has all gone. In a while I might wash a couple more shirts - something I was going to do this morning - but now it is dark I can't go on a joy ride/photo expedition riding the train from Catford Bridge over the unusual route to Victoria station. That's a bit of a shame, but it doesn't mean I'll lose out seeing anything I haven't seen before. In fact there was a time 5 or 6 years ago when some sort of problem meant my train to work was diverted to Victoria. So I have done the route before.

Apart from washing some more shirts, I don't propose to do anything else this evening apart from eating, reading, maybe watching a bit of TV, and going to bed ! Although the weather forecast for tomorrow makes it hard to look forward to tomorrow !
Saturday 10th January 2015
18:46 GMT



The dip in the temperature that was forecast for the middle of yesterday failed to happen...or if it happened, it wasn't terribly obvious. Maybe the sunshine we had prevented the temperature from falling. I'm fairly sure it was about 13° C when I got home from work. Later in the evening it did rise to about 15° C as was forecast. The other bit of the forecast was also correct - the wind was pretty lively in the evening ! The wind has also been a feature today. It seems to have calmed down now, but earlier on it was rather gusty. There have been a few brief but heavy showers today, and a few longer but lighter showers. However, there was probably more sunshine that showers, and on the whole it has been quite mild...although the temperature seems to be falling quite fast now. The morning started at about 13° C, and by mid afternoon it had dropped to 11° C. It is now under 6° C. It looks tomorrow will start off very cool, and end quite cool under a mostly grey sky, but there could be some sunshine in the morning.

It was a great relief to be heading home from work yesterday. There was nothing particularly bad about work, and I wasn't feeling bad in any way different to the last 100,000 days, but, as I am sure I have mentioned many times in the past, I've tried working for most of the last 40 years, and I am completely and utterly convinced I don't like it ! So I was more than happy to have completed the boring walk from work to the station, and got on the first train towards home. Even the fact that it was rather overcast, and night fell when I was only halfway home, couldn't completely depress me.

One thing that sort of elevated my mood, at least I think it may have, was a successful shopping trip to Tesco on the way home. I mostly, but not entirely, bought sensible stuff. That included a couple of bottles of squash. I've forgotten why I started it, but I seem to be experimenting with not drinking sugar free cola at the moment. After a whole week of it I feel no different, although I think it has taken some of the strain off my wallet. Squash, particularly when drunk a little more dilute than recommended, seems rather cheaper than real Diet Coke, and possibly cheaper than Aldi own brand.

Another indicator that I was evidently feeling reasonably good was because I managed to convince myself to do some of the laundry I had put off doing for over a week. I only washed 4 shirts and some underwear, but it was a start. I am trying to decide whether to say I felt tired, smug, or tired and smug after doing that laundry. It probably was the mix of the two plus something else that is on the tip of the tongue, but I can't seem to describe now. I shall just have to say that I felt good when I went to bed, and very much looked forward to some refreshing sleep.

It is quite possible that I got that refreshing sleep. I went to bed late, perhaps after 10pm, but I think it may have been a little before, and I got up late (by work day standards). I don't recall waking up before 5am, but I am sure I must have, and even at 5am it was easy to go back to sleep again. At 7am I became more restless, and I didn't really manage to sleep until my target of 8am. As far as I can remember, I didn't really have much to complain about when I got up. I'm sure I wasn't ready to run a marathon, but I think I was ready to walk to the station without complaining too much.

Of course I had no reason to walk to the station...or maybe if I had the spare time I did have a reason. Engineering work on the railways has completely closed London Bridge station this weekend, and today all London bound trains from Catford Bridge have been going to Victoria station (and coming from there too). It's a very rare route for the trains to take, and if I had the time it could have been sort of fun just to get a train to Victoria and back. I think I could do it tomorrow if I felt like it.

My friend Aleemah visited today, and because on the train situation she caught the bus to Catford. It is a slow way to go, but she enjoys the sightseeing (I think). I met her in the pub on this occasion, and because I got there first I had time for an extra half of beer - making a pint and a half in total. After the pub we had a quick look in Peacocks where they were having a sale. I bought a cheap and cheerful pair of plimsoll like trainers for a mere £6. This particular style of shoe from Peacocks come in two varieties, and you never know which they are until you've worn them all day at work. One type is very comfortable, the other very uncomfortable, and yet it seems impossible to tell why. Oh well, even the uncomfortable types are still comfortable enough for a quick visit to the shops or local pub.

Aleemah stayed here longer than I had hoped for. It was often sunny this afternoon, and if she had left earlier the sunshine could have inspired me to do stuff like more laundry. Unfortunately she left so late there was little more than 30 - 45 minutes of daylight left, and I wanted some lunch before I tackled anything else. That was sort of my downfall because I felt rather full after lunch (although it was almost late enough to call it dinner). To let it all settle I lay on my bed where I promptly fell asleep for at least 10 minutes, but I think it may have been an hour. I wasn't watching the time because I didn't really intend to close my eyes as I lay there.

I am not the fastest typist, and quite a bit of time has elapsed since starting this, and by now I should have been on the bus heading to Bromley. The Big Red Bus are playing in The H. G. Wells Centre tonight. It's easy to get to. I know several people in the band, and I know a few people who are going. I ought to be there, and yet I feel a bit too relaxed now. In another hour, or maybe two, I'll have something approximating to supper, and it is possible I'll be in bed not too long after that. There's no gigs tomorrow, but I might take a joy ride to Victoria, and hopefully I'll also feel in the mood to do some more laundry.
Friday 9th January 2015
08:31 GMT



After the terrible start to yesterday, the clouds thinned out, and then by midday they opened up to let in some glorious sunshine. That sunshine lasted a lot longer than the forecast suggested, and instead of more rain, I started out towards home in sunshine. Of course the sun was so low in the sky that it wasn't always possible to see it, but it was still daylight as I waited for my train at Waterloo East. It was probably about then that the clouds started to thicken again. I didn't see any rain last night, but the way everything looked wet as I walked to the station this morning suggested there had been some rain during the night. It is currently overcast, but the forecast suggests that some of the morning, and the start of the afternoon could be very sunny. Curiously enough, while the sun is shining the temperature is forecast to fall from 10° C to just 8° C, but then it will start to climb again as some strong winds push air in that is almost warm at 15° C ! The forecast for tomorrow says there could be some showers late in the morning, but then it will stay dry with the temperature dropping down to 4° C by late evening.

Yesterday was moderately OK except for the last hour (as I will explain soon). Sometimes I was quite busy at work, and at other times I relaxed a lot. The only problem with the relaxing part is that it doesn't feel like the day is passing quickly enough, but eventually home time came around, and I was on my way....not to home but to The Catford Constitutional Club for some beers - initially with Jodie, and then the rest of the Thursday night gang.

I am unsure why, but I didn't really enjoy drinking last night. That was a bit of a tragedy because they had a beer on that I particularly liked. I felt quite subdued last night, as did everyone else except for Jodie who wanted to show me lots of crap pictures and tweets on her mobile phone. Eventually I left early to go home feeling annoyingly sober - or so I thought. I think I only had three pints last night, although I wouldn't contradict anyone who said it was four pints. That's not that much beer, and the beer that I liked was not a very strong beer at all.

As I walked home I hardly noticed any effects from the beer at all, but it was like it had cannabis in it - I got an extreme case of the munchies once I started eating. It didn't help that I decided to stay downstairs in front of the TV watching an old episode of The Avengers (the original British TV series, and not a poor substitute American comic rip off). Initially I ate a Shepherds Pie ready meal for one, and then when that didn't fully satisfy I ate a small pack of sweet and spicy premium baby beetroots. I realise that was an unusual choice for a snack, but it has worked once before. Unfortunately it didn't work last night, and I went on to eat a packet of cocktail sausages - which was remarkably excessive !

The odd thing is that I can't seem to recall going to bed feeling bloated in any way, and in theory I should have been. I think I was probably asleep by 9.30pm, and if not then, then not too long afterwards. I hardly remember waking more than twice, and even then only for a few minutes. If I remember correctly, I finally woke up just 10 minutes before 5am when my alarm was set to wake me up, and I woke from a dream where I was looking for a toilet. Strange as it may seem, I didn't seem to be in any rush to find a toilet when I woke up.

This morning my guts were playing up enough for me to miss my usual train, and I had to get the later train - which sadly means I was no longer travelling on off-peak fares. The rest of me didn't feel as good as the day before. My right knee was sometimes slightly sore, and rather unusually, my left leg felt noticeably stiff. Oh, and just for fun, I seem to have a bit of an intermittent headache - which suggests hangover. Did someone spike my drink, or is it all completely unrelated ? Maybe I am so out of practice that three pints is enough to get me drunk and suffering now !

I'm not exactly sure what kind of day it is going to be at work today. It's a Friday, and so I am in a more lazy than usual mood, but there are many here who don't seem to wind down at all for the weekend. I should feel sorry for them, but I don't because they have the power to annoy me at times ! Nevertheless, the weekend beckons regardless. I have no plans for tonight, although maybe I might see if I can motivate myself enough to wash some shirts. I've still got plenty of clean shirts, but sooner or later I am going to have to wash some dirty ones. Maybe I'll do some tonight, and maybe I'll do some tomorrow, but time could be tight tomorrow. I'll be seeing Aleemah in the morning, and in the evening I would like to go to a gig if I can raise the enthusiasm. That only leaves a few hours in the afternoon for laundry, and I might not be in the mood in those few hours !
Thursday 8th January 2015
07:53 GMT



I can't remember if there were any sunny periods yesterday, and that makes me think that if there were any, they were too brief, or too weak to register on my memory. The only facts I can remember are that it did warm up a bit, and it stayed dry until well after dark. The temperature continued to rise through the night, and this morning it was a relatively harmless 11° C. Unfortunately the rain that started sometime in the night persisted, and it is pouring down as I write this. It's only a few minutes away from sunrise, and at this time yesterday the sky was looking quite bright, but today it is still like night. I think it will stay dark for sometime yet, but it is supposed to brighten up for a bit this afternoon, and then it is forecast to rain again just as I am going home. Tomorrow should be brighter than today, and if the temperature does rise to 14° C just after sunset, as the latest forecast predicts, it will almost feel warm. Unfortunately, it could well be raining again by then.

All the aches and pains I had at the beginning of the week had mostly decreased to the point where I was far more concerned with how uncomfortable my shoes were. I'm not totally sure why they should have been uncomfortable - except on one point. They were a pair of oversized cheap trainers bought for when my feet were very frequently swollen. Since reducing the dosage of Bisoprolol, one of my blood pressure drugs, it is now quite rare for my feet to swell, and that was the case yesterday. So my feet had plenty of room, and nothing was pinched. Yet my feet were still uncomfortable. One part of that discomfort was that the soles on those shoes were very thin, and the sensitive soles of my feet could feel every lump and bump as I walked along, but that doesn't really explain why my heels and toes seemed quite uncomfortable.

So it was with great joy that I arrived home, and could take those shoes off. Maybe it was the effect of the pain, or maybe it was the weather changing (or maybe it was the alignments of the planets.......), but I didn't feel like I had as much energy as I did the previous night. So my grand plans to wash a couple of shirts came to nothing, and I had a quiet and peaceful evening - and I ate too much. I am still attempting, and for the most part achieving the ideal of avoiding the worst excesses, but it doesn't come easy. Occasionally subterfuge partly works, and it sort of did last night. I had eaten quite sufficient, but still wanted to keep eating - still an ongoing consequence of not smoking ! It was perhaps fortunate that it was easiest to wash and eat an apple and two nectarines.

The funny thing about fruit is that once you get started it can be rather nice, but initially it seems so unappealing. It is definitely not the first thing I think of when I fancy a snack. Then there is the undisputed fact that it is easier to open a packet of crisps than it is to peel an orange - plus crisps come in far more exciting flavours !

I was asleep at about the same time as the night before, and had an uneventful sleep last night. I think, or maybe I hope, that uneventful equates to a good nights sleep. I didn't wake up feeling tired, and I don't feel tired now, but give it another hour....Oh dear, the very thought of it has started me yawning ! Apart from one annoyance, I felt unusually good this morning, and even getting soaked on the way to work has yet to trigger off any new aches or pains. The one annoyance concerns my chest. There are times when it feels like my whole rib cage is loose on it's mountings, and this morning was one of the occasions. It is physically and medically impossible, but one of those impossible things before breakfast could be traced back to when I staggered back from the supermarket carrying at least 10kg of shopping - this was soon after coming home from my operation with a strong warning not to carry more than one single kg !

Something, but I don't know what, happened on that occasion, and it was very soon after that that weird clicks and pops seemed to come from my chest when I did certain things. This morning, like most mornings, when I pulled on my shoe laces when doing my shoes up, I could feel something move inside of me accompanied by a dull pop from somewhere inside my chest. Many other things can cause similar effects, and this morning was a morning when my chest seemed quite easy to "wobble" (for want of a better word). Generally speaking the effect is completely painless, but some sort of mild soreness can start to build up when it happens too often. I guess it is something I will have to mention to my doctor again when I see her (him) next.

While the filthy dark sky, and the rain is deeply depressing, there is hope for the future ! Tonight is boozing time ! I'll be meeting Jodie in The Catford Constitutional Club on my way home from work. After a short while we will be joined by the rest of the Thursday night gang - maybe including Kevin as well. I haven't had any booze since last Saturday, and I think I am rather looking forward to a few pints of fine ale - although whether the CCC has any good ales on at the moment is a mystery that I'll have to be patient for quite a few hours before I can solve it !
Wednesday 7th January 2015
08:01 GMT



I think that yesterday's weather was a bit better than I was expecting. It was similar to the forecast, but with more sunshine ! Just after midday there was some heavy rain. That was expected, but I didn't expect the clouds would completely break up. They did though, and quite often the sun would come through some of the large gaps between the clouds. The temperature was probably as expected - 8 to 10° C. It seems the clouds must have got very thin and broken during the night. The temperature was forecast to only fall to 4° C, but it was 2.7° C when I woke up at 5am, and most of the cars had a thick frost on them. I think the temperature has risen a degree or two since 5am, but it is still damn chilly outside ! Today might see the odd sunny interval later on, but tonight rain is forecast, and some of it could be heavy. By tonight the temperature should be back up to at least 8° C. Tomorrow morning could start off as high as 11° C. The cloud will come in fifty shades of grey, and there could be sunny periods lasting a whole hour in between either light or heavy showers. It's going to be a real mixed bag tomorrow if the forecast is any better than just a guess.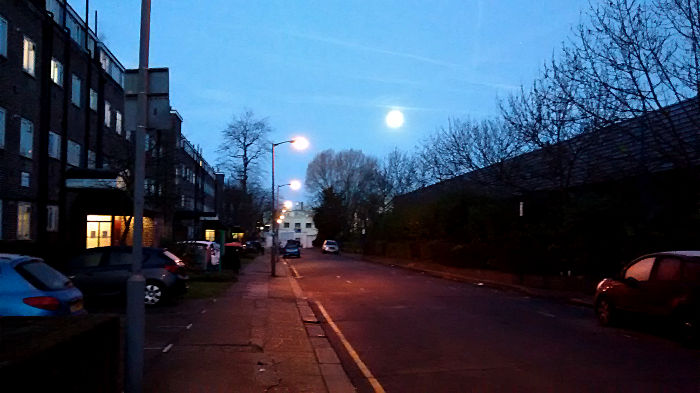 A big bright blurred moon over my workplace as I walked to it this morning.
Once again my mobile phone camera has somehow made the sky look much brighter, and much bluer than how it registered on my own eyeballs. To my eye the sky still looked semi dark.
I didn't feel too bad yesterday. A lot of the time I felt no worse than usual. That even extended to when I was going home from work. That would have been a slightly nice experience if I had been wearing more comfortable shoes. The shoes I had on had very thin soles, and any lumps in the road would be uncomfortable, and that bumpy surface that warns blind people of kerb edges and suchlike was positively agony to walk over ! While my sore feet made the experience worse, the sunshine made it a much better experience. The sun was so low when I left work that it wasn't always directly visible, but it was shining right at me as I waited for my train at Earlsfield station. It wasn't long after I got my train that the sun finally dipped below the horizon, but the clear sky continued to glow brightly at Waterloo, and even when I arrived home there was still enough light from the sky to read by - just !

It seems that sunrise has hardly changed since the winter equinox. This morning it was 08:04. It does seem that sunset is getting later every day though. I can't remember what the earliest it was at the equinox, but today it is at 16:09. By Sunday sunrise will still be 08:02, but sunset will be 16:14. It's going to be quite some time yet before I can be assured of getting home after work in full daylight, but the process will be helped along by changes to my train times when the timetable changes at the weekend. From next Monday there will no trains to or from Charing Cross (and Waterloo East) stopping at London Bridge station. This is due to the rebuilding of London Bridge. As far as I am concerned the main difference this will make to me is that on the way home my train departs from Waterloo East station three minutes earlier, and arrives at Catford Bridge a whole four minutes earlier !

Had I come home four minutes earlier, and in bright sunshine, I have little doubt that I would be feeling rather wonderful, but even with things as they are, I still felt slightly good yesterday. I was certainly good enough to have the patience to prepare my own special recipe of chicken a la sprouts ! The preparation doesn't actually take lone because only four ingredients are involved (plus water). In a microwave proof bowl of water, toss in a couple of chicken stock cubes, throw in a small bag of ready prepared sprouts, chuck in a couple of skinless, boneless chick breasts, and finally cover with sliced potato (with the skins still on). Shove it in the microwave for 20 minutes while washing hair.

Washing and conditioning my hair was a complete success, but dinner wasn't ! Those sprouts looked fresh, but they had been in a sealed bag in the fridge for about a week, possibly a week and a half, and they tasted revolting. Fortunately they didn't taint the chicken or potatoes to any great degree, and I was able to eat them with no trouble. Apart from three or four sprouts that I forced myself to eat in case I was imagining how bad they tasted, I threw the rest away. If that was all I had eaten, it would have been a very light and healthy dinner, but I did have a large snack before I washed my hair, and after not eating the sprouts I had some microwave heated "bean and cheese pouches". The latter are ***NEW*** from Tesco, and of course they had to be tried. They are sort of like a small square variant of a Cornish pasty. I think I would have to describe them as being very bland. There was nothing bad about them (taste wise) and nothing good either. I didn't even dare to look at the ingredients and nutritional advice, but I would imagine they are probably terrible for you in any aspect you care to think of.

I think I managed to get to sleep soon after 9pm last night. Earlier might have been better considering how tired I felt from time to time yesterday. I was OK when working, but if I stopped to read anything off the internet it didn't take long for my eyes to start drooping. Once or twice I actually fell asleep for a few seconds ! I think I probably slept well last night. It wasn't until 4am that I started waking up for long-ish periods. With 10 minutes still to go before my alarm was due to go off, I gave up trying to get back to sleep, and got up. This morning was a bit like yesterday, but not quite as bad. I woke up feeling quite good, and then went down hill from there.

I left home feeling mostly OK, but not wonderful, and then proceeded to chill myself to the bone as I walked past the frosty cars on the way to the station. I then thawed out on the train. The walk from Waterloo East to Waterloo station is loosely enclosed, and so I didn't fully freeze while doing that. On the train from Earlsfield I was lightly broiled. Those class 455 trains seem to have powerful heaters, and no obvious thermostats. Having got hot enough to sweat it was then out into the freezing cold until I got to my slightly warm office. While the air in here is tepid or better, my tools, and in fact anything I touch feels freezing cold still. By lunchtime it will finally be quite pleasant.
Tuesday 6th January 2015
08:03 GMT



Yesterday was not terribly bad, but it wasn't exactly good either. The sky ranged from dark grey to light grey, but it was never black (except after dark obviously), and it was never white or blue. Fortunately it was not desperately cold, and it did not rain. The highest temperature was supposed to be 10° C, although I would have guessed it was a couple of degrees less. Today will see a couple of small changes. Looking at the sky right now it seems hard to imagine that the sun might peep through the clouds later on, but that's what the forecast predicts. It also predicts that there could be a shower right now, but it remains dry, and that there will be more rain this afternoon. The bit of the forecast I want to believe most of all is that the afternoon rain, assuming it happens, will have stopped by, or before 4pm when I am on my way home from work. Today's temperature should be similar to yesterday - 8 to 10° C.

I felt pretty rough yesterday morning, and for a bit of the afternoon. Some experiments I did seemed to suggest there were two reasons for it. Taking a dose of Milk Of Magnesia seemed to cure my heartburn. Either that or the foul taste of Milk Of Magnesia distracted me from the pain that I thought was a sign of imminent death. A couple of Ibuprofen tablets seemed to cure some other aches and pains, and proved my limbs were not about to fall off. What finally brought it all together was the walk from work to the station. By the time I reached the station I was feeling no worse than any other time I've done that long and boring 9 - 10 minute walk.

I was feeling good enough when I arrived at Catford to go home via Tesco. I was mostly very careful about what I bought in Tesco. I bought a white fish pie on the assumption it would be fairly kind to what may be something like a stomach ulcer (or whatever it was that the Milk Of Magnesia calmed down). I bought a couple of bottles of squash for similar reasons. Other bits and pieces included some indigestion tablets, and some even fouler tasting Tesco own brand indigestion and heartburn liquid (allegedly aniseed flavoured).

The squash I bought was rather interesting...well, interesting to me. It's not something I am an expert about. Both bottles suggest diluting it to one part squash to four parts water. I found that one in five, or even six seemed to be quite nice. There's not much I can say about the orange squash apart from it seems to be nicer than some I have tried in the past, but probably not the best. It is the other bottle that seems to be a bit of a novelty. It is lime and coconut flavour. It is rather nice in a strange way. It doesn't taste very strongly of coconut, but it smells quite strongly of it. It may be that I am making it far more dilute than intended, and that is losing the coconut taste. I certainly throttles back the taste of the lime, and yet it still tastes rather nice.

I was determined to get to sleep nice and early last night. One of the reasons I felt so bad during the day was that I would often feel dreadfully tired. I didn't really get to sleep as early as I hoped, but I think it was still sometime before 9pm...but not that much before. I probably slept well for the first 6 hours, but after that I kept waking up for what felt like long periods, but was possibly only 10 minutes at a time. To my great annoyance it felt like I had finally got back into deep sleep just as my alarm went off !

After waking up I was astonished to realise that I actually felt quite good. If I could have frozen that feeling, and kept it going all day it would be wonderful, but these things rarely last. It usually happens the other way round, but this morning I found I felt a bit creaky after a hot shower. It spoiled things a bit, but on the other hand I still felt far better than I did yesterday morning. Now I'm at work I am unsure how I feel. I am getting lots of little twinges, but no sustained aches or pains. Maybe when the room warms up I'll feel better, or maybe not. Who can tell.

Last night I did nothing of note, but tonight I feel I ought to try and do something. I doubt I'll feel like doing any laundry, although anything is possible in an infinite universe, but I feel I ought to make some sort of effort to wash my hair. I haven't washed it since Saturday, and it is now looking and feeling horrible. All I have to do is to keep convincing myself of that and I'll be sure to wash and condition my hair tonight.
Monday 5th January 2015
07:50 GMT



Yesterday was a horrible day, and it looks like today will only be very slightly better. The problem with yesterday was that it was very grey, and rather cold. Only rain could have made it worse, and only snow or sunshine could have made it better. Yes, even snow would have made it better by brightening up the world a bit. Today's temperature seemed to start where yesterday left off - about 6° C. Later today it could reach 9° C. Much of today is going to be grimly dull again, but there is a chance it might get brighter for a few minutes here and there, but it will almost be a miracle if there is any sign of the sun. Tomorrow might be one degree warmer, and there is a better chance of the sun breaking through for a few minutes here and there, but, and it is a very big but, like a fist to the face, it is almost certain to rain for a lot of the early afternoon !

There is no doubt about it - I felt lousy yesterday. Despite being in a warm room, the cold seemed to seep into my very bones, and at some time or another, every bit of me ached. The silly thing was that there was an obvious cure staring me in the face, and last night I took that cure. It worked well, and later on I slept non stop to close on 6 hours, and that must be some sort of record for me in recent, and maybe not so recent times. This simple cure was a couple of Ibuprofen tablets. Maybe in the past I didn't have aches and pains like I get now, and I never knew how effective the stuff could be.

It took getting on for an hour after taking those tablets before all my pains seemed to just melt away. That included the stiffness and pain in bits of my chest, and most unlikely of all, even a sort of hunger like pain in my stomach. It still makes me wonder just what sort of ailment I had yesterday. Something that could be both really bad, and yet apparently so easily cured. As I mentioned yesterday, it had some parallels with 'flu, but I've never known 'flu to be so easily cured. Then again it was not exactly a cure, but more a palliative to hold me together while underneath my body was probably still trying to fix the problem.

This morning I definitely feel a lot further from death than I did yesterday, and yet I am not out of the woods yet. It is possible things could get worse before they get better. The ultimate cure will be warm sunshine, but it's going to be a long wait for that, and in the meantime it feel bloody freezing in my office this morning ! One of my co-workers was kind enough to turn the heating on when he came in this morning, but unfortunately he only left it on half power. It is going to take some time to warm the big room up with my small fan heater !

Meanwhile, as I wait for the room to warm up, I continue to suffer. It seemed like I had a good sleep last night, and yet I feel very weary still. It's a sort of tiredness that includes a headache, and it really feels like it would be nice to lie down, but that is the opposite of what makes me feel better. The very best I felt this morning was while I was walking. From the waist down, and maybe higher up too, it felt extraordinarily effortless to walk to the station.....no, that is a bit of an exaggeration. It wasn't completely effortless, but it was definitely painless. I'm not sure what conclusion to draw from that. Let's hope it is a good one.

There is one thing I should do tonight, but I can't imagine I am going to feel very keen to do it when I get home. I really ought to wash a towel, or preferably two towels soon. I was going to wash one or both over the weekend, but I didn't feel very keen to do it on Saturday, and I felt incapable of doing it yesterday. Just thinking about the effort involved gives me a pain in my arm (well it wasn't there 30 seconds ago !). I think it is far more likely that I will be in bed rather early tonight. Maybe I'll just be reading, but maybe I'll be snoring by 8pm....maybe 7pm !
Sunday 4th January 2015
16:53 GMT



It was horrible wet and grey yesterday. It was also rather cool. Since then there has only been one big change and one smaller change. Today has been dry even while the sky has been a dully steely grey. That is the big change. The smaller change is that the temperature has dropped by a degree or two, although fortunately not as low as the forecast predicted. It is currently just under 5° C, but combined with that dull grey sky it is a creeping cold. It creeps through any crack or gap in the house or psych. It is currently 22° C in my room at the moment, and yet it feels cold. Of course it is possible that I am suffering from some sort of ailment, although I'm not sure exactly what.

I don't recall feeling particularly bad last night, but I also don't recall feeling all that enthusiastic about doing anything much at all. Oddly enough that included going to bed early. I was up playing with stuff on my computer until gone midnight last night, and even when I went to bed I didn't fall asleep until 1am, or was it 2am ? It seemed quite hard to find comfortable positions to lay in last night, and that seemed to be a precursor of how I feel now.

This morning I felt very creaky. At one pint I had a very stiff and sore lower back, and then that seemed to go away to be replaced with a sore and creaky chest. This morning I was in my kitchen cooking breakfast and doing some washing up. There is no heating in my kitchen, and I could feel the cold seeping into my bones. After finishing the washing up, which obviously meant extending my arms out over the sink, it was almost painful to put my arms down by my side again - and the pain was mostly on one side of my chest between the breast and arm pit. I assume that means something deadly, but I didn't have time to do much about it because my breakfast was cooked, and it was time to eat it.

Sitting down to eat breakfast brought some pain back to my lower back. It wasn't strong pain, but enough to be annoying - particularly when thinking about how it might be in the future. It is very rare that I suffer from bad back pain. In fact I can only remember a couple of times, and on those occasions it only lasted for a couple of days at worst, but it was enough to appreciate how bad it could be.

Since breakfast I have not done what would probably have been best for me - walking, even if only to the shops and back - but have lounged around - sometimes at my PC, and worse still, laying down on my bed. I feel pretty awful now. It feels as if that cold has seeped into my bones, and is making many joints ache to some degree or another. It would probably only be worse if I had 'flu because then all those aches would probably ache at the same time.

It does occur to me that there could easily be a more sinister reason for some of these aches and pains - more sinister than the side effects of statins. At the beginning of the winter holiday I decided to experiment with resuming taking Atorvastatin - one of the statin drugs for controlling cholesterol levels. Prior to that I seemed to be eating rather too much cheese, and I was concerned about my cholesterol levels. It would have been easier to cut down on cheese, and in fact that is exactly what I did, but I thought I would give the Atorvastatin another chance. I'm not sure if that was a wise decision or not.

I am not sure I am looking forward to work tomorrow. If I feel like I do right now it could be an unpleasant experience. On the other hand, if I sleep well tonight I might cure one potential problem, and if I survive getting my blood circulating as I walk to the station, I might end up feeling no worse than any average day at work in the winter.
Saturday 3rd January 2015
15:51 GMT



Yesterday afternoon was nice and sunny, and even after the sun had set the sky stayed clear. The nice thing about that was that there was still a pale glow from the sky even as late as when I arrived home. After the solstice on the 21st December the days started getting longer, but the mornings have seemed just as dark so far, but yesterday was the first real and believable show that the sun is setting later. It's a shame than that today is so horrible ! It is very dull, and there is shower after shower. In fact the only thing between showers is usually drizzle ! To add to the misery it is also rather cool. Most of today has been around 6° C. Tomorrow is going to be much drier - which is just as well if we don't want snow (although maybe it would be nice). Tomorrow could be just as overcast, but the temperature is going to be close to freezing for most of the day.

It was good and bad being back at work yesterday. Getting back in the routine, and seeing a bit more of the world than Catford was sort of good, and on the whole I didn't feel too bad at work - although it was a busier day than I imagined it would be, and that distracted me from all those annoying little discomforts. One thing work could not distract me from was having to go to the toilet around the middle of the day (and I'm not just talking about having a wee). I was under the impression that I must have been really quite empty after all I had passed in the previous 36 hours or more. Each visit to the toilet was a perfectly normal visit. No unpleasantness happened, it was all within normal parameters, and that includes the middle of the day visit, but where was it all coming from. It is physically impossible to excrete more than I have eaten, but that is what seemed to be happening !

I was perfectly comfortable on my way home, and when I got home. After a day at work I was a lot less enthusiastic about going out in the evening, but I still intended to try and go for it. So I decided to eat a moderately light dinner. I decided that something with lots of liquid in it, such as soup, would both warm me up, and fill a cavernous hole in my stomach. That is almost what I did, but the soup I chose was more like mushy peas, and was rather too filling. I felt a bit bloated after dinner, and that put me off going out a bit more. The final straw was when I had to make yet another trip to the toilet ! I just did not feel like going out last night. The worst thing is that I really didn't mind missing those gigs. It seems I have acclimatised to being back at work far, far too quickly.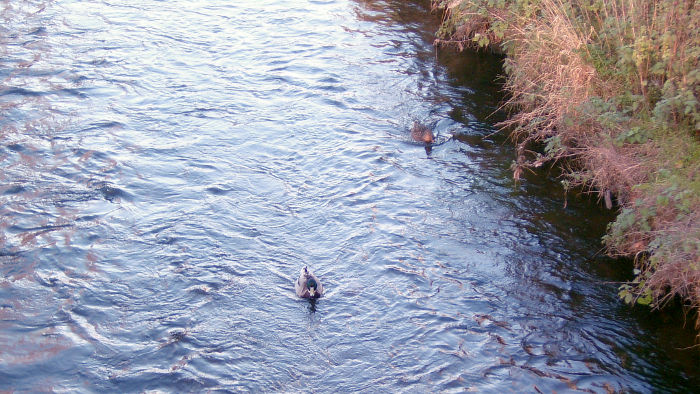 I did something I haven't done for a long time yesterday. I went out in the sunshine at lunchtime, and took some pictures of ducks on The River Wandle.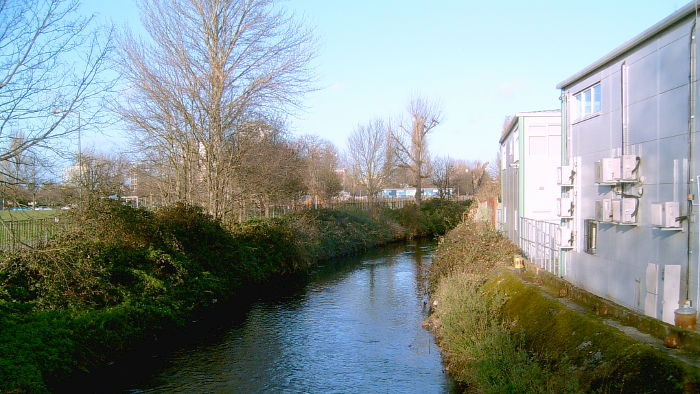 The River Wandle flowing alongside King Georges Park in Earlsfield.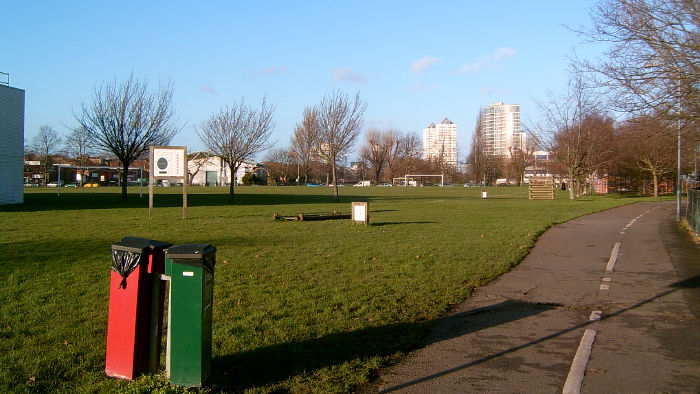 View towards Wandsworth across King Georges Park under a bright blue sky !
This morning, after a pretty fair, but, as ever, too short sleep, I met Aleemah at the station, and we did the normal of breakfast in the local Wetherspoons pub, and then back here to watch a DVD. We are currently watching, a couple of episodes at a time, the DVD of a TV series called
DaVinci's Demons
. It is good in some ways, and not so good in other ways. The biggest problem is trying to follow a convoluted plot. I could hardly remember what happened in the first two episodes that we watched the last time I saw Aleemah a week or so before Xmas.
This afternoon, after Aleemah had gone home, I put together what was supposed to be a simple lunch. It was almost a salad consisting of some tomatoes, some pickled beetroot, pickled onions, ham and apple sauce. It was not as nice as I hoped - maybe because hot food is more satisfying in the middle of winter. It has also given me a mild, but annoying stomach ache. I may even need to rush to the toilet soon. I fear that I definitely have something wrong with my digestive tract, and I fear even more that the best way to cure it is to fast for at least 24 hours. I am not exactly keen on that idea. Before resorting to such drastic measures I think I'll try and keep my food as simple as possible. Some food without fiercely hot West Indian pepper sauce is going to be intolerably bland, but I guess I am going to have to try and endure it for at least one meal (but when ? Next year maybe !).
I have nothing planned for tonight, and maybe that is just as well. I don't think I really fancy going out tonight. One visit to the pub this morning, where I drank just one pint of beer, seems enough for some crazy reason. Maybe it is time to find a new book to read.
Friday 2nd January 2015
08:51 GMT



The puddles in the road this morning were a testament to how much it rained last night - although it was not heavy enough for me to notice it from behind the closed curtains. After a dull but mild day it was 11° C when I woke up this morning, and that's not bad, but it's not going to stay like that. The forecast says the temperature will drop to 8° C, or less, by the time I leave work, and that is a bit surprising when it is also forecast to be a sunny morning and afternoon. At the moment the sky is far from clear, but the cloud is white and whispy, and rather high. I can see blue sky through it in places, and it does look to have the potential to let a lot of sunshine through once the sun is higher in the sky. We need as much sunshine as possible today because tomorrow is forecast to be exceptionally dull and wet !

When I look back I can't seem to understand how I did it, but somehow I got myself in the right state (state of mind ?) to achieve my wish that I would be in bed, and asleep between 9 and 10pm. It all seems a bit hazy now, but I think I was asleep quite soon after 9pm, and somehow I slept rather well. For a while it seemed I had slept my best sleep for ages. I woke up feeling rather good. It's a shame that feeling didn't last. I suppose that the change was all in my head - some sort of natural reaction to not wanting to go to work like a schoolboy not wanting to go to school. I can accept that theory for a few aches, pains, creaks and groans that developed as I got myself ready for work, and I can accept that theory for why, after supposedly having a good nights sleep, I found myself falling asleep on the train to work. What didn't seem to be a mental issue was how many times I had to go to the toilet before I thought it safe to go and get the train.

I have often hoped that I might have supernatural mental powers like you see in comics and such like, but no matter how much I have concentrated, I have never managed to kill someone with an excessively loud Walkman, playing dreadful music on the top deck of a bus, by imagining that their brain was turning to cheese. Actually I have tried turning brains to cheese, evaporating them out of the victims ears, stopping their heart, or summoning a meteor strike on them. None of these things seem to work, and from that I deduce it was impossible for my brain to somehow generate as much poo as I passed this morning out of thin air (or wherever/whatever).

It now seems evident that I have been deluding myself about how much I have been eating recently. I knew that spending so much time by myself, indoors, would inevitably mean eating more than on days when I am at work, and yet I believed that I was overeating very moderately. I think I still do believe that up to a point. Yesterday I only had two meals, and few, if any snacks. One meal, a sort of brunch, was a bit extravagant to use up a few items that had been in the fridge for a while. It was steak, eggs and tomatoes. My other meal was far healthier. It was a large bowl of oats with cold skimmed milk on them. That was followed by a large pear and 4 small kiwi fruits. All that fibre will definitely clear me out, but it was too soon for it to be effective this morning !

Initially it was rather annoying that the train I wanted this morning, the 06:26, was cancelled. It was fortunate that I knew it was cancelled before I left home, and I could wait for the next one, the 06:56, indoors, in the warm. It turned out that there was an upside to being delayed. It was only a small upside - just a bit of novelty to brighten the morning. In all the years I have been travelling from Waterloo to Earlsfield to get to work, and I guess it is over five years now, on all except the very rarest of occasions it has been the same class of train that I catch - a class 455 train. This morning, for the first time ever*, I travelled on a class 450 train.

* Before we moved from Wandsworth to Earlsfield, the most common train on the branch from Waterloo to Wandsworth Town station (and beyond) was a class 450, but class 455 trains rule the roost on the branches that serve Earlsfield.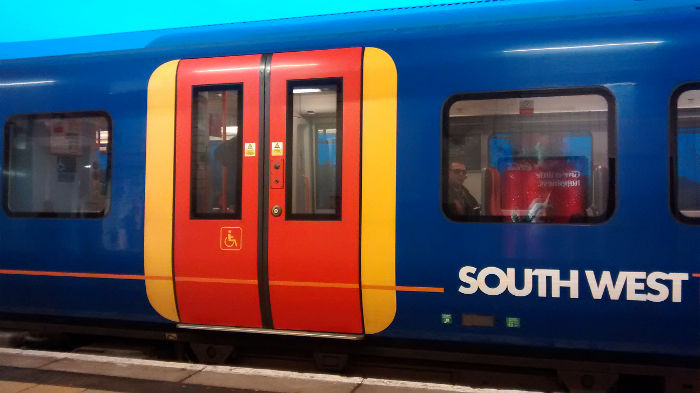 Here's a nice sharp picture of the doors of the carriage that I travelled from Waterloo to Earlsfield in.....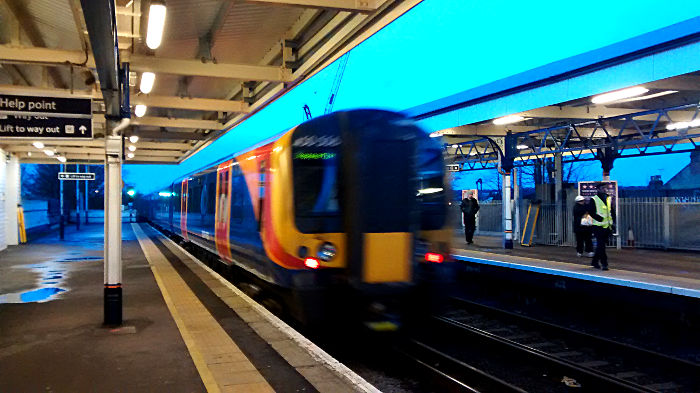 ....and here's a blurry image of the train leaving Earlsfield station on it's way to Shepperton.


I am feeling like I would like a snooze, and that does not give me a great deal of hope that I'll be doing what I would like to do tonight. There are two gigs on tonight that I would like to go to. First there is Chain playing in The Swan in West Wickham. I don't really like the pub, and it often gets too crowded for my liking (although others would argue it wasn't crowded at all). It is the best chance I have of seeing Chain for a while because many of their upcoming gigs are too far out in the countryside for me to get to. So I want to grit my teeth and see their first set, and then......


.....The Bromley Bastards are playing in The William IV pub in Elmers End. I'd rather like to see some of their gig too. It could be quite a spectacle. It is the final gig to take place in The William IV pub - possibly for ever. The pub is changing hands, and will be closing for a deep refurbishment before re-opening as a carvery. The handy thing about tonight is that the only way home from The Swan in West Wickham, after the last train has gone, is to get the bus down to Elmers End, just a couple of hundred yards, if indeed it is that far, from The William IV, and get the 54 bus from there. (The last 54 bus is well after midnight !). So it is a well practiced route home, and if I leave Chain halfway through their gig I should be able to catch the tumultous (probably) end of The Bromley Bastards gig ! - If I can find the energy to go out at all tonight !
Thursday 1st January 2015
13:07 GMT



So a new year has begun, and statistically it will be no different to past years. Take that whichever way you like. On the subject of global warming it is a whole 9° C today, and rather overcast. It will warm up a few degrees during the rest of the afternoon, and then we can look forward to a wet evening. Tomorrow might be a little cooler, but a lot sunnier. With any luck the global warming idea that spring comes earlier and earlier each year now may be correct, but I can't say I've noticed any change beyond random changes in either direction in the last 30 years.

Yesterday I made what turned out to be a stupid suggestion. It would have made very good sense to try and get to bed last night, and to make an attempt to resynchronise myself to getting up for work at 5am, but it didn't happen. It didn't happen in spadefuls ! At the time I should have been getting into bed, and somehow forcing myself to relax, I started watching the first episode of series 5, the last ever series, of Warehouse 13. Unfortunately I also had the other 5 episodes on my computer, and I sort of got carried away.

At 3am this morning, rather later than intended, I finally got to bed ! It took longer than expected to fall asleep, but I guess it was probably not much longer than 5 or 10 minutes. I then slept rather well. There was a little hiccup when I woke at about 7am, and didn't think I would get back to sleep again, but after a visit to the toilet I got back into bed. After a couple of false starts at getting back to sleep, the next thing I knew was that it was almost 11am, and that I had managed to come as close to getting 8 hours sleep as I manage on most days.

I knew it was not worth fighting for more sleep just then, and so I got up and showered. Got dressed, and was ready to face the world - almost ! I guess I probably felt well enough that I could have gone to work. At least I probably felt no worse than many, many days when I have gone to work, but I guess it would be nicer to feel a lot better. In fact the only significant ailment was the pain in, or maybe just above my right knee. Since winter set in, it has sometimes been very painful when making certain moves.

Until last night, at least I think it was last night, I had assumed that the pain was due to a crumbling kneecap, or whatever it is that requires a kneecap replacement. Maybe it is that, or maybe it is arthritis or rheumatism. Of course it could be all those things, but I remembered one episode in my life when I dropped an incredibly heavy TV on my leg just a few inches above the knee, and that is where the worst pain radiates from.

On the day of that accident it felt like my knee was broken, and that if I wasn't very careful my knee would bend the wrong way, and I would go sprawling across the road. It was a rather uncomfortable time ! The next day it was rather sore, but it just seemed like bruising. I have no idea what internal damage it might have done, but I seem to be reaping the rewards for it now - maybe 15 years after the original accident. The only time it is painful, sometime rather strongly painful, is when I try and lift my leg over something. Ibuprofen helps the pain a lot. On a good day it just about completely eliminates it, but there is no need for that on most days. It is not painful when I walk at all, although going up stairs can trigger a few twinges.

One of the things I was going to do today was to copy an analogue camcorder tape to my digital camcorder, and from there onto my PC. After that I might have done some simple editing, and eventually burned the completed thing onto a DVD disk to watch on TV. The tape is not mine. It's from my friend Lee, and I'm not even sure if he knows what is on it. What he definitely didn't know, at least I hope he didn't, was that the tape has broken, and it's going to need a very tricky repair job. I don't feel in the mood for that right now, although while I have the two camcorders set up I might transfer one or more of my own tapes to digital, and then onto my PC.

That is about all I really intended to do today. Tonight I really must try and get to sleep between 9 and 10pm so I don't feel like a zombie when I go into work tomorrow. Going in just for a Friday seems ridiculous, but I guess it has to be done. Oh well, with luck, and a fair wind, I should be able to quit my job this year, and live the rest of my life as a real pauper. Sometimes I wish I had more money now, but once I quite work I will have to survive on about a third of what work pays me. It will be tricky, very tricky, but maybe the rewards will outweigh the penalties.