This is how it was thought the day would go today. It's a pity it didn't include 6am, nothing changed at 7am.
This was the reality a minute later. The clouds do not look white and fluffy - they look dirty grey ! Ten minutes later there was a shower. It was a very light shower, and maybe it only lasted a few minutes (I got on my train before it finished), but it was enough to spot the newspaper I was reading, and the forecast definitely didn't prepare me for it. The forecast has been revised again since I took my screenshot, and it shows a little less sunshine, and the temperature only reaching 22° C.
In one respect it was a horrible day at work yesterday. That particular thing was training ! I was hoping to be sacked for not doing two "essential" training courses, but the deadline was extended again, and I kept being nagged, so I did them. They were online, computer based, interactive training courses. The first was about electrical safety, and didn't contain any pertinent information I hadn't seen before - many, many, many times before - the first time was probably on 16mm film shown in the BT training school cinema ! The second one was about fire safety, and that one did have some new information that I had seen many times before, and in far better detail in the years since fire regulations were "harmonised" with the rest of Europe (when escape signs changed from a nice friendly, but urgent red colour, to a meaningless green colour).
I don't think I agree with everything shown in the fire safety training session. For instance they were adamant that the only oxidiser was Oxygen, but Chlorine and Fluorine are very powerful oxidisers that will sustain a very, very nasty fire without any oxygen being present. I'm not sure I completely agree with their emphasis on only using the correct type of extinguisher on a fire. For something like a paper or wood fire anything that will cool or smother will help - even weeing on the fire ! It was also the session with the worst grammar....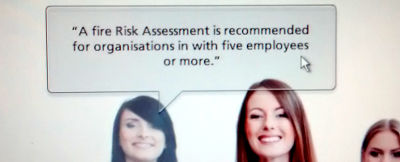 This is a sneaky screenshot taken with my mobile phone camera from the PC screen. Read the speech bubble very carefully, and see if you can spot the extra word !!

Some instructions could have done with an exception added. To my brain, which is probably quite warped, "Fire doors must be kept closed at all times" implies that they should never be opened - even when there is a fire !! I must apologise to anyone who is in the same building as me when a fire breaks out - you are probably going to die. I'll make sure those fire doors stay closed even if I have to stand in the flames to hold them closed !
I think each training session was estimated to last no more than 45 minutes. I tried to rush through them as fast as possible, and spent no more than one second to think of answers, and yet I think they took nearly an hour of tedium to get through - and hour that felt like two hours ! I felt so irritated by them that I have essentially recorded them as having taken the whole morning to get through.
It was great to escape and go home when home time finally came around. It was an uneventful journey home. In fact it was a very bland journey. I did walk up the escalator at Waterloo, but it was only a medium paced walk, and that is also true for the rest of the bit of the journey where I walk. I felt quite tired when I got home....well maybe "tired" is a bit extreme, but I definitely felt no sparkle, no zing....do I ever have these things ? Maybe it was the dull weather, or maybe it was the enormity of what I had to do in the evening.
The first thing I did was to have a light snack of olives and some cheese, and then before I had my main meal, I finished the laundry I had left soaking during the day. Fortunately it was stuff that rinsed out easily with just three or four changes on water, and it wasn't all that long before I had it hung on the clothes horse in front of the fan to dry overnight. Then I prepared my dinner. There are times when you just fancy a change, and dinner goes off at a tangent. Last night was one of those nights, and I had a dinner I very rarely have - maybe as little as once a year. It was bratwurst sausages (frankfurters, or slightly posh hot dog sausages) with baked beans. It was all very unhealthy, doubly so in the large portions I had, and sadly not terribly wonderful ! I mean it was nice, but not orgasmically nice, as was desired.
With dinner out of the way I could concentrate on photos. Before doing any photo editing I decided to copy the pictures I had taken on the second day at Chattfest, the Sunday, onto my PC. There were nearly 500 of them, and heaps of them were rubbish. I don't know if it was the changed lighting at the gig, or if I was just feeling exhausted at the end of a 4 gig session of photography, but I seemed to lose most of my photography skills. Fortunately with so many pictures to choose from I can find enough good ones to fill a reasonable sized album.
Once I had reviewed those photos I returned to the photos I had taken on day one. There were plenty of good crisp looking pictures to choose from, and I was fairly selective about what I used (for a change). This selection included pictures from "Speedo", "Moss", and Triggers Broom" - no, I have no idea who these musicians are either ! It all took less time than I expected, and in theory I could have uploaded them, plus the pictures of M.T. Pockets that I had prepared the night before, to Flickr, but I decided I would rather have an early night instead of what would inevitably be another late night !
Of course it didn't happen quite that way. I almost made it to bed when my curiosity grabbed me - and I'm glad it did. One of the things I wished for when taking snaps at Chattfest was a wider angle lens. So I sat down to give my lenses a good hard stare. I had taken my large aperture fixed lens, and my Nikon 55 - 200 lens to Chattfest, and neither of these is particularly wide angle. Had I taken my Tamron 18 - 200 lens then I would have had a wide angle lens ! Oh well, we live and learn, and while my investigation stopped me getting to bed early, it also stopped me spending money on a lens I now realise I don't actually need.....although I still rather fancy getting a fisheye lens some time.
I didn't think I slept all that well last night, but I don't feel all that bad this morning. I seem to be back to feeling this sort of new normal that I tried to explain some days back. In other words some of the bits that creak and groan still creak and grown, but nothing hurts that much, and I have an average sort of energy. Quite what will happen when last night's baked beans get further into my system is anyone's guess, but my guess is that it won't be pleasant. Until then, I feel ok (which is more bland than OK in capital letters.
Tonight is going to be almost the same as last night, and which was almost the same as the night before - eating, laundry and photo editing. One variant tonight will be that I will pop into Tesco on the way home. That probably will mean my dinner is going to end up big and unhealthy, but it might not. It all depends on what reduced price stuff I see on the shelves. Like a fool, I just cannot resist an apparent bargain even if it is not really a bargain at all - and is bad for me !