As I waited for my train at Earlsfield station the eastern sky was already getting dark as the sun set. The crescent moon looked bright and sharp to my eye, but maybe less so to my camera. It must have been about 18 minutes later that I was standing on Waterloo East station waiting for my train to Catford, and the best view was to the west where the sky was still bright. There were some isolated clouds and they were just lighting up with glorious pinks, oranges and reds.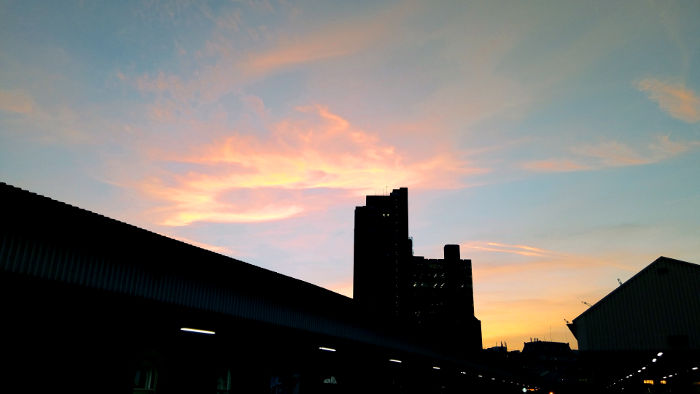 The trouble with this modern world is that there is such a shortage of housing that blocks of flats are springing up on any bit of spare ground, and that spare ground is often by the railway. It really restricts the view from the train, but there is one place just before New Cross station on the train from London Bridge where there is still a good clear view to the west. As we passed that point the sky over in the west was an incredible crimson colour. It was rather glorious, but almost impossible to photograph from a fast moving train with less than transparent windows.
When I got to The Black Cat I found that Angela had arrived first, and there was a pint of Guinness waiting for me on the table. To my great relief and happiness it seems I have been mostly forgiven for upsetting her, and I don't really know why, but she said she could understand, in principle at least, why I had originally voiced the views that had upset her so much. It was terribly unfortunate that I happened to say them when she was particularly vulnerable, and unable to debate ot explain things to me. Last night she very much appreciated that I had taken the trouble to research something about the topic that had caused the trouble.
It's all been a bit of a setback, and I would guess we are now back at the stage when we were both about to fall seriously in love with each other - not that either of us have actually stopped loving each other. We ended up staying in the pub for longer than either of us thought we would. I had three pints of Guinness, and Angela had three large vodkas. I guess we were both starting to get mildly drunk by then, but I don't think it contributed much, if indeed anything, to the amount of hugging and kissing that went on outside the pub as we said goodbye to each other. I really love my Angela, and most amazingly of all, she loves me !
I went home feeling rather good, and rather hungry too. I can blame the Guinness for that. I had a fair bit of curry - Tesco ready meal style - when I got home, and then I attacked some tortilla chips with some strong cheddar cheese, and there was something else I ate that I can't seem to remember for some strange reason. There didn't seem to be much time after that to do anything else of any significance, and so I went to bed. I read for a bit, and was probably asleep a little before 9pm.
I slept well initially, but as usual I started to sleep less deeply, or not at all from as early as 3am. It was sometime during that latter time that I had a long series of dreamlets that ended up as a sort of nightmare. All the little dreamlets merged into one long story line that, like TV/Cinema drama, involved lots of cuts and scene changes. I think it started off with me being in hospital, but I can only remember snatches of the part where I had recovered from whatever I was in there for, and was getting ready to go home. It was almost like a dream where you are naked, but in this case I think I was wearing a hospital gown. My quest at that point was to try and remember where in the hospital I had left my clothes.
At one point I visited a ward that was accessed from a door on the high street. It was called the goon ward, and by some strange twisted semantics that only work in dreams, goon was the shortened version of Going Out. I didn't find my clothes in there, but I was distracted from looking for clothes by a new spectacle. One of my workmates was attempting to fly a helicopter. For some reason he was taking off from what was something not too disimilar to a cherry picker, or similar equipment used by builders to access high places.
It seems there were two rather bizzare ways a helicopter (or helicoper-like thing) could take off from this platform. The first was for the cradle it was in to tip over, and tip it out. The second was bizzare in the extreme. It turned out that the cherry picker (for want of a better name) was jet propelled. So this very narrow, very high, very unstable platform roared off into the distance at huge speed, and as it braked to avoid hitting the building in front of it, the helicopter thing was thrown out. Unfortunately it hit some overhead wires, and my workmate was thrown clear. He landed on his head from about 100ft up, and was obviously terminally broken. I think the dream carried on after that, but I can no longer remember it.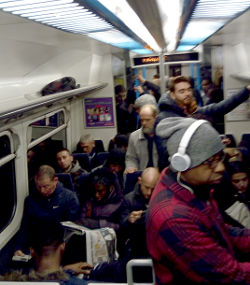 Despite bad dreams in those last couple of hours of sleep, I feel semi good this morning. Part of the reason is that I am still on a high after having such a good time with Angela yesterday, but like some recent morning, I don't seem to ache too much. The wost thing was just a mild tendency towards a bit of stomach upset. I wasn't sure I would be comfortable as I came to work, and indeed there were a few moments when the idea of having a toilet handy would have eased some worry, but it would still have probably gone unused.
This morning was not a good morning to feel bad. Southeastern Trains couldn't manage to find anything bigger than a 4 car train this morning. As I remarked the last time this happened, the journey to work is usually quite a cosy one since they reduced the normal size of the train from 10 or 8 cars to 6 cars. Trying to squeeze us all into 4 cars is just impossible - definitely impossible when we got to Ladyweel station. No matter how hard people tried to push their way on board we had to leave some behind who just couldn't manage to get on.
One stop later, at Lewisham station, more people got off than got on, and from there to London Bridge station the train was just merely packed rather than packed solid. I took the rather out of focus/motion smeared picture as we were approaching London Bridge station. It doesn't really convey just how crowded it was. I think that was because it was such a high shot. There was indeed still a lot of room on the ceiling, and in the luggage racks, but no one has learned to sit on the ceiling yet !
I am not sure what I am doing this evening. I wouldn't be surprised if I saw Angela again, although we made no plans along those lines last night. If I am lucky enough to see her, I think there is a chance that we will go back to my place for a sandwich, or some sort of light dinner/snack and an extra cuddle. If that doesn't happen then I guess I ought to pull my finger out and get editing the photos I took on Saturday night.