Tuesday 31st May 2016
08:09 BST

Sunday's weather was not very nice, but it wasn't terrible. There were some occasional bright periods, possibly even sunny periods, and it didn't seem to feel that cold. Yesterday was like Sunday, but infinitely worse ! It was dull, dull, dull, dull, and dull ! I don't think it actually rained, but it looked like it came very close to it on more than one occasion. To make matters worse it wasn't very warm. Despite what the thermometer said, 15 or 16° C, it felt cold. If that wasn't bad enough, it gets worse today...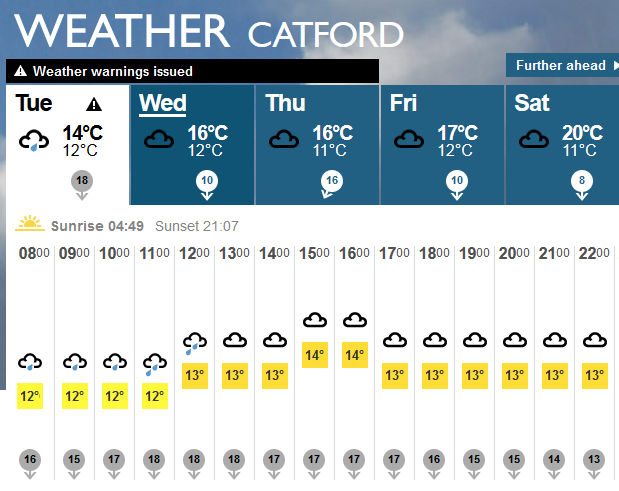 You'll note from this screenshot that "weather warnings" have been issued. This is what it says ;
Met Office Warnings Issued For: Greater London

Yellow warning of rain

From:
0015 on Tue 31 May
To:
1200 on Tue 31 May

Updated 30 May at 10:21 Active

A band of rain, heavy and thundery in places, will spread westwards from the early hours of Tuesday morning. There is the risk that rain will turn torrential in places, with frequent lightning. Winds will also increase, with northerly gales on coasts. Whilst most places will miss the worst of the weather, please be aware of the risk of flash flooding.

So today is not going to be very nice at all. At least tomorrow looks like it will be a bit better - deathly dull, but it may be mostly dry, and it will be ever so slightly less cold. If the wind isn't howling in from the frozen north like today, then it could even feel fairly mild (but I won't be holding my breath waiting for that !).

I felt fairly rotten yesterday. Mostly it was just the Sunday blues transplaced to the bank holiday Monday, but it was a little more than that. One particular malady was constipation. It wasn't of the uncomfortable variety, but I didn't fancy going out for a breath of fresh air until I had "gone". Maybe I should have taken a chance because I felt quite comfortable almost until this morning when I went twice as much ! Had I felt in a stable condition I did have a sort of silly idea that I might grab my camera and head towards Southend and see how far I got before the cold greyness pissed me off.

After deciding to stay in I had to find something to do. I didn't seem to be in the right mood to do it, but went through all the pictures I took on Saturday night. I found 47 of them that looked reasonably OK, and eventually I managed to upload them to Flickr. You can see the whole album here - https://www.flickr.com/photos/135353558@N03/albums/72157668689104502
Most of the pictures were taken using my Canon EOS 1200D camera, but some were taken using my Nikon D3200 camera. It was interesting to compare the differences between them.

The Canon camera seemed to focus better on the subject I wanted, but the Nikon would aften seem to focus on something behind my main subject. Some of the time I was using the lens with no working autofocus on the Nikon, and getting the wrong focal point was mostly my fault, but not entirely. The autofocus motor may not work on the lens, but the "in focus" lamp still lights in the viewfinder. I think that what I didn't realise at the time was that there would have been more than one focal point, and somehow I was choosing the wrong one. it is a problem I might persist with because I think the noise in low light areas is smoother on the Nikon. I must also remember to check deep in the menus to see if there are any focus settings I can change - such as the size and position of the place on the image that focus detection works on.

Editing those photos took less time than I imagined - mostly because the best ones needed very little editing. That still left me ages in which to get bored and miserable. I had started to try and eat very sensibly yesterday, but as the tedium of the afternoon wore on I started to eat more and more crap. By mid to late afternoon I was on the Homer Simpson diet - lots of beer and fatty and salty snacks ! Over the course of a few hours I polished off three cans of extra strength lager while I watched TV. I couldn't actually find anything on "live TV" that could satisfy my viewing needs, and I ended up watching 3 or 4 old episodes of "Yes Minister". It sometimes seems that the best TV was made in the 1980s, and it has been going downhill since.

Part of my frustration yesterday was that Flickr was experiencing a problem. All the pictures I tried to upload seemed to fail to upload. This went on over several hours, and it wasn't until I made an attempt at about 8pm that I managed to upload those pictures from saturday's gig. Once that was done I looked around for something else to do because I wasn't feeling sleepy - although I was feeling rather drunk !

One thing caught my eye, and it was a couple of plastic storage boxes under my computer desk. I thought one of them had a bed linen set or two in it, but it turned out to be empty. The other, which I thought had a few sheets and pillowcases in it turned out to have a heap of white t-shirts in it. One rather unfortunate, and unpleasant thing was that both box lids showed signs of the little mouse infestation I had a year or two ago. I feel fairly certain that since I blocked off several holes where the mice were getting in, I have been free of mice since, but I still had to take those box lids and give them a good scrub in the bath.

Fortunately the boxes were well sealed, and there was no contamination in the boxes themselves - well not from mice. Those t-shirts had been put away years and years ago when I was a heavy smoker, and they did smell rather smoky. I don't really wear plain white t-shirts, and so I dumped most of them in the recycling bin, but some were not plain white, and I wanted to keep them. So at 9pm, when I would normally be going to bed, I decided to wash them. There were 4 of them to do, and once they were washed and rinsed I hung them on a clothes horse to dry in the living room. I tried to help thye drying my leaving the fan heater set to blow just cold air on them. They were still very damp this morning thanks to this damp and horrible weather, and I reckon I will have to turn the fan heater on full to dry them when I get home after work today.

I had a lousy night last night. It seemed to take ages to fall asleep, and I kept waking up in the night. By 4.30am I gave up and started getting up. I have plenty to do at work today, and that should be a good distraction, but I reckon I will be doing plenty of yawning today. I don't feel terribly wonderful this morning - it's little more than the usuaal aches, pains, and creaky bits. The sort of thing that only a hot sunny day can cure. Curiously enough, while most of me is falling apart at the seams, it seems my legs were in very good order this morning, and particularly so on that great test of endurance - the mad dash from Waterloo East to Waterloo mainline station. It felt curiously effortless rushing up the ramp at the end of the platform, and it hardly seemed taxing to race, and overtake many people over the rest of the link. Life could almost be sweet if the rest of my body could be as good as my legs were this morning.

Sunday 29th May 2016
15:49 BST

Yesterday was pleasant enough, but it was only mildly warm, and there was not enough sunshine to be memorable. There was one positive thing about yesterday - it was still mild enough to walk home in perfect comfort from the pub at midnight without a coat, and only in a short sleeved shirt (and still OK at nearer 1am this morning when the deed was actually done !). This morning it seemed quite chilly, although it doesn't seem to be all that long ago when 12° C at 5am would have seemed quite good. There was also a little bit of sunshine soon after sunrise, but there wasn't any more until fairly recently. Much of the day has been grey - light grey, but still grey ! At the moment there is some bright, but hazy sunshine. The current temperature is difficult to quote. The thermometer outside the upstairs rear bedroom, which faces north, and never really sees the sun, says it is 22° C, but the thermometers nearer ground level say it is a 2 or 3° cooler than that. Tomorrow is probably going to be quite similar to today, and the day after, the first day back at work after my extended bank holiday weekend, is still forecast to be cold and wet !

I made a terrible mistake early yesterday evening. I had an unnecessary meal. Not only didn't I really need that meal, but it consisted of fish cakes, and they say very heavily on my stomach for the first part of the evening. It made it quite a challenge to put my best foot forward, and walk to the pub to see Chain's gig in The Black Cat.

Apart from the discomfort of sitting there with a heavy feeling in my gut, it was also a bit disappointing that the audience for the gig was a bit thin. It was a typical case of the potential audience being split among several nearby(ish) venues. I know there was a small group who went to The British Oak in Blackheath, a venue that Chain has played at many times, to see the band Life Of Brian, and there would have been more potential audience who would have gone to a gig in The Partridge in Bromley. I think there was also a gig on at The Kings Arms in Biggin Hill. Of course the trouble is that not enough people know how good gigs are in the Black Cat, It is still tarnished with the reputation it had as it slowly went down hill as The Catford Ram.

Those who didn't go missed out on a great evening, and an even better after gig drink. I am not sure what the "official" closing time of the pub is, or is supposed to be, but we were there very late - at least by my standards we were. I went to bed rather later than my usual 9pm last night ! If you don't include the camera in my mobile phone (that I didn't use) then I took three cameras to the gig last night. I took both my Canon and Nikon DSLR cameras, and my little pocket sized Nikon snapper (The S6300). So far I have only dealt with a few snaps I took on the latter camera, and although I have had a quick peak, I haven't touched the hundreds (literally) of pictures taken on the DSLRs yet. Maybe I didn't even need them. The lighting in The Black Cat can be bright enough not to need any special cameras and lenses for run of the mill pictures.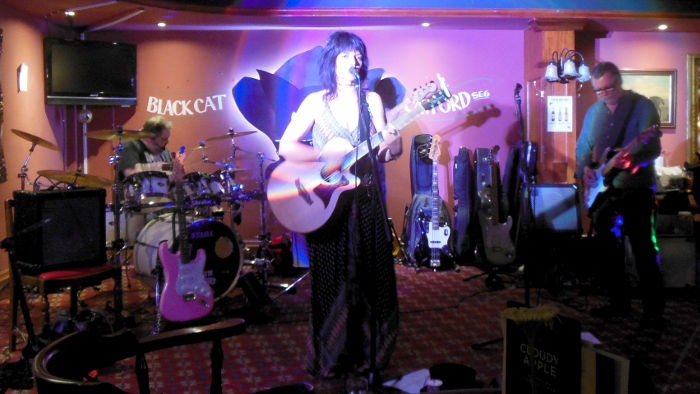 This picture is not brilliant, but is passable as an illustration of the band in action.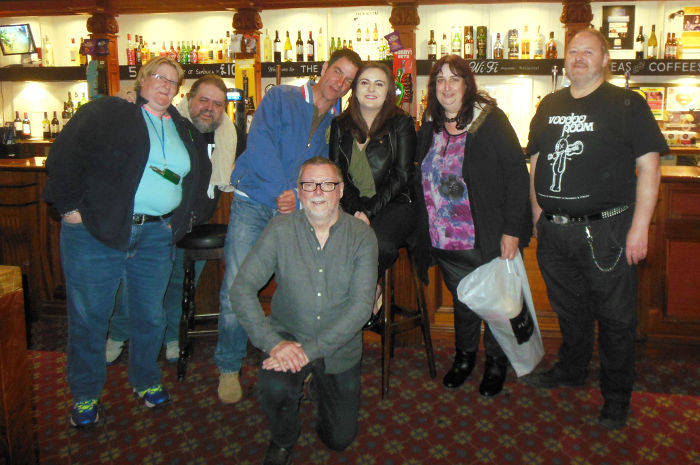 The last standing drinkers (although some weren't actually drinking because they were driving), and Chris Mayer was kneeling down. Jo Corteen borrowed my camera to take this snap.
From left to right - Sarah Etheridge, Dave Etheridge (drums), Rob Dillon, Fenella Corteen, Sue Radford, and.....well......me !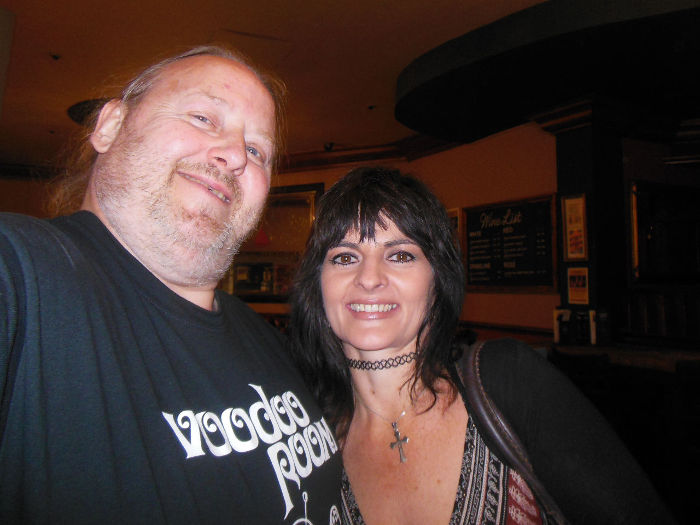 I wasn't sure whether to post this picture, but I think Jo Corteen's smiling face distracts from the ugly git on the left of the picture. As a side note; this "selfie" was taken on a normal camera without the benefit of the viewfinder screen being visible. It came out rather well for guesswork.
One unusual aspect of last night was that I didn't feel the need for anything more than the smallest nibble of food when I got home from the pub - and that was after consuming many pints of Guinness. I guess those stodgy fish cakes really affected the booze uptake. I felt "very happy" but not actually drunk when I got in. I also didn't feel very sleepy, and it was a little while before I felt ready to go to bed. I have a vague memory that it was almost 1.30am before my head hit the pillow, and about another three seconds before I was fast asleep.
I managed to have a lay in this morning, but only a short one. My internal body clock was still trying to wake me up for work at 5am, but I managed to sleep beyond that. That only lasted until about 6am when I got up for maybe an hour. Having passed through the critical hours, so to speak, I was able to go back to bed at about 7am and sleep until 9am - but not that well. As I write this it all seems to be catching up with me, and I am feeling very tired.
I have very little to show for all the hours I've been awake today. I've done a little photo editing, and even the simplest of some video editing (just top and tailing plus a fade in and fade out). I've also been out to the shops for a short while, but basically I have been lazy - but a specialised form of lazy. I should be tackling all the photos I took on the big cameras last night, but I feel tired enough not to be able to raise the enthusiasm to do it. I can foresee I'll be using up my last day off work, tomorrow, the bank holiday Monday, reviewing and editing photos - either that or I will suddenly get the urge to do it at some stupid time tonight.
I think I'll go and contemplate the meaning of life now, but before I do that I will leave you with a small video taken last night. It was taken on my little Nikon snapper (the
Nikon Coolpix S6300
). It usually takes very good stills, and it copes well with loud music in video mode, but the autofocus can sometimes get terrible confused in video mode - particularly under multicoloured stage lights. So this video of Chain playing Green Manalishi has some interesting "video effects" in it - sort of psychedelic - which suits the song quite well in some ways !
Saturday 28th May 2016
17:04 BST

It was very nice yesterday - particularly so in Hastings ! It was basically warm and sunny, although it started to become a little overcast as the evening started. I am unsure of the exact temperatures, and I don't think it was much above 20° C, but it was still very comfortable. This morning started with rain. There wasn't that much of it, but all the same....Since this morning it has dried up and warmed up. There has also been a fair bit of sunshine, but it has often been rather hazy. The sky seems quite hazy at the moment, although it actually only looks cloudy in some directions. It's currently 22° C on my upstairs thermometer, but I think it is a degree or two cooler nearer the ground. Tomorrow is forecast to reach 20° C, but only a few hours in the late morning will see any sunshine, and even then it will probably just be sunny periods. The day after is currently forecast to be dull and almost cold !

I felt most reluctant to do it, but I managed to drag my carcass out for some adventures in Hastings.....no, not really adventures, but I had a nice walk around in the sunshine, and saw and photographed lots of things. Among them was the newly rebuilt/renovated, and very recently re-opened pier. They have done a good job on it, and best of all is that they have so far resisted just filling it up with halls of bleeping, flashing, one armed bandits. The trust that now runs it has far greater imagination than to fall for that. Yesterday there were huge open spaces on the pier - it makes it very obvious just how big it is. One novel idea is to have open air cinema there. I'm not sure that I would enjoy that, or want to go, but I approve of the idea.

The route I took to get to Hastings, and to come back home afterwards, was a novel one - to me. It occurred to me that if I was going to get a return ticket from boundary zone 6, the furthest I can travel for free on my 60+ Oystercard, then it didn't matter where I changed trains anywhere in the free zone. So I opted for a simple, and well connected change. It seemed perverse travelling in the exact opposite direction to where I wanted to go, but I took a train from Catford Bridge station to Waterloo East station. Once there I simply crossed over to the other side of the platform, and then waited until the Hastings train arrived 8 minutes later. It was the exact same train I would have caught at Sevenoaks if I had endured the long tedious journey from Catford station to Sevenoaks - although that route would actually have been a quicker journey - quicker by just 7 minutes !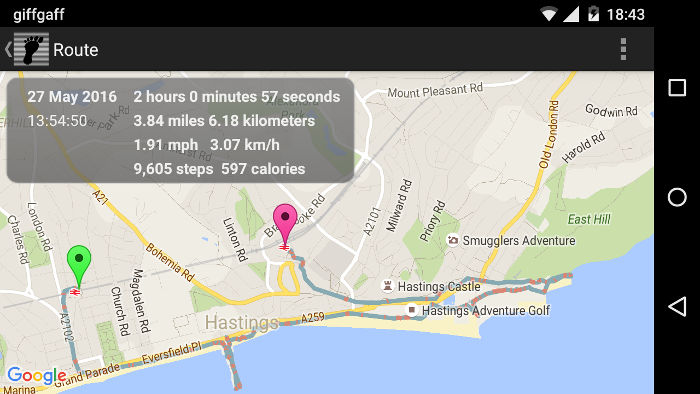 I caught my train from Catford Bridge at 11:56, and arrived in Hastings roughly 2 hours later. I alighted one station early at St Leonards Warrior Square station, and then as the map above shows, walked for 3.84 miles before ending at Hastings station itself. It was most pleasant in Hastings weather-wise, and perhaps because it was a Friday (and the Friday before a bank holiday weekend) it was not too busy and crowded. The highlight was obviously visiting the pier, but I managed to find many other things to photograph. The whole album, featuring 69 photos, can be found here - https://www.flickr.com/photos/135353558@N03/albums/72157668197539320 (which I still have to finish adding a few descriptions, and some tags) but here's a taster.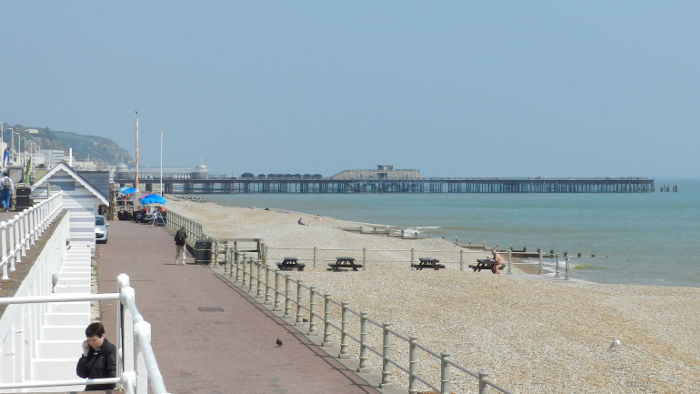 The newly renovated pier seen in the distance.


I didn't get home again until just after 6.30pm - which is quite late for me after a day out. It was quite a long time to go without breakfast, although I did buy a bottle of water at Hastings station on the way home. Prior to that I didn't feel the need for anything to drink, and even after buying the 500ml bottle I had only drunk half of it by the time I got home. In some respects I didn't even feel particularly hungry - well not until I started thinking about food too much - but I was patient enough to wait until a takeaway arrived. If I hadn't topped up the order with some nice greasy onion rings it might even have been a sort of healthy meal. It was of course chicken shish kebab with salad (and chilli sauce !). It still came with pitta bread, and while I often leave that, I ate it all this time.

A few hours after eating I went to bed, but I did make a start on editing all the photos I took, but it was a slow process. One reason for this is that I thought I would give my Nikon P500 bridge camera a good field trip. It is nice and light, and it's x35 zoom lens is very handy. On top of that it has a viewfinder as well as an LCD panel, and that viewfinder is essential for working in bright sunlight. It takes cracking pictures, as you'll see if you go to the Flickr album, and click for an expanded view, but it has one shortcoming - and it's a weird one ! It seems the camera does not fit the side of my nose. At least that is the only explanation I can think of. During editing I had to rotate almost every picture by an average of 2° to, for instance, stop the sea running downhill ! Apart from that, I had to do very little to improve the pictures - usually no more than some light cropping to centre things up. As I say, it is a very good camera, but I don't think I actually like it !

I am slowly losing the effects of my internal alarm clock. After what I think was a good sleep I finally woke up at least as late as 5.30am ! I have a very vague recollection of waking up sometime around 3am, and after a while I snuggled under the duvet in a most comfortable way and fell asleep again. That didn't happen at 5.30am. At that time the bed seemed full of lumps, and it seemed impossible to find a comfy position. So I slowly got up feeling all stiff and creaky.

Most of that discomfort evaporated fairly quickly, and while I got accustomed to being upright again I made a little more progress at reviewing/editing my photos. I also read a few of my favourite web sites. As 8am approached I thought I had better get up properly, and went to wash my hair and shower. Once I was washed and dressed it was just about time to go and and do some early morning shopping. It's nice and relaxed in Aldi at that time, but an hour later it can be frustratingly packed in their with slow queues at the checkouts.

While I was in there it was nice and free moving - although I did manage to pick the one checkout where the old lady in front seemed to take an eternity to pack her bags, find her money, and then triple check her change. Prior to that I had selected lots of healthy stuff, and surprisingly little unhealthy stuff - although still enough to wreck any form of diet if consumed serially ! I bought quite a lot of salad and some assorted low to medium low fat stuff - which I can wreck by pouring on all sorts of sauces and stuff !!

Once I got home again I allowed myself a small unhealthy breakfast - sandwiches - and then got stuck into photo editing again. It is amazing how much time can pass without it seeming you have done much. I am sure I don't sit there for minutes on end deciding whether or not to show a picture, and how I might edit it, but it sometimes I think I must do that when I consider how long it takes. Of course having done all that editing, and been interrupted with a pleasant, but extremely long phone call, I had to upload the pictures to Flickr. Uploading 69 high resolution pictures takes a fair time ! Once uploaded I had to think up captions or descriptions, plus add tags to the photos so they are more easily searchable - a task I still haven't completed !

After all that, I started writing this, and with a dinner break in the middle of writing it, many many hours have passed since waking up this morning, and I have little else to show for it. In a couple of hours I have to go out and take another whole heap of pictures. After a long patient wait, Chain are finally playing in The Black Cat again. The last time they played in there it was The Catford Ram - maybe 2 years or so ago. So tonight I think I might take two cameras. I'll shoot a bucket load of pictures on my Canon camera, and another bucket load of pictures on my manually focussed Nikon camera - at least I probably will. I had better give some thought about getting ready for tonight now.

Friday 27th May 2016
09:50 BST

It seemed to take a while to warm up yesterday, but the afternoon felt very comfortable. The odd thing was how the sun felt very hot late in the afternoon, but it didn't seem to be able to warm the air up to better than 20° C (and I am not even sure my thermometers said it got that high). During the night it became cloudier than it was during the day, and this morning it is generally rather dull looking (although there were a few minutes of sunshine a little earlier). It is currently about 15° C, and like yesterday the temperature should rise to around 20° C. The forecast allows for a small possibility of a light shower at any time, but there should be more sunshine that yesterday - although it doesn't seem look like it will be very sunny from where I'm sitting ! It looks like what is forecast for tomorrow - mostly rather dull but with a similar range of temperatures - and some rain for an hour or so early in the morning. In other words a typical English bank holiday weekend !

Yesterday turned out nothing like it was planned to be ! Early in the morning, prior to any chance of my new microwave oven being delivered, I did some laundry, and got it hanging on the washing line to dry. I also did all the washing up. Then I sort of relaxed and started to wait for the oven to be delivered. The oven actually arrived just before midday - which wasn't bad, and should have allowed me to participate in a little photo expedition with Kevin (who I haven't seen for weeks and weeks) and Iain (who I haven't seen for a few years now).

The general plan was to go and take some pictures of, and have a short ride on the diesel train that goes between Barking and Gospel Oak stations. That line is the last non-electrified passenger carrying line in the London area, but not for long - hence the desire to experience it one more time. After spending an hour or so there we were going to travel to docklands where HMS Duncan, a rather large warship, was going to thread it's way out of the docks, and onto The River Thames at 4.45pm - high tide. That could have made for some good photos, but before all that could happen I was made a better offer !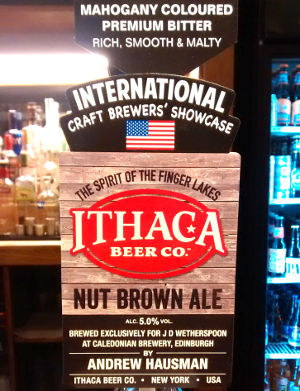 This offer did not initially involve beer as the picture on the left might suggest. It was from my friend Patricia, and she offered to come and see me to swap some gossip, and pick up some items of mail that are still delivered here. In theory I can see Kevin or Iain at any time, but with Patricia spending half her time out of the country, and most of the remaining time with her partner, Andrew, I often only get to see her a couple of times a year these days. So my choice was very biassed in her direction.

She arrived here between 1 and 1.30pm, and we had a nice chat. I originally suggested that I would later accompany her part of her way home, and I, perhaps still in the company of Patricia, might still meet up with Kevin and Iain in docklands to see HMS Duncan depart to wherever it's next top secret destination is.

It was a good idea, but we went to the local Wetherspoons pub for lunch first. I found I rather liked the beer pictured on the left, and I ended up drinking three pints of it as we chatted way. It was a most pleasant afternoon, and of course time passed far too quickly. It was almost 5pm when I saw Patricia onto her bus home by herself.

I then headed to home where I had a couple of sandwiches. While I was still high on the booze I did think that maybe I could still make it to Beckenham where the Thursday night drinking club was meeting, but I ended up laying on my bed and having a snooze ! I have a feeling I was asleep for a good hour, but by then I couldn't be bothered to keep an eye on the clock. A few hours later I was back in bed and sleeping fairly well.

This morning I was up bright and early again, although not as early as yesterday morning - that was a bit silly ! The only thing of note that I have done is to wash a couple of t-shirts, and a few other things, and get them hanging on the line. I probably should have washed the sheet on my bed too after a slightly unpleasant accident...

I recently bought a tub of chocolate flavour body butter from the Pound Shop. It smells delicious !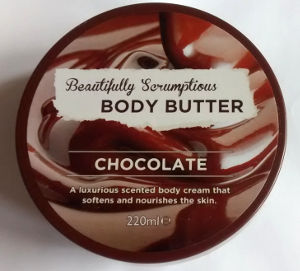 As you might expect, it is brown in colour. That is an important point to note ! I've found that some moisturising cream is useful to keep some of my post operation scars nice and supple. I probably ought to treat the scar down my chest, or maybe it is a bit too late for that one now, but I do occasionally moisturise the scar on my left leg where the vein (or artery) was extracted to be transplanted as the bypasses for my heart.
I don't know how, but the surgeons made a bit of a mess of the incision at the bottom of my leg (it goes the entire length of my leg - right up to, and passed my testicles). The top half healed easily, but the bottom bit needed frequent moisturisation to help it heal properly.
Last night I decided to try this chocolate flavour body butter. Even if it didn't do any good, at least it would smell nice (maybe too nice - it made me feel hungry !). So as I lay in bed I liberally smeared the stuff all over the scar, and then got on with the business of sleeping. This morning I threw the duvet back in the clear light of morning, and thought I had had a very childish sort of accident in the night ! It took me a moment to realise that the suspicious looking smears were chocolate body butter, and not something infinitely worse !
My plan for today, although it is already late in the morning, and I haven't even showered yet, is to go to Hastings to take some pictures of the recently re-opened pier. At least that is the plan, but as I sit here typing I can't seem to find much motivation. I expect I had better go and take a shower, and see how I get on from there.
Thursday 26th May 2016
11:50 BST

It was horribly dull yesterday, but at least it stayed almost dry, and while it wasn't exactly warm, it wasn't cold either. I describe it as almost dry, but I am sure I felt a few misty drops of rain on my way home from work, and there may have been a very light shower in the early evening (and anything could have happened overnight). This morning started off rather cool, just 8 or 9° C, but it is warming up slowly. It's about 18° C now, and it seems very likely that in another hour or two it will hit 20° C, which is about what was forecast. There has been a fair amount of cloud in the sky since this morning, but somehow it has also been mostly sunny (although as I type that the sun has just gone in !). The forecast does say that much of today will be sunny, but with occasional dull periods. The forecast also warns that a short, sharp shower could happen at any time today. Tomorrow is currently looking as if it will be a slightly improved version of today - a little extra sunshine, and maybe a degree warmer.....or it might snow !

With the prospect of an extremely long weekend about to start (today, tomorrow, the actual weekend, and the bank holiday Monday), I was in full on couldn't care less mood at work yesterday. I have to confess I hardly did anything all day. Such a relaxing day didn't stop the urge to go home again, and the joy of doing so, any less. It was just the opposite - which is probably obvious. What is less obvious, at least it was to me, was that I seemed to have a little extra energy.

Soon after I got home I went out again. I went to Aldi to buy some more salads, and a few other odds and ends. It was typical of Karma (probably) that Aldi had £44 microwave ovens available just when I had ordered one from Amazon to be delivered today. Mind you, the ones that Aldi were selling were not as good as the one I am waiting for. The Aldi ovens were "digital" ovens, and that means they are stupidly complex to use - or can be. The one I ordered from Amazon just has two dials - power level, and a simple mechanical timer - just like the oven that blew up on me.

I have to confess that I ate terribly last night. The sandwiches should have been a meal in themselves, and I should not have eaten any more after eating them. The salad I had afterwards would have been OK if I had not added such a large chunk of Danish Blue cheese. That cheese was nice, but I think a plainer cheese, and less of it, would have been better. I'm not even sure how to account for the grilled fishcakes I also ended up eating !

I went to bed at about 8.30pm (I think) feeling fairly full. At first that made me feel a little uncomfortable, but before I had considered all the implications of it I was fast asleep. It was another night where it seemed like I slept well, but woke up far too early. It seems stupid that on a day when I have a day off work (the first of two), and no need to get up until 8am (about the earliest a parcel delivery might arrive if your feeling insanely optimistic), that I actually woke up at 4.30am, and although I did it in slow stages, I got up soon after.

16:51 BST

This is a bit unusual...It's now very late afternoon. My writing was interrupted earlier on by an incoming message from my dear friend Patricia. These days it only happens a few times a year (sometimes not even that), but I had an opportunity to meet up with her, and I have just spent the afternoon in the local Wetherspoons pub with her. I only drank 3 pints of beer, but after that ridiculous early start in the morning I feel like a lie down for a while. I think I had better tell the rest of the story of today, tomorrow !

Wednesday 25th May 2016
07:46 BST

If only yesterday had been a bit warmer it could have gone on record as a lovely day. It seemed that the sky was clear blue for most of the day, and the sun was shining, but the temperature stayed below 20° C all day, and may not have even exceeded 17° C. It was all very strange - as I walked home I could easily feel the hot sun on my face, and yet my hands felt almost cold. Oh well, at least it was far, far better than today is forecast to be. All today is missing to be a complete disaster is rain. It seems unlikely that it won't rain. It's all best described by this screenshot.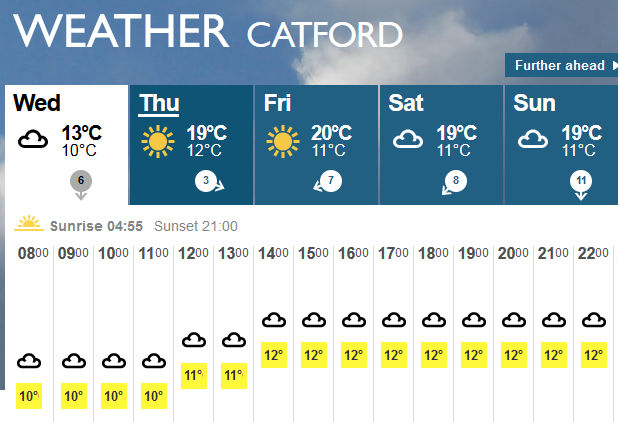 There are only a few good things about this forecast. Sunrise at 04:55 was good, and sunset at 21:00 is rather good even if I doubt I'll make use of it tonight. Of course the other good thing is 19° C with sunshine tomorrow, and 20° C with even more sunshine on Friday - both days I've booked as holiday from work. It's a shame the weekend is not looking good - and it is a long bank holiday weekend !

It almost felt strange not to be in any particular discomfort at work yesterday. Of course it wasn't all peaches and cream - the day seemed to drag, and there were a few particularly boring times when I felt my eyes closing and only intensive yawning kept me awake. It was definitely a relief to get out into the fresh air and sunshine to go home again. It's just a shame that it almost felt chilly when I stepped out of the building despite the sunshine.

On my way home I went into Tesco where I found lots of reduced price sandwiches, but no microwave ovens. The lack of microwave ovens was both annoying and a relief. Had I found one I would have had to abandon my basket of stuff because there would be no way that I would want to try and carry both home. It would be a struggle just to carry the microwave oven home. It was also sort of annoying that I couldn't find any herb flavoured goats cheese to go with the salad I bought. It is seeming like the Turkish supermarket is the only place that seems to stock it at the moment, and it carries a very premium price !

The evening before yesterday evening I ate more than I would have preferred, but it evidently was still an amount that allowed my blood glucose level to be almost perfect when I got home last night. I might even have lost a few milligrams too ! I doubt that was the case last night. The plain goats cheese salad would have been fine if I had not been unable a strong urge to but something I haven't had for ages - salad cream ! I have no idea what is in that gloop, and I probably don't want to know, but as nice as it is, it is probably loaded with sugar, salt, and hyper unsaturated saturated fats - basically everything that is bad for you.

If that wasn't bad enough, I also ate a couple of packets of half price sandwiches with added chilli sauce (known to have added sugar in it). Just to top that lot off I tried a little tub of "Asian salad". That was basically shredded cabbage, some of it red cabbage, plus other bits of sliced vegetable marinated in a sweet and sour pickling liquor. The "food labelling" suggested it packed quite a lot of sugar, but as it was only a small tub I may have got away with it. The tragic thing is that it was not very nice after all that !

One of the things I should have been doing last night was reading a book. Having read a comment that said a book, Career Of Evil by Robert Galbraith ( a pseudonym of J.K. Rowling) mentioned Catford, and even The Catford Ram pub, I decided I ought to read it. I ordered a copy from Amazon, and it was delivered yesterday. I did have a quick flick through it and found that one of the characters came from Catford, but I didn't see any mention of Catford itself. Sooner or later I'll read the whole thing, and all will be revealed - I hope !

One thing I did do last night was to wash my hair. I had been meaning to do it for a few days, but the mornings have been a bit cool to go to work with wet hair. It's done now, but it did delay me getting to bed as early as I thought I might. Than again, maybe I didn't need to get to bed so early anyway. Even when I did get to bed I found my mind was in a strange state that slowed down getting to sleep.

There must be a word, probably based on either Greek, or Latin that describes last night, although on second thoughts it could be an Austrian word invented by some Austrian accented psychiatrist. It should describe a state of mind where you cannot rest because of fear of the state of your own existence. The most common type of this feeling is not what bothered me last night, but I expect everyone, at one time or another, has laid in bed and realised they are breathing, and become so obsessed with it that they seem to be only able to breathe by consciously controlling it. My case was different.

The idea that I feared anything happening sounds a bit strong, but I guess that is what it boiled down to. Rationally I knew I was in no danger, but rational doesn't always work late at night in bed, and even less when to take your mind off it you consider the words you are going to write about it, plus all the possible variations. First there is the physical. The most comfortable position I could find to lay in was also uncomfortable in as much as it caused a mild pain in my chest. I knew it was just my ongoing costochondritus-like problem with one or more of my ribs, but there is always the nagging doubt that the pain is from the heart, and you don't want to die until after you have had a nice sleep. to do otherwise would be so unfair !

That got me thinking of other ways of dying in my sleep. It is quite a popular way to die, even my mum died in her sleep, but I don't know how it happens. There are so many unanswered questions like do you carry on dreaming while you die, or do you wake up and think "oh bugger, I seem to be dead" ? Having gone through the possibilities of death during sleep, I moved on to the existential - or something like that. There is always the fear that you, and the world you have invented, are just a figment of your own imagination, and if you allow yourself to fall asleep you will not only destroy the world, but you'll be dead too. Life is terribly complicated, but imagined life is incredibly more so !

It was probably while philosophising on the meaning of life (and death) that I fell asleep. It seems the world didn't end, or if I did I made a lousy job of imagining a new one. This one seems no better than the last. At least with this one I seem to have woken up feeling mostly OK again. I do seem to get an occasional ominous rumble from my stomach, but it hasn't come to anything this morning.

I had an idea for this morning, and then it seems I did the complete opposite. The idea was to check the weather forecast, and if the weather didn't look like it would be all that good tomorrow I would order a new microwave oven to replace my current oven that has blown up. It seems like the weather tomorrow could be fairly good, and if I felt up to it I would have gone to the seaside tomorrow, but now I will have to stay in to accept delivery of my new microwave oven. It is possible it could come quite early, and I could still get out. Whatever the outcome is, it will save me having to lug a new oven back from, at best, a local shop, and at worse, a shop a bus ride away. It is not essential to have a new microwave oven, but it is damn handy !

Tuesday 24th May 2016
07:44 BST

Yesterday was fairly sunny, but a bit more would have been nicer. Rain was forecast for early evening, but I can't seem to remember if it did, or if it didn't - I just wasn't paying any attention to the big wide world once I got home from work. In many respects, yesterday's weather could be described as rather bland. It didn't really do anything that was notable - it wasn't hot, and it wasn't cold. It wasn't brilliantly sunny, but it wasn't dull. I think the temperature reached about 19 or 20° C. This morning the sky is gin clear, and of course we lost a lot of warmth last night. This morning it was a slightly chilly 9 or 10° C. The forecast says today will be very sunny and dry, but paradoxically it will be a cooler day than yesterday - just 17° C apparently. Tomorrow is looking very grim. Thick black clouds all day, and maybe no warmer than 13° C. It would come as no surprise if it rained as well, although I don't think rain was mentioned in the forecast.

I felt fairly good yesterday...at least I did most of the time. By the afternoon I was starting to feel a bit tired, and I seemed to very quickly run out of energy as I made my way home from work. Even once I was home I still felt a bit drained, and I made sure I had an early night. Before that there was the topic of eating. I had a very healthy sort of tuna salad. it was a lettuce-less salad, and I substituted some pickled eggs for the lettuce. Maybe "substituted" is a slightly insane use of the word, but I did have a couple of pickled eggs with the tuna, tomatoes, peppers, sliced onion, and....actually, that was about all the salad ingredients I had to hand.

In theory, if you ignore the mayonnaise, it was a very healthy sort of meal. It's a shame I ruined things a bit by eating some very unhealthy snacks during the evening. I meant to check my blood glucose level a couple of hours after eating, but I felt too tired to wait up for that. The good news is that before eating my blood glucose level was a very satisfactory 5.8mmol/l. 4.0 would have been better, but 5.8 was good enough.

Now was I tired because I was bored, or was I bored because I was tired ? It doesn't really matter because the solution to either was the same - an early night. I think I deserved one last night. It wasn't an exceptionally early night. It was probably about 8.30pm when I went to bed, and a just a few minutes later before I was fast asleep. As far as I can tell, I slept rather well. I recall a few strange dreams about needing spare parts for a Transit van, and meeting some "very dodgy geezers", but they were dreams without beginnings or endings - just meaningless isolated scenes.

It is an unusual, unfamiliar feeling, but I think I woke up feeling almost refreshed this morning - once I had got a few creases out. I still have a few mild aches and pains here and there, but to be without them would probably mean I had died without realising it. If I ignore those old friends then I do feel rather good this morning. I seemed to find extra energy for an unusually fast dash across the link from Waterloo East station to Waterloo mainline station, although by the time I sat down on the train in platform 4 I did wonder if I should regret pushing myself so far. Having said that, I do wonder if I could just stop my chest muscles/ribs/ligaments starting to ache when just breathing a bit heavy, I could push myself even more up to the point when I am gasping for air. Then again, I don't want to end up like a typical broken down, crippled athlete when I get old. No, wait a minute, I am already old !

Sometimes I think in wonder that this old body of mine can still achieve some of the feats it seems to. In less rational moments I wonder if it could still be working for it's centenary. In one respect it would be a bit of fun to take the piss out of all the people who didn't make it, but in another respect it could be a very long boring wait just for a few minutes of fun. Oh well, at least the cardiac rehabilitation nurse said most of her clients were back in hospital with more trouble after 12 months. So there is hope that I won't have to endure an almost 39 year wait to have that pointless bit of fun...although when I think about it. I am 18 months overdue for her prediction of disaster. Maybe this is because I didn't let her rehabilitate me !

Tonight is probably going to be another boring and pointless evening, and if I did sleep as well as I thought I did last night, I may not have the solace of going to bed and sleeping early again tonight. One small glimmer of hope is that I'll have to endure 15 minutes less boredom this evening because I'll be going home via Tesco. I need more salad and stuff, plus I want to have another check that I didn't miss their microwave ovens while I searched in there on Sunday morning.

Assuming I don't find a microwave oven in Tesco tonight, I have a cunning plan. I have already booked this coming Thursday and Friday off work, and so I could easily be available to receive a delivery of a new microwave oven ordered online (probably Amazon). It's looking as if Thursday is not going to be a great day weatherwise. So staying in would not be a great hardship. Maybe if the oven were delivered in the morning I could go out in the afternoon - possibly to give the blood and urine sample that I am supposed to be giving mid-May......

Monday 23rd May 2016
08:14 BST

After a dry, but slightly dull day, it started to rain a little earlier than 7pm, the forecast time, and while it was not particularly heavy rain, it seemed quite persistent. There was a good 2 or 3 hours of rain, and maybe more (but I didn't pay much attention to the outside world once the sun set). This morning the temperature had fallen to about 11° C, and the clouds had gone away to leave a rather nice bright sunny morning. The weather forecast suggests there should be sunny intervals right now, and the little pictogram shows light cloud. The area of sky I can see from my office window is not like that - it is bright blue, and it looks as if we will have more than just an "interval" of sunshine. The forecast goes on to say that it will be overcast this afternoon, and that it will rain from about 6pm onwards. The top temperature will be 18° C - which should be pleasant enough. Tomorrow is forecast to start a degree or so cooler, and after a lot more sunshine than today, it will still be a degree or so cooler than today !

I found myself suffering from the Sunday afternoon blues yesterday. I guess it was more boredom than blues, but blues sounds more dramatic...maybe even musical ! I poured several cans of high strength (wife beater/tramp juice) lager down my throat, and that was a nice, but all too brief diversion, and it wasn't long before reality intruded again. I felt trapped in the transition between leisure time and getting back into the rhythm for work this morning. Doing something physical would probably have been a good distraction, but my laundry was up to date, and I am not one to do what was once called P.E. in school - they call it working out now (sounds like wanking). On top of everything else, it was raining, and that meant I couldn't hang any washing out on the line, or go for a walk, or even walk to the pub.

What I did do was to look at the problem sideways - at least I think I did something like that. I knew I was going through what has been called "the long dark teatime of the soul", and someone, namely Douglas Adams, he of The Hitch Hikers Guide To The Galaxy fame, decided to write a book about it. The BBC, in their wisdom, decided to make a radio play of it, and I, using methods that may not be generally approved of, downloaded it, and listened to it last night. It certainly helped to bring more life into a book that I found a little hard going when I first read it, and most of all it kept me amused for that terrible time - Sunday afternoon going into Sunday evening !

By pure coincidence the end of the recording happened at about the right time for me to brush my teeth, and get into bed at 9pm. I was already feeling quite sleepy, and I expected to fall asleep very quickly. That didn't happen at all ! I can't recall any prior warning like odd pains or gurgles, but I started farting - and I farted a lot - and the stench was terrible. Where was it all coming from ???? After a while I got up and went to the toilet. After a considerable wait I did a little, but still I carried on farting at 5 minute intervals.

By 10pm it seemed I was almost deflated, and by 11pm I managed to get to sleep. I woke several times in the night, and each period of being awake was accompanied by several explosive retorts ! When I finally got up at 5am this morning I was still going, and it seems going to the toilet, practically normally, made very little difference. I was still farting as I walked to the station ! Fortunately for everyone one on the train, I seemed to stop by the time I arrived at the station. The strange thing is that I feel fairly good this morning. All the usual aches and pains seem very mild, or even not there this morning. Even my guts don't feel that bad considering the abuse they have had, being hyper-inflated for the last 10 hours or so.

It was a shame that I was prevented sleeping when I seemed to need it last night. I don't think I am going to be very busy at work today, and that could make the day really drag. I'll probably spend more of it yawning, and trying to keep my eyes open rather than working - but I could be wrong. It is entirely possible that this evening could be terribly boring. I can't think of anything I am likely to do beyond preparing dinner. That is likely to be some sort of salad - fish and "crudities" seems a good possibility.

Sunday 22nd May 2016
14:58 BST

Contrary to what the forecast predicted, it was actually dry last night. The rain in the middle of the afternoon was a minor inconvenience to what was otherwise a reasonably pleasant day. It was certainly dry and warm enough to go out without a coat in the evening. There have been a few sunny spells today, but it has been mostly overcast. Despite that it has still be very mild, although maybe not what you would call warm, and it has been dry. In fact it has been very dry. To my surprise I see my thermometer says it is 24° C right now. It doesn't feel that warm though - perhaps I've been too sedentary for the last few hours. Some rain is expected from about 7pm, but the early hours of tomorrow are supposed to be dry. Tomorrow may start rather cool, just 11° C, and at it's warmest it may only be no more than 15 - 16° C. The rest of the forecast for tomorrow is one of those weird ones - it will be mostly grey, but there will be a few sunny intervals - but only when it's raining (what does that mean ?).

Nothing much happened after I wrote yesterday until it was time to go out and see The Carlottas playing in The Black Cat Pub. They were a bit of an unknown quantity, although I was familiar with their lead singer, Andy Rogers, but I was feeling quite good, and looking forward to it. It was not a particularly well attended gig, but there were more than I expected. The Carlottas themselves were similar to quite a few, if not most groups I see - a bunch of middle age men reliving their glory days - probably using equipment they could barely afford in their younger days. After all these years they were well practiced, and while it would be easy to pick out the occasional fault, they sounded pretty good in all departments except vocals. Some of the problem was poor mic use, and some was just the result of trying to tackle songs that were out of their range or competency. It is a common problem that comes from the "I love this song so much we just have to do it" school of thought. It's mostly forgiveable if not taken to excess.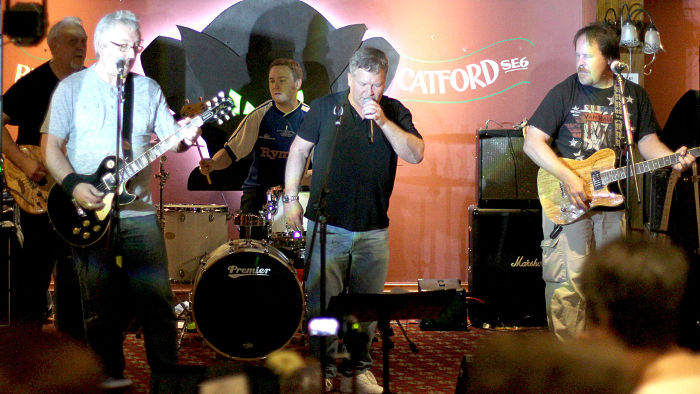 It seems this was the best picture I took that featured all members of the band. There is an album of most of the best pictures, in high resolution, here - https://www.flickr.com/photos/135353558@N03/albums/72157668368205872 I made a new discovery last night - or at least I found a new photographic technique. They have some nice bright lights in The Black Cat, but they are not usually used that well. They tend to be very strobey (if such a word exists), and that can make photography difficult (although it can look quite colourful to the human eye).

I realised that if I set my camera to continuous shooting mode I could rattle off half a dozen shots in quick succession, and there was a good chance that one of the shots would coincide with one of the periods when the lights provided good illumination. This method obviously eats space on my memory card with wasted shots, but it's far better than trying to anticipate or compensate for the changing light. It is probably something like 1 in 6, or maybe even 1 in 10 shots that come out OK, but when I came to edit them this morning I found the best needed so little work to be presentable, usually just a bit of cropping, that I think it is going to be my standard way of working from now on. Luckily, 32GB memory cards are fairly cheap-ish at the moment !

I didn't stay to the end of the gig last night, but I did stay long enough for 3, or maybe even 4 pints of Guinness. I felt like some dinner after I left the pub, and if I had any form of patience for hanging around in kebab shops I would have had a large chicken shish kebab with salad (and chilli sauce !). That is what I really wanted, but I opted for speed and went for a small portion of chips with a battered sausage, and a saveloy.

After getting home, and eating dinner, I checked my photos, and was quite pleased at how some had come out (and appalled at how others had come out !). I didn't fancy staying up to start editing them, and went to bed - and I think I was in bed by 11pm. I was asleep soon afterwards. I don't think I can call it plan, but my wish was that I would sleep in late this morning. After all, it was a Sunday, and no one gets up early on a Sunday - except me it seems.

I was quite busy this morning. I did yet more laundry I washed the duvet cover that was part of the set of bed linen that I washed yesterday. It may not have been all that bight this morning, but the (almost) warm breeze was excellent for drying. I hung that duvet cover on the line dripping wet, and it was bone dry when I brought it in a little earlier this afternoon.

I also went out on a mad dash around Catford this morning. I had a little catastrophe yesterday - my microwave oven blew up ! It's a little sad because the electronics still work perfectly, but I managed to let the cover of the waveguide, the aperture that guides the microwaves into the cooking cavity, get contaminated with a few splashes of food/oil/gravy/whatever. That finally cause a tiny little arc that grew into a major flashover that has eaten a chunk out of the metal cavity. It has effectively brought my microwave ovens life to an end.

That oven, a Tesco "Value" oven cost, if I recall correctly, about £39, and it has lasted about 5 years. That's probably not bad. Now I need a replacement. So I dashed out to Tesco to buy another. Unfortunately it seems that microwave ovens are a seasonal thing, and they have been replaced on the shelves by barbecue type stuff. Maybe I will have to wait until autumn to get a replacement. While I was out I checked Iceland - they used to sell microwave ovens, but not now it seems. I did the complete circular tour, and was going to check Aldi, but they don't open until 11am on a Sunday. They did have some microwave ovens not so long ago, but that doesn't mean that still have any left. The same is true of Lidl, but I didn't check there because it would be hard work carrying a microwave home from that far away.

I have booked next Thursday and Friday off work, and if the weather looks to be terrible, I might order a new oven on line and get it delivered straight to home - although I hope that I might be able to finally go out, possibly to the seaside, on those days. If the speed that I did my circumnavigation of Catford this morning is anything to go by, I have plenty of energy for a good walk if only I can get myself in the right frame of mind. All I need is a stable stomach and blazing hot weather !

The rest of today can be accounted by photo editing, being lazy, drinking high strength lager, and writing this. The rest of today will probably be accounted for by drinking more high strength lager (although probably only one more can) and some intensive, Olympic level, laziness. I'm back at work again tomorrow, and I probably ought to try and get in the right frame of mind for it.

Saturday 21st May 2016
16:47 BST

It just started raining about half an hour ago, but that was the first day time rain we've had for some time now. Yesterday was dry, sometimes sunny, but more frequently just bright, and comfortably warm until after dark. As the forecast predicted, there were a few showers around 10pm (although the exact times weren't exactly correct). Today started off overcast, but still fairly bright, and it wasn't all that cold - maybe 14° C. A few sunny intervals helped push today's temperature up to 23 - 24° C, but now it's raining it is starting to cool off. The forecast says it should be just 15° C right now, but my thermometer is still saying 22° C ! Assuming the forecasters got the rainfall correct, we can expect occasional showers all evening, but the last of them should end at around daybreak tomorrow. The rest of tomorrow is forecast to be dry, but it will be dull and overcast, occasionally heavily, and rather cool - just 17° C at best.

I had vague ideas that I wanted to try and go out and get some exercise/do some photography yesterday, but once again I ended up mostly staying in. There were two notable times when I did go out though, and the first time was to Cash Generators, a shop like Cash Converters, but somehow less "pikey" feeling. It was on Thursday that I noticed they had a rather nice looking lens in te window, and yesterday I went there to investigate further.

The lens was a Sigma lens, and while I have no great knowledge as to how the world views their products, I know a couple of pro photographers who rate them highly. This particular lens was just the sort of thing I was looking for. For a start it turned out to be for a Nikon camera. Secondly it was a zoom lens with a large aperture. It's was a 24 - 70mm zoom lens with a constant aperture of f2.8. In simple terms that is not a great zoom range, but just the sort of thing for snapping bands on stage, and the f2.8 rating means it can cope with fairly low light. Both these things are exactly what I wanted for my Nikon D3200 camera.

The lens was fairly expensive, but almost half the price of a brand new one. So I bought it. Unfortunately it turned out that it had a fault - I discovered the auto-focus didn't work. For taking fairly static images that doesn't matter too much, but it makes taking sharp pictures of moving stuff, like musicians on stage, rather tricky - doubly so when the light is poor ! There is the potential for a happy ending to this story.

I passed some of the time yesterday by doing some laundry. It was great drying weather, and I started with a few shirts, and they dried really quickly. With plenty of daytime drying time left I tackled a medium sized bath towel next. They can be a real bugger to manhandle when dripping wet, and they seem to have a special property of never being able to be rinsed out ! After leaving the towel soaking in bio detergent for half a day I started to rinse it out. After 6 changes of water I took a rest for half an hour or so before starting again. After another 6 changes of water it still seemed soapy, but I gave up at that point, and hung it on the line. I brought it in smelling nice and fresh, and nearly dry at about 6pm last night.

A couple of hours later I was on my way to Beckenham to see Chain's gig at The Coach And Horses. It was a daring move, but I only took one camera. What made it daring was that it was the Nikon camera with the new lens. It is a very tricky venue to take photographs because the band play in a small pert enclosed area, and the lighting is generally very poor. It is a very good test of any camera and/or photographer.

My photographs were both good and terrible ! I've seen photos taken there with things like iPhones, and they do have pretty good cameras in them these days, but they are still a bit dull and smeary. My photos turned out, with some post processing, to be quite bright for such a dull cubby hole, and my manual focusing wasn't always that bad ! Technically they are all terrible, but I delude myself that I have somehow managed to pull out the best possible pictures in the circumstances (although my Canon camera with the f1.4 lens may have been a little less grainy, but I would have only taken very narrow field views).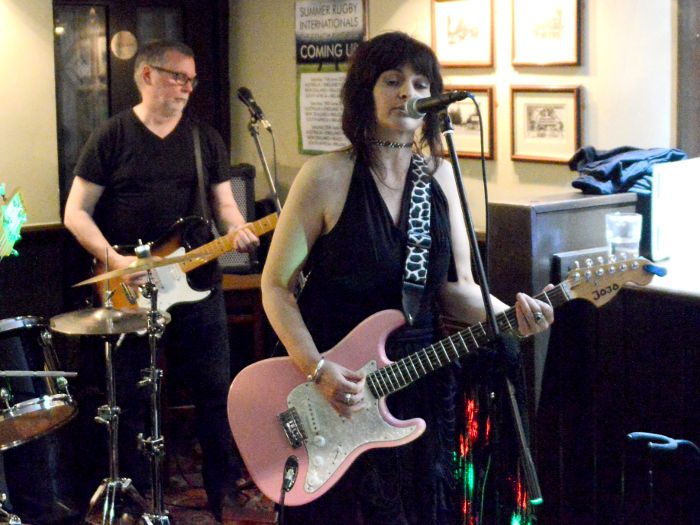 Chris and Jo in slightly soft focus, and a little grainy, but looking bright in the gloom.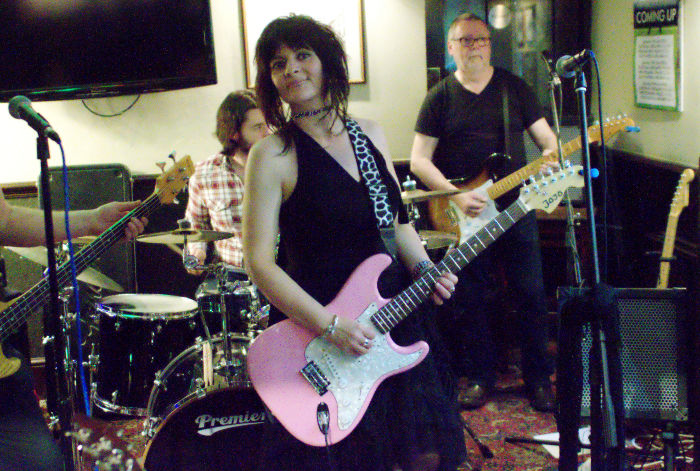 I only stayed for the first set of Chain's gig. This was for two reasons. One reason was that I was generally unhappy with conditions for photography. It feels a little weird to confess that I seem to go to gigs for the photography and not the music these days, but somehow that seems to be the case. That is a bit weird considering I started following Chain because of the music, but I seem to have this compulsion to take the perfect photo now. I guess it is a bug that gets to all "togs" as they (we ?) are sometimes known. It does get to us, and we end up spending more and more on our equipment - and while there might be the occasional dream of selling a picture for mega pounds, it is really just an obsession.
I'll expand the second reason for going early to two reasons. The first of these was that it was really packed in the pub, and getting close enough to see the band was a struggle. In those conditions it was also rather hot and sweaty in the pub. The final reason for leaving when I did was that I was mindful that rain was forecast, and I had gone out without a coat. For one the forecast was correct, and I got very lightly rained on as I walked to the bus stop to go home.
Back in Catford the rain was still very light, and so with am air of "I don't care" I took the long way home via the fried chicken shop. I hadn't eaten a proper meal all day, but I had eaten all sorts of assorted crap. I am not sure if fried chicken, and a rather large "small portion of fries" can be counted as a proper meal. but I very much enjoyed it after getting home. I felt so good after it that I stayed up and took my first look at the photos I had taken, and even edited a couple to see just how bad they were.
At 1am I finally went to bed, and before I could finish wondering if I would ever get to sleep I was fast asleep ! My sleep didn't last long enough, but did incorporate a seemingly lengthy dream about an auto-focus element that looked like some sort of sci-fi weapon ! The core of it was some sort of silvered block of glass inside a helix of clear glass. It had a fault where it kept getting jammed.
One of the first things I did after getting less sleep than I thought I deserved was to investigate getting Sigma lenses repaired. If I am very lucky it may be cheaper than I imagined. I didn't check the fine print, but Sigma seems to offer a repair/service for my lens for just £96. Armed with that information, plus a few other snippets of information, I stormed off to Cash Generators, where I had bought the Sigma lens, to see what their customer service was like. They offer a 6 month guarantee , and claim it is fairly no quibble.
I told the lady in there a fairly straight description of the problem, and explained that while it was usable for fairly static shots using manual focus, it was useless for the sorts of uses I wanted it for. I said I wanted to return it, and get my money back, but I would also be happy if I was given a 50% discount for faulty goods. We settled on the latter. So for £150 I have a usable rather good lens, and it seems likely that I could possibly end up with a perfect lens for another £96. The general secondhand price on Amazon for a used condition lens is around £360, and the new price ranges from £500 to £600. I might have ended up with a bargain, and it is possible that one of my photographer friends might know a cheaper route to a repair !
The other thing going on here today was Mark finishing the painting on the front of my house. It is looking really good, and my house no longer stands out from the others nearby. If I didn't mention it yesterday, I had better be careful about getting home from the pub drunk - I have no way of recognising my own house now !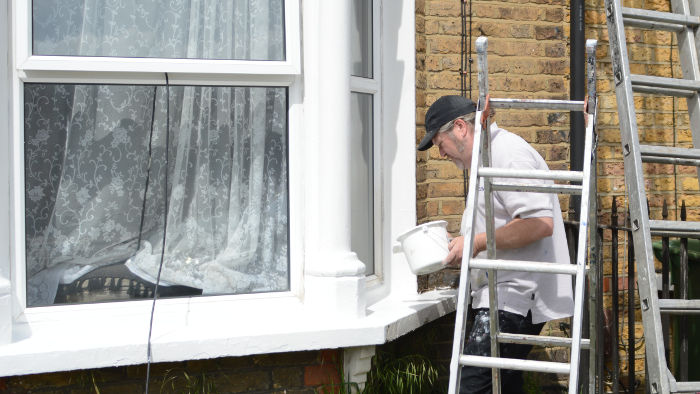 The finishing touches.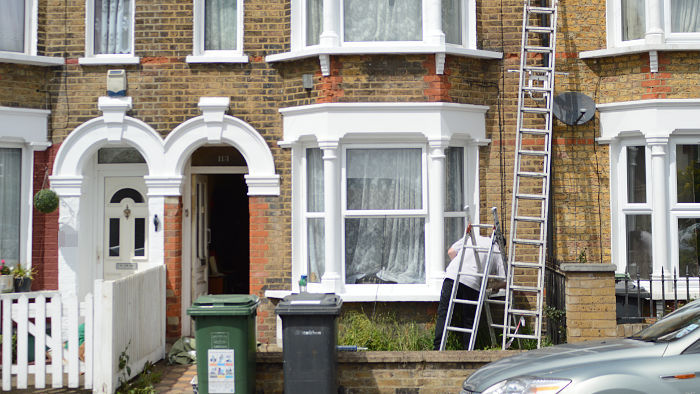 Gleaming in the morning sunshine.
I think I have only done one other thing of note (apart from photo editing) today, and that is to wash a sheet and two pillowcases. It seemed like the sheet dried almost instantly in the warm breeze today. Had rain not been threatened, I might have washed a duvet cover as well, but maybe that will happen tomorrow. Tonight I will be in The Black cat, probably with my Canon camera (but I might take my Nikon as well) to take some snaps of The Carlottas playing there. The lead singer, Andy, owes me a pint for the pictures I took of him performing solo at Petts Wood earlier in the spring. I must try and squeeze that pint (or two ) out of him tonight !

Friday 20th May 2016
08:52 BST

Yesterday was one of those odd days where it wasn't very sunny, although there was some sunshine, but the sky seemed dazzlingly bright. From late morning, and then probably to sunset, the temperature was just on a transition point. During some of the duller periods it didn't feel warm enough to hang around without a coat, but provided you were slightly active it felt perfectly OK in just a short sleeved shirt. I'm not sure if the temperature actually hit the expected 19° C, but at best it may have come close. It was certainly still 15° C at 9pm last night. This morning is fairly dull, but there has been at least one sunny period, and more are expected through the morning, although it will become duller again in the afternoon. The current temperature is 17° C, and that seems to be three degrees higher than the forecast predicts it will be. The forecast also says the top temperature will only be 18° C. It would be nice if it also turns out to be three degrees higher than that. Tomorrow is looking to be rather dull and rather cool - just 16° C - and it will rain early in the evening !

Yesterday was both good and bad. The main reason that I booked yesterday and today off work was to go out and do some photography (which is the new hipster way of saying go for a walk). It was on the assumption that it would be blazing hot. Obviously it wasn't ! I still intended to go for a bit of a walk, but I thought I would stay a bit local. While Mark carried on painting I went to the bus stop to catch a 54 bus to Blackheath. From there I intended to walk across the heath, and then down through Greenwich Park to get a bus, or train, or Docklands Light Rail towards home again.

Unfortunately it didn't quite work out like that. The reason is that bus route 54 seems to run on a different timescale to the rest of the familiar universe. When I got to the bus stop the countdown time said that the fourth bus would be a 54, and it would be there in 4 minutes. In the next 4 minutes the first three buses arrived as described, but the 54 still said it was 4 minutes away. This was repeated several times, and after a wait of maybe 15 minutes the 54 was shown as being 3 minutes away. Another 15 passed and it was shown as being 2 minutes away. By then my back was starting to ache, and my stomach seemed to be "fizzing". I was reasonably sure that the latter was just hunger, but it felt worryingly close to an early warning that I might need the toilet soon.

I decided that I wasn't going to go to Blackheath that day, and decided to just wander around Catford for a bit. As so often happens I ended up in Poundland, and bought a bag full of stuff that will all get used eventually, but wasn't really needed at the time - although I did use two of the new coathangers this morning ! After that I went home and surprised Mark because I told him I would see him in an hour or two instead of just 45 minutes. One of the success yesterday was that he made some good progress.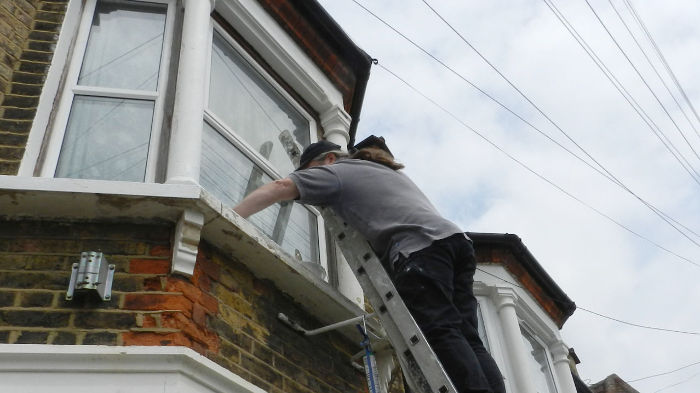 In this picture he has already scraped most of the loose and flaking paint off, and that by itself makes everything look better. One decision that had to be made was about the hardwood surrounds of the double glazed windows. In theory they should have been painted with teak paint, but because they weren't real hardwood, just stained wood of unknown origin, they had cracks and needed filling. It was easier to fill them and paint over them with the same white paint used on the masonry. This also has the advantage in that it matches the scheme of the neighbours houses.

Last night's drink was also a success in as much as I had a few pleasant pints of beer, and joined in some pleasant banter. It was afterwards that was rather a failure. There was the initial problem that the shoes I was wearing seemed to quite uncomfortable for some reason, and it is almost a mile walk back from the pub. Once I got home I had some pre-cooked gammon shanks that just needed heating up, and I had them with a bowl of ready mixed steamed green vegetables.

Those gammon shanks seemed like they would be wonderful in some way, but in fact they were a disappointment. I don't know it that triggered the hunger frenzy I developed, or not, but it seemed worse than could just be accounted for by the beer. It was very hard not to get carried away eating all sorts of old crap - some of which was stuff that I should never had bought from Poundland in the first place !

One very positive thing may have come out of eating too much on top of 4 (I think) pints of beer - I seemed to sleep exceptionally well last night. I think I might have woken up once or twice, but only very briefly, and it almost felt like I had slept solidly from about 9pm to 5.30am this morning. Even more amazing is that I woke up feeling unusually good. Most of my usual aches and pains were very weak, or even not there. Some, like my recent problem with back pain, were still waiting in the wings, as I found out a little later, but it must have been one of my most pain free mornings for ages.

One of the things that has been bothering me is that while it was useful taking yesterday off work, there was a nagging feeling that I wasted a day off because I didn't go to the seaside, or for a ramble in the country. On the other hand I guess I don't have to do these things for a day off to be beneficial. I am not sure how a day off work made me sleep better, or to wake up almost free of pain, but it can't be coincidence...or can it ? Apart from the tedium of being there, my job is not stressful on my mind or body, and while it is a bore, my commuting is not really taxing. I rush a bit while commuting, but it is only a game that I like. I have plenty of time to stop and take photos if I want to, and if I don't I make a point of walking at least as fast as the other commuters (or even race them !).

I have undone some of that lack of pain by doing some laundry this morning. It doesn't seem to have any particular legacy, but my back was definitely starting to complain as I bent over the bath sloshing shirts around in buckets of hot soapy water etc. I've also done one other unwise thing this morning, and maybe this was definitely unwise rather than just taking a chance - I've had some breakfast, but not just any old breakfast. I've had a little tub of lentil salad, and lentils are very high in fibre. I reckon I'll be hearing from them again tomorrow morning - possibly violently ! It could make doing something useful, like going out, tricky !

I think I want to have a another go at going out this morning, and yet with the sun not shining yet, I am having difficulty raising the enthusiasm to do it. Plus I do feel a little bloated after last nights feasting. That is not a good feeling if I am going into the middle of nowhere. Oh well, I'll just have to see how it goes. One thing I do expect to do today, which I probably would not feel like doing if I had been at work today, is to go to a Chain gig in Beckenham this evening. I'm rather looking forward to it. Maybe I ought to do some intensive resting beforehand !

Thursday 19th May 2016
09:20 BST

Yesterday was wet, very wet ! Somehow the rain didn't effect me directly, but there was a lot of it when I was safely indoors. The only good thing was that it was not cold. I think the temperature was at least 15° C, which was a degree more than forecast. I guess I was lucky that it wasn't raining when I came home from work because later in the evening it poured again ! This morning started dull, but at least it was 12° C. The forecast for today says it should stay dry, but it is going to be mostly dull. There could be a ray or two of sunshine at midday, and the temperature could peak at 19° C, but it doesn't seem like it will be a very nice day. Tomorrow could be very similar, although if we are lucky there may be a few more short lived sunny spells.

Sometimes it seems I will never feel wonderful again, but yesterday was one of the days when I mostly didn't feel too bad. Maybe I can thank a couple of paracetamol for that. It was sort of surprising that the damp weather didn't make me feel really rough, but I don't think it had any effect on me at all. There was one period when I wanted to close my eyes and go to sleep, but I can probably blame that on boredom.

One person who didn't get on well with the weather was my friend Mark. He was supposed to start painting the front of my house yesterday, but it was just too wet for that, although I thought that there were some dry periods he could have made use of. I expect it was wetter in Catford than it was in Earlsfield.

It was nice to get home from work yesterday, and I was looking forward to a rather nice dinner, but before that I checked my blood glucose level. I don't know why it should come as a surprise to find it rather excellently almost in the middle of the "normal" range. I didn't dare check it later because I ended up eating a few things that I knew would send it soaring. Part 1 of my dinner was a simple, undressed salad with some herb flavoured goats cheese.

I didn't think I liked goats cheese that much. I only thought I liked it's tart taste in very small occasional quantities, but the stuff I bought from the Turkish supermarket seemed very nice. It still had that slightly tart taste, but was creamy, and the herbs gave it an extra something. It went well with salad. Part 2 of my dinner was rather less healthy. It was a whole heap of roast vegetables, including the fennel that I mentioned yesterday. By itself it would have (probably) been OK, but I added a big chunk of smoked/baked Polish bacon or ham, or pork breast, or pork belly (the label was a little vague !). I ended up eating rather a lot of meat, and leaving a lot of the vegetables.

Last night was one of those nights where I felt like eating a lot. I think it was more boredom than hunger. If I had a tub of ice cream I probably would not have been able to resist eating the whole tub. What I did eat might have been almost as bad. I ate three small "vending machine size" packets of biscuits. I guess that would be the equivalent of a third of a packet of full sized custard creams (and maybe that is a little optimistic !). That's why I didn't dare check my blood glucose level again last night !

If my blood glucose level was very high, it didn't seem to affect my sleep. At least I didn't wake up in a pool of sweat like I did the night before. In some respects I slept quite well last night, although the last few hours were rather lumpy. By 4am bit of me, mostly my chest and my back were complaining a lot. I finally gave up trying to sleep at 6am because I could feel the first twinges of cramp starting in my right leg.

The first thing I did when I got up was to weigh myself. It seemed I had put on 20kg...no it was only 10kg....wait a minute, now I've lost a few kg....and whoops, it's gone up again. It didn't seem to feel like it, but my calf muscle, the one that was just about to go into cramp, must have been quivering so much that it totally messed up my scales. After going to the toilet, which is always a good idea before weighing yourself anyway, my calf muscle must have calmed down because the scales settle down really quickly to a satisfyingly low reading. It wasn't quite as low as it was on Monday after I had spent most of the previous two days on the toilet, but it was acceptable.

Today is the first of two days I've booked off work. Last week, when I booked the time off, I had stupidly optimistic ideas that it would be hot and sunny, and that I would end up at the coast or somewhere. Unfortunately it doesn't feel good enough for that, but it is dry and bright enough for Mark to start painting the front of my house.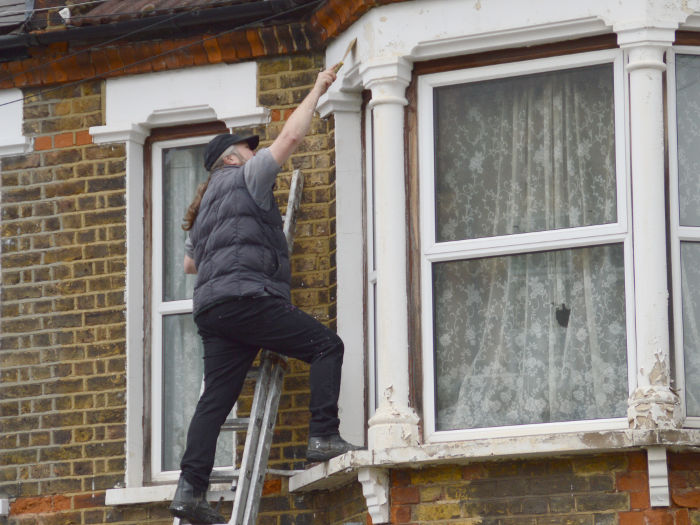 It was also good enough for me to go to Aldi in just shirtsleeves to get in a bit of shopping. I bought more salad, and more goats cheese. Unfortunately they didn't have any herb flavoured goats cheese, but at least it was about half the price of the stuff I bought in the Turkish supermarket. I also bought some completely inappropriate stuff like glazed gammon shanks (at least I think that's what they were - I was just a sucker for a delicious looking packet illustration !).

I don't feel all that keen to do it, but I feel I ought to try and get out and do something today. I am thinking of going to Greenwich Park, and taking some pictures there. It's not far to go, and there are some good views - particularly if I take my big zoom lens. Later on there is drinking to be had in The Fox And Firkin pub in Ladywell/Lewisham, and because I don't have to get up in the morning I could throw caution to the wind and get drunk tonight !

Wednesday 18th May 2016
07:33 BST

I don't recall yesterday morning being particularly sunny, but there was some sunshine. The afternoon was, as forecast, lightly overcast, but it was still sort of bright, and with the temperature at 18° C it felt perfectly comfortable. During the night the clouds thickened up, and the day started at about 12 - 13° C. As I walked to the station the clouds did not cover more than 99.52% of the sky, and for 1.8 Seconds I could see the reflection of the sun in the top windows of the new blocks of flats near the station. While on the train between Vauxhall and Clapham Junction we passed some very black looking clouds, and the forecast says we shall be seeing many more of them this morning. It's just very grey at the moment, but in a couple of hours time the forecast predicts 4 or so hours of medium to heavy showers. Later this afternoon, perhaps from 2pm, the clouds will thin out again to just give a light grey covering, and at 5pm it is possible that we might catch a glimpse of sunshine. Unfortunately it is liable to stay rather cool today - just 14° C ! Tomorrow will be warmer, perhaps 19° C, and it is forecast to stay dry, but there will be no sunshine, just shades of grey.

I think I felt fairly rotten yesterday morning, but at some time in the morning most of my aches and pains just sort of evaporated. They did it in such a subtle way that I didn't really notice it happen. I felt almost OK during the afternoon, and it wasn't until I was on my way home, carrying a couple of carrier bags, that I began to feel rather uncomfortable with mid to upper back pain. Maybe that pain distracted me from any others I might have.

I can't quite remember when the idea took seed in my brain, but by the time I arrived back in Catford I had this urge to buy something exciting to eat. I didn't have any carrier bags with me so I had to choose somewhere that still gives carrier bags away for free, and that essentially meant the Turkish Supermarket. It was also a good place to buy something extra tasty - in fact, several extra tasty things ! The major taste addition to last night's dinner was some smoked Polish sausage. I had that with a heap of grilled vegetables I had prepared, and part cooked the night before. It turned out to be quite a nice, and exotic dinner !

When I first got home I checked my blood glucose level. I'm not sure why but I expected it to be a lot higher than it was. It turned out to be rather good - just 6.1 mmol/l. One less would have been better still, but it was perfectly acceptable as it was. It was a little under the recommended 2 hours after eating that I checked it again, and it was surprisingly high (8.8 if I recall correctly). That was annoying, and I wondered what it was in particular that I had eaten to send it up so high.

I went to bed at that point even though I didn't seem to be very sleepy. That wasn't all that long after 8pm (I was bored !). I think I did drop off to sleep, but 45 minutes later I woke up again, and I thought that it might be interesting to check my blood glucose level again at about the usual time I do the second check. To my surprise it had gone right down again to about 6.7 - slightly higher than a perfect 5.5, but still under the maximum ideal measurement of 7.0. I could sleep easy after that. Of course I didn't sleep easy. I had quite a rough sleep. I have no idea why it should happen, particularly with my blood glucose level being OK, but I woke up sometime between 1 and 2am with my pillow and bits of my bed soaked with sweat. Avoiding the damp patches made sleeping a bit tricky after that.

This morning I feel mostly OK - but that still leaves plenty of leeway to have a moan ! In the early hours of the morning my chest was a bit crunchy when I was laying in certain positions. When I was lying on my left side I could feel all the ribs, and other bits of infrastructure, popping and clicking every time I breathed in or out. It was very annoying at the time, but didn't seem to leave any lasting legacy this morning. What I do still have is some soreness from my back. I've taken a couple of Ibuprofen tablets, and they seems to have taken the edge of that discomfort. The only other annoyance this morning is that I, or specifically my legs, seemed to run out of power as I walked from the station to work. I guess I was a half to two thirds the way here when it quickly seemed like hard work walking the remaining distance. Another mystery ! I think I'll blame it on the imminent rain !

Several things will be happening tonight. The first should be to see if my friend Mark has made any progress in painting the front of my house. I suggested that tomorrow and Friday, when I am off work, might be a good time, but he wanted to start today, and today it is supposed to rain for much of the morning - not a great idea when you're working outside. The only other thing of note about tonight is that I shall be trying something new that I bought from the Turkish supermarket yesterday - grilled fennel. At least I think it is fennel ! I cut it into chunks and grilled it along with some tomatoes, courgette and baby aubergine plus a sprinkle of olive oil and some herbs.

In theory these grilled vegetable meals I've been making should be super healthy, but they don't seem to be working out that well for me. I could, and probably should blame it on other stuff that I've been eating, but I don't seem to have lost any significant weight for ages, and it is a constant battle to try to control my blood glucose level. The best weight loss I've had recently was after my "as good as dysentery" stomach upset recently. For 24 hours I was so empty that I was a couple of kilograms lighter ! Oh well, maybe I'll finally get around to doing some exercise...

In theory that exercise was supposed to start tomorrow, and it was all based around the crazy idea that it would be hot and sunny. Unfortunately it will be neither, but at least it will be dry and a bit warm. Maybe I might be able to drag myself out for a walk somewhere, but I can't imagine doing anything too grand. Ideally I need baking in the hot sun to get all the creases (and aches and pains) out before I tackle even a 4 mile walk. I can foresee my days of work tomorrow and Friday being used more to do stuff late in the evening rather than the intended doing stuff during the day. Oh well, there's drinking to be done on Thursday night, and a gig worth going to on Friday night.

Tuesday 17th May 2016
07:56 BST

Once the morning chill was over yesterday turned out quite well. A bit more sunshine would have improved things, but there were some nice sunny spells, and it felt quite comfortable without it being hot. There was often a nice breeze too, and that was very good for drying stuff on the line. I'm unsure of the highest temperature, but I am guessing it was somewhere in the region of 21 - 22° C. That was a little more than expected. This morning started off bright and clear, but the temperature did not fall as low as it might have. My upstairs thermometer said 9° C, and the downstairs thermometer said 11° C. It is starting to get a little cloudy now, but it is supposed to clear again soon, and this morning is forecast to be very sunny. Later on in the day it will be lightly overcast, and perhaps that will hold the top temperature down to 18° C - pleasant, but it could be a lot better. Rain is expected tomorrow, and that is most unfortunate because a friend is due to start painting the front of my house tomorrow !

Although I got up a few times yesterday morning, I essentially stayed in bed until 11am yesterday morning. By then, apart from a stiff neck and a stiff back, I was feeling reasonably OK. Most importantly I hadn't needed to rush to the toilet for three or so hours. So it was time to do something. With hindsight it seems that doing "gardening" when feeling quite rough was not a rational choice - and yet it probably was. At least it didn't seem to do any harm to cut down the dead remnants of a buddleia bush that was more tree like. In fact it felt good to be out in the fresh air in just shorts and cutting implements (and shoes of course), and it felt good to finally chop that thing down.

Of course I am now left with a pile of debris, twigs, branches, and stuff cluttering up the garden, and I have no idea what I am going to do with it all. Plus there is still a quite thick 4ft high stump left that is going to be a problem as well. I can possibly feel a spot of pyromania coming on.... There is other detritus in my back garden that would help feed a huge out of control bonfire should I be so bold...

One of the other useful things I did yesterday was a little bit of laundry, and this time it was a little bit. It was two tea towels and one small hand towel. The great thing is that they were 99.5% dry a few hours after hanging them on the washing line. Incidently, one of the advantages of cutting down that tree like bush is that the washing line is less over hung by trees and bush. I hope that there will be less spider webs on it as a result, and there is less chance that some bird will drop "a little present" on any washing from above (although this has never happened before).

My last triumph of the day (triumph ???) was to upload the pictures I took of Redriffe's gig in The Black Cat on saturday night to Flickr. I am not particularly proud of these photos, but you can find them here - https://www.flickr.com/photos/135353558@N03/albums/72157668472776605

I did my best not to eat yesterday, but my resolve failed a few times in the afternoon, and then at my usual dinner time I decided to have a salad with some salmon. That was far healthier than the couple of small packets of Hula Hoops, and the packet of crisps I had eaten earlier, but it didn't really satisfy. I thought that a can of soup might be a fairly safe bet, and had it been a fairly plain, and maybe light soup, it would have been, but for some reason I decided on something a bit different. For at least 6 months, and maybe more, I have had a can of Sauerkraut stew sitting in the kitchen daring me to try it. I bought it on impulse from Aldi, probably last October, when their theme for the week was German Oktoberfest. I wasn't sure if I would like it, and it turned out that I slightly didn't. It wasn't unpleasant, but it wasn't nice. The good thing is that it hasn't had any bad effects - yet !

I went from feeling OK to feeling very tired quite fast last night, and I went to bed around what is my usual time of 9pm. It wasn't long before I was fast asleep. My next recollection was waking up from a dream at around 1am, and thinking I must remember that dream because it was so good - at least I think it was. I can't remember anything about it now ! I woke up a few more times in the night, but it seemed like I slept well on the whole. The fact that I can't stop yawning as I think about it is meaningless - or should be.

This morning my guts are back to normal functioning, although my belly felt a little tender at first - a sort of mildly bloated feeling. If my chest didn't have at least one sort of ache in it I would suspect I was dead, but I have no suspicion of that right now. I also seem to have some back ache - both upper and lower back ache. It's mild enough not to interfere with anything I want to do, but still annoying. Then there is my neck ache. I can't really pinpoint where the ache is apart from it is vaguely on the right side of my neck, and while it feels like a pulled muscle, I have dark ideas that it is the result of some sort of dental infection. On the whole I feel like I would be far more comfortable floating in a strong saline solution at blood temperature with copious quantities of booze and wonderful food on tap, but the reality is that I am at work, and I'll have to suffer here until I go home to suffer there. I think I will be bored and lazy tonight - not because I particularly want to be, but because I can't think of anything better to do.

Monday 16th May 2016
07:41 BST

Yesterday's weather could be described as sort of bland. It wasn't hot and it wasn't cold. There was some sunshine, and there were overcast periods. However it did stay dry, and while it wasn't hot it was at least on the slightly warm side of tepid. The breeze took the edge off it, but the mercury did climb to about 16° C. The forecast for today has changed slightly since yesterday. There are now going to be sunny intervals this morning, and later this afternoon, but the middle of the day is expected to be overcast. It should stay dry, and the temperature should peak at around 17° C. Tomorrow is expected to be a bit more sunny, and a little warmer. It's best not to think about Wednesday !

I managed the important bit of yesterday - going out to get bits to fix my split shower hose. I didn't feel all that good when I first went out, but a few minutes walking in the fresh air made me feel better. Unfortunately it didn't last. As I came back from the shops I noticed a pain in my belly. It didn't feel like a stomach upset, but some sort of organ failure, or something equally dramatic - appendicitis maybe, but of course it was no more than a common or garden stomach upset that needed quite a few explosive, and incredibly stinky (right off the scale !!!) visits to the toilet to fix.

In between visits to the toilet I fixed my shower hose. I can't remember if it was in the 99p shop, or Poundstrecher that I found a garden hose adapter that I managed to slightly modify for the smaller diameter of the the shower head hose. It is all held together with clear silicone sealant, and although that stuff can be quite strong when used in the right way, I am not sure how long my bodge will work. It may not be long, and that would be a shame because it looks slightly elegant (although it does leak a bit). When it fails I can fall back on one of the rubber cup type adapters that I had been using for years and years before it broke. I almost missed it, but notice a dusty old packet in the corner of Poundstretcher.

On the whole I didn't feel too good yesterday. It was a continuation of whatever it was that ailed me on Saturday, and maybe the bouts of "a good approximation to dysentery", as I have just informed work this morning, are the root cause of it. I probably ought to look up gastric 'flu and see if that provides a nice compact explanation for what I am suffering from. It is some measure of the seriousness of it that I didn't really feel like eating yesterday. Unfortunately I did eat in small quantities through the day, and then worst of all, probably under the influence of beer, I ate quite a lot bacon !

The beer, or at least one bottle of it was very nice. Two other bottles were nice, but not very nice. The first two bottles were the bottles that my friend Barbara had lugged half way across the country for me to try. They were supposed to be from local breweries, and one definitely was, and the other was a little ambiguous.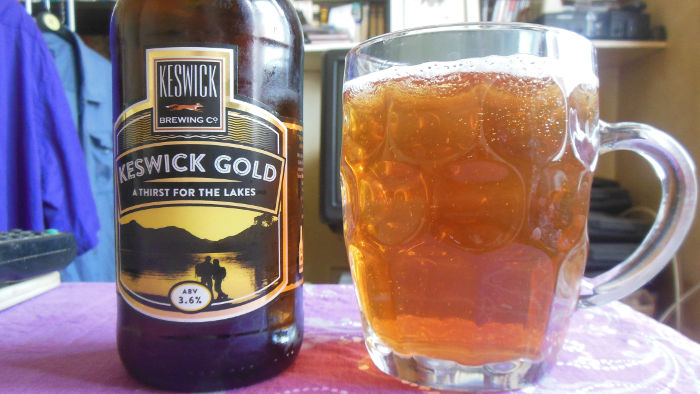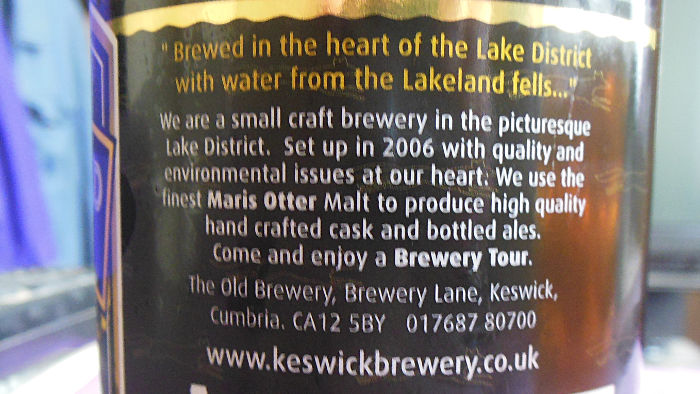 This first beer was rather wonderful. It was a nice light beer with a hint of butterscotch about it.
(Note: it is just condensation that is giving the dirty glass effect in the top picture).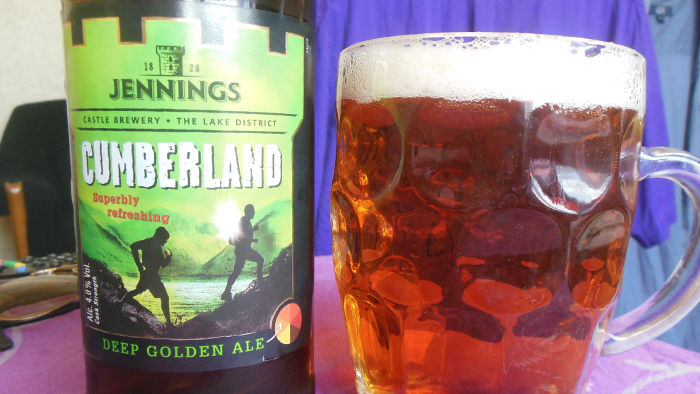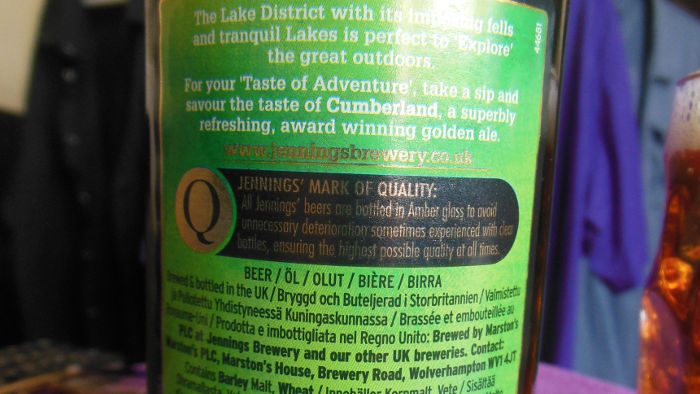 This was the other beer that Barbara brought me. It makes a big thing of The Lake District, but is a little ambiguous about where it was brewed. It might have been brewed in the Jennings Brewery, somewhere in the Lake District, but basically it is a Marston's brew. They brew nice beer, but are so prolific it makes them not exotic !
The other beer I had was Fraoch (if I have spelled that correctly). It is a beer brewed in Scotland, and incorporates heather somewhere in the brewing process. I think the last time I tried it I had it straight from the barrel at a beer festival, and I didn't really care for it. When I saw bottles of it Aldi a little while ago I thought I would give it a second chance. This time it seemed pleasant enough. It does seem to have a hint of the taste of heather, or what you imagine heather to taste like. Maybe some would find that a very attractive flavour, but to me it was just a mere side note, and not an attraction.

I spent a fair time yesterday going through the photos I took at the Redriffe gig in The Black Cat on Saturday night. There were none that I was proud of, but there were more usable snaps than I thought there were. So I have prepared a small album that I shall probably upload to Flickr today.

I had quite a few naps yesterday, and so I didn't seem to be in a rush to get to bed last night, although when I did go I was very sleepy. I spent a good few hours watching TV last night. There was plenty to see, and none of it involved the Eurovision song contest ! I watched two programmes about railways, and an old episode of "Have I Got News For You". There were a few films on the minor channels that looked interesting, and if I had the patience and the time to watch them I would have done.

It was 10pm before I got in bed, and it took a few minutes to find a comfortable position. One that wasn't too hot or too cold, and one that didn't make my back ache, neck ache or stomach ache seem worse. Having found that magical position, or fallen asleep while still trying to find it, I slept sometimes well, and sometimes badly. Some of my dreams were quite inventive. In one dream I was working in a workshop similar to where I work for real, but with two Polish guys working in there too. I remember we had the window open because I was smoking (and I think they were too).

Half a minute into the dream an old man walked in. I think he was that character out of "Only Fools An Horses" (a TV programme I didn't watch) - the short toothy character with a big fluffy white beard. He said that he was obviously retired, but was bored and wanted to do some work again. I told him that I would take him to the HR lady, and see if she could do anything for him. The way he followed me was like a dog following me, but eventually I delivered him to the lady who looks after Human Resources (as Personnel now like to be called). The oddest thing for me about the dream was the building. It was obviously the product of Public Works - Government buildings - and it was most probably based on a very much expanded Rushey Green telephone exchange.

One other dream was novel because it was a dream about dreams. It is hard to remember, or imagine, quite what the situation was, but essentially I was reviewing dreams as if they were TV programmes. I noticed there were two unfinished one that I thought I would try. I didn't care for either, and selected a more conventional dream - although I have no idea what that was...except maybe there was a small hint that it was the dream I had earlier about the old man wanting work. Was it an earlier dream, or was it actually the dream ?

After those, and no doubt other forgotten dreams, I woke up 10 minutes before my alarm was due to wake me up - and I felt terrible ! My routine is to take my morning medication as soon as I woke up. I barely had time to pop the pills out of the bubble packs, and get them in my mouth, before I realised I had about 4.872 seconds to get to the toilet ! How I never left a "skid mark" on my bed I'll never know. That was the first of quite a few visits to the toilet. A couple of hours have passed since then and nothing more seems to be happening, but my belly is still rather sore.

If I was madly obsessive about getting to work I could probably have made it without accident, but a little late. I didn't fancy taking chances like that, and I called in saying I was going sick for the day. There is also the fact that I think my belly is a bit too sore for me to tighten my trouser belt properly. In reality it probably isn't, but why take the chance if you don't have to. Maybe I'll try it later in the day.

It is going to be a right bind, but today I feel I should not consume anything except tapwater until my system is fully flushed through. One strange fact is that provided it is well chilled, tapwater is one of my favourite drinks. It's strange how I only seem to have it when I have to. I wanted for nothing more when I was in hospital in 2013. So today I will be glugging tap water, and......I'm not really sure. I will upload those pictures to Flickr sooner or later. So that's one plan. I don't think I fancy going out anywhere today unless I feel very certain that I am feeling OK. I'm wondering how I might feel about doing some "gardening" today. It might be nice to be in the fresh air, and my garden is discrete enough that I shouldn't scare the neighbours if I did it topless - which might be nice if the sun is shining. First of all though, I think I'll see if I can manage to have a nap !

Sunday 15th May 2016
09:39 BST

There was a little bit of sunshine yesterday, but most of it was probably after midday. I don't think it raised the temperature up to what I was hoping for. I think I may have seen 13 or 15° C in the afternoon, but by early evening it was no more than 12° C. Fortunately the wind had turned, and was less gusty by then or it could have felt freezing ! Today has started off with an occasional sunny spell, but it was very cold at daybreak. I don't think it was any more than 5° C, and I'm sure the TV weather forecast mentioned some areas of the country would be seeing a frost - in May ! So much for global warming !! The sunny spells should continue until mid afternoon today, and that could include some more lengthy spells of sunshine. It should take the temperature up to 16° C - not great, but better than a kick in the dangly bits. From late afternoon it will be cloudy, but still dry, and the temperature will slowly drop to about 10° C by 5am tomorrow morning. Tomorrow is currently forecast to be mostly dull until 5pm when sunny spells will take over until sunset. It might reach 17° C by late afternoon.

On the whole I felt pretty crappy yesterday. The previous night I had felt very fatigued, and I did my best to get as much sleep as I could. That seemed to make the ongoing fatigue a little less, but it was in the morning that I first noticed a malady that wasn't just in the head. Prior to Aleemah visiting I did some very selective hoovering. Doing carpet or mats didn't seem to be any harder than usual, but when I tried to hoover around ceiling level to remove some spider thread (and possibly the spider I had seen up there the other day) I found the extension tube seemed really heavy, and my arms started really complaining. I wouldn't really expect that unless I had something like 'flu, and I haven't got 'flu...or at least I don't think I have.

It was nice getting a couple of beers in for breakfast with Aleemah, and for a while I felt fairly good. Unfortunately it didn't last long. Aleemah didn't stay very long yesterday because she had to get to a shop in central London that closed early on a Saturday afternoon. Once Aleemah had left I felt a wave of fatigue roll over me. Maybe it wasn't quite like fatigue, but it was probably closer to that than just sleepiness. Nevertheless I spent quite a lot of the afternoon laying on my bed not wanting to do much else.

I don't know how much sleep I got, but I do know I slipped into sleep on more than one occasion. One of those occasions was rather interesting because I seemed to integrating the radio (Cruisin Radio - http://s11.myradiostream.com:7622 ) into my dream. I can't really explain it because I can hardly remember it, but it seemed like the songs were being subtly changed to make them seem more local somehow. There was one song that when a couple of lyrics were changed it was so appropriate, but I have absolutely no idea what it was. All I can remember was the song that was playing just before I woke up. It was, believe it or not, "The Wombles Of Wimbledon", and Wimbledon is pretty local to where I work. I think in the dream the music was being played off a C100 cassette (quite rare, but they used to exist - the norm was either a C90 or C120), and it was being played on a player that was in a sort of melange of places I have worked in, in the past.

I must have laid on my bed for at least 2 hours, and possibly more, when I thought I had better get up and visit the real world again. I had plenty of time to spare, and maybe because of that I didn't really get anything done. Eventually, as the time got closer and closer to when I needed to start getting ready to go out, I decided on the beer cure again. So I had a can of super strength lager, and laid down again for another hour to let it do its stuff.

Eventually I got myself ready to go out to see Redriffe playing in The Black Cat. Walking in the fresh air for five minutes partly revived me. I think I was there before 8.30pm but the band had already started, and I had lost the chance to grab a good chair near the front. I must say they were pretty good, but after one pint of beer, or 45 minutes later, I decided I wasn't feeling good enough to enjoy the band, or, as it turned out later, able to take good photos of the band. I took 90 shots, and most were pretty ropey - more so the ones where I hadn't noticed I had turned off auto focus !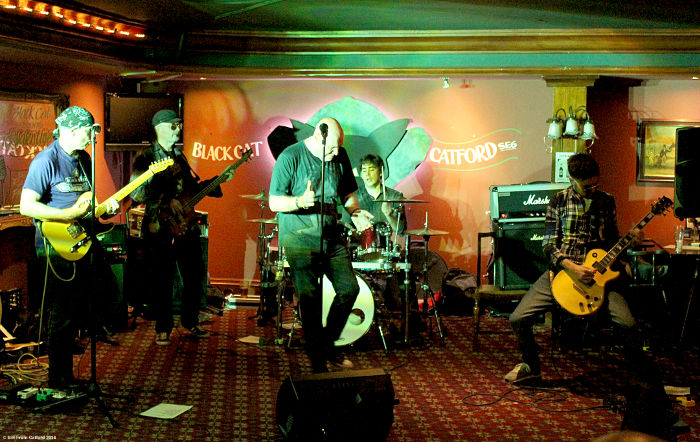 This is one of the better photos I quickly edited when I got home last night. I haven't had the courage to re-check them this morning, but there may be a couple that can be made to look good.

Once again, after walking out of the pub into the fresh air, I felt a bit better. In one respect it felt good to have made an "executive decision" to walk out instead of trying to tough it out. I had already eaten some assorted crap during the day, but I wanted to get some comfort food. The easiest and quickest, and most traditional was fish and chips. As usual I asked for a small portion of chips, and got given half a hundred weight of them. I don't think they actually know what a small portion is in that shop, or if they do then I dread to think what a large portion is like. Do they call a cab to help you carry it home ?

Anyhow, I got home, and stuffed my face with fish and chips. As I say, there were too many chips, and I ended up leaving a handful of them. I almost wish I had asked for a smaller piece of fish as well. After eating I took a look at the photos I had taken. It was not exactly awe inspiring ! I quickly selected the one above because it showed the whole band, and uploaded it to the pubs web presence (this keeps me in good favour with the pub, and hopefully I'll get another free ticket from them on the next ticketed event). I'll probably tart up a few more pictures later, and upload those too.

The band would have still been on stage when I went to bed. I'm not sure when it was, but I doubt it was much later than 10pm. One curious thing is that I was often quite sweaty yesterday evening, and that was the case when I went to bed, although most of the sweating was up near my neck and face for some unknown reason. I don't think it was anything to do with my blood glucose level unless it was incredibly high, but other indicators were missing for that to be likely.

It was quite strange that I didn't feel too hot when I pulled the duvet over me - this was while I was still very sweaty. It wasn't long before I fell asleep. I only woke up a few brief times during the night, and I feel sure I had got a full 8 hours sleep before I got up for a bit. After checking my email, going to the toilet, and stuff like that, I went back to bed. It didn't really feel like I got any sleep, and yet I do seem to remember waking up once or twice, and more time seemed to pass than I can account for.

After all that sleep I feel rather wonderful this morning....well that is what I am trying to convince myself ! I found enough energy to finish washing 5 shirts that I had left soaking all day yesterday. If I had felt up to it, I would have had them washed, rinsed, and hung up to dry yesterday afternoon, but I just could not face doing them. Well they are all hung up and drying now, and I am now free to pursue whatever. There are several things I ought to get up to today. Editing the other photos I took last night is an obvious pursuit. I feel I want to go out, maybe just locally, to take some more photos, but there is a far better reason to go out this morning, and it is a very important one !

This morning my shower broke, and I can't wash me or my hair until it is fixed. It is not as dramatic as it sounds. I haven't actually got a shower. What I do have is a shower head attached by a flexible pipe to the hot tap of the bath. It's a system that has worked well for the last 30 years, but it does need occasional maintenance. In the past I have had trouble with the flexible pipe going brittle, and splitting. On this occasion it is the rubber cup that goes over the modified bath tap that has split. It has been leaking water, fortunately only into the bath, for a while now. This morning I need to scour Poundland and Poundstretcher to see if I can find some sort of replacement. I suspect it might need some creative thinking, but I am hoping to have a shower before the morning is out.

Saturday 14th May 2016
07:19 BST

Friday the 13th wasn't a bad day weather-wise, or in any other way. It wasn't exactly a bright and shiny day, but as a last hurrah before we plunge into a series of days that could almost be described as winter like, it wasn't bad. It was dry, and there was some sunshine, and if it hadn't been for the chilly wind blowing in from the north, it would have been almost warm. I think the thermometer said it was about 21° C, but my skin said it was much lower ! This morning it is very dull, and rather cool. Once again the wind is making a pitiful 9° C feel almost icy (as judged by standing wet and naked in my bathroom with the window open just now !). The latest forecast says there will be some occasional glimpses of the sun later in the morning, and during early afternoon, but the temperature is not expected to rise much above 13° C - if indeed it rises above that at all ! During the night the wind will change direction, but that will apparently mean thicker cloud, no sunshine at all, and the temperature only rising to 15° C. At least it should be another dry day !

There were still plenty of things I could complain about yesterday, but it was the first day when it seemed over the cold that started at the beginning of the month. If that is the second time I have said this then I was obviously lying the first time, and if I feel I have to remark on this, say, tomorrow, than I will have been lying today as well. My only excuse, for which I humbly beg your forgiveness, is that the tail end of this cold has dragged on so long, and the symptoms are trailing off so slowly and subtly that it is difficult to know when to draw the line between maybe something and maybe nothing. The fact is that I very rarely had to blow my nose or cough yesterday - and they were the most obvious visible signs of the cold. I still feel I ought to blame some assorted aches and pains on the cold, but I seem to remember having a good assortment of them without having a cold.

One possible hangover from that cold that was most definitely evident last night was that I felt tired. Not just sleepy, but lacking in energy too. Coming home from work was no harder or easier than the average, but once I arrived back in Catford, it did seem to need extra effort to walk to Tesco, and to walk home after shopping in there. Once I was indoors I didn't feel I had the energy to go out again. So it was damn lucky that my friend Barbara didn't take up my suggestion of going to see Bouncer in The Ladywell Tavern last night - or maybe it wasn't. Sometimes the fatigue is all in the head, and it just needs sufficient motivation to overcome it.

In theory I had two indicators that some bits of my health were quite good last night. My blood glucose level was only a little bit higher than desired when I got home from work (and it was right in the middle of the desired range before I went to bed - a couple of hours after eating - which is impossible !). To go along with that, my weight was still low (as in relative to a couple of months back) last night. So the morning reading was not a fluke. Without an accurate starting figure it is impossible to say how much weight I have lost in the last couple of months, but it is probably about a stone. That is good, and yet quite disappointing. In theory, if I had been working at it more seriously, I could have lost that amount in the first fortnight, and the same again since then. Oh well, it may be depressingly slow, but it is happening.

Last night was a bit like the night before - I half went to bed around 8pm, and then decided to make it permanent. It is possible that I was fast asleep before the time I would have set out for the Bouncer gig at The Ladywell Tavern had I gone there ! Based on the amount of times I woke up in the night, and for how long, and how I felt on each occasion, I judge that I slept really rather well last night...and yet as I sit here typing this I don't exactly feel wonderful. In theory I could go back to bed for another hour, but I doubt I would sleep (although I am not sure why I doubt it).

I think the cure must be beer, and later on I'll be trying it ! In a couple of hours I'll be meeting my friend Aleemah for breakfast in the Wetherspoons. She'll have a tradition breakfast (if a vegetarian version can actually be called "traditional"), and I'll have pint of beer while I keep her company. After that it will be DVD time. I wonder what old rubbish she will bring this time ? Sometimes she brings a good DVD, and at other times it is one I could easily sleep through !

I'll be having more beer tonight. Redriffe are playing in The Black Cat in Catford, and I am curious to see what they are like. Their promotional description makes them sound good, and I hope they are. Another bunch of suckers to practice my photography on...well not really. Some bands come away with photos they like, and in one case are so eager to use that they were possibly prepared to pay for them. I said they could use them for free provided they acknowledged me. They were Led Z, and if you haven't seen the photos yet, you can see them here - https://www.flickr.com/photos/135353558@N03/albums/72157667983128511 if you scroll down the page a bit. I'm quite proud of some of those photos. Led Z do have a web page, but it is quite hard to find. It's here http://www.ledzed.co.uk/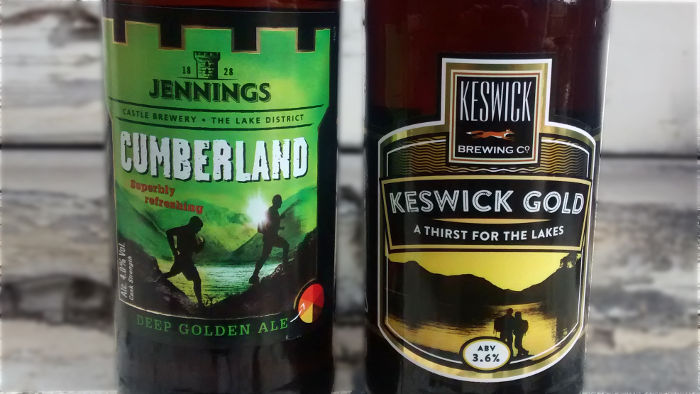 These are the two bottles of beer that my friend Barbara hand delivered all the way from Keswick way up in the Lake District - Cumbria. I think I'll be sampling them Sunday afternoon !
Friday 13th May 2016
07:56 BST

I'm pretty certain it stayed dry yesterday, and I am fairly sure that it was quite sunny too. I am absolutely sure that it was bright, dry, warm and sunny when I left work yesterday afternoon, and that it continued like that for several hours. It was 21 going on 22° C when I got home at around 6.30pm. The temperature dropped quite sharply during the night, and it clouded over too. So this morning it was only 12° C when I walked to the station to come to work, and it was, and still is overcast now I'm here. A strong breeze is making that 12° C feel rather cool ! The forecast says that the cloud should clear very quickly (which seems unlikely) and from mid morning onwards it should be bright and sunny with the temperature hitting 22° C again late this afternoon. The weekend is still forecast to be mostly dull and cool. It should stay dry, but the maximum temperature could be just 14° C, and 12° C being more typical for most of the days.

I thought I was heading for a disaster yesterday. I got to Earlsfield station to find loads of people waiting on the platform, and every trains shown as "delayed". That wasn't good considering I was meeting my friend from "oop north", Barbara, and had told her quite specifically that I would be arriving at 16:01 on platform 1 at Waterloo station. I'm not sure what service it was that I actually got, but I didn't have to wait very long for it, and it arrived at Waterloo at precisely 16:01. Unfortunately it arrived on platform 2 instead of 1, but that was good enough I guess.

I had a very, very pleasant drink with Barbara in The Hole In The Wall pub just outside Waterloo station. I guess I was pleasantly surprised that the price of premium lager was not that much more than what suburban pubs would charge. I had visions of it being £5 a pint or more, but a pint of Becks plus a pint of Stella Artois came to £8.10 - a rip off, but not a complete rip off ! I think our timing was right. When we left the place was starting to fill up and get noisy, but for the hour or so we were in there it was quiet enough for good conversation. My thanks to Barbara for a nice chat, and for my present of two bottles of locally made beer (local to Keswick in Cumbria - not Waterloo !). I look forward to trying them soon - maybe even tonight.

It was pure luck, but we left the pub at a very convenient time for me. After walking back through Waterloo station, and then across the link to Waterloo East station, I had just a 4 minute wait for a train back to Catford Bridge. When I got back to Catford I was feeling quite tired, and I was tempted to buy some fried chicken so I didn't have to prepare any dinner for myself. I managed to talk myself out of that, and to seek an alternative form of instant nourishment. That alternative was to walk down to Tesco where I was unfortunate enough to find a heap of reduced price sandwiches. Last night's dinner ended up as just an orgy of sandwich eating ! It is, of course, impossible, but after eating far more sandwiches that I should have, plus drinking 2 pints of Stella Artois, I seemed to be very slightly lighter when I weighed myself this morning - and that was without having a poo first !

It did feel like a bit of a slog walking home from Tesco, and after my sandwich eating orgy I felt like going to bed - and in a way, I did ! First of all I decided to lay on my bed and read for a bit, but then I thought I may as well brush my teeth so I could go from reading to sleeping without having to get up again. My memory of what happened next seems very hazy, and I think that is because I was fast asleep very soon after that - and that wasn't very long after 8pm !

There were several reasons why I seemed to get a lousy night's sleep last night. For one thing the temperature seemed to be at that awkward point where it often felt too hot under the duvet, and too chilly without it, but the thing that spoiled my sleep most of all was cramps. I can't remember how many times I woke up with one or other of my calf muscles locking into painful cramp. Everytime it happened I had to leap out of bed, and put some weight on my leg. That usually cured it, although on one occasion I had to walk to the toilet and back (without using it) to relax all the muscles.

I am going to try extra hard not to think about being sleepy/tired today, and maybe it won't happen.The rest of me is, typically, good and bad this morning. My legs seem to be working quite well, although maybe they are not working as fast as I would like. My chest, which gave me quite a lot of discomfort yesterday morning (but which was completely cured by two pints of Stella Artois), is slightly sore this morning, but generally seems on the mend. I did seem to have a new, or at least fairly rare, extra pain this morning, and I can't quite work out if it was low in my belly, low in my back, or from the hips. at my age it is probably my hips complaining !

At the moment, as I sit here in my office, I don't feel too bad, and with the first ray of sunshine just appearing as I write this, and apparently right on schedule, I have one little extra reason to feel good, or to try to. Whether I can sustain this is something I'll have to find out. If I have the energy I would like to go to a gig tonight. The band Bouncer are playing in The Ladywell Tavern tonight. It is easy to get to if I am feeling fit enough for a 20 minute walk through the park, but there are some downsides. They are probably very good, but I don't really like their presentation, and worst of all is that their lighting rig always seems to be stuck on red, and that is useless for photography. I did invite Barbara to join me if she was bored, and if she decides she would like to go I will have to find the energy, otherwise it will be a case of will I go for zero minutes (i.e. not at all), pop in for a few songs, or actually stay for the gig ?

Thursday 12th May 2016
07:45 BST

For maybe an hour, at around 1 to 2pm, the rain was absolutely torrential yesterday. Before that there had been some odd bits of drizzle, and after that.....well, I reckon there was no more water left in the sky to fall, and gradually it brightened up. The sun came out, and by 5pm the temperature was up to 22° C - a nice ending for the day. This morning the temperature had dropped to 12 or 13° C, and with it being almost bright (the sun was diffused by some haze) it seemed worth taking a chance on coming into work in just shirtsleeves (although I do have a lightweight coat stuffed in my courier bag). Today is still forecast to be the best day of the week. It should stay dry, and there will be a fair amount of sunshine. The afternoon temperature should be 22° C. Tomorrow, and the weekend is forecast to be dull and cool, and maybe wet too !

There were times when I felt very tired at work yesterday. It was mostly when I was bored. Other than that, and a sort of toothache, I didn't feel so bad. As I mentioned yesterday morning, provided I did nothing to provoke that tooth it was completely painless and ignorable. I think it was not as severe as I feared it would be. My thoughts this morning are that it was probably a bit of food stuck under the gum that caused a small local infection, and that now that food particle has been flossed or brushed away, everything is returning to normal. I can still detect some tenderness, but it barely registers compared to yesterday morning.

I was feeling fairly OK when I left work yesterday, but that didn't stop me taking advantage of a bus to get to the station. It was one of those rare times when a bus was heading for the bus stop as I was. There might have been a good reason to get the bus anyway. For a couple of days the lift at the station was out of order, and it is definitely knackering to walk all the way to the station, and then have to walk up the three flights of stairs to the platform. Last night the lift was back working again, and so there was less excuse to get the bus...on the other hand, I sometimes feel that I am not taking full advantage of my free travel, courtesy of my 60+ Oyster card, if I don't do some pointless trips now and then.

It was bright and dry (except for some deep puddles) for my journey back to Catford, and nice and sunny when I got there. It seemed the perfect opportunity to take the long way home via Poundstretcher to buy a new swing bin type rubbish bin. I wanted one to replace one that had been involved in an accident some years ago - I trod on the lid while emptying it ! Over the years the cracks in the lid spread further and further, and it recently fell apart. The only big problem with buying it's replacement is that there were red ones and black ones in Poundstretcher, and I couldn't decide which I preferred - so I bought one of each ! I now have a bin with a lid on it in my kitchen, and the lidless one is now for recycling stuff. The bin outside my bedroom now has a lid, and there is a spare lidless one there too that I'll use for...????????

I managed the astonishing feat of only having a one course dinner again last night, and this time I even snacked less as well. There were two results from this. The first is that my blood glucose level which was back in the safe zone again when I got home from work, actually went slightly lower still a couple of hours after eating. The second is that this morning my weight was the lowest I've seen it for ages - but still far, far higher than I'd like, and far, far, far, far higher than I dream about.

Last night I was in bed fairly early, and I think I fell asleep fairly early too. It was one of those nights where I am unsure whether to say I slept well, or slept badly. I certainly seemed to get a lot of sleep, but I woke up too many times for various reasons. The most annoying reason was that my chest seemed to be going through a phase where the bones, muscles, and ligaments were really popping, grinding, and cracking whenever I made certain movements - and not just movements like turning over. On many occasion just breathing would cause popping and cracking sounds (or feelings like sounds).

This morning my main complaint is a sore chest. A couple of Ibuprofen tablets have calmed it down, as they usually do, but it is still annoyingly tender. The rest of me seems to be in fair working order, although my head feels a bit tight like a headache about to happen, and while I can go for long periods without having to blow my nose, it still feels stuffy a lot of the time. That was no ordinary cold I went down with a couple of weeks ago, and it seems I am not the only person to suffer from it !

Hopefully today will go fairly pleasantly, but even if work is rotten I have beer to look forward to after work. It is a Thursday, but on this occasion I won't be joining the usual Thursday night crowd. Tonight (or this afternoon for the more pedantic) I'll be meeting my friend Ruby at Waterloo station for a couple of beers together. It's lucky that she comes to London most years because popping up to Cumbria for a drink after work would not be easy !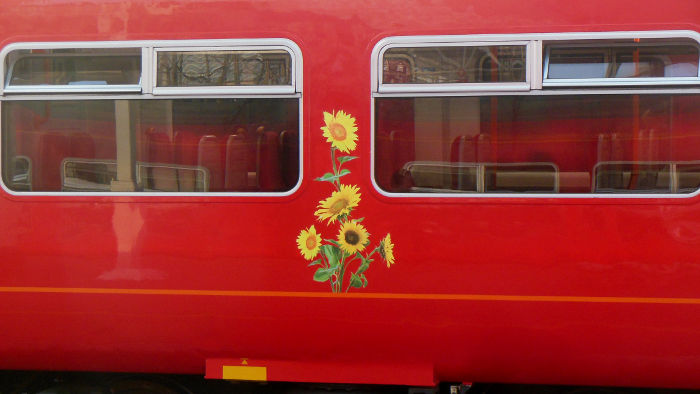 Spotted on one carriage of one train at Waterloo station this morning - sunflowers. I didn't look closely, but I think these were stick on vinyls put on the carriage to celebrate something or another - spring maybe, but it could have been part of something more commercial - maybe even an advert for South West Trains. There was one on the rear of the carriage, and a reversed one at the other end of the carriage.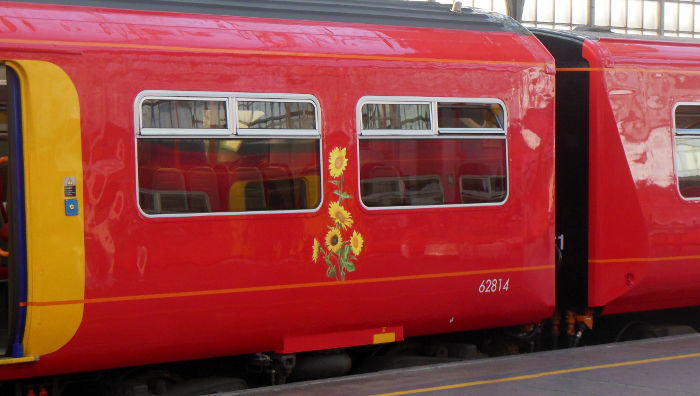 Wednesday 11th May 2016
07:43 BST

Yesterday was definitely wet, but somehow it didn't seem too bad. I did have a fantasy that the forecast may have been wrong, and that the afternoon would turn bright and sunny. That was a fantasy too far, but the afternoon was brighter than the morning - at least I think that was how it was. There was a light shower while I waited for my train at Waterloo East on my way home, but it was mostly inconsequential, and I was able to travel from work to home without needing to do my coat up. That was sort of handy because at 17° C it was as good as warm. There was lots more rain during the night, the puddles are a testimony to that this morning, but the main feature was mist rather than rain as I made my way to work. Once again it is on the lower borders of warm, or the high borders of tepid, at 15° C. This afternoon could see some sunshine among the showers, and the temperature could rise to 20° C. Tomorrow is forecast to be the best day of the week. It will be dry, bright, and sometimes sunny with a top temperature of 22° C. At the moment the weekend is forecast to be quite horrible - dull, and maybe 14° C at best !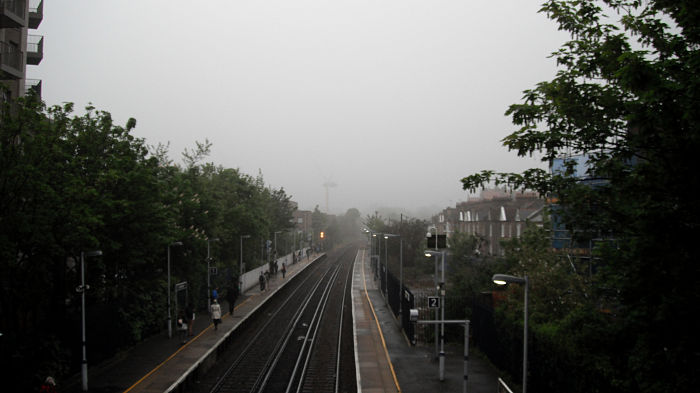 This was the view from the footbridge looking in the direction of London at approx 06:30 this morning. It looks dull and damp because that is exactly how it was. In the centre of the picture there is the very feint outline of one of the tower cranes that is almost lost in the mist. On a clear day it would look sharp and obvious from the same viewpoint.

I'm trying to remember how I felt at work yesterday. The fact that I can't remember much about it strongly suggests that there was nothing particularly bad to remember. It could also be that there was nothing good to remember either ! I do have a vague recollection of feeling tired and sleepy at one time, but it wasn't nearly as bad as the previous day. I'm pretty certain that I was coughing less too. However I was feeling, it was still a relief to leave work to go home. I felt mostly OK while travelling home right up to about 5 minutes before I arrived back at Catford Bridge station. I am unsure exactly what happened, but I think the train lurched slightly, and that caused an unpleasant pain to appear slightly above my right breast.

That would be typical for my "floating rib", or twisted ligament, or discombobulated muscle, or mangled scar tissue, or whatever..... It wasn't terrible, but it was rather annoying. I'm not sure when I recovered from it because it just slowly faded away over the course of an hour or so. On the whole I had a comfortable evening, but there was one strange anomaly last night - I didn't seem to feel like eating much.

I planned a two course dinner for last night. The first course was to be a salad with some tinned pink salmon (and a few lumps of cheese). The second course was to be grilled vegetables, but when they were cooked I found I didn't really want a second course. It may have been because I drank a can of super strength lager with the salad. I'm not sure if that should, or did make a difference, but it was one obvious difference to my usual routine. I think it is probably something I shouldn't exploit in the future, although some circumstantial evidence does seem to suggest that my blood glucose level goes back down quite quickly after the spike caused by drinking beer. Sometimes it feel like the level actually goes down lower after drinking beer. I'm sure that is impossible, but why not believe in 7 impossible things before breakfast ?

The good news is that I finally uploaded all the photos I have prepared from the ones I took at the Petts Wood May Fayre. There are still a few random musicians I should add to the photo album for the sake of completeness, and I may add them later, but you can see the album as it currently stands right here - https://www.flickr.com/photos/135353558@N03/sets/72157667983128511

Last night was another night when I felt I should get to bed early, and yet I didn't feel sleepy. I still aimed to get to bed by, or soon after 9pm, and I think I was in bed by 9pm. I don't remember all that much after that. I know I woke up to pee a few times, and I was awake a good 10 to 20 minutes before I needed to be. Overall it seemed like I slept quite well. Now all I hope is that I don't lapse into feeling like I can't keep my eyes open for any time today. (I think I did have one period like that yesterday).

I do feel sort of good again today - but only for certain values of good ! I still have a bit of a lingering, occasional cough, and I still need to clear my nose every now and then, but it does feel like I am just about over the cold that has lingered for so long. I note that several other people I know, people who generally tend to be quite healthy, have been laid low by this bug that is doing the rounds. One person reported it as lasting 4 weeks. I think I may have fought it off a bit faster than that ! One thing that puts it all into perspective is my latest malady. I seem to have latent toothache. One of my teeth, and I am not sure which one yet, seems quite sensitive to pressure this morning. If I avoid provoking it, it is completely painless, but I don't know how long that will last. Maybe it will clear up by itself, or maybe it will eventually drive me to the dentist !

Tonight I have no plans apart from a vague idea that I hope I don't feel too hungry again. It would be great if I could just eat the grilled vegetable I cooked last night, and nothing else. Last night I may have only had one course for dinner, but I did nibble on too much cheese, and even eat a small quantity of peanuts. It is such snacks that are hampering my efforts to loose another two inches off my waist, and probably not doing my blood glucose any favours either.

Tuesday 10th May 2016
08:04 BST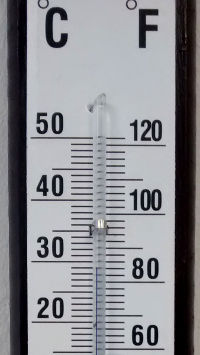 I think the picture on the left, taken inside my office, shows a good reason why I was a bit sweaty at work yesterday. It wasn't actually 29° C outdoors, but it was sunnier and warmer than the early morning forecast seemed to suggest it would be. I think it probably peaked at 21° C yesterday. The original forecast said that the best we could expect was an occasional glimpse of hazy sunshine, but in reality it was a nice sunny day until it rapidly clouded over around 4pm (some 3 or 4 hours earlier than expected). About a minute after leaving Catford Bridge station, on my way home, it started pouring down with rain - quite torrential rain for a while !

As far as I could judge while indoors, the rain eased off to just an average shower a little while after I got indoors, but it continued, on and off, through the night, and there was some "enhanced drizzle" when I walked to the station this morning. The temperature was still about 15° C this morning, and that made the rain a little less annoying than it might have been if it was close to freezing.

The forecast says it will be heavily overcast all day, and it will be raining for much of the time. It's not going to warm up much, and maybe the temperature won't get any higher than 17° C. It would be nice to think that the forecast was wrong, and that this afternoon will be gloriously sunny, but as I look out my office window that seems unlikely. Tomorrow may be a little better.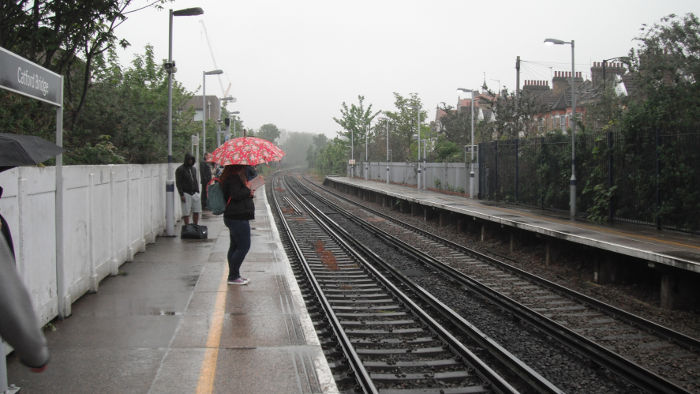 This is looking towards London from platform 1 of Catford Bridge station at approx 06:32 this morning.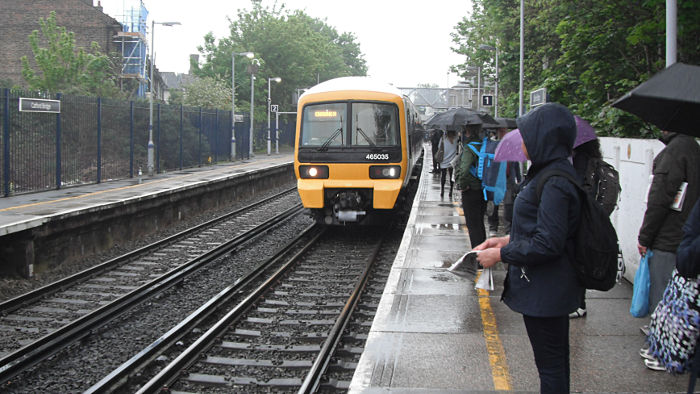 It was all very grey, wet and soggy when the 06:33 arrived to take me to Waterloo East.
I felt pretty awful at work yesterday, and I am not entirely sure why. I know I started the day with my blood glucose level on the high side. That was evident from how sweaty my forehead was on my way into work, but my blood glucose level presumably dropped back fairly quickly during the day, and by mid morning my forehead was less sweaty, and probably no worse than the mild dampness over my whole body as a result of my office temperature getting up to 29° C (see picture at the top) !

I guess the heat may have contributed to feeling bad, and yet I am unsure why - mainly because it is very hard to pick any one ache, pain, or discomfort that made me feel bad.....or maybe there is. I was coughing a lot, and that made my chest feel sore. It also seemed to leave me feeling very slightly asthmatic. I think I probably mentioned that I felt a bit asthmatic when I was coming into work yesterday morning. The other thing that made the day feel bad was extreme tiredness. At first I thought I had slept reasonably well, but later in the morning there were times when it seemed I could barely keep my eyes open.

It was a relief to finish work and start heading for home. I started to feel much better once I was out in the fresh air, and I felt curiously good as I walked the last few minutes towards home in the pouring rain. I'm not sure why that felt good considering that the waterproofing on my very lightweight coat seems to need renewing badly, and I was getting quite wet under it ! I think it would have been far less fun if I hadn't been so close to home, and heading for home !

It feels like I did almost nothing last night except eat - and I ate quite lightly. At least I think I did. sometimes I don't know what is a light meal, and what isn't. Part 1 was a salad with smoked Bavarian ham and feta cheese all dressed in a bit of olive oil and balsamic vinegar. Part 2 was grilled flat mushrooms with garlic and some ready made peri-peri chicken fillets. I think part 2 was mostly innocent, but one day I really ought to look up the nutritional values for mushrooms. I think that is the second time I've said I ought to do it. Maybe I am scared that I'll find out that they are full of sugar or calories - or worse !

I didn't seem to feel very tired after my dinner, but bearing in mind how bad I had felt during the day, I brushed my teeth, and got onto my bed not much later than 7.30pm. I wasn't expecting to fall asleep, and it didn't really feel like I had, but I seemed to lose about an hour without realising it. Staring at the ceiling, or even the inside of my eyelids for an hour would have been intensely boring, and I conclude that I must have slept for that hour. My whole night seemed like that. I would lay in bed wondering if I would ever get to sleep, and suddenly I would be aware that another hour, or even two had gone past. It wasn't until I started waking from dreams that I had more proof that I had been asleep, and yet even then it still seems like I hardly slept at all.

The weirdest thing is that this morning, almost convinced that I slept very badly compared to the night before, I currently feel a lot less tired than I did yesterday - although there is still plenty of time to start feeling really dozy. The rest of me is very variable this morning. I felt in enough discomfort from this, that and the other, to take a couple of Ibuprofen tablets before coming to work. I think my chest hurts less because of them - I was coughing a fair bit in the night, and that made my chest feel sore. I also took a couple of puffs from my precious asthma inhaler. I was originally prescribed it, at my own suggestion, soon after I came out of hospital after my quad heart bypass operation in 2013. As you might imagine, my chest was very delicate then, and coughing was a particular difficulty then - and one of the first things a heavy smoker does after stopping smoking is to cough up lungfuls ! Opening up the airways made that a lot easier. I'm not sure how I could convince a doctor that it is handy to have an inhaler around for rare occasional use now. So I use my one and only canister as sparingly as possible, and only when I consider I really need it. Maybe it was a bit extravagant to use it this morning, but perhaps it was worth it for a little extra spring in my step.

On reflection, there are probably many reasons to feel bad this morning but somehow I feel peculiarly good. Maybe it is the freshly rain washed air, or some subconscious message from my body that my cold, and more importantly it's after effects, is almost over. Now if only I could raise some enthusiasm to do some work I would probably be fine. Unfortunately I can't because I want to be somewhere else - and I have no idea where. Maybe somewhere with beer might be nice....well that would always be nice, but it's probably not quite what I am looking for. Somewhere nice and green and fresh smelling might be nice, but then again, perhaps not when it's raining and muddy. I dunno, maybe I would just prefer to be at home. Oh well, give it another 8 hours and I'll be there.

Monday 9th May 2016
07:41 BST

It is difficult to find fault with yesterday's weather. It was hot, bright and dry, and that's all I could ask for. Today brings some unknowns - it could be an acceptable day, or it could be a bad day. The only definite is that it will not be a great day. The day started OK. It was nearly 15° C, and reasonably bright, but the electronic barometer in my radio linked thermometer predicted rain, and indeed, as I came to work the sky clouded over, and some of those clouds do look rather dark ! The BBC's website is still predicting no more than light cloud for much of today, but it does think it will rain around 8pm tonight. So we wait and see - will it be light cloud, possibly with the sun peeping through now and then, or will the cloud stay fairly thick with the odd passing shower. The top temperature is forecast to be just 20° C, and that seems feasible. Tomorrow the weather reverts to something more expected in April. I should make it into work in the dry, but soon after it will rain, and then it will rain more, and even more after that, and so on all day ! At least it will still be sort of shirtsleeve weather if you want your arms washed by rain. The temperature will quickly level out to just 16° C.

I was intending to do more stuff yesterday - particularly photo editing of the last set of pictures I took at Petts Wood at the beginning of the month, but I didn't do that, and I didn't do much else either. Probably the best scape goat to blame it on was the Cornettos I ate. They would ahve made my blood glucose level rocket up, and made me feel like I had no energy (when in fact I was brimming over with it if measure in terms of glucose in the blood). Well, that's one possibility. Maybe the warmth just made me feel too relaxed. Whatever the real reason(s), I just didn't do much yesterday evening. It wasn't helped by a mild, but growing discomfort in my gut area.

One of the reasons I didn't go out yesterday was that I feared my guts might have been a bit volatile after the episode where I vomited the previous night. I wasn't wholly convinced that was caused by consuming too much neat whisky. In fact I was far from convinced about it because while I may have consumed a fair amount as I sat idly sipping away at it as I sat glued to me PC screen editing photos, it didn't seem like an unusually excessive amount. It turned out that I was probably right about the whisky, and right about my guts being a bit volatile. The only problem was that I was being a bit premature - probably. Roughly 24 hours later, somewhere near a typical time for food to transit from one end of the digestive tract to the other, particularly so for something the digestive tract doesn't like, my guts did become very volatile - but not extremely volatile. Two moderately explosive visits to the toilet in quick succession seemed to cure the problem perfectly.

Having dealt with that problem I went to bed. I had changed one of my pillows to one that was a quarter of an inch thinner, and didn't have an imaginary lump in an imagined bad place. So I was nice and comfortable, and yet I didn't seem to feel sleepy. I started reading from a magazine (Fortean Times), and it was difficult to put it down until I really did begin to feel sleep. That was at approximately 9.30pm. I think I was fast asleep quite soon after that, and as far as I am aware I slept well on my thinner pillow.

If I slept well I should be feeling great this morning, but I don't. I feel sort of creaky, and also a bit asthmatic. It seemed to be hard work breathing as I walked to the station, and it seemed like my progress was interminably slow. It is at this point that it seems like I have lost any remaining ability to think sanely. I left home at my normal time - between 06:20 and 06:21 - and yet after what seemed like a slow walk to the station, a walk that seemed like hard work because breathing seemed difficult, I arrived at the station with the typical 7 minutes to go before my train was due to arrive (on time). In fact arriving with just 6 minutes to wait is not that uncommon, and even the occasional 5 minutes. It seems I must have walked to the station faster than usual, and yet it seems it took ages, and was hard work. My brain must be failing badly !

Now I am at work I feel fairly bad. I have taken to yawning a lot. So the idea that I slept well must have been a delusion. I was sweating quite badly (mostly from my forehead) as I came to work, and that must be a reflection of how high my blood glucose level went after eating those Cornettos yesterday. Hopefully it will be down, nearing some almost sensible figure when I get home from work again. I do seem to have an interesting collection of aches and pains this morning. I don't think there are any new ones, but it does seem to be an unusually rich collection of the old favourites. All are mild or very mild, but they add up to a nuisance. I don't think the nuisance is bad enough to consider painkillers yet.

Tonight there is one thing I have to do (apart from cooking and eating dinner), and that is yet more hand laundry. It was going to be very simple. I had forgotten I had changed the little mini tablecloth on the little table in the living room (a table that is too high to be a coffee table, and yet too small to be anything else). I changed the tablecloth before Aleemah visited on Saturday, and tucked it away to be dealt with later - and later has now arrived. It has assorted food stains in it, and I concluded it could do with a long soak in bio-detergent. Just doing one little tablecloth in a big bendy bucket of detergent seemed a waste so I am doing an experiment. I have an old coat that I may shrink into again one day, that needs a good wash. I last wore it when I was heavily smoking, and so it is probably a bit brown (although it seems to have lost any smell over the last 4 or 5 years). Whether I can wash it, and successfully wear it ever again remains to be seen, but I thought it was a good opportunity to start the process this morning, and see where it leads.

I still have some photo editing to do, and maybe I'll raise the enthusiasm for that tonight, but some how it doesn't feel likely this morning. I visualise myself being very lazy tonight. It will probably be raining, and that could be the perfect excuse for an early night. There will be better nights later on. Towards the end of the week I am looking forward to one, and maybe two, after work drinking sessions with my friend Ruby from Cumbria who will be visiting London then. In the meantime I had better try and raise some enthusiasm for doing some work, or at least appear to be doing some work !

Sunday 8th May 2016
15:13 BST

Summer is here - even if it hasn't officially started yet ! Yesterday was rather splendid, but maybe not quite as good as today. It wasn't always sunny yesterday, but it was still bright even when the sun ducked behind some thin high cloud. The temperature hit 25° C, and with a nice breeze it was excellent drying weather. Today has been completely sunny, and it is supposed to stay sunny right up to sunset (which is at 20:35 tonight). This morning it was 15° C when I woke up, and this afternoon the temperature has hit 26° C. So we are some way off the magical 30° C, and it is not going to happen tomorrow or Tuesday ! Tomorrow is forecast to be a dull 20° C, and on Tuesday it is forecast to rain !

Yesterday was a very successful day, although it ended on a bit of a sour note. When I finished writing yesterday I had just hung out a towel, a sheet, and two pillowcases on the washing line to dry. It was such wonderful drying weather that the sheets and pillow cases were bone dry in a couple of hours, and the towel was almost perfectly dry except for some dampness at the bottom. So I took the bed stuff in and put it away, and took the towel in to finish drying over the banister rail. I then washed the duvet cover that went with the sheets and pillowcases. I don't think I have ever washed a complete set of bed linen on one day even when I had a working washing machine, let alone doing it by hand. I have to admit that final fling did leave me feeling completely knackered.

It was too late for the duvet cover to fully dry before night fell, but it was perfectly dry when I brought it in at about 10am this morning. I spent a considerable amount of last night photo editing the pictures I took of Led Z. I am rather pleased with how some of them came out, but I still haven't uploaded them to Flickr yet, and you'll not be able to see them in all their glory just yet, but here's a couple of tasters -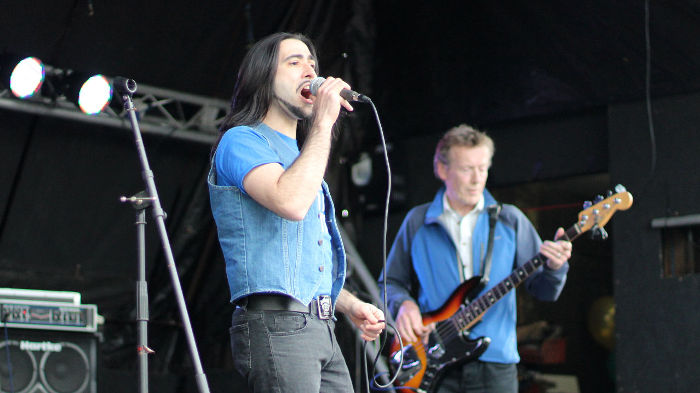 Tommy Erbi on vocals, and Eamon O'Sullivan on bass guitar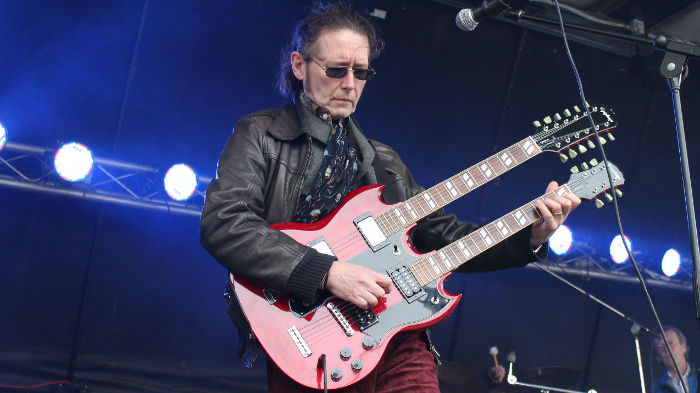 Keith Whitehorn and his double neck guitar

While I was photo editing I was sipping whisky, and I probably had quite a bit of it. Whether that had any bearing on what happened later is unknown. It is possible that the marinaded pork belly strips and stuffed mushrooms were too rich for me, or maybe they were contaminated in some way, but I was just trying to settle for bed when I became aware that my stomach did not feel good. Unusually, it was the top end of my digestive tract that was revolting !

Eventually I did some dry heaving followed by vomiting up what could have been little more than an eggcup or two worth of vomit. It seemed to be so little to cause such a fuss, but it was more or less a complete cure. I ended up getting to sleep a lot later than intended. I can't remember exactly when it was I got to sleep, but I guess it probably wasn't terribly late for a weekend. As far as I can recall, I slept quite well, although I woke up a lot earlier than I would have liked to - but maybe I didn't need to sleep more.

I haven't felt that wonderful today, but there has been no particular reason for it. It is a mix of little different things. In contradiction to what I have just said, maybe I did need more sleep. I do feel a little dozy today, but that could also be caused by it being so delightfully warm. One ailment is not so much an ailment but a fear of an ailment, and it is a continuation of last night. Nothing has actually happened, and I am not in any discomfort, and yet I have a sort of feeling that my guts may be a bit unstable. If it were not for that I may well have gone out to take some pictures and take a walk somewhere, but I just didn't, and don't feel like it. A far more real physical thing is the after effects of doing all that heavy hand laundry. I can feel a few little aches and pains here and there in my arms, and maybe a few twinges from my chest too.

I regard the after effects of all that muscle building exercise as a sort of good thing, and in reality those affects are so mild I might ignore them in other circumstances, but they contribute to the sum of all the other aches and pains, imagined or real, that add up to enough to leave me wasting a brilliant summer day. Or am I wasting it ? I guess I am. I'm wasting the opportunity for what could be some enjoyable exercise, and for building up my vitamin D as I cook my skin under the sun. On the other hand, when I look back on most of my coastal walks, as an example, it is rare for me to go out on a Sunday because the trains are so crap ! There are no direct trains (from Bromley South station) to such places as Herne Bay, or Whitstable today, and there aren't any trains at all to Charing Cross station today. I could have got a direct train to Cannon Street station in the heart of the city, and there is some good stuff to photograph around there, but it's all narrow streets that are often in permanent shadow.

So all that builds up to the fact that today I am just being bloody lazy, although I have gone out once today, and that was to the corner shop. I knew and accepted it was going to make a complete mockery of my attempts to keep my blood glucose level down, but I wanted an ice cream on a hot sunny Sunday afternoon. I will confess I had a couple of ice creams because I bought Cornettos. I don't remember them being that small ! They have shrunk, and shrunk badly ! So I bought a couple and finished them in a couple of mouthfuls apiece !

I think I am going to try and raise the enthusiasm to edit a few more photos from last weeks Petts Wood May Fayre. I have left the worst until last - which is probably a bit silly, but for the sake of completion I will include some pictures of other musicians and singers who appeared on the stage. The ranged from uninteresting to almost annoying, but I guess I should include a few snaps of them. After that I ought to try and get in the right mood for a nice early night, and a wonderful sleep before back to work tomorrow. As unlikely as it seems, it could happen......

Saturday 7th May 2016
15:41 BST

The weather forecast for yesterday made it seem like most of the sunshine would be rather hazy, but my recollection is that it was mostly very bright outside. Of course I only get a distorted view of reality looking through my office window, but whatever the real state of the sunshine was, it was good enough to definitely make it feel warm yesterday. I am very sure we hit 20° C, and I wouldn't be averse to saying it was 23° C at it's best. Today has already topped that - which was not hard considering the temperature stayed up overnight. At daybreak it was 15° C by my reckoning, and that instantly make it shirt sleeve weather ! Today's sunshine is more like it was forecast to be yesterday - there have been many periods when the sunshine has been reduced to little more than a bright patch above the clouds. Nevertheless, it has stayed dry, and when I check several thermometers, 2 electronic, and one traditional mercury, the concensus was that it was 25° C, and what's more it feels like it. Delicious ! Tomorrow is still shown as featuring dawn to dusk sunshine. The temperature is forecast to be what it actually is today - and that had turned out to be two degrees higher than the forecast. Maybe it is possible that tomorrow could hit 27° C. I've got to get out in that if it is !

The only lingering bit of the cold I've had that bugged me yesterday was the cough. It was very intermittent, and quite frequently I would go an hour or more without coughing, and then suddenly something, probably a little fleck of mucus or whatever, would catch in my throat, and I would start coughing fit to bust. A few serial sessions of coughing in the morning left my chest feeling quite sore (although only in certain postures). My nose wasn't (and still isn't) perfectly clear, but on reflection I think it not far of perfectly normal for me.

I think the general report is that I felt mostly OK yesterday, and I definitely felt good if I only concentrate on a limited set of parameters as I left work, and headed for home. Maybe I might have felt a little tired, and that was definitely the case later in the evening, and didn't feel like rushing around, but by not rushing I was perfectly comfortable going home. I mentioned that I was considering going into Tesco on the way home, but I was also considering getting some stuff from the Turkish supermarket as an alternative. When I arrived back in Catford I decided I couldn't be bothered to go to Tesco. So I went in the Turkish supermarket where I was disappointed they only had small mushrooms instead of the big mushrooms I wanted, but in recompense they did have some interesting looking yellow courgettes.

I hadn't pre-prepared any dinner for last night, but some of my dinner was pre-prepared in the form of bean and chick pea salads. I'm not sure what they should do to my blood glucose level, but I know they are fairly low in calories, and I was eating them when I was losing a lot of weight prior to my stay in hospital in 2013. I also cooked a small heap of small mushrooms with some olive oil and harrisa paste. Just before they were ready to serve I added some chunks of cheddar cheese and gave then a couple more minutes in the oven.

I deference to seeing Aleemah this morning, I didn't smother those mushrooms in garlic, and maybe that is why they were not as delicious as the big garlicky mushrooms I cooked the previous night. After eating the little pots of bean salad, and the mushrooms, I came across feeling really tired. So I lay on my bed and listened to an old recording off the radio. It was a one hour recording, and I can only remember hearing the first two songs. I fell asleep, and it seems I slept for almost an hour.

When I woke up I seemed to have a small amount of discomfort in my lower tummy area. I thought it was just wind, and tried not to pay too much attention to it. That didn't last long ! Ten minutes later I was just about to pass wind when some sixth sense said it might be safer to to do it while sitting on the toilet. I barely made it before I exploded ! I then spent the next two hours, or maybe more, more sitting on the toilet than off it. I can't say it was uncomfortable in any way, but it sure was boring. The good news is that this morning my weight was almost back to what it was before over a week of being ill, and comfort eating had piled a few pounds back on. Also, my blood glucose level, which was already looking very acceptable when I got home from work, was looking really rather good at about 9pm last night.

I finally felt so empty that I could afford to relax my guard, and I was able to get into bed and go to sleep. I think I slept quite well last night, and I woke up bright and early feeling better than I have done for some time now. That lead me to being quite busy today. At 6.30am I had washed 4 shirts, some underwear, and a pair of lounge pants. Initially I hung the shirts indoors to dry, but I hung the lounge pants on the washing line in the garden. Later on I hung the shirts out there too.

Next on the agenda was to get washed and dressed properly so I could go to Aldi and get some shopping. I didn't have much time to get my breath back after shopping before I had to go out again to meet Aleemah at the station. As usual, while Aleemah had her cooked veggie breakfast, I indulged in a couple of halves of beer. The beer on the right of this picture, "Old Leg Over" was rather nice, and the beer to the left wasn't bad either, but not as good as the other.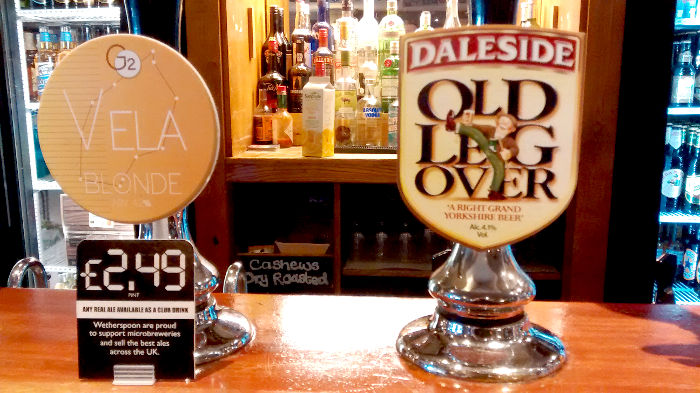 After breakfast we went shopping in Poundland, and I came home with some smelly stuff - mostly room odourisers - but also some strawberry flavour moisturising cream. I am not sure what I am going to do with it, but curiosity got the better of me. Maybe I'll use it to moisturise my feet or something. When we finally got back home we watched a DVD. This week Aleemah brought Flash Gordon - the modern version featuring the soundtrack written and played by Queen. I'm not sure if I enjoyed it or not. I guess I felt a bit neutral about it.

After Aleemah had gone home again I did yet more washing, and this time I went for it big time ! I washed a medium large bath towel plus a bed sheet, and two pillow cases. I have to admit it left me feeling rather knackered, and most of the blame can be laid on the towel. It was damn heavy when saturated with either hot soapy water, or multiple changes of rinsing water, but it's all on the line drying now.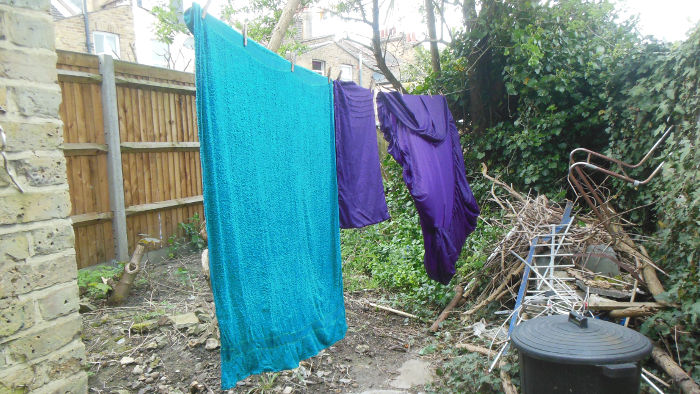 I feel quite tired now, and the next thing I am going to do, once this is finished and uploaded, is to lay on my bed and read for a while. I expect I'll probably end up snoozing after a little while, but that's OK. I don't think I'm going out tonight, but I could do if the moment grabbed me. What should come before anything else, except for eating and sleeping, is to get on with editing the pictures of Led Z I took last Monday, and get them uploaded for all to see. It's annoying it is taking so long, but none of us have unlimited time. Hopefully I can get it all done today somehow because I think I want to spend some of tomorrow in the sunshine - maybe at the seaside, but I am not expecting there to be any useful trains for that tomorrow !

Friday 6th May 2016
08:07 BST

Yesterday was nice. It was dry, bright, and mostly sunny. The temperature was at least the 19° C promised to us. Once the morning chill had gone it was definitely shirt sleeve weather. Today was supposed to start at 10° C, but I only saw 8° C on my thermometer. That wasn't quite high enough for shirtsleeves, but it wasn't far off. Today is forecast to be dry and bright, but there will be much less direct sunshine that yesterday. Thin high clouds will make for hazy sunshine for a lot of today, but the temperature is forecast to be higher than yesterday - maybe only a degree or so, but every degree is welcome. It gets better tomorrow. Apparently there is a small chance of a shower after dark, but most of the day should feature a mix of hazy and bright sunshine, and the temperature could hit 23° C. Sunday could hit 25 or even 26° C !

I continue to mend. I coughed less, and had to blow my nose less yesterday. By the afternoon, and then into the evening, there were long periods of time when I felt almost normal - for my current state of fitness. I expect the beer helped a lot, but I did feel less unfit than recently last night. I felt creaky and stiff when I first left work, but I seemed to slowly improve as I made my way to the pub, and then, after three and a half pints of beer, going home seemed almost effortless.

I got to the pub by taking my normal train from Earlsfield station, but I changed at Clapham Junction to a Victoria bound train. At Victoria station I caught an Orpington bound train that took me, after 5 or 6 other stations, to Shortlands station - which is adjacent to The Shortlands Tavern. I think it was a better route than the one I have used in the past - London Overground service from Clapham Junction to Denmark Hill, and then the Sevenoaks service as far as Shortlands. That route may be ever so slightly quicker, but the trains are crowded. The train to Victoria was almost empty last night, and the train from Victoria still had a few seats free with no one standing.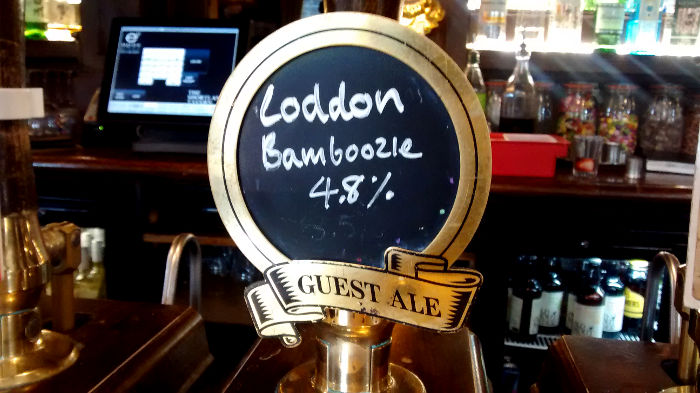 This beer seemed so nice that I ended up drinking three pints of it. I finished the evening with a half pint of Maple Mild, and that was very nice too, although I suspect it was probably a bit too sugary for me (particularly while I am trying to reduce my blood glucose). I left the pub in time to catch the 7:02 train back to Catford. It seemed like a pleasant journey with it being bright and warm, and being slightly drunk.

I didn't dare check my blood glucose level when I got home last night. After the beer it was most likely higher than I care to know about. I concentrated on getting my dinner ready. I 90% pre-cooked it the night before so both dishes just needed 10 minute each in my mini oven. Part one was assorted grilled vegetables, and it was nice, and probably sort of healthy. Part two was something a little extra special - grilled mushrooms with garlic and cheddar. It was three big mushrooms, each about three inches wide before cooking, smeared with garlic paste, lightly drizzled with olive oil, and cooked until almost ready. Then, if mushrooms have any healthy attributes, I ruined them all by putting some large chunks of mature cheddar into the upturned cups before giving them another 5 minutes in the oven. They turned out to be really delicious, and I must make them more often, but I ought to be careful about that cheese !

I felt too tired and drunk (or hungover) to start any photo editing last night. So I went to bed early, and slept wonderfully until 2am. I woke up primarily to have a pee, but it seemed like my cold was going to have some revenge on me for almost killing it off. My throat was tickly, and I kept coughing. Worse than that was that everytime I laid down one nostril or the other would instantly fill with mucus that was draining out of somewhere (the 5th dimension maybe ?). My nose would feel perfectly clear until I laid down, and then suddenly I am almost blowing bubbles - yuck ! It took a good hour, and maybe even 90 minutes before I could get back to sleep, and even then I didn't manage to stay deeply asleep for an hour or so. It was only about 15 minutes before my alarm woke me up that I seemed to have got the hang of sleeping properly again.

Once I got up I felt quite good - not to be confused with really good ! Certainly good enough to do something I haven't done for ages - washing my hair before going to work. Although it was more because of the mild(er) morning. I didn't seem to notice any particular positive aspects about how I felt as I came to work, but at the same time I didn't feel any discomforts either. I guess I was feeling fairly neutral, and that's probably all I can hope for most of the time. Maybe if I am lucky I will feel extra good in some mysterious way on my way home after work.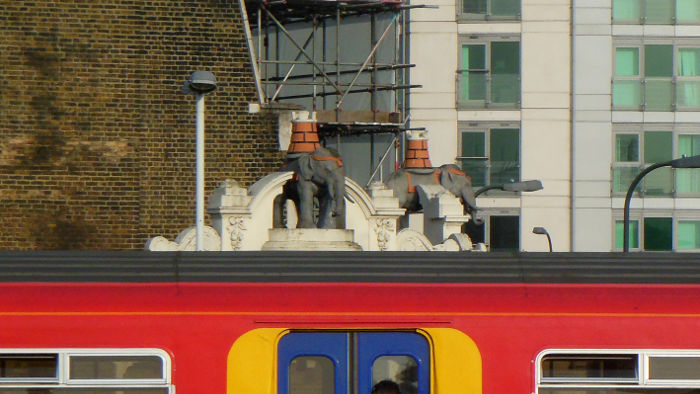 I took two pictures on my way into work this morning. The top one is easier to explain. These two elephants, with castles on their backs, adorn a building next to Vauxhall station. They sometimes confuse people into thinking that the station is named after them - Elephant And Castle - but that is several miles away. There is a good and logical explanation about what they represent, and why they are there. I think the building they were on was once a pub, and that might be the reason why they are there, but I haven't done my research - I'll leave that to you.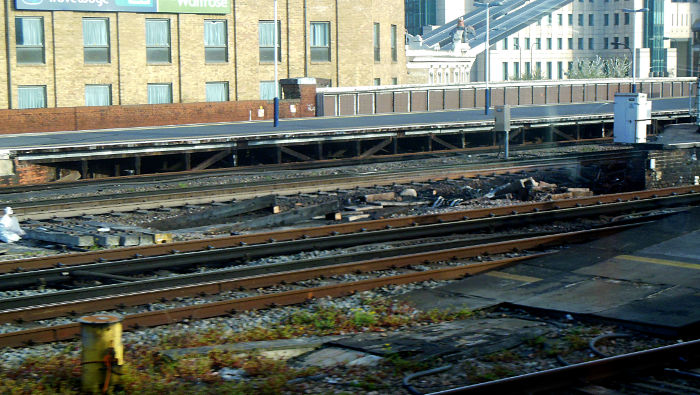 It is a lot harder to explain this picture - partly because it is not very good - it was taken through a moving train window - and partly because it is framed badly. It is supposed to show the aftermath of the fire at Vauxhall station yesterday morning. At the back of the photo, to the left, is a brick wall that is part of the viaduct that the trains run on. Just before halfway across the picture that brick wall gives way to grey panels. They are on the edge of a bridge that goes under the railway at a very acute angle. In front of those and the wall is platform 1 and 2. The part of the platform that is above the bridge is supported by timber. The same should be true of the ends of platforms 3 and 4, but all that is left this morning is some charred timbers, and although it is hard to see on the far right of the picture, platforms 3 and 4 end on a sharp diagonal. One curious thing that is even hard to see on the full sized version of this picture, is what seems to be a thin trickle of smoke rising from some charred wood. Hopefully it is just some sort of illusion or they will be closing the railway again until they are sure the very last spark of the fire is out.

There are two things I want to do tonight, but I am not sure how important they are. I think I'd like to wash some shirts and get them drying so I can wash some bedding tomorrow. Washing those shirts won't take up much time, but it would still cut into the time available to edit the photos of Led Z that I took on Monday. I was hoping to get them all done by tonight, and maybe even posted on Flickr. Maybe I'll do one thing or the other, or both ! The latter seems the best idea, but ultimately it will be governed on just how I feel.

Thursday 5th May 2016
08:27 BST

The best part of spring has arrived - the bit that feels like a rehearsal for summer instead on an encore of winter ! Yesterday was dry, bright and warm. Loads of sunshine, plus no more than the lightest of breezes took the temperature up to 18° C by my reckoning. For the first time it actually felt slightly warm when I left work to go home. Today is forecast to be almost identical to yesterday, but with a few less periods of only hazy sunshine. The temperature is actually forecast to hit 19° C, and maybe it will go a little higher like it did yesterday. Tomorrow could see 21° C, but it will be mostly overcast. Saturday should see a bit more sunshine, and Sunday is currently forecast to be very sunny with a rather glorious top temperature of 24° C. Suddenly life becomes a bit more interesting !

My weird cold got worse and better yesterday. I mostly felt better, but I seemed to have a very tickly cough in the morning. It was still there, but much less bothersome in the afternoon, and then hardly bothersome at all until I lay down in bed at bedtime. My nose was still stuffy in the morning, but at least I seemed not to blow out thick green slime every five minutes. At some point in the afternoon, and from then onwards, it seemed much better. I still had a very mild sore throat through much of yesterday, and I can still just detect it this morning.

On my way home from work I went into Tesco to buy some olive oil plus some courgettes and herbs. While I was there I also bought a couple of bottles of Diet Coke. It was probably the smallest shop I've done in there in ages. My dinner didn't feature anything I bought yesterday, but it will tonight. Last night's dinner was another three part dinner. I started off with salad with a few chunks of cheddar cheese in it, and no dressing at all. Parts 2 and 3 were very similar to each other. Bother were grilled mixed vegetables, but with a few small variations in the choice of vegetables. Both were nice, but I might have overdone the rosemary in one of them.

I still wonder about this grilled vegetable experiment. I'm not sure if I am losing any weight by eating it, but it does seem to be good for my blood glucose level. Last night it started out lower than the night before, but still above the maximum recommended level. It is of course impossible, but a couple of hours after eating the level had dropped into the "safety zone" (although still towards the top end of it). It seems to be taking a while to throw off the excesses I managed while feeling particularly ill last week - particularly on days when I wasn't at work and all discipline had failed !

After eating I settled down to do some photo editing. I have now completed a set of photos of Vince Lightning And The Thunderboltz, as taken at Petts Wood on the May Day bank holiday. I think what I ought to do is to upload each set of pictures as a separate album to Flickr, and then group the albums together, but at the moment I have mingled the two sets of pictures into what may well turn out to be just one big album. I can unmingle them if I decide to do it properly later, but as yet I haven't uploaded anything. I'll add a link when I do.

I ended up in bed a little late at 9.30pm....although I do wonder if I still do need to go to bed at 9pm now there is much more daylight to modulate my circadian rhythms (or something like that). When I first got into bed I was coughing a lot, and my nose felt stuffy again. It seemed like I would never fall asleep, but I did, and I think I did it really quite quickly without realising it. I seemed to sleep well until almost 1am when I woke up needing to go to the toilet. I was probably awake for at least 30 minutes, but once I fell asleep again I think I slept solidly until just before my alarm was due to sound.

This morning it only took about 5 minutes to get my nose clear of unpleasantness, and since then it has been reasonably well behaved. The tickly cough that spoiled yesterday morning now seems to be back since getting to work, but doesn't seem quite as bad as yesterday. The rest of me seems mostly OK, except for my chest. I don't seem to be experiencing any specific pain from my misaligned ribs, shredded ligaments, and strained muscles, but I am still getting a good selection of internal pops and clicks, grates and groans from it when making certain moves. Whether that is the underlying cause of a mild muscular ache that makes me feel slightly asthmatic, or whether some mild asthmaticism is making my chest feel like I've been breathing too hard is a mystery. It doesn't feel dangerous, and it only takes the edge off my top speed, but it is still an annoyance. I guess it is lucky that overall I didn't feel too bad this morning because I had an extended journey into work.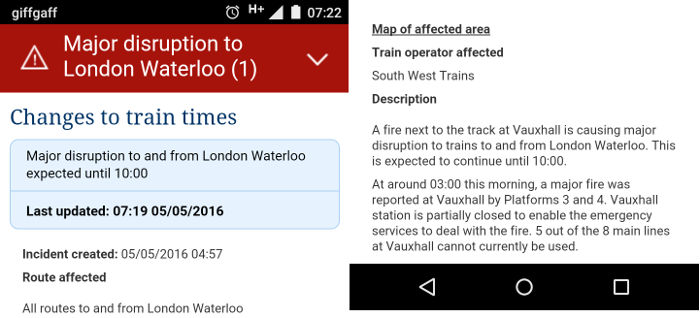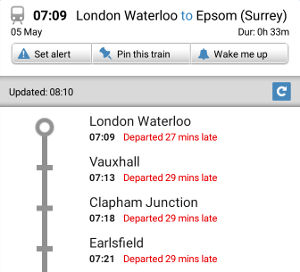 I arrived at Waterloo in time to get on the 06:57 train even though it was slightly past 06:57. I sat on the train and waited and waited. It was obvious that something had happened, and it turned out that the end of platforms 3 and 4 at Vauxhall station had caught fire during the night. From what I saw when I eventually went through Vauxhall station, there wasn't a great deal of damage, but they had to turn off the power, and keep trains off the adjacent tracks while the fire brigade sprayed water everywhere, and caused general mayhem.

Meanwhile I waited patiently on the 06:57 train and watched the 07:03 train pull out of the station almost on time. While this was happening one of the platform staff boarded the train to use the P.A. to say that the train had no driver, and no guard, and was going nowhere. So it seemed pointless sitting on the train.
At that time most of the other platforms were empty, and the one other train standing at a platform had no destination shown for it. After a very long wait it was announced that the 07:09 train would depart from platform 1. It hadn't actually arrived at that point, but we all went and waited for it. I guess it arrived at about 07:25. Having boarded it, and been assured it would be the first service to leave, we watched the 07:12 train depart from platform 3 first - at about 07:30. Eventually we did depart some 27 minutes late, and nearly 40 minutes after I arrived at the station. It was definitely annoying to not be on the 07:03 train when it departed almost on time, and the long wait after that was annoying too, but it was probably a good thing that I wasn't on the train that left before us when we eventually departed. That train that sneaked in ahead of us was probably packed solid. The train I got was almost full, but still had a few seats left, and was far more comfortable to travel in.

It's Thursday, and boozing night again. Tonight's boozer is The Shortlands Tavern by Shortlands Station. On previous visits there I have gone via Denmark Hill by using the London Overground from Clapham Junction, and then a Thameslink train that stops at every single bloody station all the way to Shortlands. Today I am going to investigate an alternative route via Victoria station. It may be that I will end up getting a fast train to Bromley South station, and then doubling back on a slow train to Shortlands, but at least it is only one stop. I could end up in the pub rather early, and that means I'll end up drinking more than I would prefer, but at least it seems that my blood glucose level recovers very quickly from beer.

Wednesday 4th May 2016
08:01 BST

It was a lovely sunny day yesterday, although it did become slightly overcast around 5pm. I'm not sure what that raised the temperature to, but I don't think it was any higher than the forecast 15° C...although on reflection it might have been a little higher. It didn't feel warm, but it was certainly comfortable in just shirtsleeves. The sky was a beautiful clear blue, and the temperature had fallen to 6 or 7° C this morning. (Curiously it was the lower thermometer that gave the higher reading - it's usually the other way round). The last forecast I saw said that unlike yesterday, the sky should stay clear, and the sun will shine right up to sun set. Unfortunately the forecast still sells us short regarding the temperature - maybe just 16° C. We seem to have some very settled weather for the moment, and the trend is for more dry sunny days with the temperature slowly rising. The optimists are talking about 25° C this coming weekend !

I could always wish to feel a lot better, but I felt almost normal at work yesterday. I still had to clear out my nose every now and then, and occasionally I would have a good cough, but the significant thing was that I didn't actually feel ill. I even found enough energy to run up the escalator at Waterloo station - and when I say run I really mean walk fairly fast - which is still a lot faster than standing still and letting the escalator do all the work.

When I got home I dared to check my blood glucose level, and after a week of feeling ill, and after the long bank holiday weekend with all the eating opportunities they provided, my blood glucose level was predictably high. That probably strengthened my resolve to not get tempted when I went to Aldi to get some shopping in. I was still tempted to buy one product that I probably should not have bought. It was a soft cheese that had somehow been rolled like a Swiss roll with a paprika filling, and then the whole thing rolled in herbs. It was very nice, but maybe not nice enough to form an addiction. I doubt I'll be buying any more of it.

Nearly everything else I bought was vegetables. I am taking a bit of a gamble because they were not leafy vegetables which tend to be low in everthing except fibre. The vegetable I bought are for my latest fad - grilled vegetables - very tasty, and easy to prepare and cook. I bought leeks, an aubergine, tomatoes, peppers, chillies, mushrooms, onion and some fresh rosemary for added flavour. The only thing I forgot to buy, mainly because I didn't realise I was about to run out of it, was olive oil.

I also bought three ready made "Mediteranean style" salads, and two of them formed two thirds of my dinner. The first with a small tin of pink salmon, and the second with a couple of pickled eggs. The latter was a mistake when I opened a jar of bottled eggs instead of pickled onions (I was distracted by watching a cat outside the kitchen window). Having opened the pickled eggs I thought I may as well use a couple. The third and final part of my dinner was some grilled vegetables with a few bits of mature cheddar sprinkled on them.

That sounds like a big dinner, and it probably was, but the majority of it was fairly innocent, high fibre stuff. This all promotes good health, or so we are told. If it is true it is a bonus, and if not it is still a tasty way of eating. I guess I must have made a few correct choices because a couple of hours (maybe almost three) my blood glucose level had actually fallen a whole point. It was still above the magical 7, but only just, and maybe not too terrible after eating.

One very peculiar thing is that it wasn't long after eating that I developed a very sore throat - so sore it made swallowing painful. The most obvious thing is that it was another facet of the cold I've had, but it came on so fast that it did cross my mind that it could have been some sort of allergic reaction, although I can't imagine what it was I was exposed to to bring on such a reaction. I tried gargling with whisky, and that might have made a very small improvement, but it was still very sore when I went to sleep.

I didn't seem to feel the need to go to bad that early last night, and it was about 9.30pm when I turned out the light. Whatever had flared up in my throat also seemed to make me feel too warm in bed. I spent the first couple of hours of sleep uncovered. I woke from that feeling cooler. That was not surprising because it seems I must have been sweating profusely prior to waking up. My pillow and other bits of the bed were quite damp. After re-arranging myself, and the bedding, so I could lie in the dry areas, I fell asleep again quite quickly. I seemed to sleep well after that.

This morning my throat is just detectably sore, but it is generally ignorable. It only took half as long to deflate my head by blowing out less bucket loads of nasal mucus than yesterday, or the days before. That is an improvement ! By the time I left to come to work I was feeling fairly OK. Even my walking seemed to be almost back to normal. It was all looking very positive until about half an hour ago when my nose seemed to start running again, my throat became very tickly, and I started coughing again. In the last 5 minutes this seems to have stopped again !

I need some more olive oil, and I'll have to get it on my way home from work. During the day, or more likely on the spur of the moment, I will decide whether to get it from Tesco, or from the Turkish supermarket near to Catford Bridge station. Both places have their pros and cons, and all things being equal, it would be most logical to go to the closest place. That would be the Turkish supermarket. I don't actually need the olive oil for tonight because I prepared, and half cooked two trays of grilled vegetables last night, but it would be handy to pre-prepare some more for tomorrow night, and for that I will need the oil.

Apart from eating and cooking, I have no definite plans for tonight, but I rather expect I'll end up editing photos that I took at Petts Wood on Monday. I prepared one album ready for upload to Flickr last night, and tonight I expect I'll be doing the same. Last night's selection was of people and general views around the place. My next selection will be of Vince Lightning And The Thunderboltz. The one after that will be Led Z, and then finally, if I can be bothered, a few other musicians on the big stage.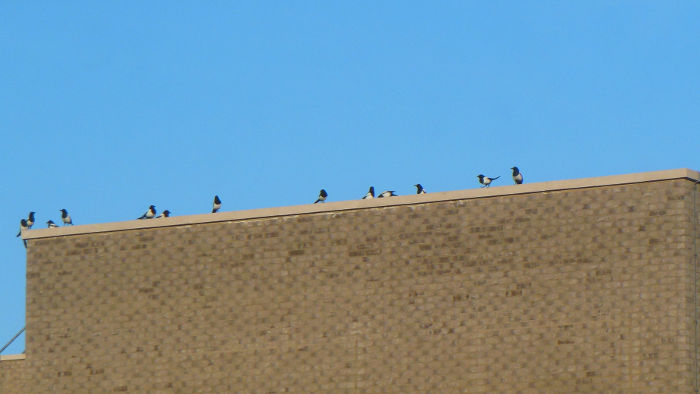 Are we suffering a plague of magpies in Catford ? I don't think I have ever seen so many in one place before. There are 13 of them perched up on the edge of one of the new "Catford Green" buildings. A few seconds after taking this snap they started dispersing into a couple of nearby trees.
Tuesday 3rd May 2016
07:59 BST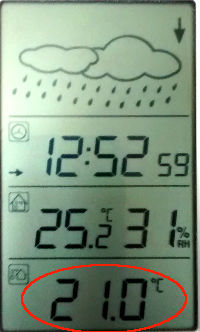 It seems incredible, and maybe it is too good to be true, but the picture on the left shows what my outdoor thermometer was saying just before 1pm yesterday. (It's the bottom figure ringed in red). Perhaps it was just me, but it didn't feel like it was 21° C when I went out, and yet I can't account for any source of heat that might have skewed the reading. While it didn't feel warm, it also didn't feel cold. If anything it felt sort of neutral, and maybe that is what 21° C feels like, and it's been such a long time since it was last that high that I have forgotten what it felt like.

There is one logical explanation, and that is that it was rather overcast for a lot of the time, and that made it feel cooler than it was. Then again there were some sunny intervals, and there was also some rain too ! It was a mostly mild night, but the temperature had fallen to 6° C by day break this morning. The sun rose on a clear sky, and the sky is forecast to stay clear until later this afternoon. All that sunshine should warm things up a bit, but only up to a disappointing 15° C. To make matters worse, the forecast has changed again and the sunshine is now only forecast to last until midday. From then on it will be a bit overcast, but it is supposed to stay dry. Tomorrow is currently forecast to be sunny all day long, but even that is not supposed to lift the temperature any higher than 16° C - which is a bit disappointing. At the moment it is looking like we may have to wait until Saturday for the temperature to go up beyond 20° C, and apparently it will manage that without the aid of much, if any, sunshine !

I started yesterday not feeling that wonderful, and I did have doubts about going out in the afternoon, but as has happened many times in the past, I felt much better once I got out. Sometimes I wonder if I ever really know how I feel. It seemed like it is was almost a struggle to walk to Catford station (not Catford Bridge station), and I arrived there feeling rather shagged out, but I also arrived there nearly 8 minutes early. With hindsight it seems obvious that I was walking far faster than I thought I was, or could. I thought at the speed I seemed to be going I would miss the train - not be 8 minutes early !

My destination was the Petts Wood May Fayre - but only the music stage ! The musical entertainment ranged from terrible to wonderful. The "terrible" was only on account of the type of music being performed. The wonderful were the final band on the big stage. They were called Led Z, and as their name rather strongly suggests, they are a Led Zepplin tribute band - and they do it really well. That is not to say they didn't have their faults, and the biggest fault was the beard that the singer wore. It reminded me more of a black or hispanic gang style beard than anything Robert Plant ever wore. In fact I can't seem to picture Robert Plant with a beard. The tragedy of the beard is that the singer had gone to great lengths to dress like Robert Plant (in the heyday of Led Zepplin). He had the long hair (but not permed) and even the slim physique of Robert Plant.

One other criticism of the singer is that his voice sounded a bit "thin", but I think a fair amount of the blame for that can be laid on the man driving the stage mixer. A little bit of bottom end lift might have turned that meow into a growl (or something like that). One final criticism is that the guitarist could have done with a guitar tuner so he wouldn't have had to tune up his second guitar "live" on stage (most modern guitar tuners listen to the strings as they vibrate the machine head rather than needing an electronic feed from the pickups). I think all these criticisms are fair, but shouldn't be taken as any reason to think it wasn't a cracking experience ! I really enjoyed it - even when it rained !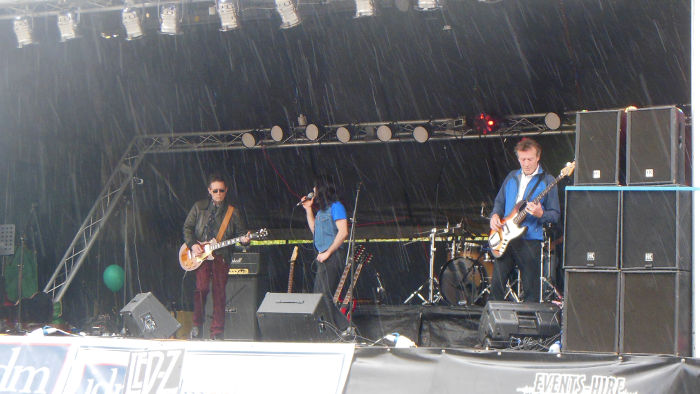 I took loads of pictures of Led Z, Vince And The Thunderboltz, and a few others, on my big Canon DSLR camera, but I put it away when the rain started. I took the snap above with my little pocket sized Nikon snapper, and to be honest, that was probably all I really needed while the stage was lit by normal daylight. However, I think I managed to take a few really good pictures in amongst many mediocre pictures, but it might take another evening or two until I've been through them, and prepared them for upload. I think that on this occasion I will try to go for quality instead of quantity. It is about time I stopped uploading just any old picture just because it is mostly in focus. Sooner or later I will link to an album (or two) of photos from yesterday on my Flickr pages.

Petts Wood is cursed in a very specific way. It's usually easy to get to, but not easy to come home from. Now I will admit there is a fairly frequent bus service that goes to Catford, but it goes hatefully slow, and I will do anything to avoid it. To get to Petts Wood I caught a train from Catford to Bromley South station where, after an acceptable 9 minute wait, I changed to a train to Petts Wood. To get home I had three choices of destination from Petts Wood station. I could have retraced my journey and gone back to Bromley South and wait a totally unnaceptable 25 minutes for a train back to Catford. I could have taken a slightly fast train to Waterloo East where I could wait 25 minutes for a fast train back to Catford Bridge. I could have taken a train to Lewisham where it would only be a 20 minute wait for a train to Catford Bridge. There was also the possibility of a fairly short wait for a bus back to Catford from Lewisham. What I actually did was to take the train as far as Grove Park station where by pure luck I had a zero second wait for a bus to Catford. I think that route got me home faster than any other.

I didn't do any shopping over the long bank holiday weekend, and I didn't have any food at home that tickled my fancy (I had plenty of stuff that didn't), so I went to the chip shop and bought some fish - but no chips ! It was about the closest I could get to a meal with the merest hint of healthiness about it - and it was very nice ! Having eaten, I went up to my PC and started copying all the photos I had taken to my PC. I had a quick look at a few samples, and I think there are some good ones amongst them. If I hadn't been still suffering the after effects (or maybe direct effects) of the rather long lasting common cold that I had, I might have started some photo editing, but I was feeling too drained for that. I don't know what time I went to bed, but I think it was a bit earlier than usual.

I woke up several times in the night, but I think I probably had a reasonable night's sleep. I still woke up feeling pretty crappy though. It seemed to take a good half hour before I had cleared my nose of sticky mucus, and even then it wasn't completely cleared. Maybe there was one positive thing, and that was that I didn't seem to be coughing so much this morning. I think it is possible that I am almost over that bloody cold that started over a week ago now (maybe 9 days ago). Despite some evidence to the contrary I do feel sort of good this morning. Maybe it is just the weather. I would be a lot happier if my legs regained their stamina. They seemed to tire quite quickly as I walked from the station to work this morning. With some good weather apparently on the horizon, I am going to need those legs for some serious walking soon - I hope.

I am also hoping that my legs will be in good working order tonight because I want to go straight out again after getting home so I can get some shopping in from Aldi. Apart from shopping, and eating, my only task for tonight will be photo editing followed by an early night (probably).

I'm not sure if the video below will play correctly because I didn't optimise it for my low upload bandwidth, but fingers crossed........It is Led Z playing "Ramble On" at the Petts Wood May Fayre yesterday.


Monday 2nd May 2016
08:32 BST
I'm sure yesterday turned out better than I was expecting. It was predominantly sunny, and at one point I am sure my thermometer said it was 17° C. It seemed like it should have been for a May day. Today will not be quite as good. It will still be very mild, but the forecast doesn't seem to show any sunshine at all today. Sorry, I lied. I've just rechecked and the sun might peep out from behind the clouds at 2pm, and then again at 8pm, just as it is setting. Prior to that last hoorah of sunshine (if it happens) there will be a few hours of rain starting with a light shower at 4pm, and getting progressively heavier. It is currently supposed to be just 11° C, but I reckon it is at least 13° C going on 14° C. The forecast reckons the best we can hope for is 15° C, but it seems like that will be exceeded. The weather seems to be improving as the week progresses. Look at Thursday !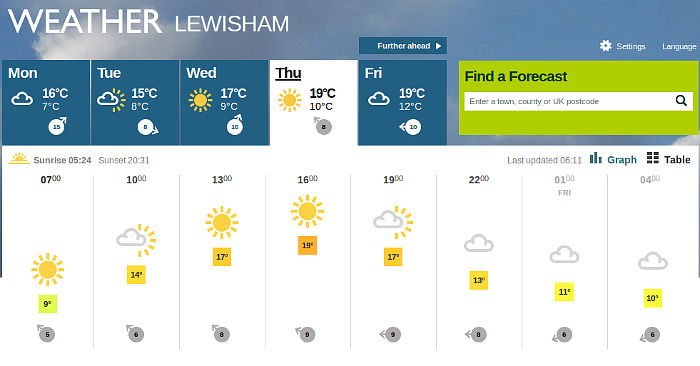 Of course this is how the think it will be. The reality could be completely different.
I felt both good and bad yesterday. My nose wasn't dripping, and I could go long periods without having to clear it, but it was still slowly filling with the nastiest thick gooey pale yellow/green mucus. I guess that when I am asleep some of that is slipping down my windpipe and has to be coughed up later because I still had an intermittent throaty cough. Sometimes I had a bit of a headache, and sometimes my neck felt stiff and painful. The latter was mostly after laying down, and can be blamed on the pillows on my bed. They are a good height and softness for sleeping (at least I think they are), but seem uncomfortable when just laying down reading.
Finally, my chest has been hurting. It was mostly on account of the strain of a good powerful cough, or the effort needed for a really long powerful nose blow, but being busy in the way that I was being busy wouldn't have helped ! I was quite productive yesterday, and my biggest achievement was hand washing an entire set of bed clothes. First thing in the morning I washed some shirts and pants. Then a bit later I hand washed an undersheet and two pillows. I dried the shirts indoors, but I hung the sheets and pillowcases in the garden to dry. They dried so quickly that in the afternoon I brought them in dry, and then washed a duvet cover. I hung the duvet cover on the line, and although I missed the best part of the dry, I was able to bring it in a little before sunset, and it was 90% dry. I hung it over the banister rail to finish drying overnight.
I think I had plans to do some other housework, but apart from doing all the washing up, and dragging a damp cloth over bits of the kitchen, I did nothing else on that vaguest of plans - whatever they were ! I'm sure they didn't include sweeping the path around the back of the house, and cleaning the rear kitchen windows ! I was tempted to do something else outside because it was rather nice in the afternoon, but I couldn't think of anything that wasn't hard work, and all that hand laundry had left me with a few aches here and there.
While I achieved more than I expected yesterday, there were still large portions of the day when I was just pure lazy - or at least I assume I was because I can't account for the time. Of course it is debatable as to whether reading is being lazy. Many people may say it isn't, and I think I agree with them, although they may make it a condition that it is study rather than pleasure. In which case I don't think I can agree with them. I did a fair bit of reading, but at one point I did go out into the wild open world beyond my front door. I wasn't sure if the main shops would be open on a bank holiday Sunday, but I knew the corner shop would be. So I went there for a bottle of Diet Coke, and I also bought not one, but two Magnum ice cream bars. They were delicious, but in a couple of minutes I had ruined the last couple of weeks of trying to lose weight, and reduce my blood glucose.
During the evening I was deliberately lazy. There was a gig I could have gone to in Bromley, but I just didn't feel up to it. I was feeling tired in sense of sleepy as well as fatigued. So I ended up watching some TV. I started watching when I ate my home constructed, and almost healthy dinner. It was grilled vegetables with nearly every clove of a garlic bulb in with the vegetables. I gave the whole lot a light sprinkle of olive oil, plus some sage, but no rosemary because I can't seem to find any. Towards the end of the cooking I sparingly added a sprinkle of cheese just to add a bit extra flavour. It turned out to be rather tasty.
If I ignore waking up far earlier than I would have wished, I probably slept quite well last night. I don't remember waking up more than once or twice in the night, and in theory I should have been feeling good this morning, but I didn't. I felt quite rough in several ways. My throat seemed sore at first. That seemed the first thing to go away, but my cough, as good as, and as throaty as a smokers, seemed to last for a couple of hours. It is only now, several hours later still, that my nose is not filling up with nasty, sticky mucus every 10 minutes. It does seem like I have some sort of underlying infection that is not overtly obvious, but is feeding my incredibly slow recovery. Unfortunately I have a nasty suspicion it something to do with my teeth even though I have no obvious toothache, although sometimes I do detect a little tenderness.
Well I have showered, and washed my hair, and I have almost finished writing. I should now be raring to go, but I feel like going back to bed instead. It is the depressing effect of a very overcast sky. It feels like the sun is going down, and bed time approaches. Somehow I will overcome this "fear" of an overcast sky, and overcome how creaky and knackered I feel, and get myself out the front door, and heading towards Petts Wood. It is their May Fayre, and several bands will be playing. The big problem is that I only know the names of two bands who will be playing, and I am unsure when they are on. Of those two bands I only know one - Vince Lighning And The Thunderbolts. They are very good if you happen to like 1950s style rockabilly. Unfortunately I hate it ! Despite that it could still be worth taking a few snaps of them. The other band are called Led Z, and I assume they are a Led Zepplin covers band. I think I could enjoy what they do. There should be other bands too, but I have no idea who or when. It makes planning things a bit tricky !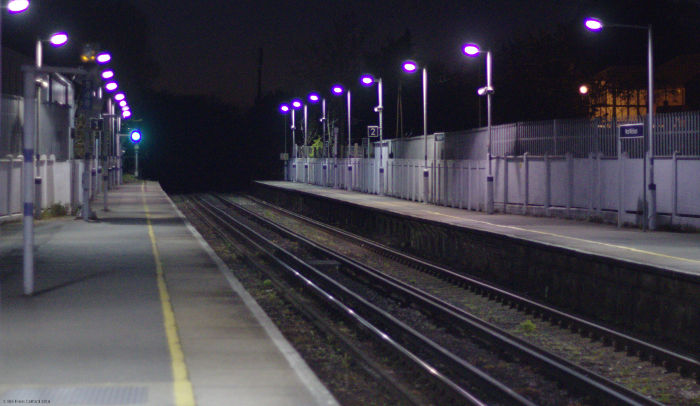 A couple of pictures taken while waiting for my train home on Saturday night.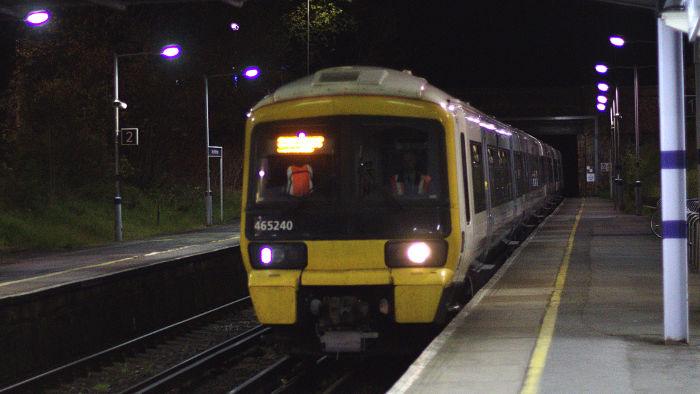 This was my train home. The 21:53 from West Wickham to Charing Cross.
Sunday 1st May 2016
10:21 BST
The last couple of days tried to be like late springs days, and maybe apart from the temperature being a bit low, they sort of achieved it. Both Friday and Saturday had a good scattering of sunny periods, and on both days the temperature probably hit 12° C - although maybe only for a few minutes ! Yesterday showed one big improvement over the preceding days - it was at least 5° C at daybreak ! This morning probably started at a similar temperature. The latest forecast holds out some hope that the temperature will hit 15° C after a sunny morning and part afternoon. It seems that that the day will become overcast after about 3pm, but it will stay dry - unlike tomorrow ! Tomorrow is May bank holiday, and being a typical English bank holiday it will be cool and wet ! Things look up later next week. 18° C, with sunshine, is forecast for next Thursday, but of course the forecast could be, and probably will be, totally different come the day.
My filthy cold has been quite annoying - mainly in how long it has lasted. The worst aspect of it changes day by day, and on Friday my main complaint was just how sore my nose was getting with constant blowing ! I think there was a big annoyance factor involved too - I was very annoyed that I didn't seem to be making much progress in throwing off the cold. Apart from that I was mostly comfortable at work.
I think it was probably on my way home from work that I came up with a devilish plan to make myself feel good for a short while. I decided that I would order an Indian takeaway when I got home...and I did ! It was very nice, and I had sufficient leftovers for a meal yesterday. I went to bed on Friday night with a warm glow inside - almost literally, although it wasn't a very hot curry.
I don't recall sleeping that well even with that warm glow in me, but maybe bits of my sleep were better - maybe some longer intervals between waking up coughing and spluttering. One thing that helped was going for a short walk to meet Aleemah at the station, and then down to the pub for breakfast. I had warned Aleemah that I was possibly unpleasant, and infectious company, but she was brave enough to meet up.
It was a little later in the morning that I realised that my nose was drying up. In fact before Aleemah left to go home I was hardly blowing my nose at all. Even the accompanying cough seemed to have reduced a lot. In the afternoon it really did feel like I was almost over the cold. The only problem is that fighting those filthy bacteria had left me feeling a bit weak. I was in two minds about whether to go out in the evening. I think it might have been better to stay in and nurture my recovery more, but I had made a commitment to go and take a few snaps.
The occasion was a Chain gig with a small difference. It was a public birthday party, with the band, for Phaedra - Jo Corteen's newly 18 year old daughter. Unfortunately the venue was The Swan in West Wickham. I really don't like that pub for several reasons. For one thing it is a shrine to Crystal Palace Football Club. I have nothing against Crystal Palace in particular, and my deep loathing and hatred would be the same if it were Sheffield Wednesday, Manchester United, Lothian Wanderers, Tottenham Hotspurs, or indeed any football club !
So not only is the ceiling covered in sweaty football shirts, but you get people in there in football type clothing. It is obvious they are thugs and lowlifes - aren't all football supporters ? Some of them even stink of sporty types of deodorants and aftershaves ! Maybe I am letting my prejudices show to much here because there are other reasons why I dislike the pub. The layout of the pub, in relation to where the band play, is such that it quickly becomes crowded with all that many people being there. That makes photography awkward, and on the subject of photography, it is one of those dark pubs where it is a struggle to find enough light to take a decent picture. One final annoyance is the times of the trains. In theory it should be a good pub to get to by train. There are trains going from Catford Bridge to West Wickham station (a good 5 to 10 minutes walk from the pub) until well after the pub has closed, but in the other direction the trains stop a little after 11pm. At least this is an improvement to a year or two ago when the last train was 10:47pm. (note, gigs often go on until midnight at The Swan).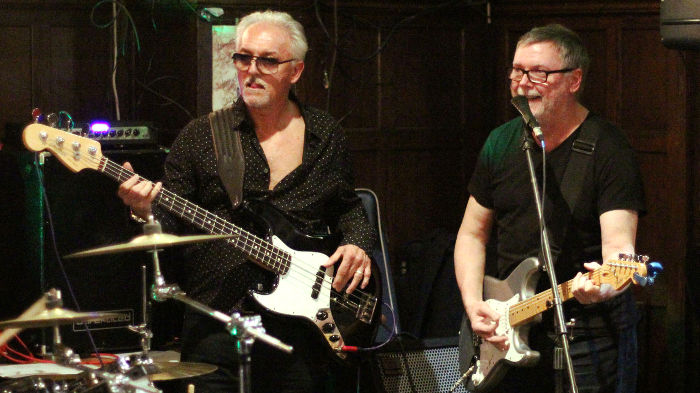 I did manage to get a few good(ish) shots while I was there, but I needed my biggest lens (f1.4) and the equivalent ISO rating turned right up to 6400. So this snap of Steve and Chris is rather grainy (when the original image is viewed), and with an exposure time of 1/100th second there is still a bit of motion blur to be seen in the original image. Even when cleaned up, and shrunk to fit on this page it still looks "gritty".
I arrived at the pub quite sweaty, and that was after taking the unprecedented step of stopping to get a bus to go the one stop up the hill. I'm not really sure why I seemed so sweaty, but I have a suspicion it was the bug that gave me the cold having one last fling. It made me feel quite unpleasant in many ways. I ended up going home again less than an hour after arriving. I just had time to drink a pint of Guinness, and take a few photos of the band. I probably should have made some effort to take a picture or two of the birthday girl, but she was in the middle of a crowd, and I didn't want to try and barge my way into it.
It was sort of nice going back out into the fresh air, but I still felt very far from good. On my way home I bought a few pieces of fried chicken to cheer me up. Sitting in the warm, and eating it did make me feel a bit better - better enough to go through the photos I had taken, and to select about 7 that seemed to be passable quality. Then, at some unknown time after midnight I went to bed. I think I must have fallen asleep very quickly because I can't really remember anything about it.
I probably woke up coughing rather than for any other reason last night - and towards the morning it was quite frequent - at least it seemed to be, but on reflection I think that in some cases I slept for a good hour between waking up. This morning I am still coughing a lot more than I should be, and my nose has reverted back to being stuff again - although it is not actually running. I can still go for fairly long periods before having to blow out all sorts of unpleasant stickiness !
By one interpretation I must be feeling well enough to have washed some shirts and pants and stuff, but I did find it a little more taxing than usual. As I write this I have a sheet and a couple of pillow cases soaking, and if I can find the energy I will be washing them and hanging them on the line to dry in the sunshine. It is not, and won't be particularly warm out in the garden, but there is a light breeze that will probably dry everything quite quickly.
If I survive doing that laundry then I may go on to do a bit more housework. I seem to have a fair few bits and pieces in the sink that need washing, and that shouldn't be too taxing. The more I think about it the less likely is seems to become, but I have been contemplating getting the hoover out today ! I am also contemplating getting some shopping today, but it might just be a couple of bottles of Diet Coke from the corner shop.
Of course if I were to suddenly feel an awful lot better than I do now, or maybe how I anticipate I'll be feeling later, I could go to a nice early starting gig in Bromley today. Being a Sunday, and in the middle of a bank holiday weekend, it may not be too crowded in a pub that is notorious for overcrowding - The Partridge in Bromley. Apart from the tedium of a 20 minute bus ride, it is very easy to get to. It's free entry, and with my 60+ Oyster Card it is free transport. Apart from a bit of time wasted travelling, I could pop in for just 5 minutes if that is all I felt like.