I have very diverse musical tastes, but they do not include such things as "dance music", Opera and many, but not all, types of Reggea. The main genre I like is rock music. The trouble with the term rock music is that it encompasses so many sub-genres. Many of these of old have now merged and many new ones are always being invented. So how can I be specific ? The simple answer is I can't.
It is easier just to name a few bands that I have a particular fondness for.
In no particular order : Motorhead, Yes, Led Zepplin, The Beatles, Supertramp, Electric Light Orchestra, Savatage, Dollface, Pink Floyd, Metallica, Deep Purple, Abba, Atom Heart Mother.
As you can see there is a fairly diverse selection ( and do I care that Microsoft Frontpage does not recognise the spelling of many of those names ? - NO !). You can add to that something like 50% of all the pop songs released during the sixties.
In the early nineties I was fairly heavily into going to gigs. At one time or another I visited most of the London venues, big and small. This is where the page loading time dramatically increases as I show a minute part of my old ticket collection.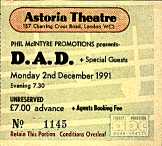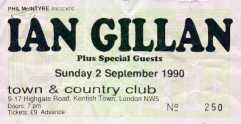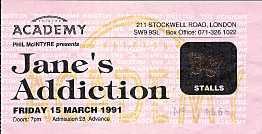 Those were some of the major venues I used to go to. My favourite was always the

.
I have scanned in two complete gig guides from my gig going era. They are from The Borderline and
The Marquee. Click on the names to see them.
If I had to name one piece of classical music that I specially like it would have to be Beethoven's Pastoral symphony. That will always have a strong association to the film "Soylent Green" for me.
In summary I would say I like what I like. I am past the point when peer pressure forced you to nail your colours to the mast and avoid music that was not fashionable at the time. It is quite liberating to be able to judge each song, or tune, on its own merits no matter how much it might clash with established preferences.