On Saturday 26th August 2006 I met Aleemah for the first time for a trip on the Spa Valley Railway in Tunbridge Wells. We met at Charing Cross station at 11am and caught the first train to Tunbridge Wells.
It was gone midday when we arrived at Tunbridge Wells and a bite to eat was the first priority. We called in at a café opposite the station entrance. I had a grape and brie sandwich washed down with a Diet Coke, and Aleemah had a jacket potato with a cup of tea.
Then it was off to the Spa Valley Railway "West" station taking in a wander through The Pantiles on the way there. Our meal had delayed us enough to miss the first train I thought we may have been able to get, but the next one was only about a 30 minute wait. So we bought our tickets and had a look around the place.
Once our train arrived we boarded and found ourself a compartment all of our own. We decided to travel right to the end of the line to Groombridge Station. By now it had become very apparent that Aleemah was the most marvellous travelling companion.
At Groombridge we alighted from the train intending to have a look around. With the ever present threat of rain we decided that it would be unwise to go too far from shelter, and as there was nothing terribly interesting in sight we decided to rejoin the train, but not before taking a picture from the overbridge.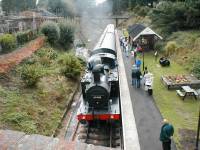 From Groombridge we travelled back to High Rocks station, the only intermediate station on the line. Highr Rocks has some interesting rock formations, and we wanted to get a better look than you can see from the train. To actually wander around the rocks costs £2 per adult. After recent rain, and Aleemah not really wearing suitable footwear, we declined that offer, but had a short walk around the local area. In places this was quite muddy and slippery, but Aleemah took it in good spirit. It was certainly impressive the way that trees were growing on top of solid rock.
We got caught in at least one very light shower, but managed to keep dry under several large trees. After looking at the rocks we still had some time to kill before the next train. So we explored in the other direction. Following a rather muddy path we came across a delightful wooden bridge across a small stream.

click for a bigger image
Soon it was time to catch the next train which was heading back to Groombridge. At Groombridge there is the option to stay on the train while it travels a little further along the line to where the loco can run around the train and be coupled to the other end of the train. By doing this we were able to travel just a tiny bit further, but more usefully secure our own compartment for the ride back to Tunbridge Wells West station.
At Tunbridge Wells West station our journey on the Spa Valley Railway finished, but not before one more pose in front of the camera - and this time it was me !

click for a bigger image
Before leaving the station I bought a DVD about The London Underground, and then it was off to do some window shopping in Tunbridge Wells. We found a shop selling oriental stuff that delighted Aleemah, and then it was into a pub for just one drink to slake our thirst. We arrived back at the mainline station with perfect timing for a train back to Charing Cross. Our adventures continued for a little while after that, but that is another story.

My thanks must go to Aleemah for being the absolute perfect travelling companion.