Thursday 31st August 2006
09:41 BST
---
It's a bit of a grey morning, but it is still dry, and there is a good possibility of some sunshine later on today. Perhaps the worst thing about this morning is that the internet died here at work. There is a very nasty modem/router that we use, and every so often it needs a reboot. Unfortunately it lives in the office, and that is not always when I first get to work or I would have instigated the reboot (with a size 14 boot) myself.

I heard from Patricia yesterday. She seems to have finished her holiday in Italy, returned to Spain, and is now coming back from Spain to, once again, work in London. She arrives in the early hours of Friday 8th September, and has asked to be put up for a few days. He timing is a little inconvenient, clashing with some things I had hoped to do with Aleemah, but I did promise her before she went away that I would put her up for a short while.

Last night I was boozing again. This time it was with Kevin, Iain and Howard. I think I only had two pints last night, and yet I felt the tiniest bit hunger over for the first 15 minutes after I woke up. Maybe it was just tiredness after two late nights on the trot. I think tonight I will be getting to bed a bit earlier than of late.

Apart from going to bed earlier, I really ought to do a bit of housework tonight. Emptying Nelly's litter tray is the first priority, but I ought to get a few other things done that I would probably have done on Saturday - I'll be out again on Saturday. A bit of clearing up would not go amiss anyway. There is a very slim chance that Aleemah may come and visit me tomorrow evening, and I wouldn't want her to find the place looking a complete tip. A semi-tip would do just fine !
Wednesday 30th August 2006
08:08 BST
---
It's a beautiful morning, and everything feels great. The sky is blue, the trains are running, and I had a wonderful evening with Aleemah yesterday. Despite slightly less sleep than I might have need, I started today with a spring in my step.
After my troublesome journey into work yesterday morning, I had a slightly extended journey home. I left work 10 minutes early to try and avoid the congestion in Wandsworth that quickly builds up at around 4pm. I did not have a long wait for a bus - which is just as well as there was some heavy rain as I waited for it. The roads were not too bad and I was soon at Clapham Junction station. From there it was easy to get a train to Victoria where I met up with Aleemah.
I thought we would go for a quick walk, or maybe have a look around
The Science Museum
(or something similar), but we ended up in the Weatherspoons pub inside Victoria station, and stayed there for far longer than I initially thought we would. We had some food, and a few drinks and time seemed to just fly by. I am not sure when we left. We parted company at Victoria tube station, but not before Aleemah had offered me a hug. She took the Victoria line, while I took the District line. At Westminster I changed to the Jubilee line to get to London Bridge. It was there that I had my biggest dissapointment. I missed a train home by seconds, and at that time of night the trains are reduced to one every 30 minutes.
It was a quarter to ten by the time I got home. That was a lot later than I had really wanted to be out, but it was worth it, and I would not have missed it for anything. Not only did I get offered a hug, but I have also been invited to join Aleemah on Saturday afternoon at a gig she is going to. I look forward to that.
Tuesday 29th August 2006
09:00 BST
---
After a rather trying journey into work I have very little time to write. South West Trains are on strike so my journey was :-

Catford Bridge - Waterloo East (Southeastern Trains)
Southwark

*

- Westminster (Jubilee Line)
Westminster - Victoria (District Line)
Victoria - Clapham Junction (Southern Trains)
Clapham Junction - Wandsworth (No. 156 bus)
*

Southwark station is directly linked to Waterloo East Station.



The worst part of the entire journey was enduring a packed and very slow moving bus from Clapham Junction to Wandsworth.

Right now it is slightly cool, but bright and sunny. Rain, possibly heavy, is expected later. Now that is a shame because it is still my intention to meet Aleemah tonight, after work. If it is pouring with rain I don't know what we will do, but even if it's not I don't know what we will do. We just want to see each other !
Bank Holiday Monday 28th August 2006
12:55 BST

---
I can now say how I have spent a lot of this morning. I have made a new web page with an account of my day out with Aleemah on The Spa Valley Railway. It includes many more pictures than I the single one shown on this page. You can view it HERE.



06:42 BST



---
Today has started with heavy showers, but those seem to be breaking up, and there could be some sunny intervals today. I expect everyone going to the Nottinghill carnival, which includes Aleemah, will get soaked at some point today. Personally I am glad I am staying away from the carnival. It would probably be OK but for the noise and the crowds - just not my kind of thing at all.

It feels like I spent the whole of yesterday repairing my iMac. The hard disk in it totally, and irretrievably, died. It is now graced with a mere 10GB hard disk, but that is sufficient for most of what I use it for. That is mainly e-mail, and a bit of web surfing, but occasionally I use it for other things like right now when I am using it to write these very words. It was surprising how long it can take to do a fresh installation of Mac OSX 10.3 on an old slow machine like this. Then there was the time taken to track down all the application that I use on here, and then to install and configure them. But it is done now and everything seems to be running OK.

I'm not sure what I will be doing today. I hope that Tesco's will be open today so I can stock up on a few supplies. Other than that I will just potter around. Maybe I'll do some more house beautification, maybe some computer stuff, or maybe I will just be very lazy !
Sunday 27th August 2006
11:00 BST
---
This morning the sun is shining, and it looks as if it will be a beautiful day. This is in contrast to yesterday where there were frequent rain showers, but yesterday was a brilliant day.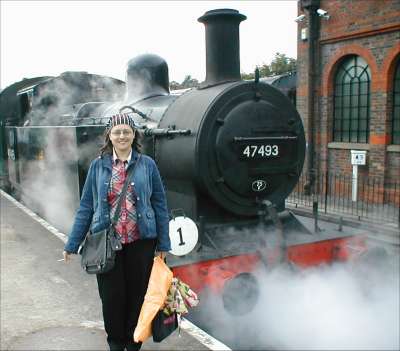 My meeting with the mystery woman, who can now be named as Aleemah, was less of a meeting, and more of a date. My fears that she would turn out to be a hideous ogre were totally unfounded, and we got on really well together.
We met at Charing Cross station and recognised each other straight away. She did have the benefit of having seen a photo of me, while I went in blind. She had meant to send me a photo first, but had not realised that she had not done so. Despite that, one smile and I knew I had found the right person.
She is a little weird, or perhaps eccentric, but in a way that I can relate to ever so easily, and enjoy. She in turn seems to accept accept any weirdness, or eccentricity, of my own in a similar way. It made for a most enjoyable , and enlightning day out.
As planned, we travelled down to Tunbridge Wells for a ride on The Spa Valley Railway. One of her eccentricities is that she likes steam engines. Which is unusual for a woman. This didn't really come across yesterday because we spent more time enjoying each others company than enjoying the loco, but to bolster the point she suggested that a future day out should be to the Kew Steam Museum.
For what was supposed to be an experimental meeting, we spent far longer together than I had first thought would happen. On the Spa Valley railway we first travelled to Groombridge, which is the far end of the railway, and then came back to High Rocks, which is the single intermediate station on the line on the same train.At High Rocks we went for a walk around. We didn't go too far from the station because many of the paths were rather muddy from recent, and at one point current, rainfall. We did discover a cute little wooden bridge over a stream where we stopped for a mildly romantic hug.
The next train to arrive took us back to Groombridge where we stayed on the train as it went a little further up the line to a place where the line was doubled enabling the loco to "run around" and couple on to the other end of the carriages. From there we stayed on the train all the way back to Tunbridge Wells West. After another quick look around the station we headed off to do some window shopping in Tunbridge Wells itself. One shop in particular really caught Aleemah's imagination. It was a shop selling oriental stuff, mainly Chinese and Japanese stuff. That really fascinated her and we spent some time in that shop. Then it was back to the main station and a train back to London. The Gods were obviously smiling down at us because with no planning at all we arrived there with a train due in just a few minutes. This pattern continued throughout the day.
My original thought was that we would part company at Charing Cross station, but I decided to see her halfway home by going as far as Camden with her. We stopped off there for a look around, and a quick, well maybe not quick, but a single pint. Then it was back down to the tube station for a parting hug and a quick kiss.
I felt like I was on cloud nine,but still had to face the tedium of the journey home by myself. Once again the trains were running to perfection timing. At Camden Town my southbound train pulled into the platform at the same time I got there. Then when I got to London Bridge station I had only a few minutes to wait for the train back to Catford Bridge. I think it was close on 10pm when I got back to Catford tired, but elated. I was also starving having only eaten a single sandwich all day. In the face of such hunger I gave in and bought a takeaway (chicken and chips) on my way between the station and home.
I feel like a new chapter has opened on my life, and now I can't wait to see Aleemah again. Unfortunately she has prior engagments booked for next weekend, but we have arranged to meet at least once this coming week after work. Maybe as soon as Tuesday.
Today I think I am going to be fairly lazy. In between being a couch potato I want to play with computers. First on the agenda will be the iMac. I turned it on when I got in last night and I could hear the hard disk going kchunk, kchunk inside the unit. It eventually started, but didn't get far enough to the point where I could back up my data. This morning it will not start at all. I will have several attempts to get it to start to try and back up my data, but I am going to have to install a new hard disk in it (if I can find something suitable - around 20GB is ideal for that old machine). Other than that I will just do whatever takes my fancy at the time.
Saturday 26th August 2006
06:46 BST
---
There was a lot of rain overnight, and the forecast is for scattered showers throughout the day. This is a bit of a shame because in just over 4 hours time I will be meeting my mystery woman for a day out on The Spa Valley Railway. I was hoping for a day like yesterday when it was mostly sunny and rather warm.

I am very excited, and yet rather aprehensive about today's meeting. I do know a fair bit about my mystery woman (or I would have not suggested someting as unconventional as a visit to a preserved railway), but as yet I still do no what she looks like. I do know that she is slightly unconventional, but very acceptable, in her mode of appearance (i.e. some tattoos and piercings), but as to whether she is fat or thin, tall or short, has the usual amount of heads and limbs, is still a mystery !

My fish, vegetables, fruit and yoghurt diet still seems to be working well. If I could keep this up 7 days a week for the next 9 weeks I would end up very close to my number one target weight. In practice it is very unlikely to be as easy as that, but with xmas now only 16, or so, weeks away now, I may get close to it by then - especially if the incentives are right. Maybe with a swimming partner I could even accelerate that a bit. It is even possible, given the right incentives, that by next summer I could weigh less than at any time in since I was about 14 years old. Well, that's the positive view, more realistically I will only hover close, but not down to, my number one target weight. The negative view is that something will come along and piss me off, and much of this hard work will be undone.

Last night I had a dream where I was in a pub with several people I knew from the past and present, although I can only really put names to three of them now. One was Ivor and another was a goth woman who I have only met twice, and been out with once, called Barbarella. At least I think it was her. The last one was Geoff the manager of the Catford Ram. It was fairly late when we were drinking, and at closing time we were locked in for "afters". The pub itself was a sort of amalgamation of several different pubs, but from the views of the road outside would seem to be located where The Goose is located in Catford. Curiously, the bar area seemed to be both indoors and outdoors at the same time. The only action I can recall from the dream was trying to hand Ivor a £20 note to buy a round while I went to the toilet. He was standing at one part of the bar, while I was standing some way away from him. Between us was a part of the bar that was not in use because it could be seen from the road. No matter how we stretched out we could not reach other without going into the "forbidden" area. I might also have a very hazy recollection of buying Barbarella a can of that loathsome drink Red Bull.

My thanks to Howard for suggesting alternative ways of putting out water for Nelly.The theory goes that cats prefer to drink some way away from their food. The logic behind this is that in the wild a fresh kill may contaminate any close by water. It sound feasible, and would explain why Nelly always prefers to drink dirt water outside rather than from her water bowl that is close to her supplies of "crunchies" (and subsequently may have taken to drinking from my night time glass of water). As theories go it stands on par with the theory that cats prefer rain water because it is not "contaminated" with chlorine like tap water. In this cluttered house it will be difficult finding an alternative place to put her water bowl, but I may experiment with it.

Now it is time to do a modicum of housework before getting cleaned and groomed for my day out.
Friday 25th August 2006
08:06 BST
---
It's a beautiful morning. The sky is mostly blue and there is a sort of freshness in the air. It is slightly chilly, but if the clouds keep away for a little while longer it will soon warm up.

Not only is the weather good news (at least so far) , but I had more good news this morning. according to my bathroom scales I am now the lightest I have been all year, and possibly some of the preceeding years. So not only have I repaired the damage of some serious bouts of inadvisable eating a few weeks back, but I have gone on to lose even more weight. Progress is still slow, but after tomorrrow I hope I will have a strong incentive to work at it even harder. It seems my latest recipes have been most effective. Last night was a variation of the previous two nights. I had two tuna steaklets, but this time with some small plum tomatoes, red peppers and red onion. This time I used olive oil to bast the pan I cooked it in, and also for a little dribble over the top to help the vegetables brown a little better. That was followed by two pots of Muller (alleged) Lite yoghurt and a banana. Tonight it will another variation of this basic theme, but using boneless salmon cuts instead of tuna. I might add, in case you were wondering and haven't read it before, that all I am eating during the day before my main meal is just fruit. Yesterday I had nothing but 1 banana, two clementines, and apple and a pear. Over the weekend I think I wil be experimenting with some rice dishes. I picked up some brown basmati rice in Tesco's last night. I had never heard of brown basmati before, but if it adds a slight nutty edge to what is already a very flavourful rice, it may be rather nice.

I have found an alternative explanation to the two bouts of galloping gut rot than I have recently suffered with. I was woken up at around midnight to the sound of a cat drinking water. I always take a pint glass of water to bed with me, and I have noticed Nelly looking at it before. Last night I found her actually drinking from it. Why the water in my glass should taste better than the water in her own bowl is a mystery to me. It comes out the same tap. So I think it is possible that she has done this in the past and I have inadvertently ended up drinking water that Nelly has got to first - YUCK !!!

My dreams last night seemed to be related to my day out tomorrow. They involved railways and a new woman. As usual I can't remember the flow of the dream, but a few highlights remain in my brain. I had bought some tickets to supplement my travelcard at one station and travelled to another station. There I found I had left my travelcard behind at the ticket office. As I wondered what to do the next train arrived. On that train was the ticket cleark who had served me at the ticket office. The clerk was a woman who looked a bit like a taller version of Kate Bush (in one of her earlier guises). For some reason she had taken a shine to me and I hugged and kissed her for bringing me my travelcard back. How the next bit happened is sort of hazy, and probably defies the laws of physics. I think she asked mt to pick her up. I grabbed her waist and hoisted her up as if we were ballet damcers. Then, some what mysteriously, I was holding her even higher by holding her upper thighs instead of her waist. Quite how I did it without dropping her is another mystery, but as I was holding her like that I could move my hands around and feel that beneath her skirt she had either tights or stockings on. At that point, just as things were getting more interesting, it was my usual cue to wake up ! Damn !!!
Thursday 24th August 2006
07:04 BST
---
This entry may seem a little earlier than usual. I am not at work yet because of over running engineering works on the Hayes line. The first London bound train is now due at 07:30. So I will be into work a bit late, but that should not cause too much of a fuss.
There was heavy rain over night, and it is still drizzling now. The forecast is that it will dry up during the morning, and this afternoon we may see some sunshine. The longer range forecast still suggests that Saturday will be a fairly pleasant day, and it will not be until the bank holiday Monday that the heavens open wide again pouring copious amounts of rain on all those going to the Nottinghill Carnival.
I managed to curb my appetite last night. As I suggested I had the tuna steaks, followed by two nectarines and 4 pots of low fat, sugar free, yoghurt. Unfortunately I had run out of olive oil so I had to use some genuine, high cholerestrol, high saturated fat, butter to grease the steaks as they cooked in the oven. Fortunately tuna steaks are not very porous so most of the butter remained in the pan. That lot was topped off with two pints of Stella Artois, and a scotch and (I hope) diet cola when I met Kevin and Iain in the Catford Ram. After the pub I resisted the temptation for a snack and essetially went straight to bed.
So this morning I feel almost fit and well. I had a good nights sleep (if you don't count having to get up at 2am for a pee). My weight is returning back to the lows prior to the recent bout of overeating, and if things work out OK on Saturday I look forward to losing a fair bit more.
I had better get to the station again now. I may write some more at work. I have a bit of a dream to describe about Daleks !!
08:45 BST
---
Well, what a journey into work that proved to be ! The first train of the day to London from Catford Bridge was, as advertised, at 07:30.
It was completely packed solid ! I have sometimes had to get that train when I have missed my normal 06:56 train for one reason or another (although not for many months now). It is usually pretty full, but today it was heaving ! As well as people like me who would normally have got the earlier train, there seemed to be an exception amount of tourists heading for Waterloo Eurostar services. They all had loads of bags and rucksacks etc, and they took up a fair amount of room. There also sems to be a hell of a lot of ordinary commuters who now have small rucksack types bags slung over their shoulders. They all atke up extra room as well.
Having made it to Waterloo my next set back was that the 08:03 service to ???? (Teddington ?) failed before it left the station so I had to transfer to the 08:10 Hounslow service. The only good bit was that upon arriving at Wandsworth Town station I got a bus straight away. In fact I had to run a few tens of feet to make sure I got it. The downside of that was that I had to throw away a quarter smoke fag !
I had this dream last night about Daleks ! Sometimes I was within the action, and sometimes it was if I was watching it on TV. With Daleks in it there also had to be Dr Who. I may have "played him" some of the time, but at others he was a separate person. He was not any Dr we know, but varied between a hybrid of Peter Davison, Jon Pertwee, and Sylvester McCoy. It is now difficult to remember any of the plot, but I do recall two tiny bits. One was where a family was escaping by travelling to Scotland on a rocket powered speed boat. I, and probably others, watched them speed off to sea, and then I walked along a path adjacent to the shoreline, but surrounded on both sides by trees and shrubs. Any moment I was expecting to hear the sound of the boat being blown out of the water by a Dalek, but it never happened. After walking for a bit someone said that there were daleks hiding in the bushes. I did see some and wondered how they could move through such terrain.
The other bit of the dream I remember was pretending to be a simple robot while surrounded by daleks. It was very weird because I was actually looking at myself as I was wearing this strange "costume". I was wearing what appeared to be an old water tank on my lower half, and my top half was shiny black metal like an inverted dustbin. I remember telling the daleks that I was just a humble service robot, and not a human, so there was no need to exterminate me. I think I survived, but can't remember any more of the dream.
Wednesday 23rd August 2006
08:10 BST
---
I think the word is "hubris". I have challenged the gods and they have rained on me. Once again I took a chance on the weather, and this time without consulting any forecasts. I left home without a coat and it was raining by the time I git to Wandsworth Town Station. Fortunately two things were in my favour. A bus came very quickly, and the rain was still fairly light. The forecast in The Metro, that I do not get and read until after I have left home, suggests that the rain will be heavier and possibly thundery this afternoon. I wonder if I will get totally drowned on the way home ?
On my way home from work last night I called into Tesco's to buy a few essentials. Most essential was toilet paper, and not far behind was catfood, but I also bought a couple of yummy things. First amongst the yummy things was some salmon cutlets. they went very nicely with some spinach and pasta. Tonight I may have something similar, but tuna steaks instead of salmon. Alternatively I may see if I can get by with just the tuna on it's own followed by just some fruit and yoghurt.
The reason, or should I say the new important reason, for this potentially sparse meal is that I want to be in very good condition for Saturday. The meeting I mentioned yesterday seems to be almost escalating towards being a date. It is not though. It is still just a meeting. I will define a date as a meeting intended to promote romance. For me there are too many unknowns to consider romance. If romance follows, then so much the better, but I am not going to psych myself up hoping for romance only to suffer bitter disappointment if it turns out we hate each other. So what are we doing ? Definitely not a candlelit dinner. We are going out to have a ride on
The Spa Valley Railway
! There will be romance, but romance of a different kind - the romance of the railways, and hopefully a bit of steam power (sounds kinky, but is perfectly innocent !).
Tuesday 22nd August 2006
08:11 BST
---
It is a wonderful sunny morning, although a little on the cool side. With luck it will stay dry because once again I have not brought a coat into work.

I feel a little rough this morning. I am sure it is still the ongoing legacy of my galloping gut rot on Saturday evening. I feel sort of like I have the 'flu. Bits of me ache, and that includes my gut. I felt similar yesterday, but the ache in my gut is more noticable. Yesterday the aches disappeared by mid morning, but I still felt very weak for the rest of the day. Going home was a complete contrast to my energetic exploits of last Friday night. Last night I didn't feel like the mad rush to change trains at London Bridge so I waited the extra 10 minutes at Waterloo East and caught the direct train home. That train arrives in Catford only 10 minutes later than the earlier train. So I was not that late getting home.

I decided to watch my eating last night so I just had one large meal of fish and pasta and nothing else. I had thought I would need to top that off with something later, and I was determined that extra would be some fruit (I have some very nice nectarines waiting to be eaten). In the end I did not eat anything else at all. Past experience has showed me that one of my pasta meals is usually good for me. I can actually lose weight by eating them. Last nights was a little oilier than usual because the fish were sardines canned in oil. I did drain off the oil, but did not make a very good job of it.

For the rest of this week I will have to watch what I eat even more carefully. This is partially because I ought to do it at any time. Partially because I want my guts to settle down, and partially because I think I may have a meeting on Saturday where I want to feel spry and brimming with energy (if such a thing was possible). It is not exactly a date, but could lead on to one. I may explain more later.

Last night seemed to go in a flash. It seemed that no sooner than I had cooked and eaten my dinner, written a semi long e-mail, then it was time for bed. There was one other diversion during that time. Kevin popped round to try and off load some "junk" on me. There were a few bits I took off his hands, but I gritted my teeth and turned the rest down. Once upon a time I would never have said no to old computer and other electronic bits, but now I am trying to reclaim my home back from all the stuff I have collected in the past. I am actually throwing away stuff that is not too disimilar to the stuff Kevin was trying to give me.

I am not sure what I will be doing tonight. Writing e-mails is one possibilty, but I think I want to play with computers a bit. Maybe I'll just sit and watch TV. It will all happen on the spur of the moment anyway. So if there is anything to describe, I'll describe it later.
Monday 21st August 2006
08:02 BST
---
According to the weather forecast this morning is supposed to be grey with showers. It certainly started rather grey, but I did the second half of my commute into work in bright sunshine. Since getting into work the sky has gone very grey and threatening. No doubt it will be raining soon. Despite the greyness it is rather mild. I felt quite hot under my coat this morning. If the day had not started so overcast I may well have taken a chance and left my coat at home.
The weekend had it's good points, and it's bad points. The food poisoning on Saturday night spoiled what could have been a pleasant drink....err................no it wouldn't have been a pleasant drink at all ! There was an Elvis bloody Presley impersonator in the pub on Saturday night who pissed me off beyond belief just doing his sound check. Maybe it was that caterwauling that upset my stomach and not the dodgy sausage rolls on Friday night. Yes, so actually the commotion in my lower intestine did me a favour. If there is one thing worse than Elvis Presley it is an Elvis impersonator. They should be sent to the lower depths of hell along with their inspirator (is that actually a word ?).
Yesterday I managed to achieve a little more towards my ongoing house beautification. During the afternoon I went out to Poundstretcher and bought the lampshades that I was going to get on Saturday. So now, for the first time in 23 years (!!!) my living room has a proper lampshade. The front bedroom (i.e. the studio, and Patricia's old room) has also been graced with a lampshade as well. Not only that but the spare bed now has a proper reading lamp by it, and the curtains are freshly washed. Other work included cleaning and replacing the books on all but the top shelf of the shelves above my front room computer work station. If I am feeling enthusiastic I may tackle that top shelf during the week.
The one thing I didn't do yesterday was to play with any computer hardware. Having partially assembled a new PC in the case that my neighbour gave me, it was my intention to get it to the point where it could be powered up to see if it would all work. For some reason I never seemed to get the enthusiasm to do that yesterday. So all I really did with computers yesterday was to install, and try out, Fugu on the iMac.
Here's an interesting moral conundrum for you. Let's take a hypothetical case where I (or anyone) has recorded a film from the TV to watch later. As I understand it that does break the letter of the law if interpreted in it's strictest form, but is considered to be "fair usage" (or something similar). Now consider that upon playing back that recording it is found to be faulty. Maybe it was recorded on a crappy VHS machine and the tape was so old the playback was almost unwatchable. In those circumstances would it be right to download a replacement from the internet ? Under any interpretation of copyright law it would be illegal (unless it was a paid for download), but would it be morally wrong ? I suggest that it would not be (and I reckon that all apart from a few dinosaurs, and other accountants, would agree with me). It is a strange, almost topsy turvy, world where it is considered stealing to take something you already have. If you have any views then there is the link at the top of the page, or my e-mail address on the
home page
.
Sunday 20th August 2006
13:37 BST

---
This is only a quick experimental update. I have just found a Mac OSX (almost) equivalent to Winscp3. It is called
Fugu
and allows me to open a secure connection to the entire file system on my server. Unfortuntately, unlike Winscp3, there is no option to add an external editor for anything other than plain text files into the configuration settings. So I had to download this html file to the desktop, and from there open it up using Nvu (which I am now using to write this). Next I have to save the file back to the desktop, re-open Fugu, and copy it back to the server overwriting the original file. Let's see if it all works......
06:42 BST
---
This morning seems rather duller than yesterday. Yesterday turned out to be a mixture of sun and showers, and I think today will be similar.

I feel very tired this morning. My sleep was badly disturbed by rotten guts. It started at about 19:00 last night when I went to The Ram to meet Kevin who wanted a quick pint, or two, after doing some shopping in Tesco's. I felt rather bloated while I walked to the pub, but put this down to having recently eaten. As soon as I got to the pub I had to dash to the toilet, and during the course of the next 60 - 90 minutes I had to go another 5 times. As I walked home again I could feel the one and seven eighths of a pint that I had managed to drink (I had to leave the last eighth of a pint) sloshing around inside me. A most unpleasant feeling. Once home again I was reasonably stable. It might have been a mistake at that point to try eating some pro-biotic yoghurt. It seemed OK at the time, but at 02:00 I had to get up and go to the toilet twice. Even when I woke up recently I was still a bit flatulent, but I am pretty sure that by now I am totally empty of any solid matter........The only saving grace in all this is that nothing came up, and it all went down. This food poisoning was far worse than that of a fortnight ago. That was mild by comparison, and it was all over in the space of a couple of hours. The real enigma to this is why I appear to weigh more after a very thorough emptying than before.

Yesterday, like many recent Saturdays, was a mixture of some productivity and intense laziness. Perhaps yesterday was slightly more productive than some recent Saturdays. I did two lots of laundry, and did a fairly large shopping trip to Tesco. From Tesco I bought some furniture polish and cleaned up some of the woodwork in the living room. Later on I finally made up the extended shelf where my iMac now sits in the living room. I also partially constructed a PC from the bits my neighbour gave me earlier in the week.

Today I have several projects in mind. Maybe one of the simplest will be to restack the books on the shelves above where the iMac now lives (and take the opportunity to clean the accumulated dust away. With that done it may look nice enough in that particular corner of the room to take a photo of it (and show it here). Another fairly simple task I may do is to wash the curtains in the front bedroom. In between times I think I will play with computers. But first I am going back to bed again.
Saturday 19th August 2006
06:36 BST
---
It seems like a nice bright morning. There is a lot a blue in the sky, and the sun, although still very low on the horizon, is shining brightly. I am sure the forecast for today is that there will be a lot of rain, but right now it looks as if today could be a very pleasant day.
Yesterday was a fairly unpleasant day. It started out grey and rained on and off for much of the rest of it. There were a few sunny intervals, and when the sun was out it felt very hot, reminding me of just how warm August should be. Work was also not quite unpleasant, but a little tedious. I was stuck on function testing 60 circuit boards.
During the day I stuck to just eating fruit, as I have done all week. As I came home I felt exceedingly hungry, but I alos seemed to have amazing reserves of energy. At London Bridge station I had to change platforms for the Hayes train to home. The connection was very tight last night and I had to run up the stairs of the overbridge between platforms. I can usually do this pretty fast, keeping up with all but the most athletic commuters, by partially pulling mself up using the handrail. Last night was a bit different. With no one in my way I went up the centre of the staircase at lightning speed. I amazed myself with the speed I attained, and also the almost lack of effort to do it. Well, I suppose I did put a lot of effort in to it really, and I doubt I would have been able to go much further, but for a short upstairs sprint I was amazing ! Perhaps more amazingly (for me) was that after a very rapid walk to the next staircase, and a controlled, but rapid descent down onto platform 1, I was not out of breath., At least not to the point of panting. Deep breathing through my nose was sufficient to get my breathing back to normal after a couple of minutes (or less). It is a real shame that Patricia is not here to accompany, and encourage, me to the swimming baths. With more exercise like that I could end up being almost athletic (and closer to death !).
I went to Tesco on my way home from work. That could have been a dangerous thing considering how starving I felt by the time I got there. However I did restrain myself a bit and tried to concentrate on filling up my basket with a load of stuff that was not immeadiately eatable. For instance I bought over half a dozen tins of fish, mainly sardines, to use with pasta during the week (and maybe this weekend). Of course I did buy some junk food goodies, and so I did eat more than was desirable when I got home, but it was mild by comparison to the pig-out I had last Friday. The next danger is that I want to do some more shopping this morning. I am going to buy some fruit and see if I can persuade myself to eat that instead of tastier snacks during the day, but I am also going to buy other stuff.
There's lots of stuff I want to do today. I have already mentioned another shopping trip to Tesco, but I also want to visit Poundstretcher. They have some lamp shades in at the moment. They are nothing wonderful, but they are there, and it would improve the very slow, but ongoing, beautification of my house to put a few lamp shades on some of the bare lightbulbs. I might even buy a small reading lamp to put by the spare bed. After shopping, the next priority will be to do some laundry. I seem to have a large pile of it, and I will start that off before I go shopping. With those two tasks out of the way I have a choice between what I want to do and what I ought to do. What I want to do is to be mostly lazy and play with computers in the intervals between being lazy. What I ought to do is to continue the house beautification programme. The living room is fast approaching the point where it could start to look almost clean , tidy and cozy, but there are a few things holding me up. I'd like to buy a small desk, or computer workstation type arrangement to put the iMac on, but there may be other priorities for this months budget (I was only paid two thirds of what will be my normal monthly wage this month). Although the biggest problem would actually be transporting whatever I buy back home. Ideally I would need to cadge a lift , but I doubt anyone is available, and I would not want to impose anyway.
I predict that by later tis afternoon I will end up playing with computers. There is the stuff my neighbour gave me on Thursday night to play with for a start. He has expressed an interest in using an old PC as a firewall (like I have here). I don't know whether he would accept it, but I may knock up one for him using one of my old computers. To some extent it depends on whether I can find sufficient memory to use in one of those old boxes. I seem to have accumulated quite a pile of ancient memory, but it is all of such small sizes that it is difficult to get enough on one motherboard to provide in excess of the 32MB required by
Smoothwall
to actually install it. About 64MB would be far more desirable. Apart from the memory I think I have everything else required even down to an old
hardware
internal modem. (Read about the differences between hardware and software modems
here
, and
here
).
I think I have written enough for this morning. It is time to go back to bed and see if I can recover the dream I was having, and try and control what was going on it it. It mostly concerned a woman, but the dream was so mixed up that it made very little sense, and is impossible to describe.
Friday 18th August 2006
08:00 BST

(with correction made at 10:00)

---
It seems like I am having a run of good luck lately. This morning I wore a coat to work and it was raining quite hard when I got to Wandsworth Town station. There was some very heavy rain in the night too. I was woken up at around 02:00 to the sound of rain lashing down. There were a few bright flashes of lightning too, but strangely enough I never heard any thunder. I did get up for a little while to see if I could call Smudge in. She was nowhere to be seen, but when I got up again at 05:30 she came in looking very bedraggled. I have gained a lot of her trust, but the poor thing it still too timed to accept a towelling down. So when I left for work she was still quite wet, but she is in the dry now and will soon dry out.
I have had other bits of good luck as well. Last night I managed to get the late running "early" train at Waterloo East despite not getting the early train from Wandsworth Town. That led on to me meeting up with a neighbour of mine who dabbles with computers. I told him the sad story of my power supply and hard disk blow up, and how I now needed a new graphics card. He said he had a spare that I could have. A couple of hours later he dropped round a box of junk for me to play with. The box itself was an old Compaq desktop/tower computer case. Loose inside it were 3 graphics cards, two CD rom drives, a CD rewriter, a floppy drive, a 350MHz Pentium II processor, a case fan, an HP "Travan" 8GB tape drive, and an old ISA card that could be a parallel port card or a SCSI interface card ( I haven't looked at it too closely yet) . That was quite a good haul considering al I wanted was a graphics card !
So armed with a choice of graphics cards I put my spare PC back together again and tried it out. It almost worked fine. Windows detected the new ATI Rage Turbo Pro graphics card and installed it without me even realising it had done it. Unfortunately the machine rebooted unexpectedly several times. It seems that the second hard drive in there is not very happy. I disconnected it and then everything ran smoothly. I will investigate that second drive another day. For the moment the machine is perfectly usable. If I was feeling bold I would put the old power supply (the one before the one that blew up) back in and see how it behaves with the new graphics card. Maybe there is little wrong with it after all.
Now that the spare PC is back up and running I can consider a suggestion put to me. My Linux guru Steve has suggested that I ought to include some video content in these blogs (or maybe you meant I should sign up to a
You Tube
account and host them there ?). Maybe I should set up an account with them. It seems you need to have a user name and password before you can view some of the more risqué videos. The idea of a video blog is certainly challenging, and an idea that would need far more careful thought - scripts even ! I might give it more thought over the weekend, and perhaps record a little test piece. I do have a little video, not featuring me, on the internet somewhere.
When I manage to find the url I will post it again ( it is hosted on my old ISP's web space, but there is no index page for that)
. In fact it is right
HERE
.
Thursday 17th August 2006
08:05 BST
---
It was a warm night last night, and it is still quite mild even now. Thunderstorms are threatened for toay, but so far it looks OK outside. The forecast for yesterday was sort of right. At lunchtime, while I was eating my apple and two oranges there was virtually a cloudburst. It rained cats and dogs for about five minutes. By the time I had eaten my lunch and was ready for a fag, the sun came out and I had my smoke in bright sunshine (although there was still a few spots of rain in the air). The rest of the day was mostly dry, and once again I made it home without getting wet.
This morning I nearly got into trouble. The cumulative result of two (seperate) days off sick, and a bank holiday, now means that I renew my weekly travelcard on a Thursday. Or at least I should do. This morning I forgot to do it, and it was only as I approached the ticket inspectors at Waterloo East did I remember. Fortunately they were two busy dealing with others to check my ticket, and the probably were not expecting to see a travelcard expiring on a Thursday. After passing through the inspectors I went straight to the sewlf service ticket machines and bought a new travelcard.
Last night I did not get up to much. Most of my evening was spent in the pub with Kevin, Howard, and Iain. It felt like most of the evening, but in fact I was only there for about 90 minutes, but it still left very little time to do anything creative. I had to wait until early this morning to try something suggested to me in the pub. That was to try one of the online internet speed tests. This came about after I moaned that once I had a bit torrent downloading it almost kills my upload capabilities. When you view one of my web pages it is a download from your perspective, but from my perspective it is an upload. I have found that setting the maximum upload speed in my torrent client to just 2Kb/s leaves just enough bandwidth for these pages to download at a tolerable speed. After conducting the online speed test I conclude that far more is going on than meets the eye when it comes to using a bit torrent client. The test reported a download speed of 954kb/s, and an upload speed of 95kb/s. The 954kb/s is close to the 1000kb/s that I pay for, and the upload speed, at just one tenth of that, seems better than others are getting. In the pub last night it was generally agreed that the ratio was usually 16:1. I think a little investigation is needed to see how Ktorrent, my bit tottent client, is hogging all my upload bandwidth. I feel sure that some configuration in my Linux firewall box (
Smoothwall
) may allow may allow my server to take priority over upload bandwidth. I have no idea how it might be done, and it is more just a gut feeling that it ought to be possible.
Wednesday 16th August 2006
08:10 BST
---
It's warm this morning. Maybe it is going to be an almost hot day. It didn't seem that warm when I first left home, but an hour later in Wandsworth it feels rather pleasant. There are a few clouds in the sky, but it is mostly sunny. My morning paper, The Metro, suggests rain for this afternoon, but I am not convinced by that. Once again I have come to work without a coat on. This morning it was definitely justified. Not only is it a a warm morning, but the heat was on in my train from Catford Bridge to Waterloo East. It was not unpleasantly hot on the train, but with a coat on as well it may have been getting that way.
Last night, after work, I went to Maplins in Wimbledon for the second evening running. This was to get my new, but faulty, PC power supply changed. Upon arriving there I went straight to the shelf where I had bought it from and confirmed that it was marked as being sold for £24.99, and not the £39.99 I had been charged for it. After a bit of a verbal battle I finally got the unit exchanged and also a £15 refund for the amount that they overcharged me. So it was most definitely worth going despite the fact that I felt tired and my guts felt a little unstable.
That was the good news. The bad news is that the new supply didn't work either ! This time I took some real measurements and found that it was working ! I am now very confused. If I connect up an old, rather crotchety, PSU (
P
ower
S
upply
U
nit
) to my computer it does start up OK. This particular PSU was the original one that I built the PC with. After a year or so it started playing up. Everything would work fine unless I did a reboot. Then the PC would start, but I would get no video out to the monitor. So I changed it for the one that blew up. For 6 months that worked perfectly up until the time came when it died. My brand new PSU is behaving like the original did after a reboot, except this time it is on first turning it on that I get no video. Substituting an ancient 1MB PCI graphics card does give me video however. Now the silly thing is this, when I compare the voltages from the new and old PSU's I find they are more or less identical. So what is going on ? My untested theory, one that came to me while sitting on the toilet this morning (it's where are great ideas are born), is that there is a fault on the reset circuit of my graphics card. The difference between the sort of working PSU and the new PSU can only be a matter of the timing of when each voltage source turns on. This is liable to be in milliseconds, and far too fast for the eye to register, but maybe an age at the speeds that computers work at. So now I have a choice. Do I abandon the old graphics card and get a new one, or do I try and find how it does it's own internal reset and attempt a repair. I think I wil attempt a repair someday. Today I have brought into work my failed hard drive. Initially I will see if I can diagnose the failure mechanism, and then I may see if it is possible to source the bits to repair it. If I can't do that then I am left with another two choices. I can try and get it repaired under guarantee, or I can try and find another identical drive and swap the electronics over to regain access to my stored data. All these decisions ! I guess that's what makes life interesting sometimes.
I am not sure if my life has been interesting or ironic lately. Perhaps it is sort of ironic. As late as last week I was hoping to meet a new, possible, ladyfriend, but that did not work out due to a clash of personalities (I guess). It turned out that she was a dog inclined person and I came up with the theory that dog and cat type people did not really mix. Then the next day I had a charming conversation with a lady on the train home who had her injured dog with her (read last
Friday 11th
). The next bit of this irony is that just before concluded our last e-mail I was arranging to meet up with her. I had this idea that a brief meet after work might be a good idea, and that I thought I could get to Wimbledon. She lives at Morden which is just a couple of stops away from Wimbledon on the Croydon Tramlink. So within just a few days of that meeting never taking place I find myself visiting Wimbledon, something I have only done a couple of times before, not once, but twice ! Is someone trying to tell me something ???????
Tuesday 15th August 2006
08:21 BST
---
This morning the clouds have mostly gone away, but the sun seems very weak. I think there is some high mist that is partially obscuring the sunshine. It is very slightly warmer than yesterday morning, but only by about a degree. The rest of the day should be brighter, but with a chance of a shower or two later this afternoon. Once again I have not brought a coat. Will today be the day when I get a soaking ?

After work yesterday I did go to Wimbledon to visit Maplin. It seemed like a long way, but in fact it was quite quick. Amazingly I still managed to get home by 17:30. This is only 40 minutes later than my earliest possible time, and only 20 minutes later than my average time. the bad news is that I have to go to Wimbledon again tonight. Not only was the computer power supply £15 more expensive than I thought, it also didn't work ! Until I recheck the price markings on the shelf of Maplins I remain convinced that the price of the unit I selected was just £24.99 (although I will concede that it could have been £29.99). Yet when I checked the receipt during the journey home I found I had been charged £39.99. That is not neccessarily a bad price, but I just think I was overcharged. If the damn thing had worked I would have left it like that, but it is most definitely faulty. A spare, and rather underpowered, power supply is enough to start the PC up so I know that the PC itself is OK. Besides which, I am an electronics engineer so I claim I know what I am talking about (mostly !!).

The other sad thing about the PC is that the main hard drive has blown up. It may have been that which blew up the old power supply, or it may have been the other way round. That is something we will never know. So as well as a new power supply I will have to fork out for a new hard disk. I may bring the old one into work and see if I can repair it. My initial diagnosis is that there is a short on the +5V input. If I was incredibly lucky, lucky beyond reason, it may just be the parallel switching regulator short circuit. In which case it may be possible to repair it. In theory the hard drive is still under guarantee, but pursuing a replacement will not recover my data still on the drive. If my attempts at a repair fail, and there is a good chance they will, I will see if I can buy an identical drive and swap the electronics over. It is an idea I once thought of trying on another failed hard drive. Coincidently, both hard drives have probably suffered from the same failure mechanism, and both were manufactured by Maxtor. In future I may try and stay clear of Maxtor hard drives - although I do have some pretty old ones that seem very reliable. I have a suspicion that this failure mechanism may only affect one particular version of the drive electronics. I think both failed drives use the same circuit board, and although I can't check it here, I think it is marked something like "fish'n chips".

As I write this at work one of my PC's is downloading a couple of big bit torrent files. I have tried to throttle back the upload speed, but it is still slowing down my up connection to a crawl. So apologies if this web page has taken an age to download. My downloads may well take a few more days yet, but I may I remember to stop them during the day and just leave them on overnight for those next few days.
Monday 14th August 2006
08:12 BST
---
Last night there was a thunderstorm. There was only one real clap of thunder in the local vicinity, but the rain certainly thundered down ! This morning it is dull and overcast, but there was no rain. This afternoon it should brighten up a bit, ut I doubt we will see much sun. Once again I did not wear a coat to work even though it is now starting to cool off a lot. I think tomorrow there is heavier rain forecast so I may be forced to put a coat on then.
I had a pleasant drink in The Catford Ram yesterday lunchtime. I stayed for about 70 minutes and drunk two pints. I was most wise to take along a magazine to read because, as expected, my open invitation to any ladies who might want to join me was totally ignored. After leaving the pub I did a little more shopping in Tesco. The result of that was for the third day running I ate far too much. That is not stricly true. On Friday I only ate my usual quantity of fruit at work, but then I got bored in the evening and pigged out on kebabs.
After work I was considering going into Wimbledon to buy my new PC power supply from Maplins. Right now I don't think I can be bothered to go there, but I may make a split second decision as I approach Clapham Junction station on the train home. In theory it should add very little extra to the time of my commute home, but the call of Catford is very loud (for some strange reason).. I guess I have always been like this. Once work is over, no matter how much I have enjoyed, or hated it, I just want to race home as fast as possible.
09:31 BST
---
There are a couple of things I meant to mention earlier this morning. The first is that from the statistics of this web site I see that I have many readers from all around the world. I don't know what is so fascinating here, but why not drop me a line and tell me what you think. That goes for UK readers as well. It's a dangerous thing to do, but here is my e-mail address that you can contact directly -
bill.kelsey@tesco.net
.
The second thing I meant to mention is that today is the anniversary of The Marine Etc Broadcasting Offences act of 1967. This was the legislation that forced the closure of the offshore pirate radio stations - Radio Caroline, Radio London, etc. I expect some of my old friends will be celebrating it in their own style, but for now I choose to remember it in my own way. If I get time I'll add a few links to other websites that have more to say on the subject.
Sunday 13th August 2006
10:51 BST
---
It's a horrible cold, wet, and windy morning. Maybe it is brightening up right now, but it may just be a temporary thing.



So far this morning I have been to the corner shop to buy a magazine and some cat litter. I have also tacked down a network cable that was preventing the door of the front bedroom closing properly, installed the codec for

Flac

audio compression on my bedroom PC, and totally failed to get the same thing working on this Linux PC that I am writing this on.

Yesterday I was very lazy (and ate too much again). I did get as far as opening up the power supply for my video editing PC. It was worse than I thought. One device, an

FET

I suspect, has gone short circuit rendering the unit unrepairable. Well, almost unrepairable. If I had the spares on hand, and plenty of patience, I could have a go, but new units are so cheap that it is hardly worth bothering with. It was my intention to go along to

PC World

and buy a new one this morning. The rain, and all pervasive gloom of the weather, has put me off doing that. There is a PC World not far from Wandsworth Town Station so maybe I might call in there on my way home from work tomorrow (subject to the weather !!). Their prices are a little steep so it may be worth me going to Wimbledon and visiting the

Maplin

store there. It will be even further out of my way, but it could save £320 or more.

In just over 40 minutes time (as I write these words) I am looking forward to a pint or two. I am off to The Catford Ram with a magazine to read. In a strange fit of madness I have put out a general invitation on a certain website to any ladies who might want to join me. I am not expecting any one to turn up - hence the reason for the magazine, but you never know ..........
Saturday 12th August 2006
05:07 BST
---
It's cold, dark and damp right now ! It will be a little while now until the sun rises, but even then I think it will only be a grey day with intermittent rain. In some ways this does not bother me. I did not have any prior plans to go out anywhere today, at least not for entertainment purposes. I do have a little shopping to do at Tesco, and a visit to a shop selling computer spares might be desirable. So any rain is of a minor consideration, but it would be nice and cheerful if the sun does come out.
Yesterday my gamble with the rain did pay off. While waiting on Waterloo East for my train home I did feel one raindrop fall on my head, and walking back from Catford Bridge station there was some very light rain. Neither of these bits of rain would have warranted putting a coat on, and I was happy to travel light without one. With luck we will still have another couple of months with the temperature high enough to be comfortable before I have to start wearing my light jacket while out and about, and then another month, or two, before I revert to my heavy leather jacket.
Last night I had a very lazy evening (like many evenings after work, I suppose). Apart from eating far too much, one thing I did was to pull the power supply out of my other downstairs PC. After accidently turning off the mains to it while hoovering last weekend, I found it would not power up again. This is a rather typical fault for a
switch-mode power supply
. This type of power supply uses a small feed of power, direct from the mains input, to feed the internal circuit with just enough power to start up. Once started, a stronger source of power is derived internally to feed the running circuits. It is analogous to the battery in a car. The battery is only used to start the engine, and then once that is running it provides all the power required, and some surplus is then fed back into the battery to re-charge it. In the case of a switch mode power supply, as used in probably all computers and many consumer entertainment products (TV's VCR's DVD players etc), a high value resistor is used to trickle just enough power into the circuitry to enable it to start running once the mains is turned on. It is a common fault for the "start up resistor" to go open circuit. As it is not used once the circuit is running, the fault is only seen once the mains has been switched off, and then back on again. I hope that is my fault, although upon opening up the power supply (
not recommended unless you have a familiarity with high voltages
) I did notice two very heat stressed components. One is a capacitor that has seen temperatures high enough to slightly shrivel it's plastic wrapping. The other is a resistor that has been so hot that it has become discoloured. I hope the resistor is still intact because I now have no idea what it's value may be. I think there is a reasonable chance that it is still intact and has no bearing on the fault. If that is the case I will measure it's value and replace it with a more a more suitably rated resistor. If it is faulty then I will have little choice but to buy a new power supply unit - hence why a visit to a computer spares shop might be desirable today.
Any shopping trips I do today will have to be in the afternoon. In a fit of madness on Thursday I ordered a shiny new toy. It is a pocket sized mp3 audio player, AND an mp4 video player. You can read the very broken English specifications
here
. If you can understand what it does please let me know ! One thing I definitely like about it is the power source "
Power

: Built-in 1800000mAh lithium battery
". By my reckoning it will only need recharging once every century or so. At least it would if that was a true translation from Chinese to English. I have a theory that somewhere down the line someone misplaced a decimal point somewhere !!! It is wildly optimistic of me to hope that it could be delivered today, but I will not take the chance of missing the postman just in case it is.
Shortly I will be going back to bed to catch up with my beauty sleep. I went to bed at 21:00 last night, but I was reading until almost midnight (I think). It was only the cats expecting an early breakfast that got me up this early. Somehow they don't seem to understand that today is a Saturday and I don't have to be up early for work.
Friday 11th August 2006
08:04 BST
---
Friday at last ! It is not a very good Friday though. It started with blue skies, but now the cloud is gathering, and rain is forecast for this afternoon. Some of that rain could be heavy, and once again I have neglected to bring a coat into work. Today I will surely get a drenching as I make my way home, but maybe not. I was lucky yesterday. There was some rain in the afternoon, and one short lived shower was very heavy, but the worst I felt was almost like a mist on my bare arms and face as I waited for the train at Wandsworth. Even that gentle dusting of rain only lasted a minute or two.

A rather ironic thing happened on the train from Wandsworth yesterday. After writing here yesterday about the incompatabilities between cat people and dog people I got into a conversation with a very charming woman who had a dog with her. It is extraordinary rare for me to talk to anyone while commuting on a train, but we had a very pleasant conversation. The ice breaker was her dog who was on her way back from the vets with her rear, nearside, leg in a big bandage. Three months ago she had broken it after jumping off a wall. Now it was mostly healed, but still needed this rather thick bandage on it. I think our conversation started about the large conical, lamp shade like, collar that the dog would have to wear if she started chewing at the bandage. The dog owner was most pleasant and good looking. During the conversation mention was made of her daughter and that steered me away from any other topic except the dog. If she had given any hint that she was "unattached" I might have been bold enough to ask her for her phone number.

I said that it was very rare for me to talk to anyone while commuting, but there is now another exception to that. I made mention of a woman who always gets on the same train as me just last Friday. Since then we have begun to speak to each other quite regularly. I find it rather pleasant. We know very little about each other yet, but it is possible that over the coming weeks we will learn more. i think I quite like her,. She seems to have an independant mind, and I admire that in a person. I suppose it is that cat/dog person argument again. With a cat person you can be sure that anything they do is because it is what they want to do., and when that coincides with what I want to do then we are both happy - I just hate persuading people to do what I want to do. My sense of freedom rebels against persuasive orders that I do not feel just, relevant, or compel me to do things that I am not comfortable with. Perhaps my one failure in life is that I bestow that same freedom on anyone I meet, and yet there are those who want their life to be ordered by other people.
Thursday 10th August 2006
08:06 BST
---
It is a most pleasant morning. The sun is up, the sky is blue, and it feels wonderfully fresh. The temperature is actually rather low, but still within the bounds of a coat-less commute into work. The forecast is for showers for this afternoon. So maybe I'll get wet going home, or maybe I will get lucky.

This morning is another one of those mornings where I feel, or felt, full of energy and vitality. Of course, coming into work drains away some of that energy, but even now I feel fine. Last night I had a pleasant drink with Iain in The Ram. It was a modest two pints spaced over the course of 90 minutes. The mystery guest did not show up, but it was highly unlikely anyway. The other invited guest was always going to be a no show anyway. So we chatted about computers (a lot), and a little bit about people.

I have recently a very educational exchange of e-mails with a woman. It has revealed many things about me that seem somewhat removed to my idea of reality. I was taken to task for daring to mention that I found some of the e-mails to be very difficult to read. I admit that sometimes I mangle some of my own sentences, drop in the odd typo here and there, and my use of punctuation, particularly the use and placing of commas, is not always good enough to warrant a grade A (or one) in a school GCE "O" level examination (but possibly good enough to get a triple A in a GCSE examination). However I like to believe that what I write here is 90% legible. Sadly the same cannot be said to be true with my correspondent whos wrting wa s mor likethis with random spaces spelling and no punctuation to show where won sentence began and anothre one ended it made it really difficult to knw what she was trying to tell me often i dint know if i was being encouraged to write or given the cold shoulder. I believe this exchange of correspondence has now ended.

I was also taken to task about my views on death - with particular references to how insignificant my own death would be right now. I will admit that for some, perhaps those who have suffered a recent bereavment, my views would seem a little out of place, but I am talking about my own death here. Of course I may welcome a change that may make my death less insignificant, but I can only tell it like it is at the moment.

There was one other reason why our exchange of e-mails ended in disarray. She was a dog person, and I am a cat person. The difference may not be obvious to those who have not thought about it before, or perhaps more likely, are not pet owners themselves. Cats are by nature almost solitary creatures. They like time on their own, and yet they will adopt someone and choose to spend time with them with plenty of love and affection. Dogs are pack animals, and are are really only happy when surrounded by the pack. For that they are often very subservient, endure a lot of discipline without complaining, and will roll over on the slightest command.

I think that actually sitting down and defining the role of cat and dog people has been the great educational advantage in my recent exchange of e-mails. In some ways it sums up the thoughts I had, not all that long ago, about the reasons for the failure of a relationship of 6 years ago. That relationship did not explode, but more just fizzled out, because it is just not in my nature to be dominant (nor submissive, just equal).

(Now I wonder if my correspondent is reading this and has learned anything from it).
Wednesday 9th August 2006
08:15 BST
---
I feel far better this morning than I did yesterday, but my stomach is still a little tender, and something does not feel quite right, but I can't put my finger on it. I almost, but not quite, kept my eating to very light portions yesterday. Perhaps the exception was a late lunch of pasta, red pesto, and a small tin of tuna. I hasten to add that the red pesto was not of a spicy variety.
There is a process in a developing embryo called
gastrulation
. In basic terms an embryo initially grows with its guts outside, and at a certain stage it turns inside out. At 03:00 yesterday morning, I felt as if the process was going into reverse !
It's a rainy start to the day today. The rain is very light and intermittent. So much so that I didn't bother with a coat this morning. This afternoon it should dry up, but I doubt it will be as sunny and pleasant as yesterday.
I see from my web server statistics that I am getting readers from Canada again. So hello to Mike, and I hope you had a safe journey home.
With my pay now available in my bank account (it actually happened yesterday afternoon) I now look forward to spending a couple of quid in the pub tonight. I haven't heard if Kevin, or Iain, is available tonight, but hopefully one or the other will be able to join me. even if not I may go anyway, for a short while, because I have extended invitations to two people to join me. One definitely won't be going, and the other is highly unlikely to be there, but I had better be there just in case.
Tuesday 8th August 2006
07:29 BST
---
I am not at work this morning. I seem to have found myself a dose of the good old food poisoning ! At 03:00 this morning I was profusely sweating, trying to keep my last meal down, and running to the toilet at regular intervals. I was so convinced that I would be vomitting that eventually I went back to bed leaving the toilet and landing lights on for the rest of the night. Since waking up a little while ago I have had to make one more slightly urgent visit to the toilet, but things do seem a lot calmer now. I still feel rather rough, and my guts feel rather tender, but I am now of the opinion I will live.

It seems to be a nice sunny morning. It's a shame that I can't, or won't, be doing anything with it. I am certainly going to take things very easy for another hour or two at least. Later on I may do a bit of stuff in my workshop, and if I do feel a lot, lot better I may consider putting up the shelf that I was going to do at the weekend. One thing I must resist, at least until this afternoon, is eating anything more substantial than a yoghurt.
Monday 7th August 2006
07:55 BST
---
It is very damp and clammy this morning. Overnight the clouds came in and kept all the heat of the day locked in, and then those clouds started to drizzle. There is still intermittent drizzle even now. The forecast in this mornings paper suggests it will brighten up this afternoon, but for now it remains a grey day.
Despite the weather being grey and miserable I feel quite good. I dared to weigh myself this morning, and the scales confirmed what i was feeling. I have lost most of the weight I put on over the previous weeks, and I am now back to where I was before my diet slipped. In some ways this is surprising. Weekends are my worst time for overeating, but this last weekend seems to have been an exception. There was much that I really should not have eaten, but I did it in small quantities and seem to have survived them. I hope if I hold off weighing myself until the end of the week I may be in for a pleasant surprise.
I was prompted to weigh myself this morning because I woke up feeling particularly fit and healthy. Virile even ! Of course since enduring the commute into work, and then sitting down at my desk in this slightly warm humid room, I have lost much of the vim and vigoyur I felt prior to leaving home. Come home time I hope I regain some of that vitality. Previous experience suggests it should happen, and just maybe tonight I will feel more vigorous than usual. Even last Friday, after a tiring day at work, I was able to run along the subway, and then up the stairs to the platform to catch the early train. I surprised myself with the ease that I did it. Amazingly it did not even leave me totally winded as it once would have - not that I didn't need to do
some
deep breathing to recover from my exertions.
Last Saturday I felt lazy and tired, and I think it was mostly lack of sleep, but it could have been something else. Yesterday I caught up with a lot of sleep - almost too much as it took some time to get to sleep last night. After I finished writing yesterday morning I did go back to bed, and I did sleep. It was 09:30 before I woke up again. Later on after I had been shopping, had some breakfast, and started reading New Scientist, I fell asleep again for at least an hour, and maybe even two.
It was not until fairly late in the afternoon that I decided I really ought to do some of my clearing up type stuff. So I carried on making my "entertainment equipment rack". Despite having done some of the tougher metalwork on Saturday, it was still hot sweaty work to do the woodwork. Eventually I finished it. It does not look too bad from a distance, but close up it is obvious that it was a rush job. I'll admit it is a bit "industrial", but it serves it's purpose and it makes the living room look a bit neater and tidier - or at least it will do once I have cleaned and polished all the bits that will go in it, and tidied up all the cables. The important thing is that it makes for just a little more working space to enable me to work on other areas of the room. At the current rate of progress the room will be manageable enough to pull everything out again and do some painting and decorating in another 6 months time (!!!!).
Sunday 6th August 2006
05:30 BST
---
Once again I am up at a silly hour, and like yesterday I will be going back to bed fairly soon. In fact I have been up now for about half an hour. I am not sure why I woke up so early. Having repaired my broken mattress I was sleeping quite comfortably during the night. So it couldn't be that. Maybe it was in anticipation of receiving an e-mail (which to my great surprise, I did). I woke up from a very mixed up dream which had a beautiful woman in it. The dream, or as much as I remember, seemed to be continuous, but from the way the scenery kept changing I'd guess it was a jumble of dreamlets. In the bit I remember most details of I think I was a student at some sort of university. I had met a young woman at a bar (I think). I cannot recall her having a name, but she reminded me in some ways of a girl who used to hang out with some friends of mine in the early 70's. The woman in the dream was a bit shorter than me. She and had dark hair, and a slightly olive complexion (sort of French mediteranean). We left the bar and were walking down a road with a few other friends. I have no idea what we were talking about, but we were both extremely happy and laughing a lot. Although we had only recently met she seemed to have no objection to getting close, and we were soon walking with my arm around her waist. I am sure at one point I was even patting her bum. As the dream came to a close I am sure I was massaging one of her feet (for some unexplained, maybe kinky, or maybe theraputic, reason). As I was doing this I was getting quite frustrated because we both wanted to see each other in the afternoon, but I had a very important lecture to attend, and she had some sort of charity work to do. I think that is when I woke up.

One thing I noticed on waking up is that at 04:39 it is almost dark. Just a little while ago it would have been light. It is a reminder that even though we are theoretically at the height of summer the days are now drawing in, and sadly winter is on it's way. On the plus side the nights are now pleasantly cool making sleep easy. This morning it is fairly chilly again. Yesterday it did warm up to a quite pleasant temperature, but we did not get the sunshine that we were promised. There was certainly some sunshine, but I was never really aware that it was that bright for any length of time.

Yesterday I felt rather lazier and tired than I should have done. I guess it was lack of inspiration. It took some time before I started my project to add some shelves and build a rack for my entertainment boxes. I only got as far as cutting and assembling the metal framework for the rack. All the sawing left me with a few aching muscles, and I sort of gave up after that. I hope I can try and raise the enthusiasm to continue with the work today (and maybe I have just a little more inspiration after reading my 1am e-mail, but that is still very tentative, and I may explain more another day).

Apart from DIY I have few other plans for today. I still have to do some shopping. Ideally there is a lot I want to buy, but with only a small amount of money available I will have to curb my enthusiasm. If only banks worked at the weekend ! It is so annoying knowing my pay cheque is with the bank, but the cash is not available, and maybe won't be, for another day or two yet. I really ought to look at this from a positive point of view. All my rigid budgeting now means that I will have more money to spend in less time when the cheque finally clears.
Saturday 5th August 2006
05:33 BST
---
I seem to be up very early for a Saturday morning ! It won't last long though as I intend to go back to bed soon. It also seems very cold this morning. It's too early to tell what the weather will be like. The sun is very low down on the horizon and as yet the sky is not fully "alight". The forecast is for a warm, sunny, weekend, but the same was forecast for yesterday afternoon when it was mostly overcast.

The good news is that my pay cheque was showing in my bank account yesterday, the bad news is that it had not cleared and my balance was showing as £4 overdrawn. Last night, on my way home from work, armed with little more than a large pocketful of loose change, I did some shopping in Tesco. I got enough cat food to last a couple of days, and three bottles of Tesco diet cola. Then I looked at what I could eat. I found some tuna crunch sandwich filler on the reduced price counter (£1.25), and a loaf of very tasty "mediteranean style bread" at half price (76p). I had not tried that bread before, but it was delicious. It was little bigger than a fat baguette, and that, together with the tuna crunch, was essentially my main meal last night. If it hadn't been for the crisps, I also bought and ate, it could almost have been a fairly healthy eating day along with just the five pieces of fruit I ate during the day.

I still have as much as £20 in loose change, and I also have £17 in Tesco club card vouchers, so I am wondering if I ought to try and tough it out and not withdraw any cash from my savings account today. Although there is much I would like to buy, there is actually very little I really need for the weekend. The answer is that I will sleep on it (literally as I still intend to go back to bed very soon).

Once I am up and about I think I will continue with my clearing up operation that took a back seat after Mike arrived here last Saturday. The clearing up will start with making a mess. I am going to install my iMac computer in the living room. For that I need to clear off the bottom shelf of my lefthand book shelves, reinforce that shelf, and then add an extra, "sticking out" shelf for the keyboard and mouse. Once that is done I may, if I have the energy and inclination left, make even more mess as I construct a sort of hi-fi rack system. It will be a small(ish) self standing rack of between 4 and 6 shelves to stack on the tuner/amp, a satelite receiver, a dvd recorder, freeview box, and maybe the cable TV box. That's 5 units, and leaving one spare space for something means that I really ought to aim for those 6 shelves. When that is made I will be able to finally break up my last big speaker cabinet which is what some of that stuff is stacked on at the moment. The side pieces of that speaker cabinet will actually be necessary for use as a couple of the shelves. With the big speaker gone I will be able to move my old Wharfdale "Denton"speakers from my bedroom into the living room where they more properly belong. (If you are still reading this Pam, those Wharfdale speakers are the ones I bought from you about 32 years ago !!!!).
Friday 4th August 2006
08:06 BST
---
Once again it is really quite cool outside, but the sky is brighter than yesterday morning. Although having said that, the sky does look rather grey at this very moment. The forecast is generally for sunshine today, and with an afternoon temperature of 25º C. It has some way to go to reach that. I think the temperature this morning is only around 14º C.

A couple of good things have happened lately. The first was at work yesterday. Single handedly I discovered a latent fault that has persisted through several generations of the companies products. There is a component that is always sitting on the edge of disaster. In a few cases it goes faulty, but the actual effect is usually minimal, and may never even be noticed in normal use. I was fortunate in getting a really bad example yesterday, and from that I deduced that a real fault existed, and what the cause of the problem was. I have suggested to the design department a new specification for that component, and I now wait to see if my idea is adopted.

The second good thing happened this morning on the way to work. There is a woman who joins the same "scrum" as me to wait for the train at Catford Bridge. Us seasoned commuters know where the doors will be when the train stops, and we form little crowds ready to try and find the few available seat on the train. There is something about this woman I like, but I don't know what, and I don't know why. It is a sort of familiarity. As if I knew her from sometime ago. I estimate we are similar ages, but going to an all boys school, it can't be someone I once knew from school. For many months now I have wanted to strike up some sort of conversation, but somehow it has never felt appropriate as we go about the serious task of securing our positions on the train. Commuting, for most, is a very impersonal affair. This morning the platform was quieter than usual, and one particular, rather aggressive (or maybe very keen) commuter was not there trying to muscle his way to the perfect position. So I said a rather bland good morning as she swooped in next to me. It was, as expected, ignored. When the train arrived I stood back to let her onto the train ahead of me, partly as a gentleman, but probably mostly because I thought that there would be a few more seats available this morning. I do this from time to time anyway. Occasionally I do it just to block off the "aggressive" commuter who pisses me off. In the normal course of events that would be all there was to it, but this morning something different happened. There was a young woman who had a fairly loud personal music player standing behind the woman who interests me. She turned to the woman and asked if she could turn the music down. The woman with the music got all bitchy and suggested that she had not been asked politely, but normal custom suggest that adding please to the end of a request is considered polite by the rest of us. The woman of my interest looked around for support, and I was just one of two who nodded agreement. Eventually the music was turned down, and of course that was a relief to many of us. We finally got to Waterloo East, where I get off the train. As I stood up to get to the doors I smiled and said "well done" to the woman. She returned the smile and thanked me. So the ice is broken, and on Monday I will see if conditions are right to try and strike up a conversation with her.
Thursday 3rd August 2006
08:08 BST
---
It's a grey and rather cool morning. There is lots of evidence that there has been some rain as well. As I got off my train at Waterlo East I felt a little dampness across my face, but it was more mist than rain. Other than that I survived my commute into work with no coat on and remained dry. There is some sunshine, with temperatures of around 25º C forecast for this afternoon. So my choice of no coat may turn out to be justified.
The first thing I did when I got home last night was to rush out again to the nearest post box to post off my pay cheque. I think I caught the last post, and if I am extraordinarily lucky my cheque may reach the bank this morning. Even then it will still take many days to process. I will be the luckiest man alive if that money is ready and available in my acount by next Monday. At the worst it will be something more like Wednesday until I am solvent again.
Later on in the (early) evening I went to The Catford Ram to meet up with Mike for our final meeting before he goes back to Canada. Also in attendance was his brother, then Kevin arrived, followed shortly afterwards by Brian, and finally Roger. I have no idea what happened to Iain or Howard, but I suspect that Howard was put off travelling by heavy storms in Suffolk. I had to leave at around 9pm. Brian moaned that it was much too early, but I maintained that I needed to try and get my 8 hours beauty sleep. He suggested that maybe I needed 10 hours, but I just countered that was all the more reason for me to go home then and get some sleep. I might remind everybody that I do get up at, or often before, 05:30 !
One thing Brian confirmed was that several coppers read this blog. Initially over his shoulder, but that some now read it independently. I can see this from my web site statistics with several "userxxxx.xxxxxxxxxxxx.pol.uk" appearing in the statistics. So I had better not mention again an idea I had many months ago to build a "dirty bomb" out of several million used cigarette butts, and a packet of thruppenny bangers, to blow up the house of commons, or maybe the NHS, when fag smoking is totally banned in pubs. It is no coincidence that Guy Fawkes is usually pictured smoking a pipe !!! All he really wanted was a quiet beer and a fag. All that anti (or was it pro) catholic nonsense was just a front for a more greater cause. Hell, history has just failed me. Was it religion, or was it roundhead v cavalier type stuff. who knows, who cares! All I know is that when it comes to a tos up between alcohol and nicotine, I know which I am addicted to !
Todays secret message is :- 3 kilos of semtex, 2lbs of plutonium, 37 Kalashnakovs (with two spare humdingers), half a gallon of red mercury (or purple if that is all you have) to the usual address. 2 Echelon St, Winduptheciaville, Thelaughingpolicemen, C1A MI5
Wednesday 2nd August 2006
14:09 BST

---
I'm a bit pissed off now ! A little while ago I finally got my pay for last month. It was just a cheque. So I went to the Post Office where I was sure I could deposit the cheque into my Alliance And Leicester (ex-Girobank) account. Apparently not. They will accept the cheque, with a deposit slip (from my cheque book), and in an official Alliance And Leicester envelope. All that saves is the postage. It would be no quicker than just posting it anyway. It beats me why they can't just use my debit card as the i.d. to print off a custom, or even electronic, deposit form, and register the payment there and then (even if the money is not actually available until the cheque has cleared). We are, after all, living in an electronic age where the transaction should be able to be done in milliseconds, but no, an army of aged clerks with rubber stamps has to process it all on their abacus's. (whatever the plural of abacus is !)

So it looks like I will now not be solvent again until next Monday, and maybe even later than that - and all because my boss did not give my bank account details to the accountant. I think I deserve to feel pissed off. My only hope now is that my request to increase my overdraft is approved pretty damn quick !!

07:55 BST
---
Amazingly it is almost cold this morning. Coming to work with no coat on did feel very fresh. It was really rather nice after the hot sweaty mornings of last week. But best of all it is a lot cooler here inside work. I am not sure what the day will bring weather wise. It is bright and sunny now. So it may warm up later, but I doubt it will get terribly hot. It doesn't look like there will be any rain, but this is England.........and that is, of course, why I am writing about the weather. It's a terribly English thing to do !

This cooler weather has prompted me to try wearing a couple of new shirts that Mike brought me from Canada. They are rather smart, but you may be pleased to hear they are not "lumberjack check" shirts. In fact one is darkish green, or maybe a greenish grey under some lights (the one I am wearing now), and the other is black. I believe they may have passed from hand to hand, ending up with me because they are rather large. Well that suits me just fine. They are a very comfortable fit, and possibly look pretty smart too.

Today the lady who deals with pay should be back at work. I will finally be able to sort my pay out. I am keeping my fingers crossed that she will be able to do a BACS deposit straight into my account, and the money will appear just like magic the next time I check my bank account. I think, or at least I hope, I still have enough in my acount to pay for my next weekly season ticket tomorrow morning, but after that I will be feeling very poor indeed.

It is not a good day to feel poor. Tonight there should finally be a bit of a get together in The Catford Ram with Mike, and any of his old friends who can make it. It will be the last time Mike will be available before flying back to Canada. It would be nice to be able to buy a round or two tonight, but I may have to go back to my situation prior to getting my current job, and rely on charity again.
Tuesday 1st August 2006
08:11 BST
---
The month starts with it feeling almost cold outside. There was rain overnight, but it stopped before I left for work. had it not done so I judge that it was cool enough that I could have worn a coat with no great discomfort. I did not wear a coat even though there is a reasonable chance that one of todays probable rain showers will catch me on my way home. Being wet on the way home is no real problem, but I wouldn't like to have started the day at work soaked through to the skin. So I guess I took a bit of a calculated risk in not wearing a coat while getting here.

Some recent events, the most recent being last night, have given me some hope for the future. I am not sure if hope is exactly the right word. Maybe inspiration is closer to what I mean. This all concerns my quest to fill the void left in my life by Patricia's departure, and it could be said, my quest to fill the void that was there even when Patricia was around. All I can say now is that there have been developments that lead me to believe it is worth pursuing this quest rather than trying to build up the hard crusty shell of indifference that someone broke down last century (and I do mean prior to the year 2000). That left me vulnerable to emotions that I am not sure I could ever, or even want to, conquer again.

Well the bad news is that by 05:45 this morning no pay has gone in my bank acount. It is possible that it has appeared since then, and it is something I will check later this morning. Right now I feel a little poor ! I have nothing but my £100 overdraft to call on now (or some savings that are inaccessible unless I can get to the building society while it is open). I am a little annoyed with myself that I did not bring in a deposit slip, and pre-addressed bank envelope, in case I am handed a cheque today. I think I can deposit a cheque directly into my account at a Post Office using only my debit card, but I am not 100% sure about it. what I do know is that by post, or via the Post Office, it still takes about the same time for a cheque to clear. So I am looking forward to a bit of a lean week, but whatever happens I will be solvent by the weekend.

Actually, having a lean week is no bad thing. I think I am encouraged enough now to go back to my lapsed diet. With the realisation that there could be a way ahead I feel a little happier now, and may be a little more resolved to avoid comfort eating. It's easier said than done though. All it takes is one miserable night to break that wide open.