10:09 GMT



At last ! The sun has returned. It is a bright sunny morning, but it is also a freezing cold morning. There is even frost on the wheelie bin, and just outside is a small pile of icy snow brushed off a neighbours car. I am sure that one fanciful weather forecast from a few days ago suggested it might snow again today. That seems unlikely, but it is certainly cold enough, and cold enough that it seems like the last patches of ice and snow leftover from the week before will never melt away.

It may have been my imagination, but last Friday afternoon seemed unfeasibly cold, although it could have had something to do with the state I was in. After work, which finished earlier than usual, I joined a couple of workmates for a few beers. I had three pints of Chech lager, and although I didn't feel more than a tiny bit drunk, I did end up with a most unpleasant hangover a few hours later.

It was after I got home that I felt really dreadful and shivery cold. I was due to go out in the evening so I didn't want to have more than a snack to eat, but with hindsight I should have had a can or two of hot soup. That would have warmed me up, and yet not left me feeling full like the dinner I would have otherwise liked to have eaten.

As the time approached for me to go out I was still feeling bad, and not even a big slug of scotch seemed to offer that much help. I was going out to see Chain play in The British Queen pub in Locksbottom that is a 40 minute ride on a bus away. Under different circumstances I would have chosen to stay in, but my £5 entry ticket had been bought for me by the band, and I felt a certain obligation to go. Besides which, the alternative was to stay at home feeling miserable as well as horrible.

At 7pm I wrapped up warm, and went to get my bus. The bus route starts just around the corner from here, and ends opposite the pub. So I didn't have much walking in the cold to do, and very soon I was on a cold bus heading for the pub. To add to the discomfort of sitting on a cold bus I stupidly sat on a seat right over the rear wheels. On some roads the vibration nearly rattled my fillings out !

I arrived at the pub just as Chain were setting up, and ordered myself a beer. At first the pub was not too crowded, and I began to feel a bit better. Once the band started to play I did enjoy myself, but all the time more and more people crammed into the pub. I don't know how many people were in the pub, but with only a fixed amout of tickets available it must have been how the landlord planned it. It is quite possible that there were 200 people in there, and at £5 a ticket the landlord made a cool £1000 just for letting people in the door. I think it would have been better if he had been a little less greedy and issued less tickets for a more comfortable experience. I will certainly be avoiding that pub next year.

Chain's playing was really considering they were breaking in a new drummer. Guy, the new drummer sounded competent, but he is young, and still has some way to go before he can match the perfection of Bob the retired drummer. I was amused when Steve, the bass guitarist, had to sort of mime the ending of one song to Guy so he didn't miss his cue and continuing drumming after the rest of the band had stopped.

After the first set was over, and the waiting for the band to take to the stage again set in, I became increasingly uncomfortable with the rush-hour-on-a-train like overcrowding. There were only a few reasons why being there was better than being on a tube train at 5pm. One reason was the glass of scotch in my hand, and the other was seeing Jo (lead singer) putting on her angel accessories.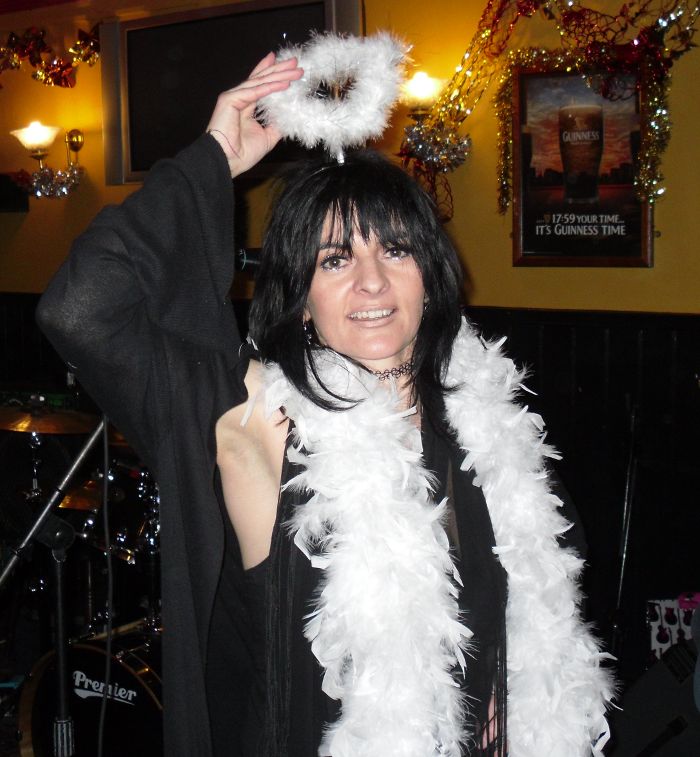 With hindsight, "angel accessories" does suggest more than a halo and boa, but it looked good anyway, and with her Angel perfume she smelled good too !

Once the band started playing again I made a difficult decision. I really would have liked to hear more, but I am just not very good at partying, and I was hating the cramped conditions. So even though I was promised a lift back to Catford if I made it to the end (sometime around, or even after 1am), I decided to quietly slip away and get the 11pm bus back to Catford.

Once back home I decided it would finally be safe for me to have some dinner. I had already part prepared it, and all it needed was to be warmed up. It was a sttange time to have dinner, and in some ways it was a strange sort of dinner. It consisted of smoked Polished sausages with baked beans. After wolfing down a large quantity of that I finally felt much better, and went to bed feeling OK.

I had more sausage yesterday, and it was sausage in the singular, but it was rather a large one. It was a South African peri-peri flavoured sausage that I ate with roast shallots, roast tomatoes, and roast new potatoes. Basicaly I just threw the whole lot in the oven, sprinkled the vegetables with olive oil, and let it cook by itself. I have never cooked new potatoes like that before, and they came out rather nice like a sort of cross between mini baked potatoes and roast potatoes. Considering all that I could have eaten yesterday, I consider that my eating was quite moderate, although it was still far more than is good for me.

Having said that, I don't feel too bad this morning. Maybe if I had to go to work I would feel far worse, but for lazing around in the warm I feel just fine. Later on will come a test of just how good, or how bad I feel. Sometime, hopefully very early in the afternoon, but more realistically between 2pm and 3pm, I should be popping out to have a drink with Jodi in the Catford Wetherspoons. In preparation for that I have tried not to eat too much - but I have already failed. I would have done far better having a small, but proper breakfast of some kind. Instead I have had a nibble on this, and a bit on that, and I suspect that the cumulative result is that I have eaten more than just one small breakfast. I still have several hours to digest all I have eaten, and if I can just avoid any more I should be able to sink a few pints comfortably.