07:46 BST



Once the haziness in the sky has melted away it could be a fine sunny morning. The sky is almost, but not quite clear, and the sun is trying to shine through the misty clouds. This afternoon is forecast to be bright and sunny with temperatures of a rather amazing 25° C possible in inner London. Tonight marks the autumnal equinox, and apparently the weather will obey this order as decreed by the lords of the weather forecasters, and tomorrow we will be plunged into cold and wet misery.

At least we will have enjoyed several recent days of decent weather, and yesterday turned out to be one of them. It wasn't as warm as today might achieve, but the afternoon was definitely warm and sunny. It certainly warmed me up when I left work to go home.

By the afternoon I didn't feel nearly as bad as when I started yesterday. I knew that part of the cure for that affliction was to do some walking to stir up the blood and other bodily humours (as 19th century doctors would put it - and probably correctly too !). I didn't really feel up to it, but I pushed myself in a kill or cure situation, to walk from work the 2 miles over the hill to Wandsworth Common station. It felt touch and go a few times, but I survived, and I did feel much better in more ways than I felt worse when I got home. The feeling worse was only normal fatigue.

It is sort of weird how I can feel both fatigued and pulsing with subdued energy at the same time, but that is how it felt. I was close to being productive last night instead of completely lazy. Probably the most dynamic thing I did was to do a lot of several day old washing up, but my cooking involved a tiny bit more than "shove it in a pot and hope for the best". Mind you, it was only a tiny, tiny bit more than that. I actually cooked two dinners, and it was just the act of cooking the second dinner that made the process that tiny bit more dynamic.

My dinner last night was a lot smaller than intended, but that was probably a good thing. It was basically a chicken, mange tout, and green french bean stew with loads of garlic and tomato puree. As planned it would have included a lot of very filling liquid (gravy, stock, or whatever you want to call it). Unfortunaely I left the gas a little bit too high, and with my newly re-discovered dynamism I was doing some stuff on the PC that took longer than I realised.

At this point you may be thinking that I made the second dinner because the first one burnt, but you would be wrong. There was one small hint that one bit of chicken was beginning to burn a bit on the bottom of the pan, but basically all that happened was the stock was reduced down into an intensely flavoured sauce that made the meal one of the tastiest I have made in ages. If I had made double, or even triple the amount I would have most probably eaten the lot. Sadly all I had was quite a small portion, and I actually felt slightly empty when I went to bed later on.

The second dinner I cooked is for tonight. With luck it will be rather tasty too, but I know it will not be anywhere near the almost narcotic delights of last nights dinner. What I made was a beef casserole with, once again, loads of garlic, a lot of paprika, some cherry tomatoes, more french green beans, and onion and bell pepper. It was very cheap stewing steak that I used, but I gave it as much as two hours cooking last night, before turning off the gas and letting it marinate in situ. All I have to do is to turn on the gas and reheat it when I get home.

Despite singing the praises of my extra two miles walk last night, I still feel slightly crap this morning again. It is a different sort of crapness to yesterday, and in the main it is just a sort of creakyness with a headache. I can only liken it to the imagined effects of sleeping on sacks of potatoes while cuddling a sack in your sleep. In theory it should all wear off as the day progresses, and some warm sunshine may well help the process.

I came very close to walking from Wandsworth Common station to work this morning, and if a bus to take me to Forest Hill station had arrived at Catford Bridge before the train to Waterloo East, I would have done so. Tonight I may well walk to Wandsworth Common station, but I'll probably make the final decision about it when I either enter or pass Earlsfield station. If I do choose to walk I know I'll be sweating loads of toxins out of my system. Last night, with the sun on my back, it did feel rather warm as I walked up the hill towards the station. That gave me a fairly good sweat, and tonight I could be dripping everywhere !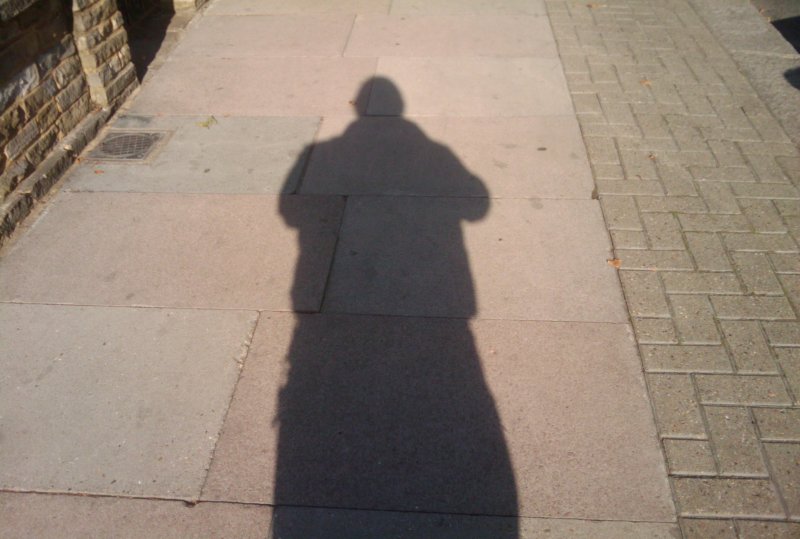 As snapped on my mobile phone, my shadow looks really peculiar, almost as if I was wearing a dress or something. This picture is intended to show how bright the sun was by how deep my shadow was as I puffed and panted my way up the hill towards Wandsworth Common last night. Some of the peculiarity of my shadow comes from the sun being quite low in the sky, and the shadow being formed on ground sloping up away from me. It still doesn't explain why I seem to have not the merest hint of a crutch though (not to mention a shrunken head)!