07:41 BST



It's dry now, and it was supposed to be dry all day, but that forecast is now a few days old. On the other hand being a few days old does not make it any less accurate than one issued for 2 minutes into the future by the weather centre's random forecast generator ! It is rather gloomy outside, and the sky is just horizon to horizon mid grey cloud. With luck that will start to break up soon, and we'll have some sunny intervals.


Yesterday was both good and bad. In the muggy warmth of the morning I walked into Lewisham to meet up with Patricia. I got there maybe 15 minutes before her so I started my shopping while I waited for her to arrive. I had this strange affection that I wanted to buy a pair of red trainers. I knew that the Catford branch of Peacocks had sold some that would do for my needs, but they had sold out of them a couple of months ago. The Lewisham branch is a bigger branch, I thought it worth looking in there to see if they had any. They didn't, but they did have a nice white pair that were reduced to just £7 as a sale item. They were a slightly different style to those I had seen previously in Peacocks, and later, when I had got them home I found that they seemed to be wider fit, and hence more comfortable than the style I would have bought if they had any.


After Peacocks I went into Footlocker. It is not the sort of place where I like doing business because it is typical of the sort of place that attracts young yobboes. When I got in there there was a young black man having a vigorous argument with the sales staff about something or another. Ignoring him I found a nice "ox blood red" pair of Converse "All Stars" trainers. At a tad under £40 they were more expensive than I would normally spend on shoes for occasional casual wear, but maybe it was money well spent. They seemed to be far better made than the cheap throwaway Chinese made trainers that I have been buying these last couple of years. Not only that but they do seem to be a lot more comfortable on first impressions.


With my two purchases made I met up with Patricia. We went to the Muffin Shop inside the Lewisham shopping centre where Patricia had a coffee and I had a diet coke, and chatted for around 20 minutes. With our chat over Patricia continued her shopping and I walked back home through the park. On the way back the air seemed less muggy than it had on the way there. It seems unlikely it could have changed so quickly, but it certainly felt like it.


Back at home I tried on my new trainers and was happy with they way that they fitted. I still had quite a few hours to wait before I was due to go out to Petts Wood to see The Bluesiscians play at "Petts Woodstock". After getting all my stuff together ready to go out I could think of nothing better to do than to have a lie down on my bed. I did a little reading, and dozed off a couple of time. I was awoken twice by phone calls from unwanted salesmen, but the third time I dozed off I really did fall into a good sleep. It was lucky that I had got everything I wanted together for going out because I woke up after the time I was planning to leave.


I had originally planned to get either the 15:03 or 15:33 train, but it was the 16:03 train that I actually caught. To make life more interesting it was raining when I left for the station. Happily it had stopped raining when I arrived at Petts Wood station, and I was able to stuff my waterproof top into my back pack before I got off the train. I arrived at The Daylight Inn just as The Bluesiscians were beginning their set.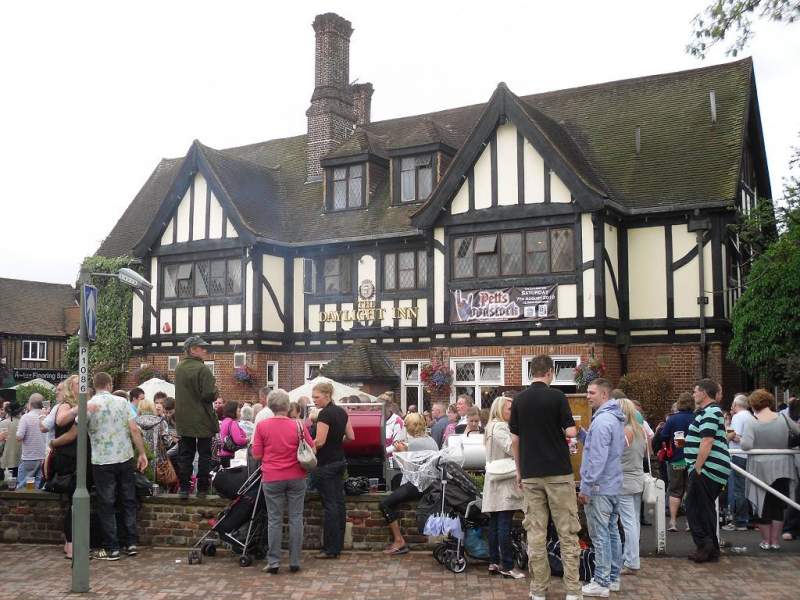 Somewhere behind that crowd is a bar and a band playing
It was very hot and very crowded inside the pub, and I didn't really enjoy that, but I did enjoy the music. There were some problems with the sound, mainly a bit of occasional feedback, but the sound was far superior to the band who had been playing on the outside stage in the car park when I first arrived. Their singer sounded like he was singing through a wet sock, as did the singer of the next band who played on that stage.

The last time I saw The Bluesiscian play, Jo, the lead singer, was suffering from a bad throat, and Chris the lead guitarist had to cover some of the vocal. This time Jo was in fine voice, but for one song she gave the stood down and Chris did all the vocals. That last time I was not all that impressed, but on this occasion he sounded quite good. Perhaps he had a better stage monitor, or maybe it was just something else, but it definitely sounded better. (If curiosity has got the better of you Jo, and you're reading this, pass that on to Chris).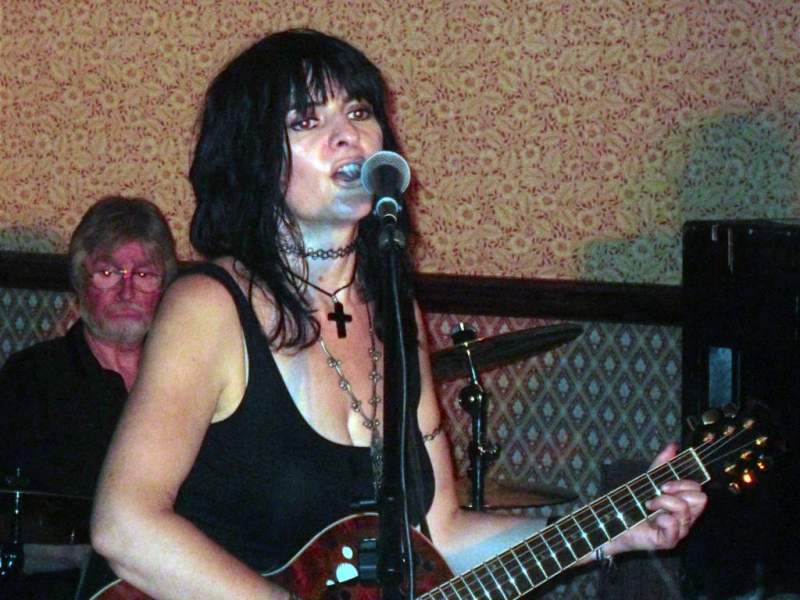 I found the heat, the crowds, and the overall noise level quite unpleasant, although logically it was what I should have expected. I guess I am a bit of a weirdo, but with two stages being used alternately it would have been nice not to have recorded music blaring out once the band had finished playing. While they were playing I wanted it loud and noisy, but a few minutes quiet to allow a few conversations to take place would have made everything a bit more pleasant. (On the plus side, the loud recorded music playing inside drowned out the terrible music of the band who had just started playing outside).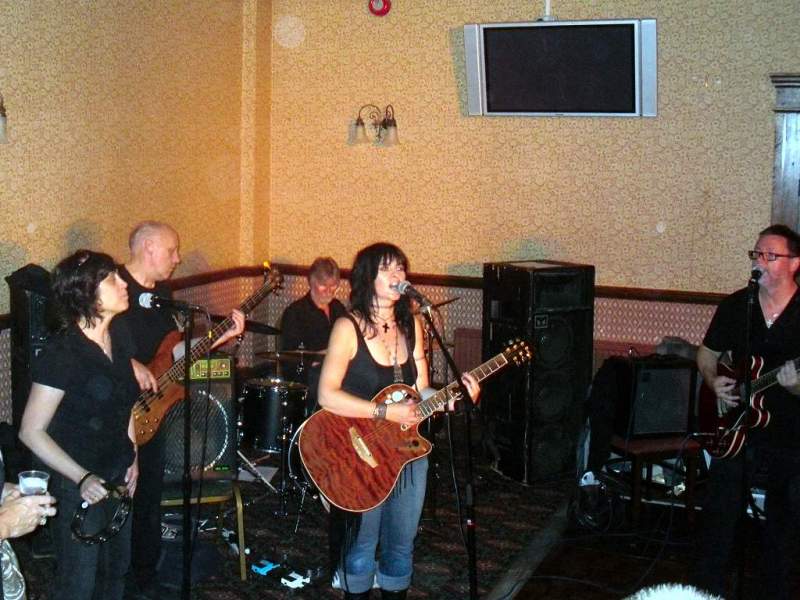 I stayed around long enough to thank the band for their music and then I went home feeling slightly sad. I guess I had allowed myself to get a little too excited about the day without considering what the reality of it would be. Although the overall experience was disappointing I still look forward to the next time I can see the band play because they are most definitely entertaining.


Back in Catford it started to rain again again. On the way home I grabbed myself was was in effect breakfast from one of the local fried chicken shops. I had some spicy hot wings and a bag of chips followed by some ice cream that I had in the freezer. After my breakfast/lunch/dinner I had a look at the photos I had taken. It was so crowded that I didn't even have a chance to get my camcorder out, and the photos I took had to be taken by holding the camera above my head without being able to see what was in the viewfinder. Only the two pictures above were usable, and then only with a bit of "photoshoppery". The outside picture just needed a bit of cropping and rotating, but the other two needed colour correction and exposure correction as well as cropping.


Today I feel like indulging in a full English breakfast, but I think I am going to forego that pleasure and go out for a walk later. I could go to the coast, but I think I'll stay inland and go and find a pub that The Bluesiscians will be playing an afternoon gig on the 28th August. The pub is The Fox And Hounds in Knatts Valley, and on that date they are holding a beer festival. By using some footpaths I reckon I can get Google Maps estimate of about a 3 mile walk down to little over 2 miles. That's just a short stroll from Shoreham (Kent) railway station, although I fear some steep hills will be involved. After I have found the pub, and maybe had a beer in it, I might just retrace my steps, or take the scenic route to Eynsford station which will add at least five miles to my walk. My decision partly depends on the weather, but mostly how I feel.