I took a surprising amount of pictures last night. Some of the reason was I was having some trouble with my camera. For some reason it seemed to keep switching to close up mode and losing focus. It may be that I was misoperating it in some way because I was getting rather drunk after a few pints of Old Peculiar. Being drunk may be another reason why I took so many pictures. Fortunately, having taken so many, there were many pictures that came out quite well.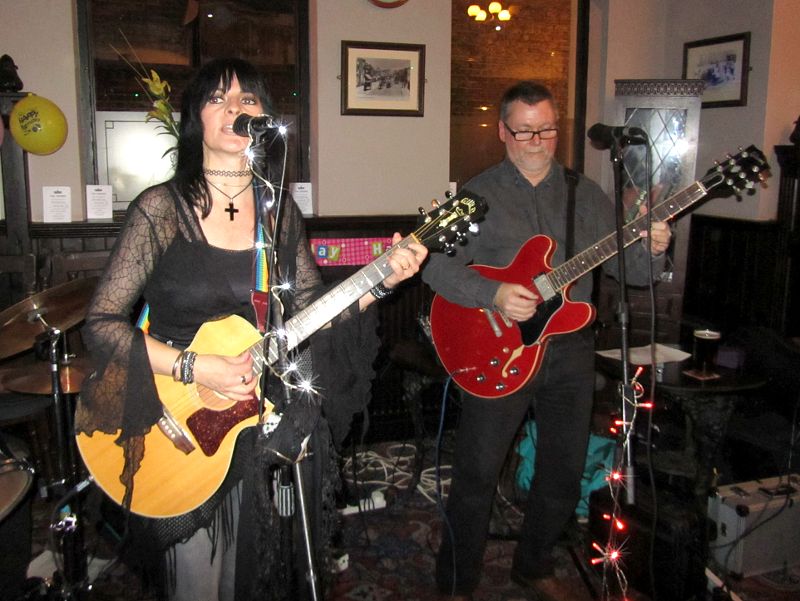 I wondered if Chain would use the fairy lights I gave them at Petts Wood again, and they did. Like some of the pictures from Petts Wood, I added a little sparkle to the picture above.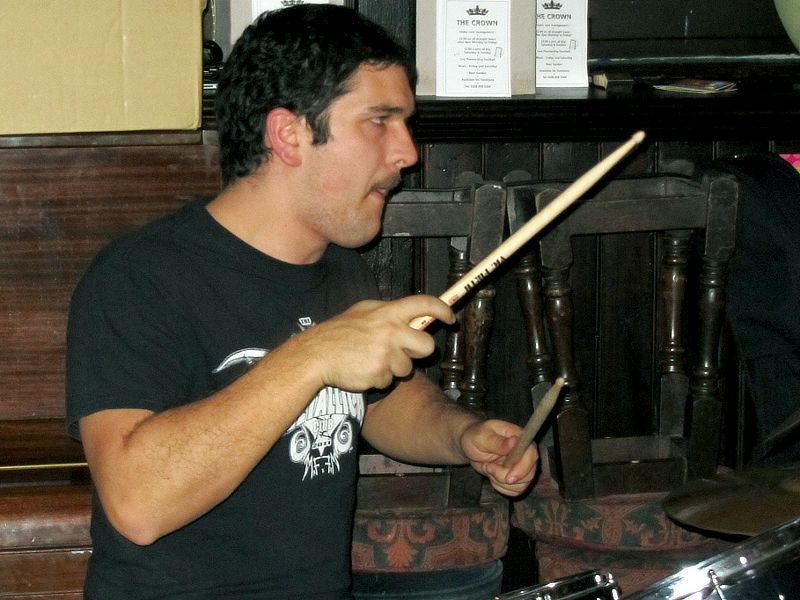 One surprise for the evening was that Matt was sitting in for Guy on the drums. It was perhaps a bigger surprise to see that he had grown a moustache since the last time I saw him (although he tells me he had started on it before playing at Petts Wood last month). I was rather pleased to get this picture catching him in dynamic drumstick wielding mode !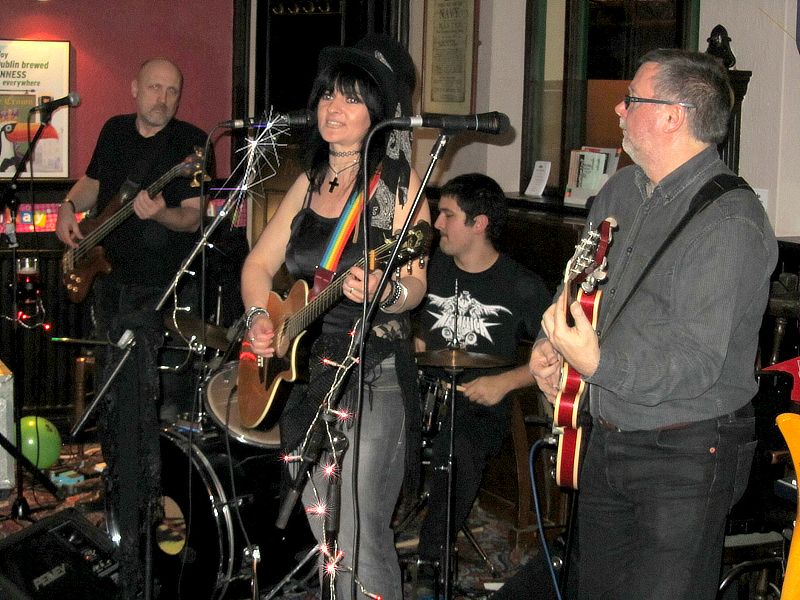 One trouble with The Crown is that it is a long thin pub, and the "stage" area is at the side of the pub at the rear. It meant that it was quite congested near the band, and many people had no chance of actually seeing them play. It is perhaps fortunate that I managed to get one reasonable video of them that I hope to process for uploading tomorrow. I used my new Sony Handycam to record it, and unlike at Petts Wood, there was just sufficient lighting to get passable pictures from it. Even more remarkable is that my drunken camera work is a lot better than I imagined it would be. The sound is a lot better than my JVC camcorder manages as well.
I was 00:45 am when Jo and Chris dropped me off nere the fried chicken shop where I bought a pile of hot wings to supplement they meagre dinner I had eaten earlier. I was sufficiently drunk to not remember what I watched on TV as I munched my way through those hot wings. Either that, and equally as likely, was that whatever I watched was so bland as to be instantly forgettable. I do know that it was close to 2 am when I turned the light out and fell asleep very quickly.
I woke up a couple of hours later with an agonsising hang over, but after a wee I managed to get back to sleep again. When I woke up again around 8 am the worst of the pain had gone, but I still felt very "bleurgghhhh". It was a real triumph of mind over matter that I managed to wash, dress and get some housework done before meeting Aleemah at the station just before 10:30. As usual we went to the pub for breakfast. Aleemah had her usual vegetarian breakfast, and with some trepidation I had two halves of seasonal Xmas ale. Fortunately both were pleasant, but as "hair of the dog" they did little to cure the continuing sluggishness that I felt.
After Aleemah went home again I had some late lunch, and then did very little for the next few hours. Since then I've edited some of last nights photos, and done two loads of laundry. The next thing I should do now is to go to bed. It is well late enough, but ironically, after feeling tired for much of the day, I now feel rather wide awake. Maybe I'll do a bit of video editing, or maybe I'll try reading in bed, or...................?????????????