13:45

GMT



Both Friday, and yesterday, were not too bad weatherwise. Both days had some sunshine, and if it had only been a little warmer I could almost have described it as pleasant. Today it is rather grey, and still stuck on that middling temperature of around 10° C - not exactly cold, but not quite mild.

Friday night was a good night. I got home from work, fed Smudge, and then took a shower and washed my hair. While my hair was drying I had some biscuits and cheese and watched some TV. While I was doing that I received a text message from Jo (from Chain) offering me a lift to The Crown in Greenwich where Chain were playing. Sometimes I am spoilt, but I gratefully accepted, and did a bit of roadieing (roadying ?) in return for the favour.

Last time Chain played at The Crown it was very busy, but on Friday the crowd was quite thin. From some camera angles it looked like a pub setting from something on TV - enough people to make it look slightly busy, but plenty of space for everyone (and the cameras). There were actually more people tucked away not visible in the photo below.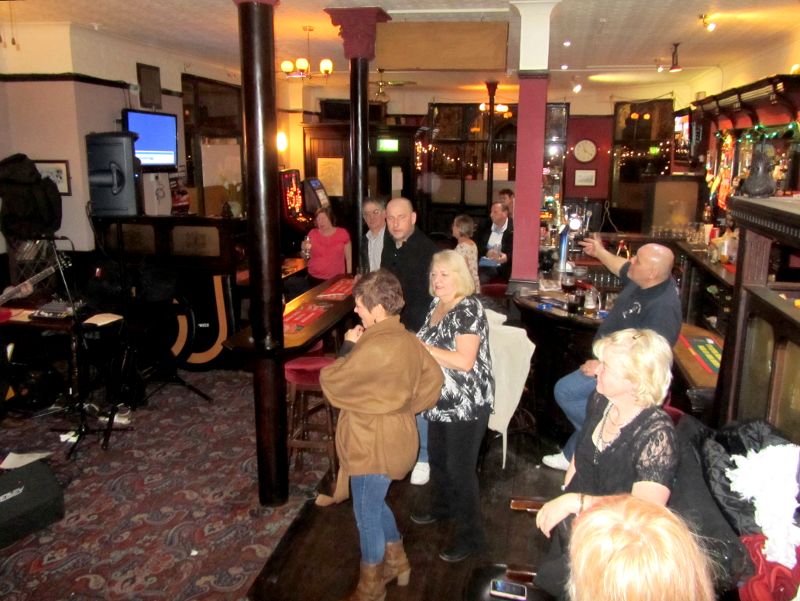 Maybe being a quiet night was handy for Hannah who did a couple of guest spots during the night. She admits to getting stage fright, and may have been less intimdated without a big crowd of football supporting yahoos leering at her.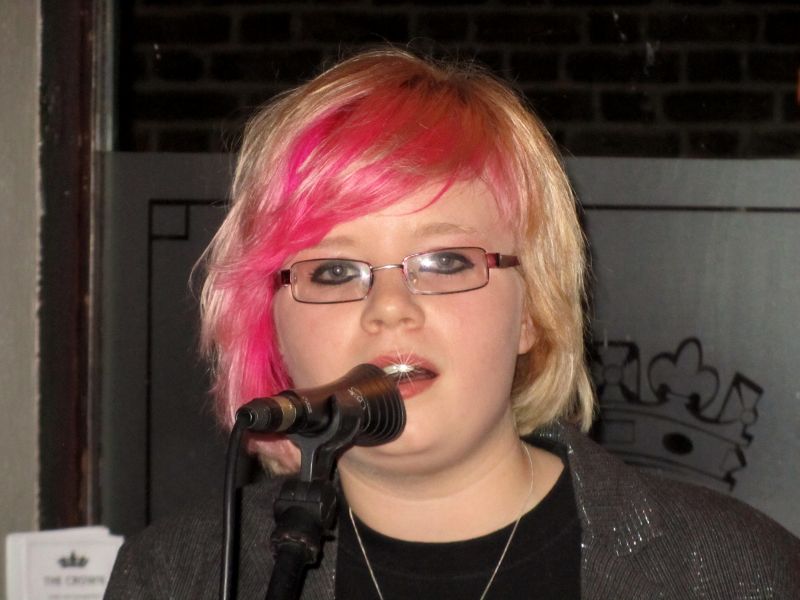 Other highlights of the evening were Jo and her Thundertube........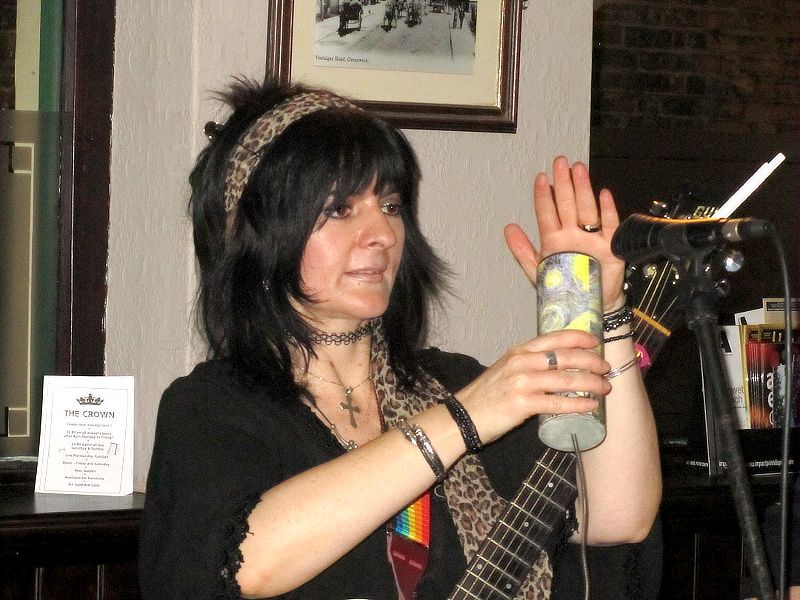 ......... and,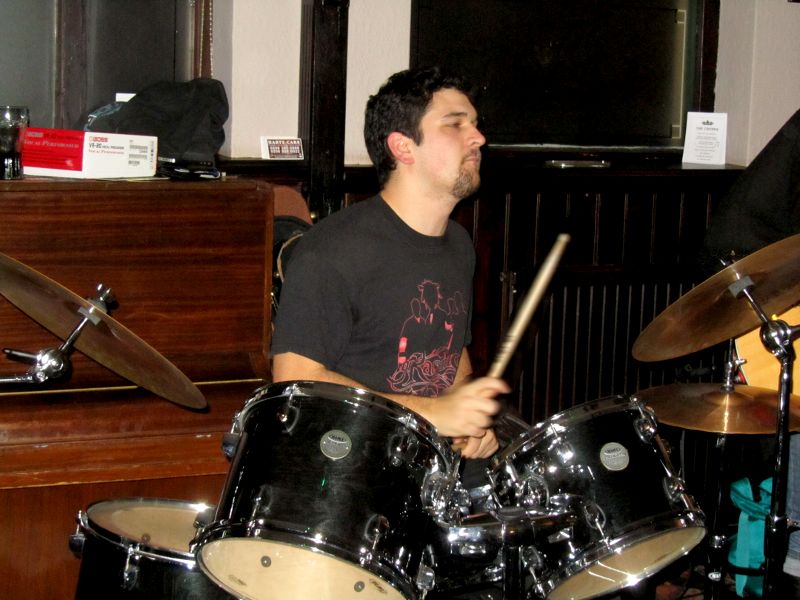 Matt, who was sitting in for Guy, showed off his brand new drum kit.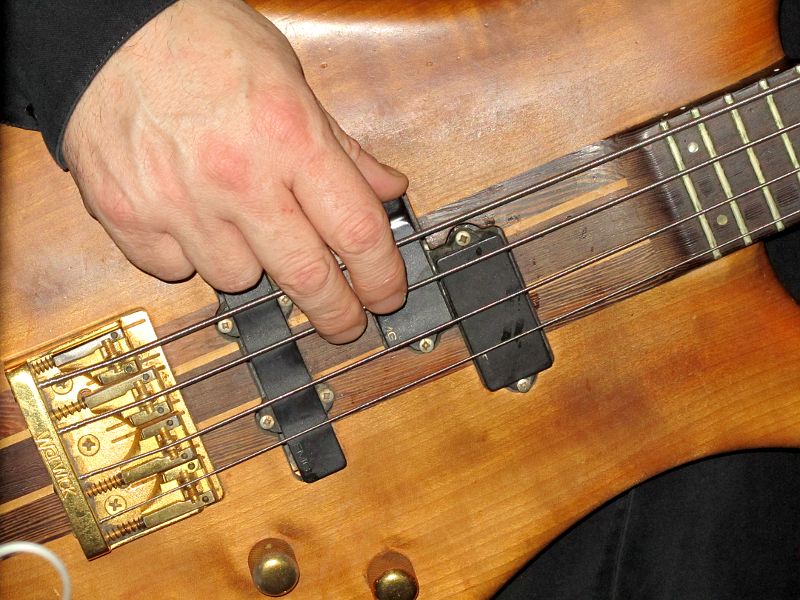 The final picture from Friday night is one I took on the spur of the moment, and sort of like how it came out. It's a close up of Steve playing his Warwick Streamer bass guitar.

It was handy I had a lift home on Friday because Chain didn't finish playing until five past midnight. On the way to the pub there were 5 of us in the car - Chris, Jo, Hannah and her mum, and me. Chris and Jo's car is actually a people carrier, but with all the PA and instruments it was full enough that one of the guitars had to be carried on someone's lap. To make a bit more room I was given a lift home by Matt who lives somewhere in Bromley, and who can pass through Catford on the way without going out of his way.

It was gone 1am when Matt dropped me off near the fried chicken shop. Unfortunately it was closed, and I was feeling rather peckish. I couldn't be bothered to cook anything when I got indoors, and so I munched my way through a whole salami sausage that I had in the cupboard while watching some TV. I can't remember what it was on TV that I was watching, but it was something interesting, and it was only when I found myself almost dropping off to sleep that I hauled myself up to bed.

That was at 2am, and that is amazingly late for me. It was also amazingly late considering I had to clear the plaqce up in the morning for a visit from Aleemah. I had just enough time to do some superficial housework, and then have a shower before Aleemah was on the phone saying she would be at the station in 15 minutes time ! She brough a DVD with her that was both good and bad. It was a long form documentary about George Harrison. It seemed a bit of a dog dinner as documentaries go, but it had enough interesting stuff to make that forgiveable. It was actually a two DVD set, and we only watched disk one. Next time I see Aleemah I expect we'll watch disk 2.

Sometimes things happen that surprise you, and I've had a couple of them recently. On Friday evening I got an Email from my friend Patricia to say that she was back from her holidays. She actually wanted to meet up on Friday night, but I was going to the gig. Then she wanted to meet yesterday morning, but I was seeing Aleemah. So we met yesterday afternoon after Aleemah had gone home.

It was nice seeing Patricia yesterday. It was like seeing the old Patricia. Four weeks holiday away from the job that was almost turning her suicidal worked wonders. The best thing is that when she goes back into work tomorrow she will be handing in her resignation. Hopefully, with that weight of her shoulders, she will stay closer to the Patricia I knew and loved. Maybe it's possible that this year we may even meet up now and then. It can't be correct, but it feels like I didn't see her once last year.

Patricia left here at about 7pm, and I decided it was high time I had more to eat than just the bag of cheese and onion flavoured mixed peanuts and biscuits I had eaten after Aleemah went home. I am trying to reduce the amount I eat at the moment, but just one bag of snacks, however unhealthy, was not enough for the day. So I cooked up a lamb stew. If it were not for the fact that it was swimming with grease it would have been quite a healthy meal. Unfortunately it wasn't (but it was very nice) !

While I was eating there were a few old episodes of Red Dwarf showing on TV, and I stayed up to watch a couple of them before going to bed. I did some reading in bed before turning the light out, and falling asleep very quickly. I have no idea when that was, but I'm guessing it was gone 10pm. I slept rather well, and had a dream about what was more or less a school reunion. Like many dreams it was all mixed up, and set in a sort of indeterminate age where some people were older than others. I can't think what could have inspired such a dream. I have no desire for a school reunion at all, and I can't think of anything I've seen that could have laid a seed for such an idea.

I got up fairly late this morning. Today I should have started work on my kitchen worktop for my washing reapir project. I did get as far as charging up my cordless drill, and I did spend a few minutes looking for my steel tape measure. I am always losing that thing, and I can remember putting it in a safe, and obvious place last time I used it. The trouble is that what was safe and obvious last time seems not to be now !

The urge to get the washing machine working again was subdued again this morning after I successfully did another batch of hand washing. It's hard work, but by being careful with what I wear, I didn't have to do as much as I would when the washing machine was working. Later this afternoon I may tackle one of the more difficult jobs - bed linen. I reckon that if I just do the under sheet and pillows today, and do the duvet cover later in the week, I can get by without a washing machine for as long as need........though doing big heavy bath towels is really hard work as I discovered when I did one by hand last week.

The only other thing of significance I had done so far today is to edit the best 25 pictures of the 49 I shot on Friday night. In this case "edit" could be any combination of cropping, rotatating, adjusting brightness/contrast, as well as that old favourite - red eye reduction. Lately I've been doing that by hand rather thah using the auto options. In some cases I think my handiwork is better that automatic. I've no idea how long it took to do all 25 pictures, but it must have been a couple of hours. Normally I would just pick half a dozen good shots, but I promised I would send Hannah's mum all I had taken of her on Friday night.

It seems to have taken, with several interuptions, several hours to write this. As I come to the end I think I am looking forward to a lie down, and a bit of reading. When I've had my fill of that I'll see what else I might do.