08:33 GMT



Friday was not as bad as I feared it would be. It was several degrees cooler than the day before, but it was not as grey as it might have been, and on two occasions the sun did come out for a few minutes. Most of yesterday was just wet and miserable, but towards sunset the clouds started to break up, and although it was far from spectacular, there was a bit of a red sunset visible last night. This morning we probably came close to a frost (we may actually have had one, but I wasn't awake early enough to check). The reason for the chill was the sky becoming totally clear overnight. Right now the sky is near enough 100% blue, and the sun is shining. If it stays like this, and I have no idea if it will, we could have another warm spring-like day similar to last Thursday.

Watching Chain play on Thursday night was very enjoyable, but the Friday night gig was fantastic. They played The British Queen pub in Locksbottom, Kent. The last time I saw them play there was on Xmas eve. That was not a good night. I felt ill, and even though it was a ticket only event it was grossly overcrowded. So I had some slight misgivings about Friday night, but it turned out I had nothing to worry about. The pub was busy, but with care it was relatively easy to move about in there.

The British Queen is actually quite a friendly pub, and I got into conversation with several people (one was a bit of a loony, but I guess it takes all sorts). At the gig there before the Xmas eve one I was complimented on my t-shirt. On Friday night I was complimented about my glasses. It seems odd that an old pair of glasses, originally made in 1969 when I was a schoolboy, should be a high fashion item now.

Once again there were no surprises in Chain's set list, but they played all thier standards well. Guy was back as the drummer, and he is still a bit unsure about a few things, but getting better. As usual he had to take a few cues from either Steve or Chris. He could also have taken a few cues from Bob, Chain's retired drummer, who was in the audience, and miming a lot of the drumming.

Some people were enjoying themselves so much that they continued to dance outside in the pub beer garden.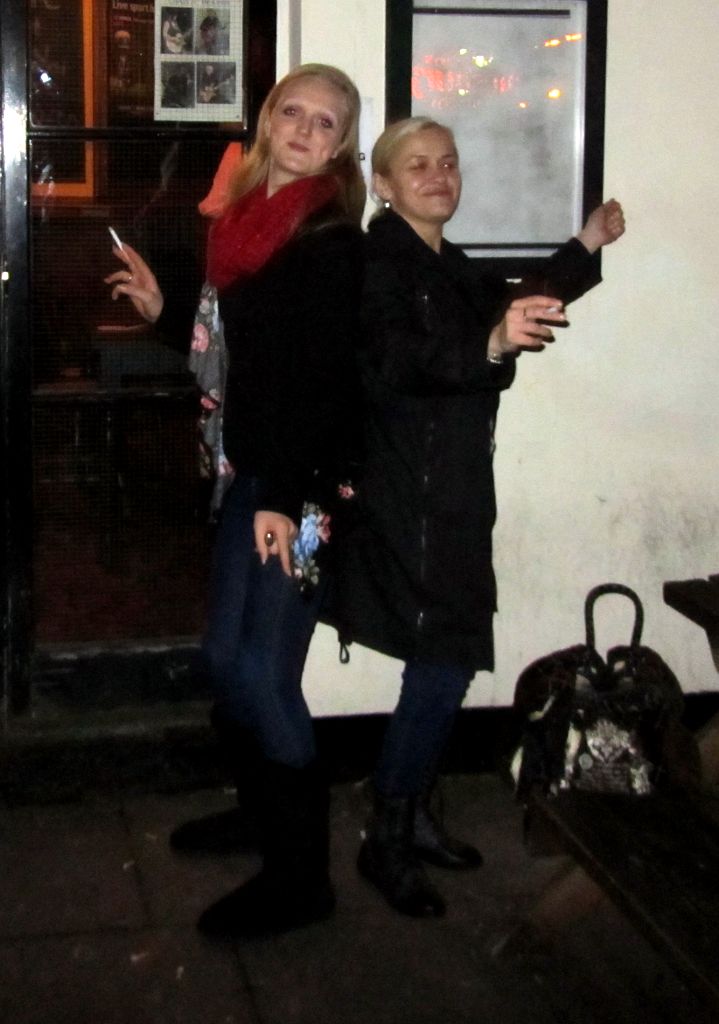 I don't know the names of these two ladies, but they were quite happy to have their picture taken, and patient enough for me to retake the picture after I partially obscured the flash with my finger the first time.

It is more than likely that my enjoyment of the evening was enhanced by booze. After a couple of pints I went onto plain scotch and ice - something that may well have caused me some trouble later on. At the end of the evening I was feeling nice and happy drunk, but with no loss of coordination.

Things were so good that I ended up getting the last bus home at one minute past midnight. It's a shame that buses don't have toilets - hence my reason for abandoning pints in favour of spirits. That ploy worked well, and I suffered no discomfort for the eternal 40 minute bus ride back to Catford. The journey was made less tedious by having Iain, who had also been at the gig, along for company.

It was about 20 to 1am when we arrived back in Catford, and I was feeling very hungry. Most places were closed, but the Chick-Chicken shop was still just about open, and they still had some grilled chicken wings left. In fact they had too many left and I was treated to more than I ordered just to use them up. I left about half of them for a snack later in the day

I left Iain to get his night bus back to Rotherhithe while I hurried home to eat my chicken. Those grilled wings were very spicy, and combined with the neat spirits I was drinking earlier, seemed to aggravate a condition that had started in a more mild and intermittent way a few days earlier. I think I may have developed a stomach ulcer. I did not feel too bad when I finally got into bed at nearly 2am, and I was soon fast asleep, but an hour or two later I woke up with a bad pain in my gut. It made sleeping quite difficult, and I don't think I managed more than 5 hours sleep all night.

Yesterday the pain lifted for a short while in the morning, but came back after I ate the leftover grilled wings. It was then that I realised the significance of the pain, and how it is very likely to be a stomach ulcer. Through the day, which wasn't made any better for being dull and wet, I battled both fatigue and pain to edit all the pictures I had taken on Thursday and Friday nights. I completed that, although I wasn't feeling quite so creative as usual, but I didn't feel like writing much or I would have written something yesterday.

My new camera does have some limitations that I am still discovering, but on the whole it does seem to perform well under gig conditions. Almost every picture I took on Friday night came out usable as it was, but I improved many of them with a bit of editing. I showed a picture of Jo on Friday's blog, now here's a good one of Chris.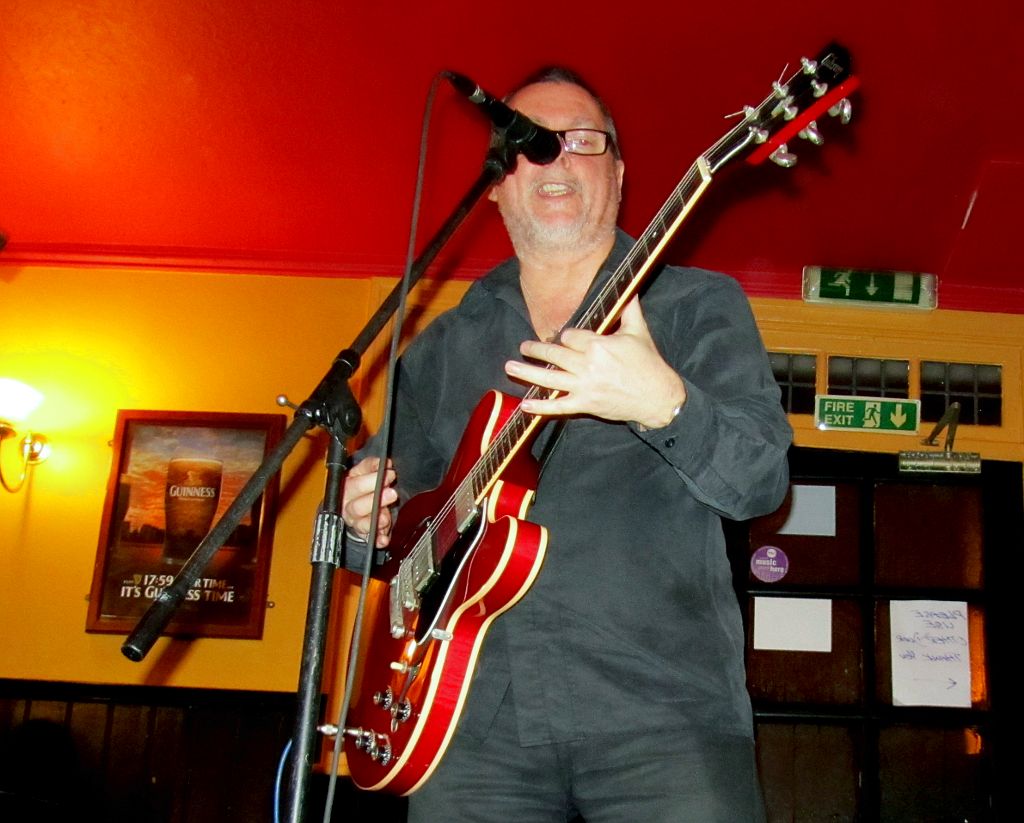 (the full resolution picture, without the slightly ragged edges, can be seen by clicking on the image).

After eating the left over grilled chicken wings for lunch yesterday, I decided that I had better leave off the spicy food and booze for a while. For dinner I had ice cream and a low fat peanut butter sandwich. That didn't seem to make the pain any better, but at least it didn't make it worse. At 8pm I decided I just had to try and go to sleep. I did manage to fall asleep for a bit, but the pain in my gut soon woke me up again. After trying some antacid tablets with little effect, and the time getting on for midnight, I decided the only thing possible was to try booze. That did work, and although I slept quite badly, with lots of dreaming, I did at least get 6 or 7 hours sleep.

This morning I didn't feel too bad, and as I write this the pain is more like a rumbling hungry sort of pain. Some of it is probably hunger because I didn't eat all that much yesterday (although the ice cream probably had several million calories in it). Not eating yet may be a bad idea if my stomach is making lots of acid in preparation for food, but I want to hold back until after I have been to Aldi to get some shopping. High on my shopping list is going to be rice pudding and chicken soup. In theory both should be fairly harmless to an ulcer (if indeed that is what it is). Later today I should try and get out for a walk in the sunshine. I doubt I'll go too far because I still feel rather fatigued, but the sunshine will probably revive me, and anything could happen.