17:20

GMT



The weather stayed rather pleasantly sunny until sunset yesterday. I don't know what the temperature reached, but with little wind it was very comfortable. It continued like that into the night, and today has been very nice. There wasn't quite so much direct sunshine, but it has been bright and dry, and close enough to warm for me to walk to the corner shop in just a t-shirt and no coat. I've even had some windows open today to air some of the house.

After a good rest I felt almost a little too relaxed to go out again last night. My stomach felt a bit rumbly too, but I pulled myself together and set out for The British Oak on the far side of Blackheath to watch another gig from Chain.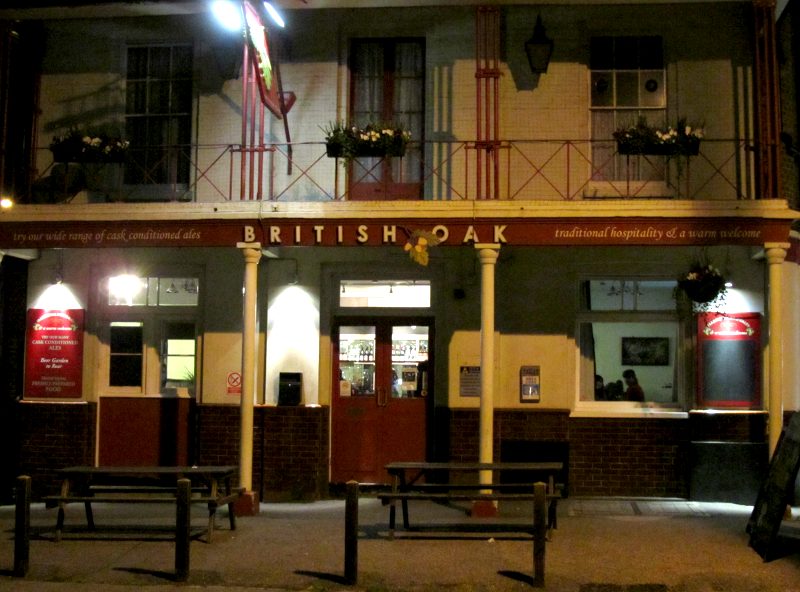 The pub is actually rather nice and traditional with seperate public and saloon bars - something that is rather rare these days. If I have one complaint about it, it is the dark oak panelling inside which seemed to suck all the light out of my camera's flash. Last night was the first time that I was not happy with the pictures my new camera was taking. Pictures without that panelling came out fine.


In the picture above I had to use a lot of processing to bring out all the detail, but it has left the dark areas very grainy.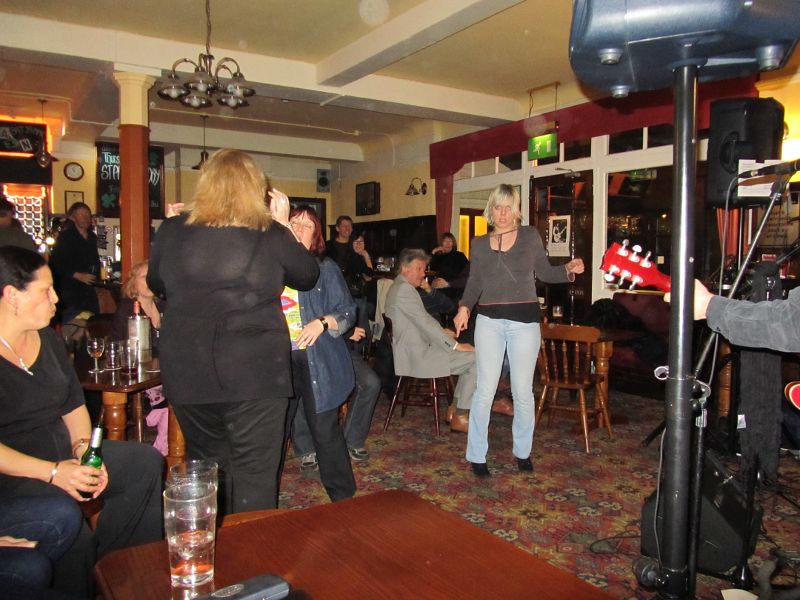 Apart from a few dust orbs spoiling the picture, everything was nice and bright when not looking towards the dark panelling. The lady, slightly right of centre, was the first up to start dancing to the band. She has a slightly odd face, but I thought her to be rather attractive (particularly her rear aspect !).

In any group of people gathered together statistics prove (or so I heard somewhere) that someone is bound to be someone's birthday, and last night was on exception. Chain have a well rehearsed "happy birtday" routine for such occasions, and go through at a surprising amount of gigs. Last nights "birthday boy" seemed so delighted that he clambered onto a rather precarious high table to take his bow. I was outside having a cigarette when the performance started, but just manged to capture him climbing down again.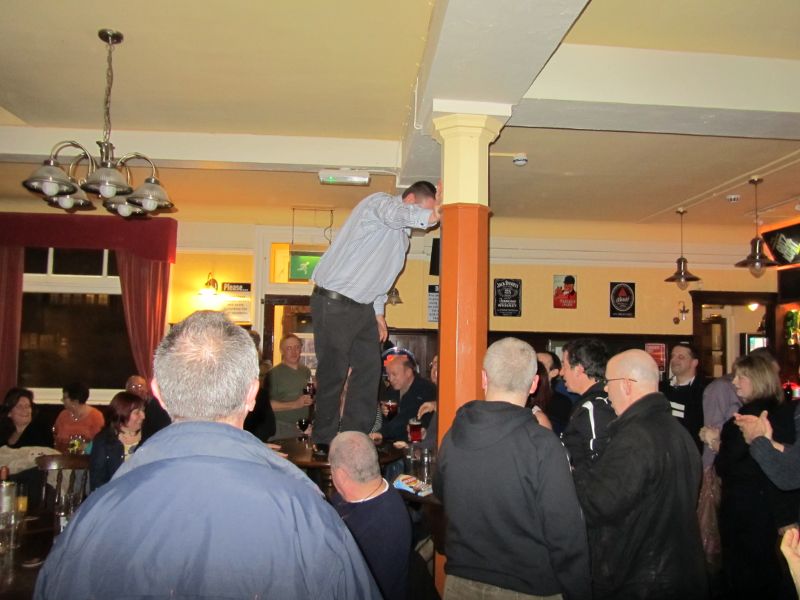 I think I have mentioned it before, but I am still surprised that some old fogeys like the music that Chain play, and then I am forced to remember that I am one of those old fogeys ! Chain play music that I grew up with (as they did), and that means the audience is older than the average, and yet plenty of young people appreciate it too, but I think the large proportion of less testerone fueled youngsters make these gigs calmer and more friendly. The upshot is that I find myself talking to more strangers, and more strangers talking to me - and they are not all old !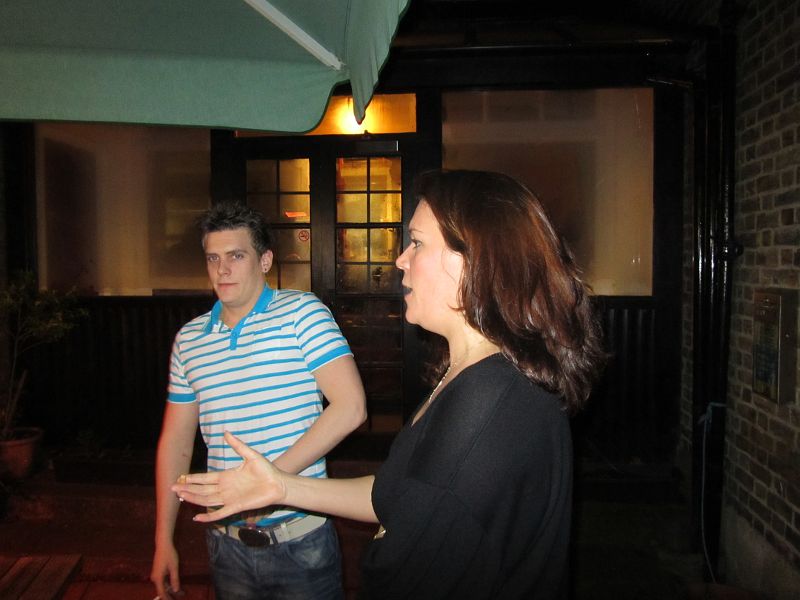 This delightful young lady (joined by her brother in this picture brother) was coming back from the toilet and noticed me in the smoking area. She very politely asked if she could borrow a fag from me. In this rare case it really was borrow instead of scrounge. She kept to her word and gave me a fag back which she actually scrounged from her brother who joined us a few minutes later (her own fags were inside the pub). While we had a smoke together we had a nice chat about the pub and other stuff.

My original thought was that I would be leaving the gig early so I would have time to find my bus stop, which was half a mile away somewhere on, or near, a complex road junction, and try and get a bus heading back home. It is the usual way I work until I become familiar with the pub, local area, and the bus service, but it didn't happen like that. When I mentioned my plans to the band Chris imeadiately stepped in and said he and Jo would be more than happy to give me a lift back to Catford - it was on their way home anyway.

So I stayed to the very end, and enjoyed myself even more. I think the gig finally finished just before midnight, but I really wasn't watching the time then. Once the bands kit had been knocked down, and packed up I reprised my role as a roadie and helped take the gear out to the cars. I must admit I never really appreciated just how much kit the drums made up, and how heavy some of the stands were, but I know now !

I wasn't expecting it, but not only was I driven back to Catford, but I was driven right to my front door. I like this new hobby I have ! I guess it was the simplicity of getting home, and not even having to walk from a nearby bus stop, but I found myself really rather buzzing when I got indoors, and it was gone 1.30am when I finally turned out the light to go to sleep. Sleep did come fairly quickly after that, and I think I slept quite well.

When I woke up it was bright outside, but I have to confess I had a slight hangover, and eventually went back to bed for a few more hours. Since getting up again I have had a very lazy day. I did put some clothes in the washing machine, and went to the corner shop, but they were the most energetic things I have done all day ! I am not exactly sure where all the other hours have gone to, but all I care about is trying to get to sleep early tonight so I can try and get my eight hours in before getting up at 5am for work in the morning.