View of the stage with a few people dancing in front using just a bit of zoom.
Using a bit more zoom - Chris Mayer and Geoff Paice who both play and pose together so well.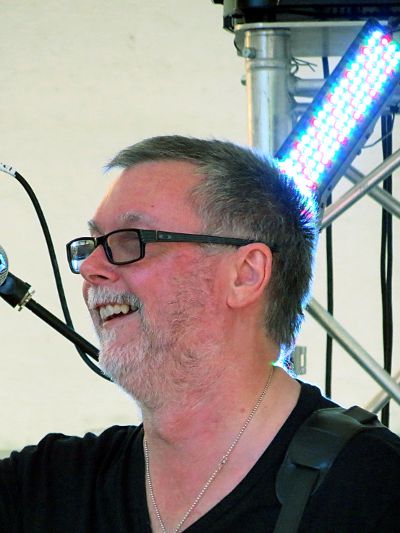 Using even more zoom, here's a close up of Chris Mayer looking very pleased with the way the gig was going - and with good reason to !
Chain sounded brilliant, and the dense crowd was lapping it up. Unfortunately I was less happy. I have quite a dislike of dense crowds, and yesterday there was an added dimension to this dislike. I would dearly have loved to have moved around for different camera angles etc, but without annoying even more people it was almost impossible. As it was, I was half expecting a knife in the back for blocking the view of the people I had forced my way in front of.
There are three different names for fear of crowds, and the differences are so subtle that I cannot define them. Strictly speaking, I don't actually suffer from fear of crowds. It's more of a sort of frustration sort of thing, and to say fear would be like saying that a hangover is meningitus.........but they both hurt !
One of the names for fear of crowds is enochlophobia, and I like the way it comes off the tongue. It also seems to be a bit of a rare breed of phobia. So I've decided to adopt it as my personal irrational fear.
While I enjoyed the music intensely, but I spent most of the time viewing the band through my camera viewfinder. It was a sort of distraction from the crowds. I took 83 photos in all, and that must work out to something like one every 30 seconds !
Once Chain's set was over I contemplated the time it would take to get to the back of the huge queues for the beer dispensary, and how long it would take to get to the front of that queue. The queues for the toilets were less dense, but the only ones I knew of were portaloos outside the venue area in the approach road, and it had been hard enough getting through the crowds on the way in !
I decided I just couldn't stand those crowds any longer, and decided to go home again. I was lucky enough to see Chris, Geoff, Dylan and a few others in the car park on my way back to the station. So I got to say a few brief hellos, but that was all. In 40 minutes or so I was back home again.
I don't think I can blame the takeaway I ordered last night as compensation for not having an enjoyable evening, but I don't feel too bright today. The pizza tasted a little odd - almost like it was made with something like strong cheddar rather than the traditional cheese. I'm not suffering from anything like food poisoning though, it feels like I have no energy, some bits of me ache, and from time to time I have felt most peculiar. Worse still is that a little earlier I was feeling like it was a little too cool for comfort even when my indoor thermometer said it was 25° C. Maybe I've caught a chill or something.
I do have the opportunity to see Chain playing again tonight. They are playing a charity event organised by the O'Neill's pub group in the Bromley branch. It has the potential to be an excellent gig, and they have gone down very well with the audience at past performances there, but I just don't feel good enough to attempt to go tonight. I think I should put all my effort into getting myself in order for work tomorrow.
There is a double tragedy to this. Not only will I be missing out on what is sure to be a great experience, but if one of the musicians is who I think it might be, I will be unable to demonstrate just how prejudicial my photography can be. It no longer feels worthwhile taking pictures of a drum machine even if it has the guise of a human. Here's a picture from yesterday that includes a genuine human drummer who knows how to smile.