18:50 BST



We are definitely heading towards winter now. Some of the last week has been bright and sunny, and one or two of the days have been fairly warm, but there is a definite chill in the air today. I don't think the temperature topped 20° C, and may have been a degree or two less.

It's been an eventful fortnight, but strangely enough, not terribly traumatic - that comes later when I try and live off sick pay !! When I last wrote I mentioned that I was feeling off colour, and was thinking that I might have to hand my body over to professional body mechanics. Well it finally happened, and on that Sunday afternoon I finally plucked up the courage to dial 999.

Here's some cut-n-paste from other sources.....


Just to recap about what's been going on with me recently - just in case you haven't seen the full story....

For much of this year I've been getting chest pains while walking. In the last months things got worse, and on Sunday 1st this month, when I was notionally semi relaxing, those pains started getting a little strong, but not as strong as on some previous occasions. I decided it was time to bite the bullet and hand myself over to the professionals by dialling 999.

It wasn't long before I was in Lewisham hospital with an interim diagnosis of angina. Some tests in Kings College Hospital confirmed that 4 of my coronary arteries were congested and needed grafts.

So on Friday morning (6th Sept) I had open heart surgery. Yards of artery were stolen from my left leg, and transplanted onto my heart. The first part of recovery was really quick, but now the really tedious bit starts.

I am back at home on the strict understanding that I have someone to watch over me for a few days (I haven't ). My left arm, or mostly hand, is partly numb, but is improving (and the hospital know about it). My left leg is healing slower than expected following a possible allergy to one of the adhesives used on a bandage. The main problem here is that the bandage is now so thick that I cannot get any trousers on ! I had to wear a hosptital gown to come home. This rather spoiled my triumphant return !

Loads of rehab to come that is going to be long and tedious, but once I am back in trousers I hope to get to a gig some how - even if I have to sit at the back quietly. Could be 2 months or more until I'm back at work - and with this scrooge like governments sick pay, I'll be broke for even longer !

Just to gross you out (I don't see why I should have all the fun) there is one other thing that I didn't dare admit to the hospital for fear of never getting out again - 6 days of not "going" and then starting with a bit of a bang has left me with the most delicate piles I've ever known !



That's about the briefest precis of the last 12 days I can think of. So now all I have to do is to heal as quickly as I can. The first vital bit will be my left leg so I can wear trousers again. They are the key to getting out again, and the tedium of countless doctor/clinic visits, and eventually to pubs and gigs. Work will have to take third place in the grand scheme of things.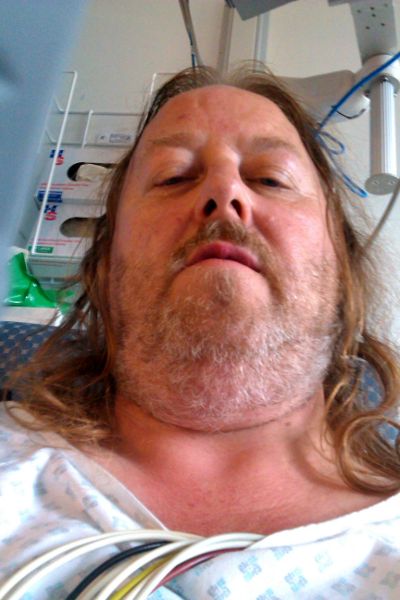 There weren't many opportunities for photography while I was in hospital, and all I had was my mobile phone camera with an ever weakening battery in it it. That didn't stop my getting one "selfie" while I was in Lewisham hospital - not easy to do when the shutter button is on the wrong side of the phone ! Note all the wires and tubes coming out the top of my gown.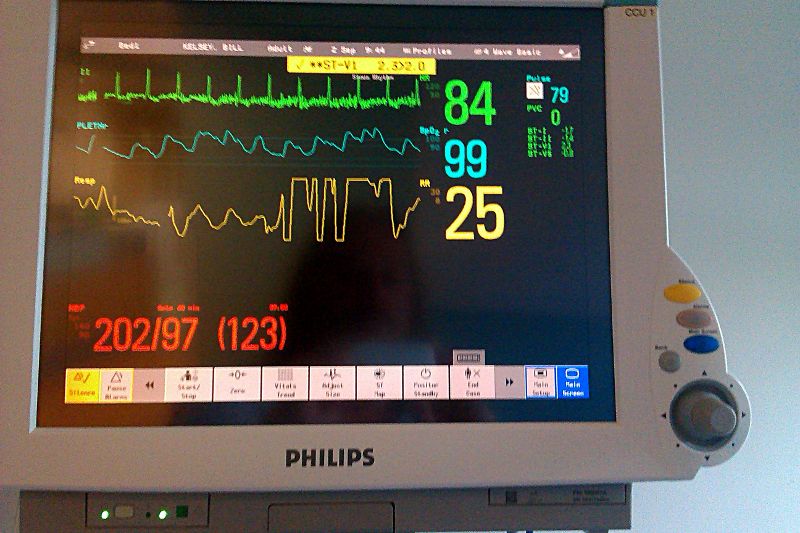 Those wires and tubes were connected to this monitor - night and day ! They provided a readout out of my heart rate, beat, oxygen absorbsion, and blood pressure. My pulse rate is a fairly good 79. My oxygen level is an excellent 99%, while my blood pressure is a very high 202/97 !! A shed load of pills, plus the arterial grafts have got my blood pressure back to ext book levels.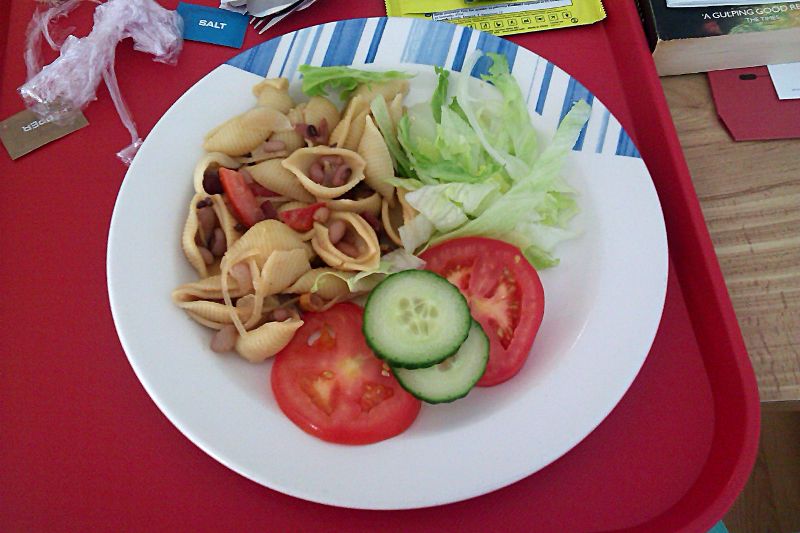 Here's one of the more tasty, and probably rather healthy meals I chose for myself in Lewisham hospital. It's cold mixed bean pasta with salad. Rather surprisingly, considering how the advice from doctors to anyone still displaying signs of life, is to cut down on salt intake, this still came with a packet of salt - that I didn't use.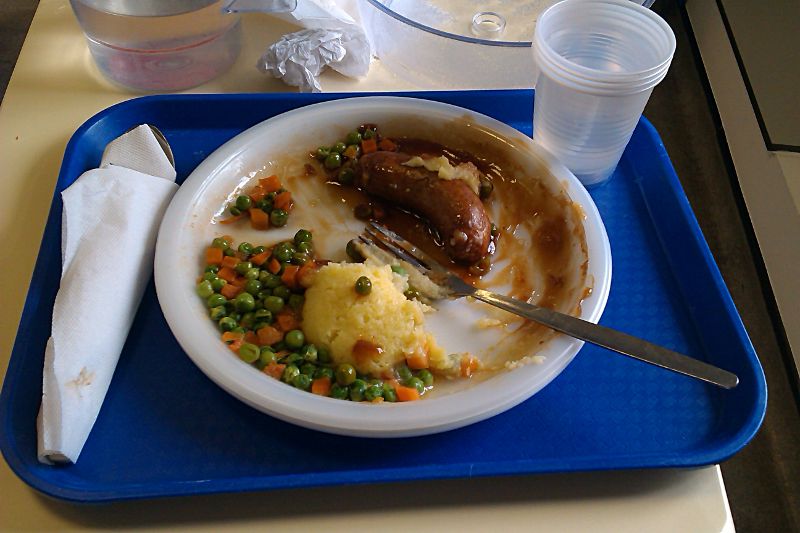 A slightly less healthy meal this time - bangers and mash. I had this while feeling rebellious after the operation. Before I remembered to stop eating and take a picture of it there were two bangers and two scoops of mash. Once again, it came with a sachet of salt. Out of all the meals I had in hospital, only one was less (quite a bit less on this occasion) than rather nice.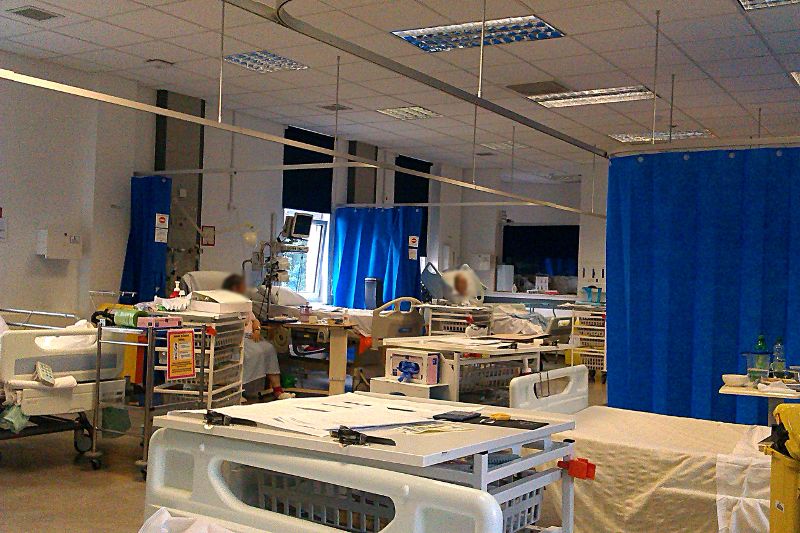 This where I did most of my recovery after the operation - the High Dependance Unit.
Now it's probably time to work out how many thousands of pills I am due to take tonight !!