The weather is slowly improving. I can't recall any rain on Friday after the light downfall in the morning. Once the clouds had broken up it turned into a fairly pleasant day with much more sunshine than forecast. Yesterday was another pleasant day. It was dry, and there was often some sunshine. Towards the evening the clouds got thicker, and at one point I thought I heard some distant thunder, but on reflection I think it was just fireworks. That cloud had had gone by this morning, but it did keep some warmth in overnight. It is now gloriously sunny, and the temperature is already 22° C. With luck it will go up a few more degrees by late this afternoon. Tomorrow is forecast to be a bit cloudier, and the top temperature may only be 20° C - not bad as such, but a very poor show for the first of July !
I did something a bit silly on Friday night. I had been feeling reasonably OK during the day, and I should of capitalised on that by having a semi light, fairly healthy dinner, but I didn't. It was probably wild exhuberism (or however you spell it) after just being paid. I treated myself to a large takeaway - double shish kebab (one lamb, and one chicken). In theory, being grilled meat, and served with loads of salad, they should have been "almost" healthy, but...........
For all that, I didn't feel any particular ill effects from it, but when it came to doing a bit of housework I felt very sluggish. I managed to do just enough to make the place look almost presentable for when my friend Aleemah dropped by with a DVD to watch. As usual I met her at the station, and we went to the Wetherspoons pub so she could have some breakfast (and I could have a pint of beer !). On the way back to home from the pub we did some shopping, and still with my new pay burning a home in my pocket, I did get a bit carried away buying stuff that I probably should not have done.
When Aleemah went home I had a bit of late lunch, and then I sort of didn't really do anything else until the evening. I had some dinner, watched a bit of TV, and went to bed. I thought I had eaten rather a lot, and didn't fancy going to a gig in the evening. With hindsight I am not so sure that I did eat all that much, but even if I had realised I had eaten less than I thought I still didn't fancy the journey to the pub where the gig was. It was in Charlton, and it would need two buses to get there, and that put me off.
Although I had notionally gone to bed quite early (for a Saturday night) it was several hours before I actually went to sleep. I spent some time on the internet, and I did some reading. I think it was 11pm before I turned out the light, but when I did I was asleep almost instantly. It feel like I really needed that sleep. I slept well until about 5am (although I did wake up for a wee a few times as far as I can recall). Initially I got up and pottered around for a bit before going back to bed.
I think it was around 9am when I woke up again, and I woke up with a thick head as if I had a hangover. I guess I was sleeping awkwardly, and probably snoring a lot or something. It didn't take long to throw off the effects of sleep, and one of the first things I did was to wash a pair of towels. Hand washing towels is a bit of a physical challenge, but I got them done, and I even strung up a temporary washing line using an old ethernet cable tied between a drainpipe and a tree in my back garden. It's only 6ft long, but the two towels are happily drying in the sunshine now.
Once I had dealt with those two towels I set about cooking breakfast. What I really fancied was egg and bacon with all the trimmings. That's not so easy to do with only an electric grill and a microwave oven. The bacon, although in this case it was actually a smoked gammon steak, was easy to cook in the grill. For eggs I had to settle for cheese scrambled eggs cooked in the microwave. It was the first time I had tried cooking eggs like that, and I was very happy with the results. Previously I had had some mixed success with poached eggs, but the result ten were a bit messy.
With the temperature at 22° C , and a little warmer indoors, I felt rather warm after eating my breakfast, but I am slowly cooling off writing this (but not that much). The next thing I'll do is to have a little lie down. Once I've cooled off, and my breakfast settled a bit, I will wash some shirts. If I feel very enthusiastic I'll wash all my shirts and underwear too, but I have a feeling I'll be just doing enough for work next week. It is possible, though I don't know how, that I'll have enough energy to do some more laundry after work tomorrow.
Apart from laundry, I have no idea what I shall be doing for the rest of today. It is ideal weather for a day out (at least it was - the sun has just dodged behind a big cloud) and I would love to go for a paddle in the sea, but I am so out of practice at walking that it seems far to much bother to even try. Maybe there will be some more hot sunny days in July, and perhaps I'll take some days off work so I can take advantage of more frequent trains, and quieter beaches during the week.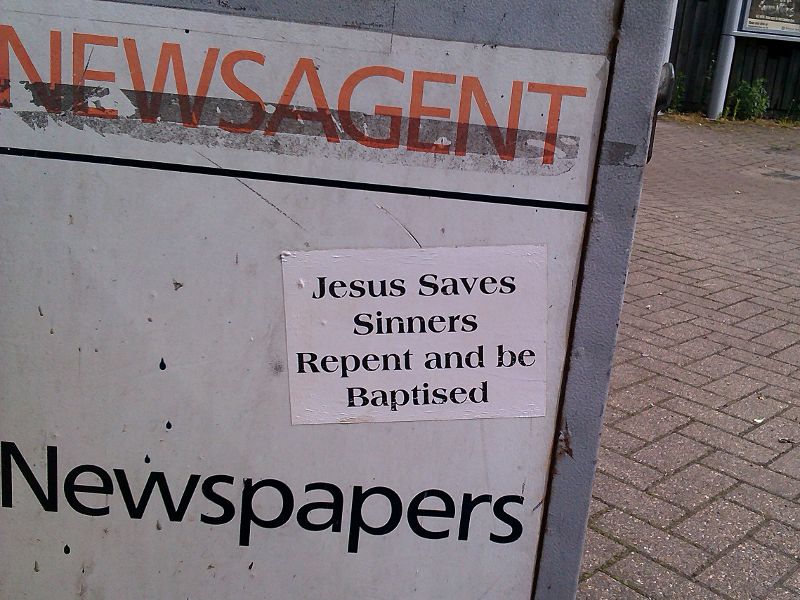 I can't help but think that this sticker, on a newspaper locker outside Catford Bridge station, would make at least some sense if it had some punctuation. As far as I can tell it is saying that Jesus saves sinners, and that he should repent and be baptised. Not that I know anything about this religion business.