If had been describing the weather we had yesterday 3 or 4 weeks I would have described it as good, but now that spring has definitely sprung, I could only describe it as mediocre. It wasn't cold, and yet it wasn't warm. It wasn't completely dry, and yet it didn't rain that much. I think today is going to be a re-run of yesterday. It is mild, but not exactly warm, and I think we have had at least one short shower so far today. It is rather cloudy, but for the moment the sun is shining. The current temperature is 16° C.
Yesterday was an interesting day. I had just hit the scotch when I wrote yesterday, but I drank far less than I anticipated. I had just enough to get drunk, and then I got bored with it, but I did feel good for making the gesture. In theory I had sobered up enough by the evening to go out to last night's gig, but there were a couple of problems that prevented me from doing so.
One problem is that I left it far too late to have a shower, and wash my hair. The other problem was that I had a rather big dinner that effectively grounded me - or so I thought. Lurking at the back of my cupboard were a couple of packets of Vesta freeze dried meals. One was paella, and the other was beef risotto. I have no idea how old they were, or even if they had a "use before" date, but it is possible they have been in my cupboard for in excess of 10 years. Curiosity, and a desire for something novel, induced me to cook them in the microwave.
The cooking instructions said to add a slab of butter, but I omitted that - maybe in some sort of subconcious desire to make them a little less unhealthy. They were nothing wonderful, but tasty enough. They also seemed to be very filling, or at least they did initially, but because they were in reality not much more than rice cooked with flavoured water, they were very quick to digest. This was to have some advantages later.
Instead of having a great night out I stayed in and watched some TV. There was one advantage to this - I missed a troupe of morris men who invaded the pub for a while ! I did find a few entertaining programmes on the google box last night, but they were thin on the ground, and for a while the latest "Have I Got News For You" overlapped QI XL on a different channel - which was annoying.
It was midnight when I went to bed. I didn't have a hangover, and seemed to go to sleep quite easily. I think I got my full 8 hours sleep, but it must have been rather poor sleep judging by the amount of dreaming I did. I can't seem to recall even the subject of most dreams, but I am sure I had plenty of them. I woke up this morning feeling rather stiff and achey, and much of that stiffness and discomfort was from my lower back. In other respects I felt oddly good (relatively speaking).
After I had been up for a while I rather reluctantly went out to get some shopping from Tesco.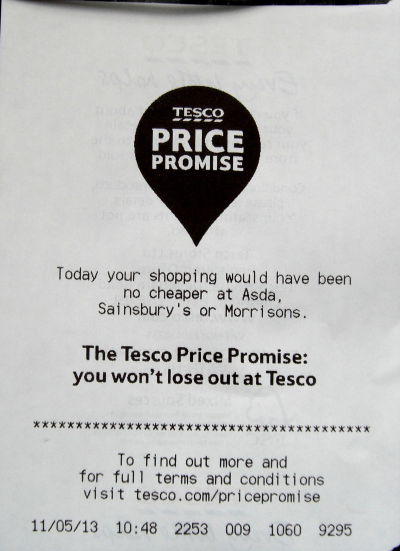 The reason I was reluctant was that I expected to feel breathless and aching by the time I got to Tesco, and before going in Tesco I actually went further on to extract some money from the hole in the wall.
I was suprised to find that despite walking reasonably fast, I was hardly affected at all. I could feel that I had worked hard, and it took a minute or two to catch my breath, but it was hardly painful at all.
Evidently this was because those Vesta rice based meals I ate yesterday had not actually left me stuffed to the gills after all. Once I got moving things got even better. Walking back from Tesco with three bags of stuff seemed almost effortless for the first time in ages. Maybe I should do this more often.
I got the ticket shown on the left when I paid at the checkout. It looks really great until you remember that it doesn't mention Aldi or Lidl. My shopping from there would have been as much as a third cheaper for similar, but maybe not identical goods.
The reason why I went to Tesco was to buy a spare pair of "Bizzy Bee" satin touch rubber gloves. They are very comfortable to wear while committing crimes, murder etc. but more importantly they seem the only brand that doesn't rip and tear when I do my hand laundry. Had I known I was going to feel fit and healthy (
for extremely limited values of fit and healthy
) this morning, I would have gone to Aldi for the rest of my shopping.
I'm not sure what I am doing today - except for this evening. If it were a bit warmer and drier outside I might have attempted to tidy up my front garden. The last week of warmth, and an occasional sprinkling of rain, has made it go into overdrive. What was little more than a few twigs last week now looks like a bonsai tree, and if I let it go for another week or two it will look like a major rainforest !!
Something that would be useful to do would be to carry on trying to make some sort of sense to my downstairs back room. If I could grit my teeth enough there is a load of stuff in there I could dump. It is even possible that one day my dining table could be useable again, and it is even possible that I might resume re-building my web server that is supposed to live in there. (It is currently a very small PC serving up these web pages running 24 hours a day in my bedroom).
Tonight I am going to the Ram Jam - jam night at The Catford Ram. It could be anything between a diaster and wonderful, but more significantly it will be taking place - unlike Chain's gig tonight. That gig was supposed to be at The Railway Tavern in Longfield - one of those far away places that I can't realistically get to. I think it was a mix up by the pub that has meant that the gig is cancelled (perhaps another band is on there instead). That means there could be some people on the loose tonight, but I don't think they know about The Ram. Maybe I'll keep it secret until I know enough to either recommend it, or ignore it.
I've written all this on a different keyboard. Hopefully there will be no letter Bs missing today, although it won't do anything for completely missing words that I sometimes seem to manage without noticing until it is far too late !