This view from the footbridge that I usually spend a minute or two on to look at the duck (who were further down the river).
The river is The River Wandle, and this is looking towards andsworth and the River Thames.
Probably the most exciting thing to photograph, but even better in real life - the end of a decaying log.
I didn't have the time or the inclination to walk very far in the park. In fact I was outside for barely more than 10 minutes, but it felt good to get some fresh air on my face and arms - so good that I took a chance and left my coat off when I went home after work. There were a couple of times when it did get very grey as if it might rain, but also a couple of times when there was some weak sunshine. Even with the poor amount of sunshine in the afternoon, the temperature was close to warm, and definitely comfortable when moving around (but feeling cold when quietly watching TV).
In celebration I cooked a special healthy dinner (which is actually a lie because I had planned last night's dinner the night before that). Part one, because it was a two part dinner, was steamed salmon with steamed vegetables dressed with balsamic vinegar and white pepper. There was also a lot of condensation on the plate that diluted the balsamic vinegar, and made it look like the meal was swimming in it. I should have drained that condensation off because thevinegar was so dilute it could hardly be tasted.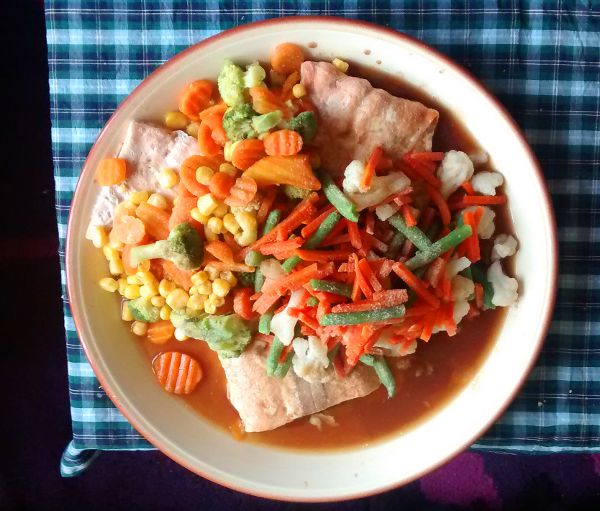 Dinner, part two was a bowl of ready mixed salad with some cheap and nasty (and mostly tasteless) thin sliced chicken roll. I really don't know why I bothered with the chicken. It added nothing except calories, fat, and sodium nitrite and stuff. One thing it didn't do was to completely satisfy me. I still really wanted to eat more even after eating quite a substantial amount...well not really, What I really wanted to end the meal was a cigarette. It is the only time I get a craving, and it's for a cigarette and not nicotine. That craving lasted half the evening, and didn't really go until I had a large whisky ! I think the only way to stop that craving is to give up eating - which would probably be a good thing. It's well known that eating gives you cancer, erectile dysfunction, liver disease, kidney failure, hair loss, ingrowing toenails, and old age !
Parts of last night were good. I was in bed nice and early, but I didn't seem to go to sleep until just before 9pm again. I then slept wonderfully until about 3.30am. There is something about that time. It may be when a train, perhaps and engineering train goes down the line, or it may be something completely different, but if I waked up at that exact time I can never seem to get back to sleep properly. I did sleep afterwards, but woke up often, and had strange disjointed dreams. Eventually I was woken by my alarm going off - maybe some of the times I thoight I was awake I was actually dreaming - who knows ?
It probably comes as no surprise that I can't really say if I feel good or bad this morning. As usual it is a bit of both. I thought I felt fairly reasonable, but walking up the slope from the platform at Waterloo East station seemed like really hard work. I really wanted to stop and turn around to go back down again. There was no pain involved like there was prior to my heart bypass, but it was more like someone had tied heavy sand bags to my legs, and it was hard work moving them. By contrast, walking from the station to work, which, with some imagination, is just about detectable downhill*, was easy by comparison.
* The walk from the station to work almost parallels The River Wandle and is in the same direction as the flow as it flows down towards the river Thames. Over the 9 - 10 minute walk the ground probably only drops a couple of feet, maybe less, but it
definitely
drops !
There is a good chance I will feel better tomorrow morning - with a special exemption. Tonight I am joining the lads for some beers in The Catford Constitutional Club. The chances are that I will have a mild hangover in the morning, and an even higher chance that my blood pressure will be significantly higher. It is the high blood pressure that fuels my body properly, and restores power to all my muscles. Of course sods law says that now I've predicted it, it will fail spectacularly, but fingers crossed that I'll be dancing and skipping my way to work in the morning while my head gently throbs away !