08:00 GMT
Yesterday's weather was almost bland. I think there might have been some sunshine, but it was so insignificant that it didn't really register with me. One thing that did register was the strong breeze/medium wind that made it feel really chilly as I walked to the station after work. Oddly enough, I didn't seem to notice it when I was back in Catford. Sometime not too long after it got dark we had the first rain fall for a couple of weeks. It looks as if it rained for some time during the night but had stopped by this morning. Today is not going to be quite as bad as was forecast a couple of days ago. There should be a fair bit of sunshine today (it's sunny right now), but it will rain after sunset (and probably for lots of tomorrow). The major annoyance is that after the temperature starting at about 8° C, which seems a reasonable start for this time of year, it's hardly going to get any higher despite the sunshine. The forecast reckons 11
° C is the best we can hope for, and that's just pathetic !

I feel extremely variable recently. Last night the walk from work to the station seemed a tiny bit easier than recently, but once I was on the train I began to feel quite weary. That continued all the way back to Catford, and it felt like I could barely put one foot in front of the other as I walked from the station to the Turkish supermarket. Once I had bought some bread and stuff from there it felt unusually easy to walk from there to home. Explain that, because I can't !

I didn't go for my usual Thursday night drink for two reasons yesterday. The first, and maybe more important reason was that I am seeing my doctor after work. The other reason is that I didn't think that anybody would be drinking in what is now the usual haunt - The Catford Constitutional Club. I was wrong, but for a reason that I could never have guessed, and which I shall explain soon. I went straight home with my tasty Turkish seeded bread, plus some other stuff.

That other stuff included some Turkish Succuk sausage, and that probably formed the core of my unusual dinner last night. I started off with some bread and cheese, and then had grilled sausage with tomato soup (with some extra bread). I actually ate the sausage and soup as one course, but not mixed together. I had a few mouthfuls of soup followed by a bit of sausage followed by a bit moe soup etc. I am unsure why I ate it like that. It was just one of those things that seemed like a good idea at the time. I followed all that by a plate of fruit.

Another slightly odd thing is that I now classify tomatoes and even peppers as fruit. They might even be so technically, but are rarely thought of like that. I only think of them like that when I eat them raw. If I cook tomatoes or peppers then they are vegetables ! I once would have thought that peppers and plums, for instance, don't mix, but they seem to work together on the same plate for me quite well.

I'm not sure if my strange dinner could be classified as healthy in any way that is relevant to me, but this morning I could swear my waist has shrunk a little bit. Obviously one meal last night could not effect me this morning, but maybe some of the care I have taken to avoid the very worst offenders recently might have worked to my advantage. Of course it is such a small change that it is not really statisticly significant. On the other hand, I might possibly even feel a little better this morning.

For various reasons, mostly the same ones as ever, I went to bed extra early last night. It saves a bit on heating, and more importantly it saves me from getting bored and eating more. Plus it is the most comfortable way to read a paperback ! I think I might have been in bed by 7pm, but it might have been a little later. At about 7.30pm I received a phone call from someone with a very Canadian sounding voice !

I didn't get any advance warning, but my friend Mike had come to the UK from Canada to visit his parents and brother. At the time of the call they were in Catford, and in particular, they were in The Catford Constitutional Club asking me if I fancied a beer ! If I had been pre-warned I would have dropped my decision about drinking last night, and I wouldn't have been undressed in bed while there was drinking going on. It was hard to say no, but I had to turn down the very tempting offer.

Thirty or forty minutes after getting off the phone I had turned out the light, and I was fast asleep. I've always liked a lot of sleep, and while I seem to be still healing after my operation, even though it seems ages ago now, I seem to be able to use all I can get. I'm sure I woke up more frequently than usual last night, and yet it feels like I got a good nights sleep. I certainly seem to feel better for it this morning. I seemed to ache less, and had a tiny bit of extra energy this morning......although there was one exception.

I'm not sure what it was that caused it, or even what exactly it was that I was feeling, but I felt most peculiar when I got off the train at Earlsfield this morning. It has echoes of when I got off the train in Catford last night, but the symptoms were completely different. This morning I felt slightly nauseus, very slightly light headed, and almost, but not quite, very weak. Those feelings, which I feel sure I have inadequately described, persisted until I had bought some stuff in the little Londis supermarket by the station, and then disappeared entirely. The walk from there to work then felt a lot easier than usual !

After having sat at my desk for over half an hour, and having eaten some breakfast, I now feel like a lie down would suit me well. That is impossible until tonight. So I'll plod my way through work before I haul myself home and prepare to go out to the doctor an hour later. In the meantime I have had a bit of a smile. Sometimes I am easily amused, and one thing that amuses me a lot is to see a Windows error message on a very big, very public display - such as a huge display on the forecourt of Waterloo station !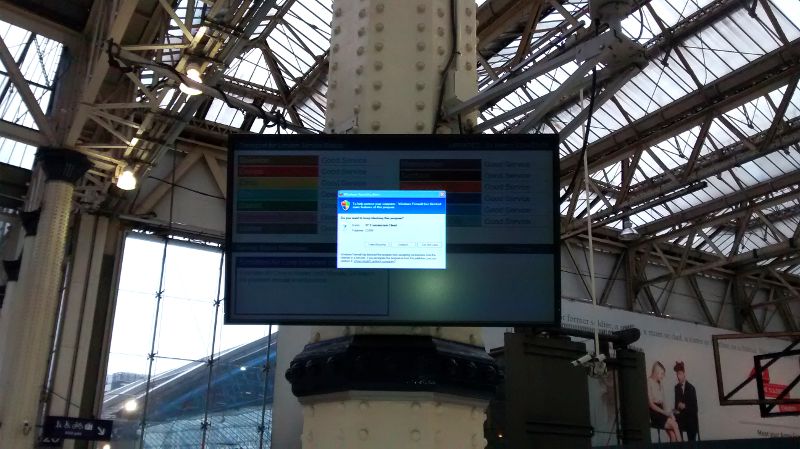 This display is supposed to be showing how well the London Underground is running this morning, but much of that info is obscured by the error message. This picture was not really sharp enough to display it clearly, but here's a fuzzy blow-up view of the message.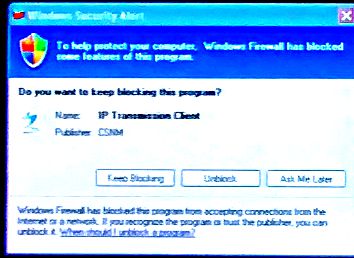 It says "To help protect your computer Windows Firewall has blocked some features of this program".