08:29 BST



Most of yesterday wasn't bad, but it did rain on me on my way home from work, and the strong winds brought down a few trees here and there. On the plus side it was sometimes sunny, and if it wasn't actually warm, it was certainly very mild. Today has started rather cool, just 7 or 8° C, but the rising sun revealed a lovely blue sky. We can expect a lot of sunshine today, and that will help lift the temperature to a cool, but just acceptable 13 or 14° C. If you choose to believe the weather forecast, it will stay dry until 11pm tonight, when it will pour down ! Not that I care about that because I hope to have been fast asleep for 2 or more hours before that rain falls !

It was nice going home until the very last bit yesterday. I was dazzled by sunshine as I walked to Earlsfield station, and it was nice and sunny as my train took me to Waterloo. I could almost have got a sun tan as I waited for my next train from Waterloo East station. It looked wonderful as my train took me to Catford Bridge. From inside the train it looked like a bright summers day. When I got off the train at Catford Bridge I noticed a couple of dark clouds on the horizon, but it was still sunny and bright as I walked to the Turkish supermarket. After spending 5 or 10 minutes selecting and buying some stuff, I came out of the shop into pouring rain ! Well maybe "pouring" is a bit strong, but it was heavier than light rain.

It was tempting to start eating all the stuff I had bought as soon as I got indoors, but I had important stuff to do before I could have dinner. I did have a small cheese and tomato purée sandwich before washing my hair, and taking a shower to make myself "clean and beautiful" (!) before going out again to see my doctor. Before going out I had to take two final blood pressure readings. I expected both of them to be quite high - I had been rushing around, and going to the doctor always stresses me out - but the first reading, while high, was not as high as I feared, and the second reading, a minute or two later, was higher than by best, but not that untypical.

I did quite well at the surgery. The first bit didn't involve the doctor. It was business with reception ! Back in April my name, according to health service records had mysteriously changed from Bill to William, and I had tried a few times to get it changed back, but the wrong name seemed to stick. Yesterday I took along my birth certificate to prove my real name, and by luck I also got to talk to the intelligent receptionist. I think that this time it has worked !

When I finally got in to see my doctor, after a tedious wait of 25 minutes in the waiting room (I was 5 minutes early, and she was over running by 20 minutes) I presented my two weeks of self taken blood pressure readings to her. She seemed less concerned than I thought she would be. She pointed out that sometimes my blood pressure can be satisfactory, and on a few rare occasions it can be excellent, but that there was the very obvious difference between morning and evening readings. That's when I made my pitch for a compromise solution. My old dose of 10mg of Bisoprolol causes too many problems for me, and 5mg leaves my blood pressure a bit high, particularly in the morning. So I suggested that I could try taking one 3.75mg tablets in the morning, and another 12 hours later, to see if that would even things out a bit. The total dose, per day would be more than the 5mg I've tried for the last 4 weeks, but still less the the 10mg I was on before. To my surprise she readily agreed.

I think I could get to like this new doctor. I have a gut feeling that she may not be a very good doctor, and maybe that is why I can negotiate with her, but while I can negotiate after doing my own research about my drugs and diagnosis, I think I'll be happy to continue to see her. ("Happy" is, of course, a relative term that is used here in a way that does not apply to outside the medical world). The other thing my doctor did was to give me my yearly 'flu jab. I'm not so sure about her injecting skills though ! It was a lot more painful than many other injections I've had - and I had many while in hospital last year ! I do wonder if the amount of pain is down to the skill of the doctor/nurse or if it is down to pot luck as to what the needle finds under the skin. It's probably a mixture of both. All I know is that the usual pain as the needle first breaks the skin was slightly worse than usual, but not that bad. What was a shock was the second bit of pain when either the needle went through something denser, or when the vaccine was squirted into my body. There doesn't seem to be a bruise this morning, but even without pressing the area I can feel it is still a bit tender around where the needle went in.

As I walked home from the surgery I felt remarkably good. I guess it was joy and elation after surviving another visit to the doctor, but it partly expressed itself as a feeling of energy and alertness. It was the way I really want to feel if I were to go out in the evening. I could easily have jumped on a bus and faced a 40 minute ride to a gig feeling like I did as I walked home. Sadly the exact opposite is usually the true feeling when I've wanted to go out any evening of this year. It's a bit of shame that I can't capture last nights feeling more often because I almost didn't feel hungry when I got home.

Maybe under different circumstances I could have gone to bed after eating no more than a small snack, or even nothing at all, but the circumstances last night was that I had a loaf of the wonderful bread they sell in the Turkish supermarket, and I also had some strange sausages I was ultra curious to try. So I had a couple of thick slices of the bread with some soft Boursin cheese spread on it while I cooked those sausages. Unfortunately I overcooked the sausages. I left them unattended in the electric grill, and came back to a very foggy kitchen. In one way it was good because I had grilled out almost all the fat from these special sausages, but that did leave them a bit dry, and that would have spoiled the taste. Nevertheless, they were still quite tasty. I'm not sure what they were called (it was a Turkish name I think), but the ingredients said 98% beef with herbs and spices.

It was like my whole evening was time shifted by the trip to the doctors. I ended up staying up late watching two episodes of QI on Dave, and didn't get to bed until 10pm - and that is very late for me when there's work in the morning. Fortunately all the grit, lumps and bumps in the mattress and pillows that caused me so much trouble the night before seemed to have all but disappeared last night, and I was mostly comfortable when I got in bed. I didn't get to sleep as quickly as I would have liked, but it didn't take that long, and once I was asleep I slept quite well. The only disturbing thing was that I had a dream about football.....well not actually about the game, but about footballers. I cannot understand why, and I think I might have to undergo brain surgery, or strong psychiatric drugs if I ever dream anything like this again, but I seemed to be in charge of a small team of footballists. It was probably the worst nightmare I have had in years, if not my whole life !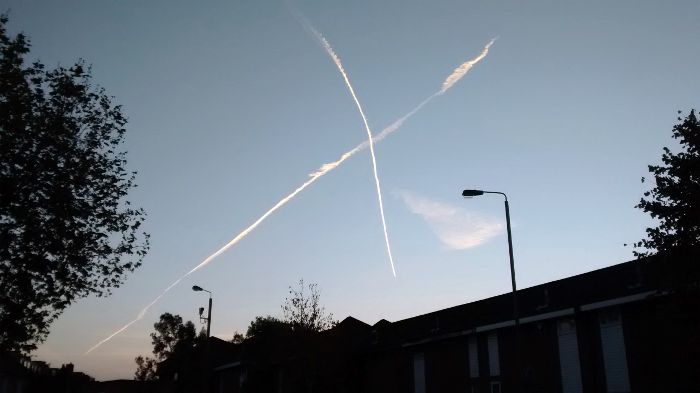 Here's a good picture to show just how blue the sky was as I walked from the station to work. It also shows how low the sun is in the sky. The road is still almost dark, and yet the sunlight shining up from near the horizon is lighting up those vapour trails like laser beams. I had to tone down the photo for fear it would burn out your retinas if you saw it at at full brightness ! (or maybe the camera in my phone could not capture just how bright those vapour trails looked to the naked eye). If it hadn't felt rather chilly it might have been a very early summers morning.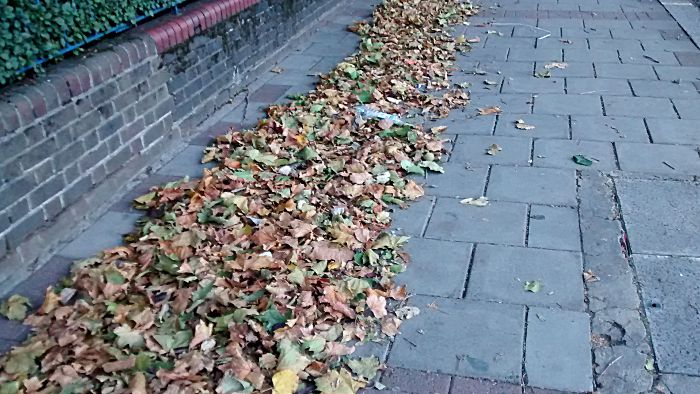 Turning from the sky to the ground there is one of autumns signs in the city - leaves on the footpath. I nearly took this picture on my way home from work last night, but it wouldn't have looked as nice as this one (not that this one looks particularly nice). Earlsfield (Garret Lane to be exact) is in the London borough of Wandsworth, and the council is so backward that they get residents to put their rubbish out in plastic bags. More enlightened councils use wheelie bins. The trouble with plastic bags is that they get ripped open by animals, and in the special case of yesterday, ripped open and scattered by fierce winds. Yesterday, in roughly the same spot, there was about 50% leaves, and 50% litter, and it did not look very nice. This morning it was mostly just leaves, and I was careful to try and photo an area with hardly any rubbish in it, but there is still rubbish to see (particularly in the higher resolution, and un-cropped original photo). Of course the next stage after the autumn leaves is snow............