07:55 GMT.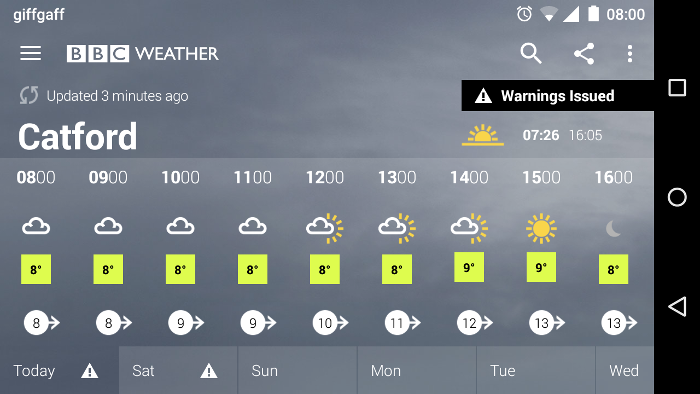 So most of today is going to be a rather cool 8° C, but it could be a glorious 9° C, and sunny when I start to go home from work. The only trouble is that sunset is at 16:05, and by then I will only be half way home. I will arrive home in darkness. Looking on the brightside, if wishing away a whole month of your life can be considered a positive thing, it's now only about a month (plus a couple of days) until we reach the winter solstice, and the days start getting longer again ! Incidently, the weather warning is for very strong winds tonight, plus the possibility of snow in some places, but not locally.

I felt pretty strange at work yesterday. My chest was constantly aching to some degree or another, and I often had a feeling something like light headed, but not that. I blame going home on Wednesday night in a cold, wet, and soggy shirt for a lot of the chest pain. I'm not sure what the light headed-like feeling was. It could have been an extension of the strange giddy sensation I woke up with in the night, and it is just possible that an explanation for that might be forthcoming. It was all a bit unpleasant, but not terribly so.

I did wonder if I should go to the pub after work last night, but I felt fairly OK as I made my way back to Catford after work. In some ways I felt better than I did here at work. I think it is about a half mile walk from the station to The Blythe Tavern where we were drinking. The walk starts off with a double climb - first up and over the railway, and then up the short, but moderately steep bit of hill by St Dunstans College. Neither seemed particularly taxing, but still annoying, and I was quite happy to reach the pub.

I didn't feel that good in the pub, and decided I would only stay for a couple of pints, and that turned out to be about right. It was still quite early when I left the pub, and the traffic going back towards Catford was heavy and slow moving. Under such circumstances it is better to walk, but I saw a bus just a hundred years from the bus stop, and decided to wait for it. It was slow progress at first, but when we hit the bus lane we speeded up for a bit. I think it would have been difficult to get back to Catford faster than the bus on foot, but maybe I might have made it if I had tried.

Maybe if I had walked back I wouldn't have been lured into the fried chicken shop that is 20ft from the bus stop, but I was ! I did manage to keep my order down to three pieces of chicken, and a portion of fries. It was the only thing I ate last night, and last night I didn't go to bed feeling full like the previous few nights. One curious thing is that I had an urge to put a lot of salt on the fries, and also on the chicken too. It is rare that I use any salt on my food, and I think I make a 500gm container of salt last about 5 to 10 years (depending on getting any snow). Last night I had a desire to make the meal salty. It seems unlikely that my body was short of salt, particularly after the amount of ready meals I've eaten lately. They are, or at least were, renowned for the amount of salt they have in them, although most have cut the amount a lot compared to 5 or 10 years ago.

I'm not sure if that salt did any good or any bad. I had a both good and bad night last night. I was in bed, and fast asleep not that long after 8pm, maybe 8.30pm, and I seemed to sleep well until just gone 1am. There seemed no particular reason why I woke up then, and why I should feel like I could not get back to sleep again. I did get and check my computer for 10 - 15 minutes before trying to get back to sleep, but it was hard to get comfortable for some reason. I did have a brief bit of mild giddyness (although that still doesn't describe the sensation to my satisfaction) when I lay on my right side, but it was mild, and once I shut my eyes the sensation was pretty much ignorable. Eventually I fell asleep again, and although I woke briefly a couple of times after that, they were brief, and I essentially slept through to when my alarm went off at 5am.

This morning I have felt good and bad. One of the good bits is something I have been aware of for a few days now. My left hand is feeling stronger lately. This is the hand where the little and ring fingers are semi numb since the nerves were damaged during my operation over 2 years ago now. Back in September 2013, when I came out of hospital, my left hand was so weak that I had difficulty doing my trousers up. The change has been so slow that it is impossible to say when any change actually took place, but I think that hand has recovered at least 75% of it's previous strength, and maybe more - it is a difficult thing to measure.

Not only that, but I think I have recovered more sensation in those numb fingers. They were never completely numb. The sensation was more like when they are numb with cold - they could be almost painful to touch. Cutting the nails was a test of endurance, and buffing them on an emery board was a real challenge. Just recently they do seem to be less tingly, and I think I can feel more texture with them. Six months ago I had assumed that the nerves causing the numbness were about as healed as they would ever be, and I would have to live with the condition for the rest of my life, but now I am thinking that in another 10 to 20 years, in the unlikely possibility that I live that long, they could be almost back to normal !

So that is good news for my fingers - possibly - but other bits of me seem less good. My chest has been very clicky and crunchy this morning, but is not really hurting much - and probably hurting less than my back. From time to time I get a bit of back ache. It is very rare for it to be cripplingly aching, and that is definitely not the case this morning, but it does feel a bit creaky here and there, now and then. My chief complaint this morning is still this mild to very mild giddyness, or light headedness. It does seem that when I hold my head down, and holding my head over the sink while brushing my teeth is the best example I can think of, I do slowly start to lose my balance, and this morning I had to stand upright to finish brush my teeth because I was starting to get wobbly.

That is an extreme example, but even as I write this I am suffering from a more, much more minor form of it - or maybe something completely different. I don't feel giddy, or dizzy, or unbalanced, but it does feel like my head could float away if I didn't keep a good hold of it. I really wish I could describe what I feel more accurately because that was a truly crap description, but it was the best I could come up with. For a while I thought I might have an explanation for this condition. Maybe it will just go away, or maybe it will turn out it is a blood flow problem to the brain, but it is easier to assume it is an inner ear problem.There could be some credence in that. It has happened after I had suffered from the 'flu like bug last week, and while I was coming to work I thought there was another explanation for it about to pop up. I guess it was just the cold air, but it did seem like I was heading towards a head cold. My nose wasn't bad enough to drip, but it did seem to get very stuffy, and needed blowing fairly frequently. I also thought it felt like my sinuses were starting to fill up - perfect conditions for inner ear problems ! Since getting to work, and sitting quietly in the warm, my noses and sinuses seem to be normal again. So I guess I am heading for a quad brain bypass operation or something....

I am going almost straight home from work tonight. I'd like to pick up a couple of bottles of sugar free cola on the way, and if they have got any this time, I may get them from the Turkish supermarket, but otherwise I was considering seeing what crap and junk I could buy if I visited Iceland (the supermarket). When I finally get home I might wash a few shirts, but apart from that I intend to just vegetate !