09:29 BST.



Friday did turn out to be quite sunny, although I am not so sure that it got as warm as I thought it should. Yesterday started off quite chilly, but I guess that has to be expected in October. At sunrise it was about 7° C. For some reason I can't seem to describe yesterday as a sunny day despite there being quite a lot of sunshine. Maybe it was because it was sometimes rather weak and feeble. At least it stayed dry, and once again the temperature was hovering between warm and cold at around 15° C. Today has started cold and sunny, but the forecast says the best of the sunshine won't be until mid afternoon. It could cloud over a few times this morning. Today sees the start of a short run of the highest temperature being only 14° C, and I guess it won't be long before we lose another degree. Tomorrow might be similar, although the forecast that is based upon is now rather stale.

All the bad or excess stuff I ate during the week really caught up with me on Friday - unless a possibly unlikely explanation was the cause of me feeling rather rotten. Principally I felt very weary and lacking in energy. On further reflection there are two alternate explanations for that, and the likely hood of either being correct seems to vary by the hour. One possibility is that I am suffering from man 'flu (a condition that has recently been realised by medical science to have some real roots), or I am suffering from early Seasonally Affected Disorder (or Depression).

After work on Friday it was a relief to go home. Being out in the fresh air perked me up a bit, and I can't recall feeling that bad going home. I guess it actually felt pretty normal. On the way I called in at the Turkish supermarket to buy some of their excellent bread to go with my new seeded Dutch cheeses. While I was in there I also spotted some cheese slices with peppercorns in them. I bought that, and also treated myself to a bottle of freshly pressed cox apple juice.

For my dinner I had chunks of the cumin seeded cheese with nice seeded bread and a large rip tomato all washed down with apple juice. For anyone else it was probably quite a healthy dinner, but the apple juice does contain rather a lot of (natural) sugar, and of course the bread ends up as a source of sugar as the bodies enzymes decompose the carbohydrates. So once again it was not a good dinner for me, but at least it was a relatively small dinner for a change.

In theory I could have gone out on Friday night. Chain were playing in Greenwich at The Mitre Hotel, and it is an easy place to get to, but I was feeling so weary that I ended up going to bed, and falling fast asleep before they were due to start playing. At this point I am unsure if I was in bed before 8.30pm, and asleep by 8.30pm, or if it was 8.30pm when I got into bed, but I do know I was asleep very soon after getting into bed. I didn't sleep all that well, or did I ? I know I woke up a few times, but it was 11 hours later, at 7.30am when I decided I probably ought to get up.

Even if I slept a bit badly, I must have got at least a full 8 hours sleep, and possibly 9, but it didn't seem to take long until I felt tired again. I remember it involved a lot of yawning, and that suggests lack of sleep, but it wasn't long before the yawning was replaced with a sort of weary fatigue. That suggests some other form of tiredness. I didn't even feel all that good when I met Aleemah, and we went to the pub for breakfast. I guess a pint of beer must have revived me a little bit because in the course of half an hour I went from thinking I couldn't be bothered to go in Aldi on the way back from the pub, to thinking I definitely would (and did).

During the afternoon, after Aleemah had gone home, I did briefly feel OK, but that was while laying on my bed trying to doze off. The more I tried to go to sleep the better I felt - which is ridiculous ! A few hours later the situation reversed. I was trying not to go to sleep because I wanted to go out to Bromley to watch The Spangles playing in the H.G. Wells centre. As I cleaned myself up, and changed into the clothes I wanted to wear, I felt pretty awful. Maybe the core of the problem was my chest.

I do seem to be going through a bad phase with my chest recently (and that emphatically includes this morning). It is a strange feeling that is almost only related in some weird way with pain. It definitely does ache in various ways in varying strengths, but right now, for instance, the predominant feeling is something akin to how the stomach can feel after eating too much. A sort of bloated feeling, but only a "sort of" one !

Anyway, I forced myself to go out. I knew there would be some people there I wanted to say hi to, and I wanted to see The Spangles playing. They were actually third on the bill. Second were Whitestar, and although I am not a complete convert, they did seem to be better than I thought they would be the last time I saw them. Top of the bill were Bouncer, and I had no interest in seeing them, although if I had been feeling good I might have stayed to see them.

I felt a bit creaky as I left the house, and being on the bus didn't seem to help. In some ways it made things worse in as much as I began to feel really depressed. I think it was the expectation that I would not enjoy the gig much for a host of reasons, but including that I felt creaky and aching, and for some reason I didn't fancy drinking much - which was a sort of crime considering the beer is at private club prices, and not at pub prices - i.e. quite a bit cheaper !

So I got to the venue. Said hello to a few people, and even got a couple of kisses, which was very nice, but I still felt incredibly isolated - particularly so once the music started. Once again it was one of those times when I wished I could go outside to smoke and socialise. I never used to feel so lonely in a crowd back in the days when I smoked. Now I even wonder if I go to hear the music, or whether it is just a photographic opportunity. Maybe it is the latter, sad as that might seem, because once I felt I had taken enough photos, which was partly equated by how many times I felt OK getting in others way as I lined up my shots, I went home - and that was probably not much later than half way through The Spangles set.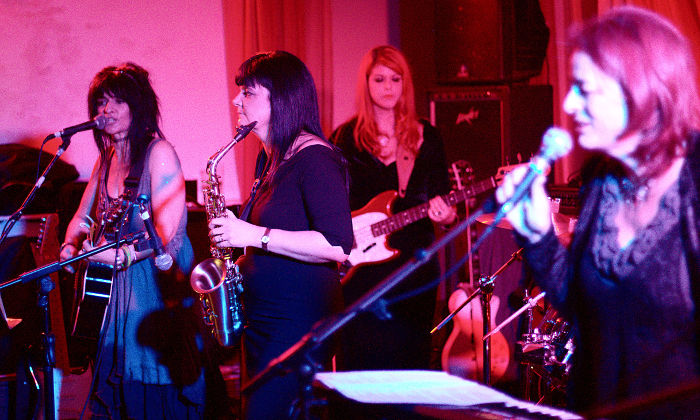 The lighting at the gig was rather fiercely red with some strong blue. I am not sure what happened to greens, or even a bit of white light, but at least it was fairly bright - although I still used my f1.4 lens for all the photos I took so I could keep the shutter speed fairly high for less motion blur. O the left of the picture above is Jo Corteen playing electro-acoustic guitar. Then there is Auntie Doreen playing the sax. A bit out of focus at the rear is Michelle Whitestar, and on the right, a lot out of focus, is Patsi "Spike" O'Shea.

I think it was about 10pm when I got home after being out for little more than 2 hours. I felt really pissed off when I got home, and I am not sure why. I think it was a combination of many little things. The only thing I didn't seem to feel was tired. So I stayed up editing the twelve best pictures of the 50 or so that I took. That was sort of relaxing, and while I was generally unhappy with most of the pictures I took, I was happy with a few of them. I chose the picture above because it showed all the members of the all female band (except the drummer who wasn't female, and so doesn't count !), and I was sort of pleased with it.

It was gone midnight when I got into bed, but I still didn't feel all that tired, I just didn't have anything better to do. In reality it was probably not that long before I was fast asleep, but it felt longer. After four hours of probably moderately good sleep, I woke up, and it took a long time to get back to sleep again. It hardly felt like I had slept at all apart from one big contradictory clue - it was light outside when I woke up.

This morning I feel a heap of contradictions. How can my chest feel so bad when it doesn't actually hurt ? How can I feel creaky like I have 'flu if I haven't got 'flu (or at least no other symptoms of it - but how many symptoms do you need ?). I can't work out if I feel tired, weary, fatigued, or none of the above ? Do I feel depressed or pissed off, or is that bright sunshine making me feel good ?

It's probably all and none of the above. The bright sunshine is a bit of a tease. It is bright, but it is still cold outside - and it seems to be getting cloudy even as I write this. I can only describe my chest as feeling heavy - not heavy as in congested, but heavy like an over-expansive stomach, although even that doesn't really describe it. I can't even be sure that I do feel that creaky, or if it is just some sort of fear that I would do if I was to attempt anything more physical than typing.

As for depression.....It was quite some time ago that I don't suffer from depression, but from despair. I am unsure what the difference is, if indeed there is any difference, but I just like to be bloody awkward - and it makes me happy to do so ! I like some, perhaps many of the tools of the modern world - digital camera and digital photo processing in particular (as an example) - but I really don't like this modern world. It is not the world I grew up in, and I feel like an alien in my own town. I think it is fun to look forward to the end of the end of the world, but an acceptable substitute will be the end of my world. The annoying thing is that I don't know how to die. I haven't had the course that explains all the rules and regulations involved, and of course when exactly to stop breathing. I guess I am cursed to carry on until a rogue bus driver runs me over or something - and even then the bastards will probably try and put me back together again ! Oh well, I enjoyed my last stay in hospital. Perhaps the next one will be as good (but I wish they would use a thinner catheter if they have to use one !!!).

Today I shall.......I don't know what to do. Maybe I'll take a couple of pain killers and see how I feel about doing some laundry. I ought to go out and get some fresh air, to stretch my limbs, and maybe even get a small infusion of vitamin D from the weak sunshine, but I am not sure if I can be bothered. Perhaps I'll just lay on my bed reading, dozing off and ruining my sleep tonight !