| | |
| --- | --- |
| | My Diary/Blog For the Month of July 2016 |
Sunday 31st July 2016
11:01 BST

Sometimes yesterday was a little too humid, but it wasn't too bad a day. It stayed dry, it was mild to warm, and occasionally it was sunny, although it was brightly overcast for most of the time. I'm unsure of the top temperature, but I wouldn't dispute the forecast 22° C. Today will see more sunny spells, but they will peter out later in the afternoon. Once again a temperature of 22° C is forecast. I hope the forecast is wrong because the main features seem to be rain and just 18° C.

Yesterday was a good day - quite incredibly good in one respect. I don't know what was wrong with me last Friday, but I have to assume it was something that could be burnt out with a good fever. I have no recollection of that fever as such, although I do recall feeling a bit chilly from time to time. The real fever must have happened while I was asleep. I think it was on Friday morning when I woke up thinking I had hardly slept, and yet my pillow was saturated with sweat. Since then I have gone from strength to strength - and yesterday I needed that strength more than ever !

I'm unsure how long I spent at Chattfest yesterday, but I do know that I drunk three pints of Guinness ! It was a very enjoyable time even if all the music wasn't quite to my taste. In fact, on reflection, most of it wasn't quite to my taste ! Somehow it didn't matter. With an outdoor stage, and it being a nice bright day, and even some sunny spells, photography was easy - which basically means I took a few great photos, and still managed to take a load of crap photos ! There was also some great company there.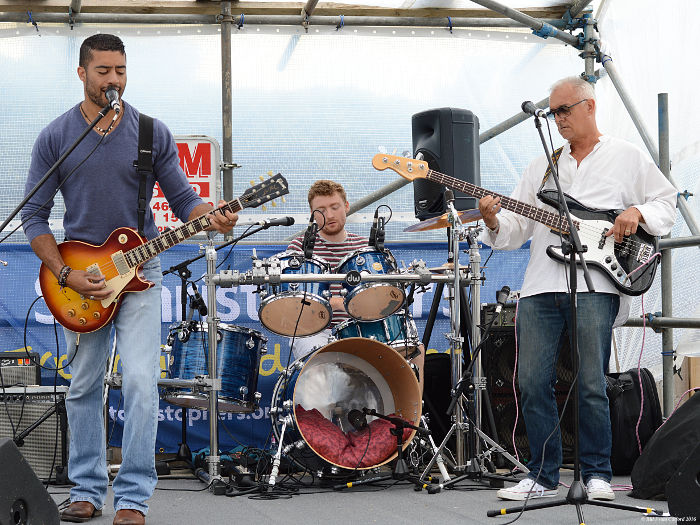 This is the band I wanted to see most. They are M.T. Pockets, and feature Dan Murphy on lead guitar and vocals, Dylan Tidman on drums, and Steve Pitt on bass guitar. All three are excellent musicians, and it was only a small disappointment that when together in this band they are more inclined to funk than rock, although I think Dan manages to put a rock edge on most things he plays.

M.T. Pockets were sandwiched in between two solo acts. The first was a chap who seems to use the stage name "Speedo". I only caught the end of his set, and didn't hear enough to comment on it. The act on after M.T. Pockets was a chap billed as "Moss". He, and his electric guitar, seemed to competently perform some classic reggae songs to a taped backing track. The next band, and the last one I saw, was Trigger's Broom. I saw them at a previous Chattfest a year or two ago, and my recollection was that they were quite good. This year I was less impressed on account of one song they did. I don't think Fleetwood Mac's "Don't Stop" should be played in drunken party style - unless at a drunken party !

I left a few songs into Trigger's Broom set. I didn't have to wait long before a 208 bus turned up to take me back to Catford, but I did have to wait ages and ages for the bus to get into the middle of Bromley. I saw a few ambulances pass, and assumed there had been an accident up ahead, but it seems it was just the traffic lights at the bottom of the high street only letting through about two cars at a time. Once we had crawled the half mile to get to the lead position at those traffic lights we had an almost open road ahead of us.

When I finally got home I prepared, and ate a very small dinner. It was an Aldi "Steam Meal" of chicken tikka with potato, and I think the label said it was only 371 calories ! After that I rested, checked the photos taken at Chattfest, and did more resting. Eventually it was time to go out again to see The English Rogues playing in The Black Cat. The English Rogues are a "Power Trio", and one third of them is Dan Murphy !

It was a very long, and most splendid gig. By the end of it I had taken another shed load of pictures that I will have to spends ages selecting some good ones and editing/uploading them, and I had drunk what I think was my eighth pint of Guinness for the day (it could have even been the ninth !). It was really quite surprising not to feel shattered at the end, and even when I got home at midnight I still felt OK.

I wondered how I would ever sleep last night, but once I was in bed it seems I probably fell asleep quite quickly. It was a two part night where I slept well for nearly four hours, and then after a break, it seemed like I slept badly for several more hours, but probably didn't sleep that badly after all. It was one of those time where you think you have been mostly awake, but there is a huge load of time in the middle that seems to have passed without you noticing.

When I finally got up I felt quite good, and maybe it was amazingly good considering all I had done and drunk yesterday. About the only negative thing is that all that Guinness was probably responsible for a slight amount of digestive anomaly. I would like to apologise to anyone downwind of Catford who detected a slight agricultural ambience in the air this morning.

Now all I have to do is to keep myself busy, which with the amount of photos I have to deal with shouldn't be hard, plus there is plenty of other stuff to do, such as laundry, or if nothing else, keep myself awake so I can get a bus back to day two of Chattfest soon after 4pm. As a tail piece I'll finish with a bit of video. It was one of the highlights of last nights English Rogues gig. It features two "characters". The simplest to describe is the drunken groupie dressed in black, and wielding a mobile phone camera. The other is the bloke dressed all in white who looks like a shorter version of Douglas Adams (although possibly not in this video clip), and seems to be stoned out of his mind. He evidently was thinking that he was at a rave, or some sort of psychedelic freak out (as we used to know them). Enjoy !

Saturday 30th July 2016
10:55 BST

I can only recall yesterday being rather cloudy and dull. I think I have the vaguest recollection of a shower, but I can't remember when it was. What I do know was that there was no rain in the evening. The forecast for today says that it is going to be almost a clone of yesterday - dull, cloudy, medium warm, and dry. The highest temperature will be about 22° C.

I felt rotten yesterday. So rotten that I spent a considerable amount of the day just laying on my bed trying to snooze. It seemed like I didn't snooze, but on the other hand there were periods of time that seemed to pass by without me being aware of them. It is possible that I partly lost my appetite yesterday, and if I did it was at a most convenient time when I wanted to eat as little as possible.

I actually succeeded in this plan quite well. Through the whole day I just had three very small, almost snack like meals. The last one, which was after getting home from a gig with lots of Guinness in me, was just a smallish chunk of cheese. It is rare that I manage that after booze. It is strange that there were only a couple of times when I felt hungry yesterday, and even when I did it was only a mild feeling.

Having done almost nothing all day it was quite an effort to go out in the evening, and if circumstances were different I wouldn't have gone out. The circumstances that got me off my bed, and on a 54 bus to Beckenham were all to do with a gig in The Coach And Horses. The band was The Life Of Brian, and they are rather good. They are fronted by Miranda Bell, and she is a good singer and a good performer - or at least she is in a venue big enough to allow her some elbow room.

The sad thing about The Coach And Horses is that the "stage" is actually a small, rather cramped corner of the pub. That constrains the band, and makes photography difficult - a situation made worse by it being so dim in there unless the band can squeeze in a lighting stand - something Life Of Brian don't have. It is all a little ironic that the band called for some good photos to be taken that they could use to promote themselves.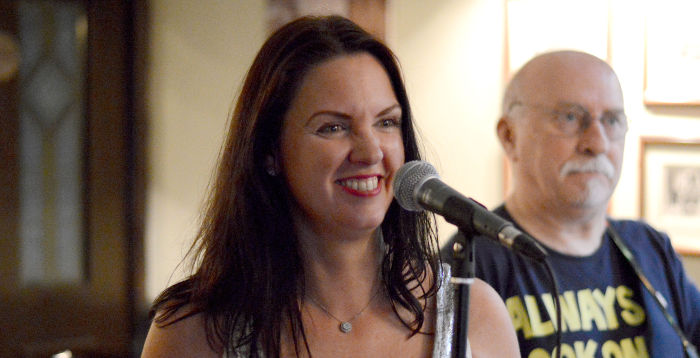 I managed to get some pictures like the one above featuring Miranda and Brian. When shown at this size they don't look too bad, but at full resolution they are horribly grainy. It would have been great to get a full screen band shot, but from "centre stage" the bass player as hidden behind one PA speaker, and Brian, the lead guitar was hidden behind the other. It is a very narrow crevice they play in !

There were several varied highlights of the evening. They ranged from the very simple things like only having to wait a few minutes for a bus there and home again, and the delight of live music performed well. Getting a present of 6 freshly laid eggs from Chris Wells own chickens was an unexpected surprise (being able to stuff them in my camera bag to take them home without breakages was probably a bigger surprise !).

Maybe the best bit of the evening was that Angela, Miranda's mum was there. I really like her, and she seems to like me a lot. She has a wonderful habit of rubbing my back, and after feeling so rotten during the day it felt more than wonderful. There were also other members of my extended musical family there too. They are all wonderful people (mostly), and added to my enjoyment.

I guess I stayed there for a couple of hours, and I drank two and a half pints of Guinness, but after that I felt like I was beginning to flag a bit. So I made my excuses and left. I was lucky that I just had a 3 or 4 minute wait for a bus, and once on the bus it made fast progress to Catford. I think it was around 11pm when I got home, and once home I had space to feel both tired and excited. I grabbed a fairly small chunk of cheese (about three bite-fulls) and nibbled that while I reviewed the photos I had taken. None were very wonderful, but about 11 were reasonable.

Last night was one of those nights where it seems you are never going to get to sleep, and then you are ! For all that it wasn't a very good nights sleep. I seemed to wake up quite frequently, and judging by how wet my pillow was, I must have been pouring with sweat during the night. I guess it is another indication that there is a fault with my body. It may be some sort of viral infection, or it could be something physical like blocked arteries and leaking seals in my heart. The good thing is that I might be recovering from it.

Although I didn't rate my sleep very highly, I probably did manage to get a fair bit of sleep in the end. That hasn't stopped me yawning this morning (and I was yawning at full power as I wrote those words !). On the plus side I think I can convince myself that I feel a bit better this morning. Many of the unwanted pains have gone, or are far milder, and I think I have a bit more energy. This couldn't come at a better time, although a few less hot and cold flushes might be nice.

Today I am going to need some stamina. As soon as I finish writing this I must get washed and dressed so I can go out to The Chatterton Arms to see some of the bands playing at "Chattfest". It starts at 1pm, and finishes at 9pm. I definitely won't be staying that late though. The band I most want to see is M.T. Pockets, and I estimate they will be on at approx 2pm. At approx 4pm there is a band on called Triggers Broom, and I seem to recall they were quite good when I saw them a few years ago.

Maybe once I've seen a couple of bands at Chattfest I will hurry home again so I can relax for 5 minutes before going out again. The English Rogues are playing in The Black Cat, and I hope I'll find the energy to see them tonight. If that wasn't enough, Chattfest continues tomorrow, and I think I want to be there for at least the last three hours until it finishes at 8pm.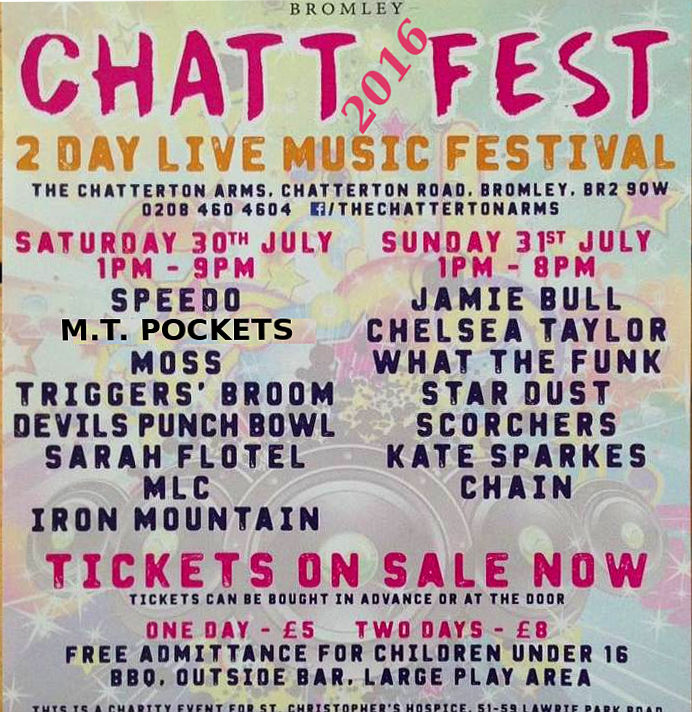 Friday 29th July 2016
12:04 BST

The weather was not as bad as it seemed it would be yesterday. I don't think I was expecting the morning to be bright, warm and sunny. Later on it got cloudy, and there was a splash or two of rain in the afternoon. The forecast suggested that most of the rain would be in the early evening, but fortunately for my plans it stayed dry. I think there was probably more rain after dark, but I wasn't paying attention to the outside world then. I think the temperature hit 22° C. It should hit 22° C today as well, but not until later this afternoon. There could even be some sunshine at the start of the evening, but the day started overcast, and it will stay that way until, or if the sun makes an appearance at 6pm (which is the earliest it is shown on the forecast). The day started feeling rather cool at just 15°, or maybe 16° C, and there has been at least one, and probably a couple of un-forecast showers. It is a bit of a miserable day ! Tomorrow is forecast to be possibly one whole degree warmer, but only for a short period of time. It is supposed to start with thick black clouds, but they will gradually thin, and it is possible they might thin enough to let in a brief flash of sunshine at 7pm. Another miserable day !

I felt pretty dreadful yesterday morning. Bits of me ached, and the pains in my chest seemed to be just sufficiently different to make me wonder if I was having some heart trouble. Maybe I was, but that didn't stop me going for a walk just to see what would happen. What did happen was a lot better than I expected - I ended up feeling rather good (if you don't count getting a piece of hay stuck in my shoe, and chafing off a small patch of skin).

As I set out I had an idea for a possible route, but I wasn't sure how I would feel when I tried it. It involved quite a climb up to the top of Mountsfield Park - another local park that may be about a mile to the east of here. For the first 5 minutes of walking I definitely felt very creaky, but as I walked it became easier and easier. I was most surprised that the first bit of hill climbing felt ridiculously easy ! From then on it was as easy to walk as any of my longer walks I used to like doing prior to when I started to suffer from angina in 2013. It is an observation I have made many times since, but it seems that my heart re-plumbing really worked, and worked well. It was just a bit of a shame that I broke the healing process, and now have what I call "a twisted rib" (because that is what if feels like sometimes even though it is supposed to be an impossible medical condition).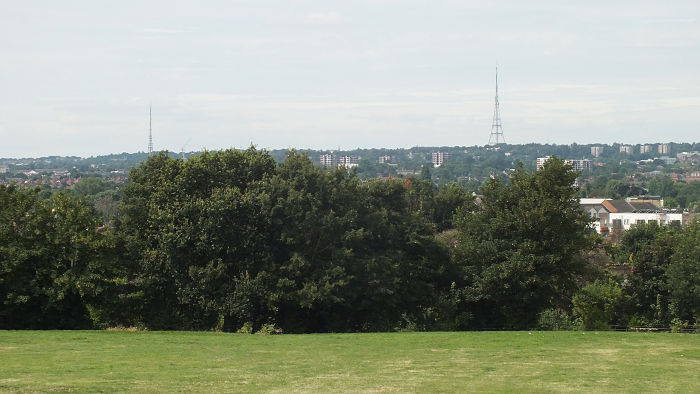 This is the view from the top of Mountsfield Park. I live deep down in the valley. You used to be able to see the roof of the school near my house, but either that was when the trees were not so heavily in leaf, or before they grew so tall. In the distance you can see, on the left, the ITA television transmitting mast (although it doesn't transmit TV any more, and is now owned by NTL or some such upstart - I think it is still used for radio transmission). On the right, and looking bigger, is the BBC's TV transmitting mast at Crystal Palace. It is still used for all the digital TV channels, plus radio stations.

My walk took me a tiny bit higher than this point, but only be a matter of feet, and eventually I came out onto Hither Green Lane. I walked down Hither Green lane and noted that while it has changed a lot, there are still parts of it that are very familiar from when I used to live up there over 30 years ago. The sweet shop/newsagent that briefly employed me as a paper boy is still there, but it has a new front, and is now a convenience store, but it still sells sweets and papers.

I walked down Hither Green Lane until it was time to turn left, and go down the hill to visit Lewisham Park. It is a semi-small park that I have rarely visited before. It seems quite nice, but I was disappointed to not find a pond in there that one map I looked at seemed to suggest should be there. There is a big dry grassed hollow that might have contained water once upon a time.

When I came out of the park onto Lewisham High Road I stopped to take some pictures of the war memorial. It's quite a solemn place, and no more so when there is an almost eerie lull in the traffic, and birdsong becomes predominant for a few seconds. After stopping there for a short while I carried on walking back towards Catford. I don't know why I didn't use the tracker in my phone to measure how far I walked, but it must have been over two miles, and quite possibly something like three miles.

When I got home I was just beginning to feel slightly tired, but all that fresh air, blood stirring up walking, and the sunshine, had left me feeling rather wonderful. I didn't want to spoil it by attempting any laundry, and instead sat down to edit all the photos I had taken. I felt pretty lousy again after that ! I have an album of about 43 pictures to upload to Flickr, but I haven't done it yet because it is going to need a lot of captions written. Maybe I might do it later this afternoon.

Being as it was a Thursday it was drinking night, and I had to get to The Shortlands Tavern. That is easy in concept, but not so in reality. For a start I had lost track of time, and left it a little too late to get the train I wanted. The next train was cancelled, and I ended up arriving an hour late. Now the peculiar thing is that the train I wanted was from Catford Station, and not Catford Bridge station. It is a few extra hundred yards to walk there, and the whole walk must be a twentieth of the distance I walked in the morning, and as usual it knackered me. I arrived on the platform feeling like I had walked 20 miles. I always said that it was the worst part of the walk when I was doing walks of 7, 8, 9, and almost 10 miles back in 2011/2012.

I don't like The Shortlands Tavern all that much. It's not terrible, but it is one of those pubs where there are no open spaces, and we are always squeezed between the wall and the bar, and it is annoying when people have to squeeze by you. The other thing is it smells ! It is generally food smells (but not always), and last night, like at least one earlier night, it smelled of boiled fish ! Later on that dispersed, and was replaced by a more pleasant garlic smell.

I had three and a half pints before I left to come home, and all that beer swilling around in me really slowed me down. It wasn't so bad when I walked from Catford station to home, but I still felt pretty horrible. When I got in I made the silly mistake of eating some chicken wings that I had bought the previous night. That left me feeling bloated and just added to the discomfort of trying to sleep.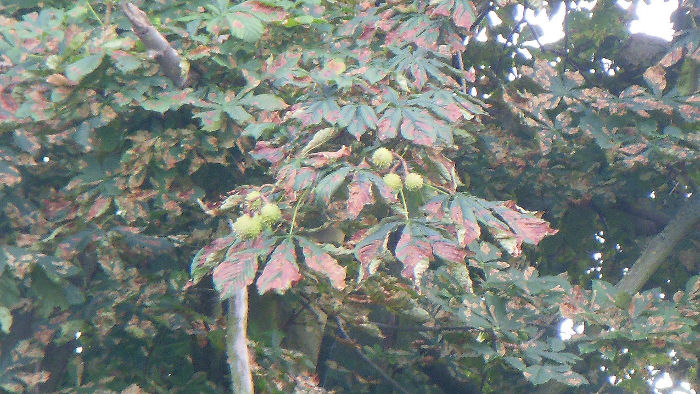 Spotted while waiting for my train at Shortlands station - quite mature looking conkers, and brown autumnal looking leaves. Surely summer is not over yet ?

I had a bad night, or at least it started bad. I went to bed at around 10pm, and I felt both uncomfortable and I felt chilly. I am not sure what was going on with me, but it almost felt like I had 'flu. I think it was probably more to do with my blood glucose level, but I am not sure why. Before I could get to sleep I had to pull the duvet cover around me, and that warmed me up enough to get to sleep. Maybe an hour later I woke up and while I didn't feel hot internally, it felt like my thigh (amongst other bits of me) felt incredibly hot to my hand !

At 1am I had to rush to the toilet for, as they say in outer space, explosive decompression ! I did feel a bit better after that, but I was still waking up every hour or so, and feeling lousy when I did. One good thing is that I managed to stay in bed until nearly 9am this morning. My sleep was so patchy that I wouldn't like to speculate how much sleep I got in total. All I can say is that it was more than recently, but still doesn't feel like enough.

Once again I seemed to be hovering on the verge of death, and I tried going for another walk. This was was a very much shorter walk - just to Aldi and back. There wasn't much I really needed from Aldi, but it seemed to be a convenient short walk. It felt rather cool outside, and inside Aldi I was almost shivering. That seemed to suggest that I had a fever, but when I checked my temperature soon after getting home it was below normal. One particular irritation about going to Aldi was trying to resist the temptation to eat anything I bought from there. I have decided I am fasting until late this afternoon, and even then I want to try and eat as little as possible. I feel getting my blood sugar level lower may make me feel better - although I have never noticed any correlation between high blood glucose and 'flu like aches in the past.

Some of how I feel must surely be psychological. I suddenly noticed that I was no longer feeling cold, but feeling quite hot, and the only thing that has changed is that, to my great surprise, the sun has come out ! I seem to ache less too ! I also feel very hungry now. Gosh, so many symptoms to evaluate, and I have little idea what any of them mean !

Let's hope I am feeling OK tonight. I have not only promised to go, but I want to go, to see The Life Of Brian playing in The Coach And Horses, Beckenham. I know I am being used, but two women, one being Miranda the lead singer of The Life Of Brian, are being very nice and friendly to me in the hope I will be there with my camera. I think I can stand that sort of treatment :-)

Thursday 28th July 2016
08:43 BST

Sometimes it feels like summer is over ! Yesterday was not a good example of a summers day, although maybe it wasn't quite as bas as I was expecting. After the dull wet start to the day it probably brightened up more than the forecast seemed to imply. There were even some sunny periods when none were expected. My journey home from work included some sunshine, but there were always some very dark looking clouds lurking in some part of the sky. I forgot to check the temperature when I got home, but I don't think I would dispute the 22° C that was forecast. The forecast seems to be in a constant state of flux recently. I don't think I was expecting this morning to be quite pleasantly sunny. The current forecast says it will only last a few more hours. By midday it will have clouded over again, and a few hours after that the clouds will get very dark, and the temperature will drop from 21° C to just 19° C. After that it gets confusing. The clouds will stay black, the temperature will go up a couple of degrees, and it will rain, and the sun will come out ! At least that is how I interpret the forecast. I am sure reality will be very different. Tomorrow, my second day off work, is forecast to be grey, but dry, and at 7pm the sun will come out for a few minutes !

On reflection I think I felt a bit rough at work yesterday. It was intermittent, and never very strong, but I had a pain that was like a mixture of chest pain and stomach pain. I think it was actually a mix of both. I do recall that at some time in the early hours of yesterday morning I turned over in bed, and as I did so my chest went "crack". I think that was the start of another bout of chest pain that has also caused me some discomfort this morning. Once again I find that Ibuprofen takes the edge of it, or even completely cures it for a while. The reason for the stomach pain was probably revealed at midnight last night. Although why it took so long to reveal itself is a mystery.

It felt good to leave work yesterday for several reasons. One reason was that it marked the start of a long weekend away from work. Another reason was that I was both bored, and tired out from trying to make it look like I wasn't bored ! One more good reason was that I wanted to get out into the fresh air, and to stretch my legs. In the morning I complained that I was wearing shoes that seemed to hurt both feet, and indeed in the morning my feet were very sore by the time I got to work. Strangely enough they were far, far less sore when I went home - except I didn't go straight home.

I can't seem to recall if it was just before or just after I left work that I got a phone call from my friend Jodie. She was meeting her friend Mark in the Catford Wetherspoons, and asked if I would like to join them. I guess it was before I left work, before I had tried my feet out, and I was reluctant to say yes in case I decided I needed to limp straight home. It turned out that my feet were OK, and I went to the pub via Tesco.

One reason for going to Tesco was because I had had a weird urge to buy a pack of their Sushi. I also bought enough stuff to loosely fill one and a half of their old style, pre-5p a bag style, carrier bags. Having done that I walked to the pub only to be disappointed with their selection of beers. In desperation (or enjoyment) I had a pint of Stella Artois. In total I had three pints of Stella before I went home feeling quite good, and quite hungry. So hungry that I decided I wanted to order a nice chicken shish kebab.

I didn't want to risk keeping the sushi overnight in case the fish went off, plus I wanted a snack while I waited for my kebab to turn up. So I ate the sushi and noted how it was almost identical to the sushi that Aldi sells but with the one difference that the wasabi, despite being in an identical looking sachet, was a lot hotter. Eventually the kebab turned up, and it wasn't the healthy option - either I forgot to order it, or they forgot to add any salad ! It was still enjoyable, and nice and filling.

I stayed up a little later than usual to let the kebab settle down, and I didn't go to bed until 10pm - I usually go to bed at 9pm on a weekday - or try to. I found it hard to settle down, but eventually I fell asleep. At around midnight I woke up again feeling uncomfortable. First I passed some wind, and then I passed some more. On the third occasion I decided I really ought to do it again while sitting on the toilet. That was a prudent idea considering what happened next, and then again 10 minutes later. I think I had the answer to why I had been uncomfortable at work, although why it took so long to be apparent is a mystery - as is what might have caused it.

After that I was able to get back to sleep, but I didn't sleep well. I think I should probably have shut my bedroom window. It would have made it a bit quieter, although it wasn't exactly noisy, but most of all it would have stopped my bedroom getting a bit too cool. I remember waking up feeling cold and scrambling around to pull the duvet cover over me.

After a poor night I had a small lie in. I got up nearly 20 minutes later than usual, and I stayed up until about the time I would usually be arriving at work. Then I went back to bed. This is ideally how it should be everyday - or would be if I had a bed at work ! I think I only managed to get less than 20 minutes sleep. I felt uncomfortable in all sorts of ways. My chest felt painful, and I just could not find a comfortable position. I think that eating two sandwiches for breakfast was not a good idea when it is probably that last nights kebab has not moved far through my system (and was probably held back by gas pressure !).

Since getting up for the second time I have washed my hair, showered, and partly dressed. The next thing is to decide what I am going to do with myself. It is possible that my original plan of going to Herne Bay might have been possible today. The weather is not going to be great, but it doesn't seem like it's going to be terrible either (at least not until the afternoon gives way to evening). What makes it impossible, or if not impossible, not nice, is that I shouldn't have stuffed myself with kebab last night, and then compounded the problem with the sandwiches this morning. Maybe if I am careful for the rest of the day, I might go to the seaside tomorrow.

I think that I may take a quick walk this morning before it gets too cloudy, and then I might wash a shirt or two. This afternoon, or maybe earlier, I can foresee myself reading and snoozing, and then tonight its time for more booze. This Thursday night we are boozing in The Shortlands Tavern (next to Shortlands station). I will then have a difficult decision to make. Do I stay out late tonight, or do I just have my usual three pints and go home ? There is an added complication possible tonight. I could stay out extra late and go on to the open mic session in Beckenham. I would quite like to do that, but I don't know if I'll have the energy or enthusiasm. I seem to be lacking both right now, and that is not very wonderful for what could be a very busy weekend.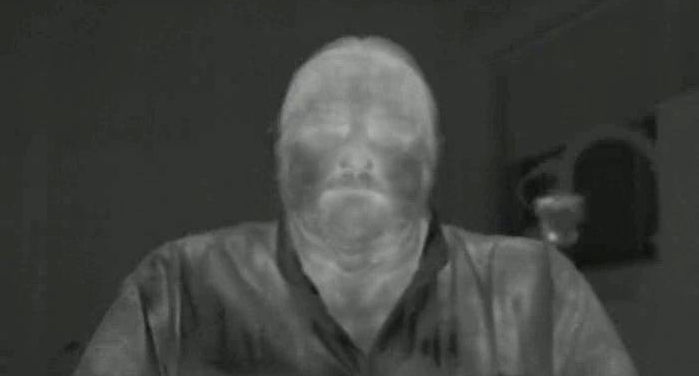 Yesterday I finally hooked up a device to take screenshots of the images produced by the thermal imaging cameras we make at work. This is a still from the camera of myself. The image doesn't use any visible light, and this picture was taken purely from the heat produced by my body. The black oblong shape, with a curved goose neck camera support in front of it, visible over my shoulder is actually a window with bright daylight shining through it, but because ordinary glass does not transmit thermal radiation it appears black.

Wednesday 27th July 2016
08:00 BST

There was a fair amount of sunshine yesterday - it just wasn't always at times that it was forecast for. Overall, I think I would describe it as a bit of a bland day. There was nothing particularly good about the weather, and nothing bad either. On second thoughts there was just enough breeze in the afternoon to make 22° C feel a little cooler than it might otherwise feel. Today there are definite negative aspects to the weather - and that doesn't include it being a prototype for tomorrow when I have the first of two days off work. This morning rain was forecast. Then it wasn't, and now it is actually raining ! I was lucky enough to only experience just a few tiny raindrops blowing in the wind as I walked from the station to work, but now it is just short of pouring with rain - i.e almost more than a shower ! The forecast now reckons it will only be raining around 10am. After that it is supposed to stay dry, but is going to range from grey skies to disgustingly dirty grey skies. In a fit of extreme optimism the forecast does suggest the sun may come out by 5pm, maybe just a little too late for my journey home, but it should still be 22° C by mid to late afternoon.

On the whole I didn't feel too bad at work yesterday, but there were moments when I felt tired, and I shall ascribe some pains I had in the stomach area to hunger. As usual, and I can't really conceive of it being any other way, it was a pleasure to leave work. The actual act of travelling home is less of a pleasure, and usually no pleasure at all, but at least it was a smooth journey home with no train delays or stuff like that. Before committing to walking to the station I paused for 18 seconds to see if there was a bus coming up the hill, but there was none in sight, and I continued to walk to the station. It seems less essential recently, but the lift to the platform was working, and I had no hesitation using it.

At Waterloo station it felt like I could run up the escalator again, but I was blocked by a gaggle of tourists half way up. I partly, or maybe not much at all, made up for my lack of micro exercise at Waterloo by walking a little faster than usual from the station to home. It was nice to finally get home and start thinking about the two most important actions of the evening - eating and sleeping !

Dinner was a three part affair last night, and my calorie consumption must have been far higher than many nights. I started off with a salad, but it was no ordinary salad. It was chicken and bacon pasta salad - with added chilli sauce. Part two was an Iceland "Slimming World" shepherds pie. The latter had sat in the fridge (not freezer) for quite some time, and I had doubts about it, but decided to see if it was OK instead of throwing it away. It was past it's "best before" date, but seemed fine. If I had left it at that I would have been fine, but I could not resist the calories and sugar in the last two cookie sandwich ice creams I had left in the freezer.

I did one important thing before I moved on from eating to sleeping, and that was to click a few buttons on my PC. I decided it would be prudent to update my pictures backup disk with any new photos - and there were a couple of albums worth of them ! Once the backup program had kicked off I could relax and do some reading while it did it's stuff. I guess the whole procedure only took 20 -30 minutes, and once it was done, and my back up disk disconnected and stored away, I could relax again and do some more reading.

Eventually I turned out the lights, and went to sleep. It was nice and fresh last night, but that wasn't the only reason that I slept even better last night (or so I try to convince myself). I made a small change to my bed that helped a lot. Until I changed them for plain cotton I had silky, satiny, shiny and slippery pillowcases. They looked nice, and felt nice, but when they keep slipping off each other in the night it doesn't help my sleep. It was even worse than that. To protect my pillows from the worst of a hot sweaty night I covered them with a small hand towel, and that kept sliding off those shiny pillows. It's all fixed now just by changing to plain cotton pillow cases.

This morning I feel no worse, and no better than recent mornings - except for one thing - there's always a catch ! It seemed like a prudent idea to put on some shoes more suited for wet weather, and I chose a pair of Vans trainers. Sometimes they are comfortable, and sometimes not. This morning they feel anything but comfortable. For the last week I complained about my right foot hurting. Now both feet are uncomfortable !

As well as a change of shoes I have also revered back to long trousers. It was a sort of delight to go through my pairs of shorts to find that they all fit me again. Sometimes it does seem strange that I should have lost weight after all the "accidents" I have had when it comes to eating my dinner, but I guess if I manage to stick to the grand plan once or twice a week, and don't go too overboard on the other days then something will slowly happen, and it seems it has. It should inspire me to work harder at it, but it hasn't. Maybe there will be other opportunities to show off my naked knees this summer, but it looks like summer will be on hold for an unknown amount of days.

I am off work tomorrow and Friday, and that means I could stay up late tonight. That means I could go and grab a pint, and listen to some music tonight. There is an open mic session on in Bromley, and I feel tempted to try and raise the energy to go to it. Tomorrow I can have a nice lie in - if I can. It seems highly unlikely to be nice enough to consider visiting the seaside, or even to venture outside my front door, but there will be drinking in the evening - and I could stay out late for that too. So many possibilities - so much rain and grey skies - yuck !

Tuesday 26th July 2016
07:43 BST

There was more sunshine than expected yesterday. The forecast suggested that we would lose the sun by mid morning, but there were sunny spells right through the day - except when I was walking from the station to home after work. It was rather dull then ! The top temperature was around 22° C, and that felt warm, but not hot. It also felt fairly fresh.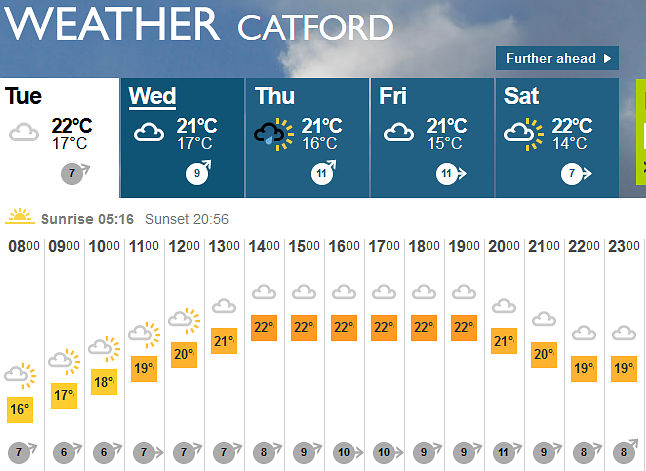 This is the current forecast for today in detail, and vague hints about what the rest of the week will be like. The forecast for today looks similar to the forecast for yesterday, and it is already wrong - maybe ! It is about 16° C, but I am not sure how to interpret the symbol showing sunshine peeping around a white cloud. Maybe the optimist in me thinks that should indicate more sunshine than the few brief glimpses of the sun I've seen so far this morning. As I look out my office window it is bright, but the sky looks a uniform milky white colour. Hopefully the sun will break through more often than forecast like it did yesterday.

The forecast for future days is looking both good and bad. I am not keen on the black cloud with a raindrop shown for Thursday. Thursday is the first of two days I've booked off work. I was hoping I might find the enthusiasm to go to the seaside, but if it is deadly dull and raining I might opt to just get blasted in a pub all afternoon. If the forecast for Saturday turns out to be correct it will be good. That's the first day of Chattfest - two days of live music in aid of charity in the garden of The Chatterton Arms pub in Bromley. Some of it will be good, and some bad, but I hope to spend several hours there on both days - plus rushing back to Catford to see The English Rogues in The Black Cat on Saturday night.

I don't think I could actually bring myself to say that I had a pleasant day at work yesterday, but it wasn't a bad day. Maybe the unexpected sunshine made it more cheerful. It was still a relief when home time came around, and of course it was nice to go out into the sunshine. The only thing that worried me was that Southwestern Trains web site reported that the lift was out of order at Earlsfield station. So it would have been nice to have travelled to the station by bus before tackling that horrible staircase up to the platform. Predictably enough, the usual law applied - whenever I really want a bus there is never one in sight ! So I walked all the way to the station without seeing a single bus going in my direction, and then I walked up those bloody stairs....and it wasn't terrible. It was far from easy, and if there had been another flight to go up I would have had difficulties, but I barely had to slow down as I walked to the far end of the platform. By the time I reached the far end of the platform it felt like I had almost recovered from walking up those stairs. Recovering while still walking at a decent pace must be some sort of good thing, but I'm not sure what it implies.

I suppose I must be getting sort of fit again because I reprised my rushing up the escalator at Waterloo again...although it was more a fast walk than a run because there were tourists getting in my way. Many tourists just don't know the etiquette of London escalators - stand on the right to leave the left hand side free for those who want to walk or run up. Some, like yesterday, stand in the middle !! My only other problem with all this rushing around, apart from tourists getting in my way, is still my right foot. The ball of the foot is still sore, and seems to be irritatingly slow in getting better. For instance this morning it is probably only half as bad as it was a week ago. The biggest annoyance is that it reduces the distance I can comfortably walk, and I would prefer to go for distance than speed.

Last night was not a very exciting night - few nights are ! All I did was to carry out my master plan for the evening. The first part of that was to try and eat a small dinner - and I did. The only trouble was that I finished dinner with two little tubs of ice cream. I should never have bought that ice cream in the first place because it is too tempting to just leave in the freezer for ever (obviously !). Those two little tubs probably doubled the amount of calories I ate, and quadrupled the amount of sugar I ate. Fortunately my trousers still seemed loose this morning, and for a few moments my belly felt flatter when I got out of bed. (It sagged down again a few minutes later, but I prefer to remember those few moments of glory before that happened).

After eating I had a small rest to let the food settle, and then I washed my hair. While my hair dried I got down to some photo editing. I didn't take many pictures on my Canon camera of the gig a fortnight ago. I mainly used it for video, but I found a couple of reasonable pictures on it. There were a couple of things I didn't do - adding captions,a nd adding tags, but I finally got around to uploading the pictures I took on the 16th of The Fifth Element, and the pictures I took on the 23rd of Paper Fish, to Flickr. You can find the two albums here - https://www.flickr.com/photos/135353558@N03/albums/ if you are interested.

It felt nice and fresh last night, and that made sleeping easy again...well almost easy. At about 3am I woke up actually feeling a bit too cool, and had to pull the duvet cover over me ! I would still have liked to get several hours more sleep if it were possible, but I guess I got enough. This morning I feel sort of bland. I don't feel any particular negative things. Just the normal aches and pains. It would be nice if I felt some sort of sparkle, some sense of power, or energy, or something like that, but I just feel sort of bland. I can walk and talk, possibly even at the same time, but only at a very average level. Maybe I'll find a little dose of extra energy when I am going home - like I seemed to yesterday, and the day before.

Tonight promises to be extra boring because I don't think I can think of anything to do.......

Monday 25th July 2016
07:57 BST

The weather was a lot fresher yesterday than it has been of late. It was still pleasantly warm and dry, but the humidity was lower, or so it felt. The only bad thing was that it was often a bit dull, but even that had it's good side - I could open the curtains to let some daylight in without filling the room with hot sunshine. I think the temperature still hit 25° C in the afternoon, but it dropped fairly quickly in the evening, and this morning it was just 16° C. It was also nice and sunny.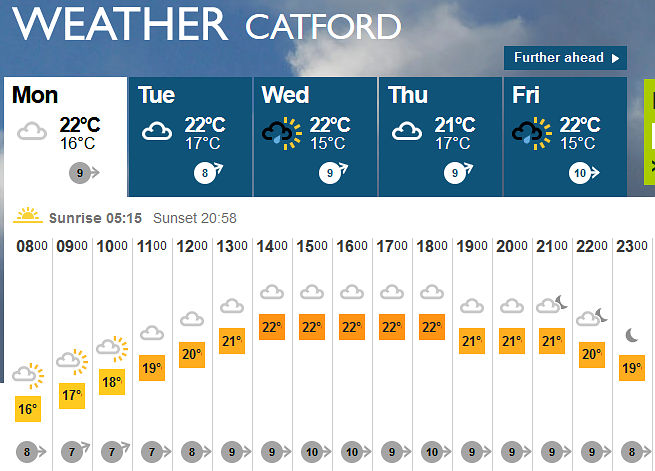 If this forecast is anything like reality we will soon be saying goodbye to the sun for a day or two, and even when we do say hello to it again it is liable to be between showers. Here's hoping the forecast changes a lot for Thursday and Friday. I've booked those two days off work. The original idea was that I would be frolicking in the sun somewhere, but at the moment it looks like I'll be doing it in the rain - if I can even be bothered to go out in such horrible weather.

I wasn't entirely lazy yesterday - just mostly ! One thing I did was to go through the photos I took of Paper Fish's gig on Saturday night, and prepare a small album to be uploaded to Flickr at some point - maybe tonight. Other than that I read for a while, and tried to snooze without much success, and of course I ate stuff. I must confess that some of what I ate had far too much sugar in it.

I have to confess that while I was shopping in Aldi, just after midday, I allowed myself to be tempted to buy a packet of chocolate chip cookie ice cream sandwiches. They are riddled with sugar - at least I assume they are, but I was too scared to actually check the packet. I ended up eating two of them yesterday. The rest of what I ate was almost OK, but with one glaring exception. One meal was a prawn salad with a generous amount of Marie Rose sauce on it. That sauce was from Tesco's expensive "Finest" range, and I bought it only because it was half price. Had I realised the second ingredient listed on it was sugar I wouldn't have bought it. The sad thing is that it was not that good. I much prefer the sharper, almost vinegary taste of Thousand Island Dressing.

The fresher feel to the air, particularly in the evening made sleeping so much easier last night, and last night I slept better than I had done for days and days. It still wasn't perfect, and I would have had to had slept for an extra 100 hours to make up my sleep deficit, but at least it was a start. During the night I had a very weird dream that I was determined to remember and recount, but of course many details have already evaporated now, and it make far less sense in the cold light of day.

I have no idea what inspired this dream. Well, not most of it, but maybe I can think of a few influences that might have added a little colour to it. It started off with the strange idea that my armpits were too baggy, and a man who I think was a barber, saying he had some "body putty" and could fix it. Quite how adding material could stop my armpits being baggy is still a mystery, but it worked somehow. Something happened next, but I can't remember what. The next bit I only vaguely remember, and it was something to do with trying to get more of the "body putty" added after I had accidently ripped some off one armpit. While dreaming the dream it seemed a very rich dream, and full of details, but now it's mostly forgotten. Trying to describe it in just a couple sentences dilutes it even further. You'll just have to believe me when I say it was very exciting at the time.

After a good night's sleep (although not perfect) I feel.....not too bad. I ache less than I did at work on Friday, but bits of me still ache. My chest seems to be aching more than it has recently (and by chest I mean my ribs and other superstructure rather than internal organs - probably). It is not aching so bad that I feel the need for any Ibuprofen, although I may take some later if it doesn't ease up. My gut feels very slightly tender this morning. It could be a bit of trapped wind, or it could be multiple organ failure as a result of all the sugar I ate yesterday. My right foot is still slightly sore this morning, and that is a shame because it seems like my legs are in exceptionally good working order. I doubt I could sleep even if I had the opportunity, but it does feel like I would like to try to have a good snooze now, and again on the hour every hour !

I think I have a cunning plan for tonight that will stop it being completely boring. I want to wash my hair tonight, and assuming I do, I can use the time while it is drying to do something constructive, and I am thinking that uploading the pictures from Saturday, and the pictures from the previous Saturday, to Flickr may be constructive. Then, with a bit of luck, it will feel fresh enough to go to bed early, and get a good night's sleep.

Sunday 24th July 2016
10:42 BST

Friday was a bit disappointingly dull after all the sunny weather we have had recently. The early morning rain, which was not in the forecast, didn't last all that long, but the day never really brightened up. At least it was very mild going on warm. Yesterday was better. It was generally a sunny day, although there were some dull periods. The sunshine made it a bit warmer than Friday, and it probably was around the 27° C that was forecast. One good thing was that it felt a bit fresher in the evening, and that made sleeping easier.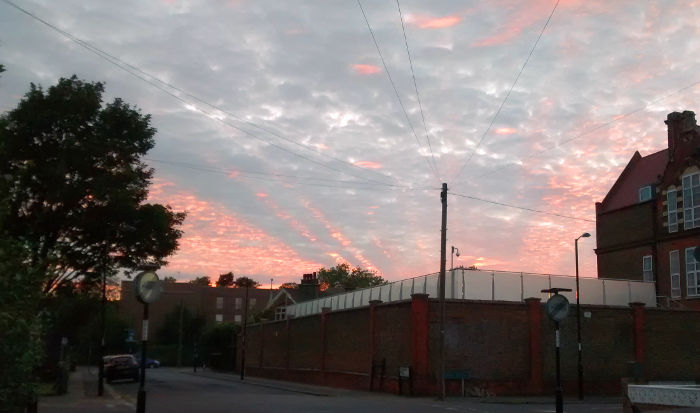 There was a dramatic pink sunset last night, and the old saw says that foretells of a fine day coming. Maybe today is not that good, but so far it's not bad. The air seems much fresher this morning, and it is currently about 22° C. The forecast predicts it will get very dull for a few hours soon, but after that there will be some sunny periods, and the temperature will rise by a couple more degrees to just 24° C - which is a little disappointing. The forecast for tomorrow will probably change completely in the morning, but the current theory is that it will be a medium dull day with no sunshine at all, and it will only reach 24° C for about 5 minutes ! At least is is predicted to be a dry day.

My bloody boss sent out an email yesterday asking if anyone had any work they would like me to do. This was all because I accidently confessed that I was running low on work. It seems a couple of suggestions were made, and I am not happy about one of them, and even less happy about the other ! I feel some creative ideas coming into play tomorrow ! It was all made worse because I felt quite rough yesterday. I'm not really sure what it was, and I can't really describe it.

It was a relief to finish work (or shirk, as most of the afternoon was), and start heading for home. Once I got moving I felt far better, although I will confess that I did jump on a bus that I saw coming up the hill, and used it to go the two stops to the station. I arrived on the platform at Earlsfield a little too late to walk to the far end of the platform where I usually board the train. I had two choices. I could get on the rear 4 carriages of the train, and make my way as far forward as possible so I could jump off at Clapham Junction and then get back on the rear of the front 4 carriages. The alternative was to run !

I chose the alternative, and although it was only a very short run I still felt it was a lot easier than such a run used to be. I could almost describe as effortless, and I find that a very weird idea. It got me wondering just how far I could run if I had to (or wanted to). I did get a sort of answer a little later. At Waterloo I decided to make the effort to actually run up the escalator - and I did. Well, it wasn't exactly a sprint, but it was most definitely faster than a very fast walk. At the top I had to take a few deep breaths, but I wasn't winded, and I was able to walk across the link to Waterloo East station at about my normal pace for that direction. (It isn't a race in the afternoon like it is in the morning, and I don't rush as much).

When I got back to Catford I went home via Tesco. It was one occasion where I don't think I had to fight the idea of buying anything bad for me (high calorie, high sugar content etc). I bought a load of salad stuff, and some assorted sea food to go with it. I also bought some fruit too, although that can be quite high in sugar, and I have to be careful how I eat it. When I got home I split my dinner into two parts. I can't remember what I started with, but after the first part, which was more like a snack in some respects, I did some laundry.

It was no ordinary laundry. It was towel that had started getting a bit smelly when I last used it one morning near the beginning of last week. On Wednesday evening it was smellier still, and I started the laundry process. I left it soaking in some detergent with the intention of rinsing it out on Thursday morning, and hanging it on the line before going to work. It was a fine idea with just one major flaw. After a hot sticky night I had slept so badly that I couldn't find the energy or enthusiasm to do any laundry before going to work. After work on Thursday I went for my Thursday night drink, and felt too tired when I finally got home to consider doing any laundry. Like the morning before, I couldn't face doing it before going to work.

By Friday even I had to act, and I had to act fast. That towel was getting really, really stinky ! First of all I added some Dettol to the rinsing water, and maybe that helped, but I thought I could do better. So after a couple of rinses, poor ones, but I hoped enough to get most of the Dettol out, I added some bleach to the rinse water. That seemed to react with the remnants of the Dettol to give a really powerful smell that may, or may not have smelled like formaldahyde. Many rinses later and it was still very smelly. I hung the towel in the garden, and it was out all Friday night, all through Saturday, and it is still outside now. I think the smell has almost died off, but if it is not perfectly fresh smelling by late this afternoon I may decide to recycle that towel in the recyling bin.

Friday night was another night that was hot and sticky, and it was probably made worse by all the physical effort I had put into rinsing out the smelly towel. In an ideal world I would have got to bed, and been fast asleep by about 8pm, but I don't think I even started trying to sleep until well past 9pm, and it could have been 10pm. That would have been OK if I had been able to sleep through to 11am Saturday morning, but after another rough night, although maybe not as rough as some previous nights, I was awake at the stupid hour of 4am ! I felt too uncomfortable in many ways, including needing a visit or two to the toilet, to go back to sleep. So I got up for a couple of hours before going back to bed again.

Unfortunately it seems I couldn't let myself sleep properly, if indeed I was even capable of it, because I needed to be up in time to tidy up and stuff before a visit from Aleemah. I eventually met her at the station when she got off the 10:06 train. When we breakfasted in the local Wetherspoons pub I had a good excuse for an extra half pint of beer. I started off with two halves of beer, but unfortunately the second half was not to me taste. In fact it tasted sort of nasty. So I had an extra half pint of the first beer to take the taste away of the second.

After breakfast we came back home to watch a few more episodes of The Outer Limits from Aleemah's DVD box set. There was lots of things I was contemplating doing after Aleemah went home, but I was feeling too tired to bother doing any of them. I spent some time on my bed reading and occasionally snoozing, and somehow the time seemed to race by. In the evening I went to another gig in The Black Cat.

Saturday night's band were called Paper Fish, and unfortunately they were a bit too "beard and sandals" for my liking. What they did they did well, but it just wasn't to my liking. So I took some pictures, drank a pint of Guinness, and came home again. That gave me the opportunity to have an early night - early for a Saturday night that is. I can't quite recall when it was, but I reckon I was in bed, and possibly asleep by 11pm. It seemed a far fresher night, and although I still got up far too early, I slept far better than recently.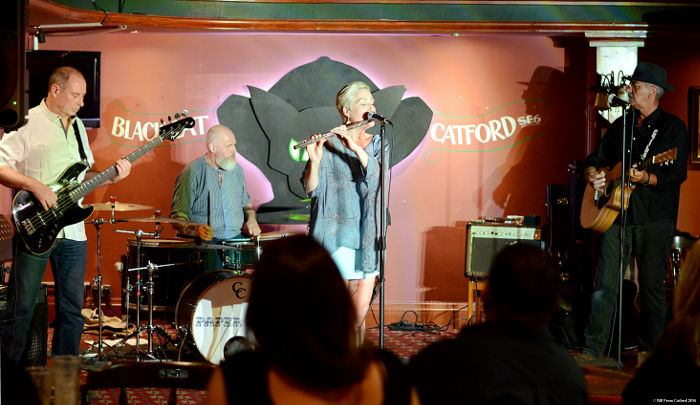 This is Paper Fish - you may not be able to see any beard and sandals, but they were there in spirit - and note the lack of electric lead guitar !

Today I have done nothing worthwhile yet, and apart from a visit to Aldi a bit later, I may not do anything notable all day. I did have an idea that I might go for a walk along the Thames between Waterloo and Vauxhall bridges today, but there are no trains to Waterloo East today, and I just can't raise the enthusiasm to consider alternative routes. Plus I am still tired after getting up far too early. In an ideal world I'll snooze all afternoon. That seems unlikely, but I'll try my best !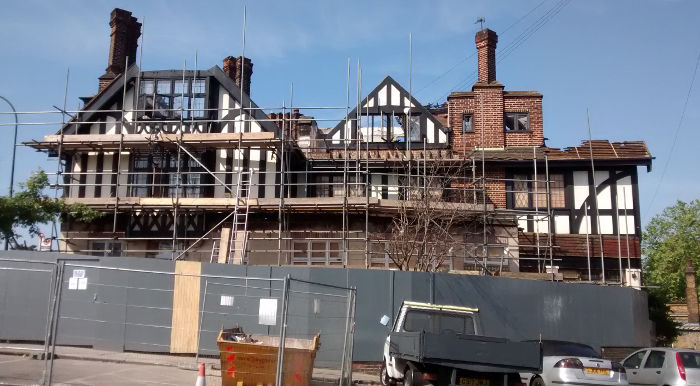 One more picture. I took this when I went to Meet Aleemah at the station on Saturday morning. It shows new scaffolding up around one face of The Catford Bridge Tavern. It looks like they are removing most of the fire damaged parts of the interior of the building. Whether this is a prelude to rebuilding the interior, or partial demolition remains to be seen. Maybe there will be another "accidental" fire that will complete the task that the first tried to do - completely demolish the building so they can build a block of flats in it's place. Time will tell.

Friday 22nd July 2016
07:34 BST

The weather was pretty much as expected yesterday. It was a fairly dull day, but still a little warmer than "mild". Rain was forecast for after 9pm, and maybe there was some evidence that there was some rain at some time during the night. What wasn't forecast was rain much earlier than that. The first rain I felt was while sitting outside the pub at approx 6pm. I counted 7 drops then, and while on the bus home at approx 7pm I counted 18 spots of rain on the front windows. The forecast for today keeps changing. Yesterday evening the forecast had changed to say it would be a dry day with sunny intervals. Then it said it there would be frequent showers with sunny periods. Then it said it would be dry, but overcast.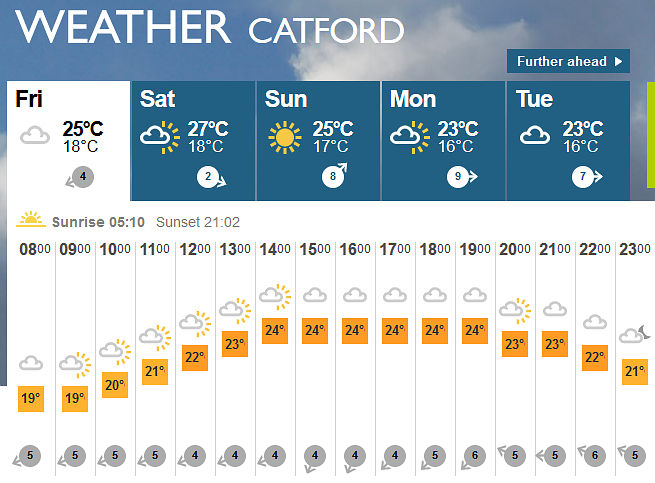 This is the current best guess for today. I took this screenshot at approx 07:30. I would concede that it starts off half correct. It was about 18° C when I left home, and by 8am it probably will be 19° C, but what it omits is the rain that is falling now, and started as I walked to the station at 6.20am.It was only light rain, and it didn't seem worthwhile getting my raincoat out of my bag, and putting it on. It feels so humid that I was probably getting damper from sweat than I was from rain.

I was looking forward to a beer after work yesterday, but I had my doubts about the venue. On the plus side, the pub we were meeting at, The Red Lion, was closer to Bromley North station than it seemed to be when looking at a map. There was also the plus point that the beer was well kept, but apart from those two points it was not a very satisfactory experience.

I think we were all expecting it to be a quiet back street pub, but it seems we chose the night when the local golf club were having a small presentation of some sort. So it was rather crowded. That wasn't too bad though. There was worse things to annoy me. I didn't think my friend Jodie was going to try and get there, but she did, and managed to get herself lost. There was no reason why she shouldn't have used Google maps on her phone to find her way there, but she "had to save her mobile data allowance" for other stuff - silly kids games like Moomins and Pokemon Go !

I was only going to stay for two pints because it was going to be an annoying journey home from the pub, but I felt obliged to first of all go and find Jodie, and guide her back to the pub, and then have a pint with her. Further annoyances happened later. As often happens, Jodies friend Mark was going to meet up with us, and either stop for a quick pint, or just to pick up Jodie to give her a lift to another pub, or home. Unfortunately Mark could not seem to find his way to the pub by car. When walking there, there is a convenient cut through from one road to another, but it is barred to motor vehicles. The easiest option was for Mark to park near Bromley North station, and for me to guide Jodie there to meet him. It had the advantage that I could get a lift to the bus stop. I am sure that Jodie was aware that Mark was parked in a place where he could potentially have got a parking ticket, but seemed to be in no rush to get to him. She even stopped to take pictures of some flowers ! I'm not sure why this annoyed me, but it did. It would have annoyed Mark a lot more if he had got a parking ticket !

Eventually I was dropped off at a bus stop, and I waited for a bus back to Catford. After a while two turned up. One was a 208, and the other was a 320. I elected to get the 320 in the belief that it would get to Catford faster despite it taking exactly the same route as the 208 - and it did ! I did have some hope that I might have got back to Catford a lot earlier, and would have time to pop into Tesco before going home. It is possible that I still could have, but I am unsure of which days it is that Tesco stays open later.

I also contemplated buying a takeaway for dinner, but I managed to convince myself not to do that. Although I have plenty of food at home, some in tins, some in the freezer, and a few bits and pieces in the fridge, there was nothing that particularly inspired me, or maybe there was nothing that was particularly low in stuff. That was a nonsense because what I ended up eating was worse than what I could have eaten. I decided not to have any dinner in any formal sense, but to just eat some assorted snacks. It was physically quite a small dinner substitute, but I dread to think of all the bad stuff in a chunk of cheddar cheese, Marmite crisps, pork scratchings, and a handful of mixed nuts !

I certainly went to bed feeling anything but full, but that was probably just as well because it was another hot sticky night. It was cooler outside, but it was still over 28° C in my bedroom, and it only felt to about 26° C by this morning despite the window being open all night. I think it was all worse because the humidity was (and still seems to be) rather high. I managed to survive with the fan on half power all night, but I still had to sleep naked on top of my bed instead of in it.

The consequence of yet another night of sleeping badly, and with the fan playing over my naked body, is that this morning I feel exceptionally stiff and creaky - particularly my shoulders and back. My chest aches too. I recall it going crunch a couple of times when I turned over during the night. It's probably the lack of sunshine to distract me, but I think I feel pretty lousy this morning, and I am not convinced I'll feel much better later in the day. Maybe some of those aches and pains will subside, but as they I do I will probably be feeling sleepier and sleepier. This is definitely one of ths e morning where, if circumstances allowed it, I would have got up, probably taken a couple of painkillers, given them an hour or two to work, and then gone back to bed for as long as possible. Unfortunately circumstances dictate that I have to suffer at work until I can go home again. It will be another 9 or 10 hours before I can lay on my bed and have a snooze. That's a long wait !

Thursday 21st July 2016
07:33 BST

Yesterday's weather was almost as expected, but with one useful difference. The last weather forecast I saw said it would probably rain between 5 and 6pm, but it was dry and sunny. I guess it wasn't a bad guess by the weather forecasters - it did get cloudy around 4pm. I think the temperature only hit 30° C for a short while, and I would suggest that 28° C was closer to the average for the afternoon through to early evening. Today is going to be rather different. In all likelyhood it will stay dry, but after some sunny spells this morning, which seem to be over already, it will be a lightly grey overcast day. It will be cooler too. It was only 16 - 17° C, and feeling cool when I walked to the station to come to work. This afternoon the temperature is expected to peak at just 24° C. Tomorrow will probably be similar to today, but rain is forecast for after 9pm. Saturday may, or may not, be sunnier and warmer.

As much as it was nice being in my air conditioned office yesterday, it was also nice to get out into the fresh air at home time. The instantaneous change from about 23° C to 30° C was a bit "in your face", but it still felt nice. My only complaint would be that it had got a bit cloudy by then, and the sunshine was a bit intermittent. Maybe it was a little too humid too, but only enough to cause some mild stickiness. It still made me feel good, and this time I really did run up the escalators at Waterloo....well, sort of run. What's that thing horses do between walking and running ? Maybe it is cantering, and that seems a fair description of what I was doing - faster than walking, but slower than sprinting. Jogging maybe ?

I had set myself two goals when I got home from work, and I achieved one, and failed the other, but I did achieve something else that I didn't even consider I would be doing - probably because I thought it might be raining. The first goal was to try and moderate my food intake a bit better, and while it would have been better to have eaten even less, I did manage to reduce it quite a lot. I started with two cheese and tomato puree finger rolls, and then later on I had salad with a small tin of (drained) mackerel in sunflower oil. I finally finished off with 4 little satsumas with a large handful (gorilla sized - probably) of mixed nuts.

My second goal was to either select and edit the pictures I had taken on my Canon camera at The Fifth Element gig on Saturday in The Black Cat, or to upload the pictures I had already prepared from my Nikon camera to Flickr. Ideally I would have done both, but I did neither. What I did do was some laundry. After having a snack (the two cheese finger rolls) soon after getting home I gathered up three work shirts, a t-shirt, some underwear, two tea towels, and a pair of shorts, and then washed them. I must confess that the shorts only got a double rinse to wash out a sweat stain that didn't look very nice.

I estimate I got all that washing on the line by around 6pm. Two hours later, shortly before I tried to go to bed, everything except the shorts was 99.5% dry. So I brought it all in except for the shorts, and by this morning it was all bone dry. I am actually wearing one the shirts I washed last night this morning ! It was all very satisfactory, and I even had time to mostly cool off before I went to bed.

I have to admit it was partly boredom, but also because I had felt a bit sleepy during the day, that I attempted to go to bed soon after 8pm last night. In one respect it was pointless because my bedroom was at nearly 30° C, and I felt far too hot and sticky to get to sleep, but from another point of view it was a good idea. After thrashing around for an hour I think I did fall asleep at about my normal time of 9pm. Had I not tried to go to bed until 9pm I would probably have been thrashing around until 10pm !

It doesn't feel like I slept that well last night, but I don't recall being awake much in the night. I feel sort of headachey this morning. Maybe it's just the change in the weather. Other than that I feel mostly OK. I really ought to save this so I can be really boring and copy and paste it every day - all the bits that usually hurt, or creak, or complain still do all those things, but none are doing it badly enough to be bothersome. My right foot didn't seem to be sore at all this morning until I started walking to the station. Even then it wasn't terrible - it has been far, far worse - and yet it was still rather annoying.

Hopefully I'll survive another day at work in good humour, and with my body in reasonable working order because I face a bit of a challenge after work. It's Thursday, and that means it's drinking night ! The only problem is that tonights venue is in Bromley, and generally speaking I am not keen on drinking in Bromley. Getting there is going to be a bit complex. I'll have to get a train from Waterloo East to Grove Park station where I'll change to the shuttle service to Bromley North station. From there it looks to be about a 10 minute walk. Getting home again is going to be the biggest pain. I could potentially get the train back to Grove Park, but those trains only run every 30 minutes, and if I just miss one it would be a very tedious wait. The alternative is probably about a 15 minute walk to a bus stop where I can get a slow, smelly, noisy, packed bus back to Catford. I hope this pub has the most excellent beer or I am going to feel very disappointed after enduring all that travelling !

Wednesday 20th July 2016
07:39 BST

I was slightly disappointed with the weather yesterday. The forecast said the temperature would reach 33° C, but by my reckoning it only reached 30° C. It was still a beautiful bright sunny day though. Today see a small change.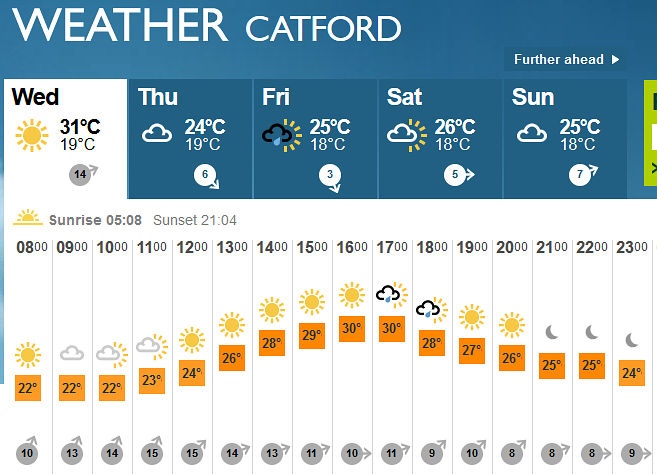 It's looking like it will be a little cloudy for a while this morning, but the afternoon is going to be bright, sunny, and hot again. 5pm is looking interesting. Will it, or won't it rain, and if it does will it be a light shower ? In temperature like this afternoon it could all go topsy turvey and we could end up with torrential rain, thunder, and lightning - and it could happen while I am travelling home from work. If it is a light shower I will just let myself get damp, but if it is a thunderstorm then I do have a raincoat stuffed in my rucksack - although in that heat it will probably get wetter inside from sweat than outside from rain !

It was nice in my air conditioned office yesterday - except when I set the thermostat to too cool ! Even being too cool didn't stop me almost falling asleep once or twice - that was the legacy of poor sleep the night before. I fear the same will happen again after another night of the heat making sleep difficult. While it was nice being cool while at work, I still looked forward to going out in the baking heat, and I wasn't disappointed when home time came around.

As I walked up the road I could feel the sun frazzling my legs. I was probably lucky they, or other bits of me didn't burn. In earlier years I would slowly build up my resistance to the sun, and tan, by frequent short exposures to the sun. It was one of the health benefits of smoking - popping outside for a cigarette, and a small dose of sunshine every hour. Now I no longer do that it is going to take some time to build up a bit of colour to my legs, and it seems summer is almost over now (well tomorrow is going to be cloudy and a lot cooler).

One of my quirks is that I like walking in the hot sun, and yesterday was no exception. My right foot was moderately painful, but I still decided to ignore the bus stop and walk to the station - and it was almost nice ! When I arrived at Waterloo I felt motivated to run up the escalators - I didn't, but I did walk up them fairly fast. That is something I very rarely do, but it just seems like a good thing, maybe even a funny thing to do when everyone else seems to be wilting in the heat. If I could only lose a few stone I reckon I could almost do some running on days like yesterday !

Unlike the night before my journey home was straightforward and trouble free. I was lucky ! An hour or two later all the temporary signalling around London Bridge went TITSUP (Total Inability To Support Usual Processes). I think it was about 7pm when for some unknown reason I decided to check the trains through Catford Bridge station (I have the web page saved on the bookmarks toolbar). I was shocked to see several cancellations, and most of the trains that were possibly running were reported as being over an hour late in some cases.

My thermeters all agreed that it was only 30° C when I got home. That was a bit lower than the expected 33° C, but even 30° C felt briefly cool when I got off the train at Catford Bridge. There is no air conditioning, and very little ventilation on class 376 trains. This is particularly so at the carriage ends. In the centre of the carriage the air can circulate a little more. It was really sweltering where I was sitting, but apart from the embarrasment of dripping sweat everywhere I felt quite comfortable. I just hope that my deodorant was still working well. There were some cummuters whose deodorant definitely wasn't working, but oddly enough they mostly seemed to be on the train from Earlsfield to Waterloo.

I had left a glass of water in the fridge to drink when I got home, and that was rather nice. I had also remembered to leave all the curtains closed on the south side of the house (the front). That helped to keep my bedroom very slightly cooler, and the living room downstairs cooler still. I'm not sure if I was inspired to eat less, or if I just didn't feel quite so hungry because of the heat and sunshine. Everything I ate was partly healthy except for one thing that I shall not name, and that one thing sort of ruined the whole idea of eating less and more healthily for yet another night. It wasn't a complete loss though because I think the total quantity was still less, and that probably helped towards sleeping on another night where sleep is traditionally difficult.

I didn't really do much last night, and I don't know where all the time went, but on reflection I can account for some of it. I did do a little bit of very simple video editing - really just topping and tailing, and recoding to a more web friendly size. It was another song performed by The Fifth Element at The Black Cat last Saturday. This is a cover of the Spencer Davies song - Gimme Some Lovin'. I've pushed the video size, and bit rate even higher on this to see what happens.....

The other bit of missing time that I now remember is going to bed extra early - about 8pm. It was pretty pointless trying to sleep that early in that heat, but the heat was not the only problem. Noise was another problem because the window was open. It's usually a fairly quiet neigbourhood, but there is always one person who spoils it. On this occasion I think it was someone up the road wooing his girlfriend in his car by playing her "Now That's What I Call A Sound Check - a triple album box set of the finest recordings of drummers, and sometimes bass players, doing a sound check so the sound man can get the sound balance right before a gig starts". At least that is what it sounded like to me, and it went on until 9pm when he (or she) drove off - I think - It's all guess work because I never left my bed to even look out the window to see what was really going on out there.

I probably fell asleep not that long after 9pm. I assume I slept badly because I remember waking up quite a few times, but I can't remember any times when I stayed awake for more than a few minutes. Sometime I probably just woke up to turn my pillow around so I could find a dry spot that wasn't damp with sweat. I would occasionally have a swig of drink when I woke up, but I guess I was fairly dehydrated when I got up. I had left another pint of water in the fridge overnight, and I drank about three quarters of a pint of that. It went down a treat !

This morning I feel moderately good again. Even my right foot seems to hurt less this morning. I'm not sure if paradox is the right word to describe an oddity about how I feel. It is this....Walking seems to be harder work than usual this morning, but it seems that the only reason for this is that I seem to be walking faster without realising it - at least I think I am. I'm sure I left home at the same time as usual this morning, but I arrived at the station slightly earlier than usual - I expected to arrive there later because it seemed hard to keep up a decent pace, but evidently it was hard to keep up an enhanced pace - which is only natural. I thought I made very good time when dashing from Waterloo East station to Waterloo mainline station this morning, but if I could have just shaved another 15 seconds off the time I might have been able to leap on the 06:53 train through the rear doors before they closed. I've never managed to get that train before, but I came very close to it this morning !

I don't think I have any plans for tonight, or do I ? I still have some useable pictures from Saturday night on my Canon camera, and I could do something with those, or I could upload the pictures I have already prepared to Flickr. In fact I really ought to do the latter, and maybe that should be my goal for tonight because I won't be able to do it tomorrow - tomorrow is booze night !

Tuesday 19th July 2016
07:33 BST

It was rather nice yesterday. I think the only relevant details are hot and sunny, lots of clear blue sky, and the temperature hitting 25 - 26° C. Today will be even better - providing the air con does it's stuff at work !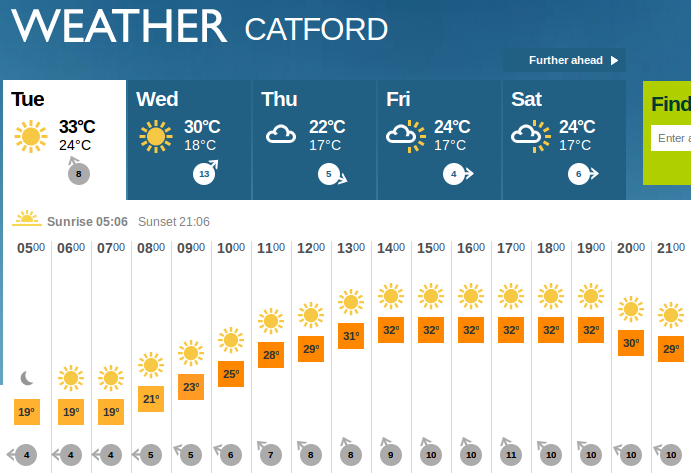 This was the forecast at 5am this morning. Since then it has been revised upwards with the temperature predicted to hit 33° C between 4 and 5pm - just when I am going home....on non air conditioned trains. It's a shame the journey home will be spoiled hot train carriages filled with stinky people ! I thought it was to be today, but it's now looking like it will be tomorrow that ends with a bang. After another pleasant day the clouds will bubble up, and there will be an excellent chance of a thunderstorm.

It was a mostly pleasant day at work yesterday, but it was all spoiled by trouble on the trains going home again. As soon as I arrived on the platform at Earlsfield station I knew something was wrong. The signal at the end of the platform was at danger, and I could see a train waiting at the next signal up the line. I couldn't be sure because the view was not clear, but there seemed to be a stationery train at the next signal beyond the one I could see clearly. This turned out to be correct. It seems a train had broken down at Clapham Junction station, and had blocked the line. I was on the 4th train in the queue waiting to get to Clapham Junction station.

It was probably one of the better places for a train to break down. There is a depot at Clapham Junction, and there was probably a fitter in the depot who could wander over and fix the train. Reading the Evening Standard newspaper helped the time waiting pass by, and I was a little surprised that we arrived at Waterloo a whole 25 minutes late. That meant that I missed my usual 16:20 train from Waterloo East after arriving on the platform at 16:27.

On any other day I would have faced a reasonable 12 minute wait for the next train going to Catford Bridge, but not yesterday. There had been some sort of signalling problem in the Lewisham area earlier, and that had delayed the incoming train to Charing Cross that would form the 16:39 train that I wanted. It eventually ran 16 minutes late, and to make matters worse there was a change of platform involved. We had plenty of notice so there was no rush, but it was still annoying to have to rush down the subway from platform A to platform C.

I eventually arrived back in Catford a lot later than usual. I was feeling a little thirsty and considered going for a quick pint in The Black Cat pub, but decided against that. I didn't go straight home though. I went into the Sam 99p shop, Poundstetcher, and Poundland (which I think is the correct name for the shop I usually call The Pound Shop). I was looking for some nail varnish remover. I'm sure I had seen some in one of those three shops, but I couldn't find any last night.

I eventually arrived home at 6.03pm - an hour and a quarter later than usual. I felt thirsty and hungry, but possibly more hungry than thirsty. I am not sure why I felt so hungry, but it was one of those nights where I ended up eating far more than I should have even when some of it was allegedly low in calories and/or fat and/or sugar. A little later when I went to bed I felt rather full, and that was probably not an ideal situation on a hot sticky night. After dinner I didn't really have time to do that much, but I did do about the most basic bit of video editing possible.

This video, assuming it plays OK, is of The Fifth Element performing at The Black Cat on Saturday night. The song, Need Your Love So Bad, is amongst my favourite songs, and had I known in advance that they were going to play it I would have recorded it from the start. Instead I had a mad scramble to get my Canon camera out (I had been using the Nikon for the stills photography). I only managed to catch the last 90 seconds, but it gives a good feeling of the performance. I've taken advantage of my upgraded broadband speed so this is a slightly bigger video with a higher bit rate. I hope it plays OK.

I attempted to get to bed at my normal time of 9pm last night, but sleep was difficult in the hot sticky heat. I had made the error of leaving the curtains open during the day, and the blazing sun had really heated the room up. After laying on my bed dripping for 15 minutes I decided it was time to get up again to retrieve the fan from the spare room. Having air blown over my hot body helped a lot, although I am not so sure the cumulative effects were that good for me. I woke up a few times in the night, but apart from a late start getting to sleep, and waking up half an hour early, it almost seemed like I slept well last night.

The only trouble is the after effects of sleeping in a cool draught. My back and shoulders, and maybe a few other bits do seem exceptionally stiff and creaky this morning. On top of that, while it seemed I slept OK when I did sleep, I do feel quite tired now I am at work, and if I was still at home I reckon I would have gone back to bed by now. I'm still getting pain from the ball of my right foot this morning. It comes and goes, and this morning it is about half and half - it's been better, and it's been worse. What is of some concern is that the discomfort means I am walking slightly differently, and I seem to be putting more weight on my left foot. It's only an occasional mild twinge, but it seems my left ankle is starting to complain. It's probably time I did something about my right foot - maybe sandpaper off the callous that might, or might not be the source of my discomfort.

I don't think I have any plans for tonight, but maybe I have some goals that it would be useful to achieve. The first is to try not to melt on the way home, and hopefully not to gag on the stench of some builder who has been sweating on already sweaty clothes all day on a smelly building site - sometimes they stink worse than sporty looking people (or cyclists) in this weather. My other main aspiration is to try harder not to eat too much tonight. If I made a habit of eating like I seemed to last night it would not take long before I would no longer be able to wear the shorts I am wearing today. It took some effort to get back into them after stopping smoking, and I don't want to ruin that effort that has worked so well for now.

Monday 18th July 2016
07:50 BST

During the weekend the weather started to change from spring like weather to proper summer weather. Saturday was not particularly sunny, but it was warm and dry. Yesterday started off with a mixture of sunny intervals and overcast, but as the day wore on the sunny intervals became longer and longer, and by mid to late afternoon it was all sunshine. It got quite warm too with the temperature getting to 25° C, and probably a little higher for a while. Today is going to top that !

This was the forecast at 5am this morning. I daren't check it in case it disappoints, but I have a gut feeling that this forecast will turn out to be close to reality. If the forecast holds then tomorrow is looking really spectacular, and indeed it could end spectacularly with a giant thunderstorm and torrential rain !

It was useful doing some laundry yesterday morning so it could hang in the sunshine to dry, but it did have one knock on effect. After doing it I suddenly realised it was almost 8am, and I had no time to shower (and wash my hair) before I had to go on high alert waiting for the courier who was delivering my new Virgin Media broadband modem. I can imagine I was probably a bit stinky when it was finally delivered at 2.30pm.

Setting up the new modem was not that easy because of a lack of documentation with it. There were clear(ish) instruction for setting things up via a WiFi connection from a PC running Windows, but no information at all, apart fom a mention it could be done, via a direct ethernet cable connection from a PC running Linux, Windows or MacOS. By reading the booklets that came with it carefully I found there was one vague mention of using the box in modem mode (instead of as a hub with WiFi connections as well as ethernet ports). I wanted to use it as a modem with all the other connectivity turned off - the same as the box it was replacing. Once I was in the control console it was easy to see how it was done, and I did it, but in doing so it changed all the indicator lights on the front of the box, and there is no documentation as to what they mean. All I know is that the big light no longer glows white to indicate all is well, but now glows purple !

It probably took the best part of an hour to get everything set up, and once it was done I measured the connection speed. It was the expected 50MB/s (and not the 70MB/s that I thought the sales droid told me - I thought that sounded a very unlikely figure). Of course, in practice, the increased download speed is hardly noticeable in average use. I checked a selection of web sites and hardly noticed any change at all. It will probably be quite quick to download new Linux distros via bit torrent now, but I haven't checked that yet. The one difference that will be useful is the increased upload speed, and my upload speed is your download speed when using this web site. I think my upload speed in now about 4MB/s now, and that should make the occasion movie I include run a bit smoother. It will also mean it will be faster for me to upload pictures to Flickr - something I might try tonight.

I finally managed to wash my hair, and take a shower, in time to almost cool off again before going out to The Black Cat to see The Fifth Element playing there. It was a warm night, and I dared to wear my shorts for the gig. I didn't do a lot of moving around while I was there - apart from going to the bar to replenish my glass of Guinness, seek no angles to take photos from, and tapping my foot - I did quite a lot of the latter ! Fortunately it was little enough to keep my dry. Unlike Billy Hyland, the lead guitaist and singer, whose hard work left his face dripping. It was just as well because I had some very nice company.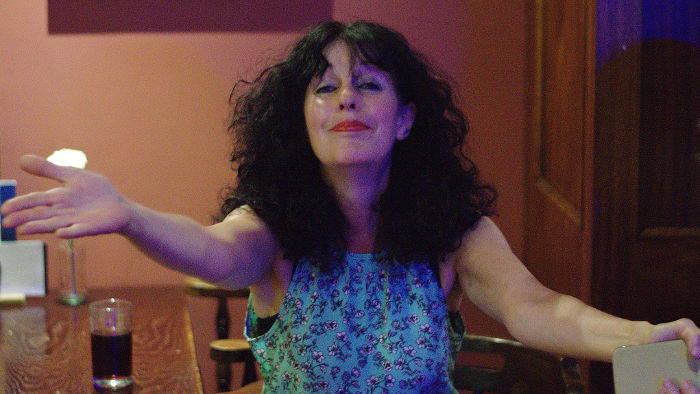 This is Angela, a fellow Catfordian, who seems to have taken a liking to me. She's probably worth two pictures.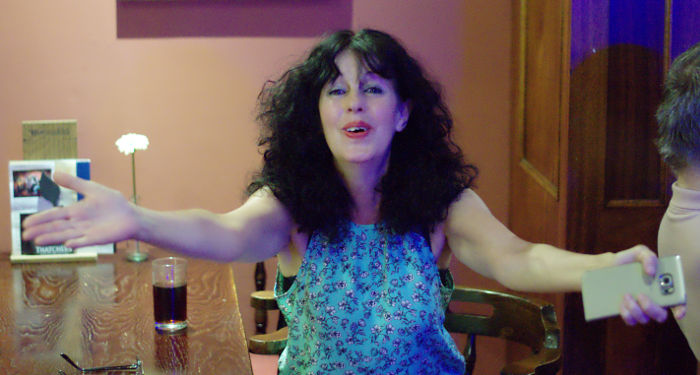 I wanted to see both pictures side by side because they were processed differently. The first started life as a jpeg file, and the second was a RAW file. They were taken in burst mode, and the second would have been taken half a second after the first. The first one is a bit grainy, and I couldn't make it any brighter without the grain getting far worse. The second one uses the noise reduction option on the pre-processing application for RAW files, and maybe I used too much because it looks very soft, almost like it is out of focus, but it has removed most of the grain, and is brighter. It took the pictures without using any flash in a part of the pub that isn't lit very well (it was almost too dim to read a newspaper unless you have very sharp eyes).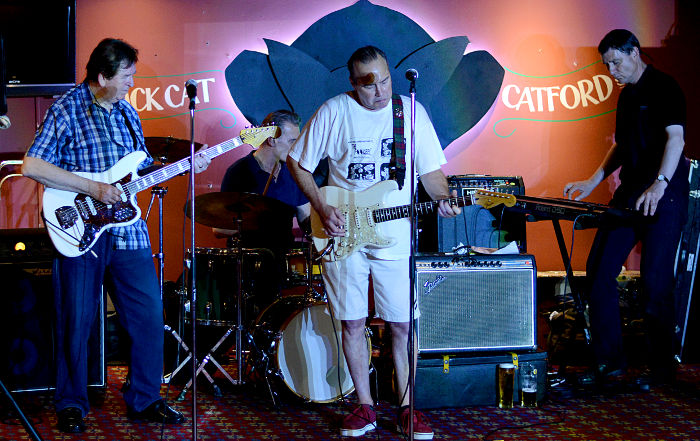 Here's a picture of The Fifth Element on stage at The Black Cat. I'll soon have a album of Hi Res pictures of the gig uploaded to Flickr - maybe I might do it tonight. I took most of the pictures of this gig on my Nikon D3200 camera using the new lens I bought recently. That lens almost matches the one I usually use on my Canon Camera. Now my favourite camera for gigs is the Nikon because it seems far less noisy/grainy than the Canon. I think I'll mainly use the Canon for daylight work in future - although it does take some pretty impressive video. I hope to have a video or two from Saturday night to show here soon.

I had a marvellous time on Saturday night, but eventually I had to go home. Quite why I gave in to the idea of buying some chicken and chips on the way home when I felt so euphoric is a mystery. Maybe I didn't feel so euphoric because it was all over by then. Who knows. All I know is that I enjoyed the food, and then found enough energy to copy all the photos from the cameras to my PC, and take the first steps towards starting to select and edit them. It was 1am on Sunday morning before I was in bed, and asleep.

I slept really well, but for some stupid reason I still got up at 5.30am after just four and a half hours sleep. It seemed to be all I needed for some reason, although later on Sunday I did find myself flagging a bit. One reason for getting up so early, apart from just being awake, was to do a few things before I had a visit from my friend Aleemah. One think I did was some more experimenting with my new enhanced broadband speed while everything was quiet. Once again it was hard to notice any change in my web surfing experience, but once again I did not (and still haven't) tried any intensive downloading of large files.

Eventually it was time to go to the station to meet Aleemah. It was obviously cooler in the morning, but I still wore my shorts, and even after 4 (or 5 ?) pints of Guinness the night before (and fried chicken and chips) they still fitted perfectly - as good as they did 3 or 4 years ago before I put on so much weight after stopping smoking. Apart from flashing my kneecaaps at Catford in the bright morning sunshine, it was a normal visit from Aleemah. A pint for me, and she had a veggie breakfast and coffee, in the Wetherspoons pub followed by watching a DVD at home. Yesterday it was a couple of episodes from a DVD box set of The Outer Limits.

After Aleemah went home I found my lack of sleep beginning to catch up with me. So I had some dinner, and then lay on my bed for a snooze. I don't think I slept for long, and it could have been as little as ten minutes, but I wasn't really watching the time. Maybe I was less than sleepy, but sort of soporific in the afternoon heat, but whatever it was I found it really hard to motivate myself to get down to selecting and editing photos seriously, but eventually I got myself in front of the PC, and went through all the pictures from my Nikon camera. I still have a few pictures to consider on my Canon camera, and once I've done them I will upload them to Flickr. Maybe that will happen tonight.

I don't think it cooled down, and if anything the temperature was still rising when I had the sudden urge to do some housework. The significant thing was to do some laundry. I had a towel that was in desperate need of a good wash because it was starting to get smelly, and there were a few other things that needed washing. My original idea was to leave them all soaking overnight, and complete the wash early this morning, but on later consideration I decided that was a bad idea, and did it all last night.

The downside is that by the time I had wrestled with a big towel, and the other stuff, I was sweating quite freely as I hung it all on the line. That was not a good idea when I only had a half hour to cool off in before I had to go to bed. That wasn't enough time, and I went to bed feeling hot and sticky. I was far too hot for the duvet, and I spent the whole night uncovered (and with the window open for a bit of extra cooling). By 3am I was feeling ever so slightly cool, but I got back to sleep again still without pulling the duvet over me.

That coolness did trigger an interesting dream, and while it was unlikely, it was still almost possible. In the dream I was walking home in the early hours of the morning (I don't know where from - presumably the pub, but maybe not). It had been an exceedingly hot day, but the crystal clear sky meant that a lot of the day time heat was lost to the night sky. In this dream so much heat was lost that a frost developed, although oddly enough I didn't seem to feel cold. A frost like that is highly unlikely in London, but I believe in some desert areas it does happen.

This morning I am still feeling this new type of OK. The type of OK where nothing new hurts, and what does hurt doesn't hurt much. The exception to this is still my right foot. It didn't seem to feel too bad yesterday, and it didn't seem too bad when I got up this morning, but it did seem to slow me down a bit when I came into work. I've now changed out of the Vans slip on shoes I was wearing and put on some flip-flops - which might be better, worse, or most likely, indifferent.

Once I get home from work my first task will be to bring in my sunbaked laundry. I hope it isn't covered by too many little spiders. There seem to be an awful lot of them out in the garden at the moment - web everywhere ! After that will be dinner - hopefully I'll be satisfied with a fairly light dinner today - and after that I ought to finish my photo editing and get them uploaded to Flickr, but I think I also feel an urge to do a bit of simple video editing. Tomorrow I will either include a link to a new Flickr photo album, or I will embed another video, or possibly neither !

Saturday 16th July 2016
08:09 BST

The weather was pretty much as forecast yesterday - and it wasn't very inspiring ! It wasn't cold, and it wasn't wet, but it was dull and very bland ! I'm not even convinced that the temperature hit the forecast peak of 19° C, but at worst it was probably quite close.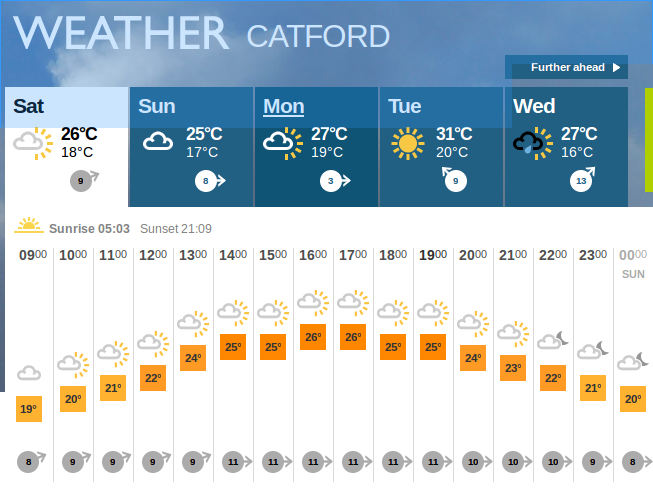 If this forecast turns out to be anything like reality then things are looking up. Today looks like it is going to get quite warm, but will be a bit cloudy (there is 100% cloud cover as I write this), but look at next Tuesday. If it really happens I think I will have to describe next Tuesday as hot !

Yesterday was not such a bad day, but there were times when I "rested" from doing any work, and found myself feeling very tired. I was yawning, and my eyes kept closing as I read some slightly less exciting stuff on the internet (I had read all the good stuff earlier). Despite all that I was able to get some good work done, and my manager caught me doing it twice ! Finally it was time to go home, and with my right foot still sore I left a couple of minutes early in an attempt, a successful one on this occasion, to get a bus to the station.

One of the things I have been trying to do is to keep my feet flat on the floor when sitting down at work, on the train, and also at home. I have a theory, although not with much conviction, that it is bending my feet, with most of the weight supported on my toes, that makes my foot pain worse. It is a very precarious observation that the pain actually subsides, or at least gets no worse, when I am walking. I'll probably never know if any of these ideas are true because the pain in my foot goes away just as spontaneously as it appears.

Going home from work was not straightforward - but only because I arrived at Waterloo East 5 to 10 minutes earlier than usual. That meant I would have had an extra long wait for my train back to Catford Bridge, or I could chance my luck on an alternative route home. Some frantic checking of train times revealed that the next train from platform A would get me to Lewisham station at 16:19. On most days that would be useless, but on a day when the service to Hayes (and hence Catford Bridge) from Cannon Street station was delayed by signalling problems, and would arrive 10 minutes late, it was quite useful. It still meant a bit of a mad dash from platform 4 through the subway to platform 2 at Lewisham, but it was worth it. I arrived at Catford Bridge station 15 minutes earlier than usual.

Maybe that 15 minutes was useful, but it is something I'll never know for sure. Of course it was definitely nice, but it might, or might not be the case that those 15 minutes allowed me to get to some reduced price in Tesco that might have been picked up by someone else if I had got there later. On the other hand it might have been a curse because not all those bargains were particularly low in calories and sugar and stuff !

My dinner was a strange mix of stuff that included some reduced price curry (without any rice), some home made sandwiches made from reduced price finger rolls and reduced price haslet, plus some very tasty reduced price strawberries. The latter were about 30 minutes from starting to spoil, and were at the peak of their tastiest !

Last night was another of those nights where nothing much happened, and yet despite not going to bed until nearly 10pm, didn't seem to drag or seem boring. What I can't work out is where all the time went. It almost seems like one minute I was eating, and the next minute I was in bed. Actually that is almost true. I did my best to watch the 6pm TV news last night, but I find modern TV journalism terrible, and had to turn the TV off after 30 minutes. There was a terrible tragedy in France yesterday involving a terrorist (or madman, or insane terrorist) driving a lorry through crowds of people, and killing about 84 people. Rather than just report the facts, which would have taken 5 minutes, it seems the reporters just had to fill the next 25 minutes with loads of witnesses all basically saying it was terrible. Yes we know it was terrible. That fact was established in the first 5 minutes. By drawing it out to a whole 30 minutes it just made it boring, and I think that does a great disservice to those involved in the tragedy.

I was hoping for a wonderful night's sleep last night, and I was expecting to have a nice lie in. Maybe I didn't actually need a wonderful night's sleep, and maybe I didn't need a lie in. Perhaps all I needed was to be able to come to slowly, and ease myself into the waking world with no rush, because I still got up very early, and I didn't feel too bad for it. I did waste some time reading stuff on the internet, and that meant I didn't get time to shower and wash my hair before writing this, but I did have time to wash 5 work shirts, and some underwear, and get it hanging on the washing line to dry.

Now I've grown up a bit, and I'm now some sort of passable imitation of an adult, I don't really get freaked out by spiders. I am still not keen on them, but I tolerate them, and rarely resort to squashing them. However I am still not keen when they hang out on my washing line - particularly the small ones that can hide in a clothes peg. I have a particular horror of a small one getting in my underpants when they are hanging on the line, and then going unnoticed while it grows to huge proportions, only to be noticed as I am putting them on. Spiders and genitals don't mix !

The big thing today is waiting for the courier to deliver my new cable modem for my broadband upgrade. Unfortunately the courier service is Yodel, and there are many urban legends about Yodel - some of which seem very likely to be true. It seems the chance of the modem surviving it's delivery intact is infinitesimally small, and the smashed remains of it will either be delivered to a wheelie bin, or tossed onto the roof of the house if I don't answer my doorbell within 2 seconds. So I am now on high alert, and can do little more than watch out the window non stop until the modem arrives. Hopefully it will not be too late in the day because it would be nice to get out for a breath of fresh air (and probably buy some junk from the 99p shop) sometime before the evening.

When the modem arrives I will have to shut down my internet connection, and for a while my web server will be off the air. There will be a little bit of setting up to do here, but hopefully that shouldn't take long. The big unknown is how long it will take Virgin Media to do their stuff when I phone up to get the new modem authenticated. In theory it should only take minutes, but with Virgin one can never be sure (the same is probably true of most ISPs).

Tonight I'll be seeing The Fifth Element playing a gig in The Black Cat. I am expecting it to be quite good if my memories of their last gig are anything to go by. You can see some pictures of them here - https://www.flickr.com/photos/135353558@N03/albums/72157666919087366

Friday 15th July 2016
07:37 BST

Yesterday wasn't bad, but it still wasn't good enough to be award a medal for being like a summers day. It was dry and mostly bright, and it was on the borders between tepid and warm, but it wasn't very sunny. I think it was only 18° C or so when I got home at about 8pm last night. Today might, or might not be better.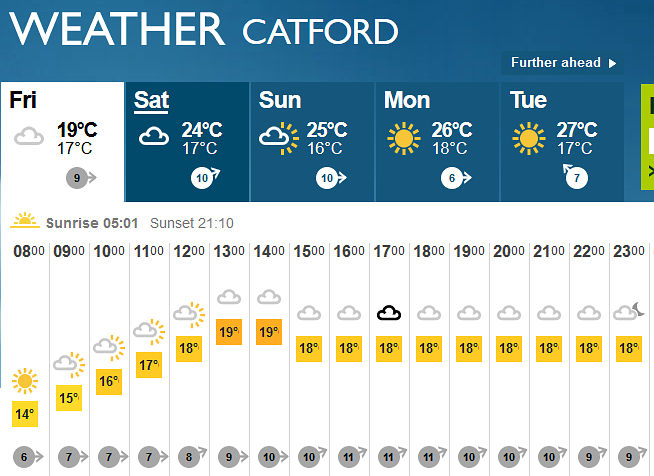 This is the latest forecast for today. I am positive that it was showing a lot more sunshine than this when I checked it before leaving home to come to work. The worrying thing is that on the strength of the earlier forecast I didn't bring a coat to work. The way the forecast is heading might mean I regret that decision ! 5pm worries me. I can't be sure, but at 5am I seem to recall it was shown as a big bright sun. It is now shown as black cloud. What will it show in another hours time ? Falling rain, hail, sleet, snow ?

It was another boring day at work, although perhaps not as boring as some, but it was a relief to finally head towards home - via the pub ! For some reason I didn't feel particularly keen to go for a drink yesterday. It was probably because of the location of the pub - Beckenham. It wasn't a hard place to get to, and nor was it a hard place to get home from, but the travelling did add a bit of tedium. There was also the fact that it is not a pub I particularly like. It is one of those pubs where most of the bar room is taken up by the bar itself, and there is just a narrow space around the bar to either sit or stand. It makes moving about tedious as you try not to bump into people, or spill your drink on them.

The pub, The Bricklayers Arms, is a "real ale pub", and indeed they did have four real ales available, but I didn't like any of them. I had one pint of "Proper Job" - a recently introduced very hoppy ale from the Youngs brewery. It could have been nice, but I don't like the hops that Youngs use. I then had a pint of Harveys Sussex ale. Several people I know rate it very highly, but I just can't bring myself to like it even though I keep trying. For my third and final pint I resorted to Guinness. I am not sure that was in tip top condition, but it was nicer than the other two.

It seemed to take a long time to get through those three pints, and it was something like 7.15pm when I left the pub. The easiest way of getting home from there is to get a 54 bus. It sometimes seems a slow way of getting home, but the bus stop is just on the opposite side of the road to the pub, and the bus drops me off at the end of my road. I didn't have to wait much more than 5 minutes for the bus, but when you add on the travelling time on the bus, plus the 6 minute walk from the bus stop to home, it meant that I didn't get home until roughly 8pm That made for a very brief evening.

The first, and virtually the only thing I did when I got home was to eat dinner. While I waited for my "Slimming World" chicken chow mein to cook I had a starter. It was a very not slimming world little tub of "Italian style" pasta. Maybe it wasn't as terrible as I thought, but I couldn't be bothered to check it's nutritional values. My attempt to curb my appetite failed once again last night, but for a completely different reason. It wasn't booze - that is all too common an excuse - on this occasion it was extra hot chilli sauce. I was a bit generous when I put some on the chicken chow mein, and for some reason I seemed extra sensitive to it. To help moderate the burning chilli pain I munched through a fair amount of cheddar cheese. I'm not sure it helped as much as I had hoped, but I think it did something. I finished dinner with a little punnet of cherries.

There wasn't much time to do anything after dinner, and 20 or 30 minutes later I was in bed. I'm sure it was only a few minutes later that I was fast asleep. I woke up a couple of times in the night, but I still might have thought I had slept well if it hadn't been the case that I had to be woken up by my alarm this morning. That makes me think that I probably could have done with more sleep, and without the alarm I would have got it.

Well maybe I have a small sleep deficit, but I seem to have gone back to feeling sort of OK again. Apart from my right foot, which slowly, slowly continues to improve, I have no particular pains this morning, and maybe I have 2% more energy than yesterday. I think it is all due to the Guinness I had last night. Of course as I wrote that I started yawning, and I have also realised that I have some discomfort from my chest. I am pretty sure it is because I need a good stretch, but it is a little strange. It is the same pain I usually get just under my right breast, but it is under my left breast. It seems what ever used to cause the "twisted rib" pain on my right has now moved to my left. Weird, very weird indeed !

I don't need to do it for tonight, but tonight I think I will go home via Tesco to get some shopping. This is because I may not be able to do it tomorrow. Tomorrow I will have to stay at home and alert for a courier who will be dropping off a new cable modem for my broadband connection. Virgin Media, in all their generosity, are upgrading my connection for free ! Sometime tomorrow, unless it all goes tragically wrong, I will go from a 20MB/S connection to 70MB/S (I know 70MB/S sounds an odd number, but I am sure that's what they said). It will mean I will be without an internet connection for an unknown period of time, and this website will be inaccessible, but on the plus side it should mean that there is a bit more bandwidth for videos I post here from time to time. It should also make uploading picture to Flickr a bit faster, but never actually fast. The reason is that the connection is really lopsided. I may get 70MB/S down, but the upload speed will probably still be abysmally low (3 MB/S ?). This upgrade will be totally free........except in about 3 months Virgin Media will announce an increase in prices. It happens every time !

Thursday 14th July 2016
07:34 BST

I guess I was lucky yesterday. There were opportunities to get wet, and I missed them all except for one. It was generally a fairly gloomy day, but occasionally it was bright, and I have a vague recollection of seeing a little sunshine. In fact I think there was a few seconds of sunshine when I left work to go home. That was rather better than I expected, but from the time I arrived at Waterloo East station to wait for my train back to Catford, it became increasingly gloomy. When I came out out of Catford Bridge station there were a few spits and spots of rain, but they were of no significance. The forecast said there would be rain at 5pm, and it was incredibly accurate - except perhaps in not forecasting torrential rain ! I got home in the dry, but 10 minutes later I decided to take some rubbish out to the wheelie bin, and it was like the heavens had opened ! The wheelie bin is 3 ft from the shelter of the front porch, and in the 5 seconds it took to rush out, open the lid of the wheelie bin, throw the rubbish bag in, and get back under shelter, I got quite damp !

Today is forecast to be quite different. At 10am and 9pm we are going to have strong sunshine (a bit like we shouldn't be having right now). The rest of the day will only see sunny periods, but it is supposed to stay completely dry, and it will be several degrees warmer than yesterday. It was only about 18° C yesterday, but today it should be 21° C. I think that is still rather poor for mid July, but it seems that is the best we can hope for. Tomorrow is forecast to be the same temperature, but apart from some early morning sunshine it will be generally overcast.

I often felt quite tired at work yesterday. This was mostly from the effort of trying to appear busy while doing very little. There was at least one occasion when I felt myself drifting off to sleep while reading stuff on my PC. There was a great temptation to just let myself go to sleep, but I never did. There was one little job I had to do in the afternoon, and that woke me up enough so that I didn't feel sleepy going home.

I was quite lucky going home. Earlier in the day I had thought I would be going home in the rain, but it was one of those vanishingly rare occasions when the weather forecast was correct - although the few rain drops I felt when I came out of the station were not part of the master plan. I probably felt the last drop when I was about halfway between the station and the Iceland supermarket - or after little more than a couple of minutes walking.

I arrived home with my shopping in the dry, and the first thing I did was to get my Iceland "Slimming World" cottage pie in the microwave so it could cook, and then have plenty of time to cool down before I ate it. Once it was in the microwave I threw the empty wrapper in the bin. This reminded me of two things. Firstly that the bin needed emptying, and secondly that it was really stinky from (I think) rotten fruit peelings. So I pulled the bin liner out, and went to the front door to go out to put it in the wheelie bin. Until I opened the front door I had no idea it had started raining - and by raining I mean there was a torrential downpour ! There was nothing for it but to grit my teeth and dash out to the wheelie bin. It was all of three feet from shelter, but in the 3 seconds it took me to dispose of the smelly bag I got half soaked !

Yesterday evening passed very quickly, and that is surprising considering I got really peeved when I turned on the TV when I sat down to eat my dinner. On BBC1 there was a special news programme. They were covering our soon to be new dictator, and now current prime minister, Theresa May' s visit to the Queen to be invited to be prime minister (or whatever). As far as I could see, as I channel hoped back and forth between BBC1 and Dave, which was showing a repeat of an old Top Gear, the BBC's coverage was mostly aerial views of Buckingham Palace, and views of bored, fidgeting journalists outside 10 Downing Street. It all seemed very pointless, and doubly so considering it was inevitable that it would all be shown over again on the following programme - the 6pm news ! I was so pissed off that I turned off the TV before the news even started - so I will admit that I am guessing that the exciting views of the roof of Buckingham Palace were shown all over again, but experience suggests that it was very likely.

I tried to amuse myself reading stuff on the internet, but that didn't seem to satisfy. So I plugged in my digital TV dongle to my PC and tried to watch a bit of TV to staunch the boredom. The best I seemed to find was an ancient episode of M*A*S*H, but I could only stand about half an episode of that before shut down the TV application, and pulled out the dongle again. The next thing I did was a very valuable thing to do, but it only amused me for a few minutes. I plugged in my back up drive, and started a full back up of my home partition. That took about 90 minutes, and during that time I lay on my bed reading. I don't know why I didn't do that in the first place instead of getting pissed off with politics saturated TV.

Finally the back up was finished, and it finished at about the right time to turn off the lights, and go to sleep. It doesn't feel like I slept well last night, and yet as nights go it seemed little different to others that have seemed to have been good. One unsatisfactory thing, although unrelated to any possible negative physical things, is that I can't remember anything about a dream I had - and it was a good one - I think. All I remember was it was another dream that referenced another dream, but equally it could have been a dream about dreaming a dream that referenced an earlier dream. The trouble is I just don't know, and that's annoying.

I do remember one dream, or some of the collection of fragments that made up what seems like a longer dream. It concerned yet another variation on a common theme for my dreams - being at a railway station. In this dream the station could only have been Elmers End station because I was waiting for my friend Jodie to arrive from Hayes (Kent) station, and that was just a couple of stops up the line. If it was Elmers End station then it was very different to the one we know and love. For a start it had 6 platforms, and platform 3 had a gents toilet on it. I know this because I had secured my bicycle to a bench seat in it (? !). While I waited, one of the station staff at the ticket barriers demonstrated that if I kept presenting my 60+ Oyster card to the card reader fast enough it would generate an interesting error message. It did, but I have no idea what that error message was.

That may have been the point when I woke up at 4.50am - 10 minutes before my alarm was due to go off. I didn't seem to feel too bad when I woke up, but it wasn't long before I began to feel rough. I have a vague recollection of turning over in bed, and my chest going crack. So it seems my short run of feeling passably good has ended. My chest feels a bit sore and crunchy, and other bits of me don't feel too good either. I haven't really noticed it since I started to walk to the station, but my left side shoulder blade seemed very stiff and cranky, and to a lesser extent the same was true for lots of bits of my back. In some ways my whole torso seemed to ache, or perhaps was a mosaic of little aches and pains - mostly very mild, but cumulatively annoying.

Maybe the most painful thing this morning was my left nipple ! I know exactly when it started - it was 10ft after the railway bridge adjacent to Earlsfield railway station. I have no idea when the pain stopped. I think I was distracted from the pain when crossing the road 50 yards further on, and it sort of disappeared then, but for 30 (?) seconds it was really quite unpleasant. The second most painful thing was less painful by at least a factor of five, and it was my right foot. The pain has slowly been getting less and less over the last couple of days, but it is still strong enough to be very annoying.

It seems I am not in a good way this morning, although while I am sitting here writing this I don't feel too bad. Maybe some beer would help, and seeing as it is Thursday I can give it a go tonight. The Thursday Club is drinking in Beckenham tonight. It's not the most convenient pub to get to, but it's not that bad. The first time we met there I was able to walk from the station at the height of my angina, and it didn't kill me (although maybe it got close). Getting home again is easiest by bus, but if the traffic is not too bad it is not a terrible journey.

Wednesday 13th July 2016
07:40 BST

There's no doubt about it. Yesterday was wet. Wetter than the forecast suggested it would be. It rained in the afternoon. Stopped for 5 minutes to get it's breath back, and then rained while I went home from work, and it rained a little while after that too. After a longer pause to recover it's strength it rain in the night too. In fact it might have only just stopped when I woke up at 5am this morning. The only other thing to say about yesterday is that it wasn't cold, but I could also add that it wasn't warm either. It is possible that the temperature slightly exceeded the miserable forecast for just 18° C, but if it did it wasn't by much. This morning it is cloudy but bright. There is no rain, but there is a bit of a breeze that makes it feel a bit chillier than 13° C could feel. The forecast says that it should stay bright with sunny periods until midday. The afternoon will be more overcast, and it will rain at 5pm. I will be home by then, but I would not be surprised if I ended up going home in the rain. The good news is that the sun will be out again at 9pm - just 12 minutes before sunset at 9:12pm tonight ! Once again it will not be a very warm day, but it may be whole degree warmer than yesterday !

Not a lot happened at work yesterday (literally !). I felt generally OK, but I felt better still when home time came around. One thing that did happen was my bi-monthly 1 to 1 meeting with my manager. I try to distract him from talking about work when I can, and one of the diversions, although work related, was about holidays. I asked him what his views were about giving advance notice of days off. He stood by the company rules of 4 weeks notice for formal holidays of over a week, but he said he was quite relaxed about short notice requests for odd days here and there - subject to the immediate demands of the business. It looks like I will have an easier time in future trying to grab those odd days off when the sun decides to shine, and the temperature creeps up towards 30° C - if that actually happens this year, or ever again !

It seems an odd paradox that it can still be very pleasurable going home in the pouring rain, but it was a pleasure. In fact when I consider it, it is probably more pleasurable when it is raining. Generally speaking it seems like a waste of an hour of my life coming to work, and another hour going home again, but I guess travelling in adversity, as travelling in the rain is, is a a bit of an adventure, and adds a little spice to life.....but I wouldn't hope to do it too often !

One of the odd things about yesterday, and maybe the day before, is that it seemed like I had lost a tiny bit of weight - as judged by my trouser belt seeming to be a little looser - maybe a whole eighth of an inch looser !! When I got home I had an insane desire to check this feeling using what may seem like an odd metric - the fit of my red jeans. My memory of those red jeans is that the last time I wore them I was worried about sitting down because they were still rather tighter than I am used to. Some months ago, possibly quite a few months ago, when I felt I had lost a little bit of weight, I tried those red jeans on. I found it was still a mild struggle, but I was able to do them up OK. I think on that occasion I wasn't trying to do them up over a shirt, and I might not even have any underpants on ! Last night I just took my work trousers off, but left everything else on, and I found I could get into and do up those red jeans with comparative ease. They still felt very tight, and I would be reluctant to sit down in them (although I guess I could).

The conclusion I must draw from trying on my red jeans is that although I fail miserably most of the time, my intention to be careful about what I eat must be working. You might think that conclusion might lead me on to be a bit more conscientious about what I ate yesterday evening, but it seems not. I ate all sorts of crap, and maybe I can feel it this morning. Maybe tonight I might do better, or maybe I will do worse. I intend to buy some more "Slimming World" ready meals from Iceland on my way home. By themselves they are harmless, and probably beneficial to the cause, but I'll probably buy some other crap while I'm in Iceland.

In between eating and sleeping I finally knuckled down and finished editing the last of Saturday nights photos of The English Rogues performing in The Black Cat, and I have uploaded them to Flickr - https://www.flickr.com/photos/135353558@N03/sets/72157670887753496/ Some of them look very sharp, and mostly grain free, but I am still not happy with them. I think it is the harsh LED lighting in The Black Cat that is to blame. I would prefer tradition tungsten lighting, but I guess I should rejoice that at least it is nice and bright, and that makes taking these pictures much easier than in some gloomy venues.

I am at a loss to explain what has happened to me, but it seems that I have slept quite well again, and once again I feel good enough to believe there is a fair chance I'll live through another day. I wonder if those antibiotics I had for my chest infection cured something else too. The most significant improvement seems to be that my chest, or more particularly my "twisted rib" seems to be behaving itself rather well recently. I still get the odd click, pop, or other unpleasant sounds from my chest, but rather less so than was the case a month or two ago, and likewise, I still get the odd ache here and there, but a lot less than before. How the antibiotics could help my mangled rib cage is a mystery to me, and I suspect it is just a coincidence. Unsurprisingly, they haven't done much for the other creaky bits, and I doubt anything can cure the results of 60 years of abuse to the human body. I'll just have to live with the slow decay as bits rust and fall off at the roadside.

Tuesday 12th July 2016
07:36 BST

Yesterday had it's moments, but I think it has to be recorded as a rather dull and sometimes wet day. There were some sunny periods, but they were mainly in the morning and late evening. Most of the longer showers were early in the afternoon. By the time I was going home they had become very short lived. For instance there were two distinct showers while I waited for my train to Catford Bridge on Waterloo East station. Perhaps the one redeeming factor about yesterday was that it wasn't too cold, and it wasn't too warm. I don't think I bothered to check, but I guess it was around 20° C when I was going home. Had it been any warmer it would have got unpleasantly sweaty under my plastic raincoat.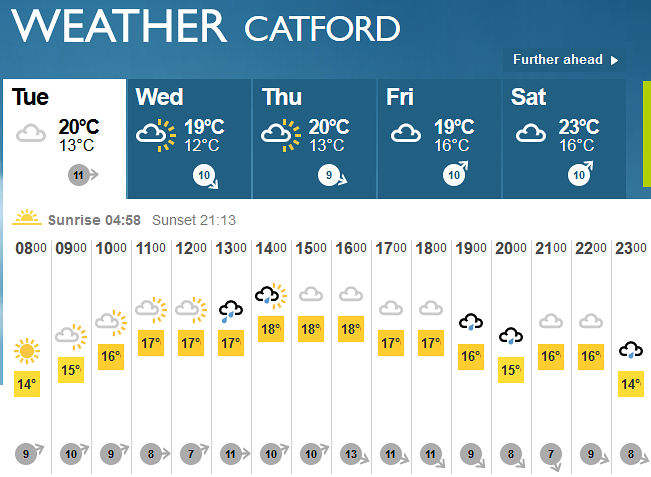 I'm not sure what to make of the forecast for today. At least it is sunny this morning. In fact it is very sunny. You could mistake it for a summers morning, and if it was like it all day it would probably end up lovely and warm, but this screenshot of today's weather forecast kills that illusion ! If it holds true than I will stay dry when I go home from work, but it is not looking like a very inspiring day. I note that the forecast for Friday has changed a lot in the last 24 hours. It was shown as a great big bright sun instead of a grey cloud, and I feel sure that it was forecast to be a lot warmer than 19° C. I'm glad I've left it too late to book a days holiday on Friday like I had originally intended to do.

Things don't always turn out like you expect - sometimes they turn out better. I think I mentioned that I was going to go to my favourite second hand shop after work to look at a camera lens. That place is nearly opposite the local Wetherspoons pub. Normally that would be of no particular interest, but on my way home I got a phone call from my friend Kevin, and he enquired if I would like to stop off for a quick drink. That was handy because I could kill two birds with one stone.

First of all I went to the shop to test the lens on my camera, and it worked perfectly. So I bought it. It cost £60, and I think that was a very good price for a genuine Nikon lens. The only small issue is that the spec on the lens is not very different to a Tamron lens I bought for my Nikon camera. I took some test shots last night, and I can't decide which is the better lens, but I think I lean slightly towards the Nikon lens.

I took those test shots late in the evening. Before that I did other stuff. Despite not eating for almost 24 hours, and even then only eating fairly lightly, I joined Kevin for a couple of pints in the Wetherspoon's pub. The strange thing was that I didn't particularly feel hungry, but I decided not to push my luck and have more than two pints. I still didn't feel very hungry after I got home, and maybe I might have ended up eating less if I had more control over habit. In the strange topsy turvy world of my digestive system it wasn't until I had eaten that I felt hungry.

I ended up having two Iceland "Slimming World" ready meals, and that wasn't so bad, but I also had some nibbles while I was waiting for the ready meal to cook in the microwave. The "nibbles" were some olives with feta cheese, and some sun dried tomatoes with mozzarella cheese. Neither of which are noted for their low calorie content ! Oh well, my trouser belt still feels loose this morning...

I had originally intended to finish editing the pictures I took on Saturday night, and to upload them to Flickr last night, but there wasn't time for that. In fact I am not sure where all the time went. Buying the camera lens, and spending some time in the pub meant that I got home a couple of hours late, and that used up half the evening. I guess I spent a fair time taking test shots to compare lenses. By 8.30pm it was too late to do any more, and I went to bed to read for a while. I think I turned out the light a little after 9pm, and I think I fell asleep really quickly.

As far as I can recall, I slept quite well last night, although in the short pause I took to thank about that I yawned twice ! I guess there is always a desire for more sleep ! This morning is like the last few mornings - I feel perfectly normal (with the caveat that this is the new normal and not the old normal). In other words the bits that normally ache are aching, and the bits that creak are creaking, but that seems to be life as we know it now. I should probably concede the point that these aches and creaks are very mild recently, but they are still there. My main discomfort at the moment continues to be the lump/callus/scar/hernia/cancer/bump/.......painful area on the sole of my right foot. It comes and goes, and if I am lucky it is not my imagination that it seems to be going this morning.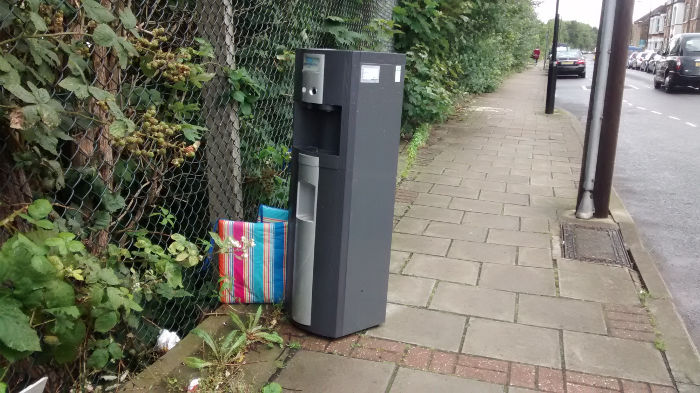 You see some strange things dumped on the road to the station. This water cooler appeared yesterday morning, and I took this picture on my way home yesterday. I can only speculate that the chiller went faulty because otherwise it looks to be in good condition. If it was the chiller than failed I would have thought it could be repaired easily enough, but maybe not. There were nicer sights to see this morning on the same road....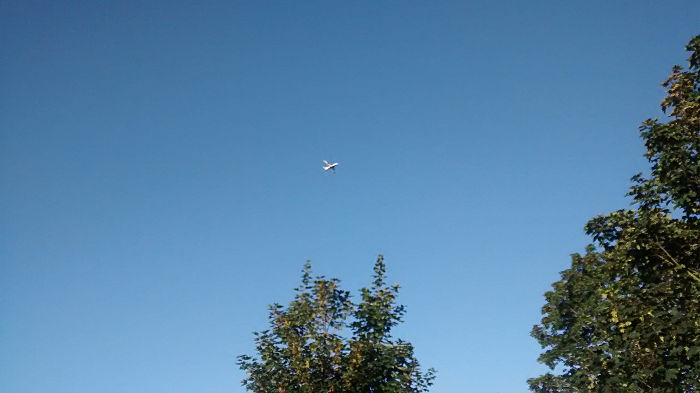 The only significance of this picture is that blue sky. Doesn't it look wonderful ! It's a shame it is now clouding over, but it made coming to work a much more pleasant experience.

Tonight I had better try and finish my photo editing, and get the results uploaded to Flickr. Other than that, my only predictions about tonight is that I will eat and sleep !

Monday 11th July 2016
07:44 BST

After a dull morning, and a dull afternoon, yesterday ended with pleasant sunshine. I'm not sure what the highest temperature was yesterday, but I think it was probably around 24° C. The sky stayed fairly clear during the night, and this morning has started bright and rather cool, although much of the coolness can be attributed to quite the wind. That wind is moderately strong, and fairly gusty. Later on today anything might happen. The forecast is changing so fast that it is hard to keep up with it. It's mainly the timing that keeps changing. So when these things will happen is a mystery, but we should see quite a lot of sunny periods, and there will be some showers too. About the best I can glean from the forecasts is that the showers will be at any random times from the afternoon until the evening. I might go home from work today in a downpour or bright sunshine. I haven't even dared to look at the forecast for tomorrow, but the one pictogram for this coming Friday shows a huge great bright sun. I must see if I can wangle a day off work on Friday !

I couldn't put it off any longer, and late yesterday afternoon I finally got down to editing the photos I took on Saturday night. I managed to get through about two thirds of the huge amount I took. Maybe tonight I will finish the job and upload them to Flickr where they can be viewed in all their glory. In the meantime, I did shrink one down so it can be shown here.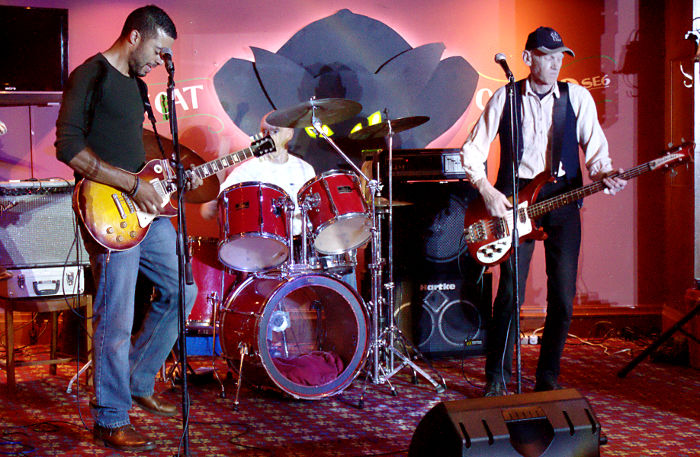 I don't think I managed to take a picture that included good views of all three musicians. Dan, on guitar, and Gerry on bass guitar were easy enough, but the drummer was always partly obscured by his own kit, and in this picture by Dan's guitar headstock as well ! Oh well, I did manage to get a few passable shots of the drummer to include in the full photo album.

One thing still bothers me about all those photos I took, and that is the high levels of noise, or grain. It is not so apparent when the photo is shrunk down like the one above, but it spoils the full resolution images. I feel sure that it is caused by the harsh LED lighting that is becoming the norm now. There were some pictures I took some weeks ago of Chain performing in The Swan at West Wickham, and despite the lighting being dimmer, they are less noisy. The only reason can be that the lighting was traditional PARs (Polished Aluminium Reflectors), and they use tungsten filament lamps.

I have a feeling that my Nikon camera is less noisy with LED lighting, and I think I am going to have to do one of two things to prove it. One thing is to get the faulty lens I bought repaired. If I can get it repaired by Sigma at their quoted rates I will have a very good lens to work with. I probably ought to get that sorted out soon. The second thing I could do is to invest in another lens. The only problem with that is that large aperture lenses, like the one I use on my Canon camera, are rather expensive for a Nikon - rather expensive indeed ! On the other hand there are still bargains to be found - maybe. I noticed my favourite second hand shop has a Nikon zoom lens in the window for just £60. If it works, and I will be more careful about testing it in the shop this time, it might be a useful addition to my photography arsenal. Maybe I might go and check it out after work today - if it's not pouring with rain.

It was getting quite late - 9pm - when I decided I had had enough of photo editing last night, and I was in bed soon after that. I didn't think I felt that sleepy at first, and I read for half an hour after getting into bed. Maybe I was mistaken about not feeling sleepy because I was fast asleep minutes after putting down my book, and turning out the lights. I guess I slept quite well. Sometimes I had doubts I was sleeping OK when I woke up a couple of times in the night, but each time I awoke I was only awake for a minute or two. Perhaps the weirdest time was when I woke up at around 4am. I was feeling cool, and wrapped the duvet around me a bit tighter. As I did that I laid there thinking that after a few minutes I would be too warm. I am not sure I finished that thought before I was asleep again. the next thing I knew was that my alarm was sounding.

This morning I feel quite normal. I have no particular noteworthy aches and pains - just the usual ones. One odd feeling is that my stomach feels flatter. A quick glance in the mirror would prove it was anything but....but the mind plays tricks sometimes. Maybe on this occasion it is less than a 100% mind trick. My trouser belt does seem a fraction slacker than usual. This is, of course, completely impossible because I ate all sorts of crap yesterday. I didn't have one single proper meal, and the closest I came to one was when I sat down with a punnet of over ripe, and starting to deteriorate strawberries, and a large chunk of cheese. The rest of the time I was just snacking - and those snacks included a couple of small tubs of sugar filled ice cream. My eating did include more fruit than just the strawberries - maybe I ate some sort of balanced diet and didn't realise it. It seems very unlikely though !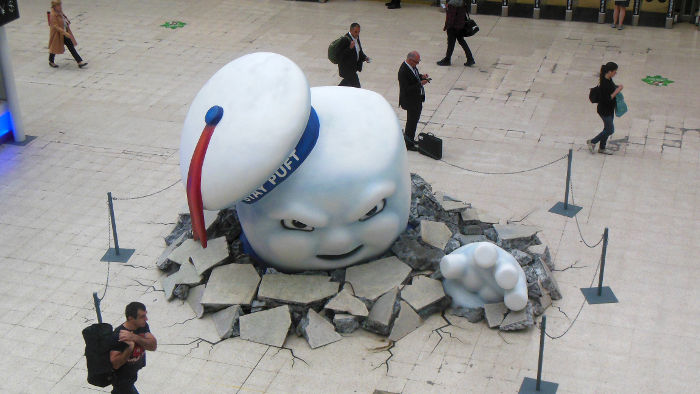 I haven't shown any pictures of stuff happening on the concourse of Waterloo station for some time now. To be honest, most stuff that has appeared there in the last few months has been rather boring. Today was different. This very 3D thing appeared on the concourse this morning. I never saw it up close at ground level, but I am very sure that no matter how it looks, not a single tile has been lifted from the floor to give this effect. It is just an amazing opitical illusion that makes that thing appear to be crashing through the floor.

Sunday 10th July 2016
14:29 BST

It was a pleasant day yesterday, and I seem to recall that Friday wasn't that bad. Friday, after the gloomy start, brightened up, and there were some sunny periods, but I don't recall there being enough sunshine for it to be notable for it. What it was notable for was that it was mild enough to have my office window open all day. There was more sunshine yesterday, but once again it was more a selection of sunny periods than prolonged sunshine. It was another mild, going on slightly warm, day, and it seemed particularly mild, and sort of nice when I walked home from a gig at midnight. I could see many stars between large gaps in the clouds, and the air had a sort of pleasant soft quality about it.

Sometime this morning there must have been a shower, although the only evidence of it was the path looking rather damp. Most of today has been overcast, but it hasn't been cold. On a rare few occasions the sun has managed to peep around the clouds, but only for a minute or so. It is forecast to start brightening up around now, and it is possible the last few hours before sunset could see some non stop sunshine. Tomorrow could be a nice day if only it doesn't rain. The forecast says there will be a fair bit of sunshine, but that it will also rain. It will only rain for a short time, but that time seems like it could be just as I am going home from work !

I went into Iceland on my way home from work on Friday. I bought a similar selection of stuff to that which I think I described in the middle of last week. One difference is that I did not buy a big tub of ice cream, but I did buy several ice creams in smaller portion, and so far I have managed to eat them sparingly instead of a gluttonous overdose from a big tub !

I didn't do anything notable on Friday night, or at least nothing significant enough to remember. I can't even remember how well I slept. That probably indicates it was a reasonable nights sleep with no dramas, or anything negative that might be worth remembering. I do remember waking up feeling just moderately bad - or in other words, completely normal as judged by the new standards !

I saw my friend Aleemah yesterday morning, and that meant I had the pleasure of a single pint of beer (as two halves) for breakfast. After that we watched a DVD together. Just for an incredibly rare change it was one of my DVD's (although it was actually chosen by Aleemah). The movie was called Evolution, and it was a comedy sci fi movie. I had bought the DVD the previous Saturday from the Pound Shop, and it was enjoyable enough that I would have paid double that for it ! One peculiar fact was that I had seen the ending a couple of times when TV channel surfing, but had no idea it was the same film until the last 10 minutes - the bit I had seen before.

After Aleem went home I did some laundry, and then I did some intensive resting to prepare myself for what turned out to be a rather good gig last night. It definitely helped that I didn't feel awful before going to the gig (like I did the previous Saturday), and it definitely helped that the singer didn't sing out of tune all the time !

The band were The English Rogues, and although I had never seen them before, I had seen Dan Murphy the lead guitarist play in a couple of other bands before. He is a very talented guitarist, and he is also a showman. It's not always easy to capture the best bits, but he is a great subject for photography. I took a stupid amount of snaps last night, and I have just about whittled down my selection to about 50 good pictures, and I might try and reduce that down to something like the very best 20 - the less people see my complete and utter failures the more they believe I am a good photographer !

One thing I tested last night was the video function on my Canon DSLR. Until last night I was not even sure how to use it, and I think I used it just on the default settings. Videoing a 5 minute sequence used up a whole 2 Gigabytes on my memory card, but the results were very impressive. The video resolution was super high - higher than I can easily display ! The most impressive thing was they way it recorded the sound. It was really hi-fi, and sounded just like it did at the gig. Unfortunately there is no way I can show it here in high resolution, and with perfect sound, but after wasting lots of time trying different encoding settings, I think I can give a small taste of The English Rogues covering Purple Rain.

Other nice things about last night were that there were several people there that I know. They included my old friend Kevin, Rod Tidman - a good source of photography tips, Dylan Tidman, Rod's son, and very good drummer, and also Chris (as in Christine rather than Christopher). Maybe some rumours were started when we left the pub together at the end of the gig, but it was innocent. I gave her an escort to her car through the wild (but actually calm and quiet) streets of Catford. The other good thing was that Richard, the pubs second in command (I think) bought me a drink for all the good work I do in promoting the pub and gigs - they use a selection of my pictures.

It was probably gone 1am when I went to bed this morning, and for several hours I slept really well, but my internal alarm clock still woke me just before 6am. I would probably have been a bit late going to work if I had to relay on it, but not that late. I had little choice but to get up and do the usual morning things - go to the toilet, check my email, go to the toilet again, check a web page or three, etc, etc. After a couple of hours I went back to bed again. I'm sure I didn't sleep much, but I suddenly noticed it had gone 11am !

Since getting up then I seemed to have been glued to my PC. I've edited the English Rogues video, and tried saving it using lots of different settings, and I've reviewed all the pictures I took last night. Now I have written this, and it feels like my eyes need a rest. Maybe in an hour or two I will start editing all those photos. Most will end up on Flickr, but I might have a few to shrink down to show here tomorrow....although I don't feel that enthusiastic about photo editing at the moment - hopefully I will later on.

Friday 8th July 2016
07:36 BST

Yesterday was the one day of the year when I wouldn't have minded if it had been heavily overcast with thick black clouds covering the sky. Instead, like a lot of the day, it was bright and sunny. Occasionally a few clouds would block the sun, but they didn't stop it being bright, and they were not rain bearing clouds. Maybe it was just a very local thing, but all my thermometers seemed to agree the temperature reached a very nice 24° C. That was 3 or 4 degrees higher than forecast. Today is not forecast to be similar, but it feels like it could be. Yesterday they said there would be rain this morning. Yesterday evening they said there would be less rain this morning, and this morning they say no rain, but it will be very cloudy. It's not exactly sunny this morning, but I can see several large areas of blue sky as I write this. The thick black clouds are forecast for a little later this morning, and maybe they will appear. The amount of sunshine in the afternoon has decreased with every revision of the forecast in the last 24 hours, but at least some sunny periods are still forecast, and once again it should be fairly warm - perhaps 23 or 24° C by the time I leave work to go home.



The big thing yesterday was my annual diabetic eye check up. It's done in the hospital, and the first step in the procedure is to be given eye drops. These are squirted in each eye, and they dilate the pupils to the size of dinner plates. It takes 15 to 20 minutes before the pupils are fully dilated. Once they are nice and big the technician can used a specialised digital camera to take pictures of the back of the eye. To get good clean pictures flash photography is used - straight into the eye !

After this is done you are free to go home with purple and green after images floating about in your vision, and your pupils so dilated that it is difficult to focus on anything small, and the eyes so sensitive that white cloud looks like an arc lamp !

As I walked through the park it was nice when under the shade of some of the big trees, but there are not many of them. As I popped out into the harsh daylight again I tried to take a selfie to show what my eyes looked like with the pupils very dilated, but the light was so painful that I could not force my eyelids open enough to reveal my eyes. You can just see a glint in my eyes from how much they were watering when I took the picture on the left.

It probably sounds pretty terrible, but really it's more an inconvenience than a pain...although having said that, I did develop a bit of a headache by the time I got home. The good news, although it's only preliminary good news, is that the technician said he could see no obvious problems when he took the briefest of looks at the photos he had taken. In the past some technicians (they are not nurses or doctors) have zoomed in on the images, added false colours, and other tricks to give a more informed, but still informal, diagnosis. The real diagnosis is done by an expert, and I'll get the results in a week or two. The usual result is "we can see something, but it is very minor, and we will recheck it next year". Once they thought they saw something a little bigger, and I was rechecked 6 months later as a precaution, but as always they can never find the same thing twice. I think there is a fair chance I will be OK again this time too.

Apart from recovering from the eyedrops, the entire procedure probably used up less than an hour of yesterday. That left me free to enjoy my day off work. In the morning I took a wander around the Sam 99p shop. As usual I bought some good and bad crap. I can't think of anything of particular note that I bought in there - it was mostly household cleaning stuff. I did buy a spare pot of Aloe Vera moisturising creme for a use that I'll explain soon. The other joy of yesterday was a brief visit from my friend Patricia. I hope I was able to cheer her up a bit because she is not happy about BREXIT. This could be the last time she is in the UK on, what is in effect, a working holiday if we do end up leaving the EU.

Yesterday I made a discovery. Well, perhaps not a discovery, but I added 2 and 2 together and came up with 5 ! I have mentioned that I have been suffering from a sore lump/callus on the ball of my right foot, but what I don't think I've explained in detail is what I have been doing about it. In the past I have discovered that moisturising my foot helps, or appears to speed up the process of flattening out that lump/callus. Yesterday I did what I have done in the past, and very liberally smeared moisturising creme all over my foot, and doubly liberally on the ball of my foot. I put on enough to squelch when I walked (for a couple of paces). This is in accordance of the theory that if a thing is worth doing it is worth over doing !

It did indeed help to make walking less sore yesterday, and the effect continues today. The only problem might be that I used some Chinese made strawberry flavour moisturising "gunk" that I bought in one or other of the £1 shops. It smells delightful, but is a little too greasy to use on many parts of the body. However it is fine on feet, and makes them smell delightful (probably). It all sounds too good to be true, and maybe it is. I have moisturised my feet many times in the past, but only twice using this strawberry stuff in heavy quantities. I can't be 100% sure, but I think on both occasions I developed stomach ache - or an ache in the stomach area. I am not sure it was anything to do with my my stomach or digestive system. If I really strect6ed my imagination I could almost believe that it was my liver complaining that it was working hard breaking down some toxic substance absorbed into the body via my feet from the strawberry flavour moisturising creme. I'm going to use Aloe Vera moisturising creme, made by a completely different manufacturer, the next time, and see if that has any negative effects. In fact I splodged some on this morning, and so far I feel OK.

It felt quite warm when I went to bed last night, and initially I left my bedroom window open. Usually that would be fine. It is generally fairly quiet where I live, but sods law dictated that last night was the one night when a (presumed) police helicopter decided to hover over the neighbourhood. So I got up and closed the window again. I fell asleep quite quickly after that, and apart from waking up feeling rather cool, and having to pull the duvet over me at about 2am, I slept quite well last night.

This morning I have come to the conclusion that I feel rather good. This is of course the new version of good and not the old version. The version of 10, 20, 30 years ago felt much better, but how I feel this morning seems like the new average. Basically, nothing hurts too much, and most bits of my body seem in fair working order. It even seems I can get a few more years of life out of this battered crock of a body. It would be nice to feel like I did many years ago, but I guess that is never going to happen again until I am so senile that I don't even realise that I am painfully creaky.

What am I doing tonight ? I have no idea apart from a feeling that I might go home via Iceland to buy a few more of their "Slimming World" ready meals. It seems unlikely that the few I have eaten recently have made any difference considering the crap I have eaten with them, but on the other hand it does feel like my stomach is bulging less. My belt is no looser, but maybe my gut is microscopically flatter above it, but that is real "clutching at straws" type of stuff. I expect I'' buy and eat a fair selection of crap tonight, but I am determined not to fall into the trap of buying any ice cream again !

Thursday 7th July 2016
12:17 BST

I'm desperately trying to remember if it was sunny yesterday afternoon. I recall it getting very warm in my office, and I recall my newspaper seemed dazzingly bright when I was trying to read it while waiting for my train at Waterloo East. I guess it was sunny, and I seem to recall that I noticed 24° C on two of my outside thermometers when I got home from work ! It seems we had another summers day ! This morning has been bright with some nice sunny spells, and the temperature is now creeping up to 22° C or more. This is not what the forecast lead me to believe yesterday ! The most recent forecast, made just 10 minutes ago, says we are about to lose any sunshine except for a random brief sunny spell, and the temperature will top out at 22° C in an hour or two. It all goes wrong tomorrow morning. Most of the morning is forecast to be rather cool and rather wet ! It will warm up to about 21° C late in the afternoon with the help of some sunny periods.

Work passed without incident yesterday. I felt mostly OK most of the time. I accomplished a few useful things while I was there, but it was still a relief to be going home at the end of the my working day. My only problem at that point was that my right foot was feeling rather sore. It was the old war wound, or whatever it is. I have a funny feeling that sometimes this particular ailment affects the other foot, but yesterday it was my right foot. There is a lump that's not actually a "lump" on the ball of my foot, and it was feeling very sore as I walked to the station (there is never a bus when you actually need one). That lump is part callus, and may be part scar tissue from a 50 year injury to my foot (I stepped on a very long rusty nail !).

Once I started walking the pain reduced, but never went away, and was always worst after resuming walking after a rest. It made me a bit keen to get home without any delays, but there was one delay. I had to stop to take a picture.....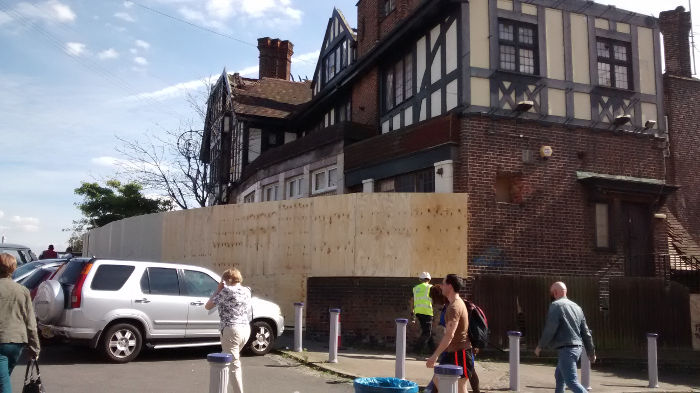 This picture shows the burnt out shell of the old Catford Bridge Tavern. As I came out of Catford Bridge station, on my way home from work, I noticed that new boarding had been erected around part of it (and maybe more has been erected since). The place has been sitting there with very little change since it "accidently" caught fire nearly 2 years ago. It now looks like something is happening, but what ? One person commented that they would have expected scaffolding to go up if refurbishment was taking place, and this boarding looks more like demolition will be taking place. Promises were made that it would be restored to a working pub, by Xmas this year, but that seems very unlikely.

I did my best to eat less last night, and I did eat less - but not much less ! The main course of my dinner was a chicken and spinach curry from Iceland's "Slimming World" range, and so should have theoretically been OK. For sweet I had a punnet of strawberries that I had bought from Iceland. They were a fair bit smaller than the strawberries that Aldi have been selling, and they were very much nicer.

After dinner I tried to amuse myself with some TV, but before long I was on my bed reading. It seemed too warm to get into bed when I finally turned out the light, but a few hours later I woke up feeling cold, and had to pull the duvet over me. I think I slept reasonably well last night, but the cream on the cake was being able to ignore the alarm, and get an extra 90 minutes in bed. I guess I must have need it.

That extra sleep may have made me feel a bit more creaky this morning, but I don't feel too bad - except for my right foot. That is not as bad this morning, but it is still sore. It didn't impede me going out to the 99p shop, although maybe it slowed me down. I am currently waiting for a visit from my friend Patricia who will be popping in any minute now. Later on I'll be at the hospital for my annual eye check. I don't know what I'll be doing after that. It depends on how quickly my eyes recover from the eye drops. All I do know is that I am back at work tomorrow.

Wednesday 6th July 2016
07:56 BST

Yesterday afternoon actually felt like summer ! After a very dull morning it was very nice to see the sun breaking through the clouds. By the time I left work to go home it was not only nice and sunny, but it actually felt warm. I am unsure of the exact temperature, but I wouldn't be surprised if it wasn't slightly higher than the 20° C forecast. It was a relatively clear night, and this morning the temperature had dropped to around 12° C. That felt a bit cool without a coat on, but it was, and will continue to be for the next couple of hours, a bright sunny morning. What happens after that is in the lap of the Gods. The forecast can't seem to make up it's mind about how much sunshine there will be this afternoon. Unfortunately the most recent forecast says no sunshine at all ! It seems that the best we can hope for is it just being lightly overcast, and maybe as a special treat there could be a short sunny spell. At least it should stay dry, and it will probably be as warm as yesterday - although without the sunshine it may not seem to be as warm. At the moment tomorrow is forecast to be overcast, but dry with a warmish afternoon.

I guess I didn't feel so bad at work yesterday - and that is even taking into account trying to cut the end off my finger with a scalpel accident ! Well, at least I know that there is a good blood flow to my right ring finger ! I think I feared feeling tired during the day, but apart from some yawning while I was writing about it (as is happening right now) I didn't seem to feel sleepy at any particular time.

No matter how good the day was, it is still a pleasure to go home again. With bright sunshine, and a warm feeling breeze, it was a very pleasurable pleasure to go home last night. (Pleasurable pleasure - what language is that ?). The walk to the station was not a pleasure. It never is, but it didn't seem particularly taxing in any way. The same was true of the other bits of my journey that involve some physical exertion.

It was no ordinary journey home yesterday. I took the unusual step of calling in at The Black Cat on my way to Iceland (the supermarket). I had a pint of Guinness in the pub, and I was hoping to talk to the landlord Dave, or his sidekick Richard, but neither was around while I was in there. So it was on to Iceland where I bought a few of their "Slimming World" ready meals, and a few other bits and pieces - including some plain vanilla ice cream. The latter was a bad mistake.

When I got home I shoved a "slimming world" meal of beef stew with vegetable mash in the microwave to heat while I got changed, checked my email, and a few other things. While I did that I dug into the ice cream, and I ate rather a lot ! I must have really shocked my pancreas with a mega dose of sugar. I didn't bother to check my blood glucose level, but I assume it has been quite high since, and yet I don't seem to have noticed any symptoms from it. I haven't been peeing more, and nor have I been sweaty - both classic symptoms of high blood glucose.

One potential symptom that may be related to what I ate yesterday evening, although I have no idea what or how, is that my sleep was spoiled last night by several episodes of painful cramp. I think there were three episodes in the night when I woke up and felt the muscles in one or the other calf muscles begin to painfully contract. The only relief I know of is to jump out of bed as fast as possible, and put some weight on my legs, plus a little pacing up and down by my bed for a few tens of seconds.

I don't know how much sleep I lost because of those cramps, but I guess it was a lot less than it might have seemed in the middle of the night. I know that a little bit, possibly only a minute in reality, was taken up by a very complicated dream involving bicycles. These were no ordinary bikes though. They were motorised in a way that I can't explain because I can't remember enough of the dream. There were two versions, and the smaller was capable of getting to Hong Kong (at least I think it was Hong Kong), but there seemed to be no indication of a starting point. Starting from Catford would mean cycling across a lot of ocean - something bikes are not generally noted as being able to do that well !

This morning I feel - predictably - both good and bad. Most of me seems to work quite well, and my commute to work was very averagely horrible, and averagely not terribly taxing. My right thumb is only moderately tender after the accident I had popping a low dose aspirin out of it's carrier sheet the night before, and there doesn't seem any bruising under the nail. The finger I cut with the scalpel yesterday is healing OK, but is a bit sore if I do anything stupid to it. My chest doesn't feel particularly crunchy this morning. Perhaps the most significant thing to moan about (and there always has to be something to moan about) is some stiffness from the muscles that suffered cramps in the night, but that stiffness doesn't seem to have slowed me up. It all sounds like I should be feeling quite good, but I cannot seem to throw off the old and creaky feeling.

Tonight I have no plans at all. As far as I know I'll be going straight home where I'll be bored all evening - maybe ! Something is happening tomorrow. It's my annual diabetic eye check, and I have taken the day off work for it. Unfortunately the appointment is for mid afternoon. Had it been in the morning, like most past ones have been, I would have come back from the hospital, allowed a few hours for my eyes to recover from the drops that dilate the pupils, and then I could have done something useful maybe. Tomorrow I will have to invent something to do that won't hinder me getting to the hospital on time - in other words I can't do anything nice like go to the seaside. The good news is that it is likely to be overcast in the afternoon, and so I won't be too dazzled when I leave the hospital with the pupils in my eyes dilated, and the whole world looking like a painfully over-exposed photograph !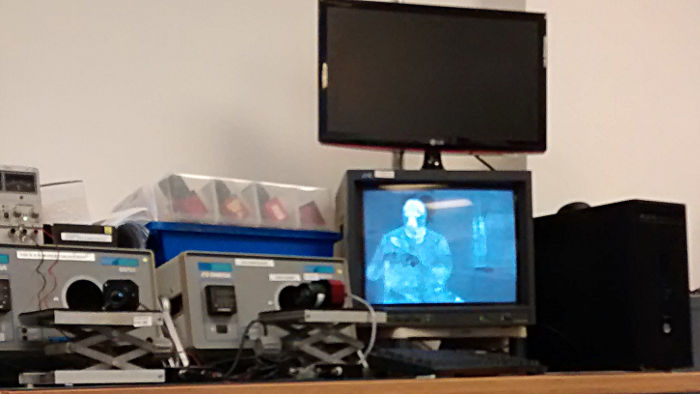 For some time now I have been trying to take a good representative picture of myself taken through a thermal imaging camera. Unfortunately most efforts fail because it means taking a picture of a flickering 14 inch CRT monitor. In the rather pointless picture above you cans see a blurry image of me on the monitor. In fact the whole picture is blurred because I suspect my mobile phone camera recognised a CRT monitor, and went for a long exposure to cancel the frame rate flicker. The long exposure has almost certainly caused blurring because of camera shake. I really must give up trying to get a thermal picture this way, and explore better ways of capturing the image.

Tuesday 5th July 2016
07:54 BST

I enjoyed the morning sunshine as much as I could while being indoors yesterday. The afternoon wasn't so good, but maybe it wasn't quite as bad as I thought it would be. I have a vague recollection of seeing 27.338 seconds of sunshine on my way home from work, but it might have just been my imagination. At least it wasn't cold ! Then again it wasn't exactly warm either. I think the forecast of 20° C was probably about right. It is going to be 20° C again today. An earlier weather forecast said today would start off sunny again, and that was true for maybe half an hour soon after sunrise, but while I was looking forward to coming to work in sunshine, reality stepped in. The forecast changed to overcast, and heavily overcast for a couple of hours later this morning, although I would say it was heavily overcast as I came to work. The sky looked really dark and threatening, but it stayed dry. The revised forecast says it should be a dry day, and this afternoon should see some sunny spells. Tomorrow is currently shown as starting sunny, but the afternoon will be overcast. It might be a whole degree warmer tomorrow. I wonder what reality will bring ?

I reported that I didn't feel that good yesterday morning, but fortunately that didn't last, although some of the symptoms never went away completely. Most of the aches dissipated during the morning, but my chest still felt a bit crunchy. By the time I left work to go home I was feeling rather good in many respects. It was one of those occasions when my legs seemed to be working rather well, and my chest didn't feel congested...well not much. I'm not sure when it started so I can't be sure it was what I think it was, but I seemed to develop a sort of sore throat, and my nose was itching like crazy. I became more acutely aware of it while waiting for my train at Earlsfield station. There was a very powerful smell of privet hedge wafting over from the other platform. It seems I might have an allergy to privet pollen !

A bit of a sore throat, and an itchy nose didn't seem to stop me feeling almost energetic when travelling home. The walk from work to Earlsfield station was just as tedious as usual, but mostly effortless. The walk from Waterloo to Waterloo East station seemed just as effortless, and while walking from the station to home I was able to push myself to walk a little faster than of late. It did seem that bits of me were better than they have for some time now.

Once I was home I did my best to reduce how much I ate. Of course I mostly failed, but not entirely. I certainly didn't feel I had eaten enough when I went to bed. Instead of feeling full I felt mildly hungry. One way of pacing myself was to do a pile of washing up during the time I might have been nibbling. Another thing was to get away from the TV as fast as possible. I am not sure whether to say the downside of that, or the upside, was that I missed most of the news, and I have little idea what is going on in the world. Sometimes ignorance is bliss.

I think I must have blacked out, or fallen into a coma last night. It is the only way to explain how I managed to do so little in so much time ! One little thing I did was to take my evening drugs as usual. Last night it was not quite as straightforward as usual !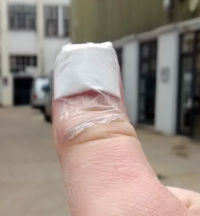 I don't know quite how it happened because it happened so quickly, but as I tried to pop out a low dose Aspirin tablet from the sheet they come on I slipped somehow, and ended up bending the thumbnail in the most painful way possible. It even drew blood ! I have often wondered if all the drugs my doctor prescribes do harm or good, and now I think I have an answer - they do bad !

To avoid further damage (and to stop the small seepage of blood from making a mess) I wrapped up the end of my thumb in some sticking plaster. It's only when your thumb is less than 100% perfect that you realise just how marvellous an opposable thumb is. Cats half rule the world with their psychic powers. If they had opposable thumbs they would be unstoppable ! With sticking plaster around your thumb you find that "easy peelers" oranges aren't, and doing up shirt buttons requires a little extra patience.

One other thing I did last night was to finally get around to uploading the pictures I took at The Life Of Brian and Stardust gigs at The Black Cat pub in Catford. The two gigs were so different. Miranda Bell who sang for Life Of Brian sang well, and filled the stage with infectious enthusiasm. I'm unsure of the name of the singer from Stardust, but I am sure he won't be reading this. So I can say he was bloody awful ! It wasn't just a case of trying to sing a few songs that were out of his range (as happened with Red Post Hill a few weeks back). It was a case of he just couldn't sing. I'm not saying I could do better. He got one note in ten right, and I reckon on a good day I could get one note in twenty right, but at least I have the grace not to impose my caterwauling on an audience ! You'll find the two photo albums (and many more) right here -
https://www.flickr.com/photos/135353558@N03/albums/

When it came time to go to bed I didn't seem to feel tired, and I found that a little strange. I had had a pretty good night's sleep the night before, but I still yawned a few times at work, and assumed I needed more quality sleep. This morning I feel convinced that I need another good night's sleep because it doesn't feel like I slept that well last night. It must have been well past 10pm when I fell asleep last night, and I seemed to wake up quite a lot in the night for no apparent reason (apart from the couple of times I needed a wee). I suppose that some of those times I might have been dreaming I was awake - they do have that fading dream like quality. I was definitely dreaming when I woke up 15 minutes before my alarm was set for this morning (5am).

It seemed to be a quite long, and rather vivid dream. In this dream I didn't seem to live alone, although I'm unsure how many other people lived with me, and who they were. I can't even remember if one of them was a sister or my mum. What I do remember quite vividly is that there were several animals in the household. Most prominent was a small tabby kitten, but there were also glimpses of a lizard or gecko, and most weird of all, a very large, kitten sized, and apparently house trained rat !

Upon waking up I had a strong feeling that I wanted to go back to sleep again. I think it was I felt sleepy, but maybe I just hoped to cuddle that kitten again. With only 15 minutes to go before my alarm would sound it wasn't worth trying to o to sleep again, and so I got up. That gave me a little extra time to get ready for work, and I used it to wash my hair. It was another morning where I felt good and bad. During the night my chest was very crunchy if I tried to sleep on my right side, and it had left a legacy of some soreness, but not enough to worry about painkillers. If I had taken any it would have been for the stiff neck I had. The rest of me seemed in fair working order, and like yesterday, I found walking to be easy still.

I have no grand plans for tonight, but I think I have a yearning to go home via Iceland and buy a couple of their low calorie ready meals that I used to like. I thought I was giving them up for the summer, bus as the weather is no better than spring I might as well start eating them again. Maybe I'll also get some naughty things too - perhaps a 10 gallon tub of ice cream - or maybe not ! To get to Iceland I have to walk past The Black Cat pub. I might wander in for a quick Guinness to have a gossip about the gigs there with Dave the landlord or Richard his assistant if either are around.

Monday 4th July 2016
07:32 BST

I'm sure the weather was more variable than the forecast suggested. I was expecting longer sunny periods, but the sunshine was cut up with periods when it became quite overcast. At least the temperature was as expected - that's to say similar to the forecast, and not what I believe should be expected for July ! I think it was only in the late afternoon that the temperature hit 20° C. I think I could only describe as "moderate" rather than warm.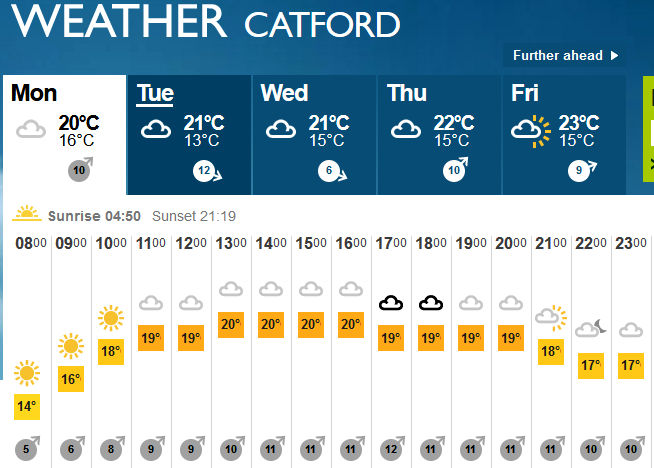 As you can see from yet another shamelessly stolen screenshot from the BBC's website, it is, and will be, nice and sunny for a few hours this morning. After that it will be lightly overcast until 5pm when it will be heavily overcast. It doesn't look like any rain is expected, and once again it will be a moderate 20° C.

I felt rotten yesterday ! I don't think it was one particular malady, but a combination of several. I definitely had some sort of stomach upset that left me feeling bloated, although I think the worst of that was purged in the morning. Then there was probably the legacy of some strenuous hand laundry that upset my "twisted rib", and other bits of my cronky chest. I'm not so sure that I wasn't getting some discomfort from a stomach ulcer to add to the mix too. On top of that, or maybe because of it, I felt really tired. Everytime I laid on my bed to read, or just rest, I dozed off. I was never sure just how long each nap lasted for. I think some may have only been for 5 or 10 minutes, and at other times it could have been for more than an hour.

On the whole it was a bad day, but maybe some of it may have been due to getting too much rest. The time when I felt best was when I did a fast walk to and from the corner shop. It felt good to be in the fresh air, and it felt good to be moving. It didn't cure any of my symptoms, although it might have temporarily reduced them. The more important thing is that it didn't make them worse. I think that tends to suggest that none of the assorted pains in and around my chest, including down into the belly area, were heart related...well not entirely. All I can really rule out is angina. It is still possible that my heart is being eviscerated by Venusian bore worms.

I did my best not to eat much yesterday, and on the whole I did quite well in terms of keeping quantities low, but that doesn't mean I ate healthily. Most definitely not ! I packed all the evil into quite a small little snack. While I was in the corner shop I couldn't resist the idea of some ice cream. I bought not one, but two Magnum ice cream bars. Why two ? Well I think it is because they only seem to be about half the size (and three times the price) than how I remember them to be a decade or two ago. So I packed in a shedload of sugar in a few mouthfuls, but the ice cream did feel good sliding down my throat, and past the site of what may or may not be an ulcer.

It was surprising that after all the sleep I had during the day, including the extra sleep I had in the morning, that by 9pm I was feeling very ready for bed. I can't be sure, but I think I was fast asleep by 9.30pm, and on the whole I slept well until about 4.45am this morning. I did wake up a couple of times in the night to go for a pee, but I had no problem getting to sleep straight afterwards. I reckon I must have been fighting some sort of bug, but not one that gave me any fever this time. I wonder what it could be that is making me so susceptible to assorted diseases recently ?

This morning I feel both good and bad. The sunshine makes me feel good, and the ease that I walked to the station felt very good. The walk from Waterloo East to Waterloo mainline station, which is always a bit of a mad dash, seemed the easiest it has been for a good few weeks now. Even the longest walk of my commute, from Earlsfield station to work, seemed nice and brisk. I arrived at work about 40 minutes ago, and I've been sitting down since then. In that time various aches have started up again. I guess some of the aches from my ribs is due to posture, but I am at a loss to guess the reason for a thick feeling head. It's like a cross between a headache, and a feeling of sleepyness. There is no doubt about it, I am a complete wreck. The only cure can be a long walk in blazing hot sunshine !

I think I might feel a bit hungry today after eating sparingly yesterday. In fact I feel a bit peckish right now. Hopefully any feeling of hunger will dissipate before I get home. I am very much looking forward to going home again, but once there I want to try and eat as sparingly as possible. I think that I might feel better if I could lose a bit more weight. It seems that I have been able to keep it off since I managed to get back into some of my old trousers, but I have achieved nothing for months now. My only fear is that I will be so hungry by 5pm that I will cook and eat a whole horse by 6pm !

Sunday 3rd July 2016
12:40 BST

Yesterday was the best day of the month so far, but with only two days to choose from it wasn't a hard choice to make. It was a bit like summer, but I still needed to put the heating on from time to time. Strangely enough, the most important part of the forecast turned out to be correct. The morning was mostly nice, bright and sunny, and then, just as it was forecast, it started to rain at 1pm. The rain didn't last long, but after that it did seem noticeably less sunny - although there was some sunshine. I think the temperature probably hit 20° C. Today was supposed to be a very sunny day, and indeed it did start out that way, but it has been overcast for a while now, and it even looks like it might rain - although it does depend on which way you are looking. Looking out of the front of the house to the south looks very miserable as I type these words, but the view from the back windows, to the north, doesn't seem quite so terrible. The forecast is still saying the afternoon, and even up to sunset should be mostly sunny. Maybe this gloomy period will be over soon, and the temperature can rise to the forecast 20° C. Tomorrow might be yet another degree warmer, 21° C, but after a sunny morning it is forecast to be a rather dull afternoon.

The DVD that Aleemah brought over yesterday morning was "Sergeant Peppers Lonely Hearts Club Band". It was a movie written using the songs from the Beatles album Sergeant Peppers Lonely Hearts Club Band, plus some songs from other Beatles albums. Some of the scenes were highly contrived to be relevant to the lyrics of the songs, and really stretched the imagination ! On the whole it was a bad film. Oh it did have a few good bits, but out of the running time of 113 minutes only 5 of them were good ! The biggest problem was that it took a very English theme and re-imagined it to be American - as Hollywood likes to do far too much (Hollywood still thinks they won WW2 single handed). The movie, as an idea, had potential, but it should have been set in England with an English cast. The very worst thing about it was that I fear that the next time I hear a track from the real Beatles album I won't be able to not remember how the movie mutilated it.

After Aleemah went home I decided to relax a lot. Apart from enjoying a well deserved rest, I was hoping a strange sensation would go away. It is hard to describe just what this sensation was. I think it was a combination of a few abused muscles from doing rather a lot of hand laundry, some trapped wind, and something else. It is possible that washing the towel and pair of jeans first thing in the morning, after doing two lots of hand laundry the night before, really did push me over the edge. That doesn't explain the trapped wind though, and that was very real - particularly as evening approached. Those two explain the discomfort at the top of my chest, and around my belly, but I'm unsure what the discomfort was in the middle - some sort of heartburn maybe. I think discomfort is probably a better description than pain for all these things.

By the evening the trapped wind was becoming less trapped (!!), and in theory I should have felt a lot better, but it didn't set me up for a good evening in the pub. It was a little after 8.30pm when I walked to The Black Cat to watch Stardust performing a gig there - and despite numerous visits to the toilet I kept farting all the way there. I wasn't exactly comfortable in the pub, and my discomfort was made worse the singing !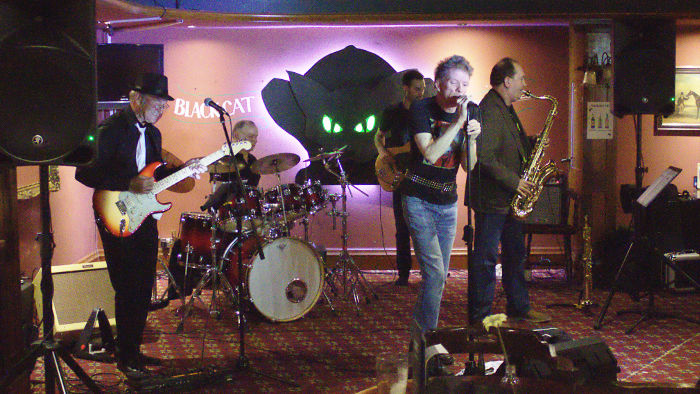 The band in question were called Stardust, and as musicians go they were pretty good, but were let down by the singer. This time it was far worse than when Red Post Hill played there a couple of weeks ago. They made the mistake of tackling some songs that neither of the two singers could sing without their voices cracking on the high notes. They performed other songs moderately well. Stardust's singer was just plain out of tune on most songs.

After about 90 minutes of discomfort I decided to go home again. Once again I let rip several loud farts once I was well clear of the pub, and they echoed around the multi story carpark ! I had planned on eating some sort of dinner when I got home, but under the circumstance I decided that would not be a good idea. It was still relatively early when I got home so I decided to edit the photos I had taken. There weren't that many of them, and I was in bed before midnight (I think).

I seemed to have a good sleep until it all went wrong at about 4am. I woke up feeling not very good. I felt tired and slightly headachey, and my guts still felt tender. After a while I got back to sleep again, but it was a very intermittent sort of sleep. There were several occasions when I was awake for quite long periods of time. The strange thing was that I must have been sleeping better than I thought I was because I suddenly became aware that it was nearly 11am !

Since then I have washed, dressed, been to the corner shop, and put some strips of marinated pork belly in the oven to cook for Sunday lunch. I am really looking forward to them, but I am not sure if I should be eating them. I still have a sort of strange discomfort from my stomach. It's a bit like heartburn, but it seems unlikely it could be that. I reckon it's some heart problem, although I have no idea what. All I know is that a fast walk to and from the cornet shop actually made me feel slightly better for a short while. So it's not angina this time.

One possibility occurs to me, and that is that it is some sort of late reaction to finishing my antibiotics. It's a very far fetched theory, but the idea is that those antibiotics could have killed some friendly bacteria in the gut, and now there is a battle for supremacy among the surviving bacteria. In some ways it does feel a bit like how I might expect a stomach ulcer to feel, and they are now known to be caused by bacteria. Maybe after I've eaten I will take a shot of ant-acid and see what that does for me.

I now have nothing to do, apart from eat, for the rest of the day. So I think I ought to do lots of preparation to be ready for work tomorrow, and that mainly means relaxing. I think I'll do lots of it. It may mean doing lots of reading, but that is a pleasure and not a chore !

Saturday 2nd July 2016
08:13 BST

July hasn't got off to a good start. There was more rain than expected yesterday, and it was quite close to feeling cool. The forecast said it would be dry for the start of the afternoon - but it wasn't. The forecast also said that it would almost certainly be very dull and grey when I left work to go home. It also seemed to suggest that it could be a bit of a gamble that it would stay dry while I was travelling home - I came home in sunshine ! I must confess that the next bit of the forecast was correct. It wasn't all that long after I got home that it clouded over rather rapidly, and rain started to fall. I'm unsure of the temperature yesterday because it was in that sort of bland area where it is neither hot nor cold. The forecast said it would be 18° C and I wouldn't dispute that. Today has both started a lot better than yesterday, but it concurs with the forecast. If the forecast continues to reflect reality it will be a mostly sunny day marred only by some showers around 1pm. It should be a very slightly warmer day too - 19° C. Tomorrow is forecast to be completely dry, and 20° C. So the day should be as good as a mid to late May day !

Bits of work were almost enjoyable yesterday. It was helped by having a little triumph as the result of some creative thinking. I have devised a little modification that is a bit tricky to do, but could be done to a small select amount of one of our products, and it will save the company ! Well maybe not save the company, but if further testing proves it is viable it should keep a quite lucrative customer happy. The other thing that added to my enjoyment was I was doing more work alongside Ainhoa, the Spanish electronics engineer. We seem to get on well together, and of course she is far prettier than anyone else working for the company !

It may have been an almost enjoyable day (in parts), but it was more enjoyable still to leave work to come home. The fact that the sun was shining was the icing on the cake ! I decided to go home via Tesco. There was something I wanted, but I couldn't think what it was, and I'm not sure I remembered it at all, but as I approached the store I found I had a sudden desire for liver and bacon. I have no idea where these urges come from, but I assume it is my body calling for something it needs, and I usually give in to it.

I bought a liver and bacon ready meal, plus other stuff - quite a lot of other stuff judging from the size of the bill, but not much when judged from how heavy my shopping bags were. One semi expensive set of items were the ingredients for another seafood salad. I also bought some (alleged) healthy eating Thousand Island dressing to drown it all ! One "naughty" item was a packet of stem ginger oat cakes. Fortunately they come in little packets of about 5 biscuits, and there are possibly 6 of these packets in the box. If I eat them sparingly they should be almost innocent.

The main part of my dinner was the liver and bacon ready meal, and I had that on it's own with no vegetables, or potatoes. I also had some sandwiches, and one packet from the box of stem ginger oat cakes. Along with a snack or two it was all too much, and I'll be lucky if I can get into one of my old pairs of trousers this morning !

I didn't rush to bed last night because I could theoretically have a lie in this morning. I guess I was asleep sometime after 10pm, and I initially slept through to 1am, or thereabouts, when I woke up from one of those mixed up dreams. In this dream I was with someone who I won't name even though her name was her only identifying feature. The only trouble, although maybe it was an advantage, is that she didn't look like her name, and she didn't act like her name. I have no idea who she actually was in real life. I suspect she was a composite of many people. The significant thing is that the dream was rapidly becoming less than innocent when for some really annoying reason I woke up ! I guess that is typical of life. It just starts to get interesting, and actually worth living....and then you wake up to reality !

I could have stayed in bed far longer than I did this morning, but at 5.30am I decided to slowly get up to do some hard work. It's funny how that extra 30 minutes in bed makes it feel like I am not getting up too early. The hard work was to wash a towel and a pair of jeans. Washing either by hand is hard work, and washing both is obviously harder still, but because it is near impossible to wring either out to any great degree it seemed important to get them hanging on the washing line as early as possible for maximum exposure to the morning sunshine.

With the laundry done I had a shower and washed my hair. Once I have finished writing this I need to get dressed properly so can go out and meet Aleemah at the station. Then it's the usual - breakfast in the Wetherspoons pub, and then back here to watch a DVD together. This afternoon I will probably indulge in some high quality laziness in preparation for another gig in The Black Cat tonight. And that is half the weekend described and disposed of in little more than a paragraph. Isn't life tedious ?

Friday 1st July 2016
07:42 BST

Once again the weather forecasts are getting out of sync with reality. Yesterday's forecast suggested I might catch the tail end of some rain when I left work to go home, but it was dry - and the sun was doing it's best to shine. It could have been as early as 5pm when the sun did manage to shine. There were only a few sunny spells, but that was a lot more than the forecast even hinted at ! I think it may have even been a bit warmer, perhaps by only a degree or so, than the 19° C that was forecast. I wish I had taken a screenshot of the weather forecast for today at 6am this morning. It said that it would be overcast, but perfectly dry until midday today. Then a couple of hours of rain would fall, but it would all be over a good hour or two before I go home from work today. Since 6am it has changed an awful lot in an attempt to match reality.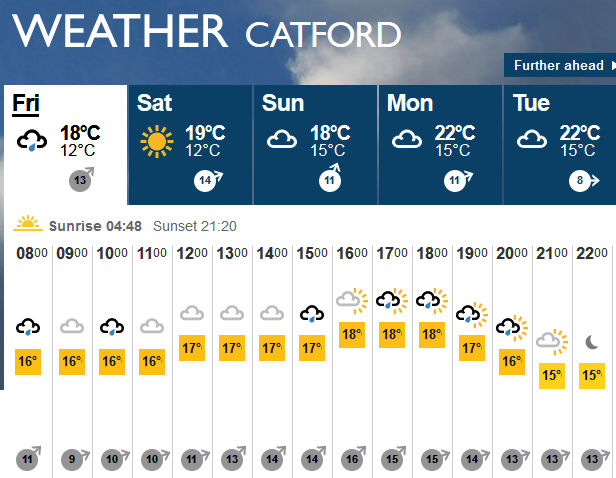 I happily ignored the few tiny spots of rain I felt as I waited for my 06:33 train at Catford Bridge, but it was hard to ignore the torrential rain that fell as my train travelled between Vauxhall and Clapham Junction station. The rain had eased off a bit when I arrived at Earlsfield, but was falling quite freely again before I had arrived here at work. Maybe it has eased off again, but by my reckoning the little pictogram on the forecast for 08:00 should contain two evil little rain drops. It's now looking like lunchtime is going to be very dull, but dry, and it there could be rain or shine (maybe both) when I go home. Then it gets all soggy again - but with sunshine ! - in the evening. All the dirty dull cloud filled skies, the rain, and the low temperature is a pretty poor show for the 1st day of July. July ! We should have blazing sunshine, and temperatures at least in the mid twenties by now. The very last day of last year, right in the middle of winter was a better day than today ! I don't seem to have recorded the temperature, but I was walking around Herne Bay in just shirtsleeves. The proof of just how blue the sky was can be found in my photo album here - https://www.flickr.com/photos/135353558@N03/albums/72157660781769314

Yesterday was one of those days at work where I had just finished an important project the day before, and I couldn't seem to find the enthusiasm to start the next one. The one I had just finished was on a bit of tight deadline, but fortunately worked first time, and was rather better built than had originally been asked for. So everyone was happy. The next project also has a deadline, but it's not so immediate, and so I decided to be very lazy yesterday. Sometimes it is difficult to find the right balance between being lazy and being bored. I must confess there were some periods of time when I did feel a bit bored.

It was nice to leave work yesterday, and it was nice to leave when it wasn't raining, and not too cool, although it was still very dull outside. It was even nicer still to leave in the direction of a pub where I could have a beer in good company. Unfortunately the pleasure was spoiled by a bunch of kids whose parent(s) seemed happy to let them run riot all over the pub. I think some of my friends were more stressed about it than me - which is sort of surprising. After two pints the general consensus was that we should go to another pub.

I wasn't too happy about the choice of pub. It was The Ladywell Tavern, and it's one virtue is that it's just a 5 - 10 minutes walk from The Ravensbourne Arms. That was it's only virtue. On the downside is that it is a rather shoddy looking pub, and sometimes rather smelly. Even worse was that last night they only had one ale available, and it was one I wasn't keen on. Fortunately a pint of that ale, brewed by the Lighthouse brewery, was not actually awful. It was just not very enjoyable. It was also my third pint, and that was all I really intended to drink. So after finishing it I made my excuses and headed towards home.

My original plan to get home was to get a bus a couple of stops from near the original pub we were in, but it would have been a long walk back to a bus stop from the second pub. I left at the same time as Jodie, and so we went to Ladywell station, which is 5 minutes walk from the pub, and got a train. I alighted at Catford Bridge, and Jodie continued to Elmers End. The only trouble with that route is that it is always annoying to go past my house on the train, and then have to walk back. On the other hand, it is only half the distance to walk compared with walking through the park from Ladywell. That I what I would have done if I had been on my own, and yet I really didn't feel like walking that far. I didn't feel like walking from Catford Bridge station to home either, and I wasn't feeling keen to walk roughly the same distance from the bus stop either. In short, I just didn't fancy walking anywhere yesterday.

Once I got home I prepared dinner as fast as possible. Salad with fish sticks followed by a couple of cod fishcakes didn't seem so bad, but I also had a couple of ham sandwiches in the fridge that I bought two days before, and had to be eaten before they went off. Add in a few other bits, and once again I ate more than I should if I am ever going to get into smaller sized trousers (or get my blood glucose level under better control).

I practically lost track of time yesterday evening, and I am not wholly sure what time it was when I went to bed. I know that it was still light, and that suggests it was probably around 9pm. What I do know is that it was one of those rare nights when I slept non stop until almost 4am. I managed to get back to sleep after that, but it took 5 or 10 minutes, and it wasn't a very good sleep. It seems like I should have got enough sleep last night, and at the moment it even feels like it. It is also yet another day when I feel mostly OK. It is even possible that the damage to my lungs, or whatever the legacy of my chest infection was, is beginning to lift. I was reluctant to walk yesterday for two reasons. The first was that my feet felt sore, but the second is the ongoing apparent shortness of breath I've been getting. This morning I think I felt just a little less shortness of breath than yesterday, but it might be that the wet air was easier to breathe. Actually, shortness of breath doesn't seem like an accurate description of how I feel. It's not that I can't breathe deeper, or more frequently, it's just that it seems too much like hard work to bother doing it....or something like that.

Tonight will be wonderful, but only in as much as I will not be at work, and I will be at home in the dry and the warm..or will I ? I'll probably feel too tired, or too lazy, but there is a gig going on in the H.G. Wells Centre in Bromley that I am curious about. Specifically it is the support band that I am curious about - The Zorbs. It's relatively easy to get to, the beer is cheap, and it's only £3 to get in (£3 more than most gigs I go to, but still a reasonable amount). It would also be a nice early night because I don't want to see the main band - Bouncer. Maybe I'll go, or maybe I won't.