16:08 BST

Yesterday was one of those days when the weather seemed very depressing. Sometimes it was semi bright, and towards the end of the afternoon the sun nearly came out, but generally speaking it was dull, and miserable, and dull and miserable, and not very nice. It was also rather cool. If it was much brighter then 12° C would have felt half reasonable, but that dull sky seemed to suck the warmth out of everything. The forecast for today made it look as if today might have even been slightly worse than today, but it was all a complete and utter lie ! Today has been splendid....well maybe not "splendid", but it has been pretty good. Instead of gloomy grey there has been lots of sunshine, and despite the very latest forecast available still being pessimistic, it doesn't look like the sky will cloud over just yet. The current temperature is at least 3° higher than the forecast. I reckon it is 15° C, and with the sunshine, that is quite high enough to leave a lot of the windows open to air the place.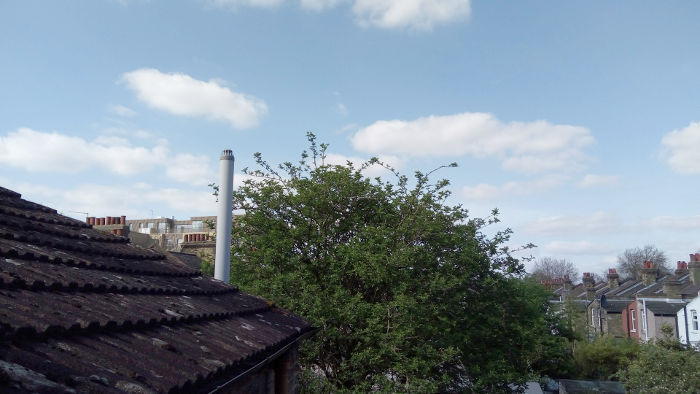 This was the view from the back bedroom window about 15 minutes ago - lots of blue sky, and delicate, fluffy, little white clouds floating around. The forecast says it won't look like this tomorrow. The forecasters have still got their pessimistic hats on. They reckon the sky will be filled with thick black cloud for all but one hour in the morning. During that hour, at approx 9am, the sky will merely be nasty and grey. It is supposed to stay dry, and the temperature could be as high as 13° C, but I expect it will still feel cold under that steely grey sky.

I had to force a response out of Angela yesterday. I don't know why she couldn't keep her word and keep me informed about what was going on. I eventually found out that her ancient and sick lover boy was not let out of hospital as he thought he would be, and maybe he will be kept in for several more days - which sounds more feasible for someone who collapsed with a high fever, and had to be rescued from the floor by a couple of strong ambulance men.

With Angela deciding to keep herself to herself, I had a rather boring afternoon and evening. Had I know in advance that I was definitely not going to see or hear from Angela I may have been a bit more pro-active, but instead I was basically just lazy. Maybe that was actually a good thing because I do seem to feel a bit better for it. One thing I did yesterday definitely changed how I feel today...although I am not sure if it was for the better or worse....I think it was for the better.

It happened when I got into bed, and turned over to go to sleep. It was a feeling like all my ribs had been dislocated, and they all jumped back into place at once. There was a very strong pain from one end of my operation scar to the other. I very quickly adjusted my position by less than an inch, and the pain went away as quickly as it came. After that I think my chest felt a lot better. With all the coughing I've been doing since getting my super strength man 'flu the previous weekend, my chest has frequently been quite sore.

After that brief painful episode I seemed to sleep quite well, and I maybe I actually did sleep fairly well. I certainly felt less tired when I got up this morning. I had to get up a bit earlier than usual because my appointment with the nurse was at 8am this morning. I was hoping it might be a happy visit this morning but I mixed up Jane and Julia. I saw Jane (or was it Julia ?) and the silly old moo decided to attack me viciously about my blood pressure. Grrrrrrrr.

Maybe having a good old moan about it while she was taking the reading actually was good. The third reading she took was actually quite good for when I am in the surgery - of course it was still in the instant death range, but still good for me, and doubly so when I felt I had been unfairly ambushed ! Anyhow, my wound, or scar, or whatever you should call it, is still producing pus after all this time, and there was some speculation that it might need an extra week of daily dressings, and hence an extra week off work. It feel slightly embarrassing to have so much time off work for such a minor ailment, but I reckon I can handle it.....

One other possible thing may have helped lower my blood pressure while it was being taken. For some reason, perhaps a stray cosmic ray flipping a bit in my brain cells, I started thinking about sausages. I will admit I had been thinking about sausages yesterday too. I was going to cook some until I found the sausages in the bottom of my fridge had started fermenting, and the sealed package they were in was blown up like an over inflated balloon. I decided they may not be good, and more so since the best before date was the 20th of last month !

As soon as I got home from seeing the nurse I grabbed a few bags, and went out to buy some sausages from Tesco. I also bought a bottle of my favourite Tesco Special Reserve whisky. I am sure it used to be £17 for a litre bottle, but it seemed to be £16:30 today. Maybe I ought to go back and buy a spare or two before they decide to change the price back to what it was. The sausages I bought were just ordinary Tesco "British pork sausages, and they were rather good.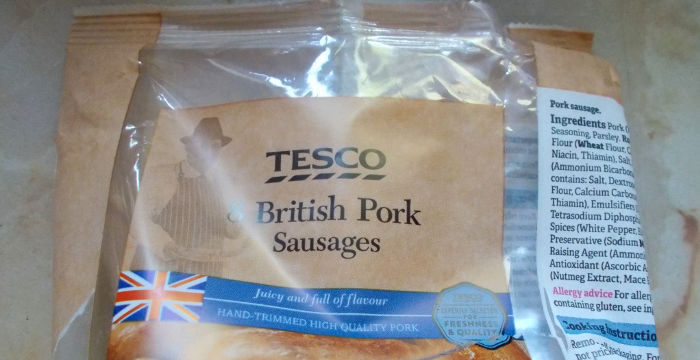 They had two good attributes. The first was that the sausage skin may even have been real animal gut. Some people I know were recently mentioning how some sausages they had eaten recently had very rubbery skins. The skins on my sausages seemed to go nice and crispy, and not rubbery at all. The second good attribute was that after cooking them, and cooking them quite well in my mini oven/grill, they gave off very little fat. They could almost have been low fat sausages, and maybe in a way, they were. There has been mention in the newspapers recently about some special low fat sausages for slimmers actually having more fat in them than some ordinary sausages. I think mine were the ordinary sausages that were lower in fat !

Since that brief by horrible rib crunching pain last night my chest has been behaving itself quite well today. I had no significant pains when walking to and from the surgery, and no pains walking to and from Tesco. I did have some wheeziness that took the edge off things, but generally speaking I have almost been feeling good today...or maybe I did until I tackled some heavy work. I stated by washing a small bath towel.

Towels are always very heavy when saturated with water, and hand washing one can take a fair bit of hard work. It then seem ludicrous that soon after washing that towel I tackled another heavy object - a double duvet cover. Initially I hung the towel on the line in the garden, but despite being whipped around in the breeze, it didn't seem to be drying very fast. So after a 3 or 4 hours I brought it inside to dry on a clothes horse. The duvet cover is currently dripping over the bath, but that should stop dripping soon, and I'll hang that on a clothes horse to dry indoor as well. I could hang it on the line, but the last time I did that a pigeon, or something, crapped on it from a great height !!! I've got to work out a way of trimming the overhead branches of the tree at the bottom of the garden.

My other major bit of work today has been to do with rehabilitating the back bedroom. Today it was mainly concerned with tidying up, and improving on the internet feed to the room via ethernet cable. The cable I had once wedged under the windows seemed like it had succumbed to damage, and the ancient laptop I used as a music player would not get a connection. It turned out that that cable might actually have been OK after all, and it was a problem with the ancient router I was using to feed it.

I ran a brand new cable through some newly drilled holes in the window frame to make the cable run a bit neater, and I terminated the cable on a wall mounted ethernet socket. I wired it all up most carefully, and when I tried it, it didn't work ! After trying this that and the other, I tried plugging the lead into a modern laptop, and it worked first time ! I have a theory what the problem was......most modern routers can detect which is the transmit pair of wires, and which is the receive, and switch them around appropriately. Since last using the internet connection to that spare bedroom I have changed the router, and it seems it can detect the correct connection, but the modern laptop can do it itself.

I could, and maybe I will swap the transmit and receive pairs in the connection box, and I think that should solve the problem when using the ancient laptop - although the ancient laptop is useless for doing anything productive, and so will never be used in practice. Any modern laptop (or desktop machine) should cope by itself, and I could just leave things alone. An interim solution, and one that will inevitably be the permanent solution, is to use a small router in the bedroom itself. The one I have used can do the auto transmit/receive pair switching, and the ancient laptop is now happy to connect to the internet, and can display very simple web pages (like this one) - more typical modern web pages, with their gallons of javascript and stuff just make the laptop choke and die !

That brings my day up to date. I don't know what I'll do next. I fancy laying down and reading for a while. It is possible, although unlikely, that I could go to an open mic gig tonight. The biggest impediment to this is that the one I would probably go to is only on every second Wednesday, and this isn't one of them - I think (gotta do some research !!). Maybe I'll just have a relaxing/lazy evening - again !