Two more expensive products - gift packs of miniature bottles of booze. The top picture is of flavoured vodkas - very weirdly flavoured vodkas. I bought these with Angela in mind - vodka is her drink - but without any realistic prospect of her visiting to try them. The lower picture is of miniatures of special gin. I bought these with Patricia in mind. There is a very real prospect of seeing her at least a couple of times before she goes back to Argentina towards the end of summer, and gin is her current favourite booze. Buying miniatures is always an expensive way to buy booze, but probably a safer prospect than buying full sized bottles of stuff that might be anywhere between bland and horrible.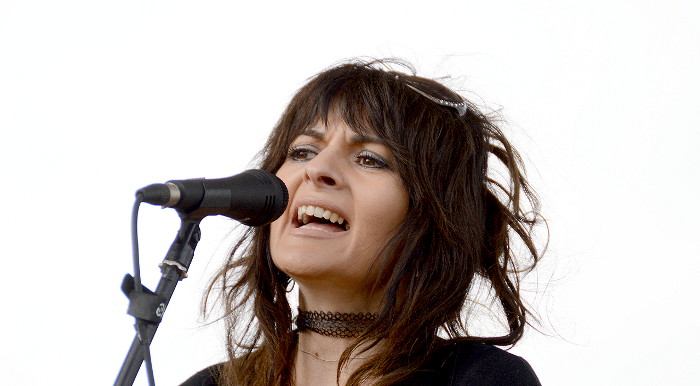 This was the real reason for going to Sevenoaks - to take photographs in daylight ! It is unusual to see Jo in daylight. Normally I would see her playing on a dimly lit stage. It's only my own conceit, but I think this picture of her taken with the white background (actually over exposed white cloud) has come out extremely well. I was also very pleased with the way the pictures of the cricketers came out (see the link to Flickr above).
I was lucky enough to get a lift back to Bickley station (one stop further out than Bromley on the line back to Catford) after the gig. I was also lucky that I only had to wait 10 minutes for the train at Bickley. On the whole it had been a rather splendid afternoon. Once I got home I had enough time to eat two Scotch Eggs, and have a short rest before going out again to The Black Cat to see The English Rogues playing there.
It was a very enjoyable gig, and the place was not as deserted as I feared it would be. It was not a big crowd, and we probably didn't drink enough beer to fully justify the fee that the band were paid, but everyone had a good time. My experience was enhanced by a new black back drop where the bands play. It made for far better pictures of the band in action. I am told it is not actually finished yet, and it may be even better when it is. Whether that, advertised by the pictures I took, will pull in more people is open to conjecture.
When I got back home again after the gig, which incidently Angela did not go to, I ate my other two Scotch Eggs, and soon after finishing them I had brushed my teeth, got into bed, and fallen fast asleep. I slept OK, but I would have liked to have slept on past when I actually got up. I think it wasn't that long after 7am that I got up and started looking at all the pictures I had taken. In the afternoon I had taken over 100 snaps. A few were duff, but most needed very little work to make them presentable - mostly just a bit of cropping to centre things up a bit. Then I just chose a selection of the best.
After I had dealt with them I took a look at the pictures I had taken of The English Rogues. I think the new black background in the Black cat made me a bit shutter happy. I took 583 snaps during the gig ! That was mainly because I had the camera set to take pictures in burst mode, and each "shot" would actually be a fast sequence of 5 or 6 pictures taken in quick succession. That allows me to choose the instant when the rapidly changing lights give the best effect, or when my subject is in best pose. Of course this does mean I have an awful lot of pictures to wade through and select the best. By the time I gave up on Sunday evening I had gone through as little as a third of them, but I did find a few pictures that seemed really good. Possibly the best I have ever taken at The Black Cat. Maybe tomorrow I'll show a couple here, and provide a link to Flickr for the rest of them.
I did take a break from selecting/editing pictures during the afternoon. I mentioned to my friend Jodie that I had bought the turquoise cheese, and she insisted on seeing it, and trying it. She not only likes cheese, but turquoise too. In fact to say she likes turquoise is an understatement of a grand order ! So Jodie popped over for a couple of hours, tested the cheese, and we tasted a few vodkas. Then it was back to photo editing, but only for another hour before I got fed up with it.
One of the things I hoped for last night was some more Thai food from my neighbour, but it seems that peace offering for the disruption caused by having the builders in has now ended, but I have been given a new offer. Today a new skip should arrive to replace the one that their builders have filled to well over capacity. I have been given official permission to take advantage of it, and I will be most pleased to dump a couple of old TVs in it. Other things I will be doing tonight are getting the dressing on my back changed by the nurse at the surgery, and more photo editing. I could easily give up on the latter because I already got a fair selection of pictures for a photo album, but I am sure there are some really good snaps still to be found in the 583 I took on Saturday night !