Today could be a couple of degrees warmer than yesterday, but the latest revision of the forecast shows there to be less sunshine, but more sunny intervals. The early morning version of the forecast, as shown above, notes an 18% chance of precipitation at 5pm. With the earlier temperature being 27° C it seems like a recipe for a thunderstorm to me, but the forecasters evidently disagree, and the risk of precipitation at any time today is now shown as no higher than 5% at 8pm (and even less at other times). Tomorrow is currently forecast to be a couple of degrees cooler than today, perhaps only 25° C, but there will be more sunshine, and less sunny intervals.
On the last day of the month, yesterday, I was in a very strange mood. The news on Friday that Angela had gone to the pub at lunchtime, probably on her own, left me in a state of despair - a sort of subset of depression. As I seem to be able to do with little overt thought about it, I channelled that into a sort of energy to do some positive stuff as well as negative stuff. The main positive thing was to do some more tree clearance in the back garden. That definitely needed some channelled energy because this time it involved getting a saw out, and cutting through some branches !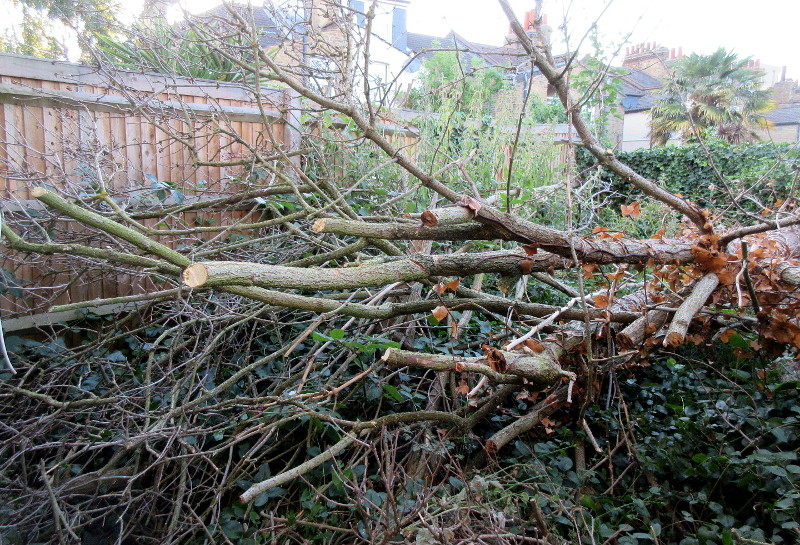 Sawing through these branches, and some not visible in this picture, was bloody hard work for someone not used to this type of labour - like me ! It was made more difficult by two things. The branches were not stable, and there was no way to stabilise them, and secondly I had to use the saw at almost arms length. Two things acted in my favour. One thing was I was able to do all this hard work with no shirt on, and secondly there was a nice breeze that helped cool me a bit. It was interesting that I didn't sweat all that much while doing this. I believe that was because my blood sugar level was nice and low rather than it not being hard physical labour.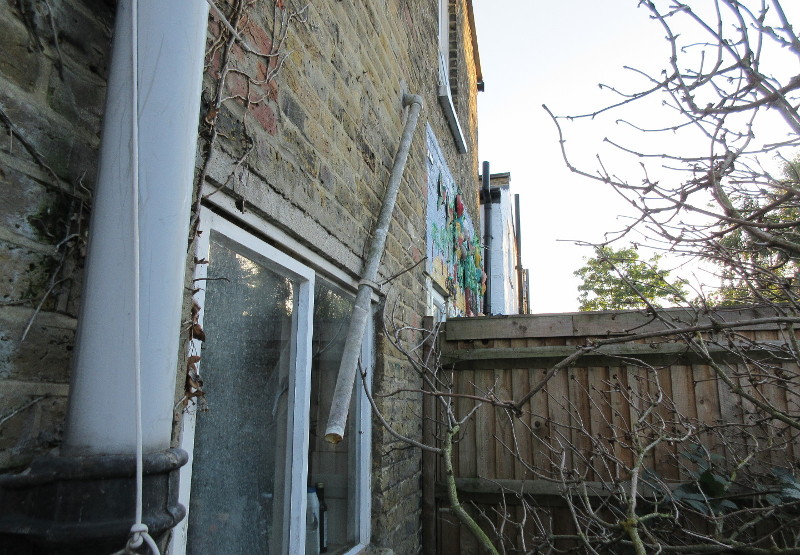 All that hard work was to reveal this - the waste pipe from my bath tub hanging free. Before I finally cut through the tangle of branches that were resting against the wall, and partly entangled around the pipe, it was still almost pointing at the connection point on the grey downpipe seen on the far left of this picture. I am still optimistic that I will be able to pop the end of the pipe back into the connector, and all will be well, although I think the pipe will need the support bracket that can be seen at the same level as the top of the window, refixed to the wall. I won't be able to do that until I have cleared the path of debris so I can erect a ladder safely.
The other way I used up some of that energy of despair or depression was to do some additional exercise. I think I mentioned yesterday that I had taken my stepper block outside, and did some open air stepping (up and down onto the block). Yesterday I did more of it. Quite a bit more, although maybe not as much as even a 2 mile walk would provide. All the sawing I was doing left my arms aching, and I was breathing a bit heavy, but not very heavy, and of course my legs were doing nothing. So while I rested my arms for a minute or two I would start stepping up and down on that stepping block.
I have no idea how long I was outside working. It may have been less than an hour, but I would like to think it was more than that - maybe even 2 hours. Eventually I reached one of those natural breaks in a job where you have done all you can doing "that" and need to change to do "this". (Where "this" and "that" stand in for two different modes of working). I went back inside, and after cleaning myself up a bit I seemed to find enough patience to do more photo editing of the pictures I had taken last Wednesday night. It still wasn't the sustained effort needed to clear the backlog, but later on I did speed up a bit when I finally reached the photos I had taken using my flash gun. They were a lot easier to deal with.
I has a salad for lunch yesterday, and it wasn't a simple salad after I had added stuff like olives and sweet pickled mild chilli peppers to it - the type that taste naturally sweet, rather than being pickled in sugar or something. It was a ham salad, and I dressed it quite simply with oil and vinegar, although as an experiment I did sprinkle some white pepper on it all. That seemed to work quite well. I ate it a little before 1pm. By 6pm I was desiring food again, but I didn't want another ham salad, and I didn't really have any other ingredients for dinner without opening up a can or two.
The solution was to order a takeaway, but I had to be careful about what it was I ate. It does seem that some of the exercise I have done of late, plus being very careful about what I eat, has left me feeling sort of good, and maybe some of the bulge around my gut has shrunk a tiny bit. Any shrinkage has been above the belt line, and so there is a long way to go before I am in smaller sized trousers -
a long way
! There was only one possibility last night - grilled meat with salad - aka a kebab, a large kebab !
Eating that kebab inspired me to do two things. The first was to press on with my photo editing, and at the end of the day I had worked my way through the first 157 photos of 219. So far that has yielded just 30 usable pictures (although some are barely acceptable). The other thing I was inspired to do was to go out into the slightly cooler early evening air, and do some more stepping. I really should count how many steps I do, or even time the process, but I didn't. All I did was to keep doing it until I felt the very first signs of fatigue before stopping. All I can really say is that I did a lot more than I expected, and if those mild signs of fatigue hadn't stopped me, boredom would have sooner or later.
I did feel good for doing that extra exercise, although only in a mental way. The only problem is that the exercise and the chilli sauce on the kebab conspired to get me sweating, almost heavily, once I stopped and sat down at my PC. I had to do more photo editing while I cooled off a bit before going to bed. It was quite early when I went to bed - certainly before 10pm, and maybe before 9pm - but I read for a while before turning out the light, and trying to get to sleep.
I am forgetting one thing. Before going to bed I was aware my right shoulder was aching. It may have been made worse by all the sawing I had been doing, but it often aches anyway. The odd thing is that it mostly aches in the morning when I first wake up. As a precaution, but also as an experiment, I rubbed in some comfrey cream, the stuff that Fran had originally suggested when I mentioned to her about my shoulder. It did seem to work, and work well, but there was a side effect ! To rub the cream into my right shoulder I had to use my left arm. Doing that sort of scrunched my chest, and I went to bed with my chest aching instead of my shoulder.
I had some good sleep, and some bad sleep last night, but the nice thing is that when I woke up my right shoulder didn't feel stiff and sore like it usually does. There was some residual ache, but it seemed in good company with a few muscles in my right arm that while not actually painful, could still tell a story about being used well yesterday ! There was one other bit of me this morning that unusually ached, and that was a few muscles in my stomach area. I guess they all contributed to my sawing and stuff yesterday. As I write this nothing aches unless provoked, and I feel like I should be feeling pretty good.
One of the things I hope I will finally finish today is those bloody photos from last Wednesday, and it could be even more important now I have an idea of what I will be doing today. Today there is an event taking place on Blythe Hill Fields. It features this and that plus some live music. I suspect the music will be terrible, but I think I will go and take a look anyway. Just walking to the top of Blythe Hill is a huge effort. It is quite a big hill, and I will be walking through two other parks to get to it (albeit one park is a very small park). So I'll be burning off a few extra calories just getting there !