The forecast has been revised since I took this screenshot at 7am this morning. One significant change is that the chances of rain was increased to 64% at 10am, but the rain symbol was removed from the icon. It is a little after 10am as I write this, and it is pissing down ! That icon should have a double raindrop to indicate heavy rain. The rain should be over by, or soon after midday. By 2pm the sun may make an appearance now and then, and then there should be blues skies and plenty of sunshine from 5pm onwards.....believe it when I see it ! It is possible the temperature may briefly peak at 23° C, but 22° C is a better working value. It is possible that tomorrow could be very sunny, but paradoxically it will be almost cool at just 19° C. It will also mark the start of some very chilly nights.
I was originally thinking of going to the seaside yesterday - ideally with Sue - but the grey weather put me off, and Sue is still suffering badly from her tooth abscess and won't go out while she is in pain with a swollen face. (After days of being defiant that she would not see a dentist, she is now
considering
making enquiries about the possibility of some sort of sedation while being treated). Instead of going to the seaside I went to Tesco !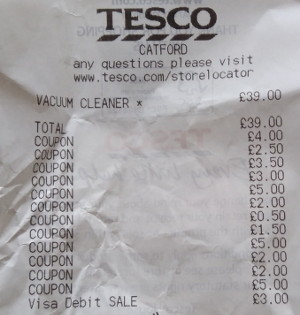 Going to Tesco was not as exciting as going to the seaside, and even less so considering I was only going to buy just one item - a new vacuum cleaner. As can be seen in the picture on the left, the full price was just £39, but I exchanged £36 of Tesco Clubcard vouchers, and so only had to pay £3 for it.
There were two things I didn't like about the new vacuum cleaner. The first was pretty fundamental, and my view is completely unchanged - it is pig ugly ! The second thing is that it is, in compliance with EU regulations, only a 700W device. My old vacuum cleaner, that died from heat stress on one of the hottest days of the year, was 1600W. It was noisy, and gave off a huge amount of heat when running.
I wrongly assumed that the new machine, consuming under half the power, would have the sucking ability of a 90 year asthmatic chain smoker. I was wrong. It's sucking power is very strong - so strong that I have to be careful not to lift the carpets when using it !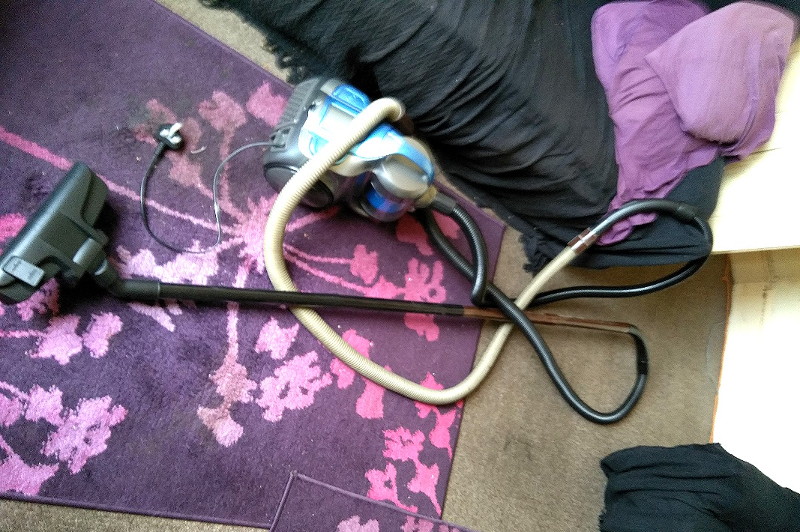 This picture, shot from a bad angle to fit everything in, only gives a hint of how ugly that cleaner is, but it does show some unusual features. My first vacuum cleaner was an Electrolux, and it lasted about 10 years. For some reason I kept the hose and extension pipes (I may have the cleaning head somewhere too). I also had the hose and extension pipes (plus cleaning head) from the recently deceased vacuum cleaner (that lasted about 10 years too). After taking a hacksaw to the old Electrolux hose I was able to join all three hoses together to make a
supe
r hose
!
My first test run with the new cleaner was with all three hoses connected, and it was rather good to use it like that. So good that as well as vacuuming some of the living room, including high up near the ceiling where the cobwebs grow, I also gave the hall a quick clean....and then (drumroll please) I cleaned the stairs !!! I wouldn't be rash enough to say I am going to do more cleaning than before, but it is certainly less of a chore to do it with my super hose.
Maybe it is the sucking power of this new machine, or maybe it was a reflection of how infrequently I clean the stairs properly, but it didn't take long for the bagless dust container to fill up....or appear to. At this moment I am unsure just how much I can allow it to fill up - it is transparent so you can see just how much crap it is collecting - it is part of it's ugly features. I guess that without having to worry about keeping a stock of empty bags, I can empty it far more frequently than the old machine (whose bags were probably unobtainable now anyway).
I ended up doing a fair bit of housework yesterday, but I didn't do any more "hoovering". I washed some stuff, and hung it out to dry, and I washed one of the kitchen windows. It was the window that was frequently splashed with bath water while the bath waste pipe was disconnected from the main down pipe. It wasn't just on the outside that it needed washing. Since we have had a separate waste food bin forced upon us I seem to have far more flies in the kitchen, and those flies tend to buzz around the brightest window. As a result the window was sprayed with fly killer a lot. That window (which is actually a pair of panes of glass) is not pristine clean still, but ignoring a few smudges here and there, is now almost sparkling.
Having a nice clean window might help me catch more glimpses of a fox who frequents the wildly over grown end of my garden. I hope that there is not an earth down there with young foxes in it because I will soon have cleared a path to the bottom of the garden. I have started to make inroads into the jungle already, and this morning the brown wheelie bin was emptied, and sometime in the next 6 days I will forge deeper into that jungle.
After all my hard work doing domestic chores my thoughts turned to food. I had a few small snacks during the day that I hope were slightly innocent - i.e. nothing with known amounts of sugar and stuff in it. In the early evening I cooked up a chicken and cauliflower stew (also including a small onion, and the last of some runner beans I had). It was rather nice, but there was a problem. One of the stock cubes I used didn't dissolve properly, and when I came to eat it (without realising it) it tasted like a block of salt. My gut reacted very badly to that, and I threw up.
I have never done anything like that before. Fortunately it was only a mouthful of vomit, and I managed to rush to the toilet to discharge it, and maybe just a little more. At that point I decided to tip the rest of the stew down the toilet too. It affected my mind in a strange way. I knew I had eaten (and retained) a large portion of that stew, and yet it felt like I had hardly eaten anything. An hour or so later I opened a can of offal tubes, more usually known as cheap and nasty hot dog sausages, warmed them up, and ate them while watching some TV.
I was going to speak to Sue last night, but she was engrossed in a long conversation to her brother-in-law, but she was kind enough to text me to explain that, and again to thank me when I texted back that I would call her today some time. I know of some who would not show me the same courtesy. Not speaking to Sue meant I could have had an early night, but I went to bed with a stomach ache that kept me up for a while. I think it was just trapped wind rather than anything more exotic.
I'm not sure when I finally fell asleep, but I think it was before midnight. It seemed like I slept well with no interruptions until about 7am this morning. I got up and took my morning medication, and then took a screenshot of the weather forecast for today. When I noticed it was going to rain I pulled on a pair of pants, and went out to bring my washing in. It was still damp when I checked it last night. This morning it was less damp, but still needed hanging on the clothes horse indoors to finish drying. With that done I decided I would get back into bed to warm up under the duvet - which was actually slightly too warm compared to just slightly too cool without. I was quite surprised to find how late it was when I woke up again !
Today the big thing on the agenda is my late afternoon/early evening drink with the Thursday club. Apart from that I have just a selection of less important things to do. It would be useful to go and buy some vegetable today - possibly from Aldi - but they are not essential yet. One strange thing I have to do sooner or later only presented itself to me 10 minutes ago. It is to go out and activate a new bank card for Patricia. It is a replacement card, and her old PIN should work to activate it. I can earn £10 for doing this - withdrawing that being a suitable way to activate the new card ! Other than that, I could do some more hoovering, although the desire to do so is not very strong !