At 8am this morning the chances of rain were 24%, and the road and pavement did look damp, but no rain was actually forecast. The rest of today should be dry, but it is going to be mostly overcast. Since 6am, when I took the screenshot of the forecast as shown above, only a few small changes to the forecast have been made. The late afternoon sunny spells may now start an hour earlier, and "Weather Warnings" have been issued. These warning are about potentially heavy rain starting after 6am tomorrow, and continuing for the next few days with some thunder and lightning thrown in just to liven things up a bit. Although the weather warning is from 6am tomorrow, it currently looks like most of tomorrow will be warm and sunny until it all ends with a flash and a bang at around 9pm. No doubt the strength and timing will change many more times until finally the forecast matches reality !
I managed to go all through the pictures I took on Wednesday before it was time to go out yesterday. That meant a lot of yesterday was a busy time, a slightly rewarding time, and yet still often a boring time. Maybe I have been taking far too many pictures lately, and yet I can't seem to help myself doing it. At least I was more restrained last night ! I had been quite pleased with the pictures I had taken on the tube system, and I was also very pleased with the pictures I took while waiting at Clapham Junction station....but with a couple of caveats.
One such caveat was that all the pictures seemed too cool looking despite being sure I had switched the camera to daylight sensitivity. I must check that sometime. It is possible my finger slipped and I set it to something else. Fortunately it was very easy to correct the pictures to look a lot warmer. The other caveat was to do with temperature too, but not the temperature of the light. It was warm and sunny in the afternoon, but a light breeze seemed to make it feel a bit cooler. That didn't apply to the rails heading towards Waterloo out of Clapham Junction. They, and the dark coloured ballast were soaking up that sunshine, and returning it in the form of a heat haze rising above the railway. It either spoiled, or enhanced the pictures taken with my zoom lens. On some pictures it may have looked good, and on others it was a big spoiler, but I don't think there is any general rule to predict which will be which.
You'll have to wait for me to show some examples of this until later. At just gone 4pm yesterday I went out and took even more pictures. The occasion was my regular Thursday evening drink, but this time made a little special because it was Andy's last regular drink with us. He is moving out of the area, and won't be able to join again except on a few rare and special occasions. So a few snaps were needed. I took along my new Polarois Snap camera, and its picture were very disappointing. The problem was that it was dim enough in the pub to make the pictures horribly noisy, but not dim enough to auto trigger the inbuilt flash (which has no manual override).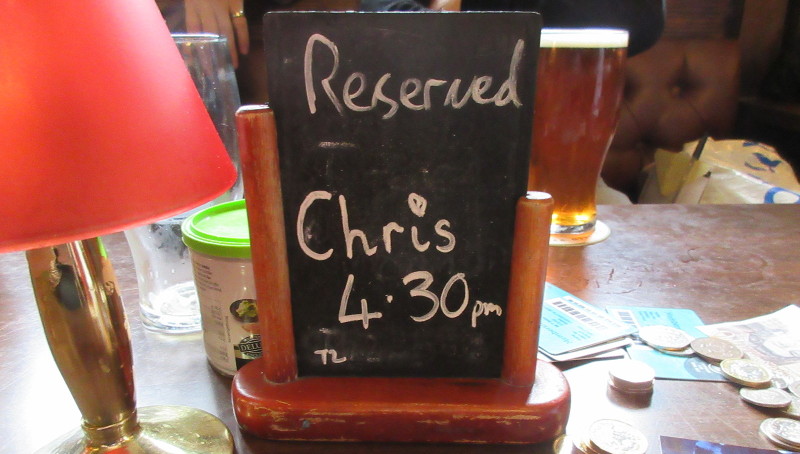 I'm not sure what insight Chris had, but he had a table reserved for us. I don't think in this case that it was actually needed, but it was probably better to be safe than sorry on this night when we were toasting Andy goodbye.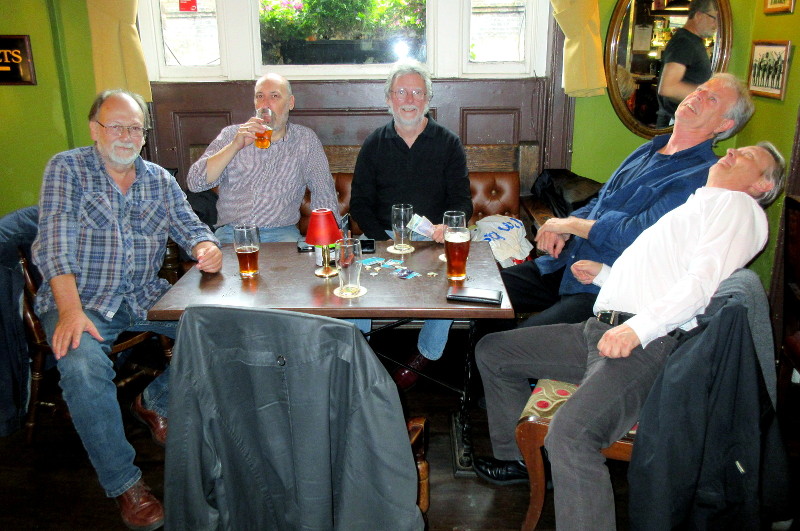 This picture, like the one above, was actually taken on my Canon iXus 285HS camera, rather than the Polaroid, and even it didn't seem to like the lighting in the pub. From left to right we have Alan, Andy, Chris, Steven and Paul. There is no explanation as to why Steven and Paul are looking at the ceiling apart from me asking Paul to lean back a bit so the camera could see Steven.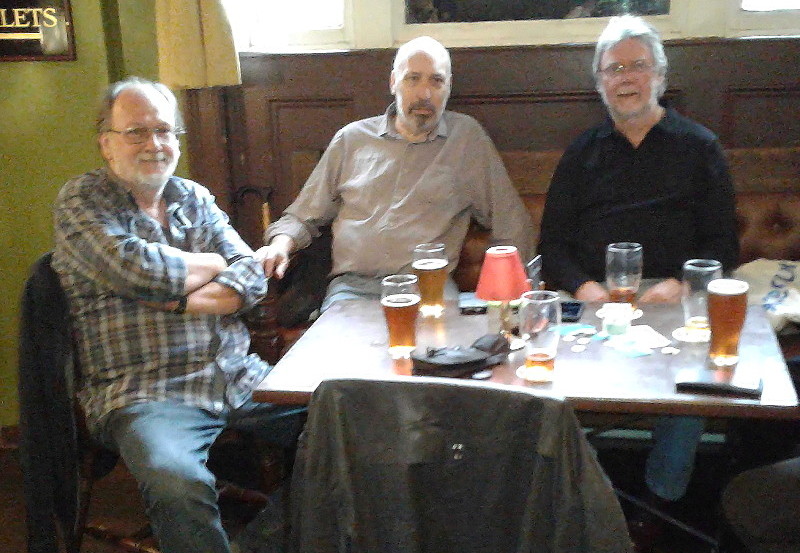 This horrible looking picture of Alan, Andy and Chris was the best the Polaroid Snap camera could manage in the available light. If only it had triggered it's flash the picture could have looked a lot better. I think some of the smearing was because it was a very long exposure - 1/17th of a second apparently, and the exif data also said the flash did fire. I can only conclude that I had my finger over the flash (it is just a bright white LED as used on many mobile phones now).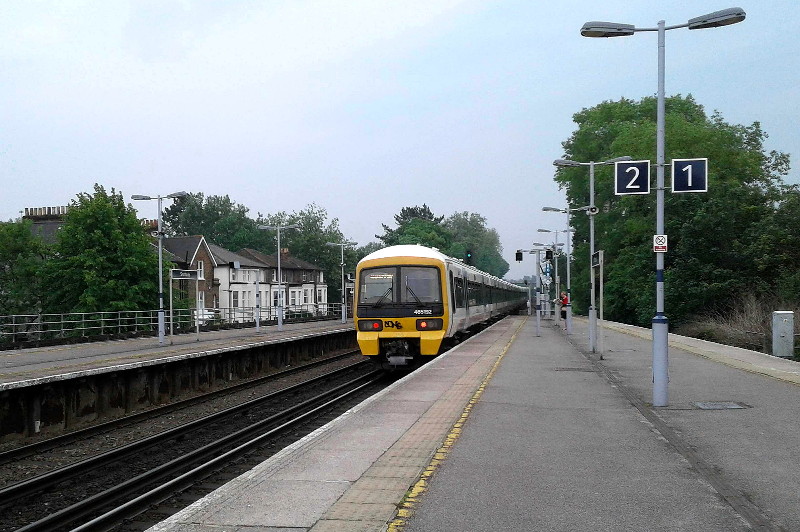 After I left the pub, having drunk my usual 43 pints of bitter, I gave the Polaroid Snap camera one more chance. It was overcast, but still much, much brighter than in the pub, and the picture it took of this train leaving platform 2 of the station came out rather well. There is no motion blur, very little noise, and the white balance is about right. I think my new camera is going to be mainly an out door camera, although that still does not alter the fact that it is essentially a useless toy bought out of curiosity instead of need.
I had eaten very little before going out, and the beer should have given me a ravenous hunger, but for some reason it didn't. Maybe it was because like the day before, my blood glucose level had dropped to a more beneficial level. It was both good and bad. The bad was mainly that it gave me the patience to order a takeaway when I got home. The good, but it is only very, very slightly good, was that I ordered stuff that wasn't too terrible for me to eat...or at least it shouldn't have been. The main problem is that I ordered a mixed grill, and grilled chicken is generally low in stuff (except flavour). The downside is that I didn't realise it came with a side order of chips - and they were real chips, and not "fries". They were rather delicious, and only stopped myself eating them when there were about 5 chips left !
By padding the order enough for free delivery I had enough spare grilled chicken left for meals today. One of the curious things about yesterday, and also the day before, was how I felt walking to the station. Basically I didn't feel exhausted. It does seem I am slowly getting my stamina back, or at least a specialised form of it. One of the things I have complained about to my doctor, amongst others, is how my blood pressure pills can make me feel like walking is hard work almost from the moment I start, but oddly no worse when I finish, and so it was when walking to the stations yesterday and the day before. Except in these last two cases I seemed to feel slightly less knackered than I have experienced in the past - and that past includes some days when I was commuting everyday, and probably getting far more exercise than I get most days now. Maybe it is because I have got my eating almost under control every second day...or something like that.
It was midnight before I turned out the light, and fell asleep last night. I probably slept fairly well, and I woke up feeling better than some mornings. Since waking up I have done more photo editing, got stuck on the phone with Lee for far too long, and I have almost written this. I have a few jobs to do today to amuse me for a short while. As I sit here writing on my PC a pair of my white, cheap, thin, and comfortable shoes are soaking in a bowl of soapy water. They have a lot of mud on them, and a good scrubbing should make them look a lot better - although I am not sure tey have got much wear left in them, and they will surely be destined for the rubbish bin soon.
The other job which needs tackling is to get rid of a backlog of washing up, and other cleaning actions on the kitchen. It is work I really don't like - mostly so after I have neglected to do it for some time. Things obviously get a bit slimy and smelly, but that is not my chief objection. The biggest objection is the time it takes to do these things with particular regard to all the reaching out to pick stuff out of the sink (as an example), and having to bend over, and once again reach out to clean the inside of the microwave oven. I find bit of me soon become uncomfortable with all that bending and stretching.
Once all that is done I have almost nothing to do (or want to do) until it is time to go out. I am slightly hesitant to go because I don't like the pub, but Chain are playing in the Beckenham Bricklayers Arms tonight. It is a small pub, and the band play tucked into a corner by the main door. The best place to stand to watch, and take some photos, is exactly where you keep getting bumped into as people come into the pub. Once there are more than half a dozen people watching the band there is very little room to move around to take shots form different, or more interesting angles. It is probable I won't be staying there that late. On the other hand it is possible I am being far too pessimistic.
Whatever I do tonight will pale into insignificance compared to my plans for tomorrow night. Tomorrow The Life Of Brian are playing in The Mitre in Greenwich. It is one place where Angela is bound to be, and I don't want to bump into her because in theory we are no longer friends. We are definitely no longer friends on social media, and for a while she actually blocked me from even seeing her existence on it. That block has now been lifted, although it is probable that it was an accident. On the other hand it could be because she expects me to send a grovelling friend request. I feel she should send me a friend request considering she was the one who unfriended me. My plan is to try and take some pictures of The Life Of Brian (except for the drummer), and maybe even Angela herself if it seems possible to take it with being spotted, and post them as "friends only" on social media. Her daughter, who is still a friend will see them, but Angela won't be able to see them unless she wants to be friends again. After a week I'll probably make all the picture public, but it will be interesting to see what happens in the meantime - although it all hangs on being able to take the pictures in the first place, and I feel quite hesitant about going in the pub.