The first part of today's weather forecast is spot on - it is wet, and it is gloomy ! Maybe the last 4 hours before sunset will see thinner clouds, but the chances of any sun today seem slim to zero ! It is not even going to be as warm as yesterday if the top temperature is only going to be 13° C. Tomorrow might be a slightly warmer, slightly less wet version of today. If any credence can be given to forecasts more than a few hours in advance, it seems we will have to wait until Sunday for some sunshine.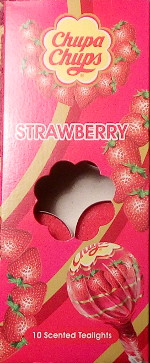 Perhaps my greatest achievement yesterday was to wash a pair of jeans by hand. I have to confess that it could have been the first time they were ever washed since I bought them. I don't know when that was, but I think it was before I had my quad heart bypass operation in 2013. The water which came off after the initial wash was distinctly green in colour - which was sort of strange. To my surprise they were easier to hand wash than I thought, but still not a job to take lightly.
I needed to stock up on tea lights yesterday, and so I took a wander around the 99p shop and Poundstretcher. The 99p shop didn't have any tea lights except for the extended burn time variety. They are a bit much for my oil burners/vapourisers. Even Poundstretcher only had a couple of packs of plain tea lights left. One thing they did have were the novelty tea lights pictured on the left. Branded Chupa Chups, the people usually associated with lollies and other kids sweets, they continue the theme of sweet with these strawberry scented tea lights. They do smell sort of nice until you light them. Then they start to smell more like a fire in a jam factory. I think I will be using them up sparingly.
At midday I decided at the minimum I would go for a walk in the park. I felt sure that Angela would be off work sick. In fact she wasn't. As I walked in the park I passed a stand (stand ?) of daffodils close to the fence that were fairly dense, and easy to snap using the camera on my phone. I took a picture of them, and sent it to Angela along with wishes that she get better soon. About 5 minutes later I got a response to say that she was at work, and would meet me in the pub a bit later.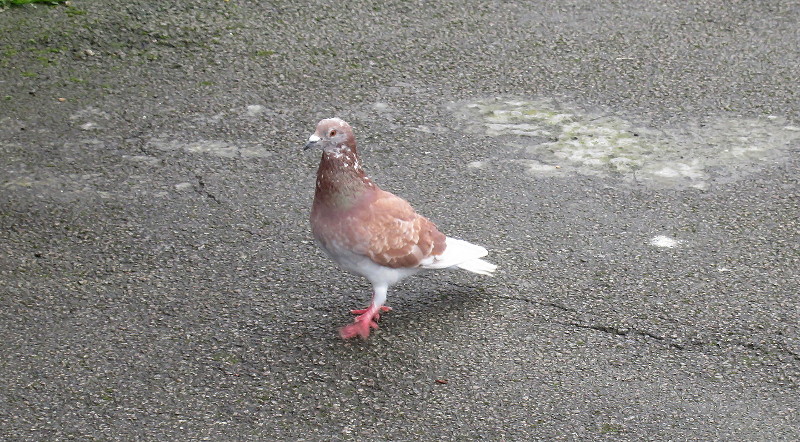 I actually took this picture while I was on my way to the shops in the morning, rather than in the park. I was a bit late getting my camera out to snap this fellow strutting around, feathers all puffed up, as he chased the ladies, and only just managed to capture him in this pose. I think his other side is his best side. Brown pigeons are not rare, but they are not common either, and this one had a delightfully speckled neck - but mostly on the other side to this picture.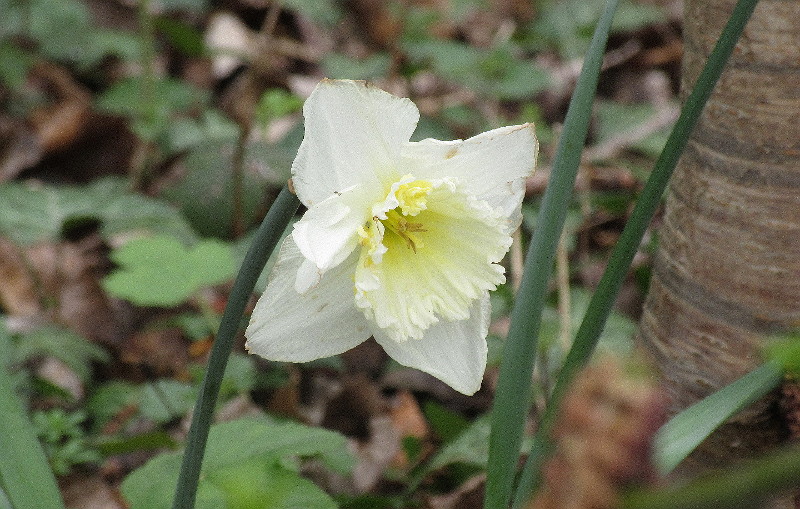 It is just starting to fray around the edges, but this almost pure white daffodil was posing so well I had to go for a close up. When you stop and think about it, there is a surprising variety of daffodils in Ladywell Fields. Many are the traditional all yellow, but others are white and gold, yellow and gold, and some are big, and some are small.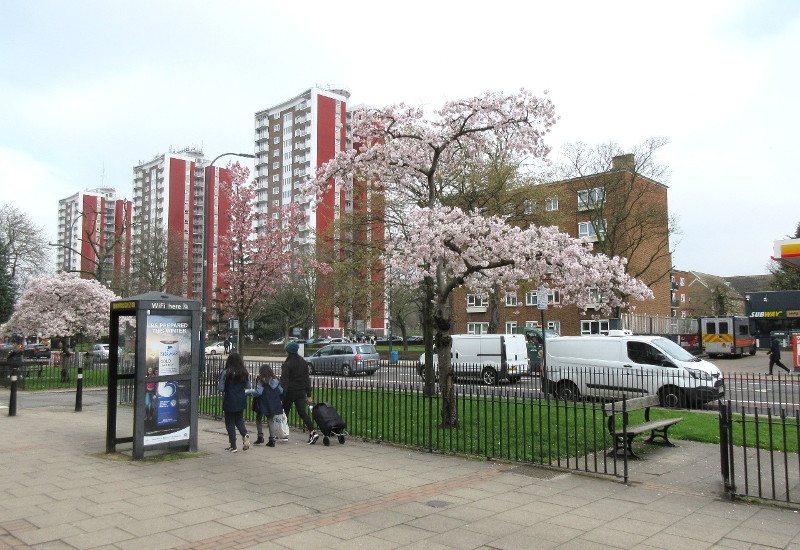 I took this picture on the way home. I don't think I have ever noticed that all the trees, or at least most of the trees outside Lewisham Hospital come into bloom with white or pink flowers in the spring. A few minutes before I took this photo the sun had come out, and that blossom looked most impressive in the bright sunshine. Sadly the sunshine did not last long, and when I took this picture it had just gone in. It was still bright though, and a few hints of blue sky can be seen between the clouds.
I wasn't quite sure how my drink with Angela would go after not seeing her for nearly a week, but it was quite good. Good enough to to be suckered in and to dispel many of the negative thoughts I had the day before. Maybe I detect that there are a few recent stresses in her relationship with lover boy. Sadly they won't last, but it was nice to demonstrate a bit of positivity to her. She didn't mention it, but I think the picture of the flowers, and my get well soon message lifted her spirits.
She didn't seem to show any external signs of two maladies that were causing her distress. One was a cold which originally manifested itself on Sunday night as a cough. She carelessly let slip that this was possibly caused by stress. Her other malady was a painful ankle. It is an occasional legacy to turning her ankle while trying to ice skate during her schooldays. I wonder how many kids ended up with damaged ankles as a result of trying out ice skating ? On the one single occasion I went ice skating with the school there was no instruction about how to put the boots on, or that leg braces were available. I came out of that place wondering if I would ever walk again. On occasions my right ankle still gets sore, but I have always been able to walk through the pain, and it has never lasted more than a few tens of minutes.
I did come away with the impression that Angela was truly pleased to see me. There was a certain warmth there even if there was no closeness. The lack of closeness could be explained away by Angela saying she was full of germs - although I never saw her sniffle or cough once. Although she didn't offer herself up for it, she offered zero resistance, and we parted with a hug and a peck on the cheek. I could almost imagine that, far from resistance, she actually gave me a little extra squeeze as we hugged, but it is almost certainly fantasy...or was it ? Even I don't know now.
When I got home, with just two pints of Guinness swilling inside me, I knocked together a big corned beef salad. Soon after eating that I did what I was trying to avoid, and didn't even think I needed, and had a snooze - quite a long snooze - or two of them ! Finally I had to get up to finish washing my jeans, and get them hung up to dry. From then on it was just a case of marking time until it was time to go out to Stretchy's Open Mic. Last night was strange in that I was late getting out because it was still daylight, For the whole winter it was hard to even contemplate going out because it was dark so early in the evening, or indeed in the late afternoon. Now the clocks have changed, and the seasons are moving on, it seemed like I was waiting for sunset to be my cue to go out.
I may have started out later than I intended, but the bus was unusually fast, and the open mic session started about half an hour late because too many people were watching footballing on the idiot box. So my later arrival was just about right. There were lots of people I knew there, and yet I still didn't really feel part of the gang. It did feel a bit like it was my job to be there to take photos, and that spoiled it a bit. In fact, apart from the good bits, of which there were several, it was not a great night out. One of the lowlights was a character who I know can play and sing fairly well, turning up drunk, and making a complete hash of his turn at the mic. His guitar playing was all over the place, and his singing was terrible. It could have been funny if it wasn't so sad.
I think it was about 10.30pm, when I had seen most people, that decided it was time to go home. The last half hour or so tends to be more like a jam session with many people involved, and in some ways it can be the best bit, but it felt like I had run out of steam. I didn't have long to wait for a bus, but the bus seemed to be annoyingly slow as it made its way back to Catford. When I finally arrived back in Catford I shunned all the fried chicken shops, and went straight home where I had a calorie controlled ready meal in the fridge ready to be microwaved into hot and steaming life.
For some reason, maybe it was the result of only drinking 2 or 3 pints of Guinness, I decided I wouldn't have a hot supper when I got in. All I actually had was a handful of Marmite coating flavoured peanuts. Not long after eating them I gave my teeth a good scrub and went to bed. As far as I can remember I fell asleep really quickly, but after that it all went wrong. I woke up after only about 2 hours sleep thinking it must be time to get up. I think I had a pee and then went back to sleep. Another hour or two later I woke up with cramp in one of my calf muscles. A walk around the bed sorted that out, and I got back to sleep. Perhaps another hour passed before the same thing happened, but this time I had another awful thing happen.
It is something that is happening more and more often. I think it is as little as 12 - 14 months since it last happened. "It" is a terrible itch on the sole of my foot. It is impossible to scratch, and while rubbing in some moisturiser, or in the case of last night, some Vick's Vaporub (basically smelly Vaseline) helps a tiny bit, it doesn't cure. It just has to be endured. After a while it goes as quickly as it started, and I could get to sleep again. At about 7am I woke up again with cramp in both calf muscles, and I could barely get out of bed without passing through an agony phase. Once I managed to push through that agony, and stand up, the cramps dissolved almost instantly. Right now I can't even really feel any residual ache.
This morning I should be feeling really good, but I don't, and that could be good or bad. At 11.30am I have an appointment to see my doctor to discuss the result of my recent blood tests. I have a pretty good idea that my blood glucose level has been running high during the winter, but should be reducing now I have changed to a spring diet. At least on this occasion I will be able to show some nice low blood pressure readings - incredibly low for me on some occasions !
Seeing a doctor may be just one of two things I will be doing today. The other is selecting and editing photos I took last night. I used my flash gun for all photos last night, and so most of them will requite little work to make them presentable. I won't be seeing Angela today. At just gone half past 7 this morning I had a phone call from Angela to say that her ankle was really giving her grief, and she wouldn't be going into work today. Getting a phone call like that, early in the morning, is like going back to when we were once much, much closer. It tends to reinforce my theory that all is not well with lover boy recently, although that idea was slightly spoiled by her saying that she was going to get him to go and buy, and deliver to her, a support stocking.
One of the pictures I took last night. These are The Sea Monkeys with Zoe on acoustic guitar.