10:10 BST

On the whole, yesterday was bright and sunny. If it could just have been a bit warmer it might have been a rather pleasant day. The clear skies that had allowed the sunshine through stayed on during the night. That gave the coldest morning since last spring. It was just 5° C here at 5am. The sun is still shining now, and it is warming my room up nicely. Outside it is still a rather cool 9
° C. The sun is forecast to continue to shine until 5pm, and the temperature will rise to 14
° C. In the last hours before sunset the clouds will start to build up, and by morning, if the rather pessimistic forecast is correct, it will be raining.

On my way home from work on Friday I called into Tesco again. While picking up a few vegetables, a bottle of Diet Coke, and some less healthy stuff, I spied some reduced price men's dressing gowns. I haven't owned such a garment since I was a kid, and even then I can't really remember ever wearing one. The ones in Tesco were both cheap, and instead of the hated tartan pattern that seems, or seemed to be the norm for dressing gowns, these were a plain black (or in some light, a very dark blue). I think they are made of polyester, and not cotton, but they have a nice soft fluffy feel. Anticipating a long cold winter, I decided to invest in one, and it is rather nice. If it has one shortcoming it is that it is too warm after I've had some heating on in my bedroom - such as right now !

Yesterday I was going to go to Hampstead and say hi to an internet friend. She, and several others, were going to something like a lecture, but not actually a lecture, and I did give thought of going to it myself. Unfortunately it went on to 5pm, and I just wouldn't have had enough time to get home, and prepare to go out again to see The Jo Bangles Band playing in The Crown at Leaves Green (near Biggin Hill airport). A secondary plan was just to go to say hi for 5 minutes, and then come home again. I very nearly did, but I became distracted by trying to convert/transcode the video I had recorded of Red Dwarf last Thursday. It became too late to travel up to Hampstead in time, but while that plan crashed, my video conversion succeeded. The very last program I tried was one that I had dismissed as being too temperamental, and hard to use. It was a Linux application called Kdenlive, and this time round it seemed to work very well.

Not wasting a couple of hours travelling to Hampstead and back allowed me to do other stuff. Of particular note was work on, and around, my settee. It needed a small repair that I think I have done effectively, and for the first time in a very long time I have hoovered under and behind it. With some new throws on it, and some new covers for the cushions, it looks very nice (in my humble opinion). While I had the hoover out I also did a lot of the rest of the living room floor. One place I didn't do, but maybe I will today, is under, and behind a large armchair that sits under the windows in the bay. I did hoover up to the side of it yesterday, and while doing so I noticed lots of unpleasantry behind it.

It felt good to get the housework, or as much as I did of it, done, and surprisingly it didn't wear me out. To say I was fit as a fiddle when I left to get the bus to Leaves Green would be a gross exageration, but it didn't seem to take much effort to get myself out of the door. The only significant ailment was that my throat had become rather tickly again during the day, and I was coughing a lot on the bus. A cool glass of ale in my hand provided and excellent remedy, and the cough ceased to be an irritation for the rest of the evening.

The gig last night had it's good points, and it's bad points. The bad was a few songs that really sounded a mess. Chris and Jo played perfectly even when the drummer seemed to be playing a different tune/beat, and the keyboard player seem to be playing in the key of Z ! Along with Chris and Jo were Ravi on bass, Dylan on drums, and Jamie on keyboards.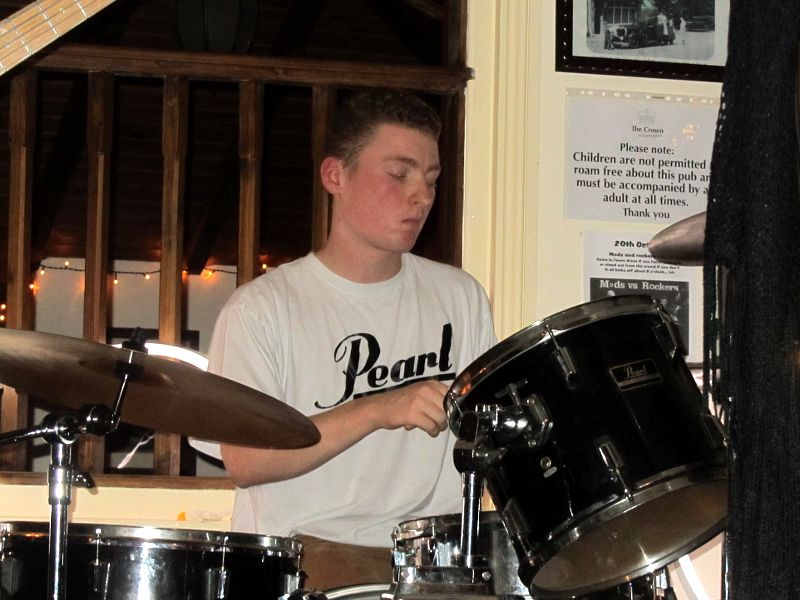 On the few previous occasions when Dylan has guested on the drums he has always sounded quite good, but he seriously lost it a couple of times in the first set. He settled down OK for the second set.


I don't know where Jo found Jamie and his keyboards. His sound was quite low in the mix, and I think that may have been for the better on a few songs. I guess he is young, and still learning his craft, but he seems to heading to the Stevie Wonder school of keyboards rather than Jon Lord (of Deep Purple).............although his t-shirt suggests a totally different school of thought. Just before the second set started he did a solo performance of Benny And The Jets. It must be his speciality piece because he was quite competent at that.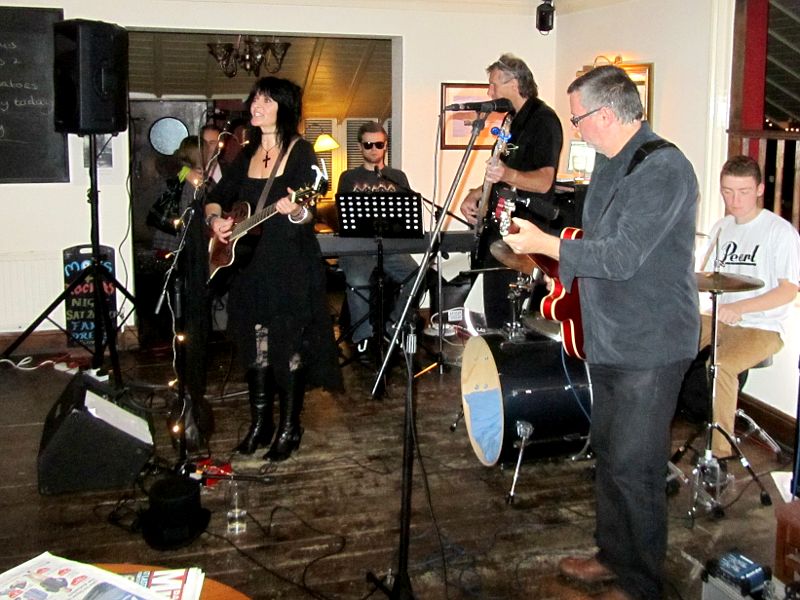 Here's the whole band - Jo, Jamie, Ravi, Chris and Dylan.


While some songs were not up to par, I still enjoyed the whole evening. It was one of those nights when loads of people you know, or recognise, turn up. There was Bob and Liz - original members of the band back when they were called The Bluesicians. Then there was Rod. Rod is Dylans dad, and he is a very nice guy. The only trouble is that he is a professional photographer, and I can get very self conscious when he is almost looking over my shoulder as I take my photos. I imagine that he is of the old school where photos were taken on good quality, and expensive, film, and each shot had to count. I just shoot loads of digital pictures, and hope that some come out presentable - and usually they do.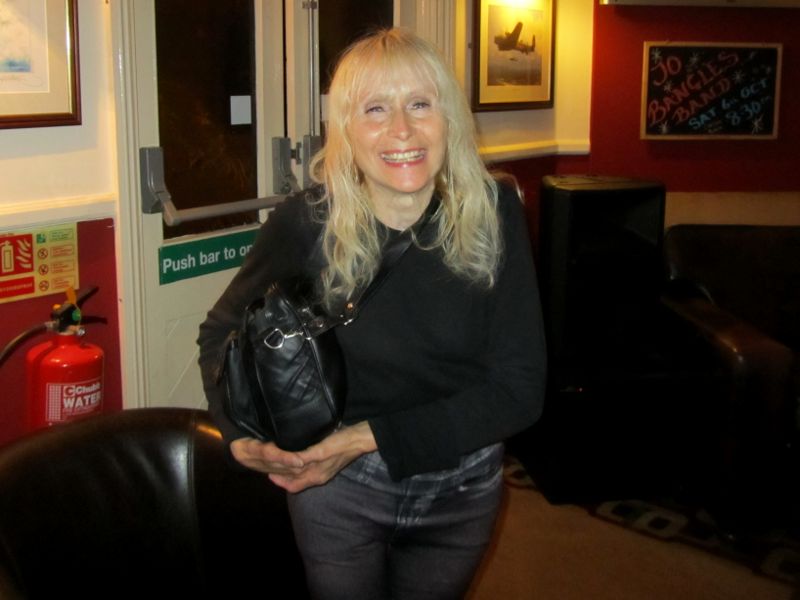 One picture that came out tolerably well was this one of Carol. I've seen her at several Chain/Jo Bangles gigs recently, and she seems very cute. Last night I finally managed to get a a reasonable picture of her, and have a chat as well. I look forward to seeing her again next weekend when Jo Bangles are playing at O'Neils in Bromley ( for the first time I believe).

After the gig had finished it was out into the cold night air. The cold didn't incite my bladder like it did after the gig in Orpington two weekends earlier, but it did seem to take it's toll on my chest. I was OK on the bus back to Catford, but slowly my tickly cough turned into a full throated chesty cough.

After preparing and eating a light dinner I almost went straight to bed, but I couldn't resist taking a peek at the pictures I had taken before I went to bed. When I finally turned out the light I went to sleep fairly quickly, but I was only asleep for 2 or 3 hours before I woke up coughing (and needing a pee). After a few more breaks in my sleep I finally woke up at 9.30am with my throat feeling a bit sore. It's settled down a bit now, and if I keep myself warm it should all be under control again.

I had plans to buy a few things this morning, and to do some housework, but I am wondering if I should treat myself as being ill today, and go into extreme sloth mode. That may be a too boring to carry out, but I am thinking of giving it my best shot :-)