It almost looks like I was not the only one who was not over thrilled about the xmas party, but I think it was just my timing when I took the photo. There were half a dozen or so behind me too.
After taking the obligatory photos, and finishing my work, I was surprised at how late I had stayed at the party this year. Last year I think I escaped as early as 1pm, but this year I was so late that I only got the train before my usual train at Waterloo East. I think that made me 33 minutes early - it's a funny interval at that time because it's just when they switch from the daytime timetable to the rush hour timetable.
It was very close to dark when I arrived back in Catford. I wanted to get some shopping, but I didn't seem to have the energy......plus I was a little drunk ! So I went into the Turkish supermarket and bought an assortment of stuff. Some of it was nice, and some less so. The worst was probably something I think was called "student sausage". It was a very smoky, and very garlicky, spicy sausage. Perhaps at another time it might have been good, maybe used as an ingredient to some sort of more complicated dish, but by itself it was not such a good idea.
The tender stomach I had been suffering from in the morning was but a distant memory until I had that sausage. For the rest of the night I was burping up the flavour of it, and that was not pleasant. Later in the night I started suffering from bad wind, and the flavour of my farts was incredibly offensive even to me !!!
On top of belching and farting, I also started to cough a lot last night. I can't help but thinkng that somehow it is tied in with the wet weather, but considering I didn't actually go outside into the rain, it is hard to imagine how. All I do know is it rather spolied my night, and left my chest scar feeling rather sore. Taking it all in, and then adding some fatigue, and possibly even some late hangover, I felt pretty lousy this morning.
Feeling like that there were only two things I could do. The first was to send a message to my friend Aleemah saying I wouldn't be seeing her this morning, and the second was to go back to bed again. I did get up for short periods of time several times during the night - sometimes as short as 10 minutes, and once for just over an hour - but it wasn't until 11am when I finally decided I ought to get up and try and stay up.
Since then I've had some breakfast and watched half an hour or so of TV. There wasn't that much on to watch, and while flicking around the channels I came across the last 5 minutes of an American programme called "The Big Bang Theory". It seemed like it might be a comedy programme set in the digs of some students. The actual setting or plot was irrelevant as far as I was concerned. What amazed me was that I couldn't believe that they were still using such a crap, obviously dubbed, laughter track. Everytime one of the cast made some undecipherable remark there would be this big burst of synthetic laughter for no apparent reason. It made the BBC licence fee seem ever such good value if that was the alternative.
That 5 minutes of American TV probably didn't really help how I still feel this morning. I am not coughing at the moment, and I am not farting and belching, but I still feel very off colour. I will try and wash a few shirts today, but I can't see myself doing much more than that. It is time for a rest to get over a week at work (minus one day when I went to see my doctor). One thing I have done already is to prepare a few of the pictures I took at The Catford Constitutional Club on Thursday........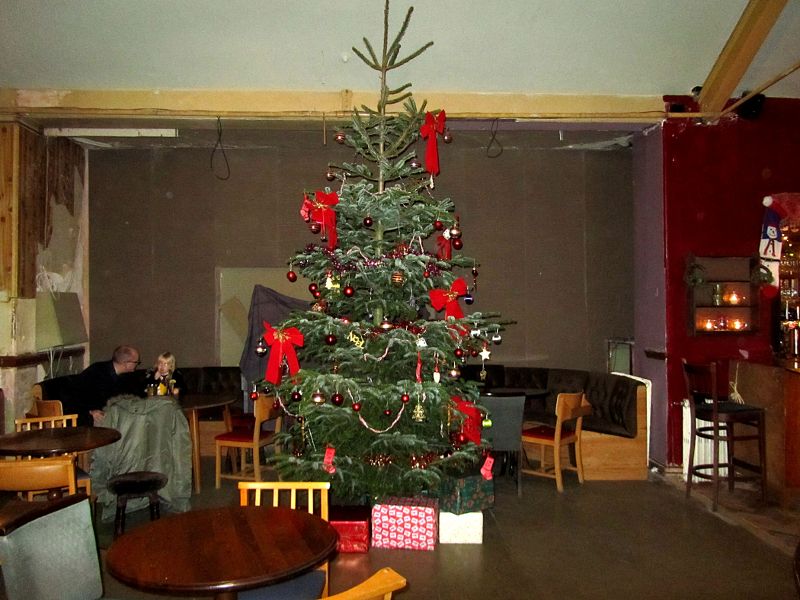 Almost sitting in an alcove that is begging to have a stage built on it for live bands is a xmas tree.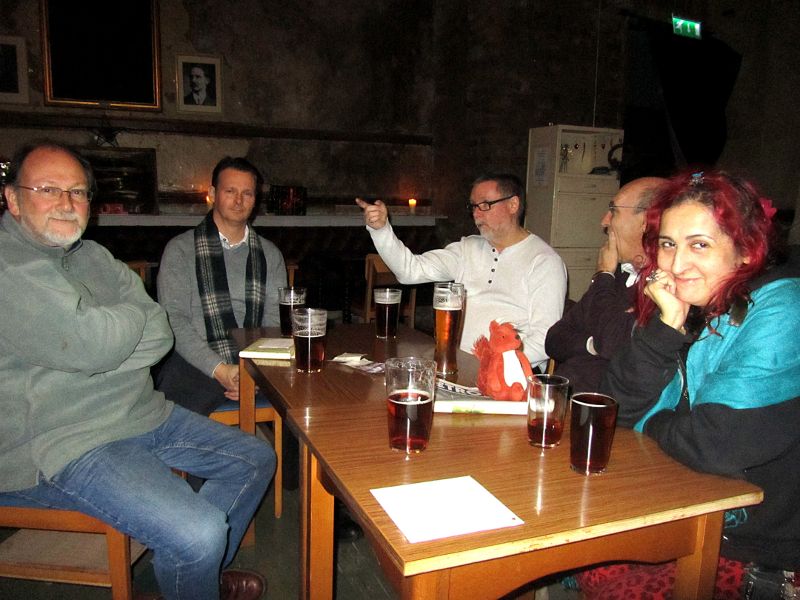 Not a full turnout, but with the addition of Jodie - The Thursday Night Drinking Gang
Alan, Paul, Chris, Andy, and Jodie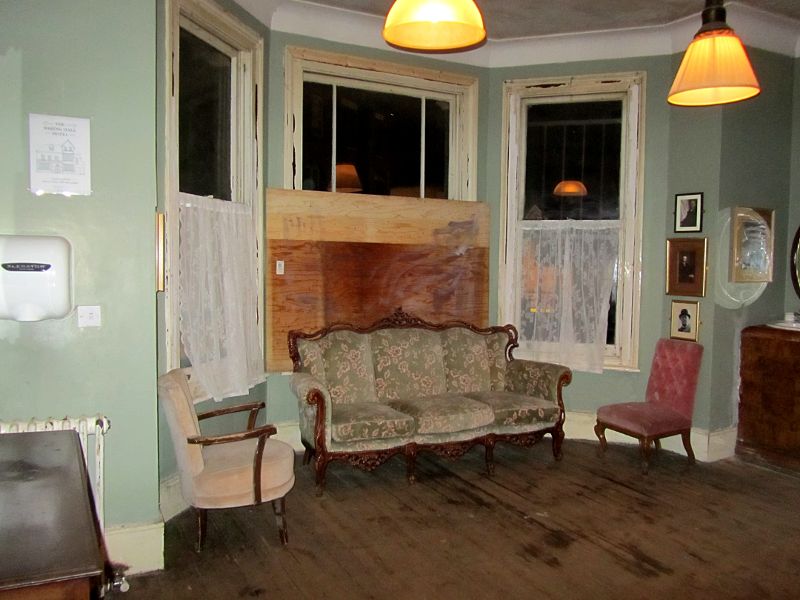 You probably wouldn't realise that this is inthe ladies toilet in The Catford Constitutional Club -
- thanks to Jodie for taking the picture for me.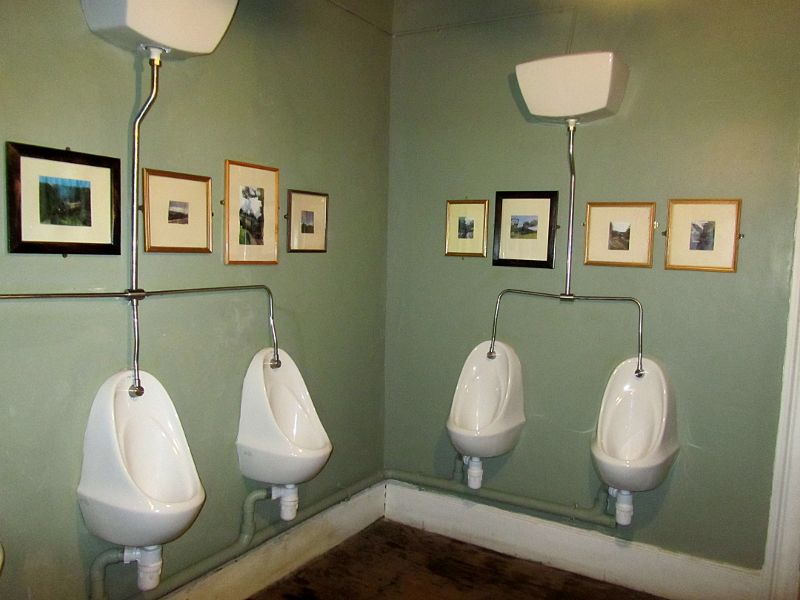 The gents toilet is a little bit plainer !
So plain that the urinals are bolted straight on to plastered walls, and below them is unprotected plain wooden floor boards. That lot is going to rot before next year is over !