The building had been disused for 16 years and had quite a musty and dusty smell, but it wasn't too unpleasant. I don't know what plans there are to re-decorate it. At the moment it has the original wall coverings except where they have been stripped back to the plasterwork in places. There are also lots of posters/pictures and other stuff on the walls that presumably date back to when it was The Catford Conservative Party club house.
I had two pints of Winter Warmer in The Catford Ram while waiting for the new venue to open, and with my desire not to drink too much last night, I only had a solitary half pint of beer in the CCC before going home. I believe that a few of the gang ended up staying very late last night. After getting quite whammoed the Thursday before, it is probably just as well I went when I did.
The reason for the lack of beer, and also being a bit careful what I ate last night, was because of my Cardiac Rehabilitation Physiotherapy session today. I wasn't looking forward to it, but it turns out that only a few of my fears were justified - well justified ! I didn't like having to lie at the induction portion. All the paperwork I had was adamant that I had to have breakfast or they wouldn't let me exercise.
I was not looking forward to the exercise, but it was most of the reason for the session. The trouble is that I cannot exercise after eating. Maybe it is not so bad now, but old habits die hard, and I deliberately did not eat anything before going out. I also tried not to drink too much as well. I was fairly confident I could cope with most of their silly exercises so I made sure I walked there the long way round (about 0.75 miles) at a brisk enough pace to bring on a hint of sweat when I stopped.
I was quite surprised how easy the exercises were, and very, very surprised how easy the step ups were. (This was like continually going up one tread on a staircase, and the going down again). The step was a nice height, and 100% easier than those bloody steps at Earlsfield station. During the course of the session I must have done the equivalent of going up the staircase at Earlsfield 4 or 5 times !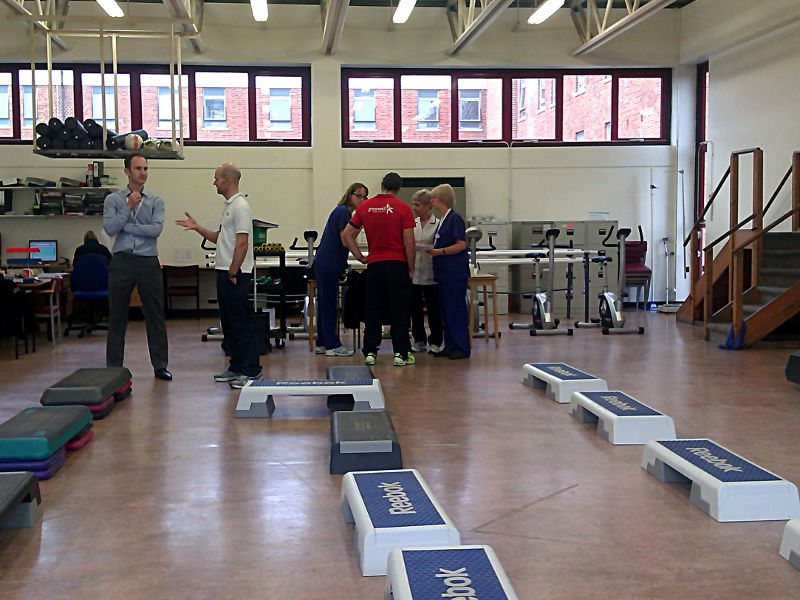 Inside the gym with the steps in the foreground and nurses plotting at the back.
While the exercises were easy - enough to raise a sweat, but not enough to need more than moderate breathing - they were, as I expected, bloody boring. It is almost criminal to generate all that energy and let it go to waste, but in terms of boredom there was worse to come.....in a different sort of way.
After the exercises, which ended by boringly going slower and slower, there was a relaxation session. It could have driven me mad if I didn't see the funny side of it. A nurse speaking softly and slowly, accompanied by some incredibly bland music, also played very quietly, was supposed to relax us, possibly to the point of falling asleep (which I think did work for one guy).
The only trouble was the theme the nurse talked about. It was about a holiday on a white sandy beach. I have never experienced anything like that in my life, but I was immeadiately reminded of something I had seen on QI quite recently (on a Dave repeat). Apparently, according to Stephen Fry, white sand is actually centuries of accumulated parrot fish droppings. The fish feed on coral, and the white coral passes right through them......
The nurse was describing slowly walking along a bit of the beach, and then sitting down under a palm tree to rest. The only problem with this is that when I visit a beach I want to walk along it exploring as fast as possibe to see as much as possible in the limited time available - obviously stopping to take photos on the way - something like
this
. That is relaxing for me by one definition, but not the gentle coold down that the nurse was trying to instill in us. I am sure I found the step ups more relaxing - it was just a simple mechanical motion that you could let your body get on with while your minded drifted to thoughts of food, fags, booze, and all the other pleasures in life.
At the end of the lunch break that followed the relaxation session, I had a word with one of the nurses, or maybe she had a word with me. I told her my feelings about the session, and offered my resignation. Until that point there was a waiting list for people to get on the sessions, but evidently it is not as big as hinted at because I was not thanked for generously giving up my place for someone who might need it, or enjoy it more.
I stayed until the end of the day. The last bit was a lecture about symptoms of heart problems, and was sort of interesting, and may have imparted some useful info for the future, but I reckon I can live without more information. I suppose now I can look forward to some very brief lecture from my doctor when I see him next Thursday. Oh well, at least I am free for now - free to follow my own exercise regime of as much walking as the weather allows (almost zero during winter apart from commuting when I start that again), and weight lifting (a pint glass from table to mouth).
I came home at top speed through the park (the exercises had hardly sapped my energy at all). It was cold, grey and damp in the park, but it felt good to be free. When I got home I poured myself a large glass of scotch. I didn't need a drink, but I wanted to do it just to be a naughty boy, and to toast my success for the day. I was going to have more scotch, but one glass seemed to be enough to prove my point. I was thinking of having more scotch tonight, but I can't seem to find a good reason to pour one for some unknown reason. Oh well, I'll just have to look forward to a couple of half pints of ale when I accompany Aleemah to the pub for her breakfast tomorrow.