This morning started off quite cool and rather dull. It was around 8° C, and it didn't take long for a mist to form, but it also didn't seem to take that long for the mist to dissipate again. It is now just an ordinary grey autumn day. The best we can hope for today is 12° C, and clouds ranging from pale grey to dark grey, but it should stay dry. Tomorrow looks happier with some sunshine forecast, but the day will start at just a chilly 5° C, and peak in the afternoon at 12° C, Must wear a thick coat tomorrow.
Yesterday's sunshine just had to be enjoyed, and so by about midday I went for a long walk with my camera. I walked about half to two thirds of the way through The River Pool Linear Park until I left the park and walked up the hill to Angela's home. I have only one complaint, and it is rather a petty one about the first half of my walk, and that was that I was walking facing the blazing sun. At this time of year it is low in the sky, and was in a rather dazzling position. Apart from that it was wonderful !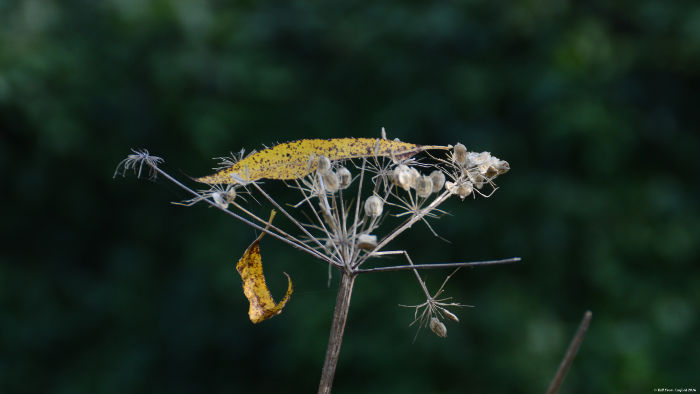 I snapped quite a few pictures along the way, but most were rather boring stock pictures of autumn leaves. The trees in the park don't seem to be the ones that produce some of those really intense autumn colours. Instead of those I offer the picture above. It shows a fallen leaf sitting delicately on top of the crumbling seed head of (I think) Cow Parsley. It's sort of "arty".
When I collected Angela I promised her a treat. That treat was that she could fulfil a fantasy of having a swing in the park. On my way to her house I had noted that the childrens play area was deserted, and that they had swings that looked suitable for a light weight adult. When we got there, there was one mum with her kid, but we ignored them, and Angela had her swing (see the video nearer the top of the page).
Angela enjoyed walking through the park as much as I did. When we came back out at the Catford Bridge end we walked down the hill towards Lidl to have a look around in there. I didn't intend to buy much, but it is lucky I came well equipped with bags to hold all the stuff I did buy. It was while we were in Lidl that Angela complained of a growing stomach ache, and I hurried up so we could get to our next destination.
That destination was The London And Rye Wetherspoons pub. I had promised her I would buy her some dinner in there. She had a gammon steak with egg and chips (basically a sophisticated version of egg, bacon and chips), and I had a barbecued chicken and bacon pannini. I don't think any blame can be rested on Angela's chip for what came a bit later, but the did taste quite unpleasant. Salt and lashings of vinegar would have sorted them out, but she had them plain.
After dinner we came back here, and Angela complained that her stomach ache had got worse. A few minutes later she dashed up to the toilet, and after quite some time came down very pale faced. It seems she had quite a stomach upset ! Unfortunately, but understandingly, she announced that she would feel much better if she went home. She called a cab in the hope that it would whisk her home in no time - it didn't ! The poor girl got stuck in traffic, and she had a very uncomfortable ride home. When she got home she lay down, and I think she said the slept for something like 3 hours.
I had hoped to spend the afternoon with Angela, but I had no choice but to amuse myself until it was time to go out again. Chain were playing a very unusual gig last night - unusual in that it was on a Monday night. It was a special Halloween gig, and of course Halloween was last night. Considering it was a week night, with most people having to get up for work in the morning, it was very well attended. In fact it was getting a little too well attended for my liking towards the end, and I decided to leave a little while before the end.
Yesterday morning I had woken up with a bit of a cough, and feeling a bit wheezy. That vanished once I was out in the sunshine, but it returned last night as I walked through the cool damp air from the bus stop to home. It probably wasn't quite as bad as it had been in the morning, but it was not nice. I possibly made things worse in the longer term by eating rather well when I got back home.
It must have been almost midnight when I went to bed last night, and I fell asleep very quickly - at least I think I did. I slept for just over two hours when I woke up feeling dreadful. It was a two pronged attack (maybe more). My chest felt very congested, and so did my gut. Two trips to the toilet sorted the latter out, but I still felt wheezy, and it was difficult to have a proper, successful, enjoyable cough. It took a bit of time before I could get back to sleep.
I also woke up at 6am for a while, but while I didn't feel that wonderful, I didn't seem to have much trouble getting back to sleep, and dreaming about supermarkets until 8am. This morning it feels like I have another cold - a proper one this time. I guess it is of the mild variety, and I think I would probably have been OK to have gone to work with it if I was working today - which fortunately I am not.
My nose didn't fully dry up since the last cold, but it did get to the point where, depending on the atmosphere, I could ignore it for hours. It now need attention fairly frequently, but at least it is not bad enough to actually drip. To complete the set, I now have, as I've mentioned, a cough. Occasionally it gets a bit annoying, but it does depend on what I am doing, and where I am doing it. I can imagine it getting worse, or getting better when I go out later.
If Angela has gone to work today I will definitely feel well enough to go and meet her during her lunch break. We may just meet in the park, but it's not really park weather. So the alternative is to pop into the pub - if it is open. It would be really good if I was feeling very much better later this afternoon because there is also a plan to meet her after work. If I feel well enough we'll have a quick drink in The Black Cat, and then come back here. If I feel a bit rough I expect we'll just stay in the pub for a bit longer before Angela goes straight home. Between then and now I ought to take a look at the pictures I took at Chain's gig last night.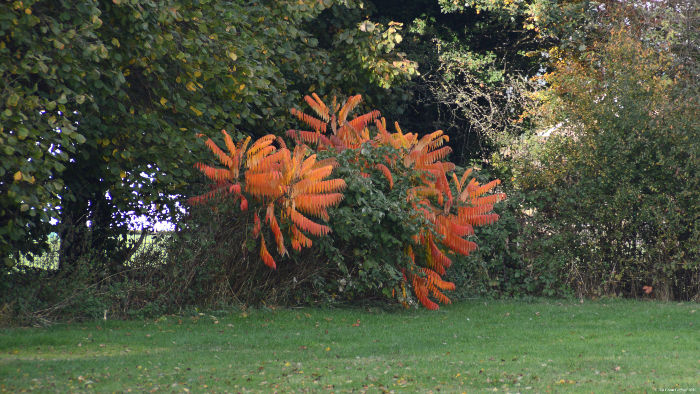 One more picture taken in the park yesterday. I have no idea what this is, but it was very bright !