I've tried to compare the difference between yesterday morning and this morning in these two pictures. The top one shows yesterday being bright and shiny, and the lower one, taken with a different camera, but approximately from the the same viewpoint, shows how dull it is this morning.
Yesterday was a bit like the day before. I didn't feel completely comfortable at work, but at no time was I in any significant discomfort. Once again.....No, as usual it was a great relief to leave work, and head towards home. Now I can say...Once again, just like the day before, I didn't feel like going straight home when I got off the train at Catford Bridge station. I think I just wanted to spend a few tens of minutes more in the sunshine.
Last night I did a bit of shopping in the SAM 99p shop. I bought a few useful items in there, and some useless ones too. I also couldn't resist buying some baklava - that middle eastern treat that is dripping with honey.....or is supposed to be. I am not convinced that some of the honey wasn't replaced by syrup ! Regardless of the source of the sweetness, it was obviously very bad for me, but I did show some restraint and I saved half for tonight.
After the 99p shop I wandered round to Peacocks on the high street. I was hoping to buy a big white fluffy dressing gown for the next time Angela stays at my place. Such dressing gowns seem to be hard to find. Tesco only stock pink ones, and they are totally inappropriate. Peacocks had dressing gowns, but not big fluffy ones, and none of them were plain white. I would have thought that white dressing gowns (for ladies) were the most common variety, but it seems not. I guess that we are going to have to go to Lewisham, and perhaps M&S sometime to get one.
It was nice to spend just that little extra time in the sunshine, but it was also nice to get home and take off my shoes. The shoes I was wearing were not the most comfortable to walk in, but they weren't agonisingly uncomfortable either. I had thought I might do several useful things last night, but eating dinner seemed to be the most significant thing I did. Dinner was supposed to be healthy. It started with a salad, and ended with an Iceland "Slimming World" ready meal. The only problem was that the salad came from Iceland and had grated carrot and beetroot, plus sweetcorn in it. Those vegetable all added to the calorie load, and the cheese and mayonnaise didn't help either.
I am really being affected by how early it gets dark now. The biggest reason why I didn't really do anything useful last night was because it was dark by 7pm, and it just felt like bedtime. I was actually on my bed reading by 8pm. and although I lost track of time, I think I had probably brushed my teeth, turned out the light, and fallen asleep before 9pm. I had what seems to be a typical semi-good, semi-bad night now. I slept really well for about three hours. I was then awake for 20 minutes or so before falling asleep for another three hours. For the rest of the night I was half awake and half sleeping. Sometimes I would be dreaming, and sometimes it was more like day dreaming. Maybe it was lucid dreaming, but if that was the case then my internal dream clock was keeping very good time, and agreed with the real clock !
This morning I think I would have liked to have got up for maybe an hour, and then gone back to bed again. I am not sure if that was because I feel I need more sleep (sleep is always good), or if I just had a subconscious desire to wake up when it was light outside - which seems a very reasonable idea ! I don't feel that bad this morning, and it is probably just because I have "faster" shoes on that I feel like I have a tiny bit more energy this morning. I am sure I did the mad dash from getting off the train at Waterloo East to getting on the train at Waterloo in record time this morning. On the other hand, it didn't feel like I did the walk from Earlsfield station to work in very good time. I'm sure I have done it in 9 minutes before, but this morning it took 10 minutes. Maybe the 9 minute version doesn't include walking along the platform, down the stairs, and across the ticket hall.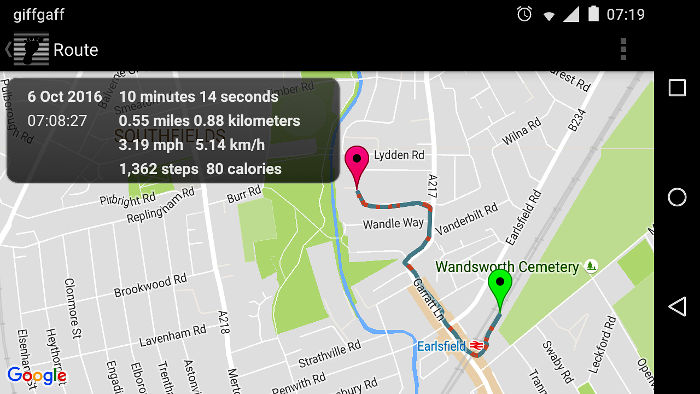 This morning it took 10 minutes, and I walked at 3.19mph. I usually average around 3mph. So maybe I was actually a bit faster even if it felt slower. Tonight I will have further opportunities to rush around. It's Thursday, and that means it is boozing night ! Tonight's venue is The Shortlands Tavern. To get there means rushing from platform 10 to platform 12 at Clapham Junction so I can get to Victoria station instead of Waterloo station. At Victoria station I have to rush across almost the entire width of the station, and it is a
very
wide station, to get a train destined for Orpington that calls at Shortlands. Once I am on that train I can relax !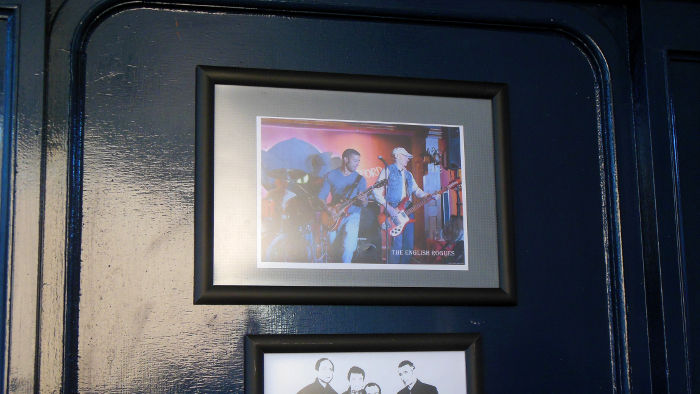 On my way home last night I walked past The Black Cat pub. It was nice to see what I think is one of my photos in a frame on the outside of the pub. I took the lousy looking snap of it above. Unfortunately I couldn't get away from the glare of the late afternoon sun ruining the shot, but at least it give an idea of what it looks like. The framed photo shows one of my favourite bands who appear at the pub every so often, The English Rogues. (Their next gig there is on Sat 17th December).
Last night my train from Earlsfield to Waterloo had a race with an identical train in the Battersea Area. My train won !!