It's all very well having a waterproof camera, but it's no good if the lens mists over as soon as you take it out of your pocket, and the pictures come out in soft focus ! I took the top picture at approx 06:30 this morning as I waited for my train from Catford Bridge station. The picture below it is a very wet looking Earlsfield just over an hour later.
Maybe it was sleeping naked and sweaty with the fan on the other night, or maybe it was the forthcoming wet weather, but it seems my "twisted rib" has become twisted again. In certain sitting positions my chest was aching a lot yesterday. It's not a strong pain, and I guess you could call it a background pain that is fairly easy to get distracted from, but it is still annoying. Maybe the main annoyance is that it make me wonder if my heart is about to explode again. Fortunately there are clues that it is nothing to do with my heart, and everything to do with my abuse of my post operative state 3 years ago when I did things that I was warned against doing while my chest was healing.
One of the good things about that chest pain is that it goes away very quickly once I adopt a different posture, and the very best posture is the one I evidently adopt when walking down the road. A good brisk walk is the perfect cure, and the complete opposite to before my quad bypass operation when a brisk walk would generate all sorts of very strong pains in my chest, neck, shoulders and arms. So it was nice to leave work at the end of the working day, and race across London to get to the outskirts of Beckenham for a pint or three of ale.
To get to last night's venue I took the train from Earlsfield to Clapham Junction. Then another train to Victoria station. Next comes a mad dash from one side of the station to the other, and it's a very wide station, to catch the Orpington train as far as Shortlands station. Having got there it is just a 10 minute bus ride to the pub. Simple really ! I did in fact have three pints of some rather good ale before I set out to go home. The route is to get a bus back to Shortlands station, and then a Thameslink train back to Catford station - except it wasn't quite so straightforward last night !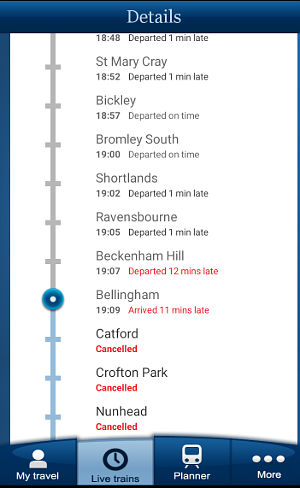 When I got on the train at Shortlands station (at 19:02) there was a strong smell of burning electrical insulation, and as far as I could tell it was coming from under the carriage I was in, which was the rear carriage.
We made it as far as Ravensbourne station normally, but when we tried to move off again there was a bang, and half the lights went out for a few moments. I later learned that we had tripped the third rail supply, but it was quickly restored. The driver announced that he was going to have to reset some tripped motors, and after doing this we managed to pull away from the station as a slightly sedate pace towards Beckenham Hill station.
By this time the smell of burning insulation had dissipated, and there was hope that even if we could not go that fast, we were at least moving. At Beckenham Hill station we had to go through the same procedure with the driver trying to reset tripped motors. I don't know if it was possible, but I would have thought his best course of action would have been to leave the rear 4 car unit unpowered, and drag it with the front 4 car unit. Once again, after a lot of waiting we were off again - slowly.
When we arrived at Bellingham station the driver declared the train a failure. Many people opted to leave the train and seek different ways home. The platform announcements suggested crossing over and getting a train back to Shortlands for a train taking an alternative route into London. Some people left the station to get a bus, and that was an option I could have taken, but I decided to hang around to see what would happen.
What did happen was that with everyone off the train the driver set off at reduced speed, and presumably had to nurse the train through to Blackfriars station where it could be "parked" without blocking the line, and to await a fitter to do a more detailed analysis of what the problem was. Meanwhile we had been delayed so long that there was only a 4 minute wait for the next half hourly service to arrive.
So I got back to Catford rather later than expected. It was still dry and warm, and it was nice walking home like that, but there was one problem. I felt a bit hungry, and I didn't care to spend time preparing anything for dinner (it was going to be cheese salad). So I felt I had a good excuse to treat myself to chicken and chips - my first chicken and chips for weeks, and possibly months now. It was, of course, very naughty, and I have had a few naughty sessions lately, but somehow I still needed to add another hole to my belt so I could do it up tighter yesterday. That new hole seems to be 4 inches away from the first hole with any wear. That suggests I have lost 4 inches around my waist. I'm not sure why it doesn't feel that I have done that well, but the waist size of my belt can't lie, and I do sometimes feel lighter - particularly when running up the escalator at Waterloo !
I keep thinking I have slept tolerably well, and yet I couldn't stop yawning at work yesterday, and I think I fell asleep almost instantly when I went to bed last night. I didn't open the window because I thought it was about to rain, and I didn't turn the fan on. I managed to fall asleep quite easily while feeling really hot and sticky. On the whole it seems like I slept well, although waking up 30 minutes before I needed to was not a great idea.
This morning I feel wet and soggy, but otherwise mostly OK. I had some chest ache while sitting down on the train, but a change of posture helped a lot. I've been at work, sitting in this chair for over an hour I guess, and I can feel the odd twinge from my chest, but I am still fairly comfortable. I'll have a short walk in a minute because I have a meeting to attend. In fact I had better leave this for the moment to attend it right now !
......time passes.....
I'm back now. There are various things I could do tonight. There is at least one gig that I could go to, but I feel I'll be staying in tonight. I might wash a couple of shirts, but the most important thing is to try and do something with all the pictures I took last Saturday night. Saturday is approaching fast now, and I expect I'll have another stack of pictures to deal with after Saturday night, and so it would make sense to try and deal with last Saturday's as soon as possible....and yet for some reason I don't look forward to doing it. Oh well, let's see what happens when it happens.