As you can see, the train's poor little brain thought it was going to Horsham (Calling at and Horsham !!). Horsham is a destination on the Thameslink network, but it is in Surrey (I think), and my train was heading to Kent ! Here's the offending train leaving Shortlands station where I changed trains for a service that would take me to Petts Wood station.

Despite feeling tired, I didn't go to bed very early on Saturday night. When I did go to bed I probably failed to sleep well because I felt stuffed after treating myself to a large takeaway - which was the highlight of my evening. The good thing was that despite a slightly restless night I managed to keep going back to bed, and getting back to sleep until 10am. If I could have done that in one non stop sleep I may have felt wonderful on Sunday - and maybe I would have if I didn't also feel rather depressed at the same time.
There were an assortment of reasons for feeling depressed, and it was really only the combination of them that was so bad. I am not sure if one reason was cause or effect, but it was to do with the pictures I took at Petts Woodstock. Having spent so much time selecting and editing the photos I had taken the previous weekend at Chattfest, I couldn't face the idea of spending hours and hours and hours doing anything with the Petts Woodstock photos. I'll have to do something with them soon, and maybe soon is today, but yesterday I decided to do other stuff.
One of my first tasks was a bit of mindless, but distracting, and also sort of satisfying, hand laundry. Then I played around with a couple of ancient laptops I have laying about the place. It is my intention that one of those laptops will be put into useful employment as a new, hopefully lower power, and definitely more compact firewall. (My current firewall is a big old desktop PC with specialised software on it). I didn't actually do any work to further that idea, but I think I have selected which ancient laptop is going to have the privilege.
There is one thing I did that used up many, many hours. It was the continuation of a project I started a little while ago. It was/is all to do with de-cluttering my living room in long term preparation for an eventual project to re-decorate the room. What I did yesterday did not make a huge difference, but it helped, and while it was going on I did do just a tiny bit extra tidying up. I have several large "book-style" CD/DVD containers, and each can take something like 96 disks ! Apart from about three disks, I have now "decanted" all the mp3 files of a huge heap of CDR disks onto one tiny little memory stick.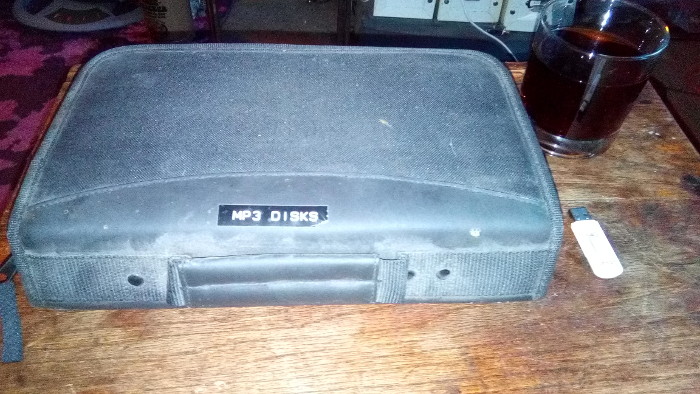 The old dusty case is on the left. To the right of it is the little memory stick that will be able to "consume" several CD cases like this one. Also in shot is an extra large rum and coke. I had quite a few of those to sustain me through the tedious process. I should add that I won't be trusting that USB memory stick to hold all those files by itself. I'll be making a back up of it on a second drive. As I mentioned, during the long waits for data to be copied off the CDR disks, I did a little bit more tidying up. It is hardly noticeable now, but it does pave the way for more notable changes. I can now almost get to a large cardboard box that contains lots of memorabilia, and I think I might throw almost all of it away. As it is all paper I can put it in the recycling bin - there is always space in that bin. One final thing I did last night was to watch a bit of TV. I haven't really watched any, specially actually on my TV for what seems like ages now. Luckily I found an episode or two of The Simpsons on one channel that amused me for a bit, and a couple of old episodes of Mash that provided a bit more distraction.
Then it was time for bed, and I couldn't get to sleep for ages ! One thing that has been on my mind all weekend is Angela, and her recent reluctance to respond to me. I know what the problem is, and I have to keep believing that it will go away once enough time has passed after John's funeral - whenever that is. It is all terribly complicated, and I am probably a bit, or a lot mad, to think that it will all be OK in the end. In the meantime, being patient is killing me !
The chances are that I fell asleep a few times before 3am this morning, but seems to be when I finally went to sleep sort of properly this morning. I think I got up for a pee once or twice, and I know I had some exciting, but of course rather weird dreams until I finally gave up trying to sleep at around 8am this morning. Since than I have washed a few t-shirts and a few other bits and pieces, and I have washed me and my hair. I have now almost finished writing this.
What do I do next. If the day was going to be a bit brighter I had wanted to go out and have a look at the chaos at Waterloo station. We are now into the three week period where the station is being remodelled with longer platforms and stuff. It's the period of time when there are no peak hour services to Earlsfield station, and the inspiration for the timing of my retirement. I would like to see some of it, and of course to take photos, but in reality I am going to have to get stuck into playing with the photos I took Saturday. It's a shame really because staying in is making me feel peckish, and thinking about it is making me feel starving. I managed to be moderately careful about what I ate yesterday, but I am not sure I can do that today. Oh well, let's see what happens.