The strange thing about today's forecast is that it actually tells the story of the weather yesterday - except for the temperature. Yesterday morning was not as cold as 9° C, but then again I am not convinced it was as cool as 9° C this morning. Yesterday evening was a few degrees warmer too, but the sunshine, cloud cover, and rain are pretty close to yesterday. Apart from being a bit cool, it doesn't look a terrible day, but I could wish for something a lot better. Maybe tomorrow will be a little better. There is still rain forecast for the early evening (and then later at night), but before that it might be brighter, and possibly sunnier too.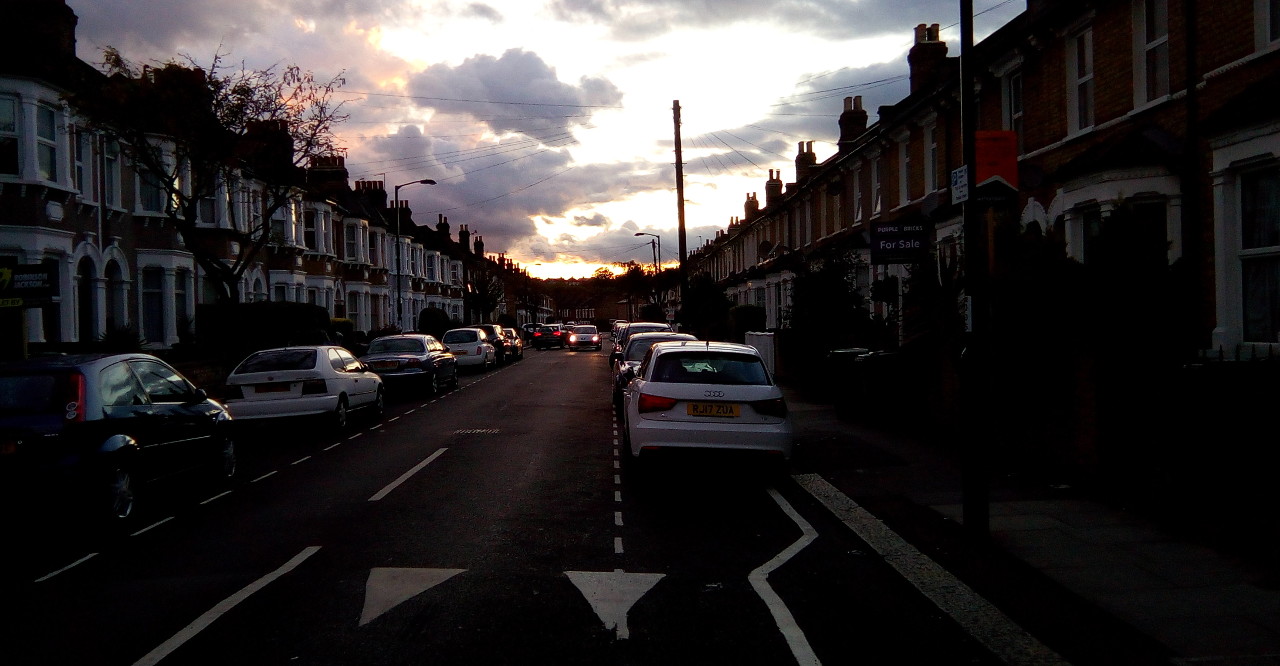 This is what sunset looked like last night as I walked home from the bus I had taken from Bromley. Occasionally some light rain would hit the bus windows, but it was dry as I walked the last bit towards home.....and sausages !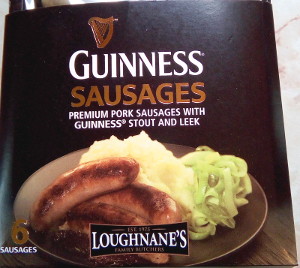 Yesterday was one of the better days. With stuff to do during the day I showered and washed my hair early in the morning. A little later in the morning I went to Aldi. It was my intention to not buy all that much. One reason for that was because I want to empty my freezer to defrost it, and at the same time give the larder section a well overdue clean. I certainly didn't buy any frozen foods, but I did buy more food than I intended. Any thing that needs to be kept in the fridge won't last long before it is eaten, and it will all survive unchilled for a while. One particular thing I bought yesterday was Guinness flavoured sausages - I had never seen them before, and I just couldn't resist them !
I also bought a couple of sandwiches so I could get something inside me before I had a visitor, and later went on to Bromley for my Thursday night drink. That visitor was Patricia, and it was a most pleasant visit that included a bit of a surprise. She was principally visiting to have one last look through the suitcases of her old clothes and stuff, and to help me take them to a charity shop (Age Concern). Checking through the suitcases (two of them plus a big laundry bag) was worthwhile. Her partner, Andrew, had asked her to look for an old pair of expensive looking shoes of his, and they were duly extracted and put aside for him.
The very unexpected surprise came about because Patricia had pulled a muscle in her leg when running for a train as she made her way to my place. Much to my disappointment in the early years when I first met Patricia, and until yesterday, there had been hardly any physical interaction between her and myself. Yesterday Patricia took off her trousers and asked me to massage her pulled muscle. It was far from sexy, but it was nice to be trusted for such an important task.
I don't really know what I am doing when it comes to massaging, but like the previous massage I gave (to Angela's back), maybe two months ago now, it was reported to have been nice and also effective. Perhaps I should start a new profession, although with old school prejudices I would have to wear Marigolds and a blindfold if any men wanted a massage ! After resting her leg for another half an hour or so Patricia felt ready to help me lug the cases to the charity shop.
Age Concern (although I am having doubts it is Age Concern, but it is a charity concerned with helping the elderly) were grateful for our donation. After that we got the bus towards Bromley. It did put a little strain on Patricia because we had to rush to catch the bus - although only for about 50ft. Patricia got off about three stops before I got off the bus for my appointment with the pub. Rushing to get the bus was actually pointless because we were both nearly 40 minutes early at our destinations !
I think I had almost finished my first pint before Chris turned up at the pub, and my second was half gone before most people had arrived. It was slightly annoying that the only beer I think I liked was served in a smelly glass - either that of the beer actually smelled a lot like a smelly dish cloth ! If I held my nose when taking a gulp it tasted much better ! I usually only stay for 3 pints on Thursdays, but last night I had four pints before going home.
It was only a short wait for a bus back to Catford, but initially it was a rather full bus. As the bus travelled to Catford we would pass through a few light showers. Fortunately it was dry when I got off the bus, although it was starting to feel a bit cool. That was the one bit of sadness about yesterday. I think that last night was probably the last night of the year when I could go out with no coat in a short sleeved shirt. Maybe there might be other occasions - perhaps when it is just to The Black Cat - but it feels like the end of an era !
When I got home I set about cooking the Guinness sausages. I don't have a frying pan so I grill them in a mini oven. Unfortunately it takes quite a long time to cook sausages in there, and so I ate a sandwich while I waited. Eventually the sausages (plus some button mushrooms) were cooked, and I gave them a taste. I couldn't say they reminded me of the taste of Guinness, but they did have a nice yeasty taste. For some reason, maybe because they were cooked with the sausages, the button mushrooms tasted really, really nice too !
I went to bed feeling quite full, and wondering if the sausages would give me heartburn. Fortunately they didn't, and I slept quite well. This morning I feel about the same as the last few days - basically OK, but wishing for more strength, vitality, and dynamasiscm (a word not in the dictionary !!). Sooner or later I had better get washed and dressed properly. I have a few things to do today, or maybe that is a few things that I might do today.
It is possible, although very unlikely that I could get another visit from Patricia today. She said she would be free this morning if we didn't manage to get all the stuff to the charity shop yesterday. I said she would be welcome if she wanted to pop again for a G & T, or if she wanted her leg muscle massaged again. My guess is that I will be lucky to see her even once more before she flies south for the winter again at the end of the month.
Today could be the day that I make a start on clearing the cupboard under the stairs. Chris has volunteered to run any old computer chassis to the local dump if I need that. I am reluctant to put him through the trouble of that, although maybe it might be needed in the long run. I don't think I am liable to do anything else of any note today. Chain are playing a gig in Beckenham tonight, but it is in The Bricklayers Arms. Unlike the Bromley Bricklayers Arms, the Beckenham one is very cramped and very poorly lit. It doesn't give me any urge to go there - particularly when Chain are playing in a better (though not perfect) venue in Greenwich tomorrow.
There is one other bit of good news about yesterday that I almost forgot about. The 4 t-shirts that I ordered via Amazon a month ago, and that were estimated to be delivered by the end of last month, finally turned up. I had written them off as lost, and it was one small contributory factor to me recent (and current ?) depression. (Most of it is about Angela). Maybe it is time to order something else from Amazon....and I am thinking along the lines of a very wide angle, or fish eye lens for my camera.