14:42 BST

I think yesterday went pretty much as forecast. There were some periods of blue sky and good sunshine, but cloudy with sunny intervals was more the recipe for most of the day. The forecast said it would be 21° C for most of the afternoon until almost sunset, and that sounds about right. It was better than mild, but maybe not quite warm. At 10pm, or maybe half an hour earlier, it started to rain just as the forecast said it would !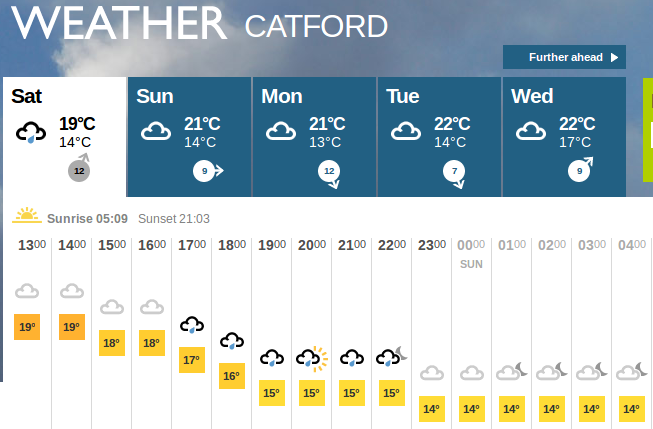 Today could easily be described as bloody miserable ! The overnight rain more paused than stopped by about 7am. There was a suitable window in the rain for me to walk to Aldi, and then back again without getting wet, but there was evidence that suggested there was a shower while I was inside shopping. It didn't really start to rain again until just after 11am, but since then, contrary to what the forecast said, there has been lots of showers - and some of them have been quite heavy. It was raining quite heavily just before I started writing this, but it now just light drizzle. According to the forecast it wasn't supposed to start raining again after the morning rain until 5pm. Well, they got that one very wrong. Lets hope the forecast for some sunny intervals at 8pm is very wrong - so wrong that the sunny intervals are actually sunny periods, and that they start an hour or two (or three) earlier, and the sky is perfectly clear by sunset.

Maybe that is just so much wishful thinking, but it could happen ! Tomorrow looks like it will be almost as unpleasant as today, but if we are very lucky there will be a few sunny intervals to break up the gloomy skies and occasional rain. Consulting my mobile phone, I see the latest forecast for tomorrow says that it will only rain between 4 and 5pm tomorrow, and that there is a fair chance of sunny spells any time else.

I am still without a working broadband connection, and that pisses me off a lot. Yesterday morning I reported it to Vermin Media, and the man did say that he had a few other reports from the local area. This suggests to me that there is a fault on the equipment in the local "green box", and as such a precautionary visit from a technician yesterday afternoon or this morning might have fixed it for all of us, but it is looking like I will have to wait until I get a technician around between 4.30pm and 7pm on Monday before I have any hope of getting a working broadband connection. In the meantime I am paying £2.99 for 500MB of data a day using my "3" broadband USB dongle.

Another unscheduled bit of weather was the massive thunderclap that just shook the house !

When I got home from work I felt really quite drained yesterday. That was not good considering I wanted to go out to see Miranda fronting Back To The Fray in Beckenham that evening. Much of the reason for feeling drained was a lack of good sleep recently. That was caused by two problem that continued to annoy me during the day. There was the aftermath of the day of constipation I had on Thursday for one thing. As I mentioned yesterday morning, that passed (three times !) yesterday morning, but I still had some sort of tenderness in the gut area - a problem that only faded away sometime in the early hours of this morning.

The other problem, on reflection, does seem to be modulated by the weather, and it is the ongoing saga of my "twisted rib", although that is hardly an adequate way to describe it. Rather than a persistent pain it seems to be a persistent tenderness recently, and it is easy to provoke it to some fairly sharp pains. The worst tend to be very short lived, and happen when I make certain movements. The problem there is that it seems impossible to predict what those movements are. It is almost like, and quite possibly is, determined where I "parked" the components of the chest superstructure last time. Some of those pains, maybe most of the worst ones, could be the result of something out of place being popped back into place. The short version is that I have experienced a lot of random pain for the last few days or more.

It felt good to get home from work yesterday, and it felt good to eat even though it started off with some naughty snack like stuff. It culminated in a couple of Aldi curry ready meals (the type which are quite small, and don't come with rice). After eating I decided I would lay on my bed and read for a bit before getting up to wash and get ready to go out. Within 5 minutes I was fast asleep, and it seems like I was probably sleeping quite well.

I don't know how long I had been sleeping, but it felt like a long time - maybe almost 2 hours. It also felt like if I hadn't received a phone call i would have carried on sleeping until late in the evening - which would actually have suited me OK. The phone call was from my friend Jodie. She was at Heathrow Airport, and demanding to know why the X26 (I think) bus wasn't running. Had my internet been up and running I could have checked, but I suggested that because she was at an airport, a MAJOR transport hub, there had to be an inspector or information desk that could tell her more than I could. I have no idea why she couldn't see anyone official to ask, but she did phone Transport For London, and they advised her of an alternative route home (which actually sounded quicker than the bus she wanted). The final outcome was that she got on a bus for one of the alternative routes home, and while she was boarding she asked the driver if he knew why there were no X26s running. He said there were, and it has just pulled up behind him. It seems Jodie was panicking because the bus was running a few minutes late !

Being woken up, and being asked silly questions did nothing for my mood. In fact I felt really quite miserable - a fact not aided by being able to get hold of Angela. I had made an offer to Angela when I spoke to her previously, that if she felt too miserable to go to her daughters gig in Beckenham, I would stay in, and she could come here and we would cheer each other up. Unfortunately she was too miserable to even consider the outside world, and it transpired she had a very, very miserable evening in by herself.

I didn't feel that well, my guts seemed to be a bit tender, and my chest was not feeling good, but I hauled myself under the shower, and finally went out to Beckenham to see Miranda and Back To The Fray. It is a measure of how rotten I felt that I couldn't even bring myself to take my camera ! (although I did slip a small camera in my pocket - just in case). My journey to Beckenham got off to a good start. I had to wait no more than a minute or two for the bus, but when the bus got to Catford Bus Garage we stopped for a good 10 minutes while we changed drivers.

When I finally arrived in Beckenham I faced that short, but incredibly irritating walk up the hill because the buses are still on diversion, and probably will be for months and months yet. I arrived at the pub feeling really yuck - some of it physical, and a lot of it mental. I decided I would have one pint of Guinness, and then re-evaluate how I felt. I think I concluded my next action before I had even finished the pint. I didn't feel great, and I couldn't concentrate on trying to work out what people were trying to say to me against all the normal background noise of a pub in one ear, and the band playing in the other ear. So I finished my pint and declared I was going home again. Just to complete a terrible evening I missed a bus home by about a minute and had to wait 14 minutes for the next.

I did my best, as much as you can do your best, to get a good night's sleep last night, and I think I was partly successful until maybe 4am. After that my sleep became a bit lumpy, but I did manage to pass the 5am barrier by about 70 minutes. It still hasn't stopped me feeling sleepy today though, and I have had several good naps. I feel I'll be having even more later ! Generally speaking I have felt pretty crappy today. I judge most of it to be weather related. Those grey heavy clouds crush the soul as much as the body, but there have been moments of lightness.

I had a few mild twinges, and maybe I wasn't wearing the most comfortable shoes, but the time I probably felt physically better than any other time was when I was walking to and from Aldi - even when carrying quite a bit of shopping that included three 2l bottles of pop in my rucksack. Another moment of lightness, and lightness of the soul this time, was when Angela phoned to say she was just leaving the hospital, and could she pop in for a bit. When she got here I fed her a small sandwich and a few king sized cherries while we talked. She apologised for ignoring me last night, and then got a load of feeling off her chest about how she feels about John. He is still in hospital, and although she doesn't like to think about it, realises that the chance for any meaningful recovery is getting very, very slim now.

Angela only stayed for maybe 45 minutes, but there is small possibility that I might see her again tonight. On past experience it will be a very slim chance in the extreme. If she can make her mind up before she really sinks into the depths of despair she will come and spend the evening with me rather than be alone. This time I emphasised that it would not be just for her, but it would cheer up my mostly miserable state a lot if I had some company tonight. She acknowledged that at the time, but whether she will pay it any heed later is in the lap of the Gods.

Just like being at work, sitting here in an office chair and typing on my PC, is giving me a sort of pain across the chest. It's like a crease that needs straightening out, and that is exactly what I am about to do. Prior to sitting down here I was washing a weeks worth of t-shirts, but I thought I would take a break once I got to the last bit of the procedure - soaking them in fabric conditioner. Now I needed to wring them out, and hang them up to dry. After that I can have another snooze, but maybe, just maybe I might give the stairs a brush in case Angela does come over this evening. If I had just a tiny bit of certainty about it I might even hoover the living room carpet too, but I don't like to get too enthusiastic about these things !