This is one photo where the camera lost focus at a most crucial time. It was also a time when it would have been ideal if the lights were on white and not on blue ! When shrunk down to this size you could almost write off the blur as "action blur" as Dan leaps in the air, but in the full size version it just looks horribly out of focus - most annoying !
There are a multitude of reasons why I ended up taking a stupid amount of pictures on Saturday night. If you must know, I took 1,176 snaps ! The principle reasons were :-
Digital photography is very cheap, and a 32GB memory card can hold thousands of very high quality pictures.
I had a new camera to test.
I had the camera set to multi-shot. Holding down the shutter button causes the camera to take pictures in very rapid succession - useful when the lighting is changing to fast to follow.
Angela wasn't there to distract me.
Dan is a very active guitar player forever changing dynamic stances and pulling faces. He's also unpredictable, and there is a strong temptation to just keep on taking pictures in case he does something "amazing" !
With some many pictures to go through to select just 20 or so of the best, I ended up spending much of Sunday behind my PC gently sweltering away as I tried to make some sort of sense of all those pictures. I did a few household tasks as well, and I probably did more eating that I should have, but essentially I spent a greater portion of my day in my "electronic darkroom".
I think it was Sunday night, although it could have been Saturday night, when I spent most of the night sleeping on top of the bed, instead of being in it, and with the fan blowing across my body. On Sunday night I seemed to sleep quite well like that - possibly even better than usual ! On Monday morning I woke up feeling semi-refreshed, and determined to do something exciting - I had booked the day (and today) off work as holiday in anticipation of doing something.
I wanted to go to the seaside, and on this occasion I chose Deal because it has a pier that I have never seen before. I like piers, and I am not sure why. I do know I prefer them if they retain some remnant of their original purpose such as a place for ocean going pleasure boats to moor. I'm not too keen on piers just smothered in noisy amusement arcades bleeping away.
To get to Deal I thought the least painless way would be to get the high speed train from St Pancras. It is a little more expensive (£21) than by slower routes, but the travelling time is a more bearable 70 - 75 minutes compared to 120 minutes plus by other routes. The catch is that it takes over half an hour to get to St Pancras in the first place. The good thing is that when everything goes perfectly the connection time at St Pancras is quite small.
When things go less that perfectly, such as yesterday, and the train to St Pancras from Catford is delayed by 10 minutes, it means a wait of almost an hour before the next fast train to Deal departs. That was a bit annoying, but it did give me a chance to do some photography around, and in the station. Eventually the clock inched around, and it was time to depart.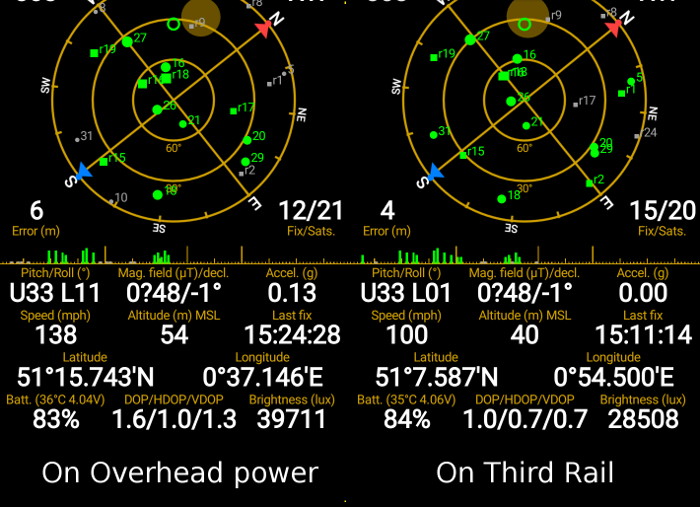 Curiosity made me wonder just how fast the high speed service really was. I used the GPS status app on my phone to measure the speed. Between Stratford International and Ebbsfleet International station I measured 134 MPH. That fast, but not
that
fast. It was on the way back to St Pancras that I took the two screenshots above (melded into a single picture). On the left I saw 138 MPH when running under the 25Kv over head wires somewhere beyond Ashford. The right hand side shows 100 MPH while running on the 750 v third rail supply between Folkstone and Ashford. I am pretty certain that some drivers manage to get at least 90 MPH out of South West Trains old class 455 trains between Clapham Junction and Earlsfield on a good morning ! Overall, I think I would have been much more impressed if high speed meant something close to 200 MPH !
While I had been on a high speed train before yesterday, it was only on the slow lines between Rochester and Margate. Yesterday was my first taste of speed, and it was also my first taste of Stratford International station. Now admittedly I could only see what I could see of the station from inside the station, but it was a most depressing sight. The station is essentially in monochrome - the colour of concrete in all it's shades. I would have expected an "international" station to be a bit more glamorous.....but it gets worse ! The station is in a deep cutting, and the walls of the cutting appear to be covered in sprayed on concrete. It is rough and stained, and has about as much glamour as a 1960s, piss stained, concrete council estate built in the most brutalist style !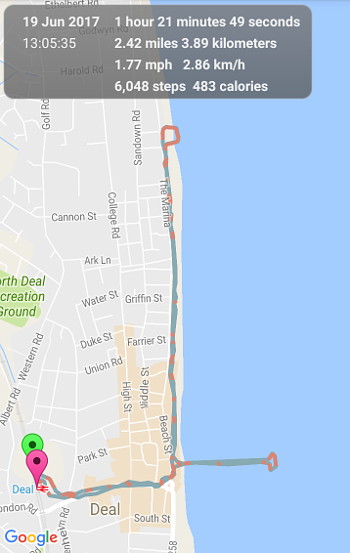 It was nice to arrive at Deal and stretch my legs. What was most surprising is that one of the UK's most modern, most advanced train (almost) is still controlled by semaphore signals at Deal (pictures probably tomorrow).
Deal itself is a fairly nice seeming seaside town. It is nice that it is not all brash like many seaside towns - all fish and chip shops and amusement arcades. In fact I saw very little in way of amusements and stuff beyond a few small pubs dotted here and there. I certainly saw
none
of one very important amenity for a place that expects lots of visitors - public toilets ! At least I assume they expect visitors otherwise it wouldn't have been worthwhile modernising the pier.
The pier itself is nice, but apart from a cafe type place at the far end, and a few anglers, there was nothing on it. It was interesting that much of it was of modern concrete construction. The supporting pillars reminded me of the Docklands Light Railway.
As can be seen by the picture on the left, I only did a short walk of 2.42 miles before going home again. My original idea was to walk in the opposite direction, and get the train from the next station, Walmer, but for some reason I walked away from that station. I did consider the possibility of still walking to Walmer, but at the far end of the walk I actually did I had a paddle.
That paddle in the sea did two things. The first was that my shoes filled up with sand and gravel, and that hurt my feet (although less than walking barefoot on the shingle). I had taken the precaution of bringing a spare pair of dry shoes with me because I had intended to have that puddle, and my feet would have soon recovered from walking in a wet shoe full of gravel, but there was one more thing...... It is a steep descent across loose shingle to the waters edge. Going down was easy enough (mostly), but trying to get back up to the top was really, really hard work. At one point I had visions of being stuck down there forever. At times I would try and step up about 8 or 9 inches, and slip down nearly a foot ! By the time I made it to the top I was exhausted.
I slowly recovered from that by the time I had walked back to the pier, and the turning that goes back to the station - well almost recovered. At that point I checked the time and noticed that the next train was due in less than 15 minutes. It is only an hourly service, and so I decided I would walk straight to the station. I got there with a good 5 minutes to spare, and it was nice to get out of the heat and onto a (slightly) air conditioned train.
I believe it was possibly only 25° C in Deal, and while the train felt cooler, it did not feel cold at all. However it is all relative. Back in central London, where it was at least 30° C (and possibly 32° C) the air felt really hot as the train doors opened, but that was nothing ! The High Speed train connected well with a Thameslink service back to Catford. I only had to wait for a couple of minutes before it arrived, and when it arrived it was even hotter inside than on the hot platform (that in turn seemed hotter than the air at ground level). By the time I arrived back in Catford I felt well and truly cooked !
I got home at about 5pm, or not too dissimilar to when I get home from work, and like on a work day it seemed there wasn't much time to do anything but eat and drink before going to bed. I didn't eat all that much, but one item made up for it and more - a tub of raspberry sorbet and chocolate ice cream. I was not unexpectedly a bit dehydrated and I drunk quite a lot, and much of it was just tapwater with a squeeze of lemon or lime in it. Like the night before, I slept on top of my bed with the fan playing over me.
I think I slept quite well last night, and I even managed to have a small lay in before I got up. It was still hot in my bedroom, but other parts of the house didn't feel quite so bad, and the outside air, at around 20° C almost felt refreshing. It seemed like a good time to wash a few t-shirts. A few of them I washed because they have not been worn for well over a year, and were a bit dusty and musty. Doing that got me sweating again, and I am still sweating now. It is going to be another sweaty day.
I am not sure what I am doing today yet. I was thinking of going out with my camera again, and maybe I will, but before that I need to do something with the photos I took yesterday. I also need to wash and make myself presentable to the outside world ! What I ultimately need to do is to do just enough to wear me out enough for a good night's sleep, but not too much to leave me feeling too knackered. I'm back at work tomorrow, and with the temperature predicted to reach 32° C that could be a good thing - if the air conditioning is up to the challenge !