It's going to be a lot warmer today. As the sun rose it was a whole degree warmer than the best yesterday could offer. By this afternoon it is supposed to hit 12° C, but the price to pay for that is greyness - lots of greyness - much of it dark and miserable grey. There is a microscopic chance that there might be a hint of the continued existence of the sun between 10 and 11am, and also at 1pm, but I'm not holding my breath waiting for it. Tomorrow may be a degree warmer, but for the next significant sunshine we will have to wait until Wednesday - when it may even hit 14° C.
After a few days of staying in, and one day where I only went out once to the local shops, it was nice to get a breath of fresh air, and a bit of exercise yesterday. With the sun shining, and the sky looking very blue, it was hard to resist not going out. As I suggested yesterday, my destination was Greenwich, but it turned out to be a wider area of exploration than I thought.
I started out getting the 199 bus to Greenwich. That was fairly tedious, but once there I set about exploring Greenwich Market. It was quite busy in there, and I didn't really like it, but I persevered, searching the whole place trying to find the Thai Kitchen where my next door neighbour works (the one who occasionally gives me some of their leftovers). I couldn't find it anywhere. I am sure she said she works there on Fridays and Sundays, but evidently not yesterday. I did see plenty of other stalls selling a wide variety of food and drink.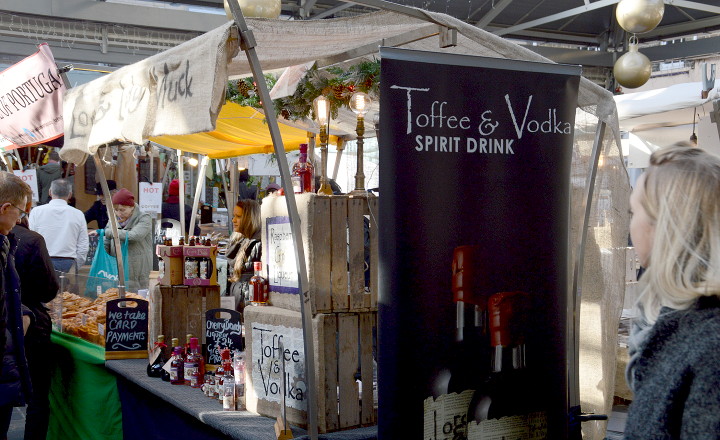 This stall immediately made me think of Angela. She is very fond of the salted caramel flavoured vodka that Aldi have just started selling again, and I imagine the stuff they sell on this stall is similar - except it is probably at least twice the price of Aldi's offering. I think I shall go back there sometime soon and buy a bottle or two.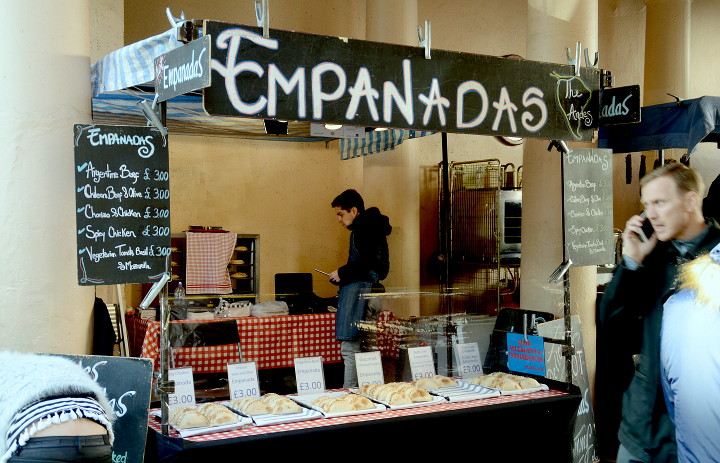 This stall made me think of my friend Patricia from Argentina. Before I met her I had never heard of empanadas. They are basically a south American version of a Cornish Pasty. The ones on this stall are sold as Andean, but top of the menu is one made with Argentinian beef.
After searching Greenwich Market I went back out into the sunshine, and had a wander around snapping away at several sights. After a few quick snaps of a couple of statues outside the old naval college I took a snap of the starboard side of the Cutty Sark. Until yesterday I had only seen the port side since it was stuffed and mounted on it's hideous glass plinth. The starboard side doesn't really look any different to the port side.
I then took a few snaps of the river before deciding that one thing I hadn't done in absolute ages was to walk through the foot tunnel. It still seems a very popular walk despite it now being possible to cross under the river by Docklands Light Rail. The two stations, Island Gardens, and Cutty Sark are very close to the foot tunnel portals. Since I last went down the foot tunnel the lifts have been modernised, and the tunnel lighting seems to be high efficiency, probably LED lighting, but the tunnel itself hasn't changed a bit.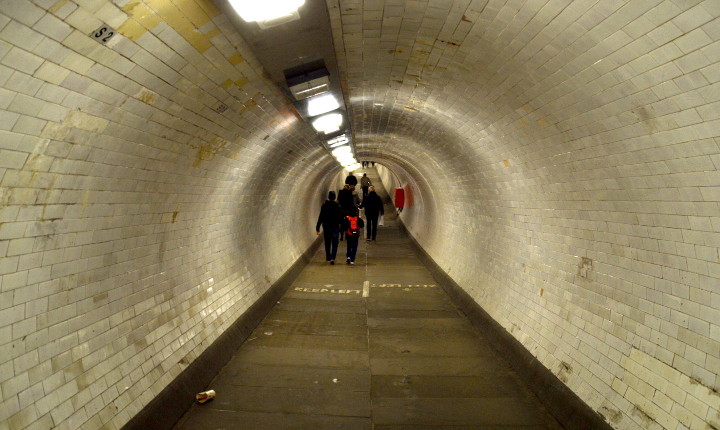 I don't know how long the tunnel is, but it always seems to be quite a walk, and it is made worse because it slopes up as you approach the lifts. I didn't fancy walking back again, and so I opted to take the DLR back to Greenwich. Once I got there I checked the other two little markets to see if The Thai Kitchen was hiding in one of those, but it wasn't. So I waited at the next bus stop for a 199 to take me back home...except I didn't go straight home.
On the way to Greenwich the bus stops outside Cash Converters between Ladywell and Lewisham. As we sat at the bus stop for half a minute or so, I spotted a couple of cameras in the window of Cash Converters. I decided to give them a closer look on the way back home. So I git off the bus, crossed the road, and had a good look. One camera that had interested me was a Sony Alpha 100. It is possible it is a fairly nice camera, and it was only £99, but none of my lenses would fit it, and while it may be "nice" in some respects, it's spec is a bit out of date.
The second camera was far mor interesting, and rather tempting. It was a Canon EOS 5D, and that firmly puts it in the pro category....or it used to. Like the Sony it is rather old, and has two weak spots....although one could actually be a strong point. It is the mk1 version of the camera (the latest is the mk4), and it only has a 12.8mp sensor. That could potentially mean it is lower noise than the 20mp sensors fitted to later versions, but it's maximum ISO rating is just 1600, and that means it is going to be a lot less sensitive than newer cameras. My later research shows I could buy one from Amazon at exactly the same price, and it is probably that the one from Amazon comes with more of the original kit. I feel I ought to save up and buy at least the mk2 version, or preferably the mk3 version. The latter is only around £2000 ! The flaw in this plan is that I don't really have a sensible income I can save up.
I walked home from Cash Converters - it is approximately a mile walk - and I arrived home feeling knackered. It was thus probably a stupid idea to rest for not much more then 15 minutes before going out again - this time just to Tesco. I fancied something a little more substantial to eat than I had in the fridge. All that fresh air had given me an appetite ! I also had a voucher for £10 off any bill more than £50. It seemed like the perfect time to stock up on booze !
In terms of food for immediate consumption I bought a few reduced price sandwiches, and a couple of reduced price butter chicken with rice curries. I ate the sandwiches first, and the curry in the evening. I felt pretty weird before I ate the sandwiches, and although it seemed very unlikely, I did wonder if my blood glucose level had fallen unusually low. I went out without having any breakfast, and most things I had eaten the previous day had been low in carbohydrates. Once I had eaten the sandwiches I felt quite different, and in some ways rather worse.
I few extra things ached, and I felt dreadfully tired. So I lay on my bed, and promptly fell asleep. I woke up perhaps an hour later feeling completely dreadful. Some of the aches were suggestive of some sort of cardiac problem, and others were like some sort of cancer was eating away my insides. I didn't feel much better until I had consumed several very large vodkas in the evening. They certainly helped me get to sleep, and I slept well for 3 or 4 hours before waking up in the night feeling dreadful again. It took something like 45 minutes before I felt OK to go back to sleep.
This morning I woke up still feeling terrible. It didn't stop me washing a few t-shirts, and doing that made me feel a bit better. Since then I have been sitting down at my PC reading some stuff, and writing this stuff. My stomach started growling and so I took a break for some breakfast. I had a small egg and bacon quiche. It wasn't bad, although I expect it would have been nicer f I had warmed it up.
Bits of me still ache, and I now can't seem to stop yawning. I think that if I can I will soon be having a snooze. As for the bits that ache.....they do seem to remind me of the aches you get when you go down with 'flu. Even my wrists and fingers ache a bit ! It would be terribly ironic if I am going down with the 'flu - I am probably getting my 'flu jab at the surgery tomorrow.
Apart from having a snooze I don't know what I am doing today. I would like to go out again today, but the grey weather, and the lack of an idea for a destination are holding me back. Oh well, there are other things I can do. I have a sink fully of washing up to do. I think I need to make that one of my top priority. A lesser priority, although I think it would be a handy thing to do, would be to repair my bed. For the last 6 months, and maybe more, I have added a sort of large wedge to prop up a loose piece of timber. The repair should be as simple as replacing a few wire staples with some honest to goodness wood screws. I've doubly been intending to do this since I bought a new cordless drill last summer !