It has definitely been much milder today, although I would question that it reached 10° C this afternoon. 8° C seemed more likely. The other error in the forecast today is that it doesn't seem to acknowledge all the drizzle that has made today not just gloomy, but rather wet too ! This may be because the written summary does not always say what the pictograms say. For instance, the pictograms say that the temperature will not fall below 5° C all night long, and it will be 5° C tomorrow morning at 5am. The written summary warns of frost in the morning ! It may, or may not hit 9 or 10° C tomorrow, and it might, or might not have some sunny intervals just after midday.
I seemed to spend a lot of yesterday selecting and editing photos from Friday night. Trying to pull some decent photos out of the noise and gloom took a fair amount of effort - it goes against all the rules of photography to have all the light
behind
the subject, but that was what I had to cope with. There are times when you can break that rule for special reasons, but Friday night was not one of those occasions.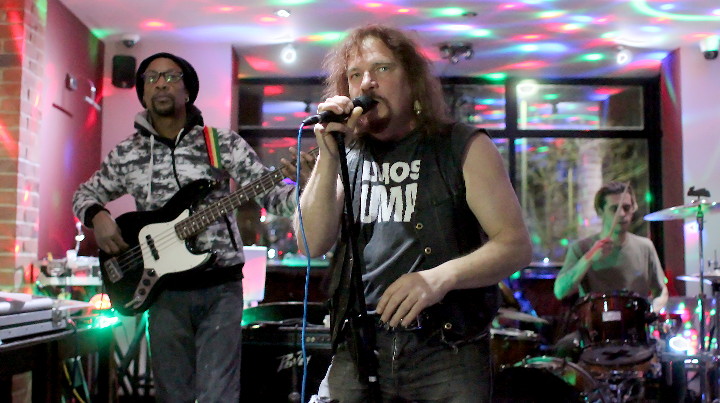 You can see all the bright, slightly over exposed, lighting behind Geoff Paice in this photo, and how his face is partly in shadow. Before I had carefully brightened up Geoff's face, the picture looked a lot worse than this. Last night I was given a tip that had I known it, could have made for some better results. I'll explain it in a minute.
I barely managed to get enough pictures together in time to upload to a social media web sight before I had to start getting ready to go out and take even more pictures. The event was Chain playing at The Black Cat. They were playing what is probably the second to last gig ever played in The Black Cat. (The last ever may be The Life Of Brian on 23rd December). It made it a special occasion, but even that was not enough to pull in a big enough crowd to pay for the gig - and that is why gigs are ending there.
One person who was there was Rod Tidman. He is a professional photographer - albeit with a particular specialisation that does not include taking band photography. His particular tip was that I should try a slower shutter speed to increase the sensitivity for low light situations. He suggested that many people, including those playing instruments, or even singing, move a lot slower than I might have thought. A high speed shutter is great for "freezing action", but it seems it isn't always needed, and Rod also argued that some motion blur could be an artistic asset rather than a fault. I did try slowing the shutter down - even going as low as 1/10th of a second (I usually fear going slower then 1/100th of a second. I haven't examined those photos on my big PC screen yet, but in the viewfinder screen of my camera they didn't look that bad, and maybe looked rather good !
It was a great gig last night. Chain played well. I knew many people there, and many pints of Guinness were drunk. I am unsure just how many pints of Guinness, but I definitely had a hangover this morning. One peculiar thing is that I didn't feel tired last night, nor the previous night, and I think I have Angela to thank for that. I'm not sure if I blotted my copybook when I showed the picture of Angela and the band, the one that she feared might upset her lover boy, but life has been so much sweeter, almost exhilarating, since relations with Angela have got so much better. Not feeling tired, and also the The Black Cat being so local to home, meant that I didn't leave there until the very end - which was almost getting on for 1am this morning !
I still felt quite alert, albeit a rather drunken alertness, after I got home. I had eaten very little by normal standards during the day, yesterday, and I was rather peckish when I got home. I curbed my hunger by drunkenly wolfing down a large packet of crisps ! Then I went to bed, but I have no real idea of what time it was. I'm pretty sure it was after 1am, but as to how much after will probably remain a mystery. Once I was asleep I slept the sleep of a drunk !
I woke up at around 7.30am feeling pretty dreadful, but I had to get my act together because my friend Aleemah was visiting me in the morning. She actually arrived a bit later than I expected. She forewarned me when she go ton the bus to Catford (no trains again through Catford Bridge for the 3rd or 4th Sunday in a row), and I met her in the Wetherspoons pub for breakfast. As in the past, when I regularly saw Aleemah on a Saturday morning, my breakfast was a pint of beer, and hers was coffee and cooked veggie breakfast.
After breakfast we visited a couple of shops before coming home to watch a DVD. As in the past, the DVD was chosen by Aleemah. Today's DVD was the "erotic thriller" 50 Shades Of Grey. Like many said about the book it was based on, it was not terribly exciting, but the leading lady did appear topless - a lot ! That was, ahem,
interesting
!! Soon after the movie finished Aleemah went home, taking the Xmas present I had bought her with her.
It is a very rare occurrence that I see something and think it would make a great Xmas present for somebody. Usually I am left scratching my head, and can't think of anything to buy for a present. Aleemah is into the dark arts and stuff, and I saw an ornament on the British Heart Foundation charity shop that was perfect. It was a facsimile of three stacked ancient books with titles of "Spells", "potions" and "magic" underneath an inkwell with a pen made from a bone. It was all cast from resin or something, but looked quite good. Aleemah couldn't resist opening her parcel and declared that she really liked it when she saw it.
After Aleemah had gone home I confirmed a theory of mine. It was that a traditional Fray Bentos steak and kidney pie in a shallow can could fit, and be cooked in my little table top oven. I haven't had one in ages upon ages, and it was delicious - well sort of. Having seen how it cooked in the default way I think I can cook the next one a bit better. For one thing it should have been turned a few times while cooking because one half of the pastry was almost burnt, and the other half was slightly undercooked. Alternatively I could have cooked it in oven mode only, leaving the top grill section off, for a bit longer. Now I know they fit in the oven I intend to buy more of them, and experiment. I must check to see if they have them, or some equivalent, in Aldi. Today's pie came from Poundland. They have several varieties in there, and I doubt that they would be less than £1 in Aldi....but you never know.
Since eating my steak and kidney pie, with baked beans, I have had a sleep. I don't know how long I slept, but it was almost dark when I woke up. What I ought to next, once I have finished this blog is to go through the last of Friday night's pictures, and see if there are any more worthy of adding to the photo album. After that I need to copy last night's pictures from the camera to my PC, and then start the process of selecting them to make a new photo album. The only thing is, I feel sort of lazy right now, and some booze and another snooze feels like it might be nice. Meanwhile I will look forward to tomorrow, and meeting Angela for a lunchtime pint.