The forecast for today is a bit disappointing. The sunny spells failed to materialise this morning, and we have several hours of thick dark cloud to look forward to this afternoon. Maybe the only saving grace will be that it should be 18° C for most of the afternoon, although I think I would gladly swap that for 12° C with blue skies and sunshine. Tomorrow is forecast to be another degree warmer, but with only a few minutes of sunshine forecast for about 6pm. The very worst thing is that the promises of sunshine for Sunday and Monday seem to be evaporating, although the warmth, possibly as high as 23° C is still forecast.
Yesterday was quite a good day that was only spoilt by my health. My "twisted rib"/"soft tissue damage" was causing a lot of discomfort around my chest, and I also felt strangely bloated. The latter was particularly noticeable when I was walking. It left me feeling slightly breathless without actually being breathless. That sounds a contradiction, but I can't think of a simple explanation. One contributory problem is that I think I didn't want to breathe too deeply because of my chest aching. So I was taking smaller breaths more frequently...or something like that.
I mentioned my first little walk yesterday. It was when I walked to the station to pick up a copy of the Metro. Later on in the morning I walked to Aldi and back to buy some shopping. I think that walking with 6 litres of diet cola in my rucksack actually braces my back and gives a better stature that makes my chest pains less. I suppose that is rather surprising considering that the genesis of my chest pains was damage done to my chest while carrying a similar load of shopping (rucksack plus a bag in each hand) 5 days after coming out of hospital where I had major chest surgery - a quad heart bypass operation.
My next walk was just after midday when I went to the park to meet Angela. As I explained yesterday, it was my intention to leave Angela alone since there was plenty of evidence to show she was going out with another man. What changed that was a couple of things she posted on social media that strongly suggested she was not happy about something. When I finally found her in the park she denied she was unhappy, but she did thank me for thinking of her, and that made me happy. We only had about 15 minutes together before she had to get back to work, but as we said goodbye she thanked me again for coming to see me. It could have been a very good act, but I think it was genuine.
Unlike walking back with a load of shopping from Aldi, walking to the park, admittedly rather faster, stirred up my chest, and with the slightly bloated feeling I had, it made me feel quite uncomfortable. I'm not so sure that it didn't trigger off a few extra pains too - pains which could possibly indicate worse problems ! Maybe I walked back from the park a little slower, or maybe seeing Angela had released some tension, but I didn't feel nearly as bad when I got home.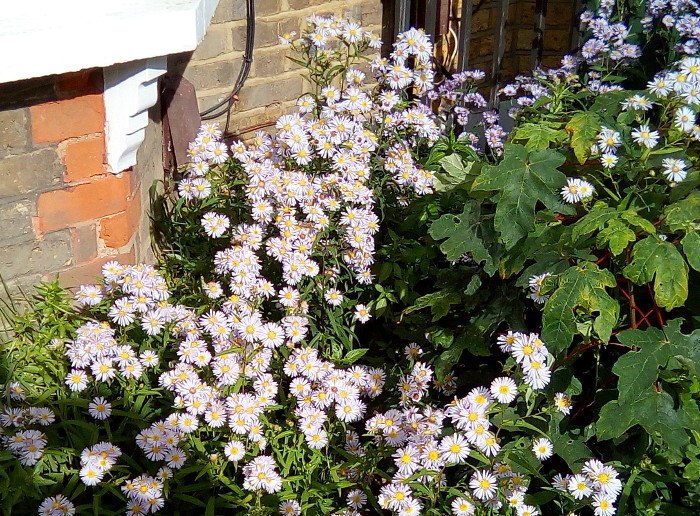 When I got home I considered the michaelmas daisys growing in my front garden. They grow every year with no help from me, but this year it seemed like the flower heads were much bigger than usual.

Once I got in I had a couple of sandwiches I had bought in the morning, and then I had a rest. a few hours later I had a bizarre snack of ready cooked poppadoms with peppered smoked mackerel pate. As I stared eating it I had some regrets. Not because it was a big snack, but I was concerned the fishiness would repeat on me and spoil the beer that I would be having a little later.
Later on I left in plenty of time to take a walk to Catford station to get a train to Shortlands. Even when I was going on 7 or 8 mile walks, I always thought the very worst bit was walking to Catford station. Walking as far as Catford Bridge station has always been mildly taxing no matter what my state of health or age, but to get to Catford station you have to walk up and over the road bridge that crosses the railway going to Catford Bridge station. Once you have crossed the peak it's all downhill again until you have to climb the three flights of steps to get up to the platform. Having arrived there, practically out of breath, I then have to walk almost the entire length of the platform to get on the train at the right place to be opposite the way out at Shortlands station. Just to make things even worse, my train was running almost 10 minutes late !
Just for a change there was a nice beer at The Shortlands Tavern. It was from the Bexley Brewery, and it was a pleasant enough IPA style beer that I stayed with for my three pints. There was also some good banter in the pub last night. I left in time to catch the 7.02pm train, and it was only running 1 minute late ! In theory the sun had set almost an hour before I got to the station, but there was still some light on the western horizon.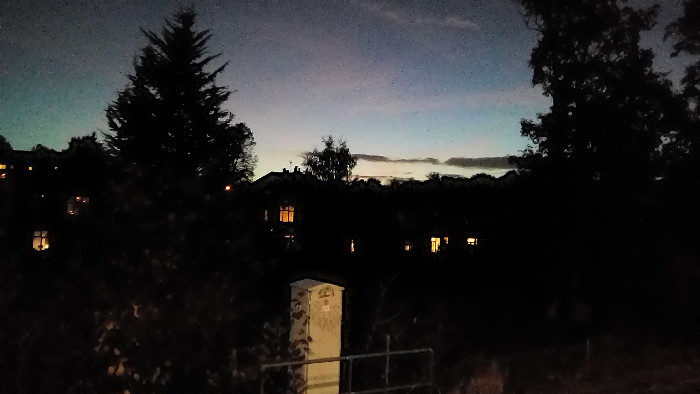 I took the picture above on my mobile phone. The original was quite grainy, and I tried some noise reduction, but it just converted the noise to a sort of granular looking noise. I think the problem is that my phone applies too much sharpening to every picture, and it can't be turned off as far as I can see.
It was fully dark when I got home, but that was not the reason I did a fairly fast walk from the station to home. The alcohol helped lubricate my chest, and that made the walk more comfortable, although another effect of the beer was that it made for some mild discomfort lower down, and it was good to get home to use the toilet ! My original intention, once I had had a pee, was to eat a couple more sandwiches, but for some reason I had more will power. It may have even been bolstered by a sense of curiosity. I had this burning desire, at least I think it was a burning desire, to see what sprouts and cashew nuts might taste like. I've never managed to cook them properly before, but I love ready made sprouts and chestnuts. Tesco used to stock frozen bags of them around xmas time, but sadly they no longer seem to.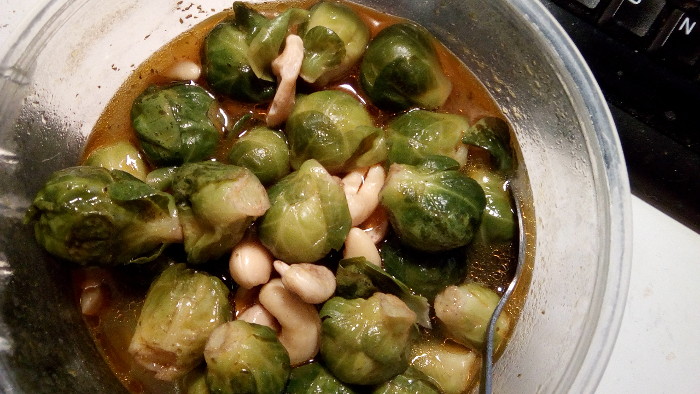 Last night I finally found what sprouts and cashew nuts taste like, and it was a bit of a disappointment ! ...........
13:37 BST
.......continued after a long break that included a good 20 minutes of walking and some lunch.
The problem with my sprouts and cashew nuts was that the strong flavour of the sprouts overpowered the delicate flavour of the cashew nuts. Just for completeness, the only other two ingredients were chicken stock (made from stock cubes) and some chilli infused olive oil. I think the latter just gave a nice glaze to the sprouts, but nothing more. My next experiment might be sprouts with butter beans, but I'll use up the rest of the current bag of sprouts in a lamb stew.
My original intention was that the sprouts and cashew nuts were going to be the only thing I ate after getting home from the pub, but after a while I became peckish again (I was probably just bored watching TV). I dealt with that hunger by having a couple of apples. They were not the nasty, hard green, sour apples that are allegedly good for you, but a couple of nice, semi-sweet, Fuji apples.
I think it was about 10pm when I went to sleep - unless that was when I went to bed - in which case it might have been 11pm when I fell asleep. I seemed to sleep perfectly OK until 3am in the morning. I woke up feeling uncomfortable, but I couldn't really work out why. My chest was sore, but there was something more. It turned out to be the bloated feeling I was experiencing during the day coming to an end. Initially I went to the toilet for a wee - not unusual for me at 3am, particularly after drinking beer - but I quickly realised I wanted more than a wee ! I am sure that it was impossible that the sprouts could have transited my system in such a short time, but the effect was similar - most spectacularly the second time when I had to dash to the toilet at full speed. I did have one more, much briefer visit, before I was comfortable enough to go back to bed. I amused myself on the internet, reading news stories, during the 20 minutes or so that I was awake (and not sitting on the toilet).
I managed to get another 3 or 4 hours of seemingly good sleep once I managed to fall asleep again. The only strange thing is that I seemed to have a dream that was all about some pictures I had taken of New Zealand. What made it doubly strange was that in the dream I knew I had not been to New Zealand, and didn't know how I had managed to take these pictures. I woke up feeling rather confused about that, but otherwise I felt sort of OK.
It was one of those morning when time seemed to race by. I had a shower, and washed my hair, and as my hair dried I started to write this. Suddenly midday was approaching and I wanted to go out and see Angela in the park during her dinner break. Sadly it was was (and still is) rather dull and overcast, but it was almost warm at about 18° C, If the sun had been out the same temperature would have felt much warmer !
When I got to the park I found that Angela was already there, but I guess we sat and chatted for almost 20 minutes before she had to get back to work. I do enjoy these brief lunchtime chats with Angela, and I have come to the conclusion I should not stop doing them (except when it is raining) even if I actively avoid Angela at certain times. Such a time will be this evening. Miranda, her daughter will be singing in Beckenham tonight, and in different circumstances I would be happy to go along, but Angela has confirmed that she will be there with Paul, and so I said I would not be going.
I don't know what I'll be doing tonight. One possibility is that I might go and sit in the pub with a crossword for an hour, and have a few pints of Guinness, but I think that is unlikely. I reckon that reading, snoozing, eating and maybe some TV is a more likely scenario for tonight. Well , all are enjoyable, and so why not ?