Today is forecast to have a similar temperature range to yesterday, but I think it will feel better than yesterday. For one thing, and perhaps the most important thing, it will be mostly dry today...at least I hope it will. The highest chance of it raining is right now when there there is a 53% chance of rain - although curiously, no raindrops are shown on the chart for right now. Maybe that is because in reality the sun is trying to shine through a gap in the clouds right now. It is certainly bright enough to throw some soft shadows ! This is good, and give hope !! I reckon it may be closer to 4° C than the forecast 5° C. Let's hope that the temperature will quickly rise to the forecast 7° C, and that it feels like 7° C.
Even better news is that the forecast has just been updated. The temperature now may be as high as 9° C later this afternoon. Two new raindrops have been added to the chart for 5 and 6pm, but the chances of rain are shown to be only 19% for each hour. Tomorrow is currently forecast to be similar to today, but there could be a few more hours at 9° C. The day after, the bank holiday Monday, could be almost warm at 12° C, but it is probably going to be a bit wet.
Yesterday's cold, wet, and dullness left me quite depressed. It was very hard to inspire myself to do anything all day, and less so in the evening. There were two things I did that were very minor in the grand scheme of things. I washed the brand new double duvet cover (and matching pillowcases), and that is ready for use now. The colour scheme of those covers is blood red on one side, and pitch black on the other. I rather like it, but I think I need a matching bottom sheet. Black would be best except for it's tendency to show up things like sweat stains so easily - not good for when high summer arrives !
The other thing of note was that I did briefly dare to go outside into the tempest, but it was only to the corner shop. I bought a magazine, a couple of bottles of Diet Coke, and some very naughty crisps ! I did intend to go out again. I had a mild yearning to go to either/or the 99p and Pound shops. Apart from wasting money on buy crap (all of which would eventually be used), it would have been useful to continue an experiment started in a very small way when I went to the corner shop.
Several years ago I bought some Dunlop branded hi-top trainers. They were considerably cheaper than similar Converse branded trainers. The only trouble with them was that they seemed to have rough areas inside that would grind away the skin on one or more toes. The real problem is that I prefer not to wear socks with most shoes/trainers now. It started when I was doing a lot of long distance walking (mostly prior to 2013), and I used to find socks would get rucked up inside the shoe, and that made my feet feel uncomfortable. Leaving sock off was the solution, but then I could only wear certain makes of shoes that didn't rub and chafe my toes. Recently I have been wearing socks with some cheap supermarket trainers, and while they are not perfectly comfortable, they are more than adequate for short walks. I think socks are the answer to those rough Dunlop trainers, but they never did get their second, slightly longer test yesterday.
For the rest of yesterday I just moped - as in felt miserable rather than drove around on a lightweight, pedal assisted, motorbike ! At times I even considered drawing the curtains to shut out the miserable dull wet view outside. It was so wet it even killed my cat-cam for the second time. My cat-cam was originally an impulse buy of a cheap (~£40) network connected pan and tilt camera that I put on the back room windowsill to see the comings and goings of my last cat. Despite the instructions specifically saying it was not for outdoor use it has been out there for 7 or 8 years. It failed once when rainwater ran down the power lead, and rotted the power socket. I cured that by hard wiring it. Now and then I have had to spray some WD40 onto the ethernet connector to restore the network connection, but that didn't seem to work yesterday. I wonder if it is now truly dead, or if a bit of TLC can bring it back to life ?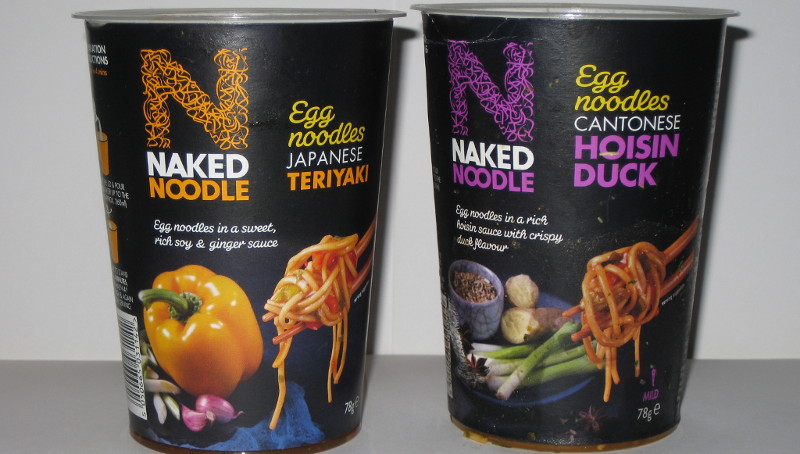 Despite eating several very naught packets of crisps during the morning I found I wanted more to eat in the early afternoon. More specifically I wanted something hot inside me. I think it was my soul that was cold as a result of the dull, wet weather outside, rather than my physical body. I initially had a can of soup, and that helped a bit, but later my eyes settled on the noodle pots pictured above. I had bought them on an earlier visit to Tesco. They seemed interesting flavours, and seemed rather bigger than most similar options. They were also considerably more expensive than any other instant noodle pots, but they might have been worth it if they were significantly better than the opposition. Sadly they weren't. The flavours might have been slightly unique, but they were hardly wonderful - they just had that typical pot noodle taste - neither good nor bad. The worst thing is that the size of the actual pot had nothing to do with the size of the contents. The "fill to here" line was halfway down the pot, and when ready to eat they were maybe 2/3rds the size of any average instant noodle pot. They were bought out of curiosity. That curiosity has now been satisfied, and I will never buy these again. If I want instant noodle pots I think I'll still to the 3 packs for 99p that I can buy on the 99p shop. Not only are they reasonable value for money, but a few drops of chilli sauce to "zap them up" makes them actually pleasant to eat !
I spent most of the afternoon reading from my PC, or laying on my bed reading. While laying on my bed I also took the opportunity to snooze now and then. I had originally wanted to go out to see a gig in the evening, but I just felt too depressed about the weather to even consider it as the time approached. Instead of a gig I ordered a takeaway. It came from a takeaway I had wanted to investigate. It offered a choice of Thai and Malay food, and a recent Food Standards report gave them a 5 out of 5, and that is really good for most takeaways.
I ordered a small selection of food, and on the whole it was delicious. Even the chicken salad was really good, and if the chicken wasn't in tempura batter it would have been very healthy. The battered chicken pieces came in a paper bag, and that initially confused me until I realised it was the chicken to go with the container of salad. The salad itselof was quite interesting, and rather nice. It didn't include any lettuce. It was mainly thinly sliced raw crunchy vegetables, but it did include celery. Somehow they even made that celery taste close to nice !
That salad could easily have been a main course, and maybe when the weather suits salad I may order more of it. The other stuff I ate was less healthy, and the least healthy was the barbecued spare ribs. They were the type covered in a thick sweet sauce. I think I thought they were going to be dry when I ordered them. The third dish was a fairly plain, but still tasty beef chow mein. It didn't seem to be greasy, and with it containing a high percentage of bean sprouts I could easily stick my fingers in my ears while chanting la-la-lah I can't hear your while believing that it may have been a very slightly healthy(ish) dish. I also ordered some egg fried rice to meet the minimum order price for delivery, but I didn't eat it. I'll probably eat it today.
I watched a bit of TV last night, but when that became boring I resorted to reading in bed. I think it was near to midnight when I put the book down, and turned off the lights. I fell asleep really quickly as far as I can remember. Once again I seemed to sleep well last night. It is a habit I should get into more ! I can't think of anything that might have influenced my dreams last night, although the theme of the longest set of dreams was very loosely based upon a childhood experience brought up to date.
I think it was back in 1967 or 1968, or a little while after dad died that I, along with my mum and younger sister, spent a weekend in Birmingham as guest of my uncle. Some of it was good fun, but the drive up the M1 was long and disorientating. In my dream I was considerably older, and probably my actual age, and the journey was made far more interesting by being able to follow the car journey on Ordnance Survey maps. In fact a lot of the dream seemed to be just studying maps. Somehow I had managed to make Birmingham on the west side of the country, and quite near the sea. Most of the dream(s) are rather hazy now, but one memory does stick out quite clearly. While studying the map I traced a railway line and it went into what was labelled as a citric acid factory. It was as big as an oil refinery, and with hindsight the lay of the land, and the route of the railway was very similar to Canvey Island off the Thames estuary which has, of course, a big oil depot/refinery on it. The thing that stuck in my mind most clearly was the name of the road that lead to to citric acid factory. It was Marmalade avenue. That seemed feasible. Marmalade is usually made from Seville oranges, and they are very tart because they contain a lot of citric acid !
This morning I think it feels like I have rested well, and if it stays dry I might even try and get out and do something today. First of all I need a proper shower and to wash my hair. All I had yesterday was have a quick rub down with a damp flannel before going to the corner shop. I definitely want to try and get out to a gig tonight. I think Chain are playing in The Partridge in Bromley tonight (although it could be in The Coach And Horses, Beckenham - I'll check later). The Partridge is just a longer feeling 20 - 25 minute bus ride away. So that part is easy if a little tedious (fortunately it always seems quicker coming home again). Unfortunately the Partridge is always very dark (though not the worst offender), and the layout means it very quickly becomes crowded. Assuming I get there I may only stay for the first set, but that would be good enough.
There is no news from Angela on her sojourn to Wales, but I am not really expecting any. Maybe she will post the occasional picture on social media. If she does it will be interesting to see if she includes any picture of lover boy. I hope she doesn't - mainly because I can stand looking at him, but also because it might indicate they have stepped up their relationship rather than fallen out with each other !
I have heard from Patricia. She has had an "interesting" flight to London. She first flew from Argentina to Lima in Peru, and then had an extra long wait for a delayed flight to Madrid in Spain. That meant she missed her connection to a London bound flight. She finally arrived in Deptford (of all places) at 11pm last night. I am expecting to see her in a few days time, and with luck she should have a bottle of South American whisky for me. Funnily enough, just as I started writing this paragraph Patricia contacted me, and she has confirmed she has a little present for me - presumably the whisky. A few dry days coming up plus seeing Patricia, and Angela in 3 days, plus whisky....life is suddenly looking up again.