Today we step back into Autumn. The temperature should still rise to 16° C, and there should be sunny periods all day - even if that looks unlikely when I look out the window ! It is possible the last couple of hours of daylight will see lots more sunshine as the clouds finally disipate. The lack of clouds, assuming it happens, will allow the temperature to drop very low tonight, and tomorrow could start as low as 7° C, but it will eventually rise to as high as 18° C. Tomorrow might, or might not, see a bit more sunshine than today.
I just had an update to my computer this morning. It was for a file called tzdata. It provides details of time differences, and in this case I am sure it is in preparation for the switch from BST back to GMT. I really ought to check, but I imagine it is happening this weekend. After 63 years on this Earth I still can't remember which way the clocks change twice a year, but I think this is the change that gives an extra hour of daylight in the evening, and steals an hour in the morning. Something I used to find really depressing when commuting to work. Having written that I am now doubting what I have written. It still could be the other way round. Oh well, it matters little to me now, and I'll find out when I wake up on Sunday morning - if indeed the change happens this weekend !
I felt very unsure how I felt yesterday morning. Two consecutive visits to the seaside had left me feeling a bit fragile on Wednesday, and I wasn't sure how much I had recovered during the day. Yesterday morning my feet were still a little sore, and my chest still felt like my rib cage was loose inside me. It turned out that I felt less fragile than expected. The only real test I did was to go and get some shopping from Tesco.
I wore what I hoped were comfortable shoes, and it turned out I had made the right choice. My legs felt a little stiff when I first started walking, but the freed up very quickly, and I walked to Tesco at a very good pace, and it felt rather good. I bought quite a lot in Tesco, and so was quite loaded down when I walked home. The heaviest load was in my rucksack, but the single bag I carried was rather heavy too. Being on one bag, the load was a bit lopsided, and that was probably not good for my ribcage, but I only suffered a little bit of discomfort because of it.
I don't think I would have survived another long (3 mile plus) walk yesterday, but it seemed like I was OK for day to day stuff, and yesterday that meant going to the pub for my late afternoon Thursday drink. We had CAMRA's Wetherspoon vouchers to use up yesterday, and so we met in The Greyhound in Bromley. To get there means getting the bus. I think I missed my first choice of bus, the 320, and faced with a 17 minute wait for the next one I decided to carry on walking to the high street to get a 208.
I only had a very short wait to get the next 208, but it was not the usually pleasant experience of the 320. I get on that bus on the first stop of it's route, and it is generally empty at first. The 208 bus I caught was heaving. It even had to miss out one bus stop because it was too full, and from then on it made slow progress because of extended stop times at bus stops as people had to shuffle around to make room, or to allow others to get off. When I got off the bus in Bromley I noticed that the 320 I couldn't be bothered to wait 17 minute for was only almost pulling up behind the 208 I had just got off.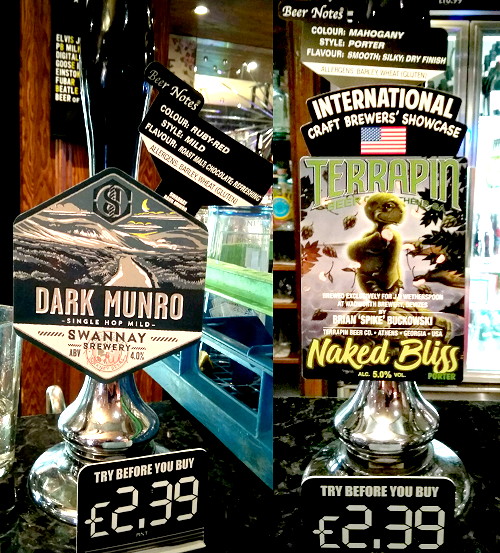 I tried three beer yesterday. The first was "Dark Munro" as pictured on the left. I have to admit I didn't like the first mouthful, but once I had drunk about a third of a pint I got the flavour, and found it very palatable after that. Next I tried the "Naked Bliss". It had a strange undertone of flavour that I found particularly unpleasant, and so for my third pint I went back to the Dark Munro. On many occasions three pints is enough, but yesterday I stayed for one more. It was a pint of "Summer Blond", and while it was by no means horrible, I found I didn't enjoy it as much as I would have hoped.
One reason for staying for a fourth pint, apart from it still being a little early, was that together we had an embarrassment of 50p off CAMRA vouchers to get through. Between us, including some donations from people who weren't there, we had something like 40 vouchers to get through. There was no way we were going to get through all those, and so I withdrew 4 from the pot, and I now have until closing time on Sunday night to spend them in a Wetherspoons pub. That probably means a trip or two to The London And Rye in Catford.
I aid it was still early when I started my last pint, but it wasn't really. Thanks the ever shortening days it was almost night when I was waiting for the bus home, and it was fully night by the time the bus was half way home. It was a rather unpleasant bus ride home. There was no trouble, but the extremely loud voices of some of the passengers in the back was quite disturbing. I suppose this is our reward for once having an empire.
I was looking forward to a big fish pie for my dinner when I got home. I had bought it in Tesco when I went shopping earlier in the day. What I didn't realise was that it said "not suitable for microwave cooking", and gave instructions for cooking in a conventional oven for something like 30 minutes even when on only chilled (45 minutes or more if it had been frozen). It came in a plastic container that looked like any other that can be microwaved, and I didn't see any reason why it shouldn't be microwaved like any common of garden fish pie.
I gave it about 14 minutes in the microwave, and that seemed a good guess. The top was obviously not crunchy and singed like it would be in a conventional oven, but the cheese topping did crisp up, and the whole thing was delicious. If it had one fault it was the choice of fish in it. It was pollock - nice, but not as nice as cod. I think it was supposed to serve two, but that would only have been the case if it was supported by a range of vegetables and stuff. I just ate the whole thing by itself.
The sunshine during the day made my bedroom feel quite warm last night, and being full of hot fish pie (to which I had added some hot pepper sauce) made me feel even hotter. When, after reading for half an hour or so, I decided to turn out the light, and go to sleep, I felt too hot to cover myself up. I didn't really sleep all that well like that, and at something like 1am I found myself almost shivering, and I put the heater on low, as well as pulling the duvet over me. I warmed up too quickly like that, and woke up again to partly uncover myself.
In some ways it was a typical night when I didn't sleep well. Despite originally falling asleep as early as twenty minutes before 10pm, I have no idea how much sleep I finally got, but I do know that a lot of it was not quality sleep. It also meant that I had some vivid dreams. One was amazingly erotic ! Another was about art. It included a statue type thing that was obviously in existence, but which the artist refused to make ?????. Another dream seemed to start with going down a few steps, and then going through a light brown painted door with louvres in it's lower half. Outside this door was a view a moonlit view of a very big harbour, or maybe just a bay. It was dying to be photographed, but it would need a long exposure, and so both a tripod and camera would be needed, and I had neither with me.
This morning I seem to feel reasonably OK, but I have no idea what I am doing today. I do need to finish some laundry I started yesterday, but didn't finish. I probably need to do some washing up that is cluttering up the sink, although there is not much of it. Emptying a couple of rubbish bins would be an excellent idea too - the one on the kitchen is getting rather smelly, and attracting flies ! I feel like I should go out for a small walk this afternoon, but I don't feel terribly enthusiastic about it now.
One thing I will probably end up doing is to scan some more old photos. I have some pictures of both Woodside and Addiscombe stations before they lost their National Rail services, and they would be of some interest to certain people who love disused stations. Tonight, and tomorrow, and possibly Sunday too, there are gigs I could go to, but I think for now I will continue my social isolation (except Thursday evenings) for at least another week. Somehow gigs have lost much of their appeal these days. Maybe it needs a break to rekindle the interest.